This is the best recipe for gluten-free dairy-free pumpkin pie! It's easy to make, healthy, tastes great and is also refined sugar-free too!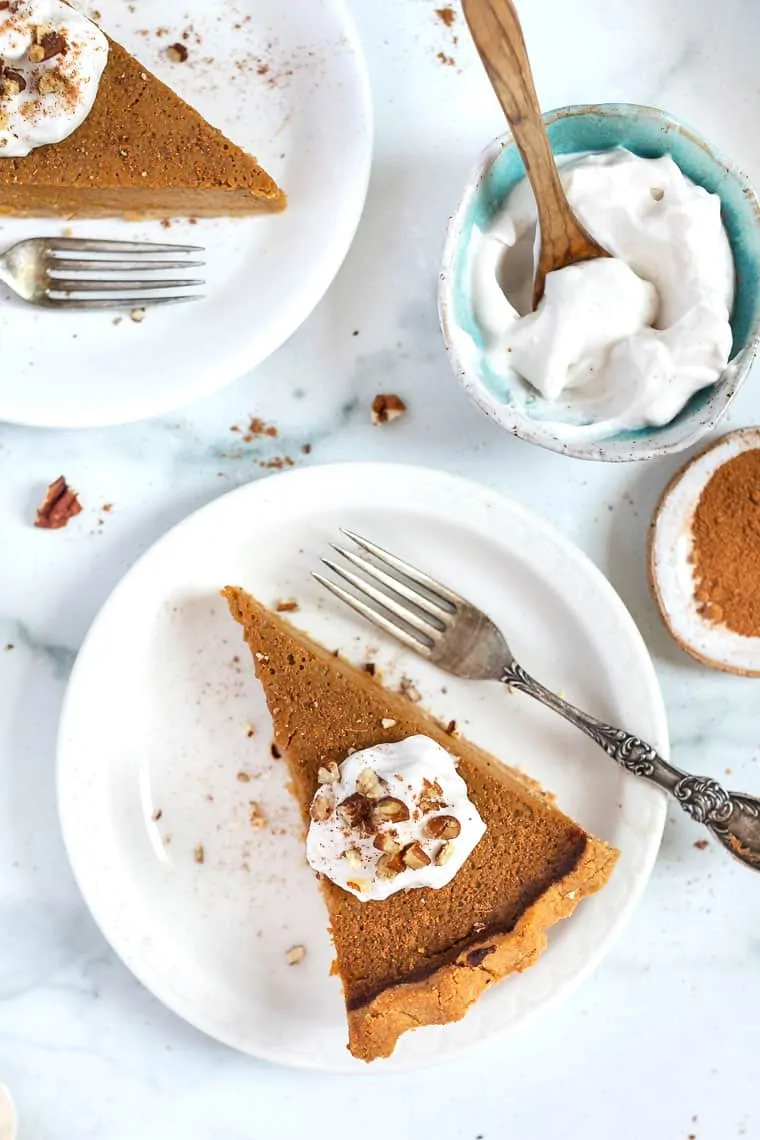 Pumpkin pie has forever been my favorite dessert. I got the love of pumpkin from my mom who not only makes an amazing homemade pumpkin pie every Thanksgiving, but she also requests it as her birthday "cake". So we had pumpkin pie multiple times a year growing up and it's still something I look forward to every autumn.
One thing I had yet to master though? A pie that fit my dietary needs. You know free from all the things – gluten, dairy, refined sugar, etc.
It took a few years of testing, but we finally have it. The gluten-free dairy-free pumpkin pie of your dream! Silky smooth, perfectly set, just sweet enough, with a flakey crust. It's heaven!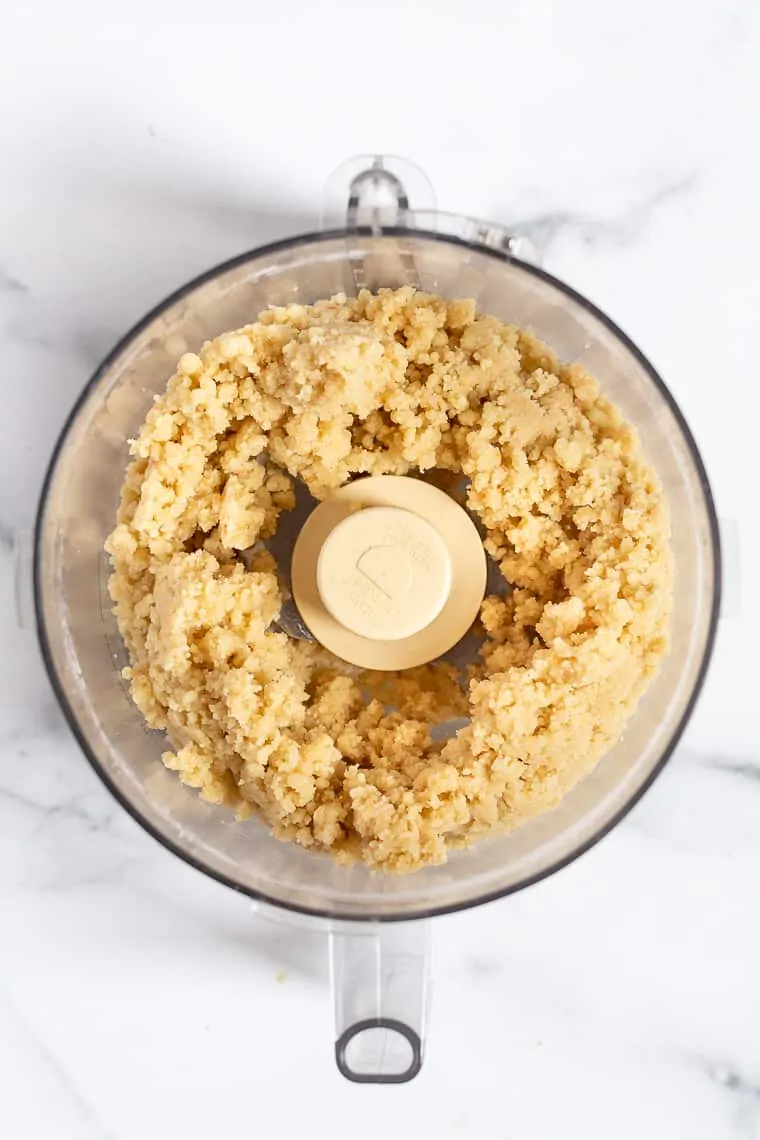 The Easiest Almond Flour Pie Crust
First we need to chat about the crust. I've been baking gluten-free for about 10 years now and pie crust is always my least favorite thing to make. I find it really challenging to get right – a blend of flakey, while still being sturdy and crispy enough on the bottom.
Last year – when I shared my gluten-free vegan pumpkin pie – I made an almond flour pie crust. It ticked all those boxes AND it was easy to make.
So that's what we've got this time around, with just one slight modification. I added in some arrowroot powder to make it a bit more sturdy and even crispier. It's my favorite pie crust!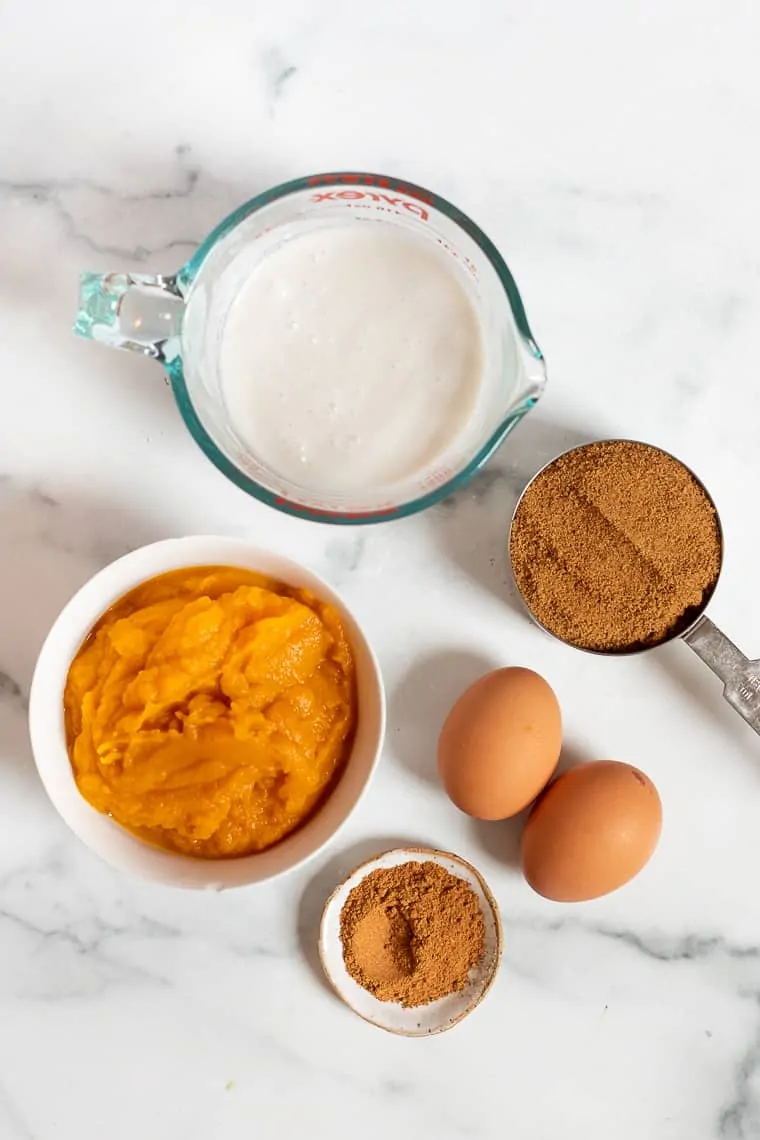 What You'll Need for the Filling
Next is our filling. I actually decided to stick to the basics with this filling and used the classic pumpkin pie recipe from Libby's as a guide. It's the pie my mom has made for years and I know it works.
But the question was…would it work dairy-free and refined sugar-free? Spoiler – it does!
Here's what we're using in the filling:
Organic canned pumpkin: you could certainly use fresh pumpkin puree for this recipe which is what my mom always does, but to keep things uber simple and approachable, we're sticking with canned. You'll just need one full can for this recipe.
Full fat coconut milk: traditional pumpkin pie uses condensed milk (which is on the thicker side), so a perfect dairy-free alternative is full fat coconut milk. It definitely makes this pie a bit richer, but it's so delicious! And I personally can't taste the coconut much at all.
Eggs: the reason pumpkin pie holds its shape is because of the eggs and since we already have a vegan version on the site, I stuck with them here.
Coconut sugar: my personal sweetener of choice and it works perfectly in this pie! It might make the color a tad darker, but the sweetness level is perfection.
Pumpkin pie spice: I'm lazy and used pumpkin pie spice, but you could also use a blend of the four spices: cinnamon, ginger, nutmeg, cloves (and maybe a dash of allspice if you're feeling jazzy).
Sea salt: to round out the flavor of our pie, we're adding just a sprinkle of sea salt – it goes a long way!
How to Make a Healthy Pumpkin Pie
This pie is a simple three-step process that just uses your food processor. If you don't have a food processor, you can use a bowl, but it's so much easier to do it with one!
STEP ONE: The Crust
First, we need to make our pie dough. You'll add all the crust ingredients into your food processor. Blitz them up until they form a dough. Dump the dough in a 9″ pie pan and press it into the bottom and up the sides. Pinch the crust together at the top and crimp it with your fingers.
STEP TWO: The Filling
Rinse the bowl of the food processor and put it back on the base. Add the filling ingredients into the bowl and process on high until they're smooth and combined. Pour the filling carefully into the crust.
STEP THREE: The Pie
Bake the pie starting at 425ºF for 15 minutes, then reduce the temperature to 350ºF and cook it for another 45 – 55 minutes. You're looking for the pie to be mostly set, with a slight giggle in the center. If the outer crust starts to brown, cover it with a pie guard or foil.
This pie needs to cool completely before you dig in. But it can absolutely be made ahead, so if you want it for Thanksgiving, just make it the day before!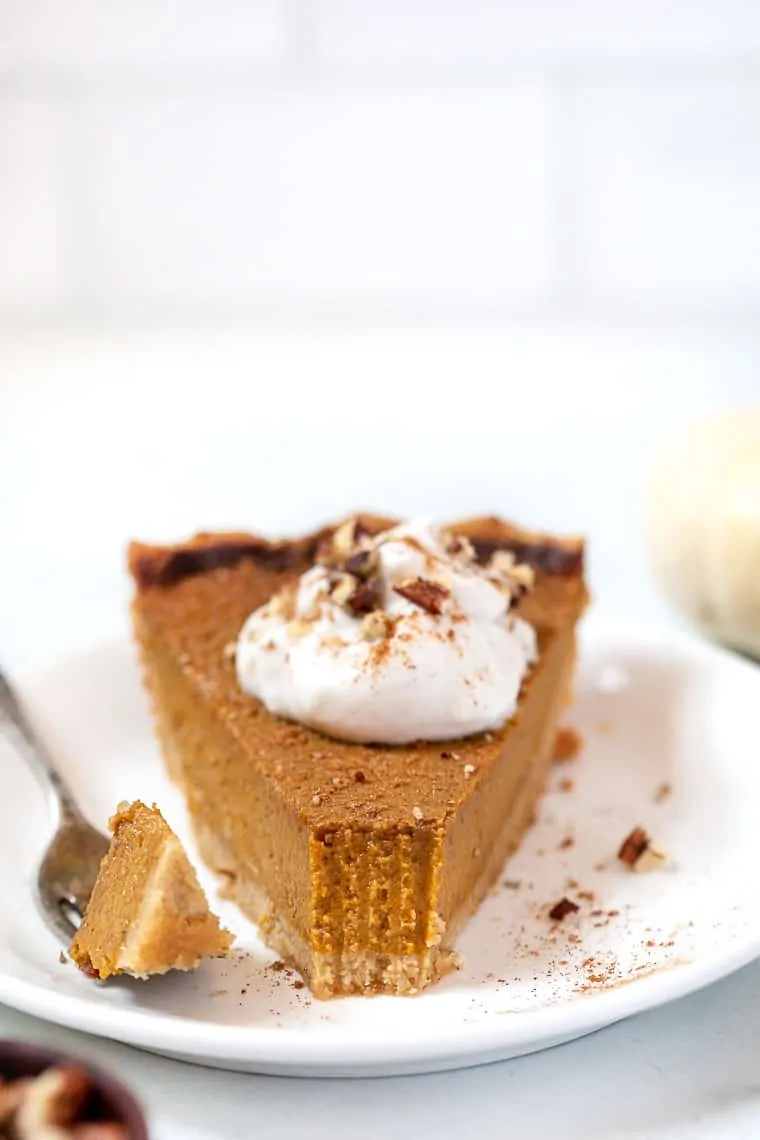 The BEST Gluten-Free Dairy-Free Pumpkin Pie
This truly is the pie of my dreams. It's one that is gluten-free, dairy-free, and refined sugar-free. It's easy to make. And it's seriously so delicious!
If you – or someone in your fam – had food allergies (or simple preferences), this is the pie to serve. It ticks all the traditional pumpkin pie boxes!
And p.s. if you want an egg-free option, we've also got a recipe for gluten-free & vegan pumpkin pie! Happy Fall Baking 🧡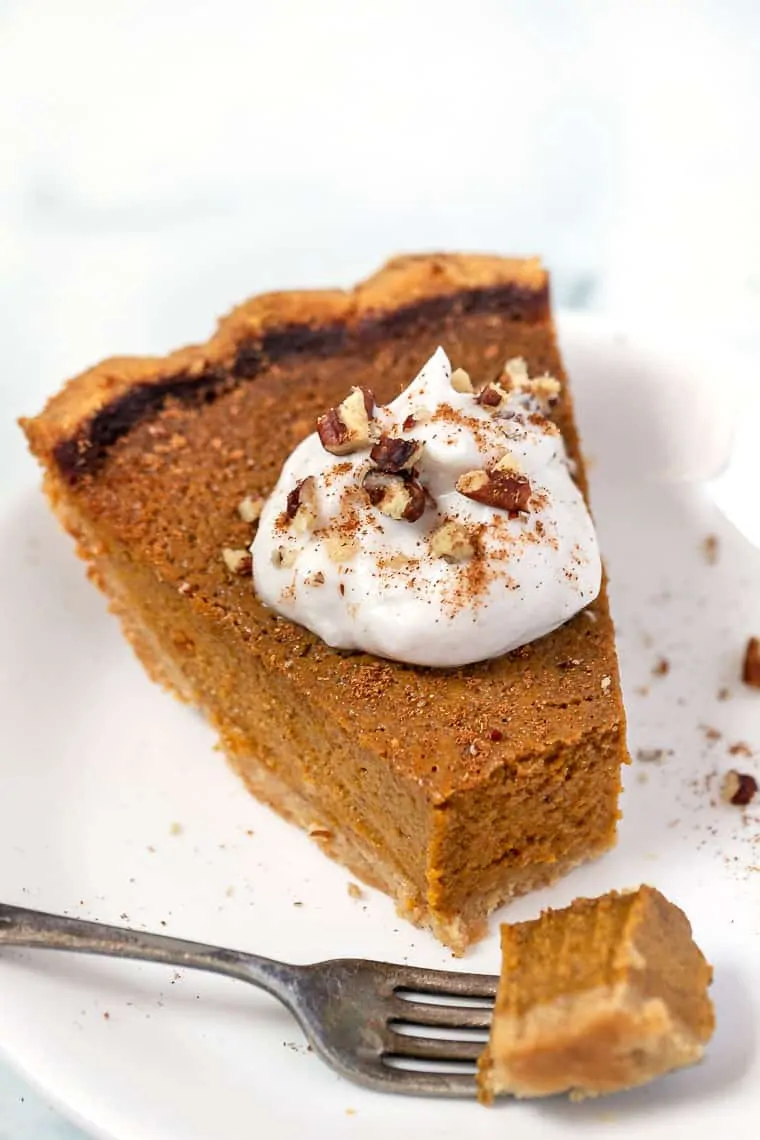 More Healthy Fall Dessert recipes to try:
Gluten-Free Pumpkin Pie
This gluten-free pumpkin pie is easy to make, healthy, tastes great, and it's made without refined sugar or dairy so everyone can enjoy it!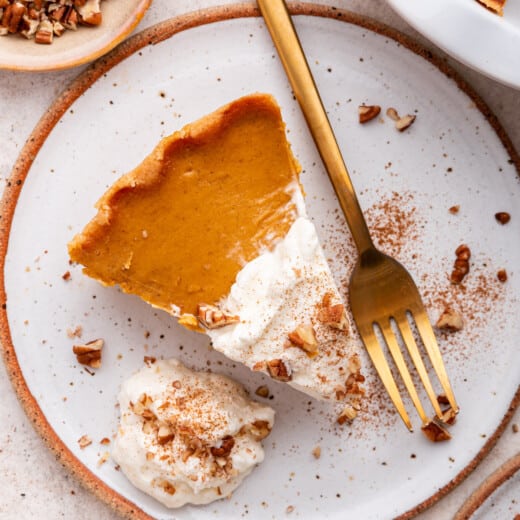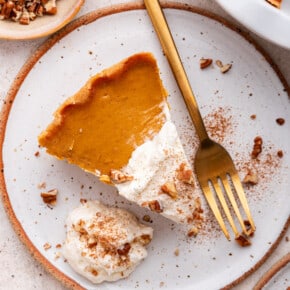 Instructions
Preheat the oven to 425ºF.

To the bowl of a food processor, add the crust ingredients. Process until a dough starts to come together. You should be able to squeeze it between your fingers and it will hold together.

Dump the "crust" into the pie dish and press it into the bottom and then up the sides. Feel free to smooth the edges over with your fingers. Set the crust aside.

Rinse and dry the bowl of the food processor and put it back on the base. Add the filling ingredients and process until smooth. Pour the filling into the prepared crust and smooth over with a spatula or spoon.

Bake at 425ºF for 15 mins, then reduce the oven temperature to 350ºF and bake for 45 - 50 minutes more.

Remove the pie from the oven and allow it to completely cool before slicing. Serve with a dollop of vegan whipped cream or a spoon full of coconut yogurt!
Nutrition
Serving:
1
slice
|
Calories:
407
kcal
|
Carbohydrates:
29
g
|
Protein:
9
g
|
Fat:
31
g
|
Saturated Fat:
10
g
|
Cholesterol:
41
mg
|
Sodium:
54
mg
|
Potassium:
228
mg
|
Fiber:
5
g
|
Sugar:
13
g
|
Vitamin A:
8332
IU
|
Vitamin C:
3
mg
|
Calcium:
95
mg
|
Iron:
4
mg
Filed Under: