Healthy Gluten-Free Apple Cake
This healthy gluten-free apple cake is flavorful, moist, and easy to make. It's also dairy-free and topped with a vegan maple cream cheese frosting!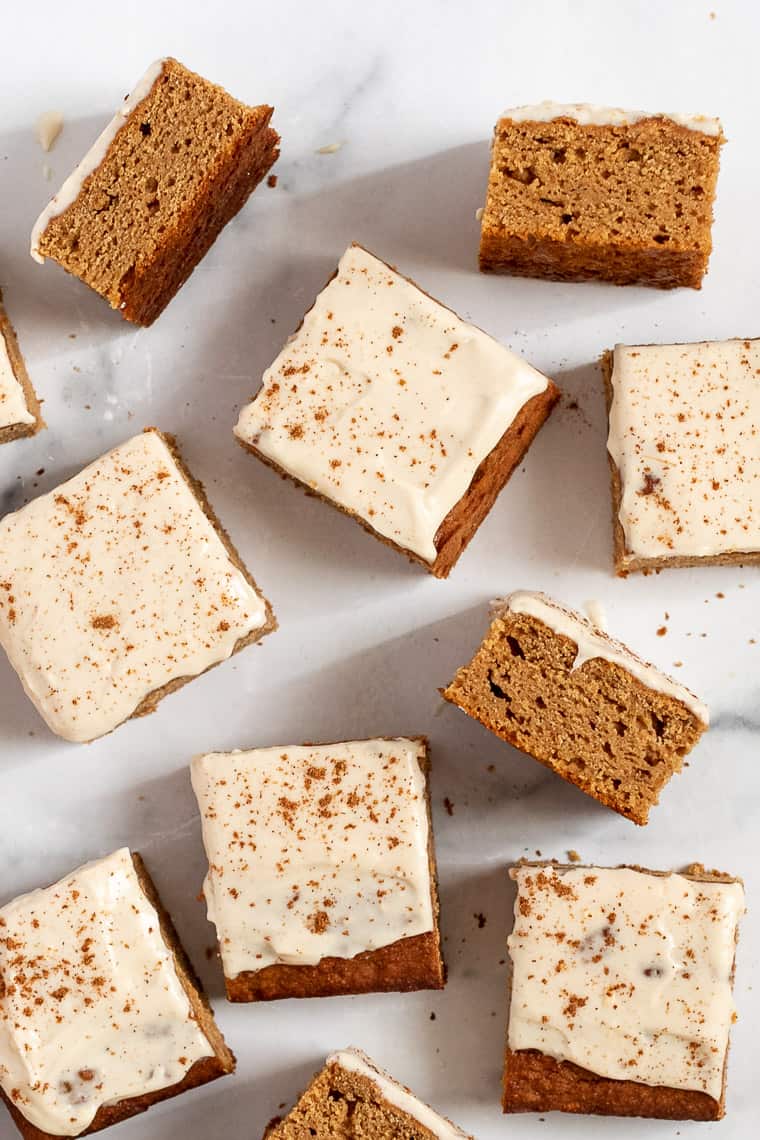 My first apple recipe of the year and it's a good one! It's a recipe I've been thinking about for years and finally created it for you. The ultimate apple cake topped with a healthy cream cheese frosting!
I mean seriously. I can't think of a better cozy fall/winter treat!
We're keeping this healthy and gluten-free by using wholesome ingredients. It's easy to make, perfect for breakfast or dessert and it tastes amazing! I can't wait for you to try it.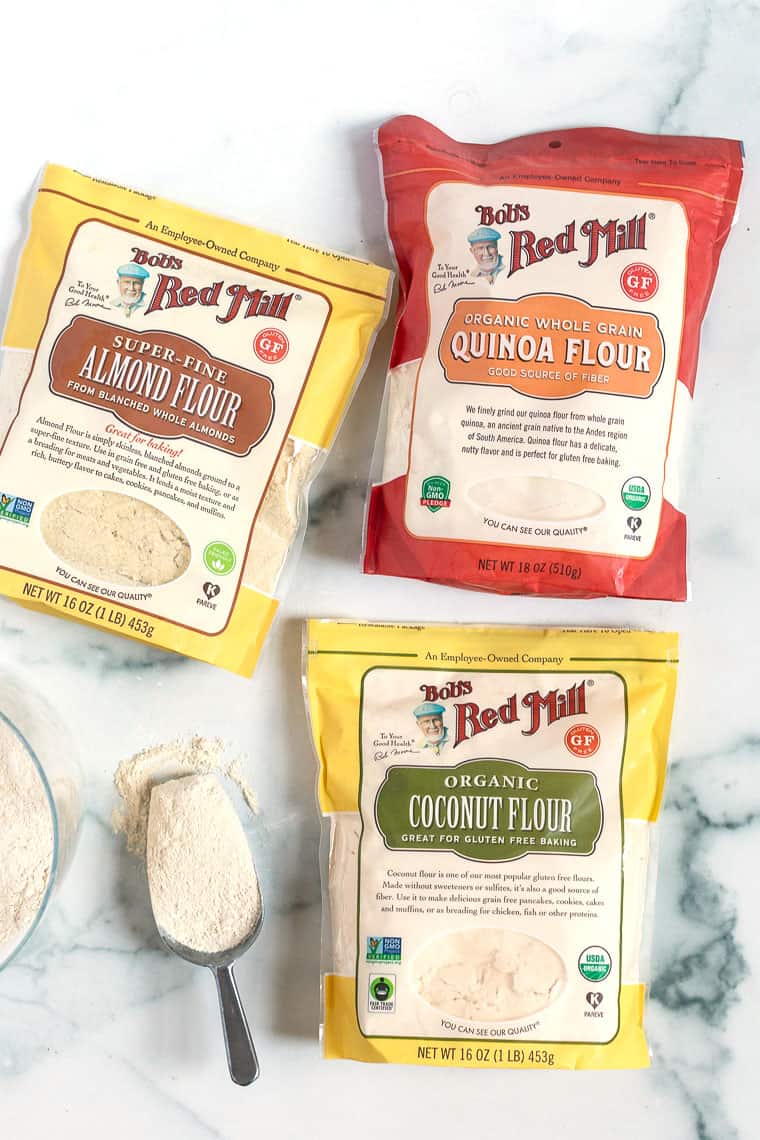 What You'll Need for This Recipe
When you take a peek at the ingredient list, it might seem a bit long, but one of the reasons for that is that we're making our own flour blend. When it comes to gluten-free baking, Bob's Red Mill is my go-to. They have a huge variety of flours to choose from, have tons of certified gluten-free options and many of their flours are also organic, non-GMO and fair trade certified.
So let's break down what you'll need to make this gluten-free apple cake:
Dry Ingredients
Flours: as I said, we're making our own blend here and the end result is a moist and tender cake. Inside this cake we're using: almond flour, quinoa flour, brown rice flour (or more quinoa), coconut flour, and arrowroot starch. Each plays a different role and helps the cake stay nice and light, while also adding protein, healthy fats, and fiber. The almond adds a nice crumb, the quinoa and brown rice help to bind it, the coconut flour adds lightness and the arrowroot starch holds it all together and helps give it a little spring.
Coconut sugar: whenever I need to use granulated sugar, I always choose coconut. It's lower on the glycemic index than white sugar, has a really nice caramel flavor, and can be used 1:1 as a refined sugar substitute. It works perfectly in this recipe and I love the one from Bob's Red Mill.
Baking powder: to give the cake some light and lightness, baking powder is the leavening agent we'll use.
Cinnamon: and finally, cinnamon! You can't have an apple cake without a nice dose of cinnamon.
Wet Ingredients
Eggs: eggs are one of the secrets to the texture of this cake, but I do think it could be made vegan as well!
Almond milk: make sure to use an unsweetened version! If you don't like almond milk, any other plant milk will work.
Applesauce: to impart apple flavor, but also give the cake some moisture, applesauce is one of my favorite tricks in healthy baking.
Apple butter: I really wanted to give this cake an apple flavor, so I opted for half apple butter as well. Apple butter is basically concentrated applesauce, so it's super flavorful! But if you can't find it/don't have it, more applesauce is totally fine.
Vanilla extract: I often throw vanilla into recipes like this just to heighten the flavor a bit – totally optional, but delicious!
Oil: and we're finishing things off with just a touch of oil to give the cake even more moisture!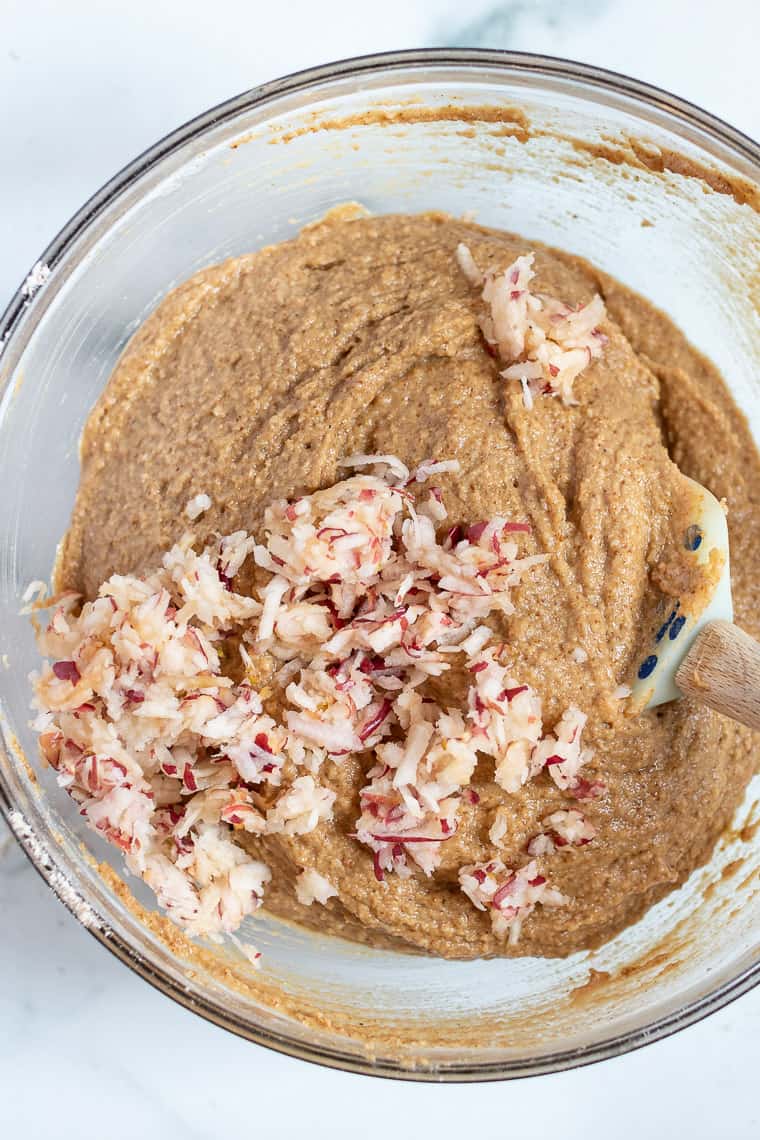 How to Make Gluten-Free Apple Cake
This cake – similar to my others – is quite simple. It's just about 5 steps and it will be ready in under an hour!
STEP ONE: Dry Ingredients
First, we'll want to mix together our dry ingredients (including the sugar). Check to see if your almond flour is clumpy and if it is, break those apart with your fingers.
STEP TWO: Wet Ingredients
In a separate bowl – I love this Pyrex glass measuring cup set – beat together your wet ingredients. Once smooth, pour them over the dry.
STEP THREE: The Batter
Mix your batter together with a spatula. It will be fairly thick – almost like a muffin batter. Once it's all combined, you can fold in your shredded apple.
STEP FOUR: Bake
Transfer your cake into your baking tin and smooth it over with your spatula. Then pop it into the oven and let it bake up until it's golden brown!
STEP FIVE: Frost
The final step is to frost your cake. I felt like it needed something a little extra on top, so I whipped up a healthy, vegan maple cream cheese frosting. It was the perfect combination and was so easy to make! The only trick with frosting? Make sure your cake is cooled completely!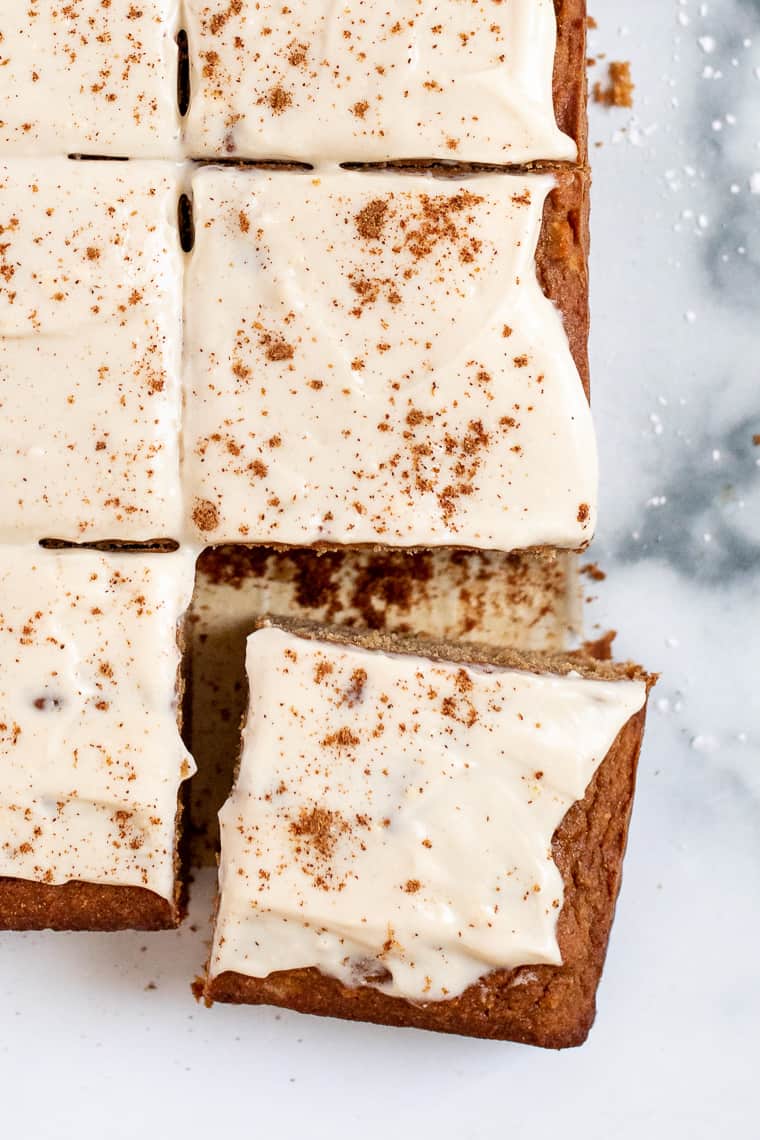 A Perfect Vegan Maple Cream Cheese Frosting
Once I decided on frosting this cake, the first thing that popped into my head was cream cheese. Cream cheese frostings are the absolute best – they're tangy, not too sweet and so creamy. I'm honestly not a frosting person, except for cream cheese.
I wanted to keep the frosting dairy-free and refined sugar-free like the cake, and I'm so happy with the result! Here's what's inside:
Vegan cream cheese: I love the almond based one from Kite Hill
Maple syrup: for sweetness + it pairs perfectly with the cake
Vegan/dairy-free butter: to give the frosting some fat and also structure
Arrowroot powder: to help make it a bit stiffer (but without adding confectioners sugar)
It's the perfect vegan maple cream cheese frosting and I'm literally going to be using this for everything going forward!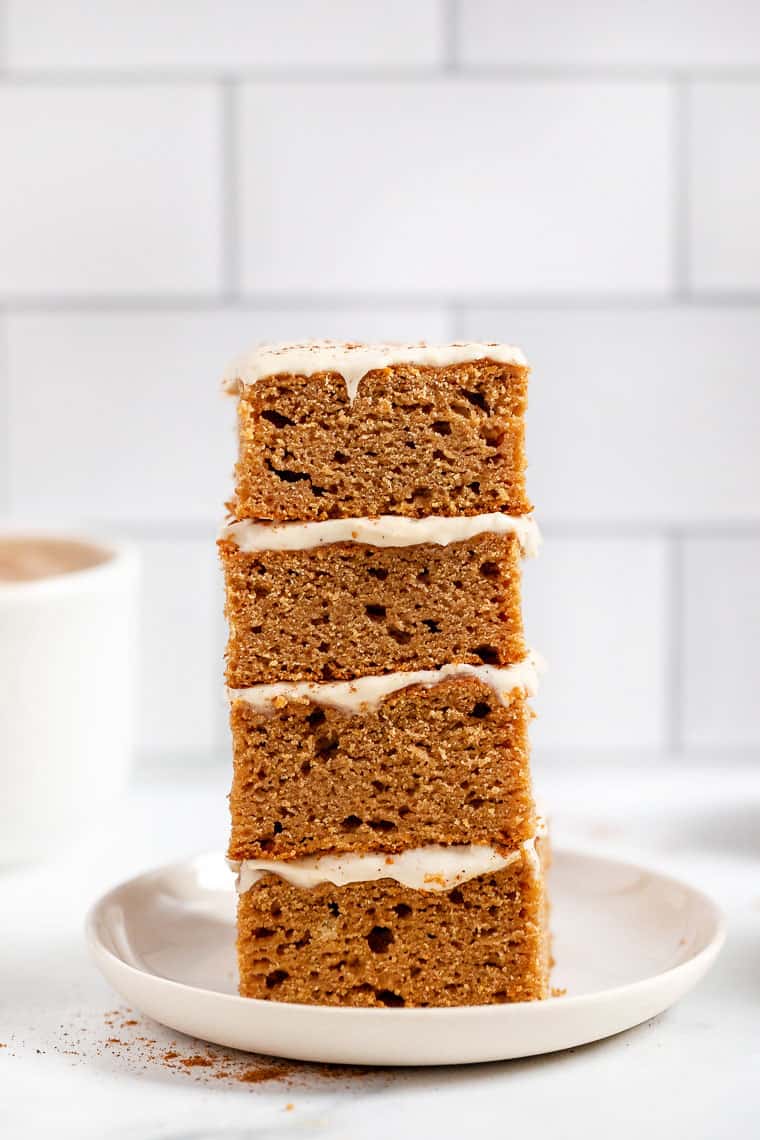 How This Apple Cake is Healthy
There are a few tricks that I've used to make this cake a bit healthier. I mean sure, it's still cake, but with these tweaks, we can add more nutrients and give you something that's a bit more wholesome.
Flours: adding all these different flours helps a ton! We're getting protein, fiber, healthy fats as well as the vitamins and minerals in ingredients like quinoa, almonds and coconut
Sugar: while we are still using 1 cup of sugar, we are swapping it with coconut sugar
Oil: we were able to cut way back on the oil needed for this cake by using applesauce and apple butter. There's only 2 tablespoons of oil!
Cream: rather than heavy cream or milk, we're swapping with almond milk which is low in calories and keeps the cake dairy-free!
Why You'll Love this Cake
Basically, my goal was to bake you a cake that you could enjoy for breakfast or dessert! (it also makes a great afternoon snack) 
This cake is…
tender + moist
not too sweet
studded with apple flavor
cozy + warm
frosted to perfection
decadent, but healthy enough for breakfast
Plus it's also gluten-free, dairy-free, and refined sugar-free too! I can't wait for you to make it – be sure to leave a review and let us know what you think!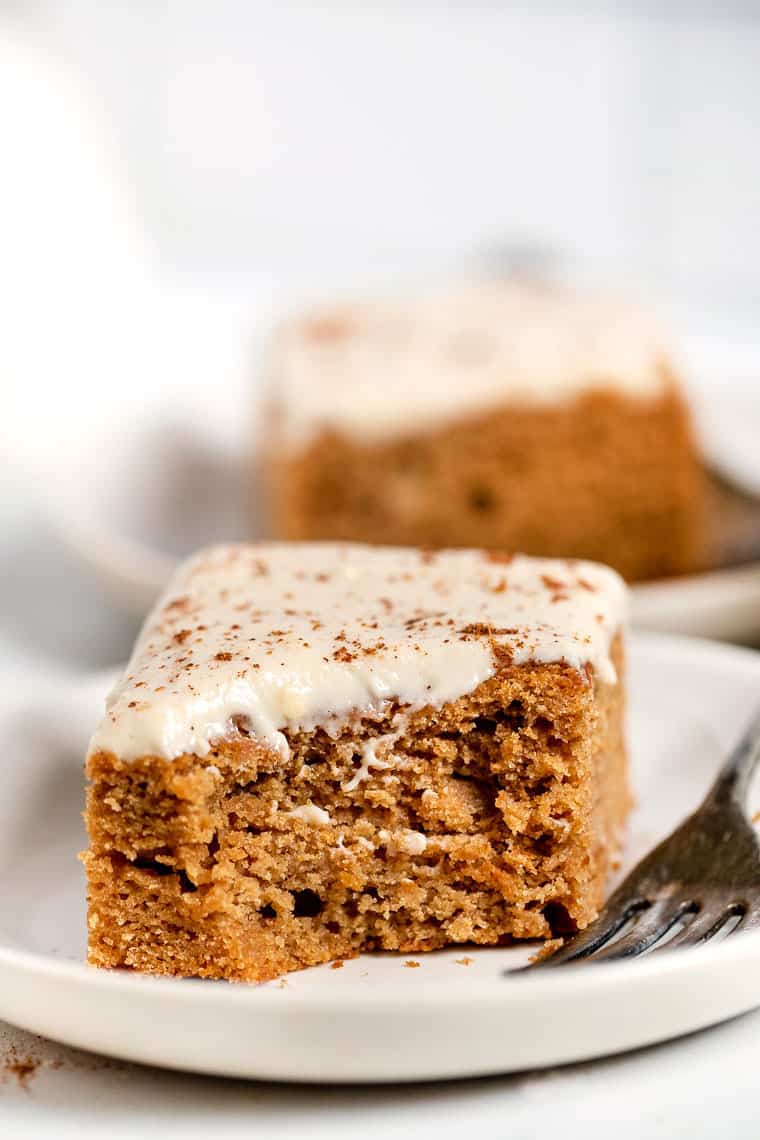 Other Gluten-Free Cake recipes to try:
Healthy Gluten-Free Apple Cake
This healthy gluten-free apple cake is perfect for breakfast or brunch! It's made with wholesome ingredients, is easy to put together and tastes amazing!
Servings 16 squares
Calories 192kcal
Instructions
Preheat the oven to 350ºF. Line a square 9x9 baking pan with parchment paper and set aside.

In a medium bowl, whisk together your dry ingredients.

In a separate bowl, combine your eggs, milk, applesauce, apple butter, and oil. Beat these into the dry ingredients until a very thick batter begins to form. Fold in the apple.

Transfer all the batter into the pan and smooth with the back of your spoon.

Bake in the center of your warmed oven for 35 - 38 minutes. Test with a cake tester by placing it in the center of the cake. If there is nothing on the stick when you remove it, the cake is ready!

Allow the cake to cool completely before frosting.

For the frosting, beat together the cream cheese, butter and maple syrup using electric beaters or stand mixer with the whisk attachment (my preferred method). Once smooth, beat in the arrowroot powder.

Dollop the frosting on top of the cake and smooth it out with an offset spatula. Sprinkle with cinnamon if desired and enjoy!
Notes
* toasting your quinoa flour will mellow out the flavor a bit and get rid of the bitterness. not sure how to toast it? here's a tutorial on how to toast quinoa flour!
** if you want to reduce the sugar, skip the filling!
Nutrition
Serving: 1square | Calories: 192kcal | Carbohydrates: 26g | Protein: 4g | Fat: 9g | Saturated Fat: 3g | Cholesterol: 20mg | Sodium: 112mg | Potassium: 89mg | Fiber: 2g | Sugar: 11g | Vitamin A: 63IU | Vitamin C: 1mg | Calcium: 61mg | Iron: 1mg
This recipe is brought to you in partnership with Bob's Red Mill. As always, all opinions are my own. I only share companies I love and trust, so thank you for continuing to support Simply Quinoa!
share what you make
Tag #simplyquinoa on Instagram with your creations! We love sharing what you make with the community. We can't wait to see!

follow on instagram