A zucchini coffee cake recipe that is healthy and gluten-free! Made with healthy flours, no dairy and just 2 tablespoons of oil. It's perfect for breakfast!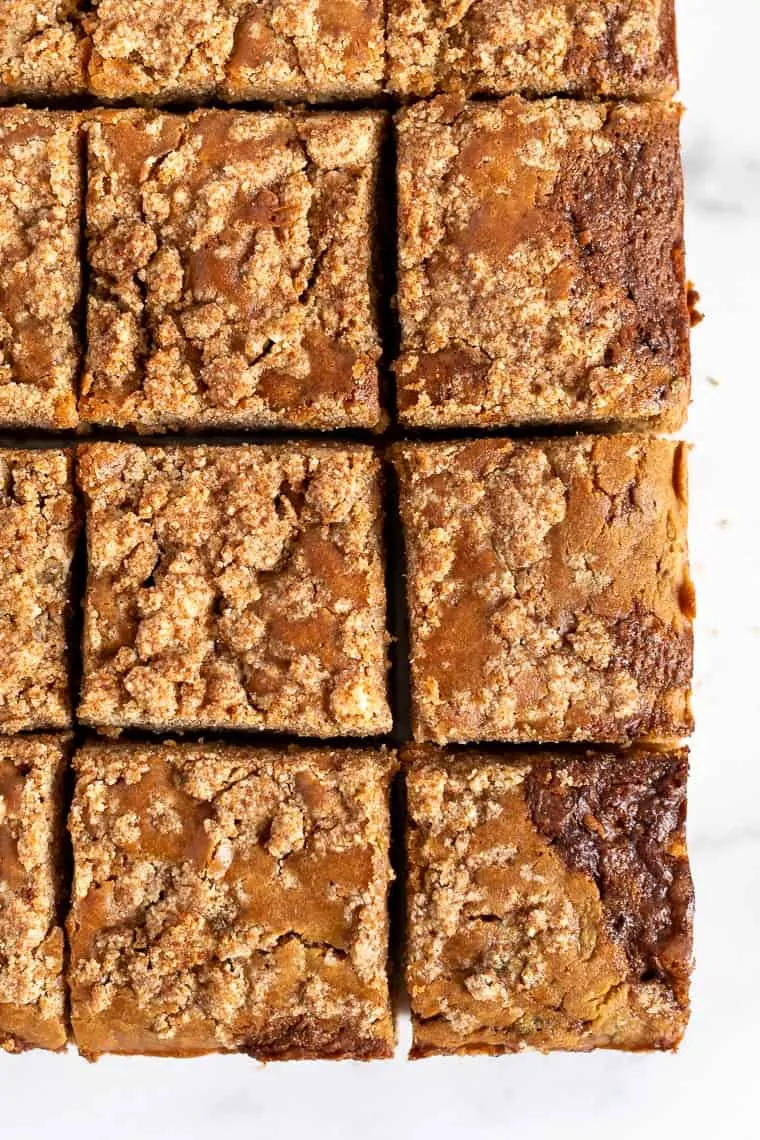 We've got summer baking at its finest today! Because not only are we making a light, fluffy, and healthy coffee cake, but we're also using zucchini.
Zucchini is one of the things that grows most plentifully in my mom's garden – but also many of yours as well. As soon as summer hits and I ask you want kind of recipes you want, it's almost always about zucchini. People seem to have more zucchini than they know what to do with!
Luckily, we have shared some of our favorite healthy zucchini recipes before, but I haven't done much baking with this special ingredient this summer. Aside from one loaf of zucchini bread, my zucchinis have mostly been spiralized.
Well, today we're changing that. And I'm here to give you the absolute most delicious, cinnamon-swirly, perfectly cakey, healthy zucchini coffee cake. This is what dreams are made of friends!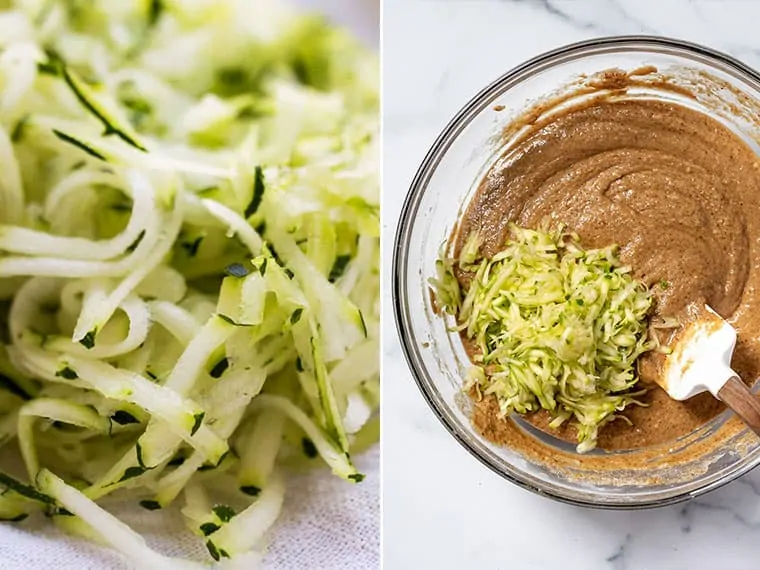 Benefits of Baking with Zucchini
I don't know about you, but zucchini is one of my absolute favorite things to bake with. It's great for a few reasons:
we sneak veggies into our desserts
it's flavorless, so you'd never know it was there
it adds tons of moisture and makes your baked goods oh so delicious
Plus, it's pretty darn easy (and cheap) to find in the summer!
How to Bake with Zucchini
The best way to bake with zucchini is by grating it. But you also need to take it one step further by pressing the liquid out of your zucchini. By doing that, you'll ensure that you don't have too much moisture.
To prep your zucchini for baking, here's what you need to do:
grate your zucchini on a box grater or in your food processor
place the grated zucchini into a clean dish towel
over the sink or a bowl, wrap the towel around the zucchini and press out all the liquid
You'll notice a fair amount of juice coming out. Either toss it or save it for smoothies.
From there, you're ready to bake!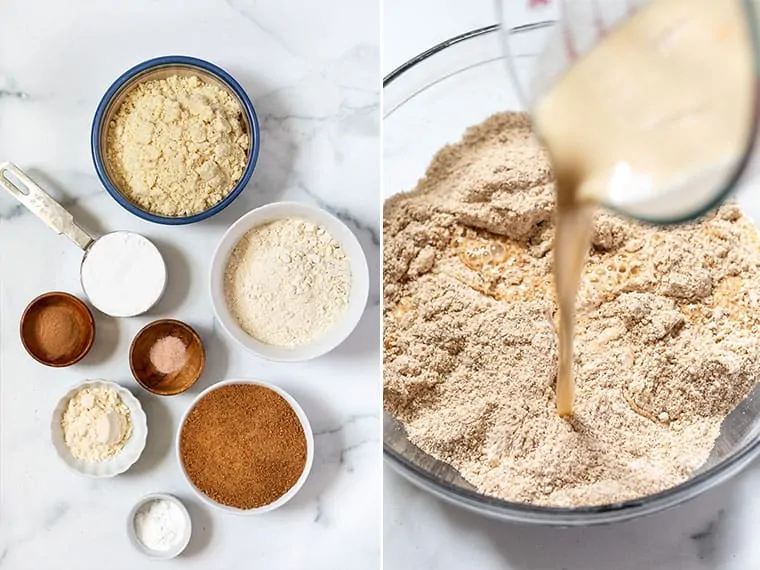 Zucchini Coffee Cake Ingredients
Okay, let's talk about this recipe. I love to first run you through the ingredients so you know what we're getting into before we start the actual recipe.
For the cake:
This recipe is gluten-free, so you'll notice that we're using a blend of gluten-free flours. I haven't tested this with regular all-purpose flour, but you're welcome to if you're not following a gluten-free diet.
Flours: we're doing a blend of quinoa flour, almond flour, coconut flour, and arrowroot starch. I use this flour blend a lot in my baking and find that it provides a great texture and rise!
Coconut sugar: my granulated sweetener of choice!
Baking powder: we need it for the rise and lift!
Spices: we're doing a blend of cinnamon, nutmeg, vanilla, and salt.
Eggs: we're using 2 eggs to bind and lift the cake, but I think you could also use flax eggs (here's a tutorial on how to make a flax egg if you've never tried).
Almond milk: the liquid that I like to bake with, but any other milk should be fine.
Yogurt: adds a really nice creaminess and tang. It also helps with the rise a bit! Feel free to swap with sour cream if you have it.
Oil: just 2 tablespoons is all we're using for this cake. If you're on an oil-free diet, I think you could leave it out.
Zucchini: and of course, our zucchini! 1 cup of grated zucchini finishes off the base of this amazing zucchini coffee cake.
For the swirl & topping:
We're adding both a cinnamon swirl as well as a streusel topping to this coffee cake. If you want to cut back on the sugar, skip the swirl!
Coconut sugar: we'll use this in both the cinnamon swirl filling as well as in the topping.
Cinnamon: for the cinnamon swirl center!
Flours: again we're using quinoa flour and almond flour for our crumb topping!
Oil: I like coconut oil for the topping because it adds a nice flavor.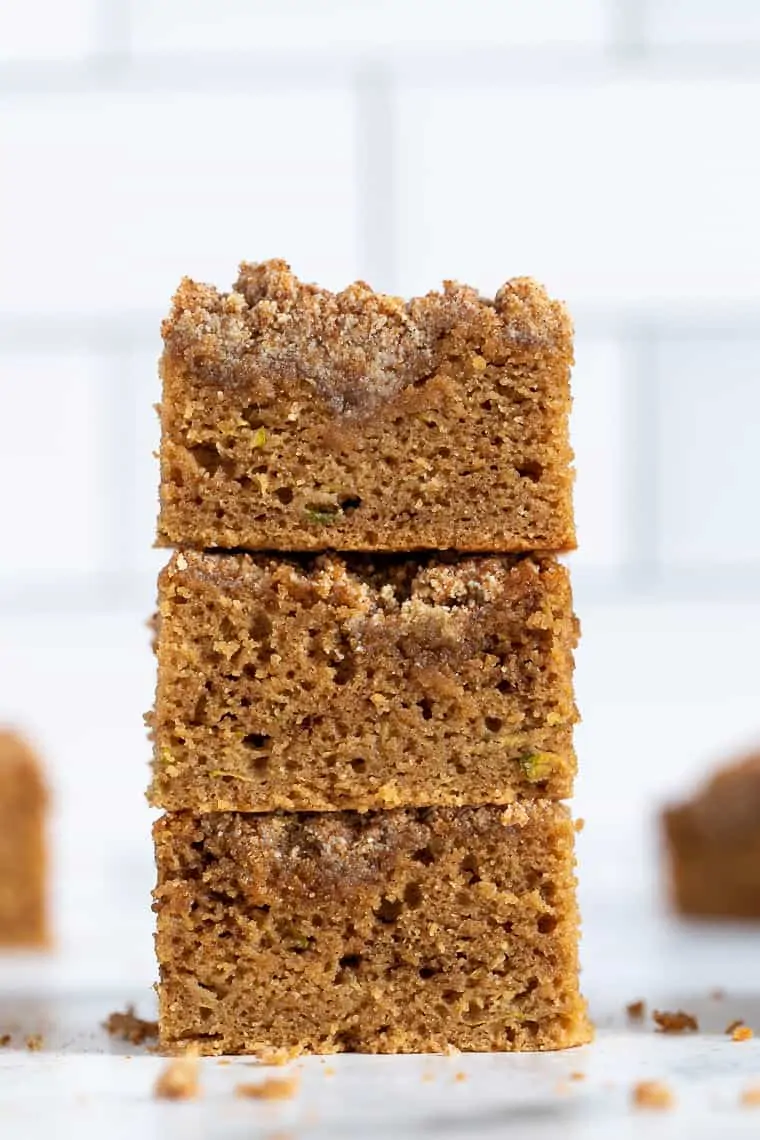 Layers for Our Healthy Coffee Cake
Whew, okay! Now that we've run through all the ingredients, let's talk about this coffee cake.
For me, the perfect coffee cake is not only moist and tender, but it also has some distinct layers. So I wanted to achieve that with this recipe also.
We have four distinct layers in our coffee cake:
zucchini cake base
cinnamon sugar filling
another zucchini cake layer
cinnamon streusel topping
To me, that's the perfect combination and the ultimate proportion for the perfect coffee cake. Simple, sweet, delicious and you get the perfect amount of flavor in each bite.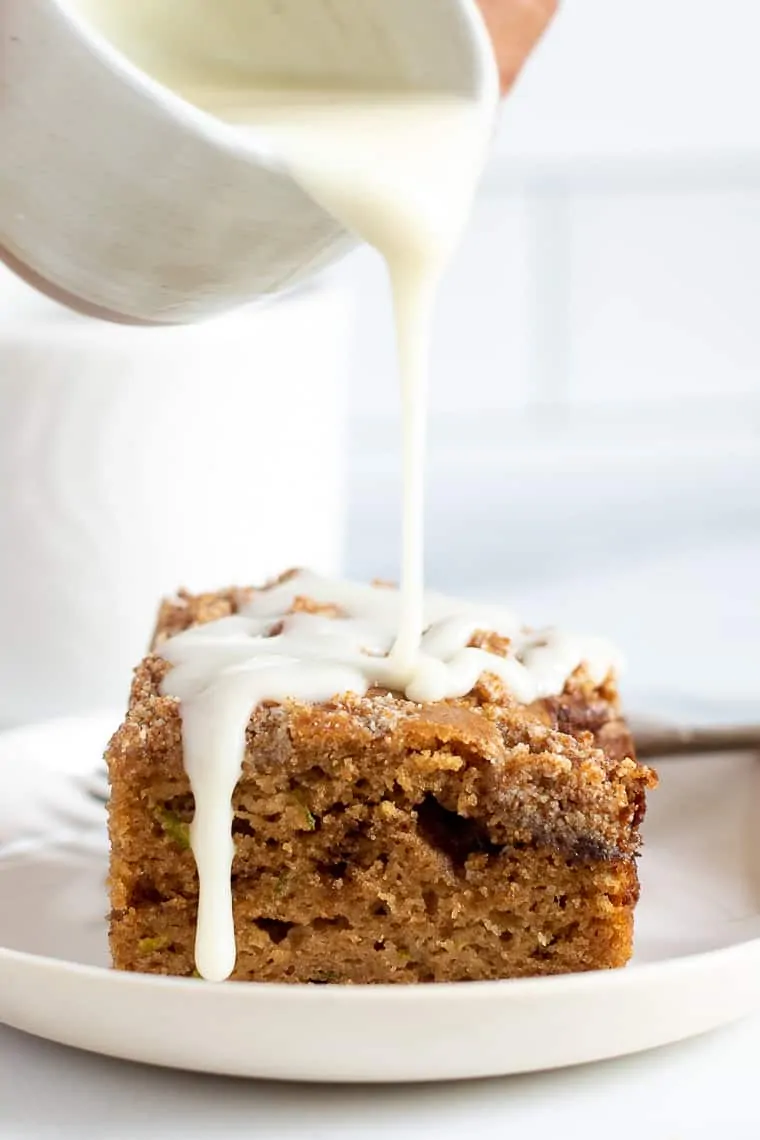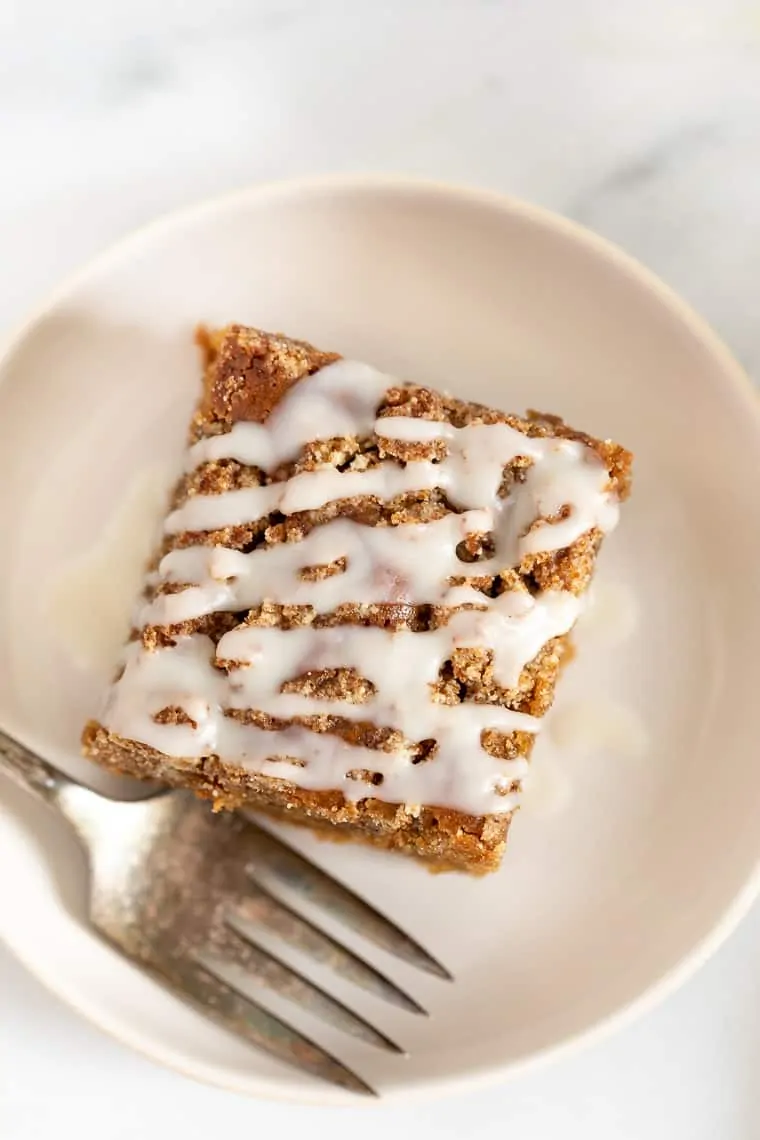 Where's the Coffee?
I've shared a few other coffee cake recipes before and I inevitably get the question, "where's the coffee?" So I thought I'd quickly clear it up:
Coffee cake doesn't actually have coffee in it. It's actually just any cake that is intended to be enjoyed with a cup of coffee 😊
How to Serve Zucchini Coffee Cake
So there you have it! This is the ultimate cake to serve next to a warm cup of coffee. Or in my case, a delicious pumpkin spice matcha latte.
If you want to make this zucchini coffee cake even that much more delicious, I highly recommend drizzling it with some melted coconut butter. Coconut butter has a natural sweetness to it that is very reminiscent of icing – just without all the sugar. You'll get that same creamy, semi-sweet feel like you would from an icing, but you can still keep it healthy.
I can't wait to hear what you think of this recipe and to see your recreations. Happy zucchini baking!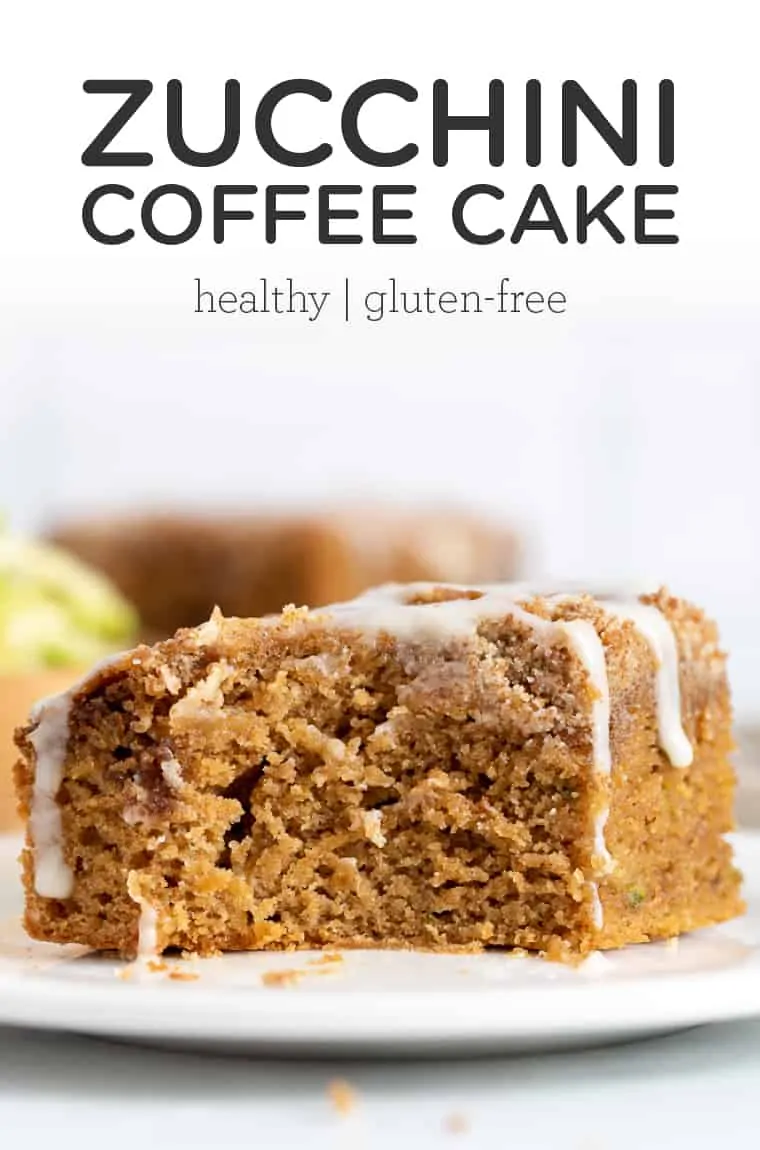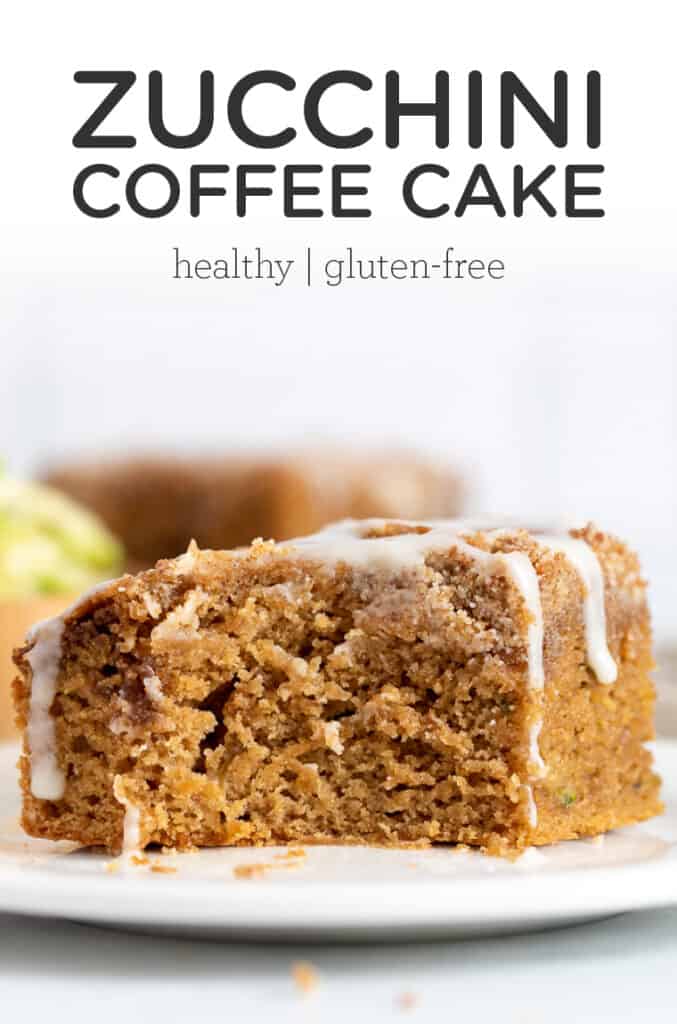 More Baked Goods Using Zucchini:
Healthy Zucchini Coffee Cake
This healthy Zucchini Coffee Cake is perfect for breakfast or brunch! It's made with wholesome ingredients, is easy to put together and tastes amazing!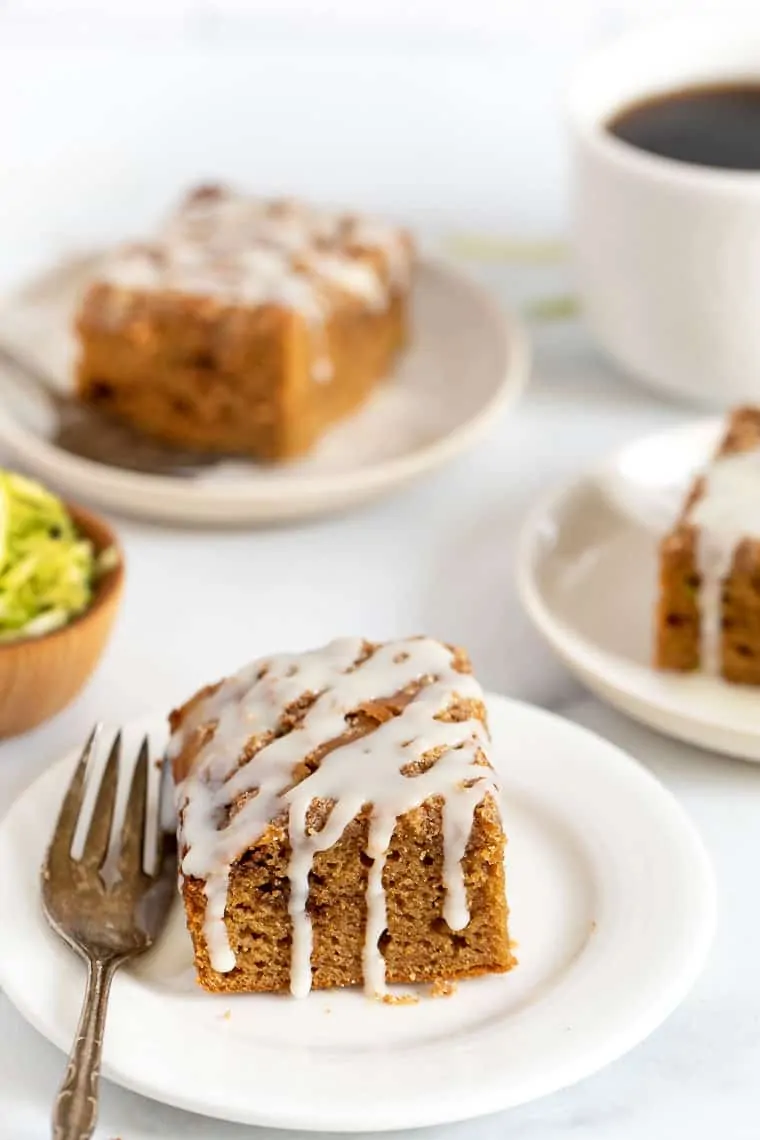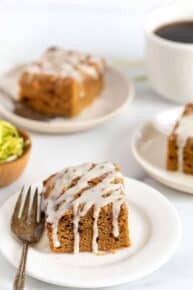 Ingredients
for the filling (optional):
for serving:
drizzle of melted coconut butter
Instructions
Preheat the oven to 350ºF. Line a square 9x9 baking pan with parchment paper and set aside.

In a medium bowl, whisk together your dry ingredients.

In a separate bowl, combine your eggs, milk, yogurt, and oil. Beat these into the dry ingredients until a very thick batter begins to form. Fold in the zucchini.

If you want the filling layer: transfer half of the mixture into your baking pan. Whisk together the filling ingredients then sprinkle on top of the batter. Top with the rest of the batter and smooth out.

If you want to skip the filling (i.e. less sugar): transfer all the batter into the pan and smooth with the back of your spoon.

Prepare the crumb topping by combining all the ingredients into a small bowl and beat until you have a sandy texture. Sprinkle the mixture evenly over the top of the cake.

Bake in the center of your warmed oven for 35 - 38 minutes. Test with a cake tester by placing it in the center of the cake. If there is nothing on the stick when you remove it, the cake is ready!
Notes
* toasting your quinoa flour will mellow out the flavor a bit and get rid of the bitterness. not sure how to toast it? here's a tutorial on how to toast quinoa flour!
** if you want to reduce the sugar, skip the filling!
Nutrition
Serving:
1
square
|
Calories:
204
kcal
|
Carbohydrates:
26
g
|
Protein:
5
g
|
Fat:
10
g
|
Saturated Fat:
4
g
|
Cholesterol:
21
mg
|
Sodium:
91
mg
|
Potassium:
103
mg
|
Fiber:
2
g
|
Sugar:
11
g
|
Vitamin A:
63
IU
|
Vitamin C:
3
mg
|
Calcium:
69
mg
|
Iron:
1
mg
Filed Under: