This simple honey granola might just be the easiest granola recipe you'll ever make. It's only 6 ingredients, tastes incredible and has the perfect crunch!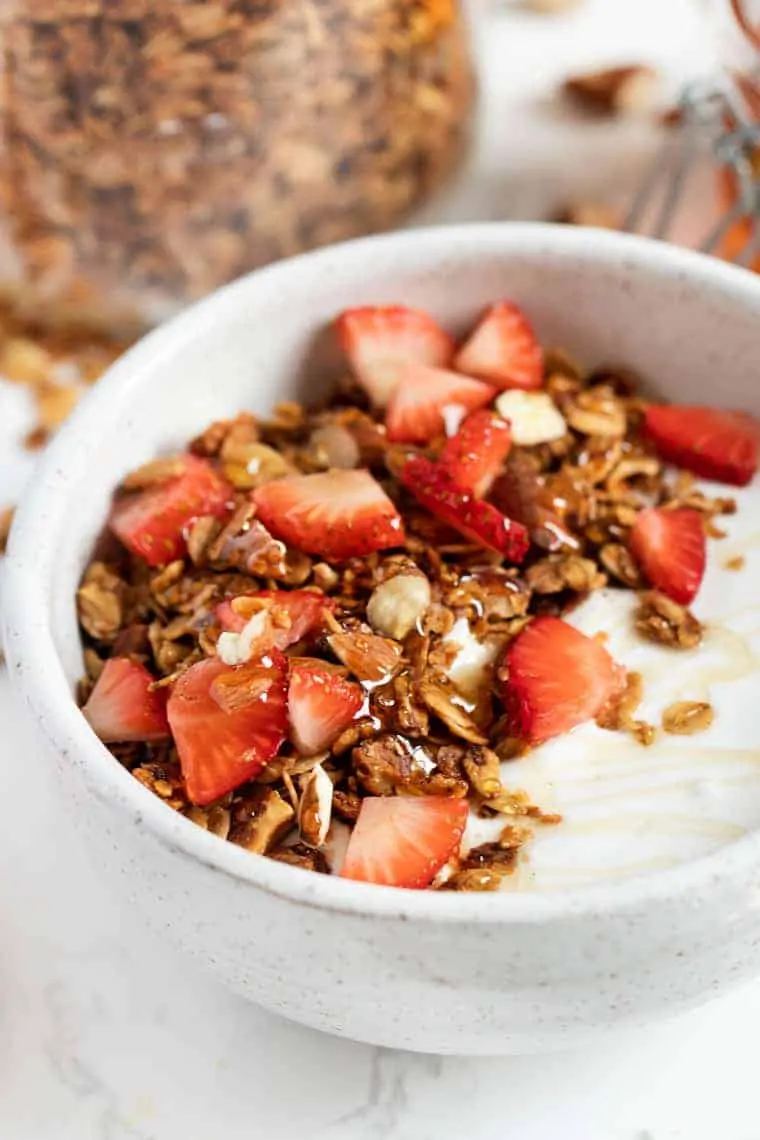 We have a winner! A granola recipe that is not only simple to make, but also delicious. It's crunchy, it's crispy, it's perfectly sweet, and it's got the simplest ingredient list of all time.
Basically, it's an everyday granola recipe that you can make whenever you're in a pinch! And best of all? It can be customized to your heart's content!
This is my simple honey granola and it's honestly delicious. I've been using it every single day for things like my coconut yogurt bowls, on top of my smoothie bowls, on top of pancakes. And you know I'm always sneaking handfuls for snacks! That's one of the best things about granola – grab-and-go friendly!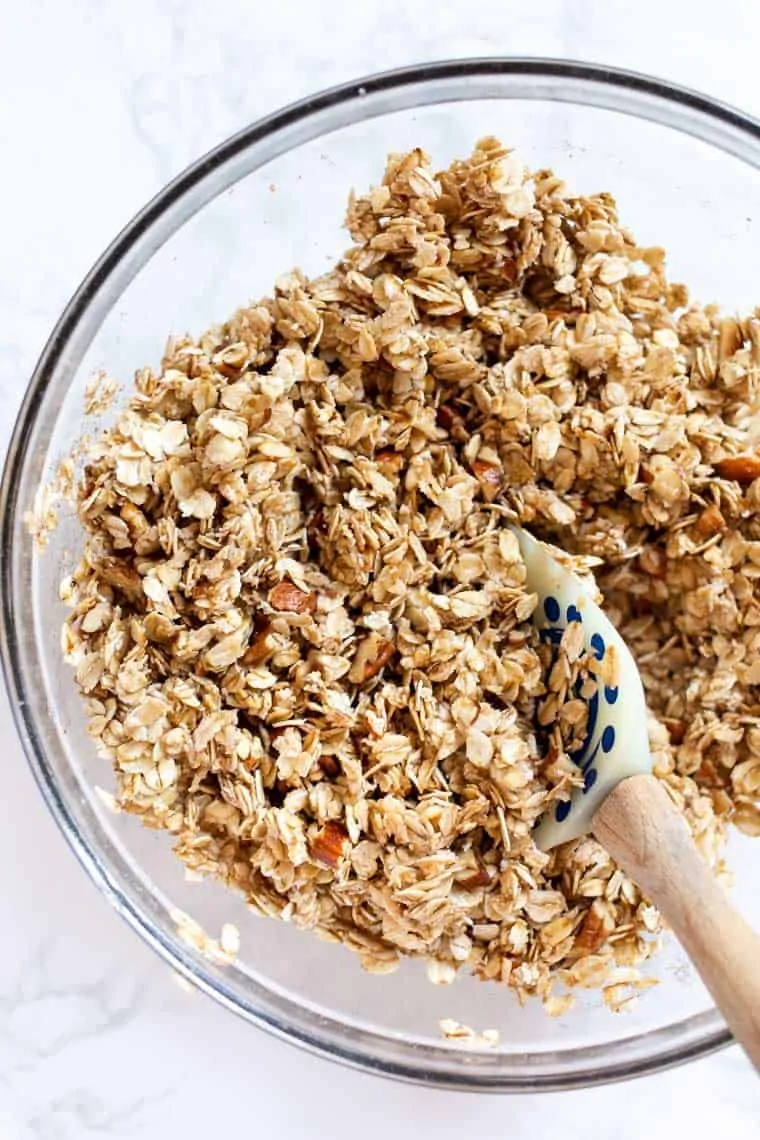 Simple Honey Granola Ingredients
Granola is one of those things that doesn't require a lot of ingredients. You'll see some recipes with long ingredient lists, but I'm here to tell you – and show you – it can actually be super simple.
All we're using for this recipe is 6 simple ingredients:
And yep, that's it!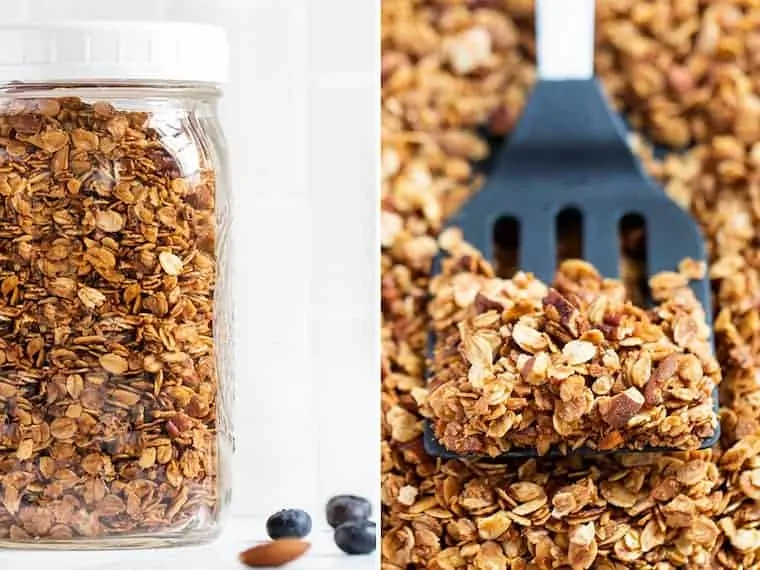 How to Make Crunchy Granola
Now that we've got our ingredients nailed down, let's talk about how to actually make granola. Yet again, it's easy as can be and really only requires 1 bowl!
STEP ONE
First step: your dry ingredients. You'll want to mix together your dry ingredients in a large mixing bowl – this will help everything can a bit more evenly incorporated into the granola.
STEP TWO
Second step: your wet ingredients. Next, we need to melt together our honey and oil. I like to do this quickly in the microwave, but you can also do it on the stovetop. You could also potentially skip this part if you're coconut oil is pre-melted, just make sure to whisk it vigorously together. You'll pour this mixture over the oats and stir it all to combine!
STEP THREE
Third step: it's time to bake! For baking granola, I recommend 350ºF for about 30 minutes. It can be temperamental though, so make sure to stir it every 10 minutes or so to avoid any burning. It also goes from golden brown to burned quickly, so just check it a little more frequently towards the end of baking.
STEP FOUR
Fourth step: let it chill. It's important to allow your granola to cool completely before you store it. That will not only help get it nice and crunchy, but it will avoid trapping any moisture into the jar.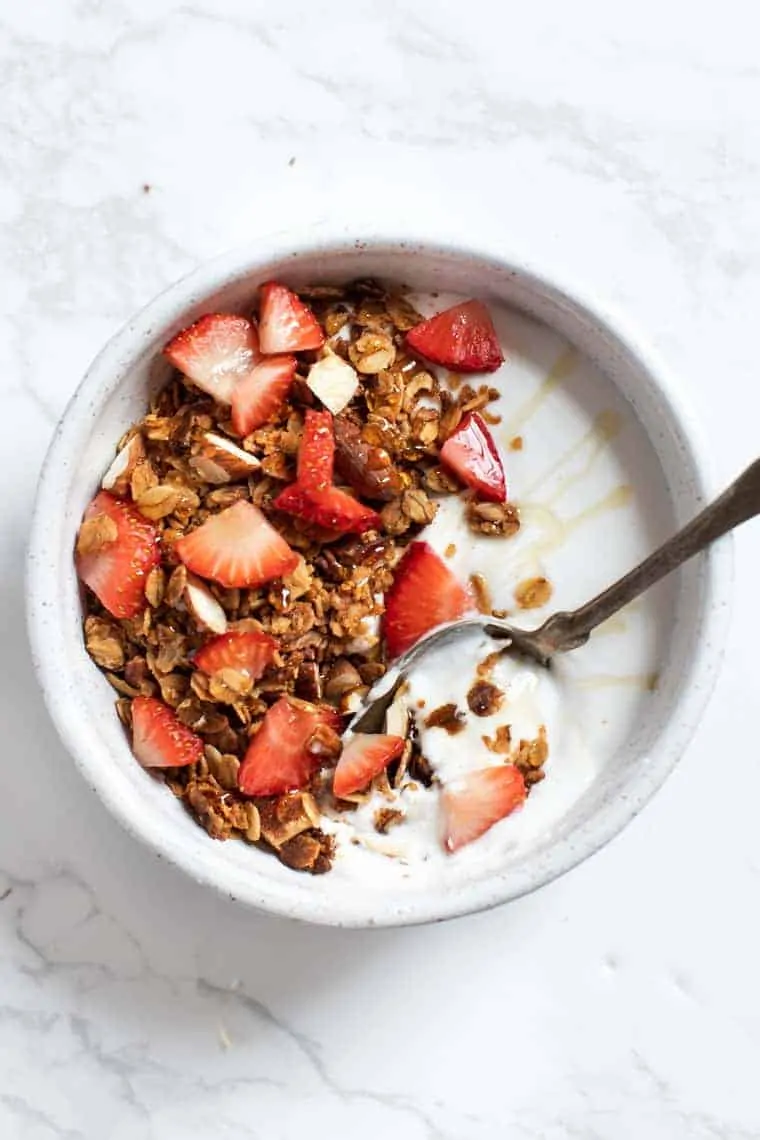 Best Way to Store Granola
One of the reasons why granola rocks is that it lasts for quite a long time. I think the best way to store granola is in a sealed glass container in your cupboard/pantry. Here are some of my container recommendations:
In terms of how long you can keep granola, I typically go for 2 – 3 weeks. If you don't think you'll be able to get through the whole batch in time, I'd recommend freezing half!
Ways to Serve Honey Granola
Now for the fun part…
I love granola on pretty much everything and have shared some of my favorite uses in the intro, but let me just spell them out for you right here in case you need a little inspo!
How do you like to eat granola? Be sure to let us know some of your favorite uses in the comments below!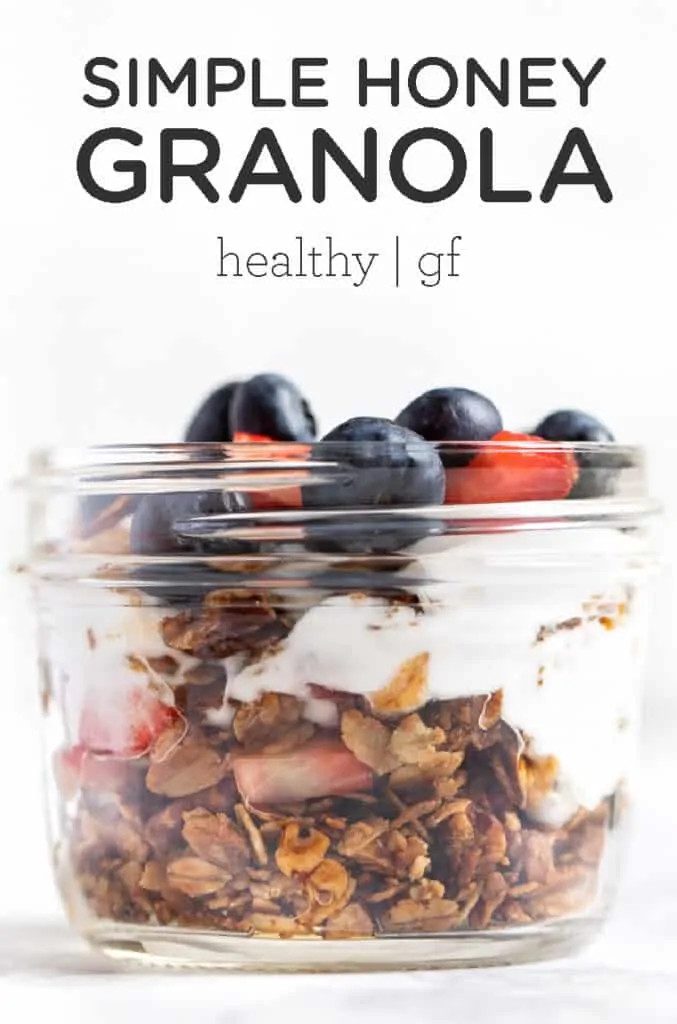 More Gluten-Free Granola Recipes:
Simple Honey Granola
This simple honey granola might just be the easiest granola recipe you'll ever make. It's only 6 ingredients, tastes amazing and has the perfect crunch!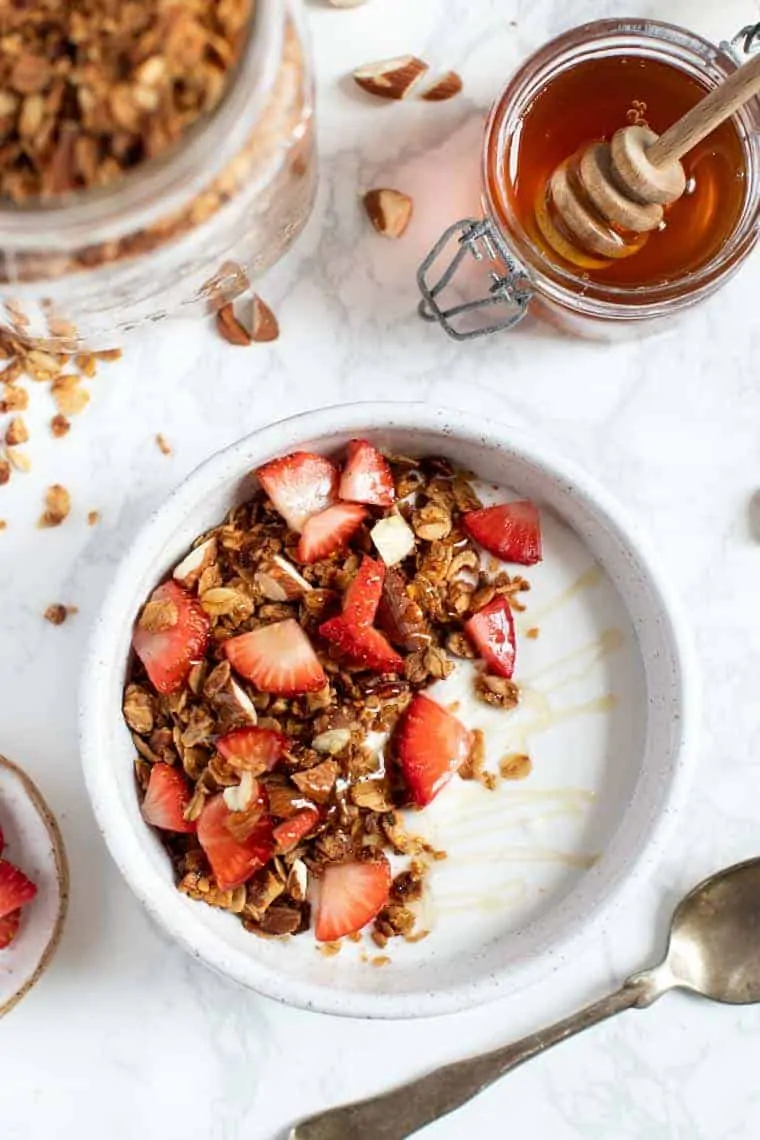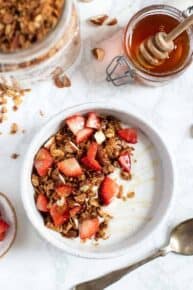 Instructions
Preheat the oven to 350ºF. Line a baking sheet with parchment paper and set aside.

In a large bowl, combine the oats, nuts, cinnamon and sea salt. Stir to combine.

Melt the coconut oil and honey together in the microwave (or on the stove). Once melted, pour over the oat mixture and stir to combine.

Pour the oats onto the baking sheet. Bake for 30 minutes, stirring every 10 minutes or so until the granola is golden brown.

For super crunchy granola, allow it to cool in the oven (with the oven OFF) and the door propped open.

Store in the cupboard in a sealed container for 2 - 3 weeks.
Nutrition
Serving:
0.25
cups
|
Calories:
200
kcal
|
Carbohydrates:
28
g
|
Protein:
4
g
|
Fat:
9
g
|
Saturated Fat:
4
g
|
Sodium:
60
mg
|
Potassium:
120
mg
|
Fiber:
3
g
|
Sugar:
11
g
|
Vitamin C:
1
mg
|
Calcium:
19
mg
|
Iron:
1
mg
Filed Under: