This is the easiest way to cook broccoli in the microwave for crisp-tender, fresh and bright green florets every time!
Cooking broccoli in the microwave is a super-easy way to cook up a big pile of healthy, high-fiber veggies without turning on the oven or stove. Whether you're prepping for the week ahead or just want a healthy snack for one, this is the best, easiest way to cook broccoli.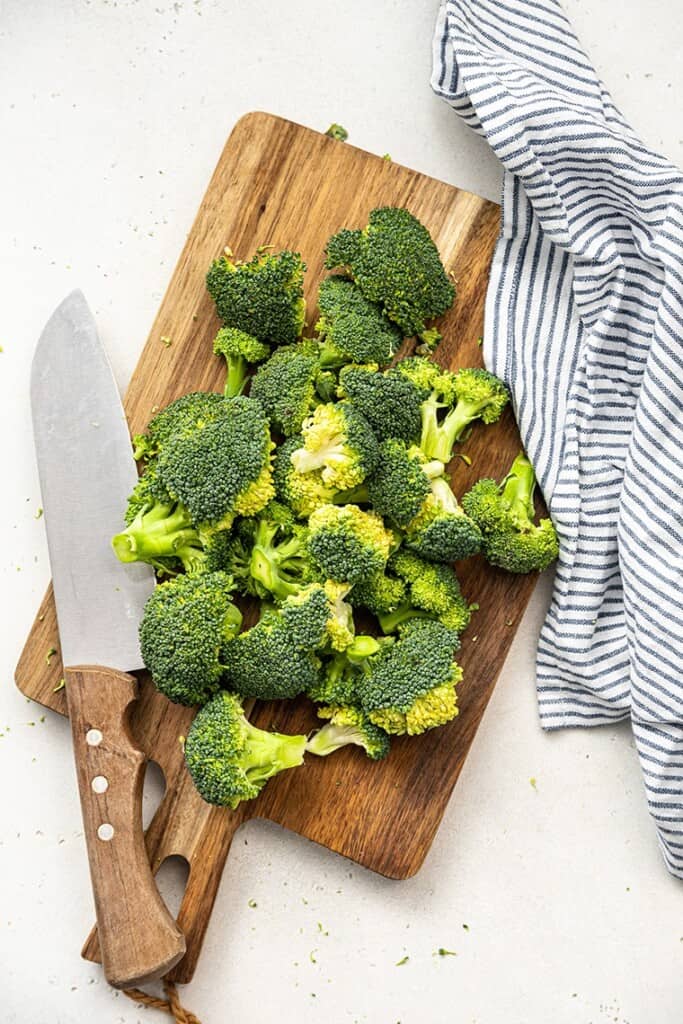 How to Cook Broccoli in the Microwave
The steps to make microwave broccoli really couldn't be easier. Here's what you'll do:
First, cut the broccoli into even florets. You want them to be bite-sized and equal so that they cook evenly.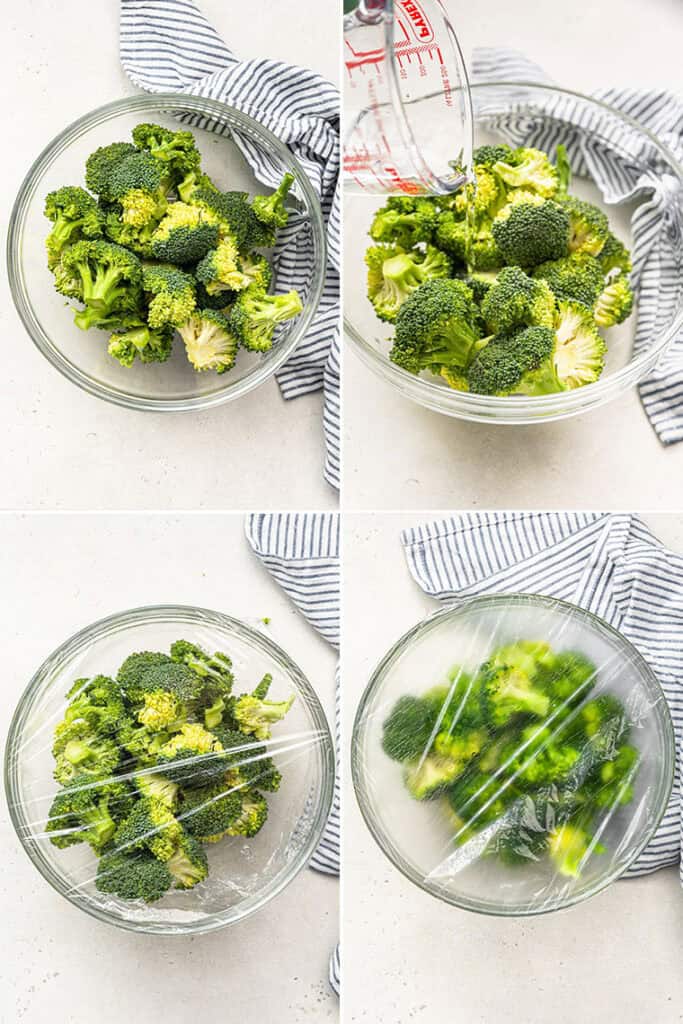 Next, place the florets into a microwave-safe bowl. Add a splash of water. This will help steam the greens.
Cover the bowl with plastic wrap. Then use a fork to pop a few holes in the plastic to let some steam escape.
Place the bowl in the microwave and cook for 30 to 60 seconds. Check the florets after 1 minute to see how cooked they are.
If they're cooked to your liking, you're good to go!
Otherwise, continue cooking in 10-second intervals until you reach your desired doneness.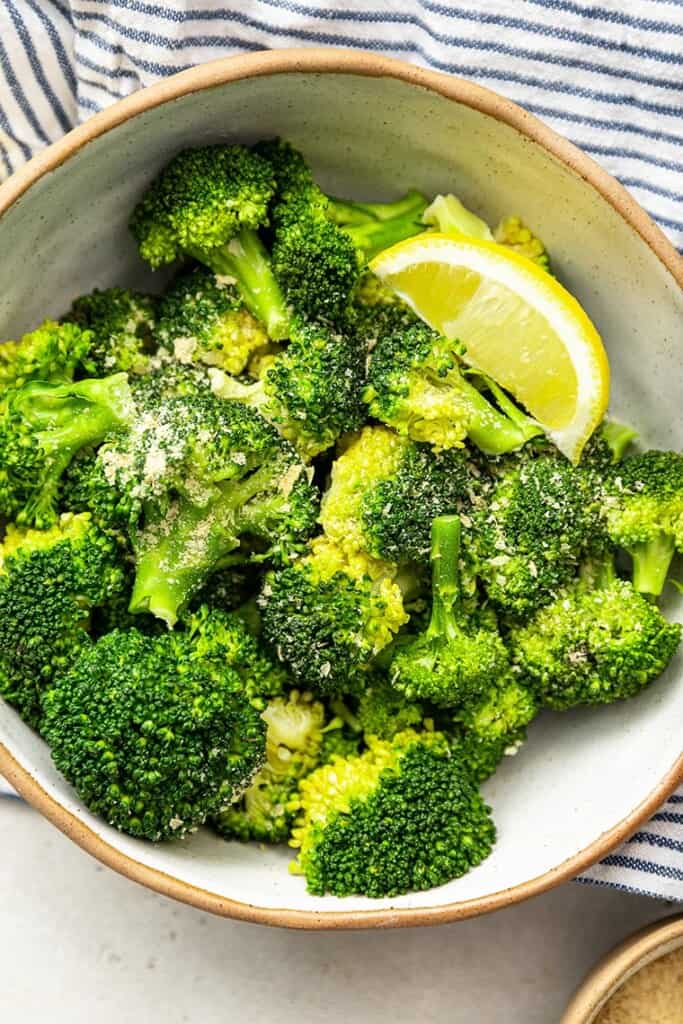 How to Serve Microwave-Steamed Broccoli
I like to eat this crisp-tender broccoli straight from the microwave when it's still hot. I'll add a squeeze of lemon juice and a dusting of nutritional yeast. So good!
Of course, you can easily dress up steamed broccoli in so many ways. Here are some recipes that you can try: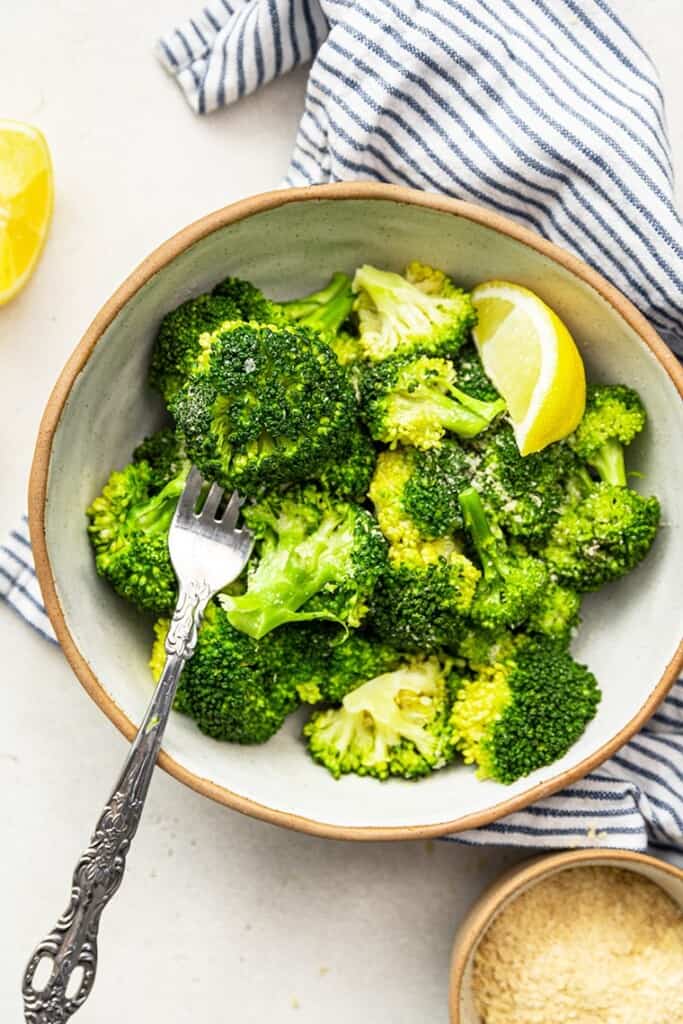 How Long To Microwave Broccoli?
I recommend starting with just 30 seconds. Then test the florets with a fork.
If they're crisp-tender, you're all set! If not, continue cooking for up to 30 seconds more. Only very large florets will need more than one minute in the microwave!
Can I Use This Technique for Cauliflower?
Absolutely! You can use the same simple steps to cook cauliflower florets in the microwave. Or try a mix of broccoli and cauliflower!
Is it better to microwave or boil broccoli?
Both are easy ways to cook broccoli. We personally like to microwave or steam our broccoli as it's harder to overcook. It also saves water which is an added bonus!
If you start making your broccoli in the microwave, be sure to let me know what you think with a comment below!
Microwave Broccoli
Learn the easiest way to cook broccoli: using the microwave! For all of your favorite healthy recipes
Ingredients
1

head broccoli

Splash of water
Instructions
Chop broccoli into florets.

Place them in a micorwave-safe bowl and add a splash of water.

Cover with plastic wrap and prick a few holes in the plastic wrap.

Pop in the microwave and cook on high for 30 – 60 seconds.

Garnish with lemon and nutritional yeast and enjoy!
Nutrition
Calories:
103
kcal
|
Carbohydrates:
20
g
|
Protein:
9
g
|
Fat:
1
g
|
Saturated Fat:
1
g
|
Polyunsaturated Fat:
1
g
|
Monounsaturated Fat:
1
g
|
Sodium:
100
mg
|
Potassium:
961
mg
|
Fiber:
8
g
|
Sugar:
5
g
|
Vitamin A:
1894
IU
|
Vitamin C:
271
mg
|
Calcium:
143
mg
|
Iron:
2
mg
Filed Under: