This satisfying stuffed acorn squash recipe is bursting with fall flavor, with a filling made from earthy mushrooms, seasoned quinoa, crunchy pecans, and a touch of maple syrup. It's an easy vegan and gluten-free side dish that's ready in an hour or less!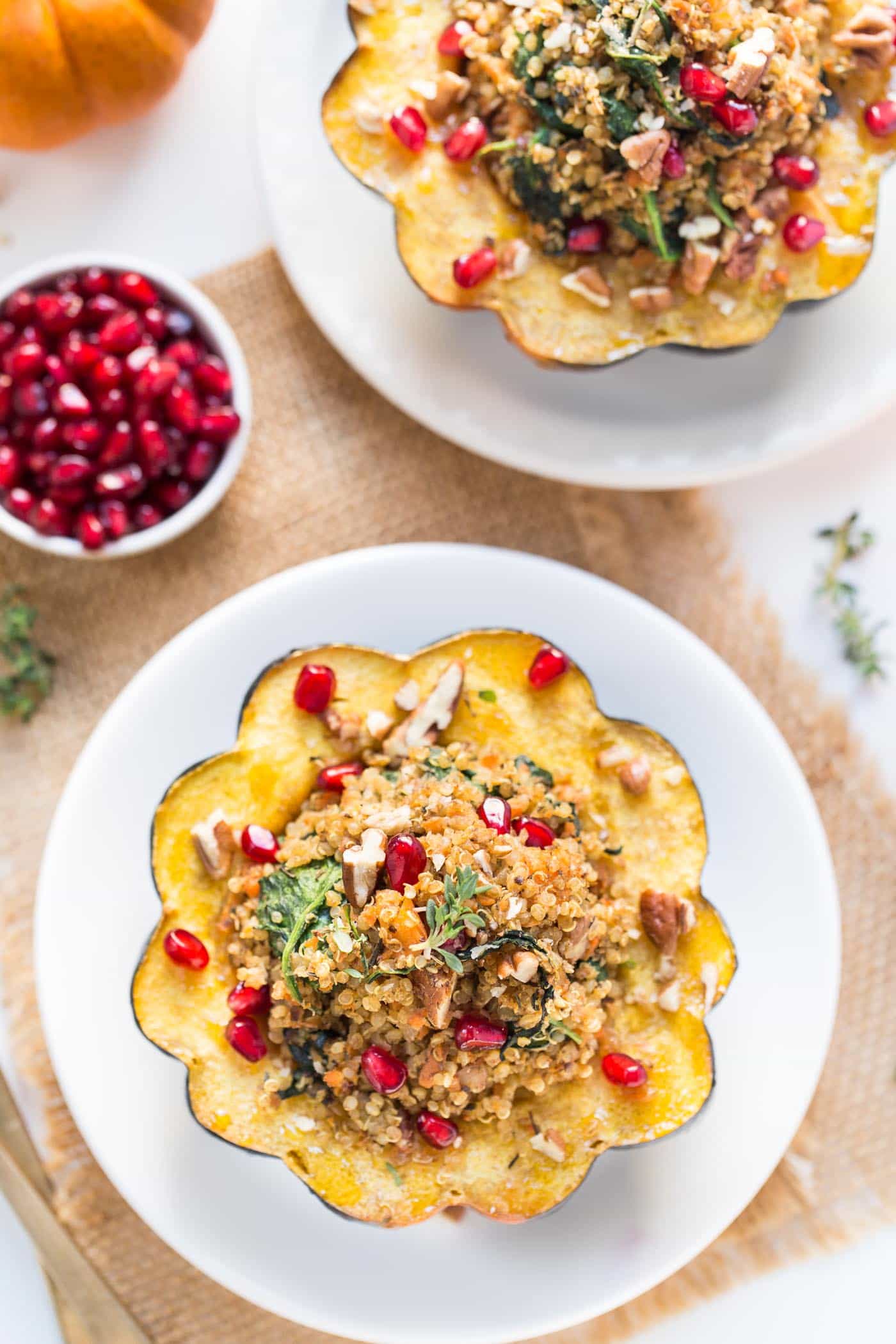 Stuffed acorn squash is one of my go-to recipes when autumn arrives. It's the perfect blend of nourishing and comforting, with familiar fall flavors that make both your tastebuds and your body feel good. With mushrooms, carrots, nuts, quinoa, and squash, this dish is very hearty. But it's lightened up with fresh greens and pomegranate seeds, while maple syrup brings a touch of sweetness. All of the ingredients marry together perfectly, creating a tender, mouth-watering vegetable entree or side dish. Plus, it's vegan and gluten-free!
Why You'll Love This Stuffed Acorn Squash Recipe
Festive. Golden roasted and stuffed acorn squash bejeweled with ruby red pomegranate seeds makes for a wonderfully festive Thanksgiving or Christmas side dish.
Easy to make. With just a few seasonal ingredients and some quick steps, you can have perfect stuffed acorn squash on the table in an hour.
Vegetarian, vegan, and gluten-free. This easy acorn squash is stuffed with a delicious, flavorful vegan filling of tender quinoa and mushrooms, with carrots, onions, and spices. It ticks all the boxes for a satisfying vegetarian and gluten-free meal or side.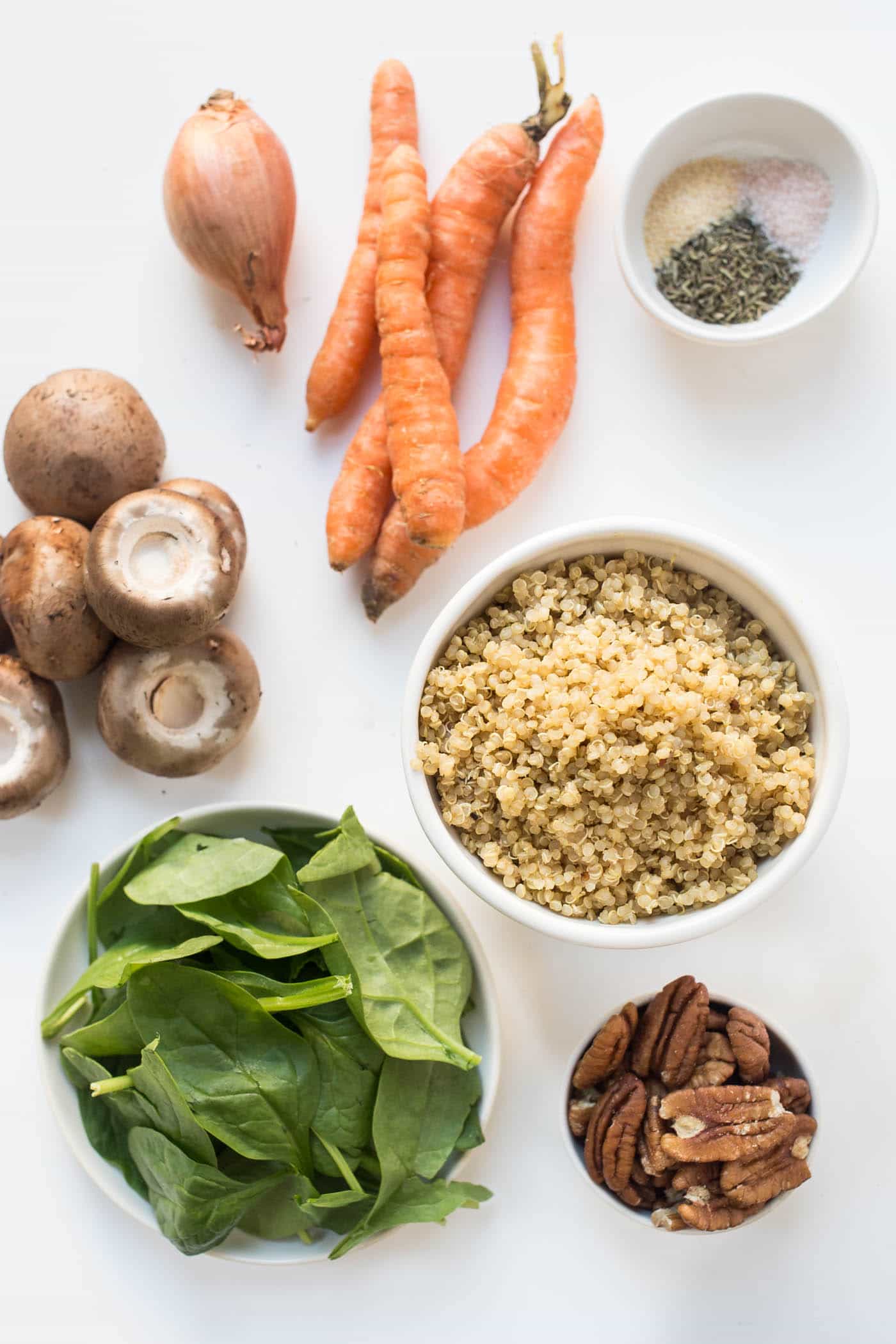 Ingredients You'll Need
Here's everything you need to make this tender and flavorful stuffed acorn squash. Be sure to check out the recipe card at the bottom of the post for specific measurements and recipe details.
Acorn squash – Acorn squash, also called pepper squash, is a type of winter squash with dark ridges and yellow-orange flesh. You'll find it in the produce aisle alongside other squashes, like butternut squash (see below).
Coconut oil – Or another type of oil that's good for roasting, like olive oil or avocado oil.
Maple syrup – Make sure to use 100% pure maple syrup for this recipe.
Mushrooms – You can use any mushroom for this recipe. Hearty mushrooms work best, and I prefer to use button or baby bella mushrooms. But whatever you have on hand will work.
Carrots
Shallots – Or another type of mild white or yellow onion.
Olive oil – For sautéing.
Cooked quinoa – Use any variety of quinoa you'd like. See my tutorial on how to cook quinoa for tips.
Spinach – You can use other greens, like kale or chard, if you prefer.
Pecans – Walnuts are another good option. Feel free to omit the nuts if you're making this recipe nut-free.
Seasonings – You'll season the filling with a combination of dried thyme, garlic powder, salt, and pepper.
Nutritional yeast – Brings additional richness and nutty flavor to the filling. You can skip it if preferred.
Pomegranate seeds – For an optional garnish.
What's the Difference Between Acorn Squash and Butternut Squash?
Acorn squash is different in shape, color, and texture from other winter squashes, like butternut squash and spaghetti squash. Acorn squash is squat and round, like… well, an acorn, and dark green. Meanwhile, butternut squash is longer, lighter in color, and starchier. Similar to butternut squash, acorn squash lends itself to puréeing into soup, as well as stuffing and roasting.
How to Make Stuffed Acorn Squash
The end result of this stuffed squash recipe might be a fancy dinner, but it's fairly straightforward and easy to make.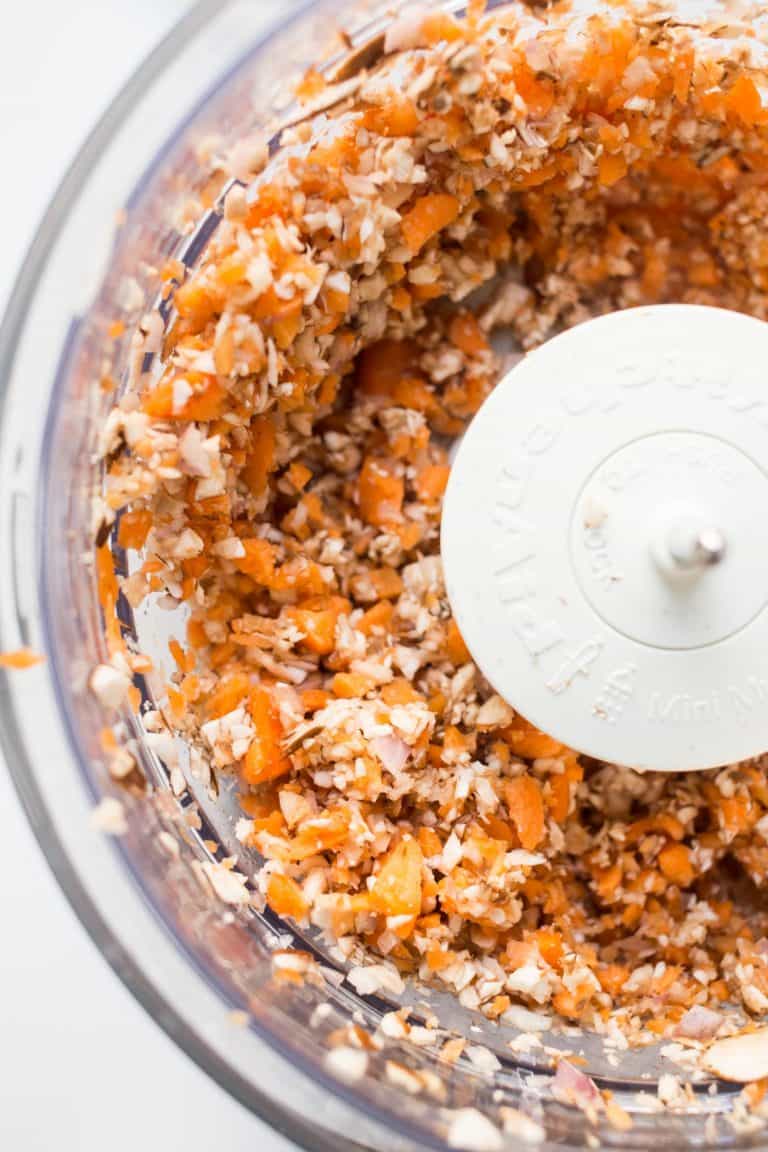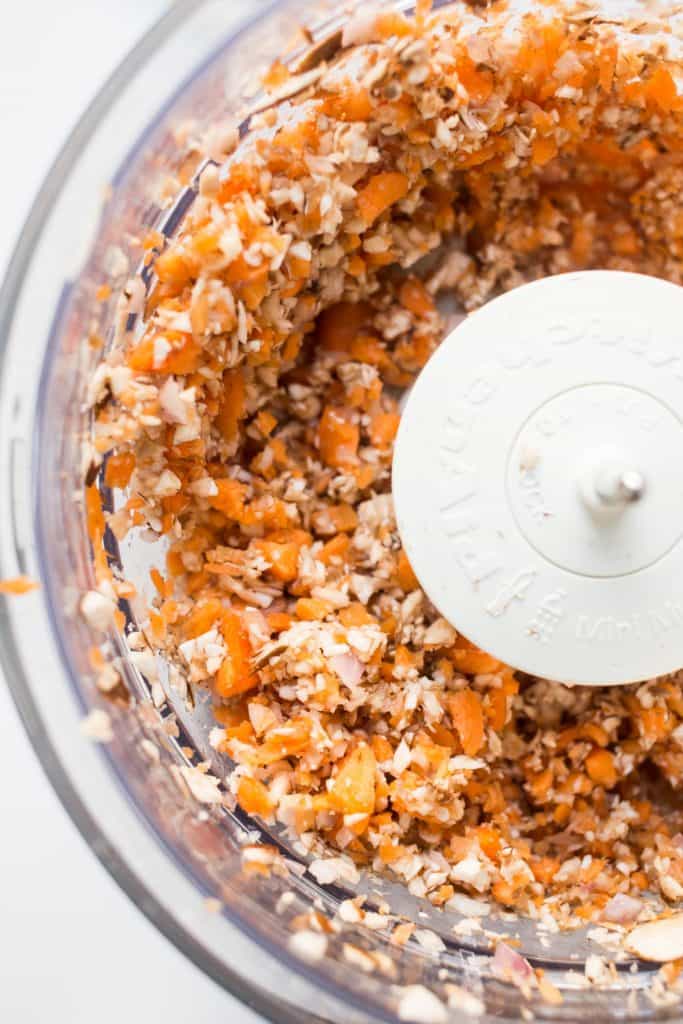 Roast the acorn squash. Slice the acorn squash in half lengthwise and scoop out the seeds. Afterward, coat each half with oil and a drizzle of maple syrup. Roast the squash flesh-side-up in a shallow baking dish or 40-45 minutes at 400ºF.
Make the filling. While the squash roasts in the oven, blitz the mushrooms, carrots, and shallots in a food processor. Lightly sauté the minced veggies in a large skillet, and add the seasonings and cooked quinoa. Continue to cook until the quinoa is warmed through, stirring in the spinach and pecans.
Finish and stuff the squash. Transfer the filling to a bowl and toss it with nutritional yeast. Take your acorn squash out of the oven, and divide the filling between each of the halves. Finally, return the stuffed squash to the oven for another 5-10 minutes.
Serve! Garnish the stuffed acorn squash with pomegranate seeds and serve right away.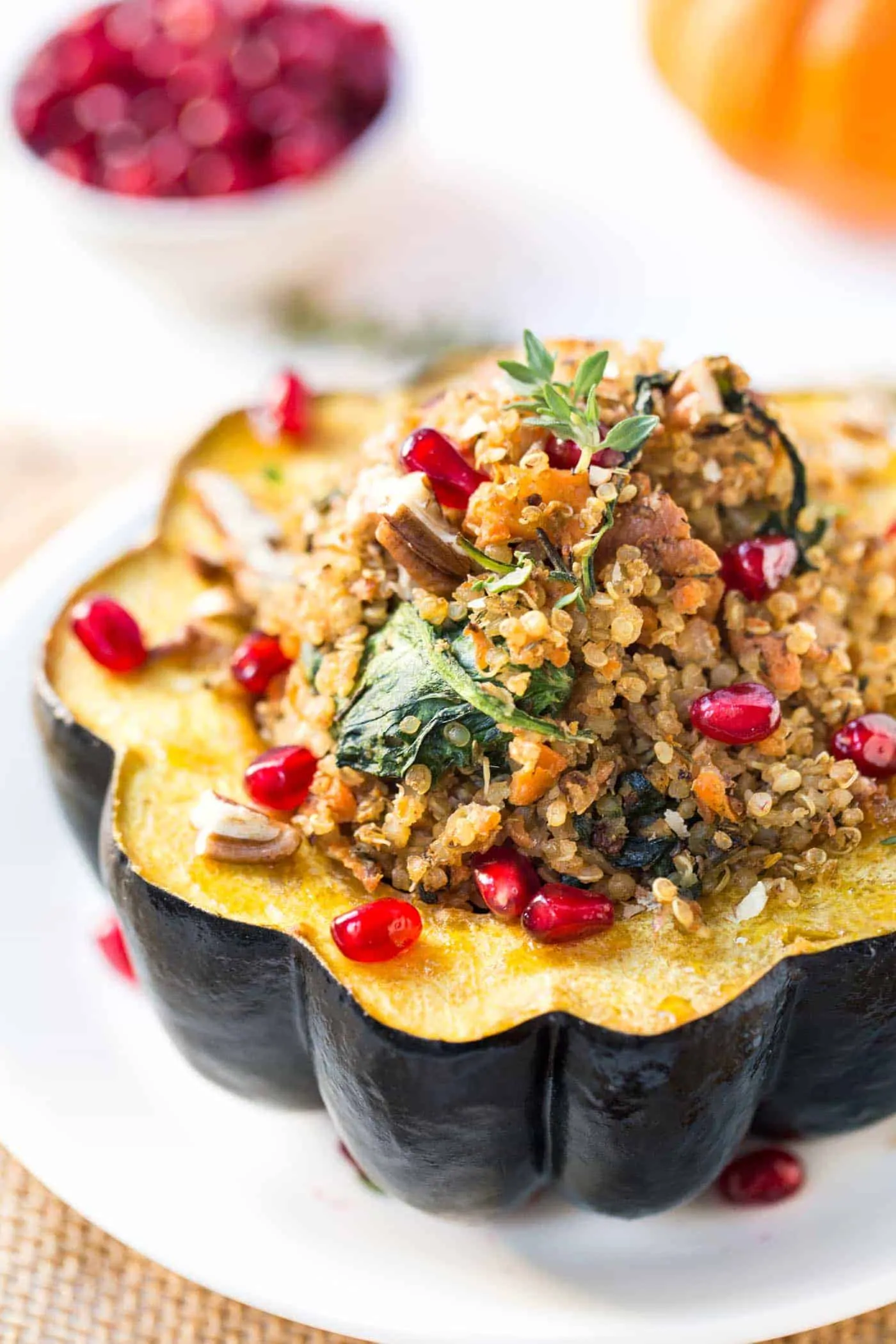 Tips for Success
Here are some tricks and tips to make sure that your mushroom stuffed acorn squash comes out perfectly every time.
Cook the acorn squash all the way through. The cooking times for this recipe are guidelines, not rules. Acorn squashes come in different sizes, which means they can have different cooking times. Be sure to cook your squash until it is tender all the way through. You can check by poking it with a paring knife, which should slide through the whole squash easily.
Don't overcook the spinach. You want to cook the spinach until it's wilted, but don't overcook it or it will start to dry out. The spinach should be providing juiciness to the recipe.
Don't skimp on the filling. Having the right ratio of filling to acorn squash is important in this recipe. Don't just put a dollop of filling in the squash. Instead, add as much as you can. You should be able to fit all of the filling into the four squash halves.
What to Serve With Stuffed Acorn Squash
This is sure to become a frequently-made dish in your kitchen during the fall and winter! Stuffed acorn squash is easy enough to serve on its own any day of the week, and it's also fancy enough to stand in as a Thanksgiving side dish. Tender stuffed acorn squash pairs well with more easy holiday sides like vegan cornbread stuffing, roasted winter vegetables, and crispy roasted potatoes. Or, serve it with a bowl of spicy ginger sweet potato soup and fluffy gluten-free popovers as a delicious, warming family meal.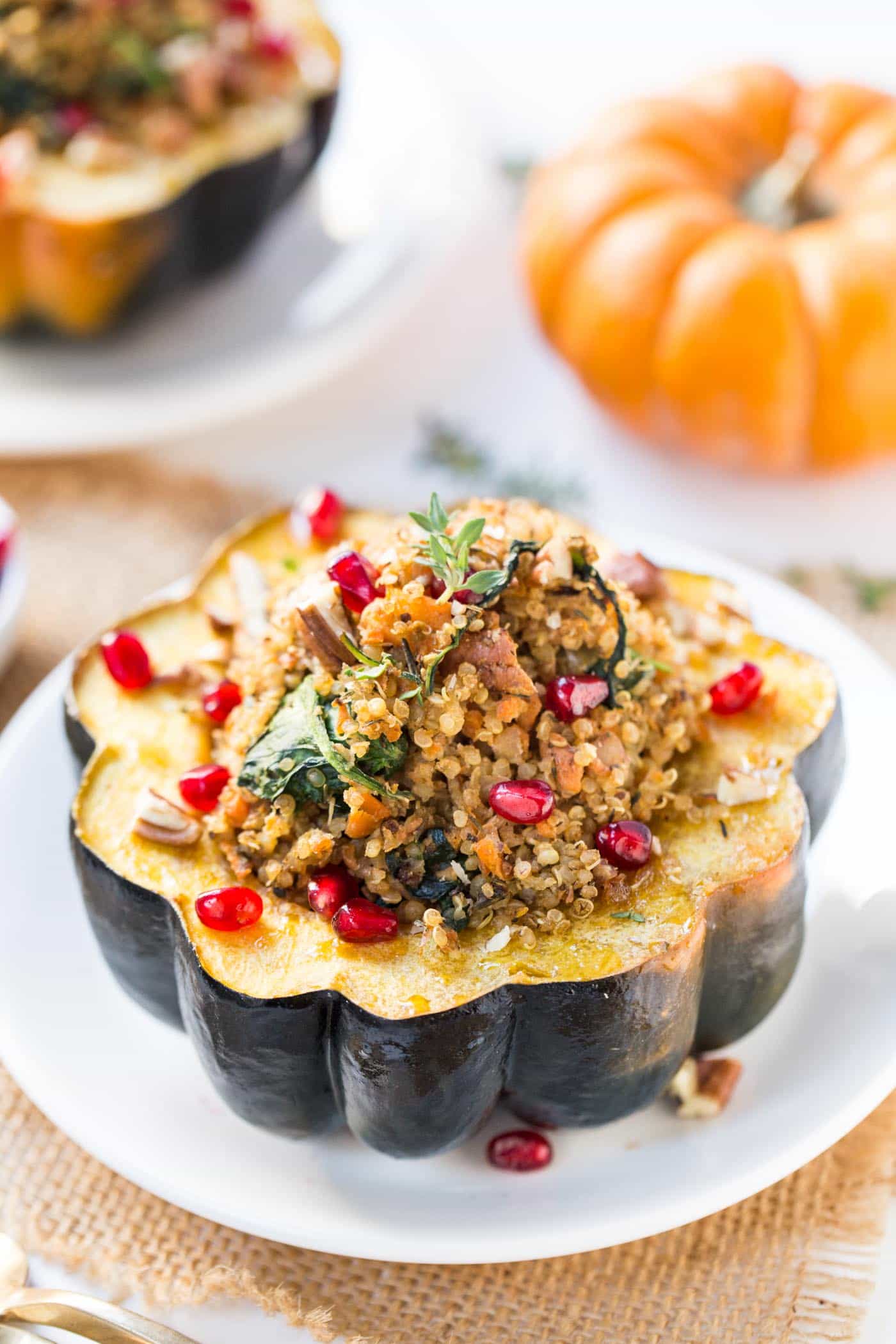 Storing and Reheating Leftovers
Refrigerate. You can keep stuffed squash in an airtight container in the fridge for up to 4 days. Reheat the squash in the microwave or in the oven (wrapped in foil) until hot throughout.
Freeze. Stuffed acorn squash can be kept frozen for 3 months. Just store them in an airtight container, and let them thaw before reheating.
More Holiday Side Dishes to Try
Mushroom Stuffed Acorn Squash
This stuffed acorn squash recipe is bursting with fall flavor, with a filling made from earthy mushrooms, quinoa, crunchy pecans, and a touch of maple syrup. Plus, it's vegan and gluten-free!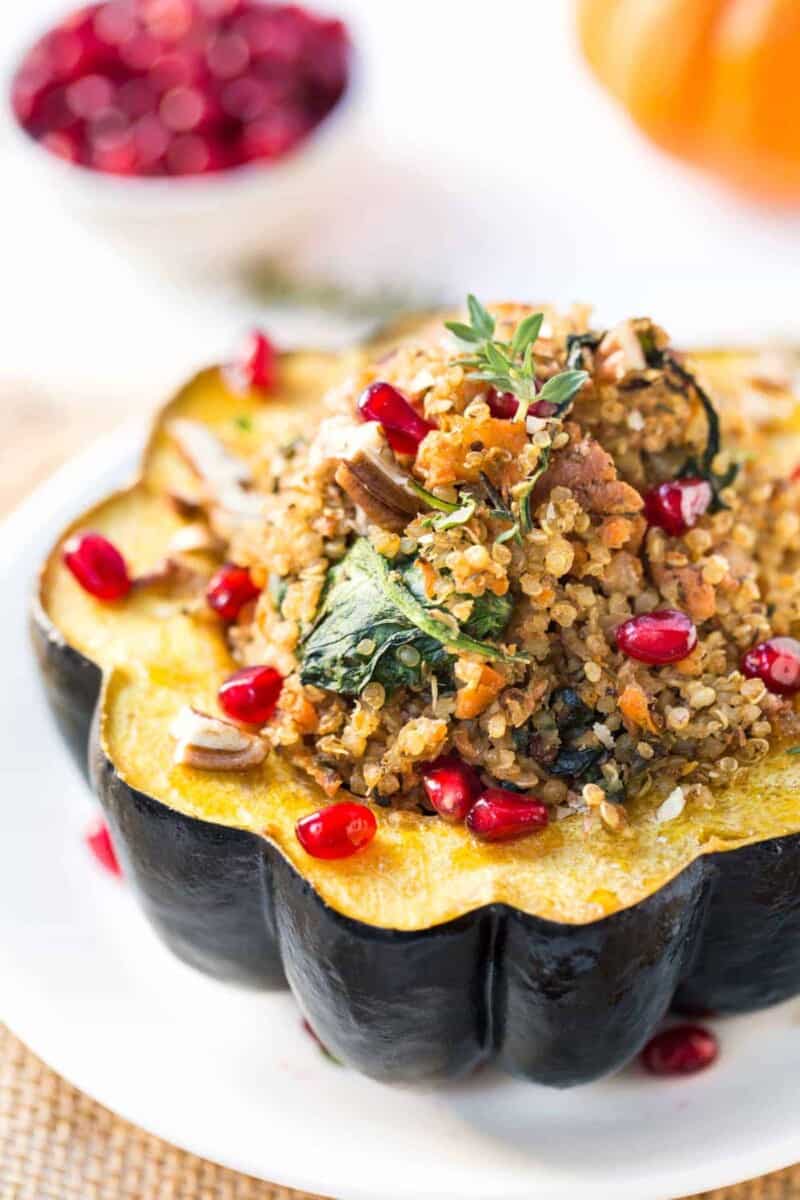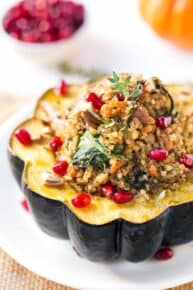 Instructions
Preheat the oven to 400ºF.

Slice the ends off the squash, then slice each in half width-wise. Scoop out the seeds and place the squash, flesh side up in a shallow baking dish. Rub each half with coconut oil and drizzle with maple syrup.

Bake on the center rack for 40 – 45 minutes until squash is tender.

While the squash is roasting, add the mushrooms, carrots and shallot to a food processor. Process on high until the veggies are finely chopped.

Heat oil in a large skillet over medium heat. Add vegetable mixture and saute for 2 – 3 minutes until the mushrooms have started to release their juices. Add spices and quinoa and cook until quinoa is warmed. Add water if needed.

Once veggies are cooked, add spinach and pecans, and cook until spinach has wilted.

Transfer this mixture to a bowl and stir in nutritional yeast.

Divide the mixture evenly between the four squash halves. Place back in the oven for 5 – 10 minutes. Remove from the oven, garnish with pomegranate and serve immediately.
Nutrition
Serving:
1
g
|
Calories:
419
kcal
|
Carbohydrates:
55
g
|
Protein:
9
g
|
Fat:
20
g
|
Saturated Fat:
10
g
|
Sodium:
38
mg
|
Potassium:
1293
mg
|
Fiber:
8
g
|
Sugar:
11
g
|
Vitamin A:
4765
IU
|
Vitamin C:
30.4
mg
|
Calcium:
133
mg
|
Iron:
4.3
mg
Filed Under: