These healthy Chickpea Brownies are high in protein and fiber and are topped with chocolate coconut butter icing and crushed peppermint candies.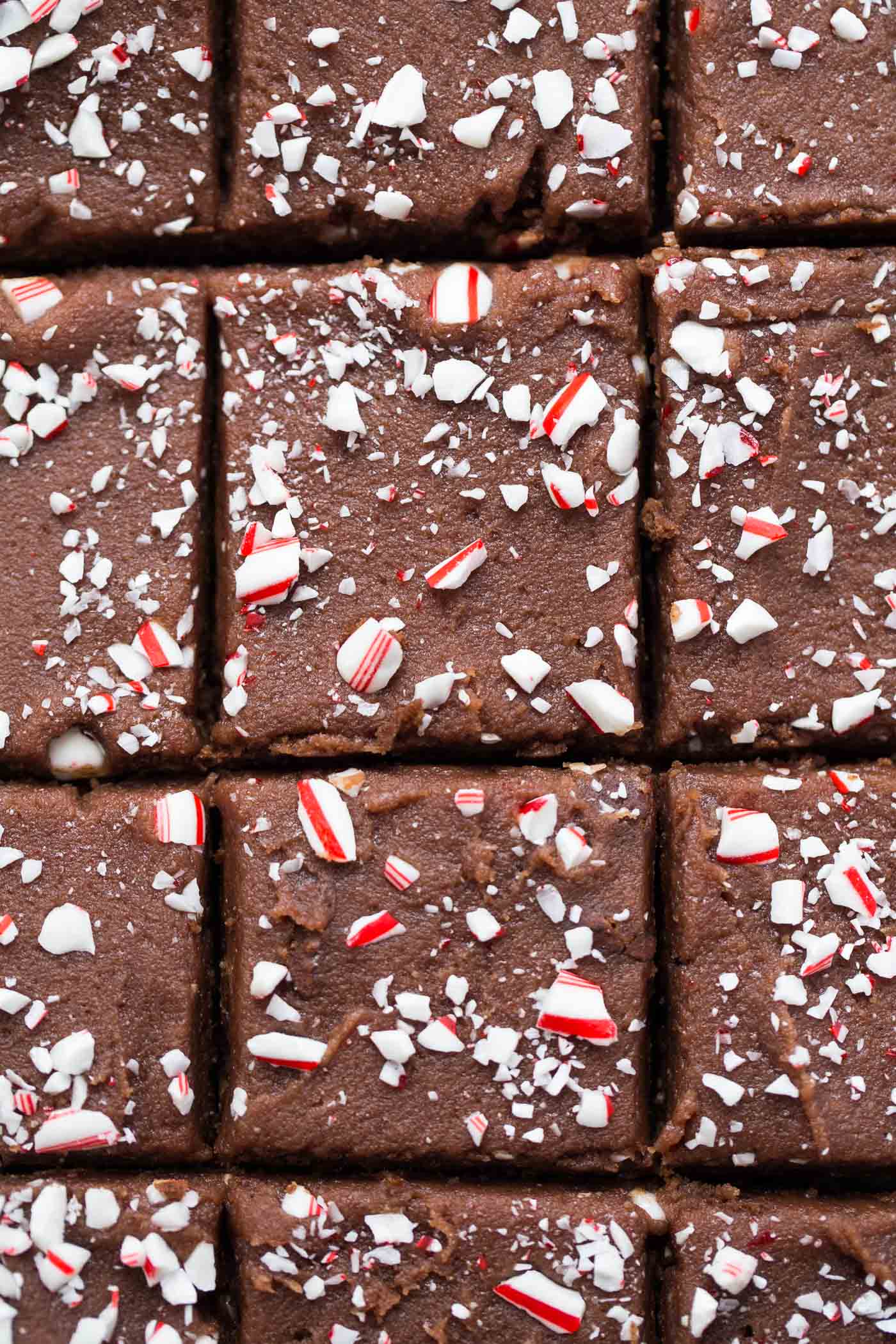 Confession time: I spent this past weekend dreaming of dessert. But not just any dessert, I was dreaming up ways to create all the holiday treats in only healthy ways. I've got a gingerbread cookie recipe up my sleeve and today I'm making healthy peppermint brownies.
And I put chickpeas in them. I know, I know. But don't knock it until you try it because these chickpea brownies are the bomb diggity. Not only are they high in protein, but they're made with only wholesome ingredients, are naturally gluten-free AND they're oil-free and vegan.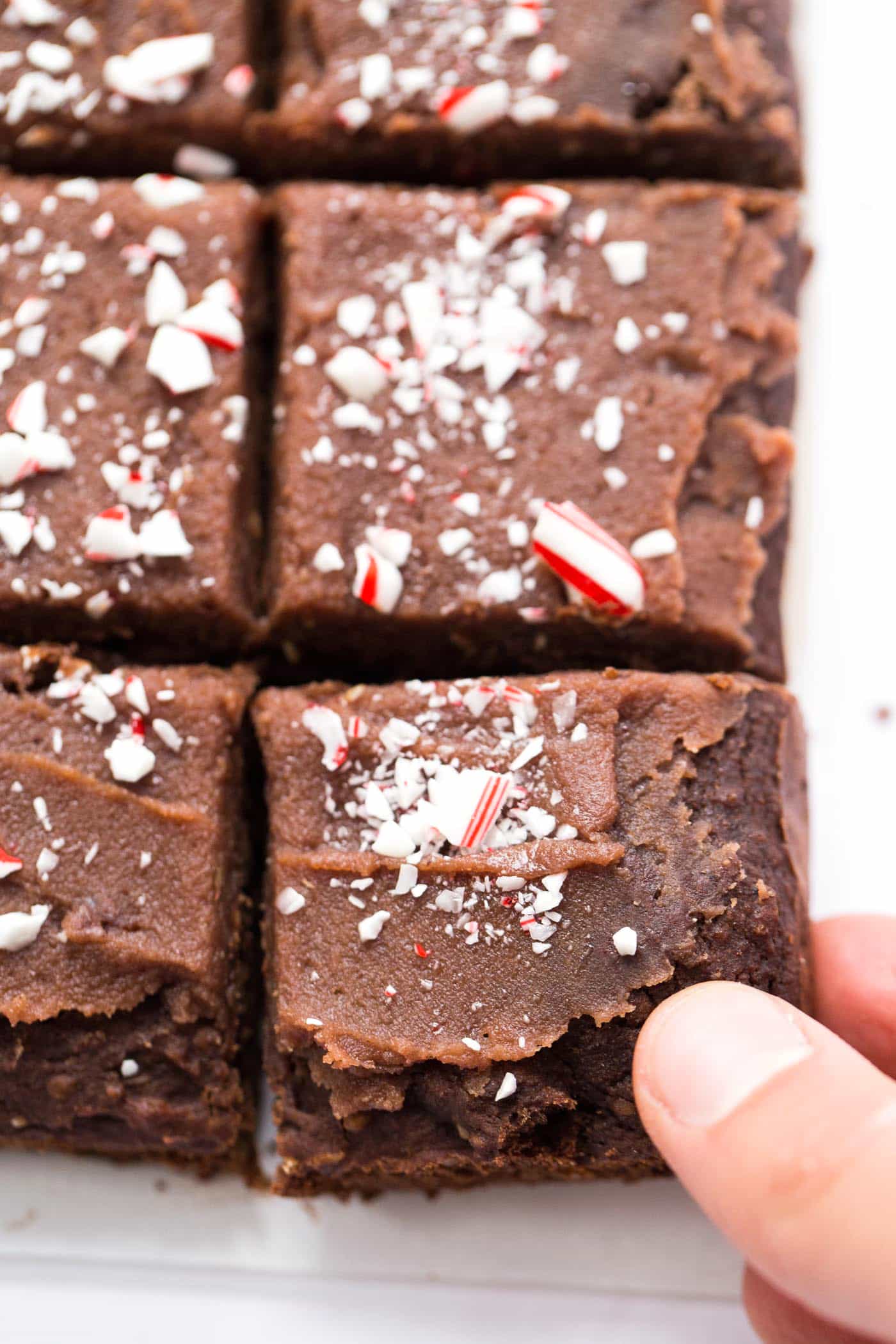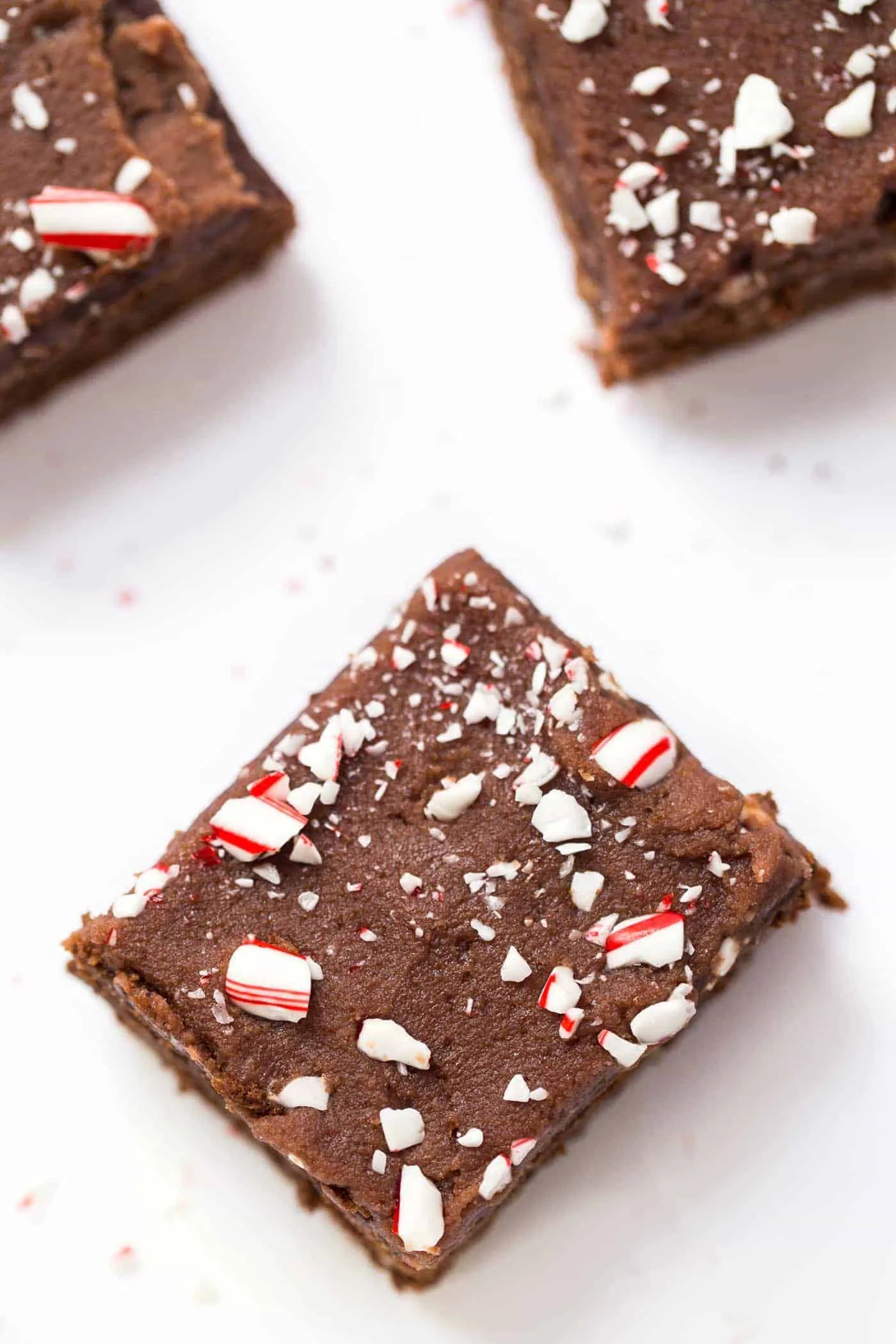 All you need to make these is a food processor. You just add everything into the bowl, blend it up and done. It's almost as easy as making brownies from a mix, but these babies are oh so good for you!
Let's talk about what's inside.
These brownies, of course, start with chickpeas which are high in and plant-based protein. Then we've got bananas which are a natural source of sugar as well as potassium, flaxseed meal which is packed with omega-3s, almond butter which is full of healthy fats and even more protein, quinoa flour which again has protein, but is also a complex carbohydrate and is high in many trace minerals, cacao powder which has lots of antioxidants and coconut sugar which as natural, low-glycemic sweetener. Oh and to finish it all off, we've thrown in some hemp seeds for a bit of added protein.
So basically what I'm telling you is these brownies are H-E-A-L-T-H-Y!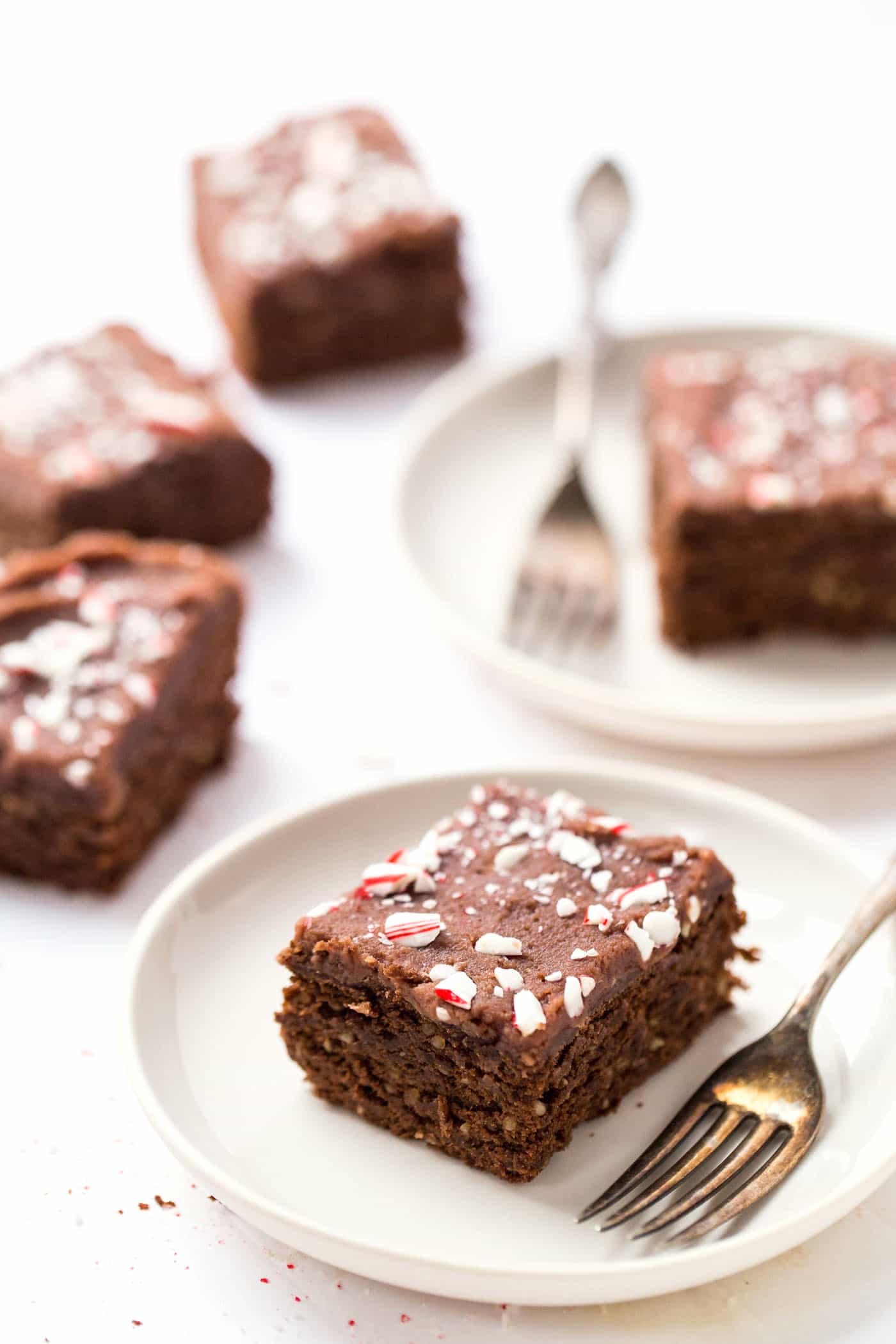 Just like my carrot cake quinoa breakfast bars, these chickpea brownies could even be served as a dessert or breakfast food! Yes, even with the frosting on top
Because that frosting? It's again, made with only nutritious ingredients. I suppose at this point though, would I ever serve you anything but?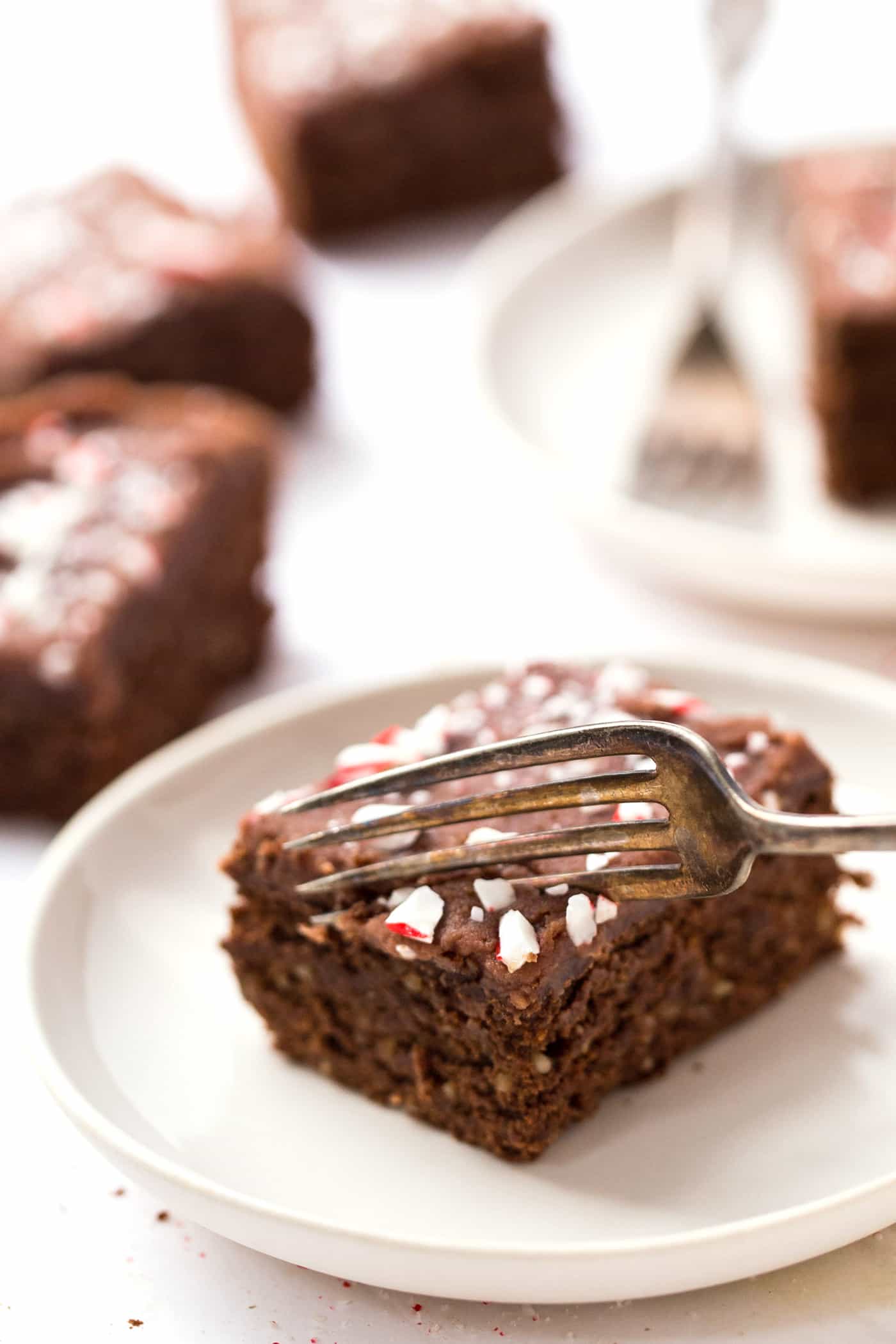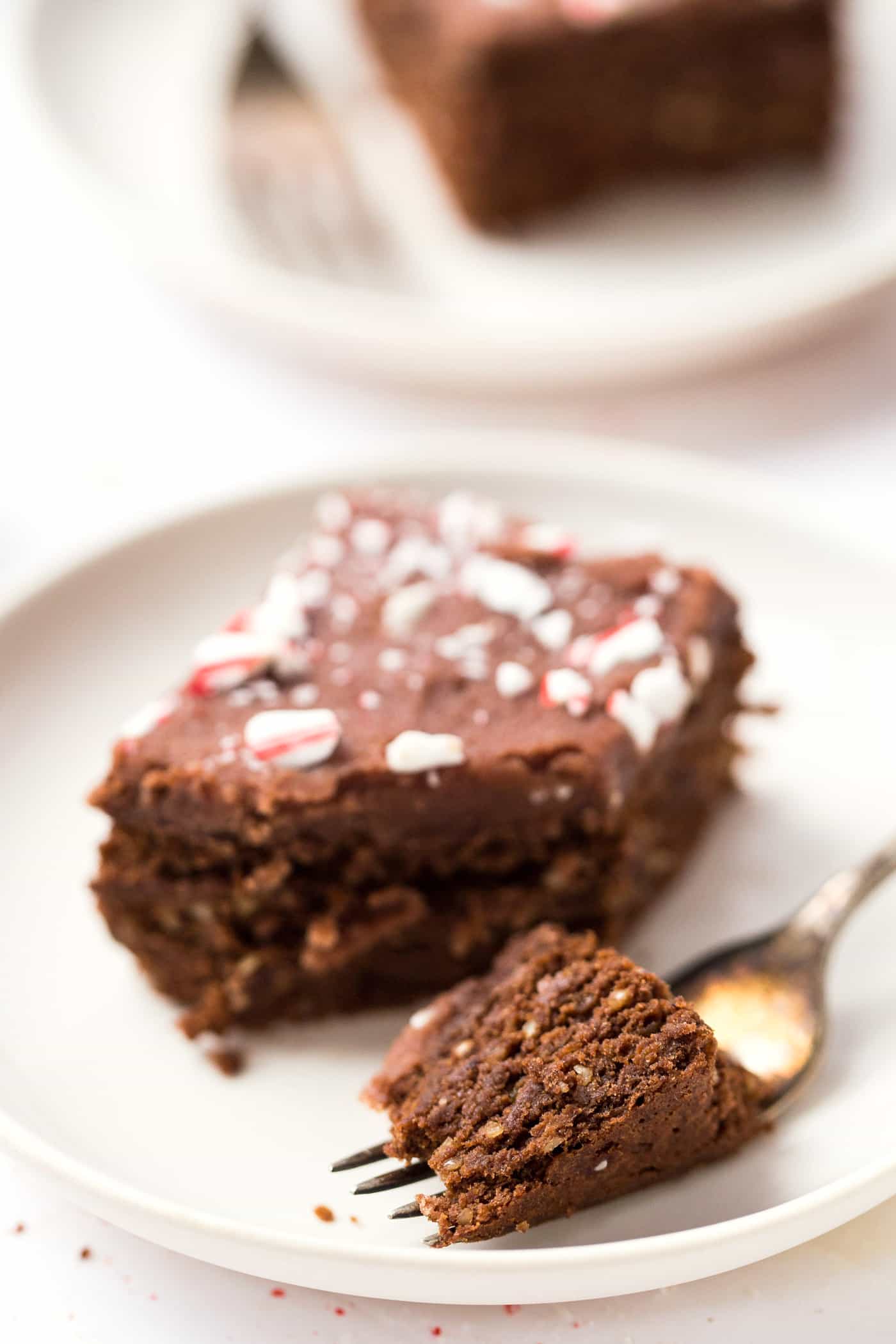 But that's not here nor there. Because before I let you scamper off to make these decadent treats, let's just quickly review the frosting.
The frosting is made from a blend of coconut butter, coconut oil, and maple syrup. From there, we add a splash of almond milk, some raw cacao powder, some coconut flour, and some tapioca starch. It's thick, fluffy and just sweet enough to take these brownies over the edge.
And since we're in the midst of the holiday season, I added a dash of peppermint extra and crushed peppermint candies on top, but both are totally optional. You can leave them out and what will you be left with? A dark chocolate brownie with chocolate icing.
Yep, you really can't go wrong!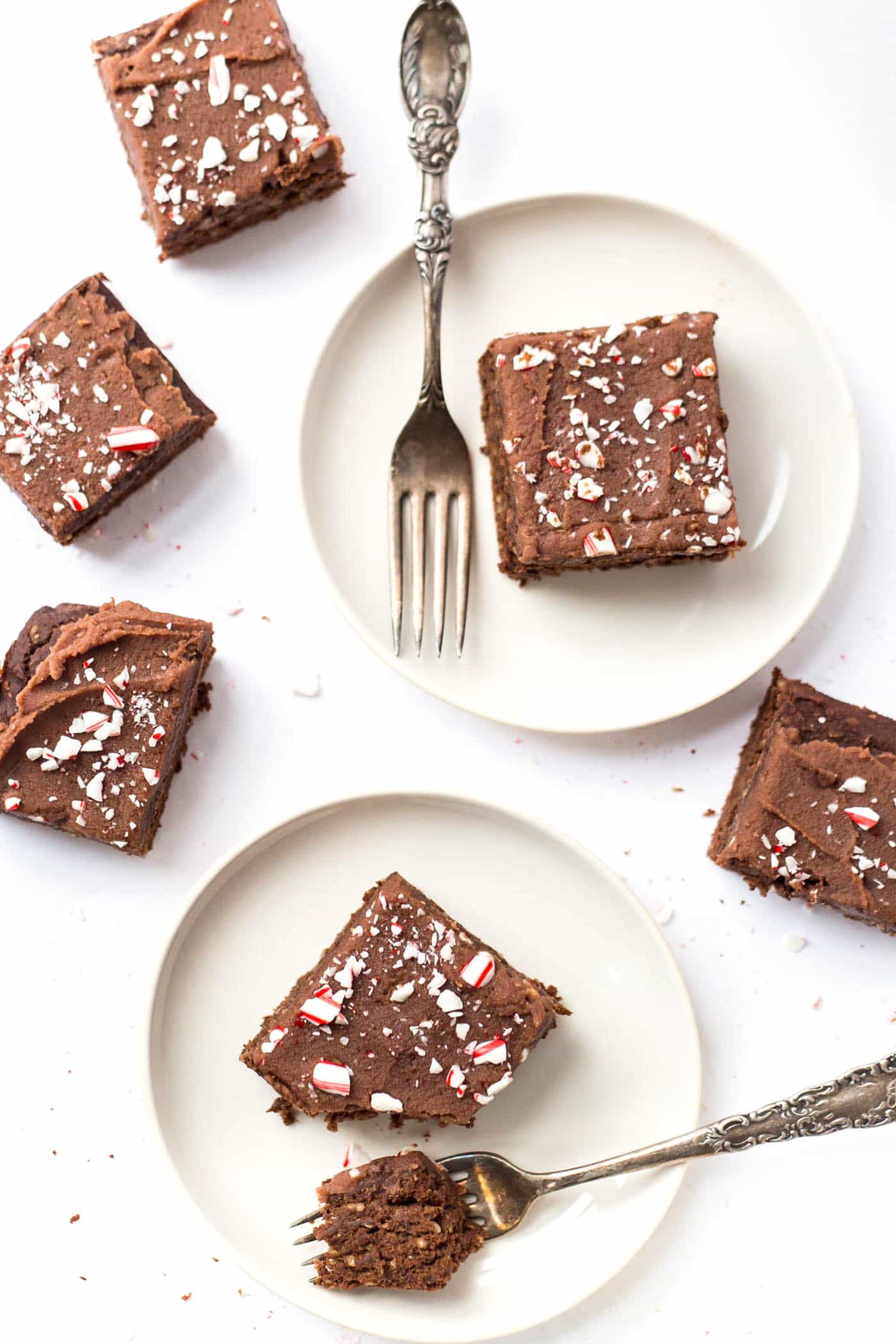 Your turn…
But now I want to hear from you! What are some of your favorite holiday treats that you'd like to see recreated in a healthy way? Send em over and I'll try and make them happen for you!
xo A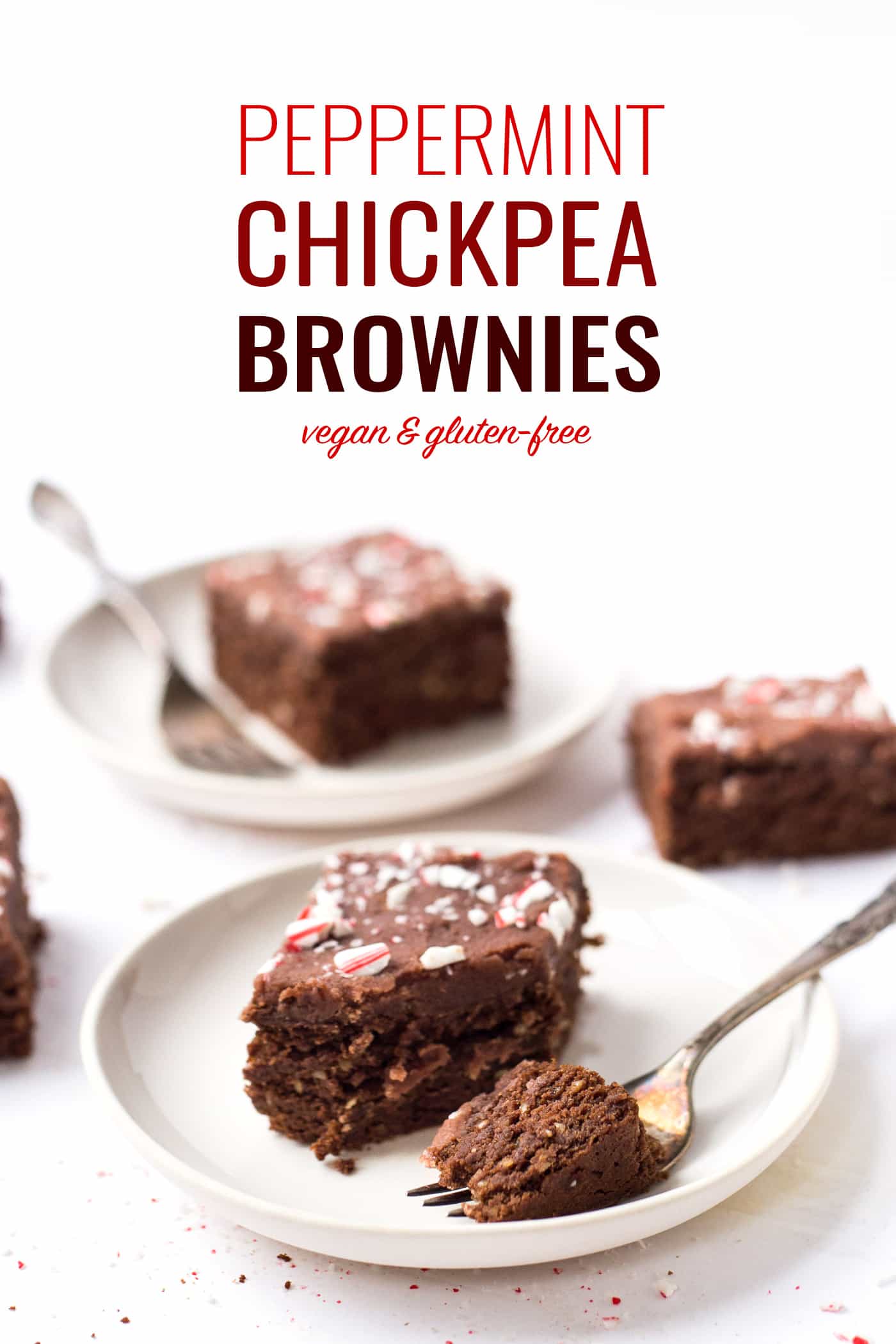 More Holiday Recipes to try:
Peppermint Frosted Chickpea Brownies
All you need to make these is a food processor. You just add everything into the bowl, blend it up and done. It's almost as easy as making brownies from a mix, but these babies are oh so good for you!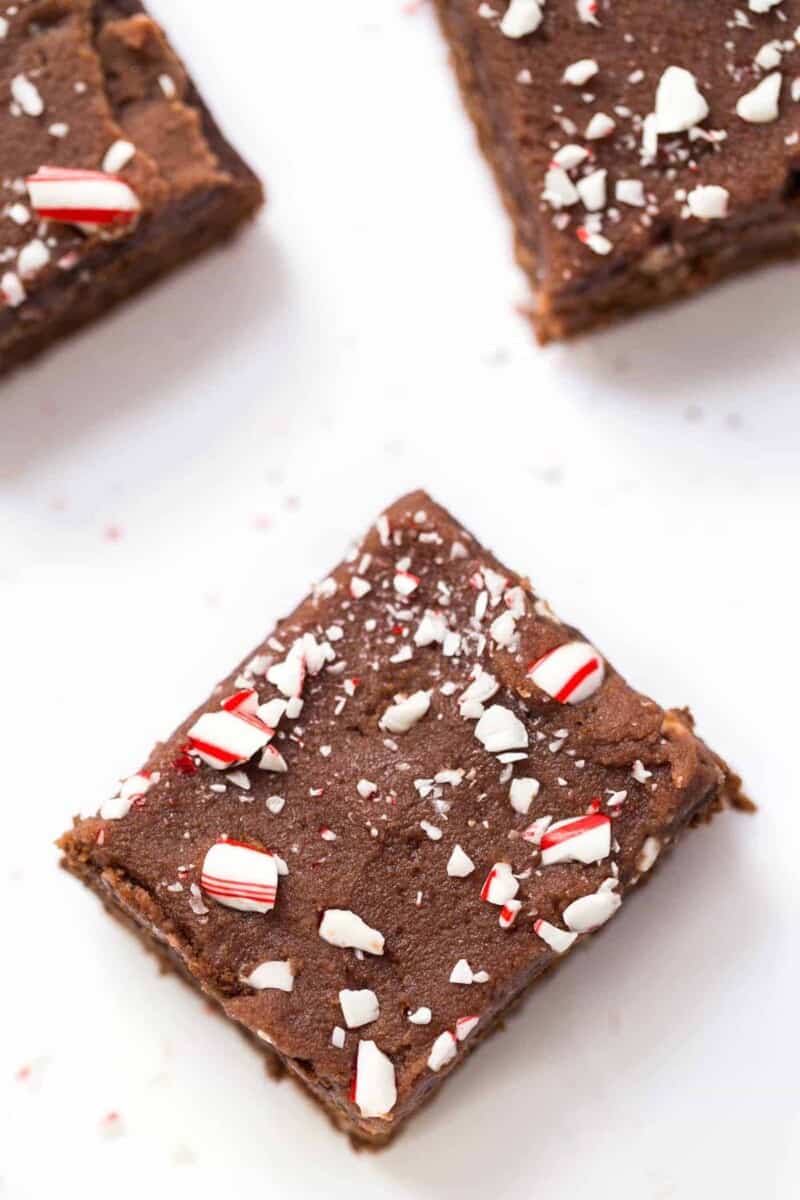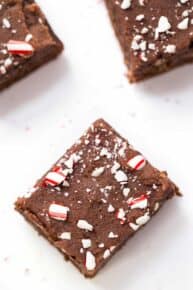 Instructions
Preheat the oven to 350°F. Grease and line an 8x8 baking pan with parchment and set aside.

Whisk together the flaxseed meal and water in a small bowl. Set aside for 5 minutes.

Meanwhile, blend the chickpeas, banana and almond butter in a food processor until completely smooth. Add flax egg and blend again.

Add remaining ingredients (minus hemp seeds) and blend until a dough forms. Pulse in hemp hearts.

Dump the batter into the prepared pan. Bake on the center rack for 22 - 26 minutes until a toothpick inserted into the center comes out clean.

Let cool in the pan for 10 - 15 minutes, then transfer to a wire rack and cool completely before frosting and slicing.

While the brownies are cooling, prepare the icing. Melt the coconut butter and coconut oil together in a small saucepan. Whisk in maple syrup until combined (the mixture should get very thick). Slowly whisk in almond milk until mixture has become smooth. Whisk in peppermint extract. Remove from the heat and transfer to a mixing bowl. Whisk in remaining ingredients and allow icing to cool until brownies have cooled completely.

Spread icing over brownies, sprinkle with crushed peppermint candies if using, and slice into 12 - 16 bars. Store in an airtight container for 2 - 3 days.
Nutrition
Calories:
118
kcal
|
Carbohydrates:
15
g
|
Protein:
3
g
|
Fat:
5
g
|
Saturated Fat:
1
g
|
Sodium:
153
mg
|
Potassium:
98
mg
|
Fiber:
2
g
|
Sugar:
6
g
|
Vitamin A:
25
IU
|
Vitamin C:
1
mg
|
Calcium:
27
mg
|
Iron:
1.2
mg
Filed Under: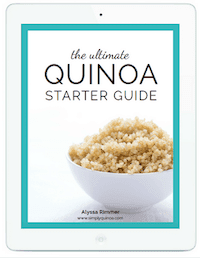 New to cooking quinoa? Grab your FREE Quinoa Starter Guide!
Become part of the Simply Quinoa community and receive weekly emails with exclusive content that I only share in email, as well as my in-depth guide to starting your quinoa journey.
Want more quinoa dessert recipes?
Follow my board on Pinterest!