Quick Cured Salmon
This is the best Quick Cured Salmon with a simple salt and sugar brine to serve for breakfast, brunch, lunch or dinner! It's soft, make-ahead and much cheaper than store-bought!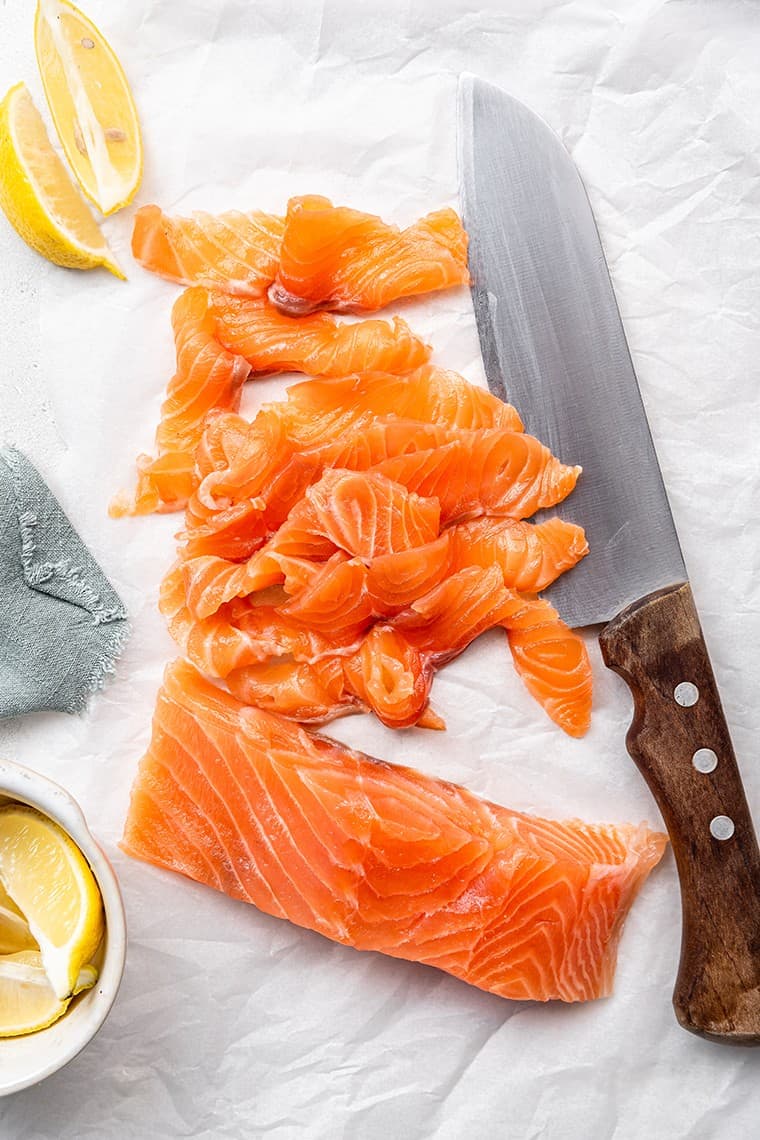 I love cured and smoked salmon as a treat at breakfast or brunch.
But when you make your own, it doesn't have to be just for a special treat.
This simple strategy to make tender, soft, and flavorful cured salmon is incredibly easy and mostly hands-off. Here's how to make four-ingredient cured salmon – an easy way to add protein to your favorite dishes.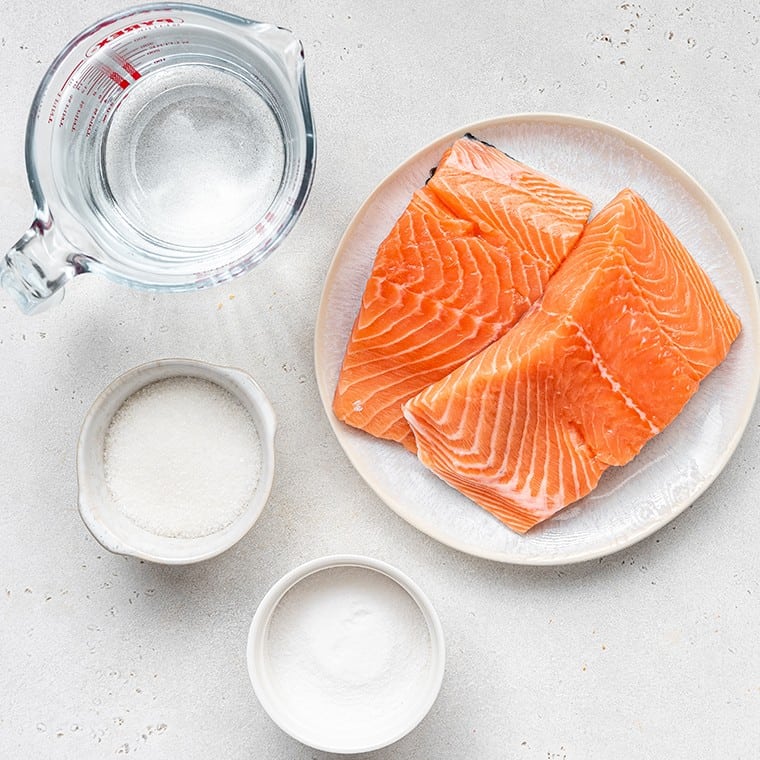 Ingredients
You only need four ingredients to make the easiest cured salmon:
Salmon. Choose a good-quality salmon that's fresh the day you buy it.
Water. This makes the brine for your salmon.
Sugar. You can use granulated or brown sugar.
Salt. Kosher salt is the best for curing the salmon.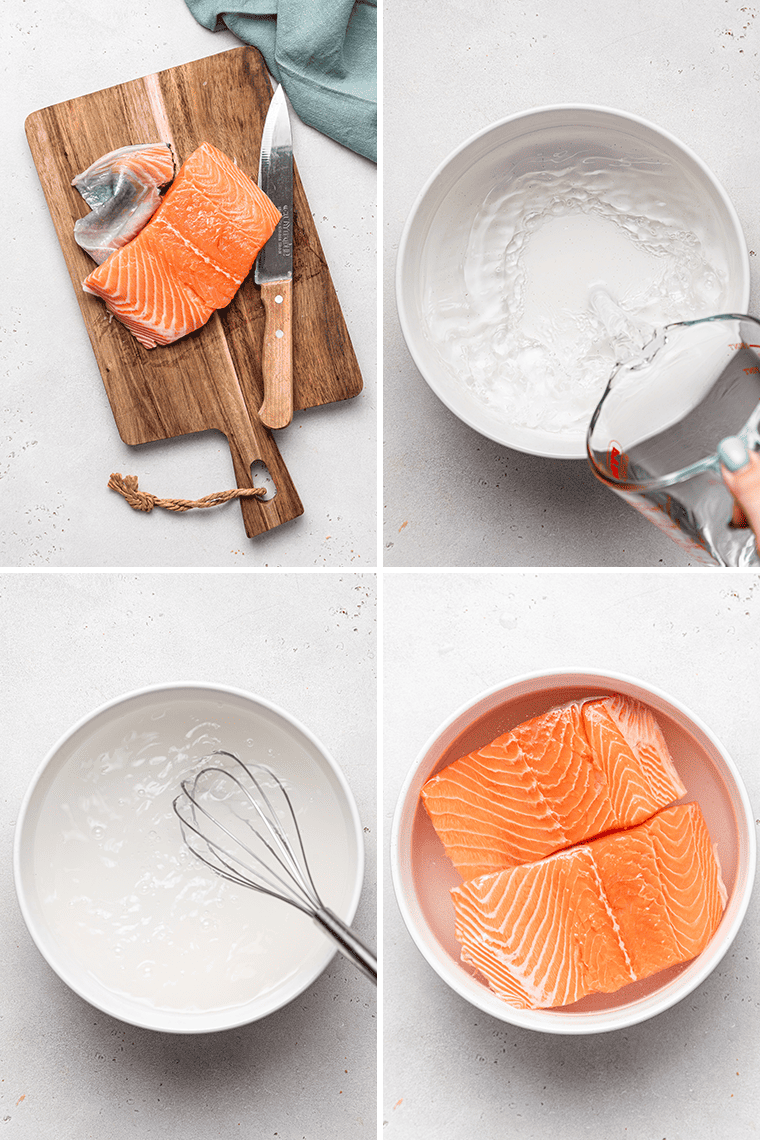 How to Make Cured Salmon
The brine for salmon takes at least an hour, but the flavor will be better if you cure for four to six hours.
To prepare the salmon, remove the skin with a long, sharp knife. You can also have someone at the store do this for you.
Next, make the brine by dissolving the sugar and salt in the water. Place the salmon in a bowl and submerge it in the brine. Cover the bowl and place it in the fridge for at least an hour and up to six.
Finally, remove the salmon from the brine, pat it dry, slice, and enjoy!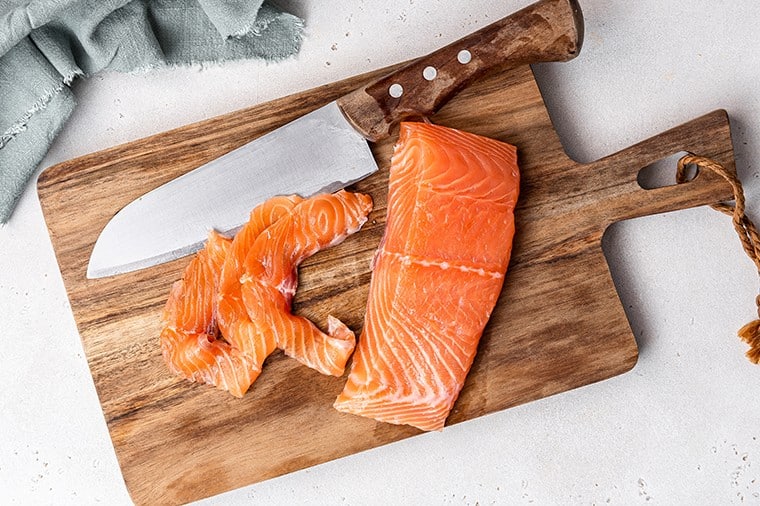 What to Eat with Cured Salmon
This is a fantastic protein topper for so many dishes! Here are some delicious ways to eat your cured salmon:
Cured salmon is also great on its own with a spritz of lemon juice and some capers.
Cured Salmon FAQs
Is cured salmon cooked?
Cured salmon is not cooked. The salt and sugar mixture is used to make the cure, preserve the salmon and make it safe to eat.
How do you know when cured salmon is done?
Your salmon is properly cured when the filet (or pieces) feel firm to the touch.
How long does cured salmon last?
Cured salmon will last for up to two weeks in the fridge if stored in an airtight container.
Is cured salmon healthy?
Yes, cured salmon is healthy. Salmon is full of healthy fats and heart-healthy omega-3s fatty acids. Cured salmon is also high in protein and low in calories, making it a very healthy option to add to your diet.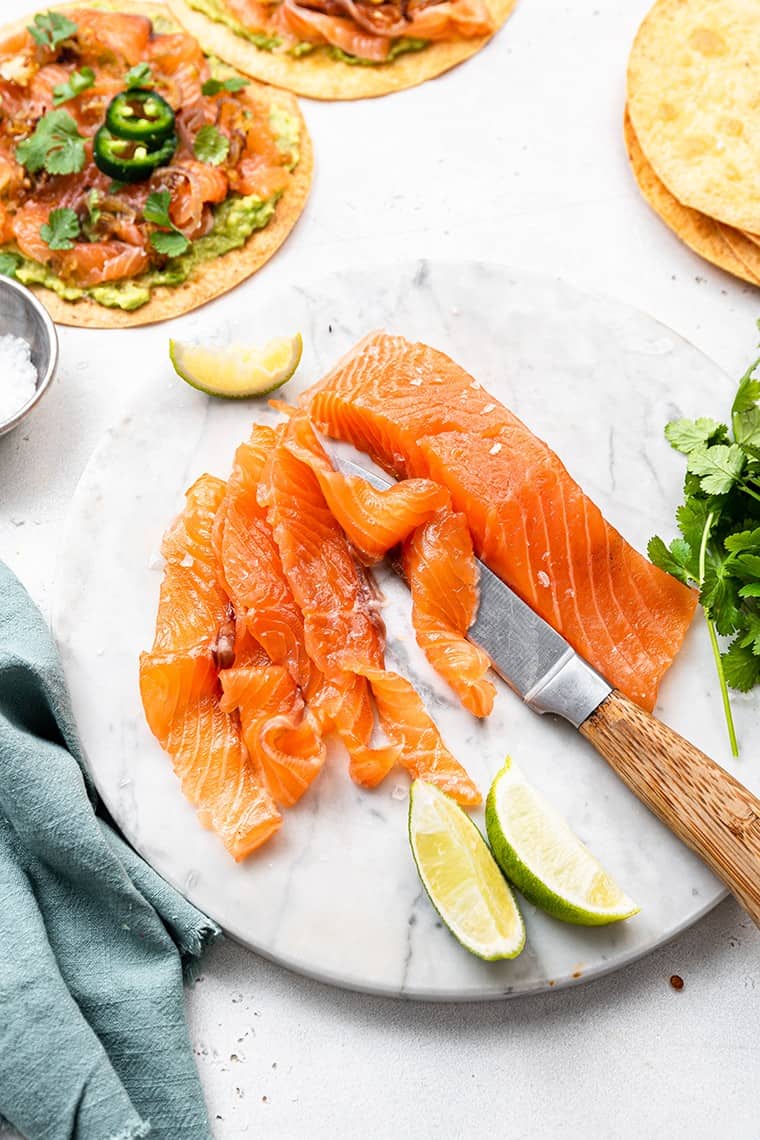 More Healthy Salmon Recipes
If you make this quick salmon recipe, be sure to let me know what you think with a comment below!
How to make Quick Cured Salmon
This is the easiest and best quick cured salmon recipe with four simple ingredients for bagels, sandwiches, tostadas and more.
Servings 6 servings
Calories 150kcal
Instructions
Cut the skin off the of the salmon.

Place the water, sugar and salt into a bowl and mix to combine. Continue stirring until the salt and sugar are dissolved.

Cut the fish into thin slices and place the slices into the bowl and completely submerge them in the brine. Place the bowl in the fridge for 5 minutes.

Line a plate with paper towels, then remove the fish from the fridge and place the slices on the plate. Pat them dry.

Cover them with plastic wrap and place the plate in the fridge for at least 4 hours.
Nutrition
Serving: 2.66oz | Calories: 150kcal | Carbohydrates: 11g | Protein: 15g | Fat: 5g | Saturated Fat: 1g | Polyunsaturated Fat: 2g | Monounsaturated Fat: 2g | Cholesterol: 42mg | Sodium: 4755mg | Potassium: 372mg | Sugar: 11g | Vitamin A: 30IU | Calcium: 16mg | Iron: 1mg
share what you make
Tag #simplyquinoa on Instagram with your creations! We love sharing what you make with the community. We can't wait to see!

follow on instagram