How to Make Tostada Shells
Here is everything you need to know about how to make tostada shells with gluten-free corn tortillas, avocado oil, and flaky salt for your favorite toppings.
If you haven't made your own tostadas before at home, you're in for a treat.
This recipe for how to make tostada shells sets you up to make the best crunchy meal with your favorite toppings. Once you know how to make the shells (with just three ingredients), the possibilities are pretty endless for dinner!
Ingredients for Tostada Shells
You only need three super simple ingredients for this recipe:
Corn tortillas. You an also use flour if you prefer. You'll want the small 3-inch tortillas.
Oil. I recommend using a spray oil like olive or avocado for a uniform coating.
Sea salt. The big, flaky salt adds a nice layer of crunch and texture.
How to Make Tostada Shells
These shells are baked in the oven, where they get super crispy and golden.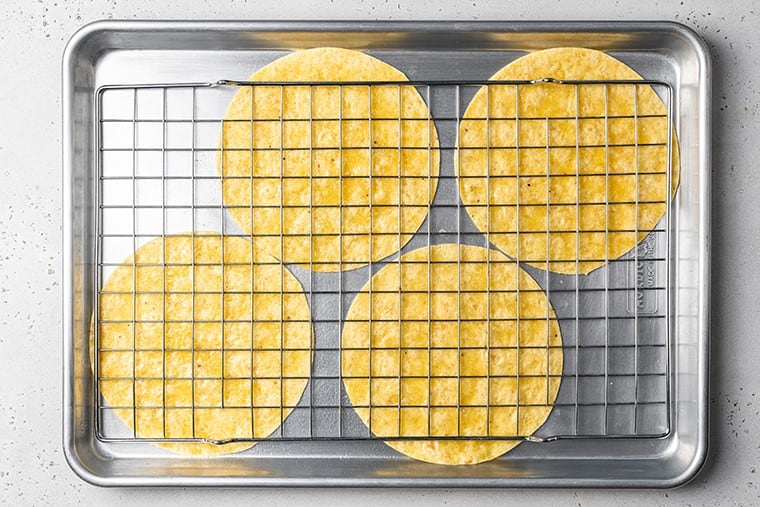 Start by arranging the tortillas on a baking sheet. Spray them evenly with the oil and sprinkle with salt.
Place a metal wire rack on top of the tortillas to keep the tortillas flat in the oven. Bake the tortillas for 8 to 10 minutes, until they're golden brown and crispy.
And yes, that's it!
You can enjoy your tostadas hot out of the oven or let them cool on a wire rack. They'll get crispy as they cool.
Toppings for Homemade Tostadas
Once you have these crispy and golden tostada shells, you can add your favorite toppings. Here are some of my favorites:
More Mexican-Inspired Recipes
If you make these Tostada Shells, be sure to leave me a comment below!
share what you make
Tag #simplyquinoa on Instagram with your creations! We love sharing what you make with the community. We can't wait to see!

follow on instagram