Do you have different types of diets in your household? If so, listen up! This post has 6 different kinds of meals you can make that will cut down on time, headache and still keep everyone happy.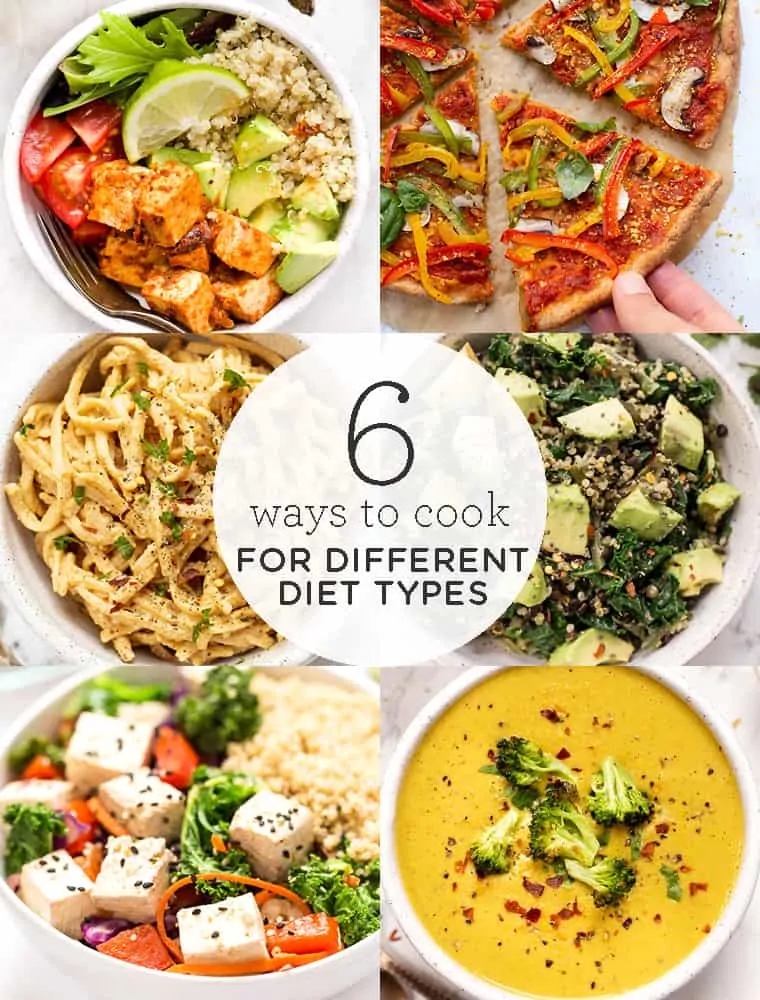 Everyone's eating habits shift during their lifetime. We start with limited taste buds, and typically are fairly picky eaters, and the more we're exposed to, the more we're willing to try. Brussels sprouts, for example, I used to despise them. Now? They're one of my favorite vegetables.
All this to say, a lot of us eat differently and there usually isn't one way of cooking for a household.
In our house, we have me (mostly plant-based) and Matt (mostly not), and over the years we've had to find meals to eat that we both enjoy, but also accommodate our different diet types. I'm sure many of us are in the same situation and that's exactly what today's post is about. We're talking about creating protein flexible meals which will help you make one "main" meal and then everyone can customize it to work within their diet.
How to Cook for Different Types of Diets
If you're more of a watcher then a reader, then I think you'd enjoy the video we shared that covers everything we're talking about in today's post. If you're a reader, then keep on reading!
(click here to watch it on YouTube)
The Best Protein Flexible Recipes
The concept of protein flexible meals is relatively new, but something I really resonate with. I'm someone who eats mostly plant-based, but Matt doesn't. So we've had to adapt over the years to accommodate both of us. And I've learned a few tricks along the way.
As I said, I'm a firm believer that just because you have different types of diets in your household that you shouldn't have to cook separate meals for everyone. You should only have to cook one main thing and then adapt the proteins.
Hence: a protein flexible meal!
In today's post, we're going to talk about the best types of meals to do this with. And I'll give you some recipe ideas to try for each. I hope this helps cut down on your cooking time and creates far less stress around mealtime.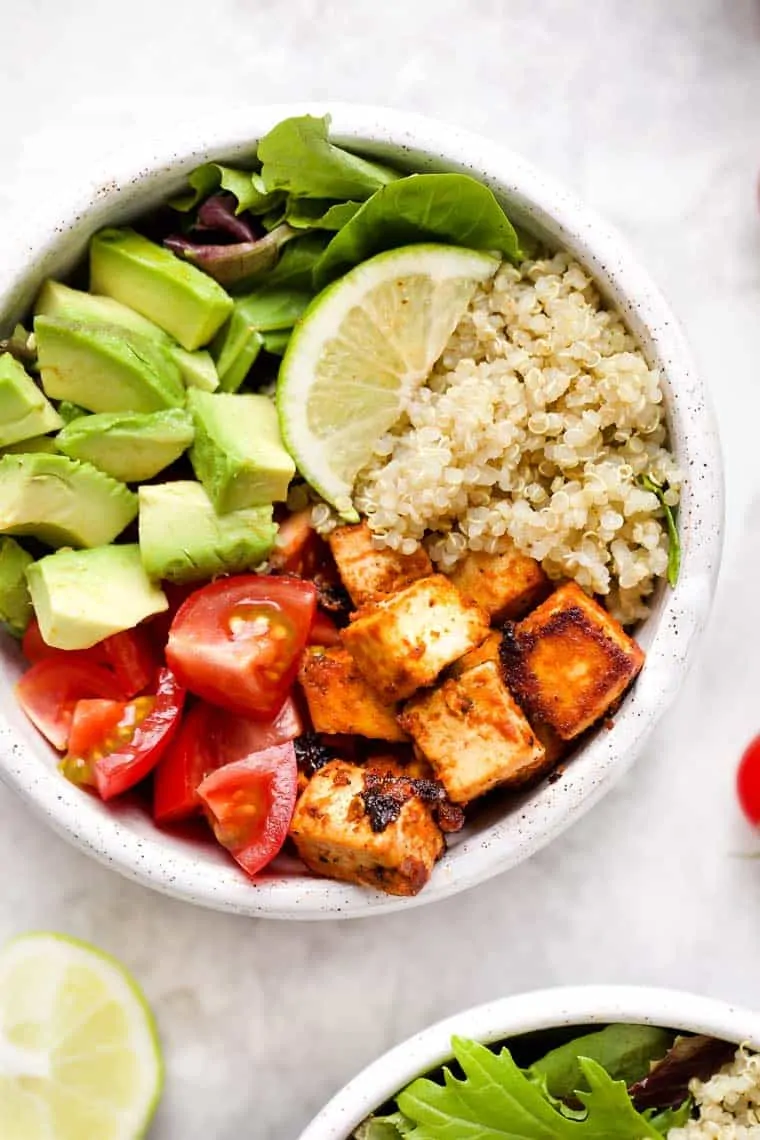 1. Bowls
My first favorite type of protein flexible meal is bowl meals. Things like buddha bowls, rice bowls, quinoa bowls, etc. The benefit of making meals like this is that you can basically use anything in your fridge/pantry. Typically I do a combination of greens, roasted vegetables, grains, and a protein. Essentially, you can pick whatever vegetables you have on hand, pick your grain, and cook up your proteins. And you've got your meal right there!
In the following recipes, feel free to just swap out the protein with whatever works best for your household. Protein ideas for bowls can honestly be anything: tofu, beans, chicken, steak, fish, etc.!
Health Bowl Recipes: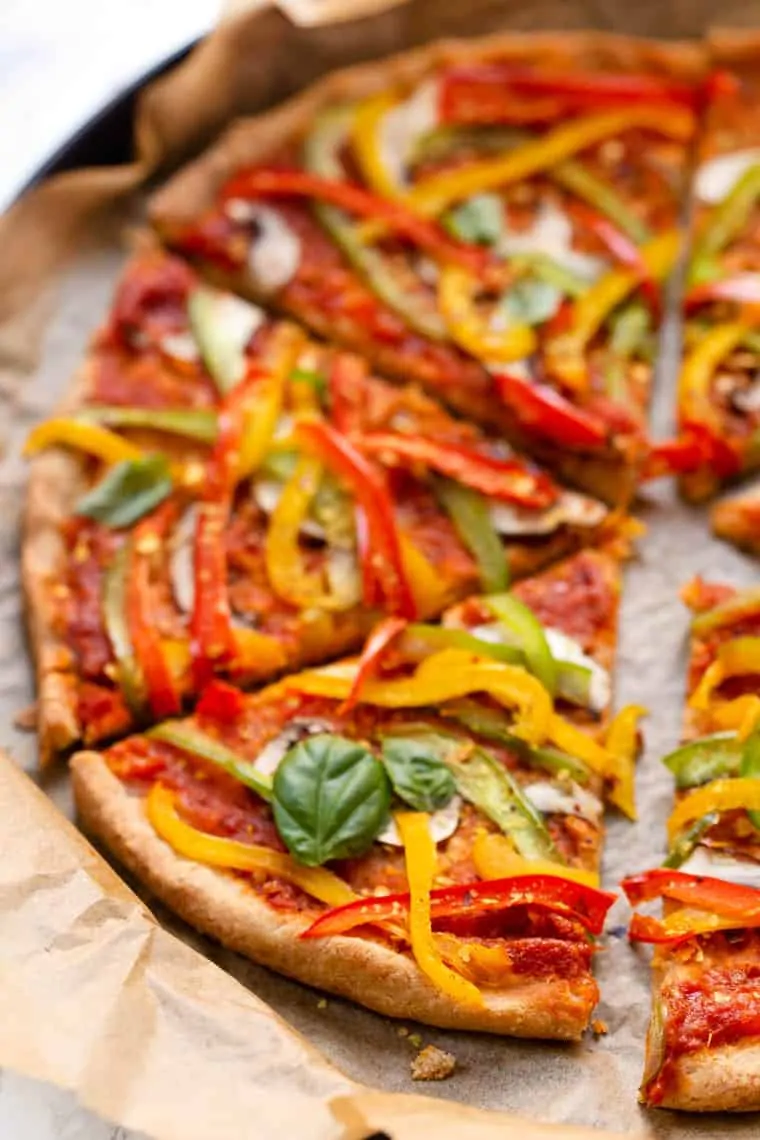 2. Pizza
Pizza is another great option if you're cooking for different types of diets because everyone can be happy. For starters, everyone loves pizza! And secondly, it's super easy to make separate pizzas (or split them down the middle), so everyone can choose their own toppings. Luckily, I've got TONS of pizza crust options for you to try! Here are some of my favorites:
Vegan Gluten-Free Pizza Crust Ideas:
And if you're not strictly vegan (i.e. eat eggs), I love this zucchini pizza crust and this sweet potato pizza crust!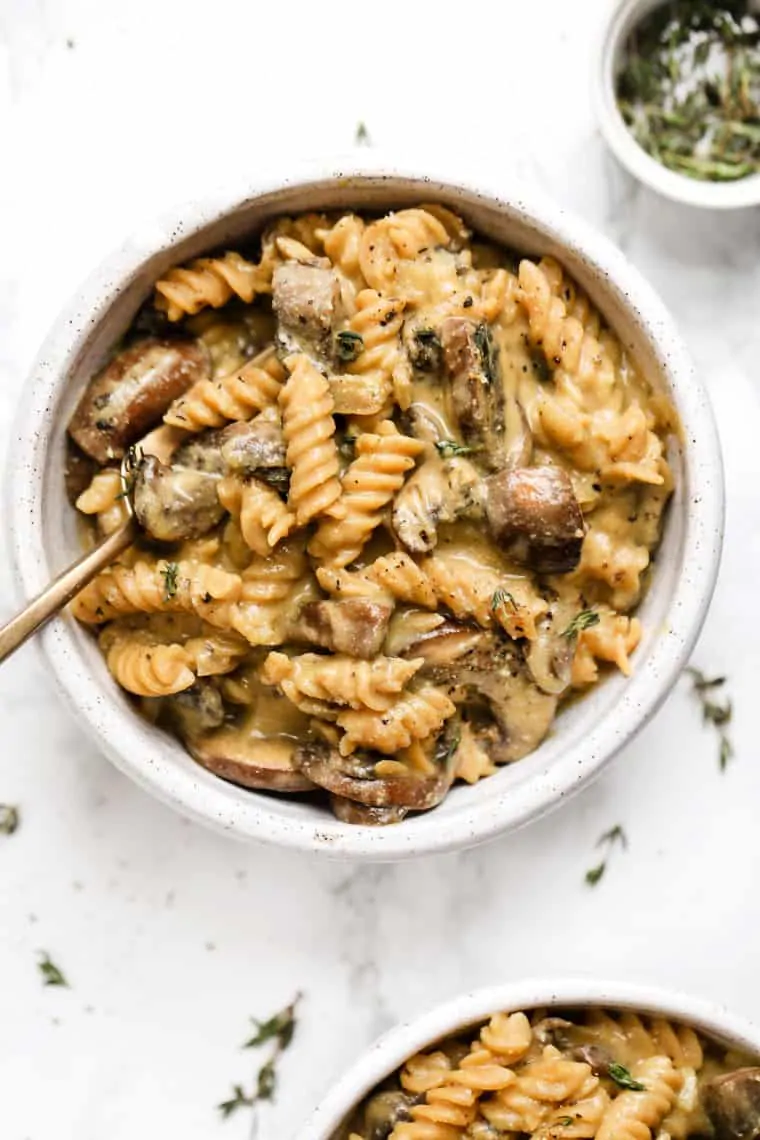 3. Pasta
Next up on the list is pasta! Pasta is something we make almost every single week and I find that it's one of the easiest meals to make protein flexible. We almost always use a bean-based pasta (like chickpea or lentil) as our base as that will be my form of protein. And then we'll just load our pasta up with sauce and veggies and then Matt can add whatever extra protein he wants (usually quinoa). Need some inspo? Here are some of my favorite pasta recipes from the blog!
Healthy Pasta Recipes: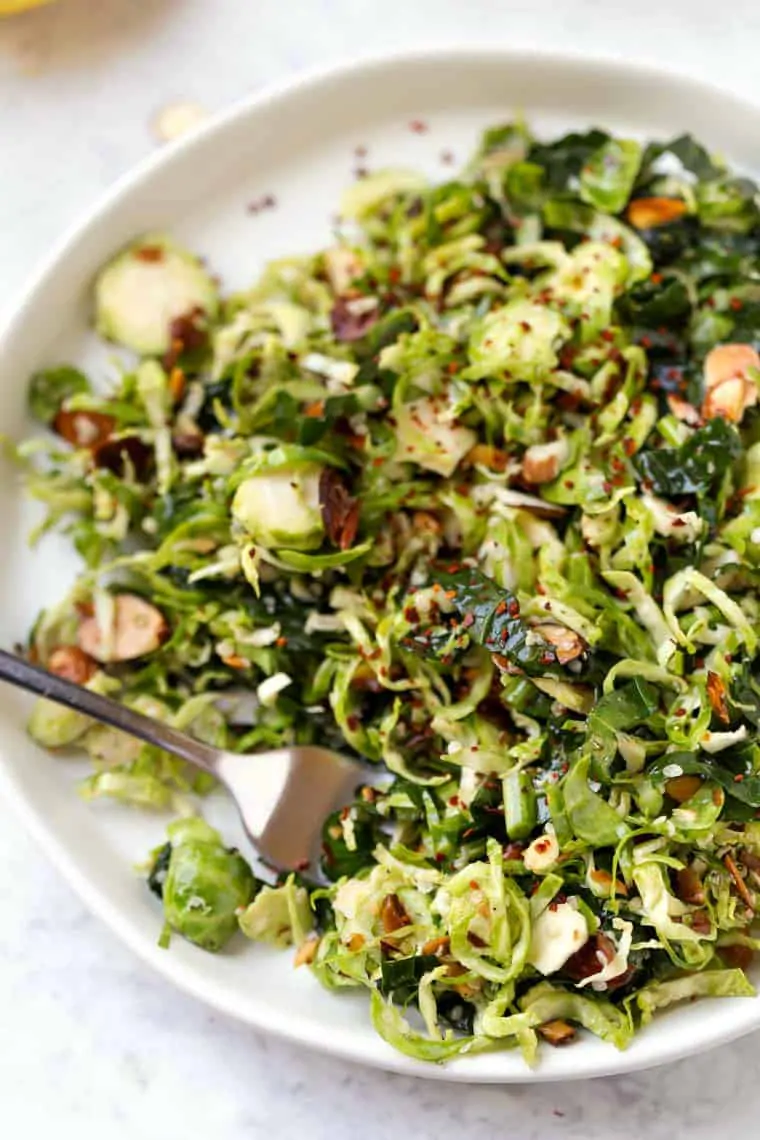 4. Salad
I love a good salad and I find that they're one of the simplest meals for us to make at home. What's great about salad, is that you can really make it completely plain and then just add a protein on top. So it works perfectly if you've got lots of different types of diets at home! If you're making a protein flexible salad, you can really use anything as your base including kale salads, green salads, or even chopped veggie salads. What I'd recommend is simply taking the protein that's in a salad recipe out (i.e. remove the lentils and make everything else) and then just top the salad with the protein of choice at the end.
Simple & Healthy Salad Recipes: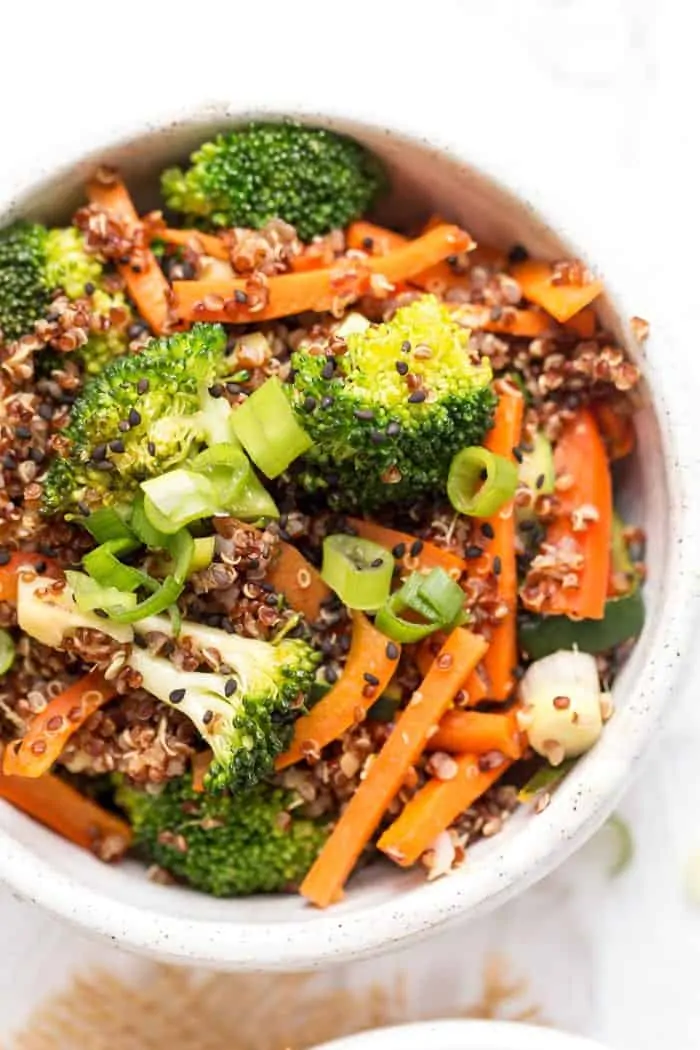 5. Stir Fry
Our fifth idea on the list is stir fry. I love a good stir fry and it's something we make fairly regularly at our house. I love it because it's typically vegetable-based and the protein is totally an add on. The bulk of my stir fry recipes will always be as many vegetables as possible, then we'll top it over rice or quinoa and add our protein. Usually, that means tofu for me and chicken for Matt. Stir fry is also great for meal prep as it can be reheated for lunches throughout the week ahead!
Easy Stir Fry Recipes to try: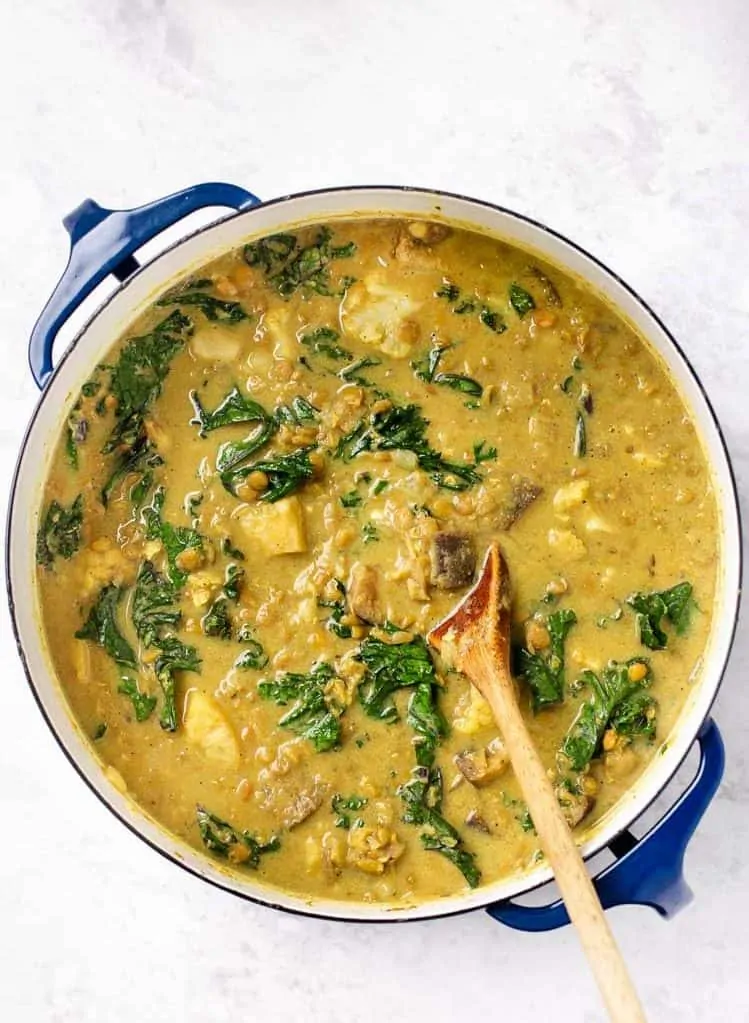 6. Soups
Last but not least, SOUP! I love soup because it's a) super easy to make, b) usually involves pretty easy clean up, c) freezes well and is great for meal prep, and d) works well for many different types of diets!
Here's how I do it: I start with a very simple vegetable-based soup. Maybe it's a brothy soup, maybe it's a creamy soup, or it could even be a chili. And rather than adding in my protein of choice during the cooking phase (usually that means beans and beans are a no-go for Matt), I'll leave them out and stir them in at the end. So what I'm left with is a simple soup base, that I can then add beans into and Matt can add his protein. This is such an easy way to accommodate everyone and cut way down on cooking time for yourself!
Easy Soup Recipes to try:
How do You Handle Different Types of Diets at Home?
I'd love to know how you accommodate different diest at home. If you have any additional tips, let me know down in the comments! And I'd also love to hear what you think of this idea of "protein flexible" meals!