These healthy spaghetti squash fritters are a fun way to use this low-calorie fall veggie. They're easy to make, naturally gluten-free and taste delicious!
One of the things I get most excited about when in fall is the winter squashes. Unfortunately, I'm the only one in the house that likes them, BUT as soon as I start seeing them in the store I go all in.
I love me a good butternut squash recipe (hello Butternut Squash Vegan Lasagna), I also adore acorn squash (yes yes Quinoa Stuffed Acorn Squash), but one of the squashes I think gets overlooked is spaghetti squash. I really only use it as a pasta replacement, but there are SO many other ways to use it!
Do you also sometimes struggle of ways to use spaghetti squash? If so, I've got you! These Healthy Spaghetti Squash Fritters are the ultimate fall dish. They're easy to make, they taste phenomenal and they're great for meal prep!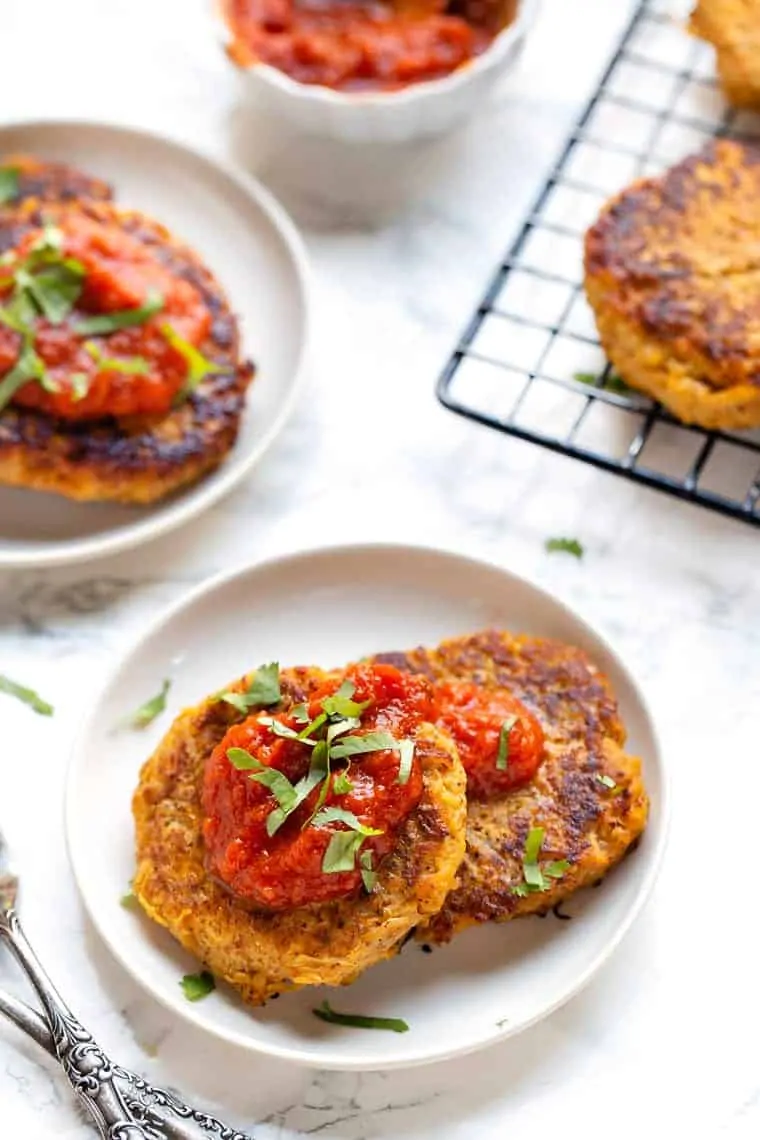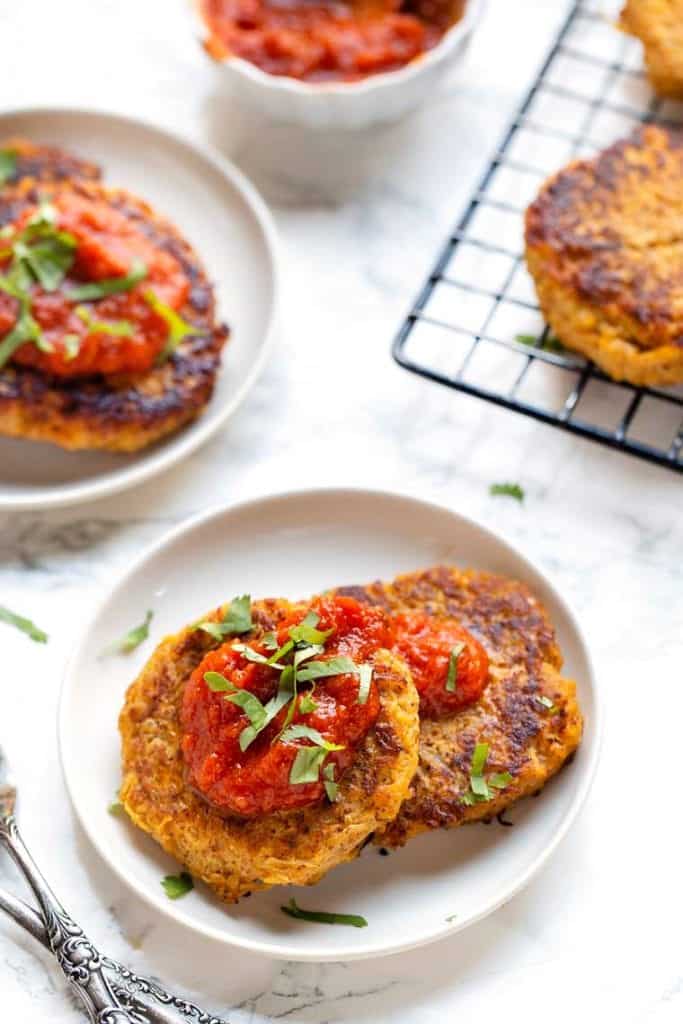 Best Vegetarian Freezer Meals
Now before we dive into these amazing fritters, let's just quickly talk about freezer prep. Since we're in the midst of the back-to-school season, quick meals are a staple. I personally love making big batches of stuff, then freezing the extra portions so that I know if I'm really in a pinch, I can just pull something out, pop it in the oven and dinner is done.
In my freezer you can always find:
And that's another amazing thing about these spaghetti squash fritters! They're freezer-friendly, great for kids' lunches, and totally reheatable. Just one of those things that if you make a batch (or double!), you'll be so happy when you find them in your freezer in a month or so ????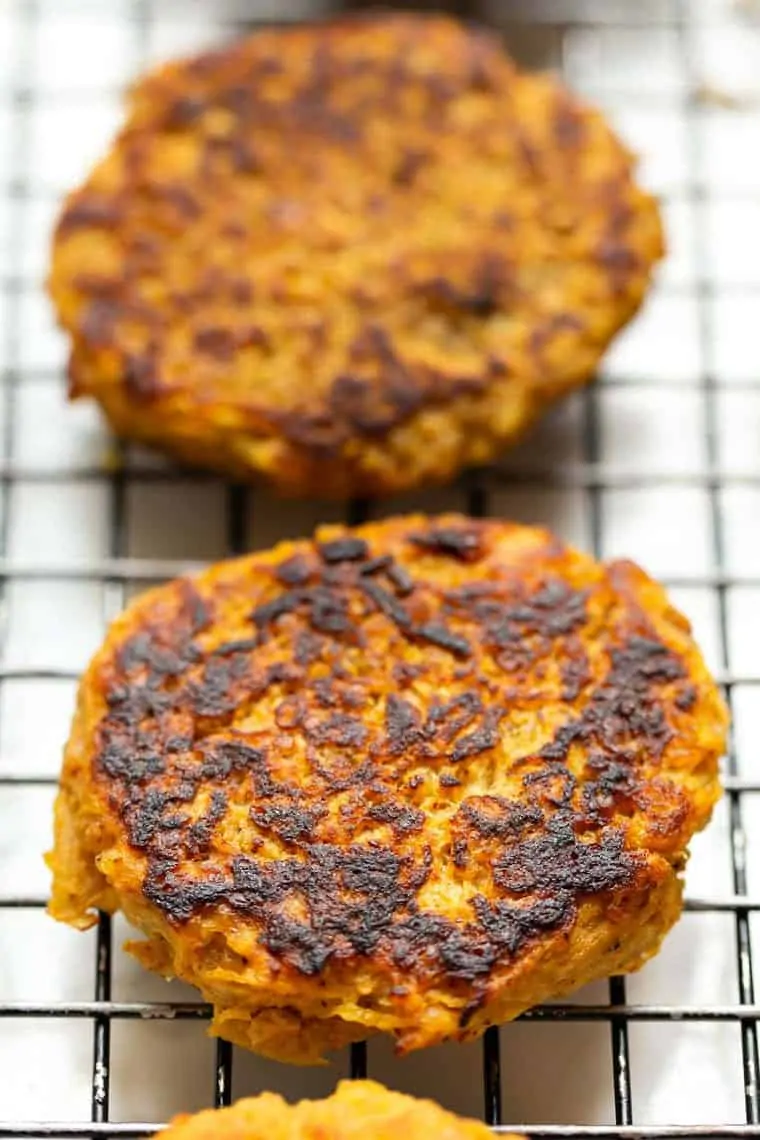 How to Make Healthy Fritters
Over the years, fritters have become a somewhat regular part of my meal rotation. They're completely customizable with different types of veggies so you can make them based on what's in season. In the fall and winter, I love using sweet potato and squashes, and in the spring and summer, I love using zucchini and carrot.
No matter what vegetable you use, making healthy fritters is crazy simple. All you need to make them is:
shredded vegetable (your choice!)
flour (again, your choice!)
egg
spices
oil for sauteing
From there you can mix and match, change up your flavors, and ultimately, have fritters for months. It's honestly the best! And there's no need to deep fry – just a quick pan saute and you'll have perfectly crispy fritters!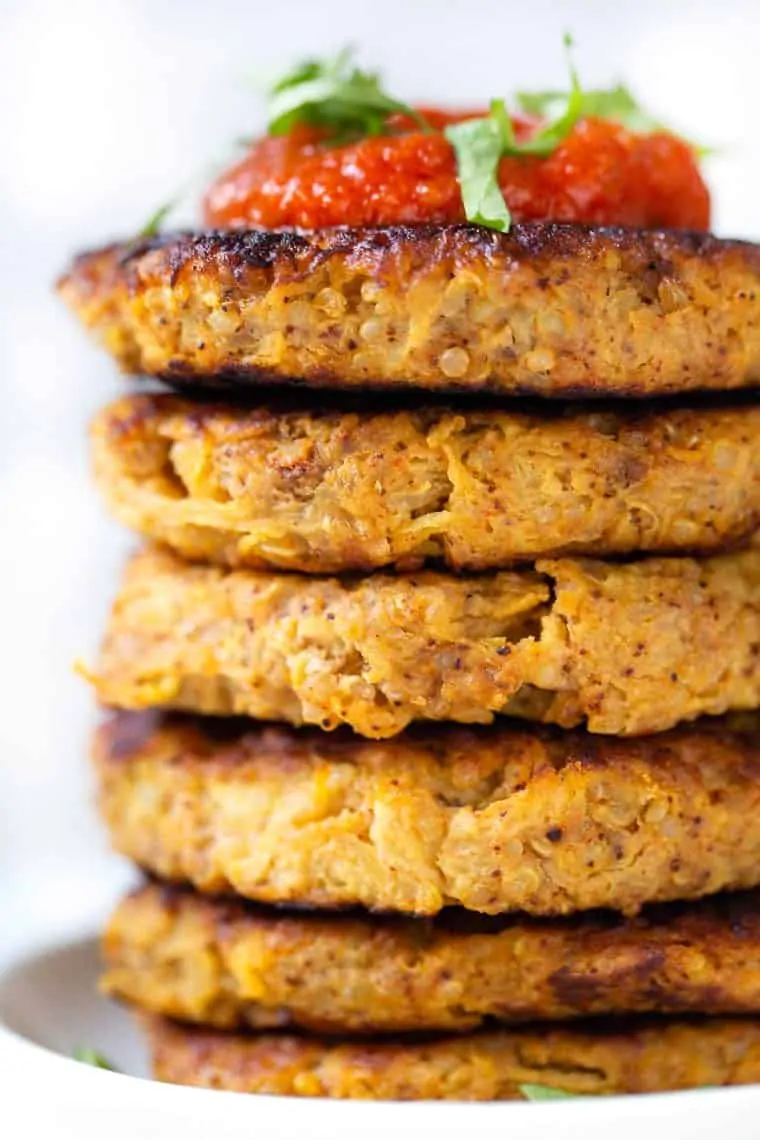 Benefits of Spaghetti Squash
I turned to spaghetti squash in this recipe for two reasons. First, its unique texture. If you haven't tried spaghetti squash, you're in for a real treat. The texture of this yellow winter squash is just like the name, but in squash form (obviously). It's stringy like spaghetti but tastes like squash. And in all the right ways, not some weird squishy, squashy, pasta-y mess way like you might be imagining.
The second reason is the fact that spaghetti squash, and most winter squashes in general, are loaded with nutrients. Spaghetti squash is full of vitamin A, vitamin C, potassium, manganese, and even fiber.
Plus, like everything else on this site, these cakes have quinoa in them, so you're not only getting the wellness boost from the squash but the quinoa as well.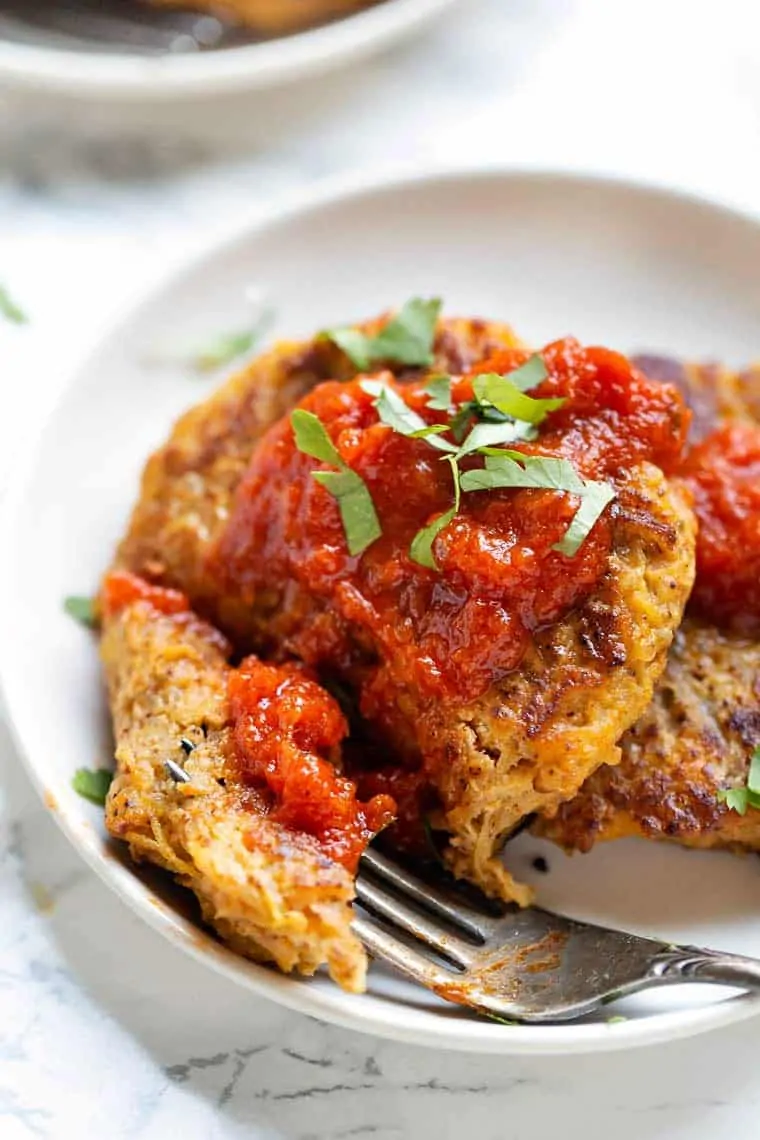 Perfect & Healthy Spaghetti Squash Fritters
And these Healthy Spaghetti Squash Fritters are the real deal, my friends. These tender little morsels are crisp on the outside, but soft when you bite into one. They have a gentle sweetness from the squash that is countered with the salty hint of nutritional yeast. Then there's the quinoa, which helps to break up the texture and add that slight crunch these cakes need.
Plus, as I said earlier they freeze beautifully, so whip up a big batch, eat some for dinner then pop the leftovers in the freezer for a quick weeknight meal when cooking is the last thing on your mind. Trust me, you'll be thankful you have extra of these wholesome veggie burgers – they've quickly become a standby in our house.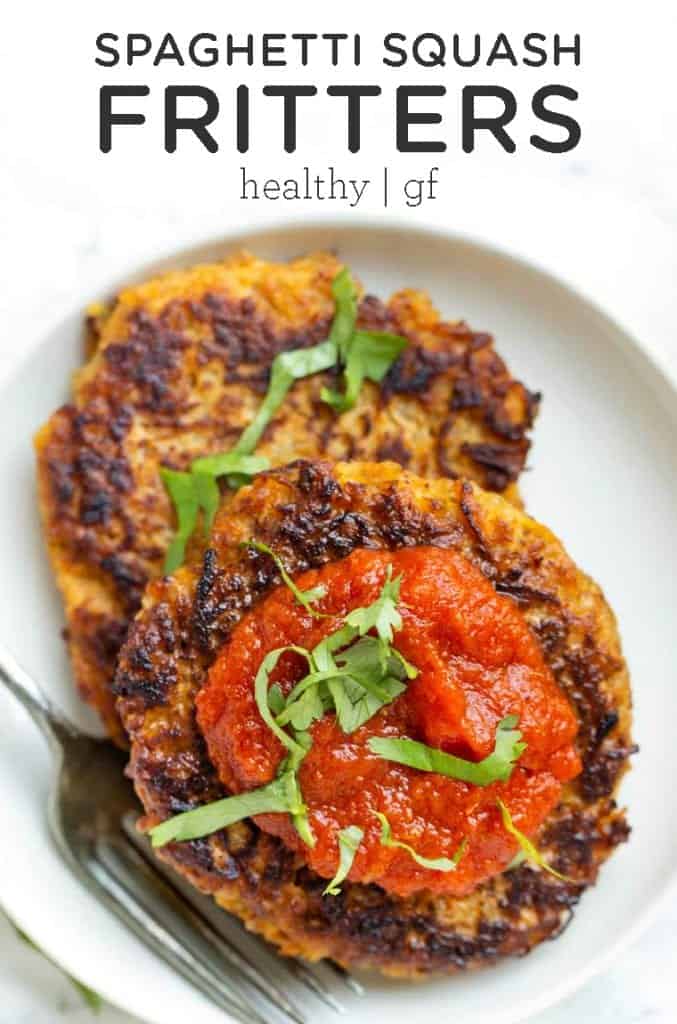 More Easy & Healthy Fritters Recipes:
Healthy Spaghetti Squash Fritters
These healthy spaghetti squash fritters are a fun way to use this low-calorie fall veggie. They're easy to make and taste delicious!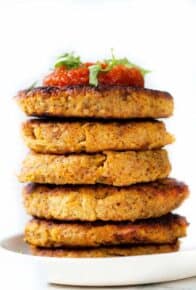 Instructions
Preheat the oven to 400ºF. Cut squash in half lengthwise and scoop out the seeds. Place squash cut side down in a baking dish and add 1/4" in of water. Roast for 40 - 50 minutes, until a knife can easily penetrate the skin.

Remove from oven, flip over and let sit until cool enough to handle. Scoop out the flesh with a fork into a clean, dry dishtowel. Squeeze as much water as you can out of the squash. Transfer to a mixing bowl.

Add remaining ingredients to a bowl and fold to combine. The mixture should start to resemble a soft dough.

Heat oil in a skillet over medium-high heat. Add cakes and cook until golden on one side, 2 - 3 minutes. Flip and cook for another 1 - 2 minutes. Repeat with remaining cakes.

Serve immediately with a side of salsa, hummus or tomato sauce.
Nutrition
Serving:
1
fritter
|
Calories:
51
kcal
|
Carbohydrates:
8
g
|
Protein:
2
g
|
Fat:
1
g
|
Saturated Fat:
1
g
|
Cholesterol:
16
mg
|
Sodium:
15
mg
|
Potassium:
87
mg
|
Fiber:
1
g
|
Sugar:
1
g
|
Vitamin A:
158
IU
|
Vitamin C:
1
mg
|
Calcium:
12
mg
|
Iron:
1
mg
Filed Under: