These Strawberry Oatmeal Bars are a healthy dessert with almond flour, quinoa flour and flax that's gluten-free, vegan and full of summery fruit flavor.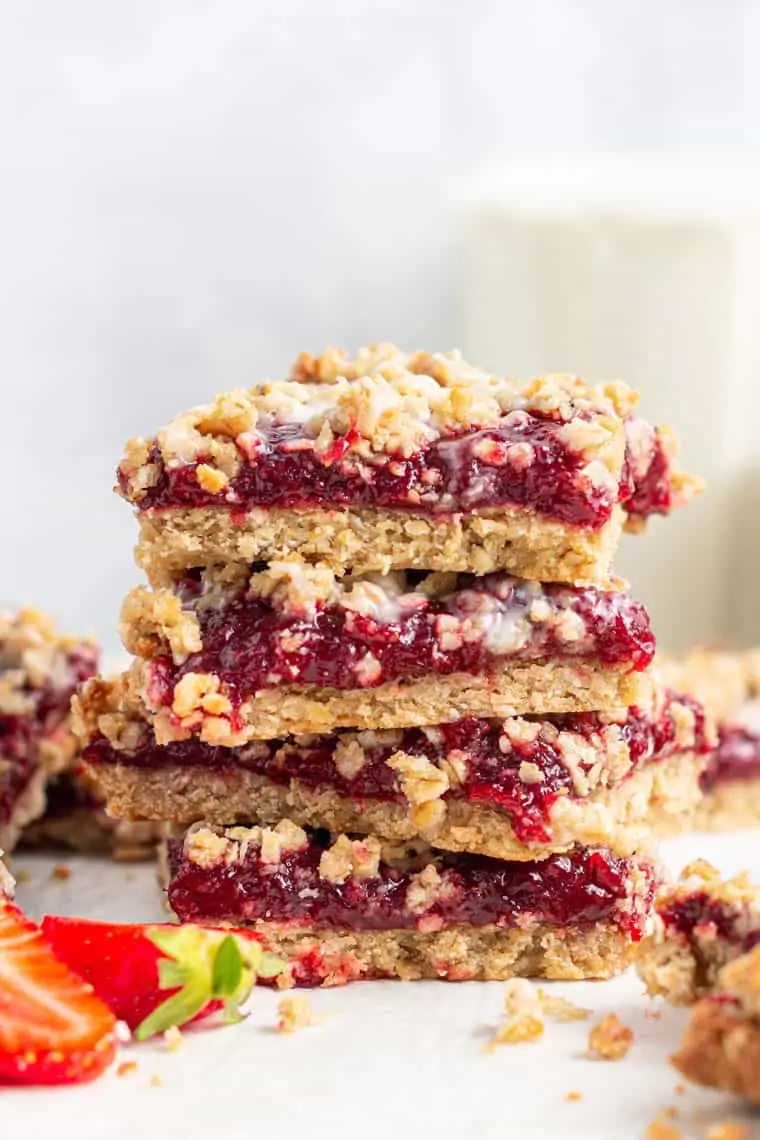 When summer finally arrives, I'm on the lookout for new ways to eat berries and other summer produce in every meal. That means starting my days with a Blackberry Smoothie, having one of my favorite summer salads for lunch and a dinner of Barbecue Grilled Pineapple & Tofu Kebabs. 
For dessert? You can bet it's something sweet and full of summer fruit. These strawberry oatmeal bars are my new favorite way to end a meal. They satisfy a sweet tooth without being overwhelming. And they're made with healthy flours for a gluten-free and dairy-free treat!
If you're looking for a recipe to entertain or bring for your next cookout or picnic, these oatmeal bars are exactly what you're looking for.

How to Make Strawberry Oatmeal Bars
Yes, this is a gluten-free baking recipe. But no, you do not need any special or hard-to-find ingredients. The list is short, sweet and you may already have what you need in your pantry!
Quick-cooking oats for the oatmeal part of these soft, tender cookies.
Almond flour. This is an excellent gluten-free flour that adds rich, nutty flavor to anything you bake.
Quinoa flour. Of course this is one of my favorite flour options as well. It's full of healthy plant-based protein and is easy to find at well-stocked groery stores, including Whole Foods.
Maple syrup. This sweetener is delicious with strawberries and oatmeal. IF you can't find pure maple syrup, however, I recommend using honey as a replacement (not fake syrup).
Coconut oil. This oil is a solid at room temperature, so it helps hold the bars together when they cool (since there's no gluten to provide structure).
Flax egg. Make this with a tablespoon of flaxseed meal and three tablespoons of water. It's a quick vegan egg option. See here for my complete guide to making and using flax eggs.
Strawberry preserves. You can use your favorite store-bought berry jam, or make your own. Here's how to make simple jam with chia seeds. And here's a recipe for low-sugar strawberry jam.
Tip: for a pretty garnish and a bit of added richness, you can drizzle the cooled bars with melted coconut butter before serving.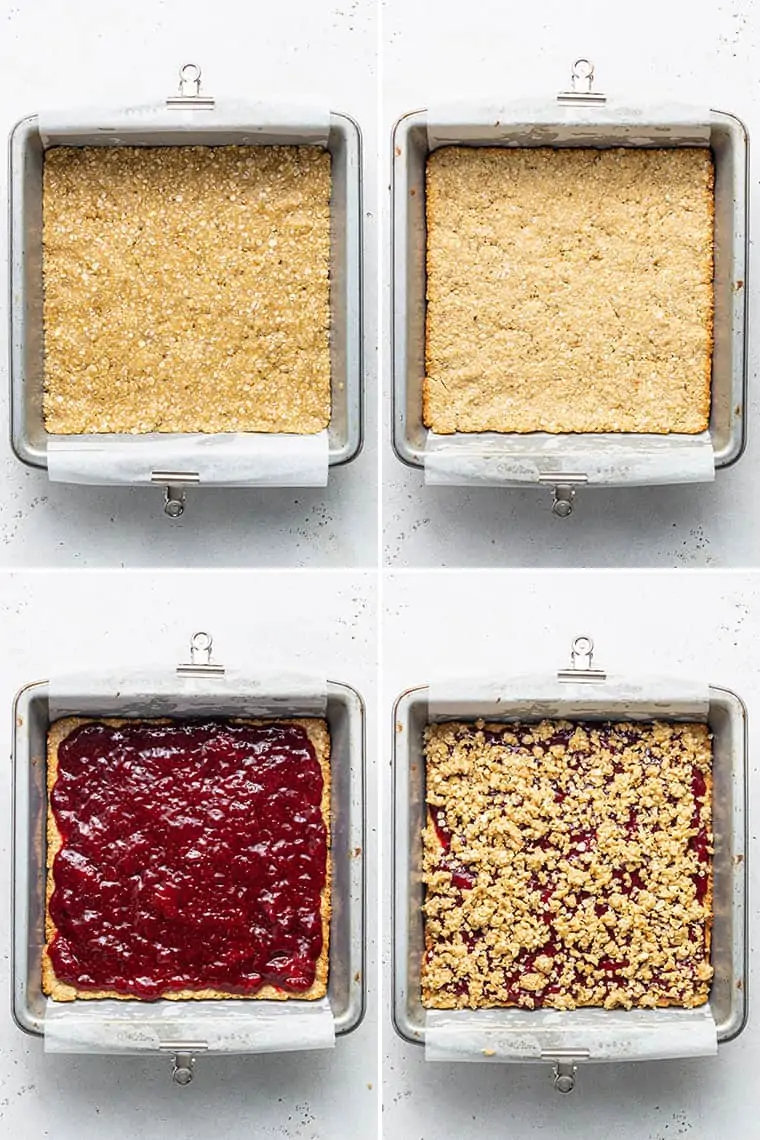 Layering the Bars
Before baking, you'll layer your oatmeal bars in the baking dish.
I recommend lining the dish with overlapping strips of parchment paper. This makes it easy to remove the entire cookie bar for easy, clean slicing.
Start by pressing most of the oatmeal mixture into your baking dish. You want a solid layer on the bottom so your bars hold up well. Bake this for about 15 minutes, until it's set in the center.
Then spread a generous layer of your strawberry jam. And finally, finish with a sprinkle of more oatmeal for texture and a nice garnish.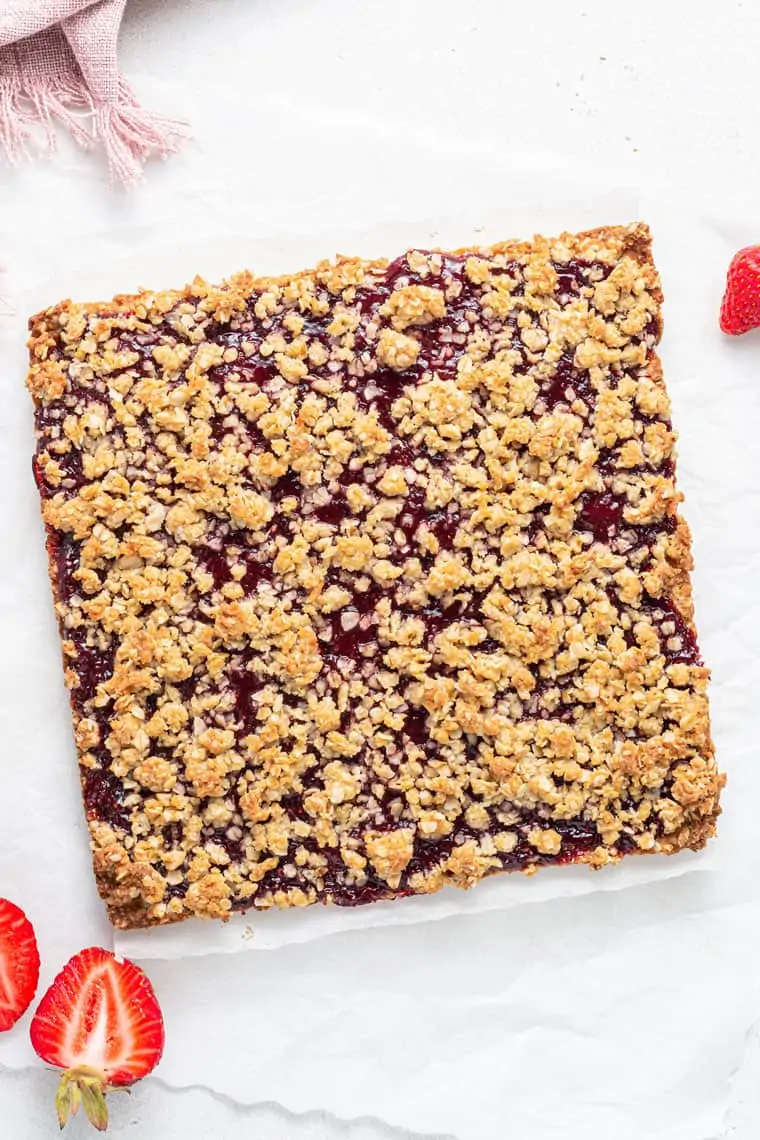 Storage Tips
You can store leftover bars in an airtight container on the counter for up to four days.
Or freeze them for up to three months. Defrost the bars on the counter to room temperature before serving.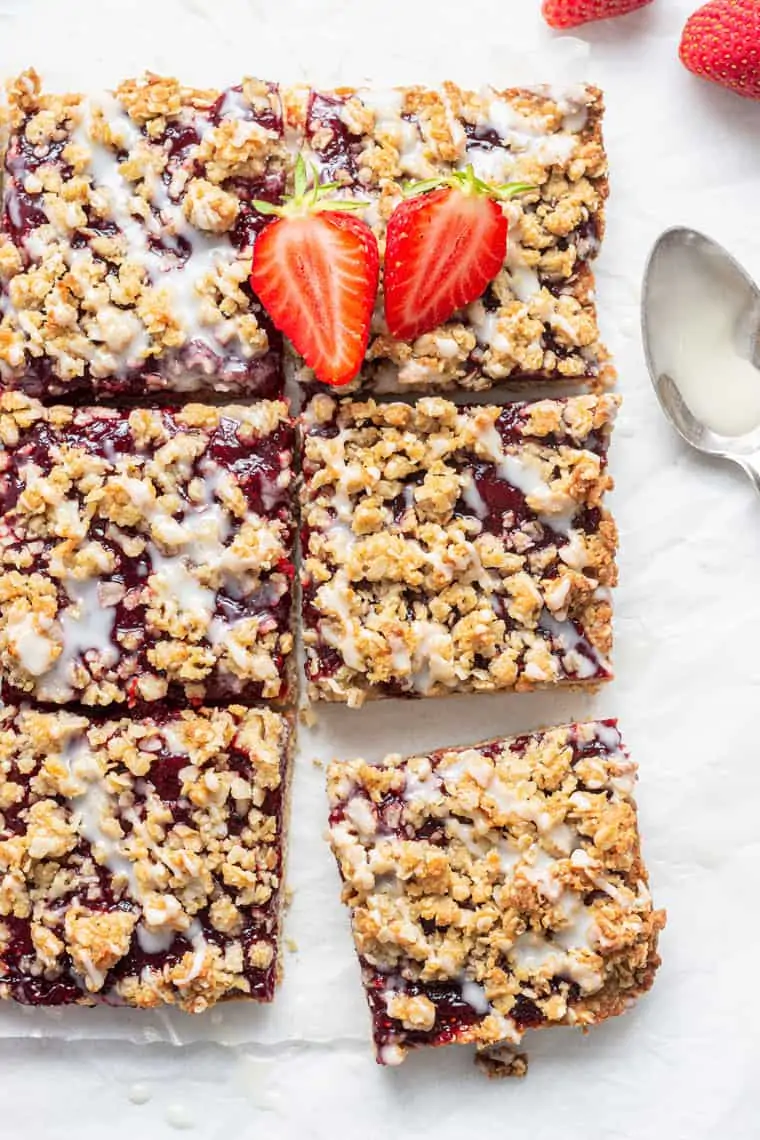 More Baking Recipes with Summer Fruit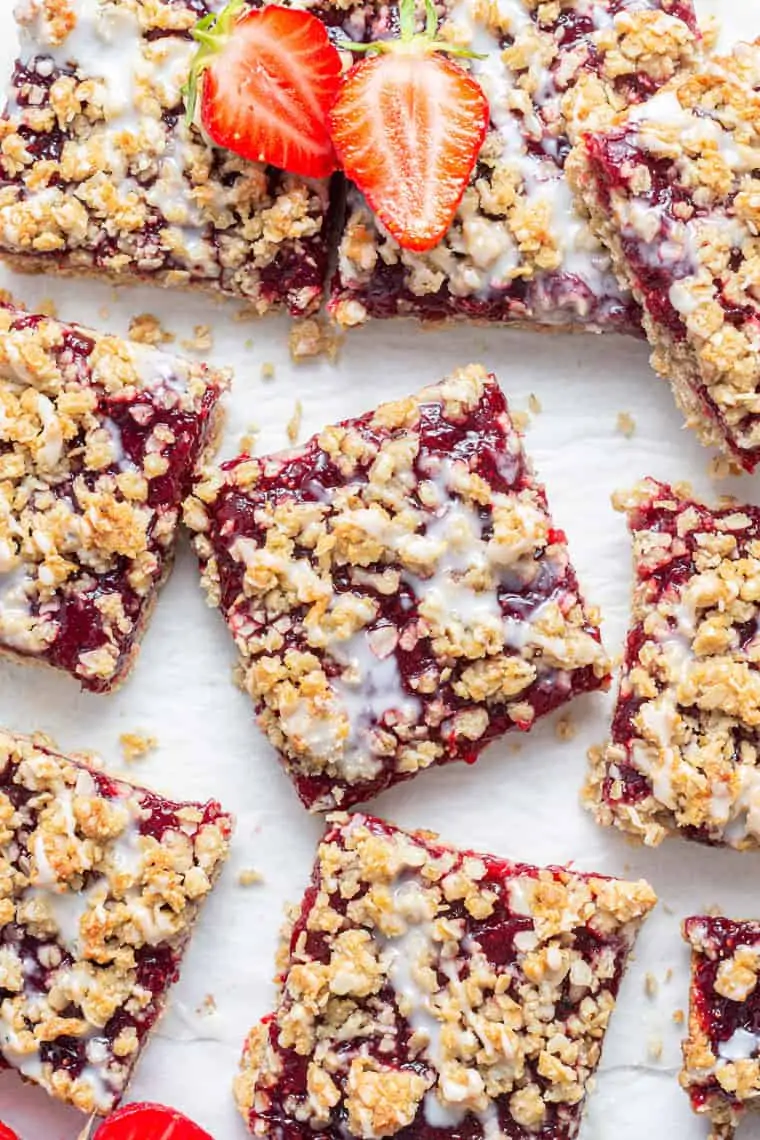 If you make these healthy Strawberry Oatmeal Bars, let me know what you think with a comment below!
Healthy Strawberry Oatmeal Bars
These Strawberry Oat Bars are soft, tender and just sweet enough. They're gluten-free, vegan, refined sugar-free and perfect for summer.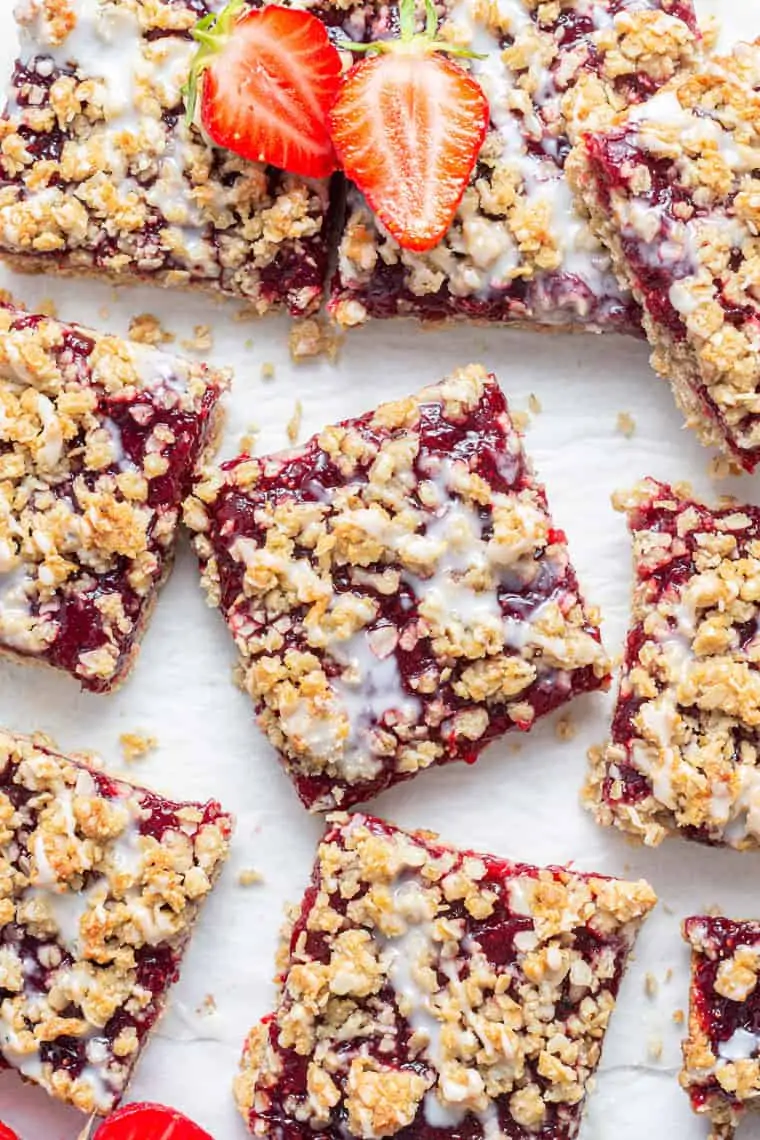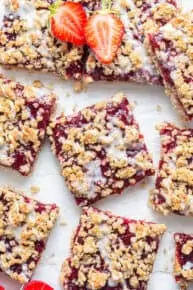 Instructions
Preheat the oven to 350 degrees F. Grease a 9" baking pan and set aside.

In a large mixing bowl, whisk together the dry ingredients. Mix in the maple syrup and coconut oil and crumble with your hands until it resembles a coarse, sandy texture. Reserve 1/2 cup of the dough for the topping.

Stir in the flax egg then transfer the dough into the greased baking pan and press it evenly into the pan. Bake for 15 minutes.

Spread the strawberry jam evenly over the layer of dough, leaving a little at the edges so it's easier to remove from the pan. Sprinkle with the reserved oat topping.

Bake in the center of the oven for 20 - 25 minutes until the crumble topping is golden brown. Cool completely before cutting into squares and serving.

If desired, drizzle with melted coconut butter for a glazed/icing effect!
Nutrition
Serving:
1
bar
|
Calories:
157
kcal
|
Carbohydrates:
25
g
|
Protein:
2
g
|
Fat:
6
g
|
Saturated Fat:
3
g
|
Polyunsaturated Fat:
1
g
|
Monounsaturated Fat:
1
g
|
Sodium:
45
mg
|
Potassium:
51
mg
|
Fiber:
1
g
|
Sugar:
14
g
|
Vitamin C:
2
mg
|
Calcium:
22
mg
|
Iron:
1
mg