Thai Coconut Curry Chicken Soup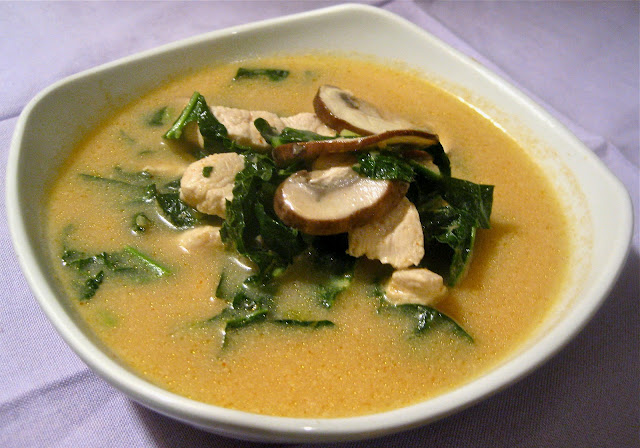 Thai Coconut Curry Soup with Mushrooms and Kale
Something you may not know about me is that I love Thai food. It's by far one of my favorite cuisines on the planet. It's healthy, flavorful, easy to make and usually gluten-free and dairy-free.
Chinese food (especially the kind you see in America) and other Asian cuisines typically load their meals with soy sauce, oyster sauce, egg noodles, crispy wontons, etc. All of which are not gluten-free. Read your labels carefully or at the very least know what sauces are typically used in the cuisine you're eating.
We all know that gluten can be sneaky.
Another thing you may not know about me is that I love to travel. I lived in Spain for six months when I was in college and fell in love with the European lifestyle and culture. The food is amazing. The cities are breathtaking. The culture is easy, slow and enjoyable. What more can you ask for? No stress, yummy food, open-air cafes, super classy fashion. My dream.
Living in Europe and having the luxury of exploring other countries, just fueled my desire to see the world. After college, Matt and I spent five weeks in Costa Rica, traveling the country, lounging on the beaches, eating rice and beans almost every day, living in hostels, and exploring the rainforest with monkeys, toucans and other wild creatures all around us. It was the experience of a lifetime.
This brings me to Thailand. The land of smiles. A beautiful, stunning, amazing country. The place for my next big adventure, whenever that may be.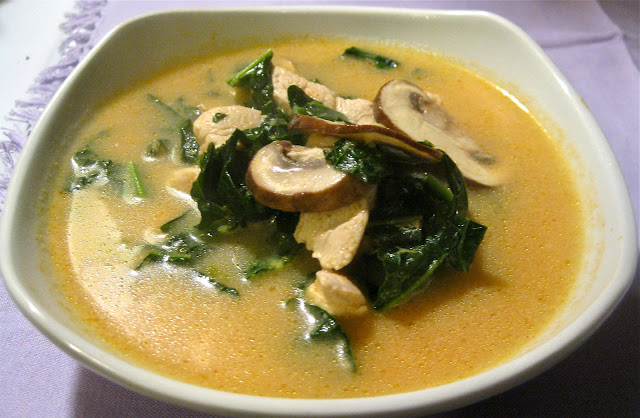 My take on the traditional Thai soup, Tom Kha Gai
With mushrooms, kale and curry paste, this soup is healthy and delicious
Whenever I get the chance, I eat Thai food. Red and Green Curries. Som Tam Salad. Tom Yam Soup. Pad Thai. Pad Prik King. All of my favorites, all incredible healthy and fairly easy to make.
Thailand is known for its food and its happy people. The cuisine is characterized by light ingredients with powerful flavors. Thai people are not afraid of spice. Most likely one of the most gluten-free friendly cuisines in the world, Thai food and its ingredients are accessible in most American grocery stores.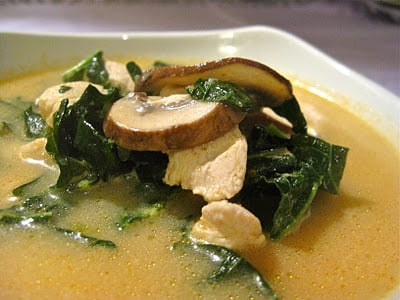 This soup is made with coconut milk, perfect for all the dairy-free folks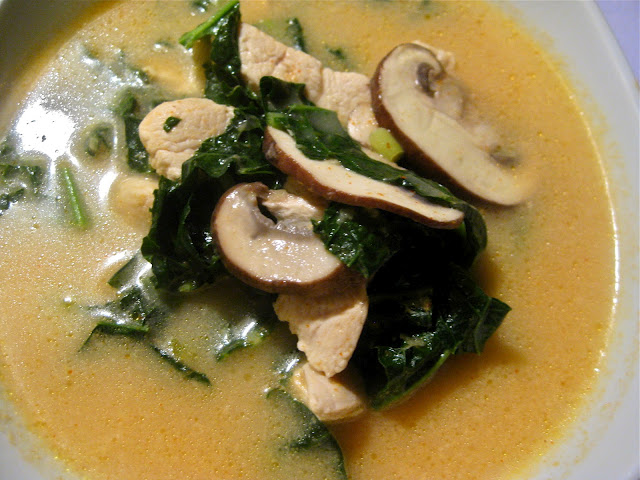 Add caption
Thai Coconut Curry Chicken Soup (Tom Kha Gai)
Tom Kha Gai is a traditional and quite common soup found all across the country. Also a common dish in many Thai-American restaurants, this soup has the perfect balance of sweet, sour, salt and bitter (the four fundamental taste senses of Thai food).
Tom (meaning cooked) Kha (meaning galangal – which is used in curries and many other Thai dishes), and Gai (meaning chicken), literally Cooked Galangal Chicken Soup, is an incredibly aromatic dish that balances the heat of red curry with the sweetness of coconut milk. Absolutely delicious.
Thai Coconut Chicken Soup
This Thai-inspired coconut chicken soup is a spin on the Tom Kha. Made with a base of coconut milk, veggies, shredded chicken and thai curry paste for flavor.
Servings 6 servings
Calories 527kcal
Ingredients
2 tablespoons olive oil
2 large chicken breasts , cut into bite sized pieces
2- inch piece of fresh grated ginger
3 tablespoons Thai red curry paste
2 (15oz) cans unsweetened coconut milk (I like 1 full fat, 1 lite)
2 cups chicken broth (+ more as needed)
2/3 cup finely chopped green onions
1 cup mushrooms , thinly sliced
2 cups lacinato/flat kale , sliced into thin strips
2 - 3 tablespoons fish sauce (depending on taste)
1/4 + teaspoon cayenne pepper
Salt & pepper to taste
Lime, cilantro & sliced red chili to garnish
Instructions
Heat the oil in a large pot. Add the chicken, shallot, ginger, and curry paste and saute for 1 - 2 minutes until fragrant.

Add the coconut milk and broth and bring the mixture to a boil.

Turn down to a simmer and add the rest of your ingredients, except the kale (this goes in at the very end, just before serving). Cover and let this cook until the chicken is cooked through, about 20 minutes.

Remove the lid and add your kale, letting it steam and get tender in the broth, for about 1 minute.

If desired, shred some of the pieces of chicken with a fork, then remove from heat and serve. Top with your choice of garnish – I like lime, cilantro and sliced red chilis.
Notes
Nutrition note: The numbers above are calculated with all full-fat coconut milk. If you use a can of lite coconut milk, the nutrition facts will differ.
Nutrition
Serving: 1cup | Calories: 527kcal | Carbohydrates: 11g | Protein: 21g | Fat: 46g | Saturated Fat: 33g | Polyunsaturated Fat: 3g | Monounsaturated Fat: 8g | Trans Fat: 0.1g | Cholesterol: 50mg | Sodium: 1544mg | Potassium: 712mg | Fiber: 4g | Sugar: 7g | Vitamin A: 2057IU | Vitamin C: 14mg | Calcium: 78mg | Iron: 4mg
share what you make
Tag #simplyquinoa on Instagram with your creations! We love sharing what you make with the community. We can't wait to see!

follow on instagram