This Thai coconut curry soup is hearty, spicy, and refreshing. Inspired by tom kha, it's packed with healthy proteins and vegetables, and only takes about 40 minutes to make.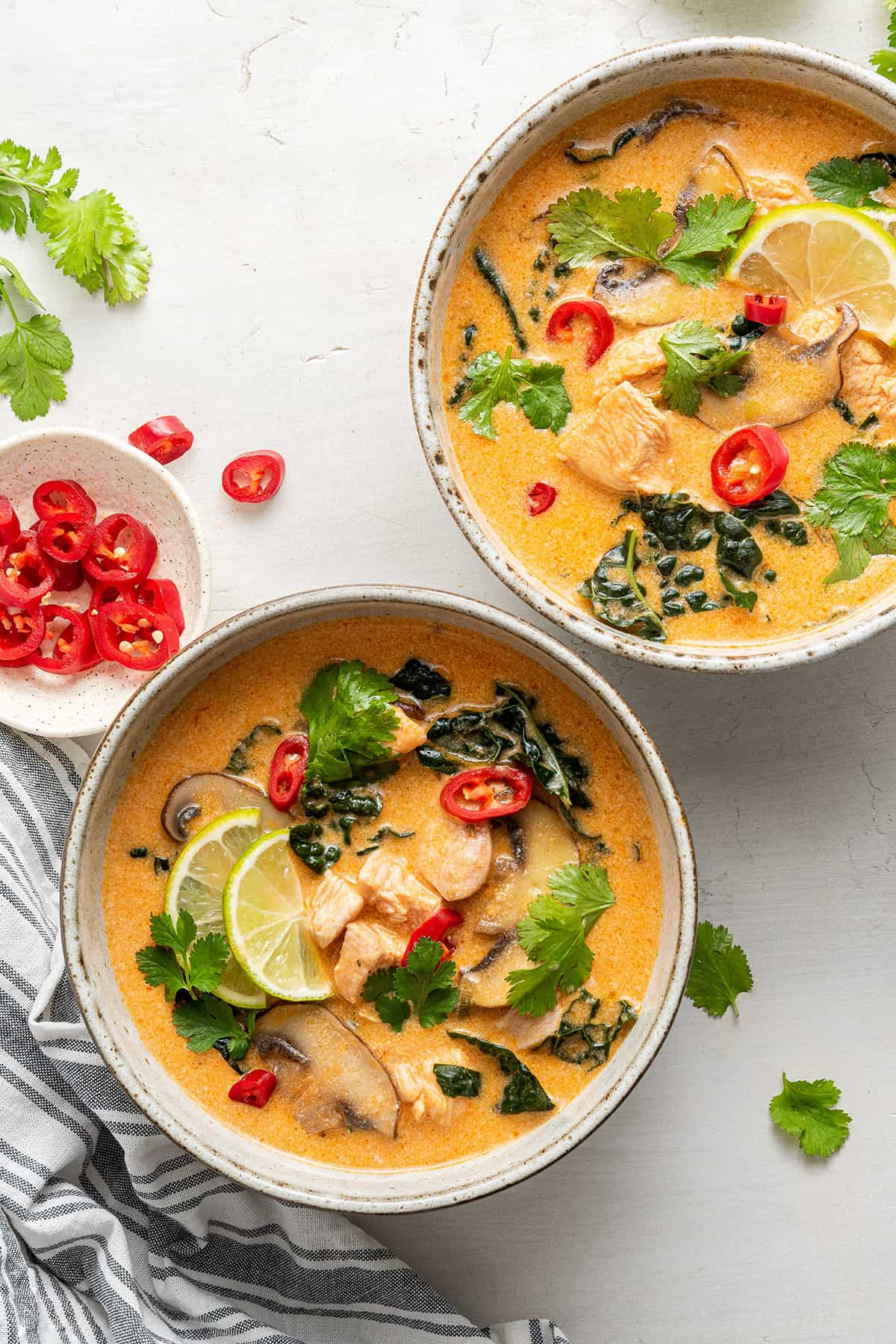 I'm a big fan of soups, especially when the weather starts to get a little cold. A warm, comforting bowl of soup on a cold day is one of my absolute favorite things. This Thai coconut curry soup is the perfect dish for when the weather starts to dip. It's hearty and filling, with a rich coconut milk broth and juicy chunks of chicken. But it's also bright and fresh, with veggies like kale, mushrooms, and green onion. And it's got the perfect amount of spice.
The flavors in this recipe are very complex, but it's an easy dish to make. It only takes about 40 minutes from start to finish, so it can become a weekday staple in the fall and winter. Whenever you need a soothing, healthy, warm dish, this Thai coconut curry soup is perfect.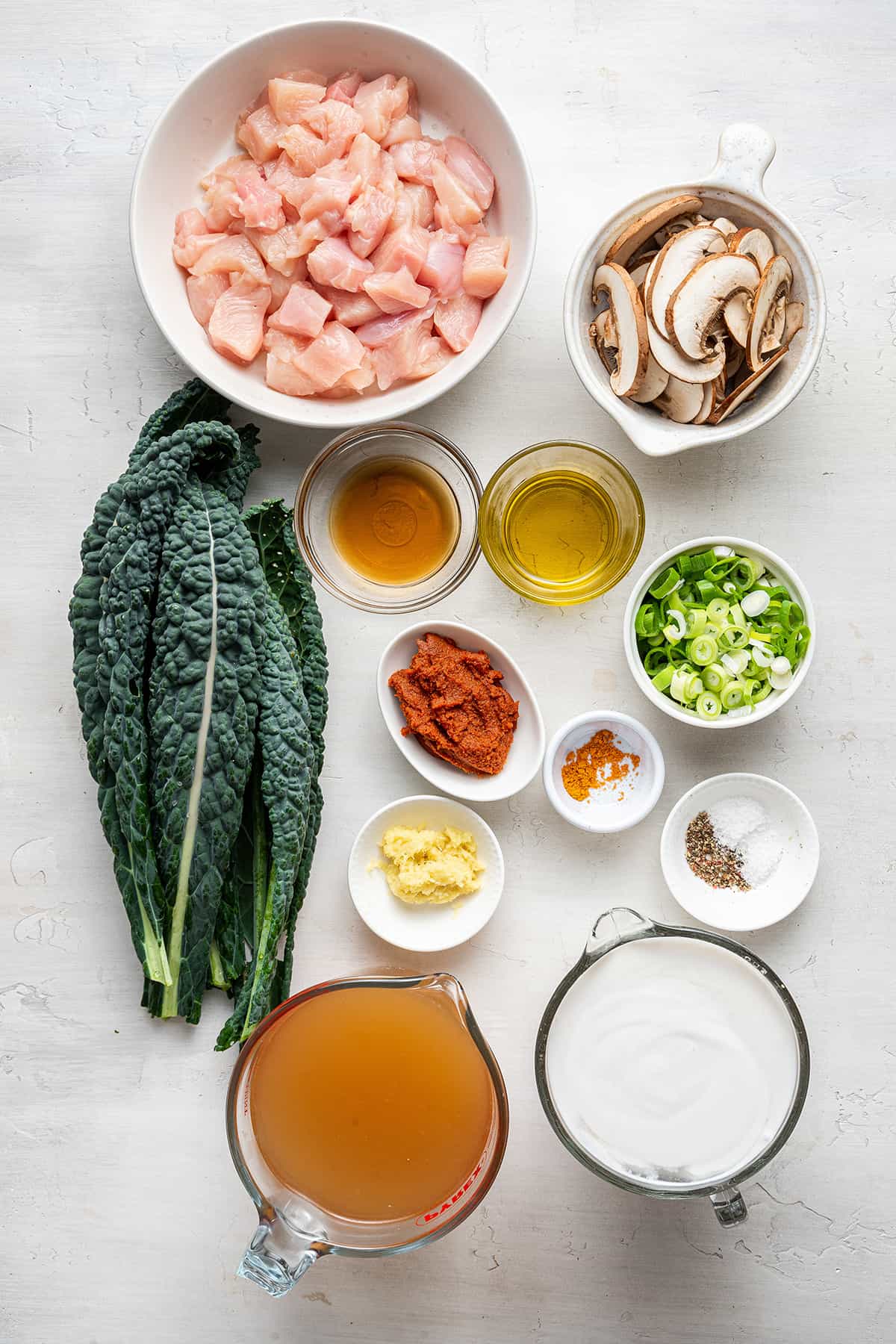 What You'll Need
Here are the ingredients that you'll use in this chicken curry soup. Check out the recipe card at the bottom of the page for the exact quantities of each ingredient.
Olive oil
Chicken breasts – The chicken should be cut into bite-size pieces.
Green onions
Grated ginger
Thai red curry paste
Coconut milk – Make sure to use unsweetened coconut milk. I like to use equal parts full-fat and low-fat coconut milk, but you can mix and match as you please, depending on how rich and creamy you like it.
Chicken broth
Mushrooms
Flat kale
Fish sauce – This ingredient doesn't make the soup taste fishy, it just adds a rich umami flavor to the dish.
Cayenne pepper
Salt
Pepper
Lime – The lime is a garnish.
Cilantro – The cilantro is a garnish.
Red chilis – The chilis are a garnish.
What Type of Mushrooms Should I Use?
You can use pretty much any kind of mushroom that you want with this recipe. I like to use basic cremini or button mushrooms, because they're affordable, you can find them at any store, and they stand up to the strong flavors in this soup. Shiitake mushrooms are also a great option if you prefer a meatier, earthier flavor.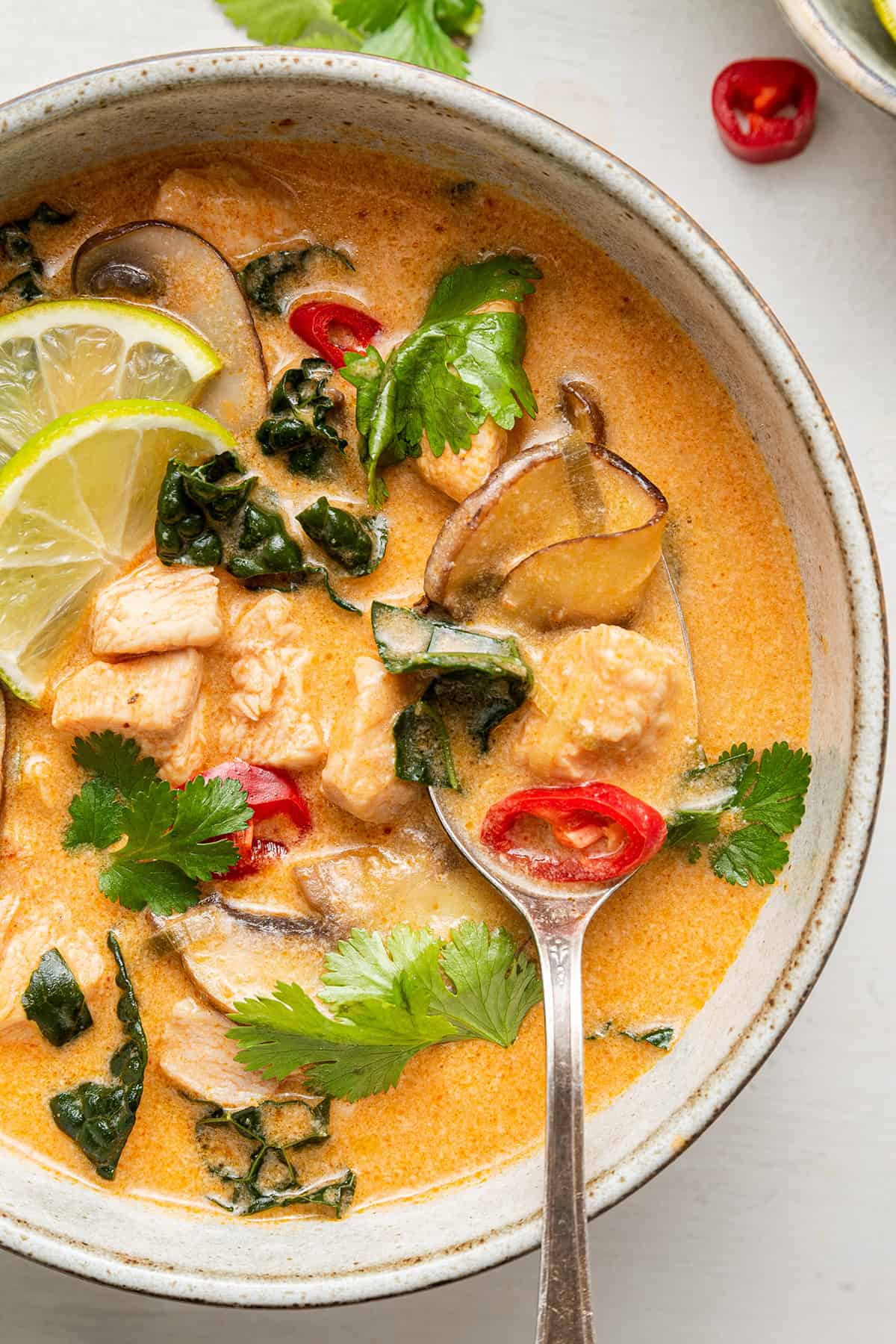 How to Make Thai Coconut Curry Soup
Here's how to make this healthy soup recipe. As you can see, it's very easy to make.
Cook the chicken. Heat the oil in a pot, then add the chicken, green onions, ginger, and curry paste. Sauté until fragrant, which should be 1-2 minutes.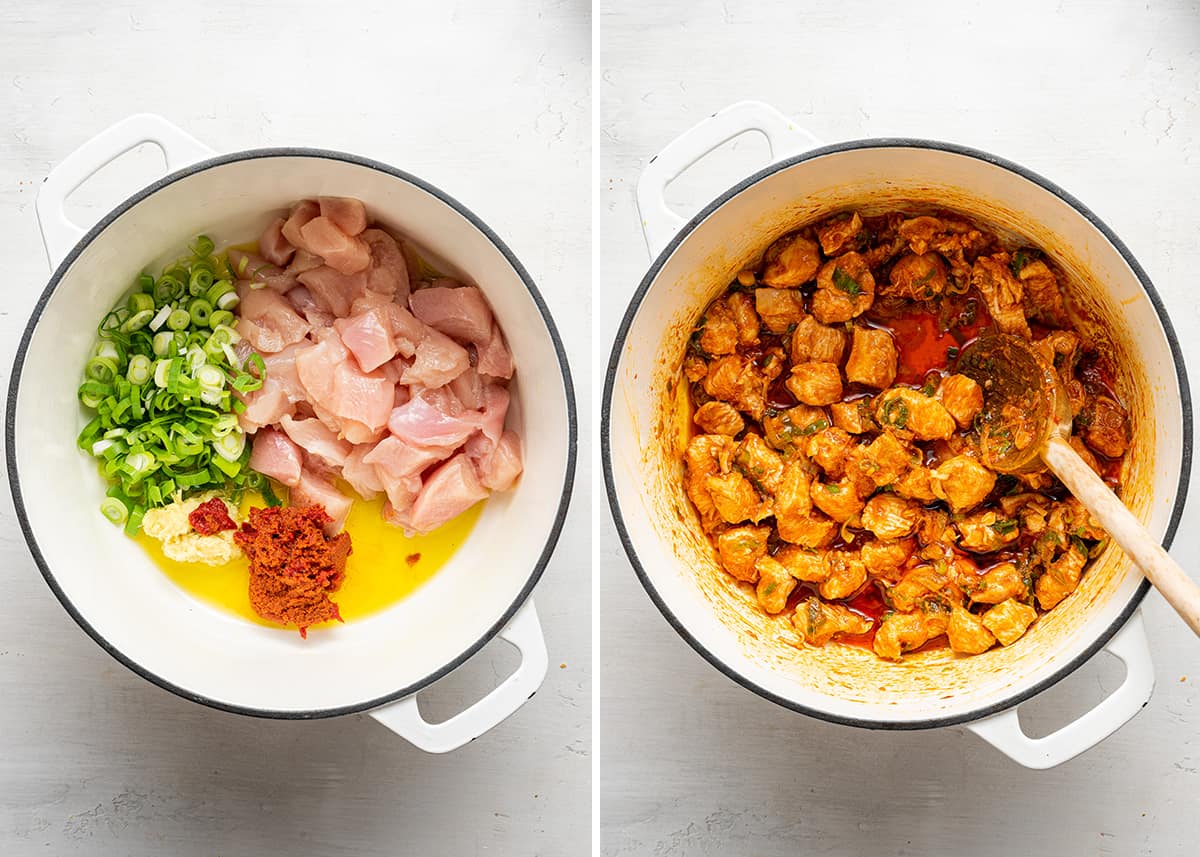 Add the liquids. Pour the coconut milk and chicken broth into the pot, and bring the soup to a boil. Then turn the heat down to a simmer.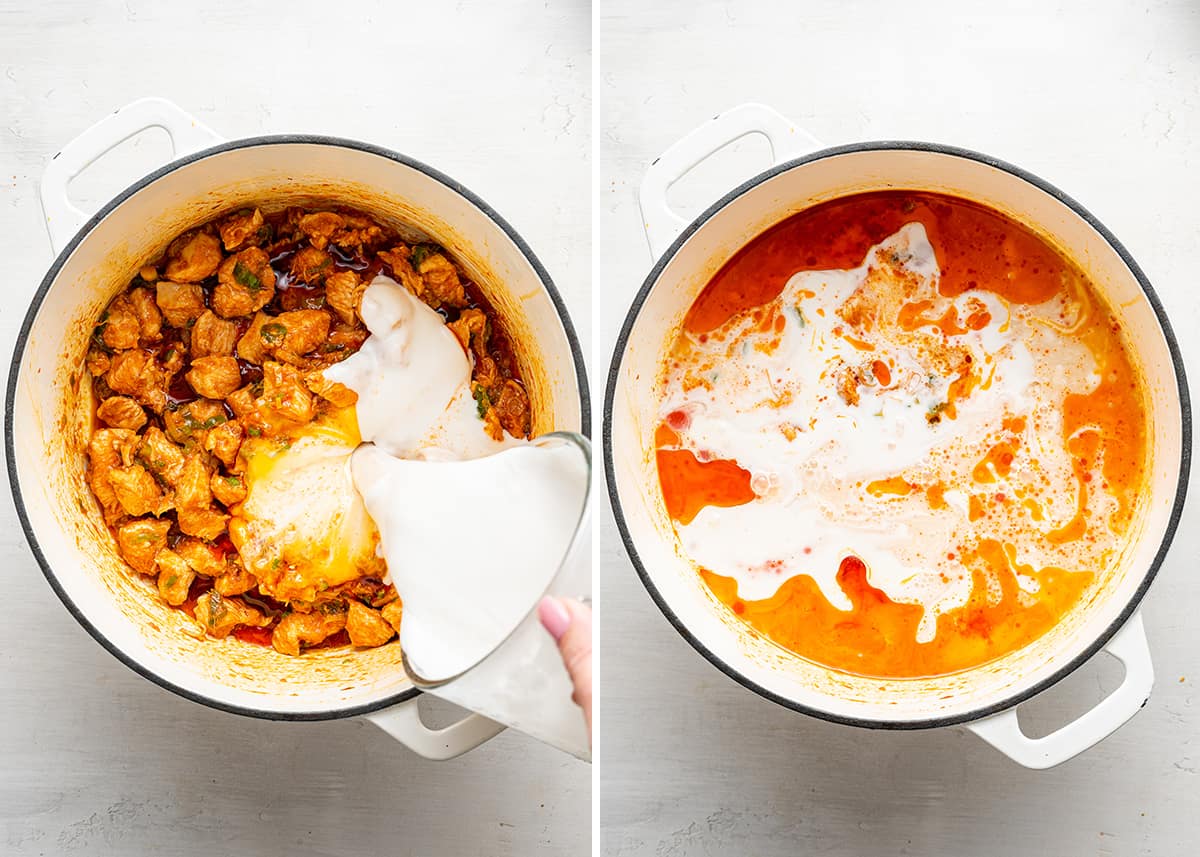 Add the mushrooms. Put the mushrooms, fish sauce, cayenne pepper, salt, and pepper in the pot. Cover and cook for about 20 minutes, or until the chicken is cooked through.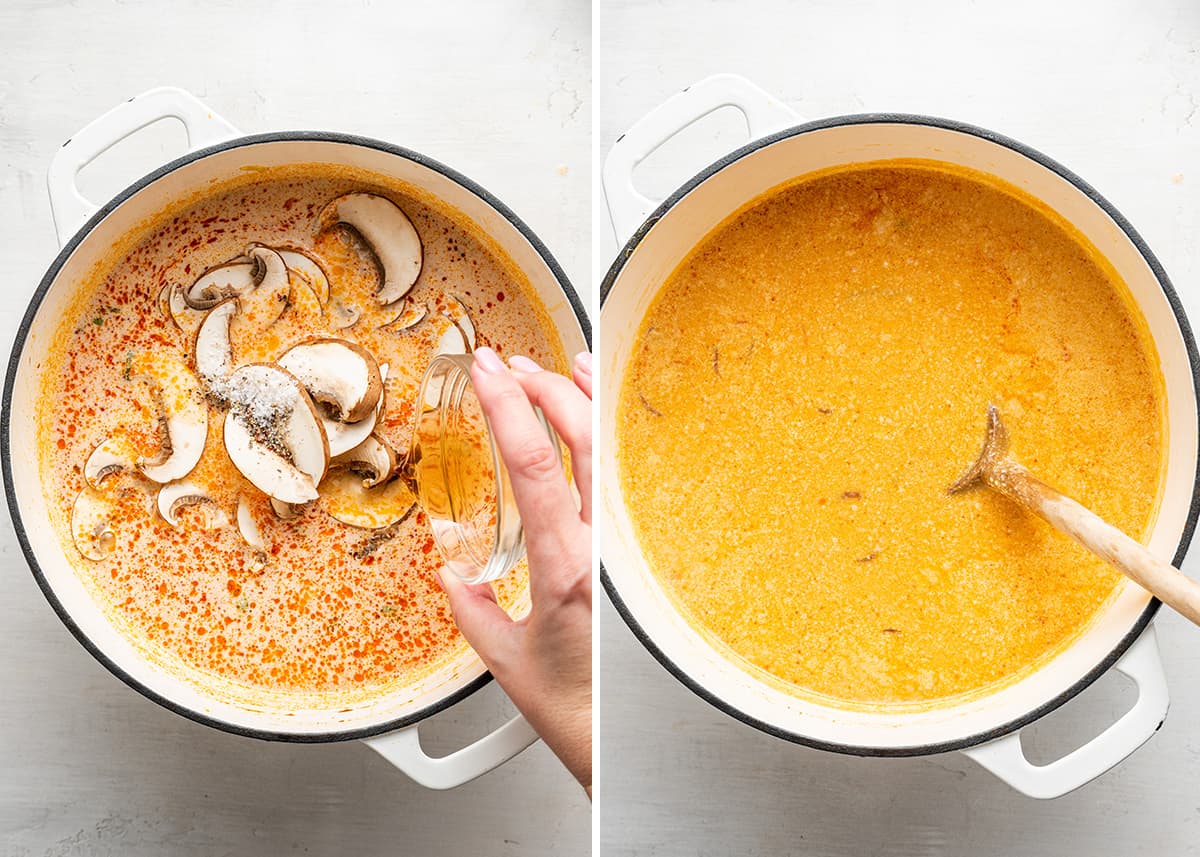 Add the kale. Finally, add the kale to the soup and let it cook for about 1 minute. Then serve with your garnishes of choice.
Tips for Success
Here are some of my favorite tricks for making this recipe shine.
Don't be afraid of the sauté. It's easy to not cook the green onions, ginger, and curry paste long enough. But you really want to cook those ingredients until they get super fragrant. The flavors they develop while being sautéed are much different than the flavors they get while simmering in the soup. Don't be so scared of burning these ingredients that you forget to extract their best flavors.
Use a homemade broth. You can make this dish with a store bought chicken stock and it will be hearty, refreshing, and delicious. But it will be even better if you make your own chicken stock for a richer, deeper flavor. This soup would also be fantastic with my vegan mushroom bone broth.
Take your time. One thing I love about this soup is how quickly it comes together. It really is a perfect weeknight soup. But if you happen to have the time, the soup will benefit from cooking it a little bit longer. The longer you cook soup, the more the flavors meld and increase in intensity. Simmer this soup for an hour or two before adding the kale, and you'll notice some amplified flavors.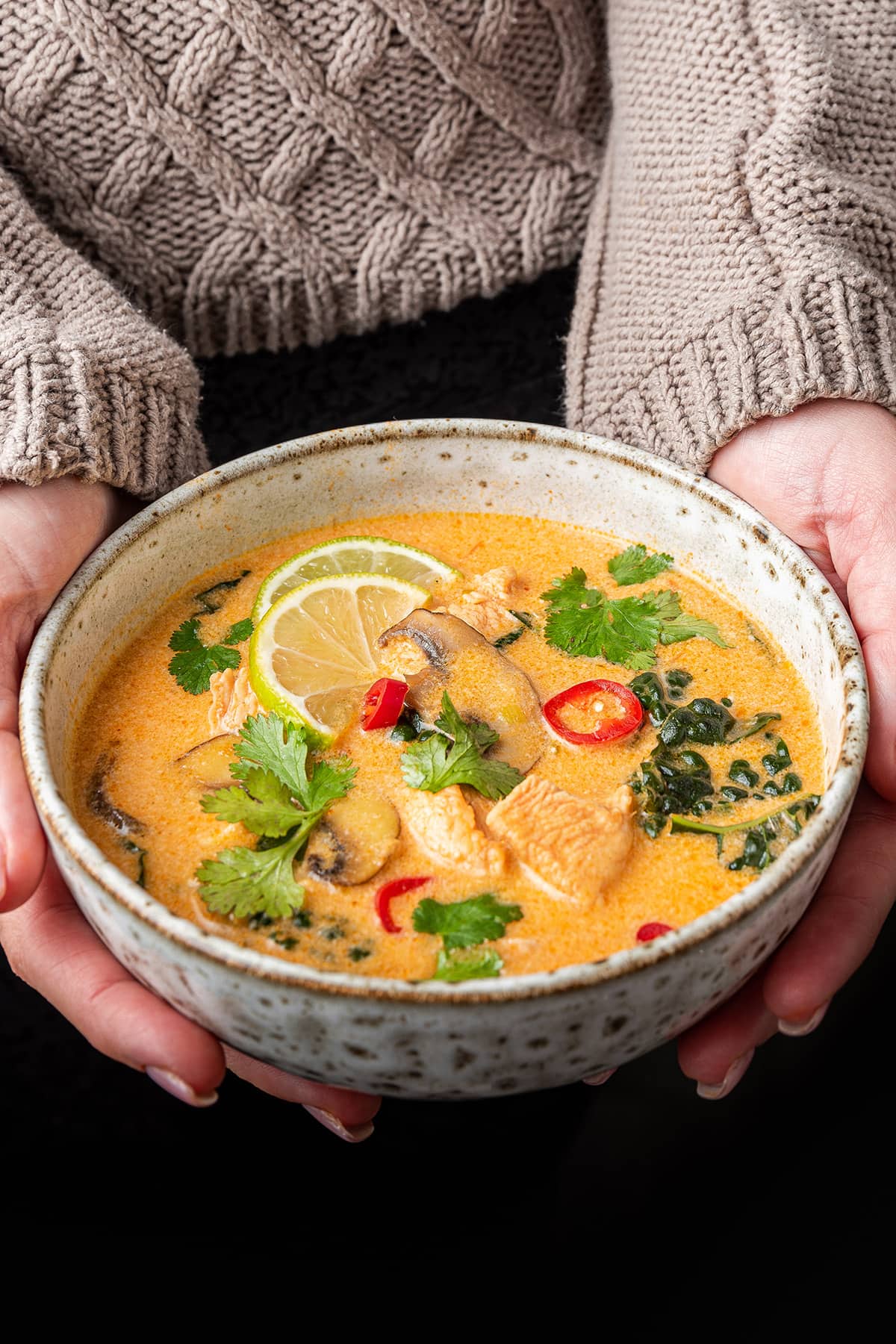 Serving Suggestions
This comforting soup is wonderful all by itself, or with a simple bowl of rice. But if you want to make a bigger meal, here are some dishes I recommend serving it with.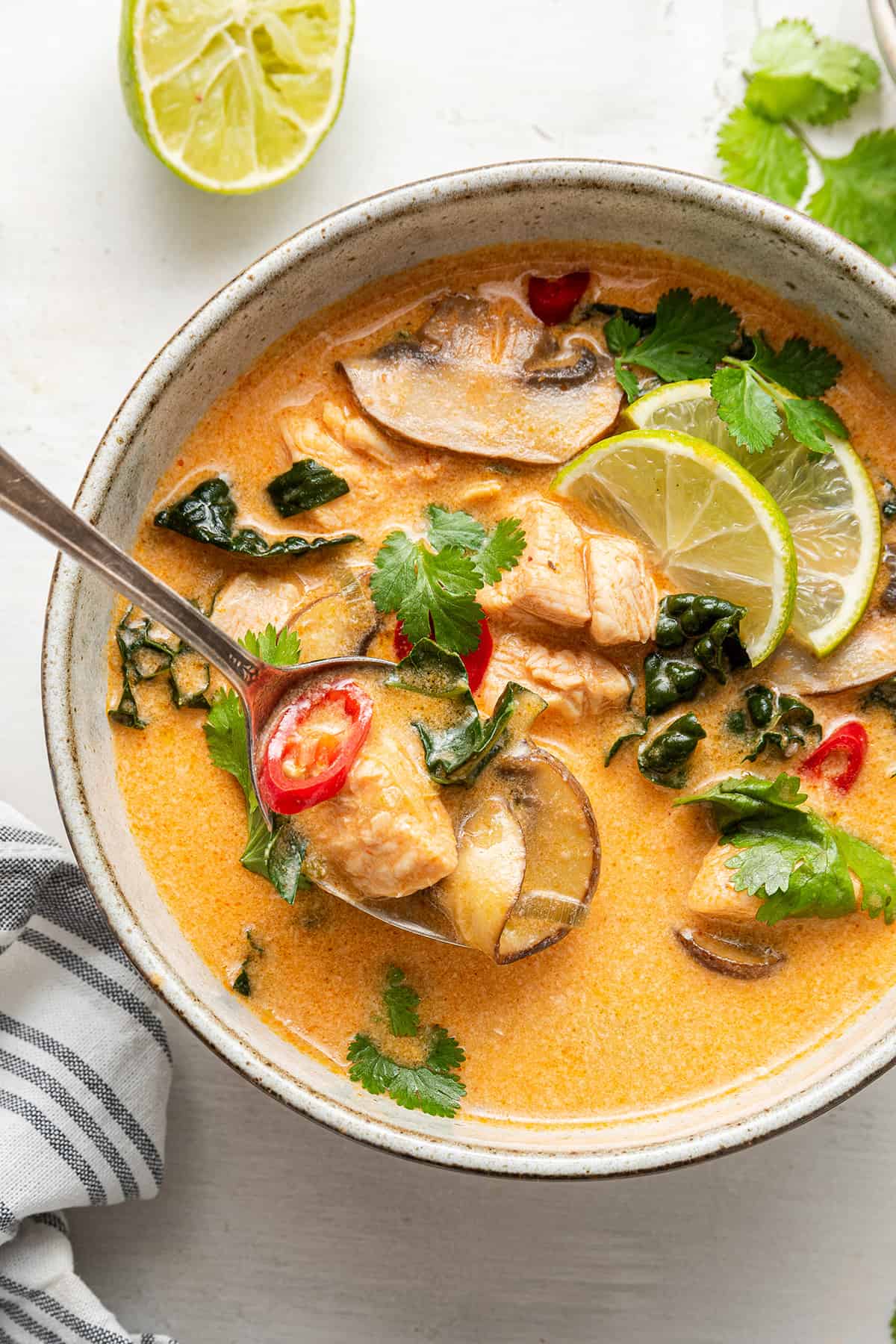 How to Store and Reheat
You can keep this Thai coconut curry soup in the fridge for up to 4 days. To reheat, cook on the stove over medium-low heat for a few minutes, until the chicken is warmed all the way through. You can also reheat in the microwave, cooking in 30-second increments on medium heat.
Can Thai Coconut Curry Soup Be Frozen?
This is one of my favorite dishes to freeze, and it makes for the easiest meal whenever you want it. Store in an airtight container in the freezer for up to 3 months, then defrost or thaw before heating.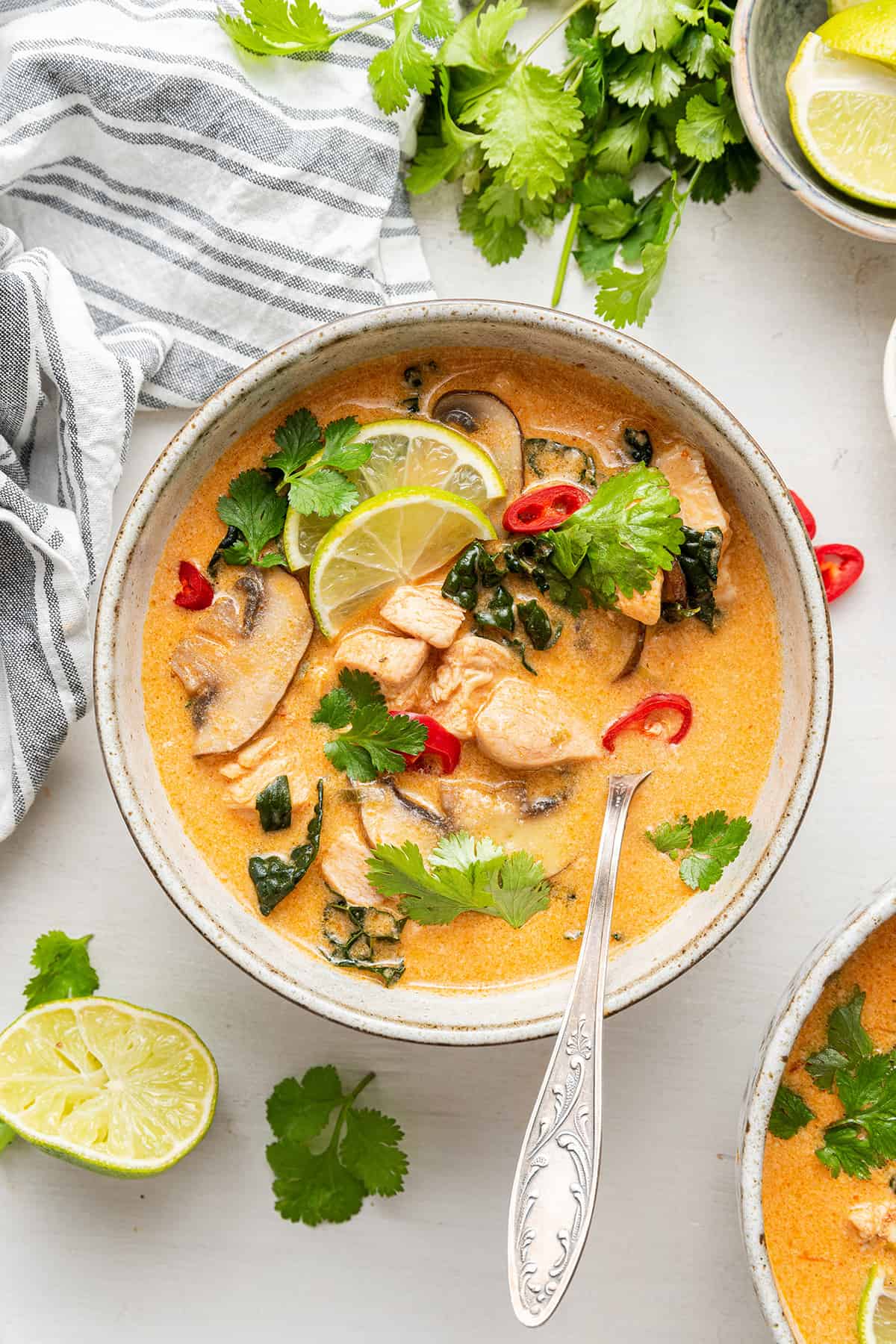 More Comforting Soups to Make
Hopefully you enjoyed this comforting Thai chicken soup. Here are some of my other favorite soup recipes for you to make on a cold day.
Thai Coconut Chicken Soup
This easy and comforting Thai coconut chicken soup is rich and fresh. With coconut milk, chicken, and kale, this is a hearty dish that will keep you warm all winter long.
Servings 6 servings
Calories 527kcal
Ingredients
2 tablespoons olive oil
2 large chicken breasts , cut into bite sized pieces
2/3 cup finely chopped green onions
2- inch piece of fresh grated ginger
3 tablespoons Thai red curry paste
2 (15oz) cans unsweetened coconut milk (I like 1 full fat, 1 lite)
2 cups chicken broth (+ more as needed)
1 cup mushrooms , thinly sliced
2 cups lacinato/flat kale , sliced into thin strips
2 – 3 tablespoons fish sauce (depending on taste)
1/4 + teaspoon cayenne pepper
Salt & pepper to taste
Lime, cilantro & sliced red chili to garnish
Instructions
Heat the oil in a large pot. Add the chicken, green onions, ginger, and curry paste and sauté for 1 – 2 minutes until fragrant.

Add the coconut milk and broth and bring the mixture to a boil.

Turn down to a simmer and add the rest of your ingredients, except the kale (this goes in at the very end, just before serving). Cover and let this cook until the chicken is cooked through, about 20 minutes.

Remove the lid and add your kale, letting it steam and get tender in the broth, for about 1 minute.

If desired, shred some of the pieces of chicken with a fork, then remove from heat and serve. Top with your choice of garnish – I like lime, cilantro and sliced red chilis.
Notes
Nutrition note: The numbers above are calculated with all full-fat coconut milk. If you use a can of lite coconut milk, the nutrition facts will differ.
Nutrition
Serving: 1cup | Calories: 527kcal | Carbohydrates: 11g | Protein: 21g | Fat: 46g | Saturated Fat: 33g | Polyunsaturated Fat: 3g | Monounsaturated Fat: 8g | Trans Fat: 0.1g | Cholesterol: 50mg | Sodium: 1544mg | Potassium: 712mg | Fiber: 4g | Sugar: 7g | Vitamin A: 2057IU | Vitamin C: 14mg | Calcium: 78mg | Iron: 4mg
share what you make
Tag #simplyquinoa on Instagram with your creations! We love sharing what you make with the community. We can't wait to see!

follow on instagram