Here are 25 easy sweet potato recipes! We've got lots of healthy ideas here for breakfast, lunch or dinner. Plus tons of vegan, vegetarian and gluten-free options!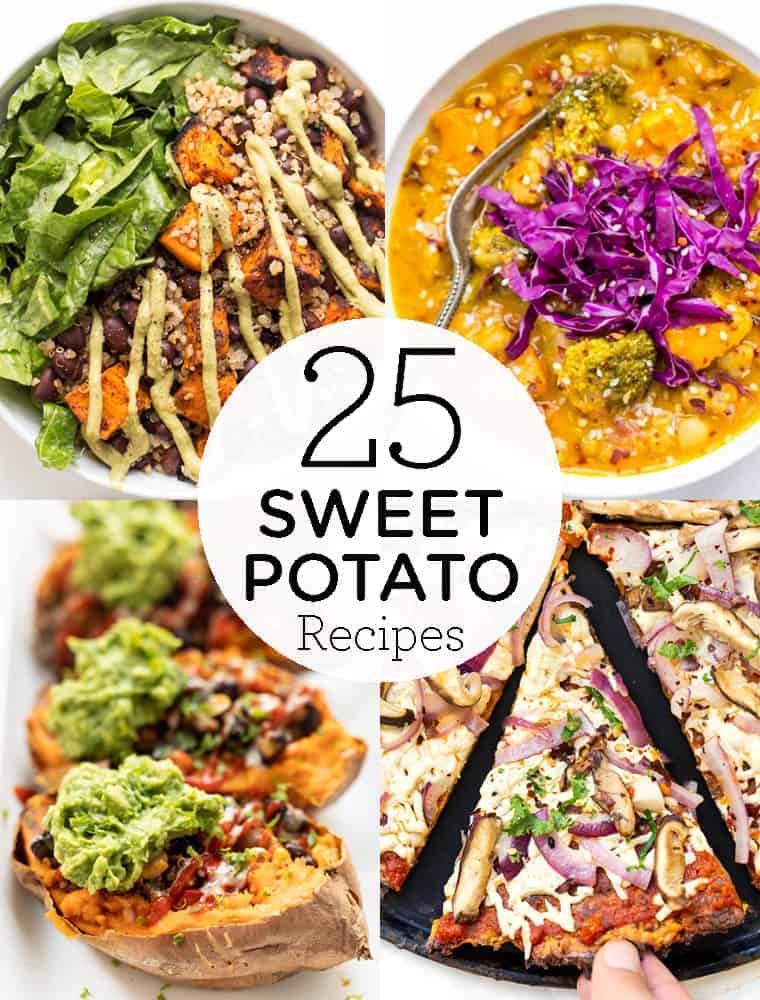 SWEET POTATOES. Sweet potatoes are one of my favorite foods in the world. They're incredibly versatile and have the best texture, flavor, and provide a healthy boost of nutrition. I could eat a sweet potato with breakfast, lunch and dinner and not get tired of them!
Today I'm sharing 25 easy sweet potato recipes. We've got waffles, salads, soups, curries, and of course, the classic stuffed sweet potatoes!
Don't forget to pin this post so that you can come back to this list over and over again. And comment which recipe you're going to try!
Healthy Sweet Potato Breakfast Recipes
When you think of sweet potatoes, I'm sure breakfast recipes aren't the first thing that come to mind! However, using sweet potatoes in breakfast recipes is absolutely delicious! Such a great way to pack in some protein right at the beginning of the day.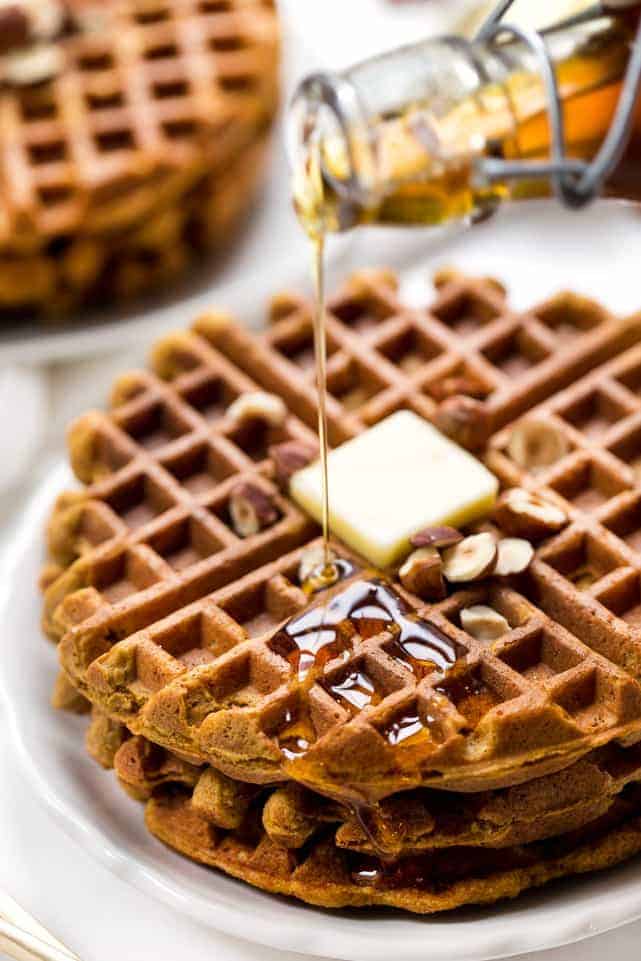 Healthy Sweet Potato Waffles from Simply Quinoa – These healthy Sweet Potato Waffles are packed with Omega-3s and make a perfect weekend breakfast! They're light, fluffy, flavorful and also gluten-free!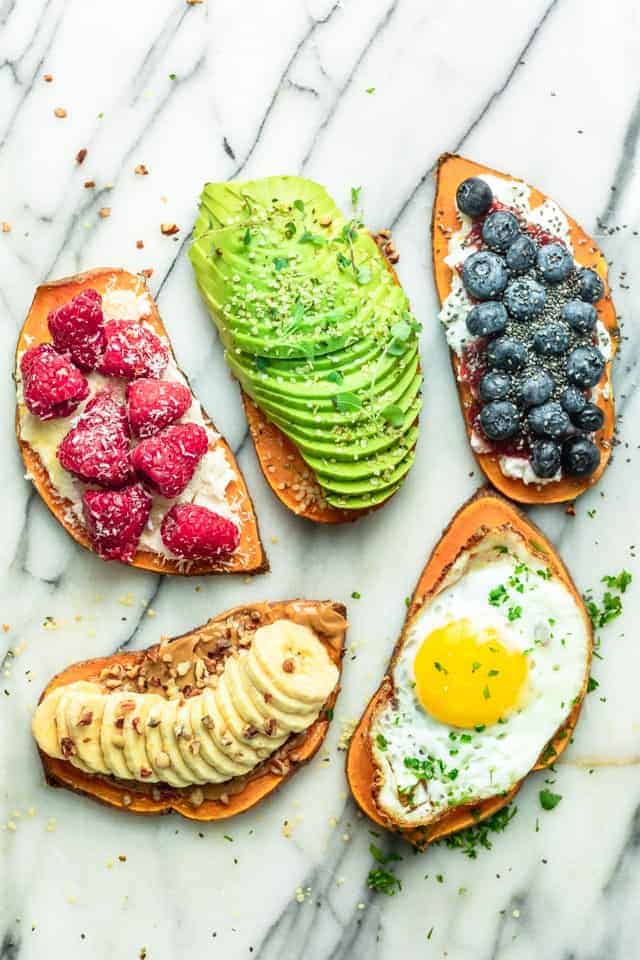 Sweet Potato Toasts from Feel Good Foodie – Switch the bread slices in your toaster to Sweet Potato Toast! There are endless sweet and savory toppings for a low carb, low calorie, tasty breakfast!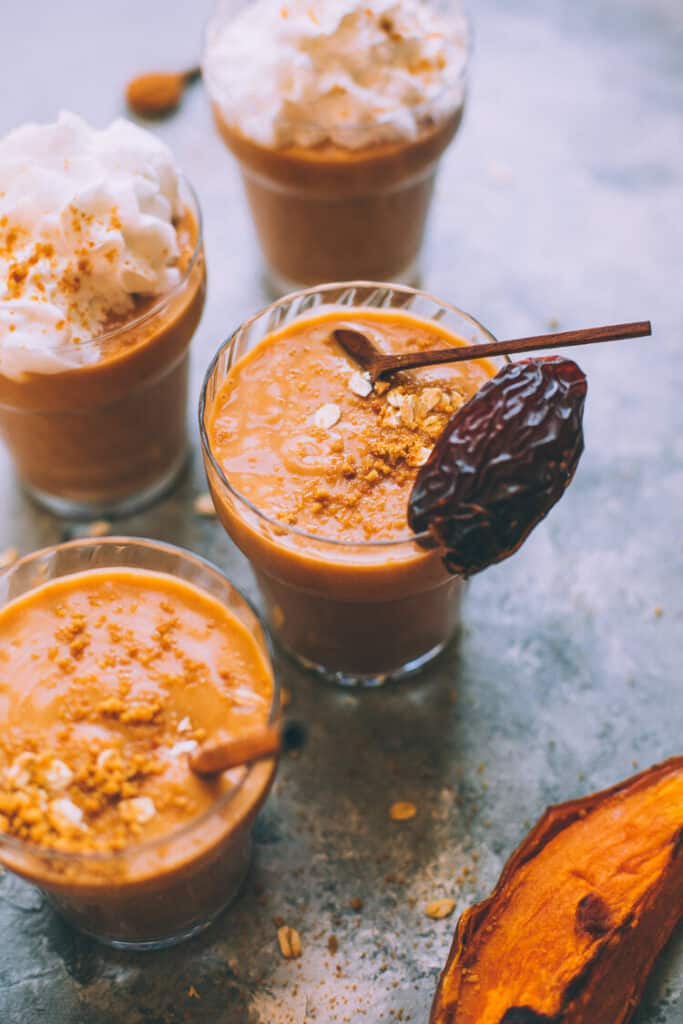 Sweet Potato Pie Smoothie from Will Frolic for Food – This Sweet Potato Pie Smoothie with cinnamon, cashew butter and dates is the perfect combo of cozy and nourishing!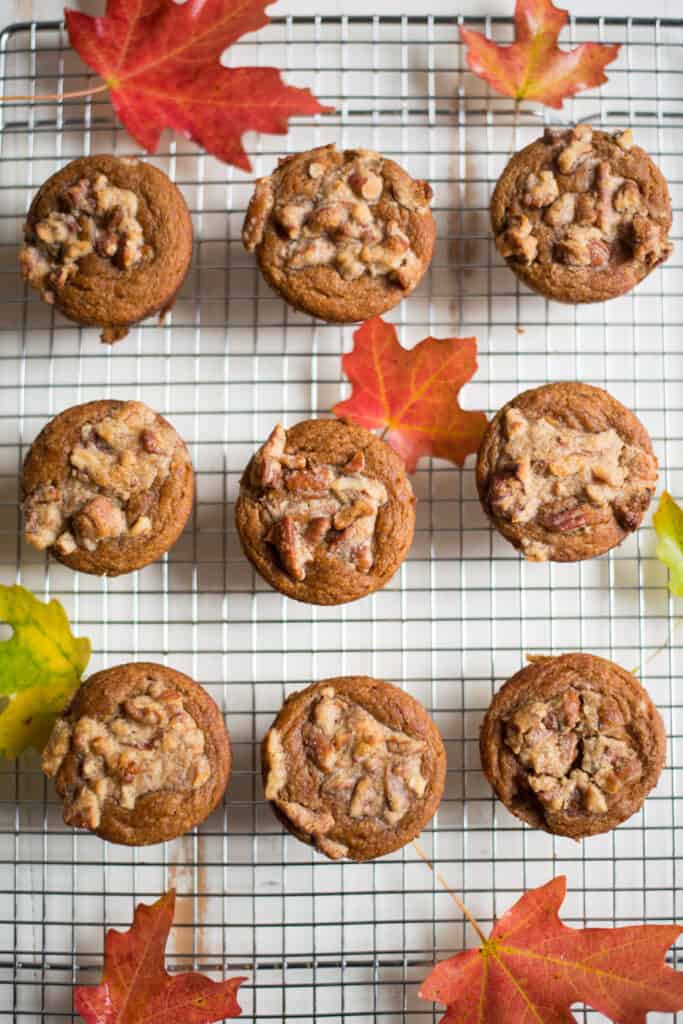 Flourless Sweet Potato Muffins from Real Food Whole Life – One-Bowl Flourless Sweet Potato Pie Muffins are nourishing, packed with flavor, and the perfect naturally-sweetened treat anytime.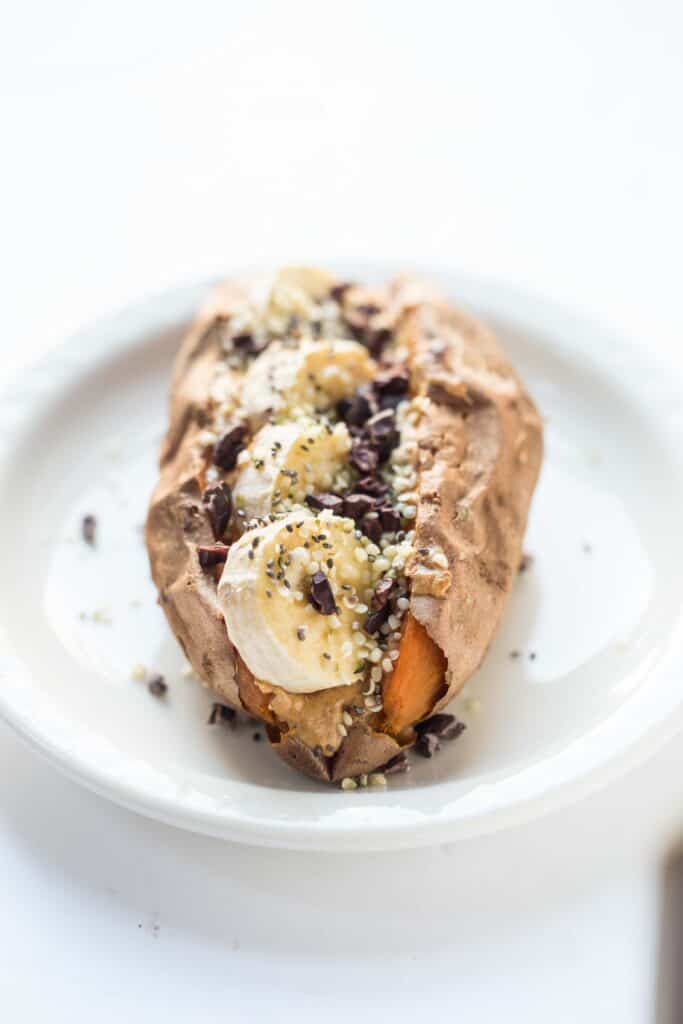 Breakfast Sweet Potatoes from Simply Quinoa – Sounds crazy, but so delicious! This stuffed sweet potatoes are filled with bananas, peanut butter, cacao nibs, and more tasty ingredients!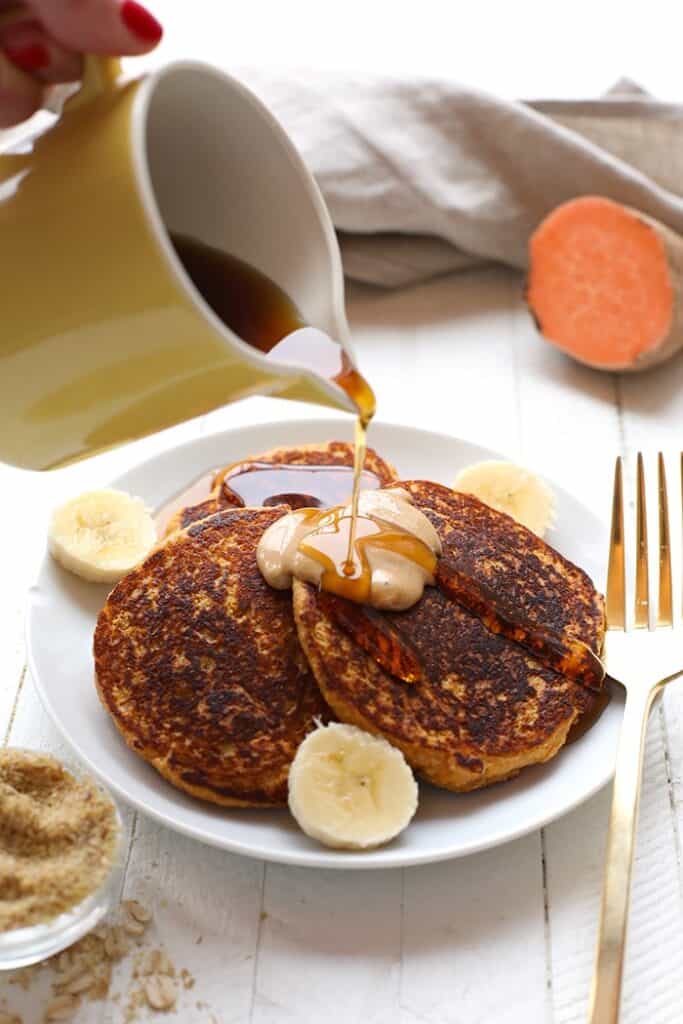 Healthy Sweet Potato Pancakes from Fit Foodie Finds – Start your morning out right with these Sweet Potato Pancakes! This healthy pancake recipe is made with 100% oat flour and sweet potato puree and are packed with vitamin A and fiber so you'll feel energized all day long.
Healthy & Easy Sweet Potato Salads
You all know how I love my salads, but sweet potato salads are my absolute favorite! Sweet potatoes are a great source of vegan protein and they make salads perfectly filling. You're going to love these easy recipes – plus they're all perfect for meal prep!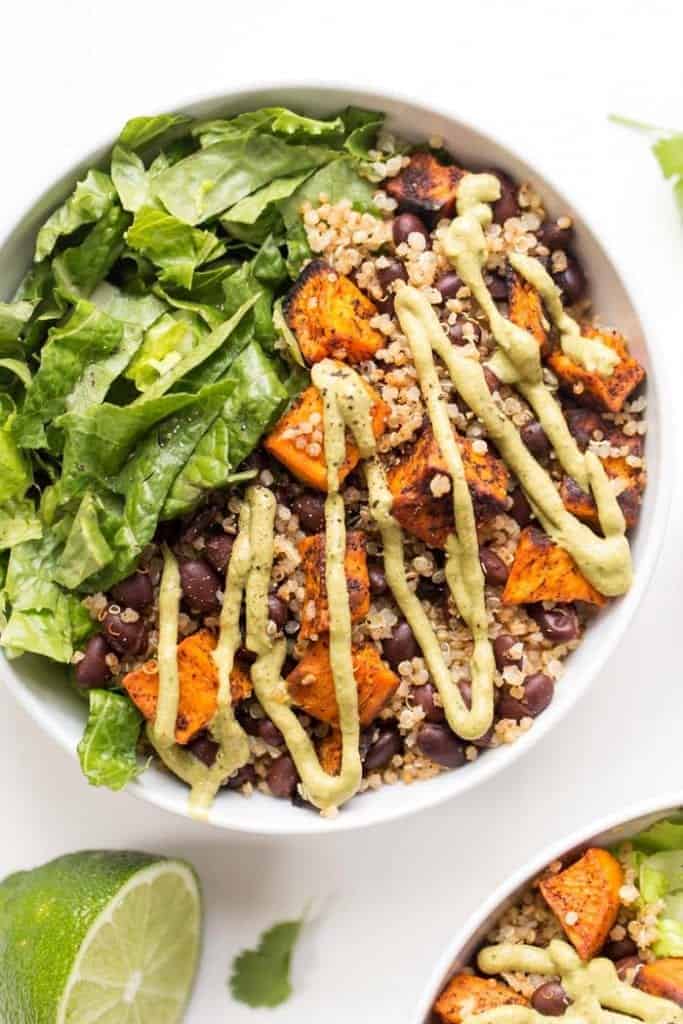 Roasted Sweet Potato Black Bean Quinoa Salad from Simply Quinoa – This is the PERFECT lunch or dinner. Packed with fiber, protein and flavor you're going to LOVE it!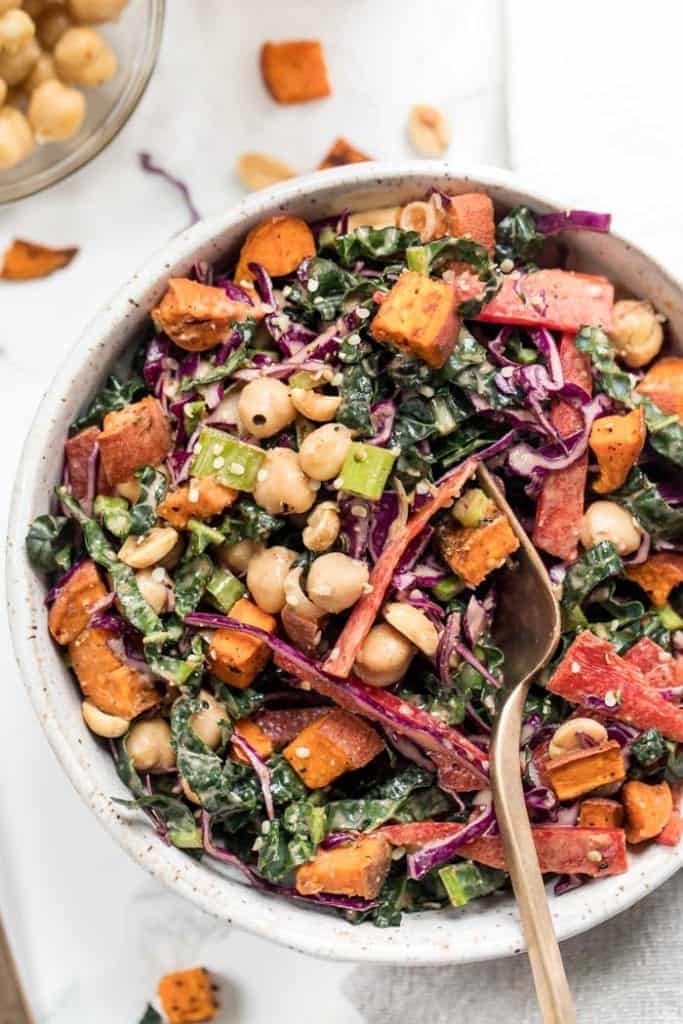 Thai Superfood Kale Salad from Simply Quinoa – This superfood kale salad is topped with roasted sweet potatoes, chickpeas and tossed in a creamy Thai almond butter dressing. It's high in fiber, high in protein, and so tasty!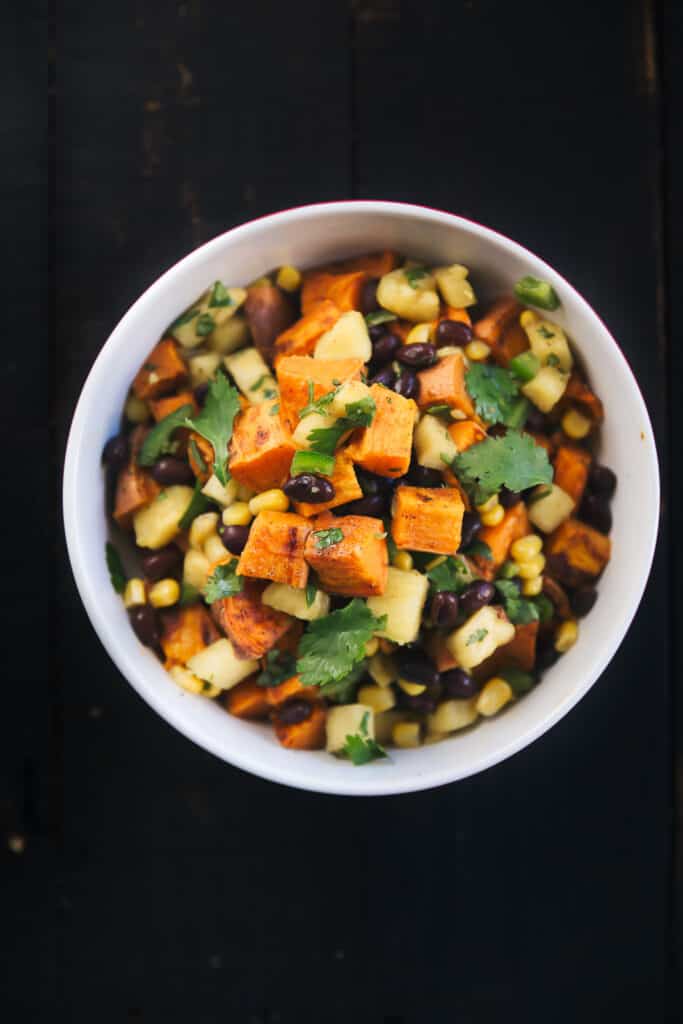 Sweet Potato Black Bean Salad with Pineapple Corn Salsa from Ambitious Kitchen -Vegetarian roasted sweet potato black bean salad with a fresh sweet pineapple corn salsa. Perfect for potlucks & parties.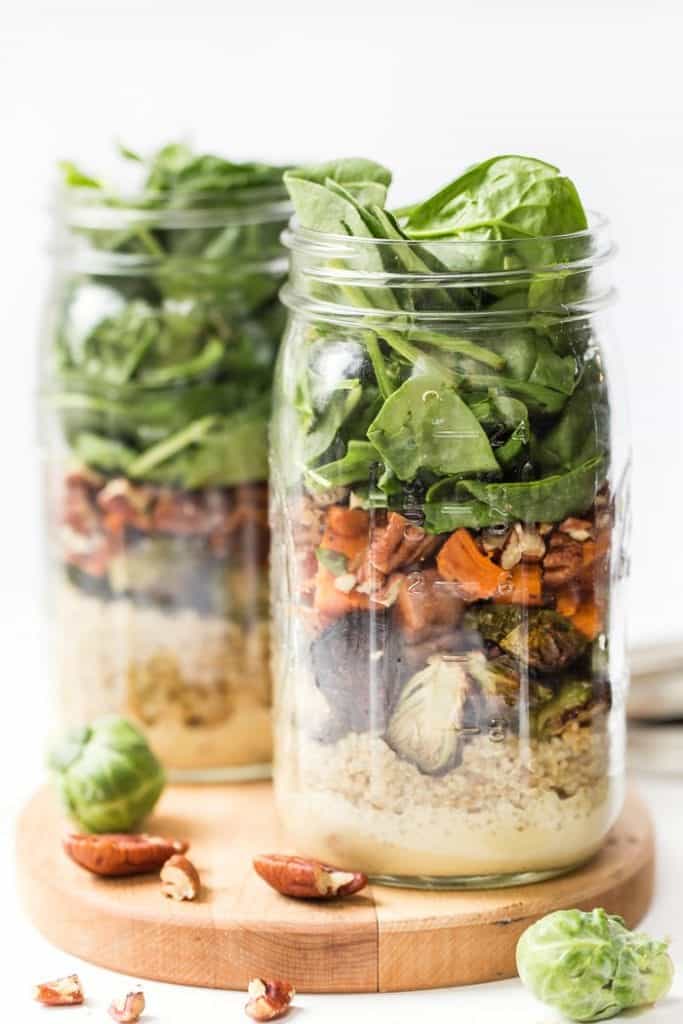 Harvest Mason Jar Quinoa Salad from Simply Quinoa – These Harvest Mason Jar Quinoa Salads are the perfect healthy meal and great for meal prep. They're packed with protein, simple to make and delicious!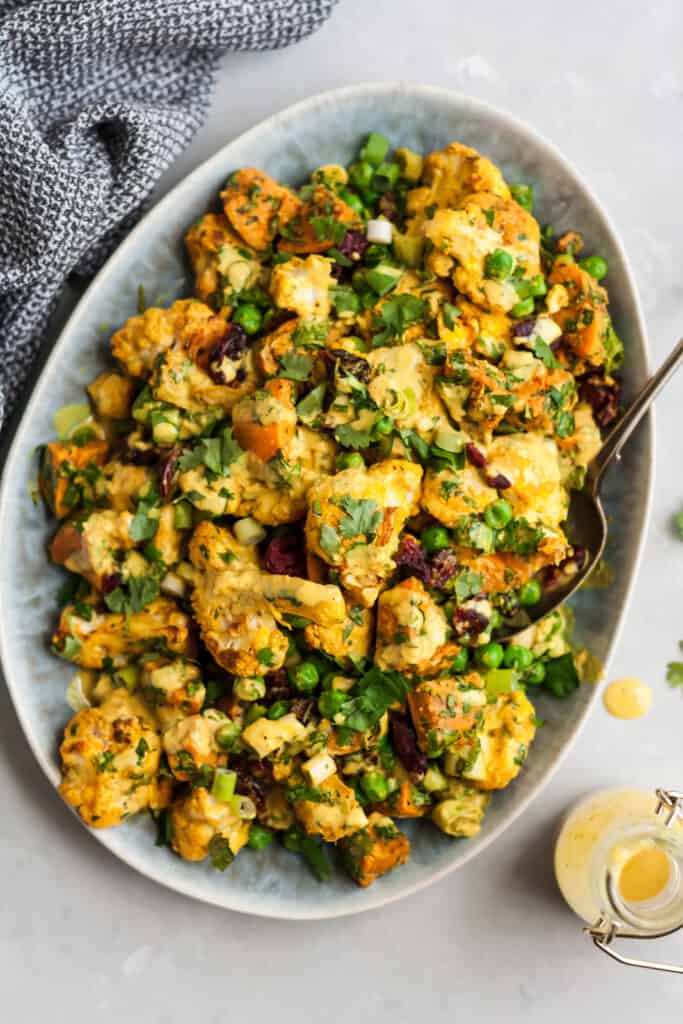 Curry Roasted Cauliflower Sweet Potato Salad from Ambitious Kitchen – Vegan and gluten free curry roasted cauliflower sweet potato salad with a creamy curry tahini dressing. This salad is everything you could ever want. Easy to make, packed with veggies and absolutely addicting!
Sweet Potato Chili, Soup & Curry Recipes
Roasted sweet potatoes have the most perfect creamy texture, so they're the perfect ingredient for homemade chilis, soups and curries! These easy recipes make the best flavorful, nourishing lunch or dinner ideas.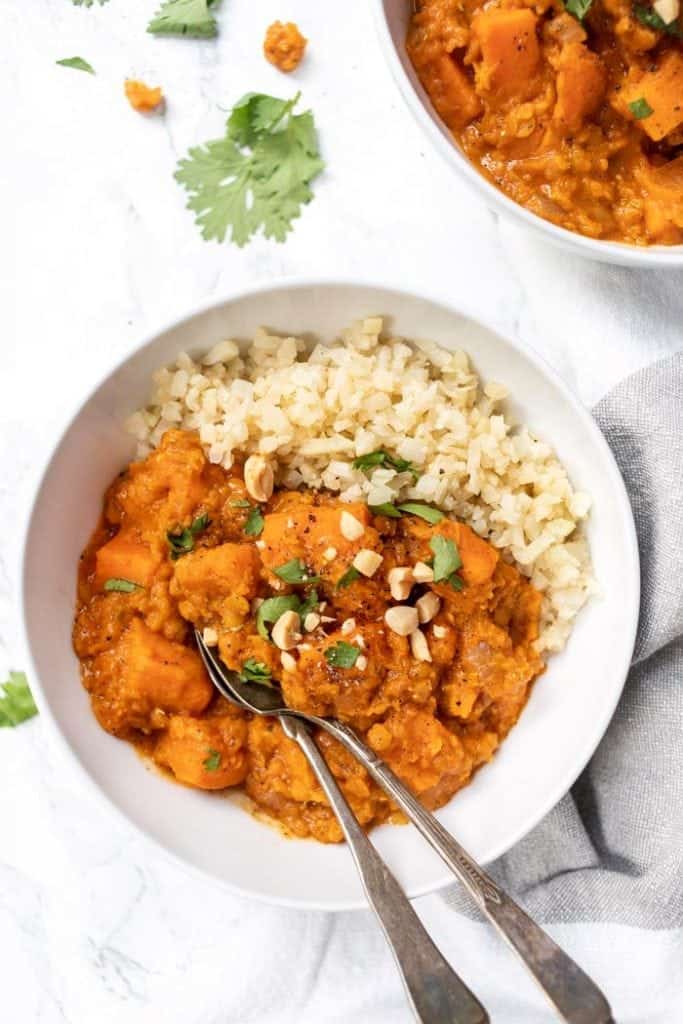 Creamy Sweet Potato Red Lentil Curry from Simply Quinoa – This creamy Red Lentil Curry uses sweet potatoes, coconut milk and just 9 other ingredients! Made in just one pot, it's also vegan, gluten-free and healthy!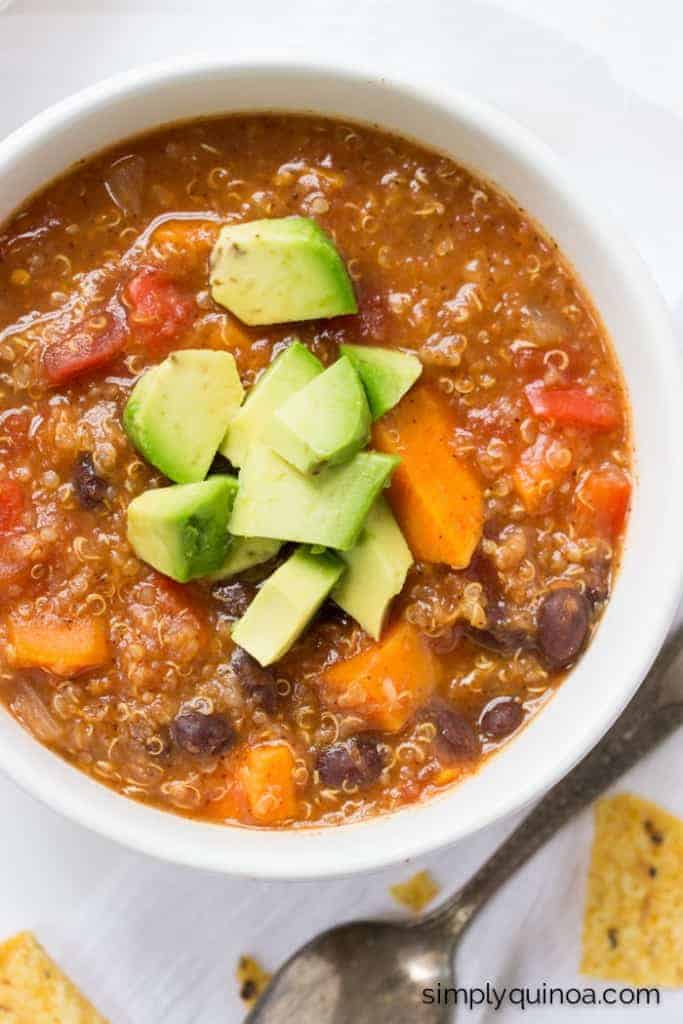 Sweet Potato & Black Bean Quinoa Chili from Simply Quinoa – Try this healthy, vegetarian quinoa chili with chunky sweet potatoes and hearty sweet potatoes. The best part? It's made in a slower cooker, so it's easy and mostly hands-off!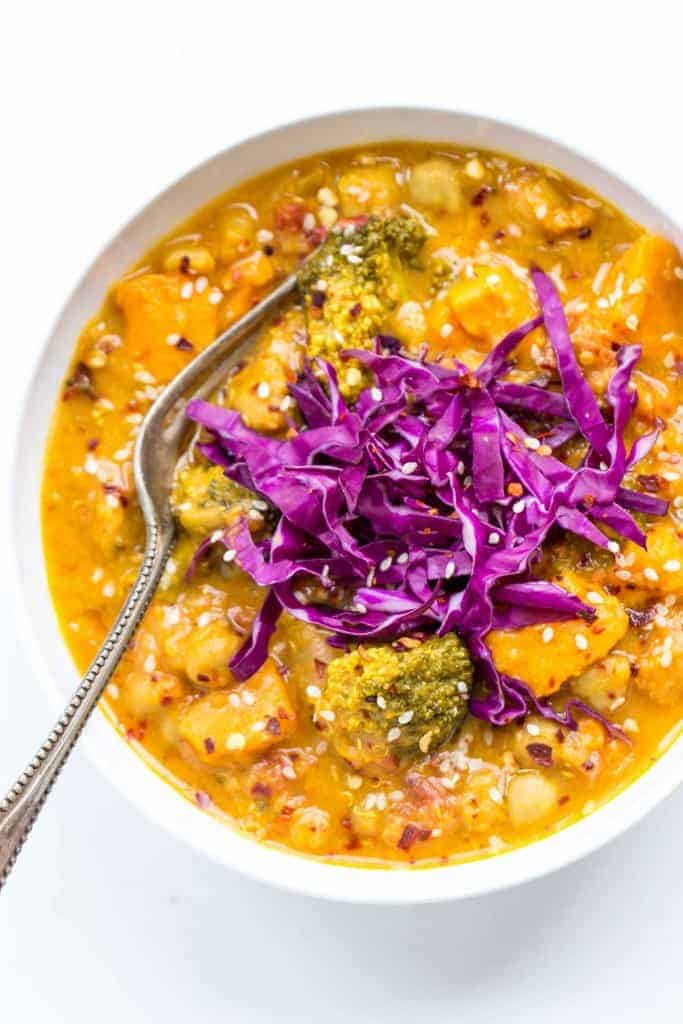 Slow Cooker Coconut Quinoa Curry from Simply Quinoa – The best quinoa curry recipe! This healthy slow cooker coconut curry is one of the easiest meals ever. Just toss everything into the slow cooker and done!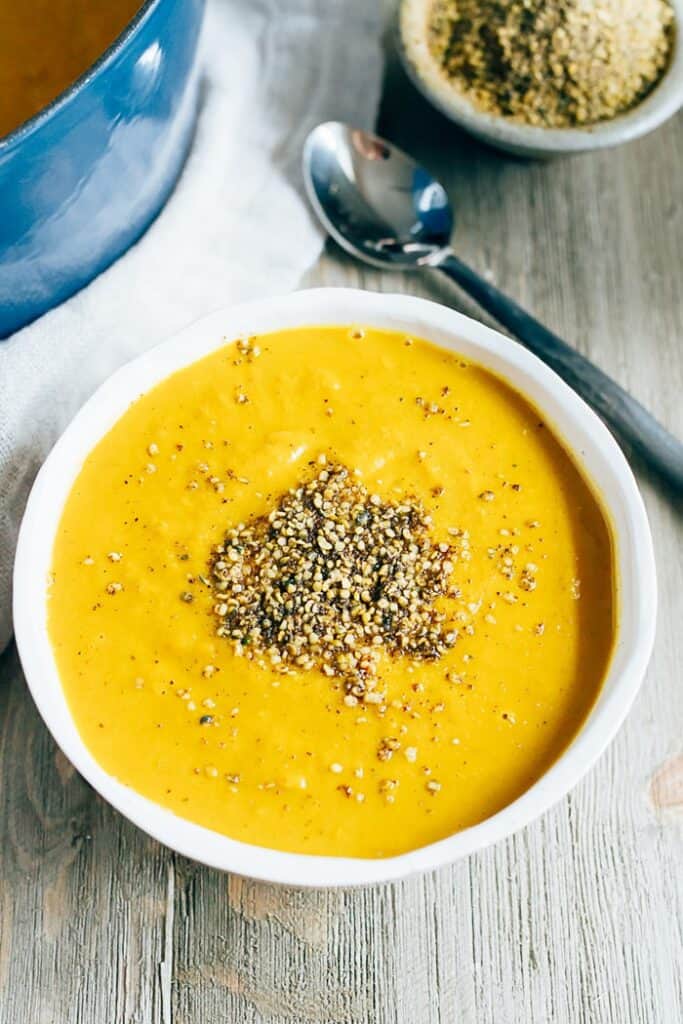 Vegan Curried Sweet Potato Soup from Eating Bird Food – Flavored with traditional curry spices and coconut milk, this vegan curried sweet potato soup is so rich and creamy you won't miss the dairy.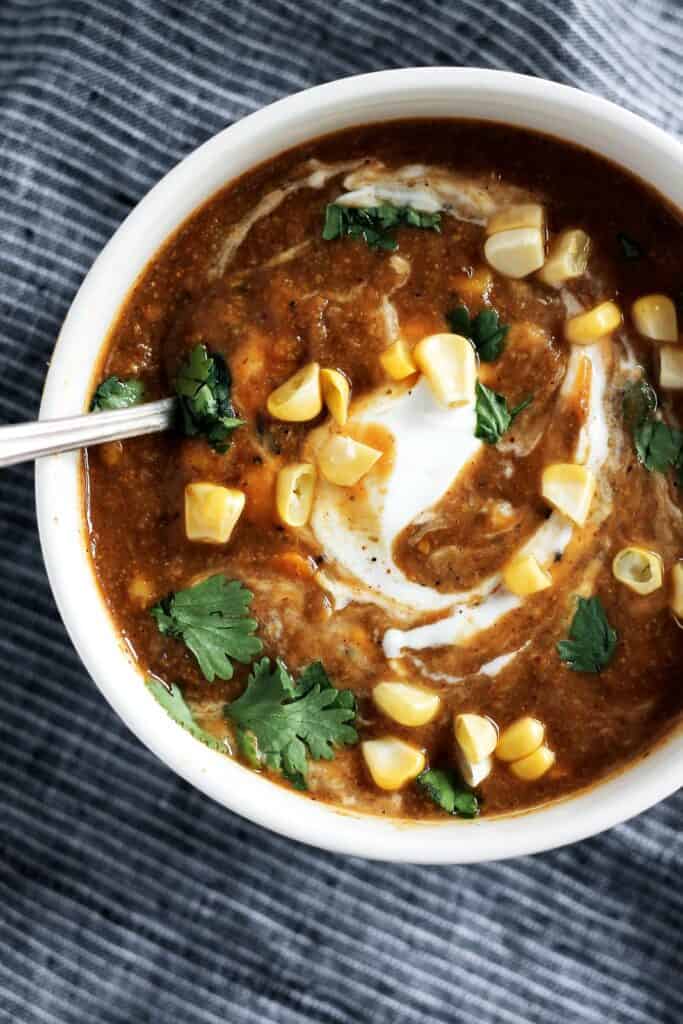 Vegan Sweet Potato Corn Chowder from Ambitious Kitchen – Ready for this vegan sweet potato corn chowder with a little hint of curry spice? It's comforting, filling and a wonderful way to use up fresh or frozen corn.
More Lunch/Dinner Sweet Potato Recipes
And here are the rest of my favorite sweet potato recipes! You'll find stuffed sweet potatoes (which I eat almost weekly!), pizza crust, nachos and more delicious ideas. The whole family will love these recipes for lunch or dinner!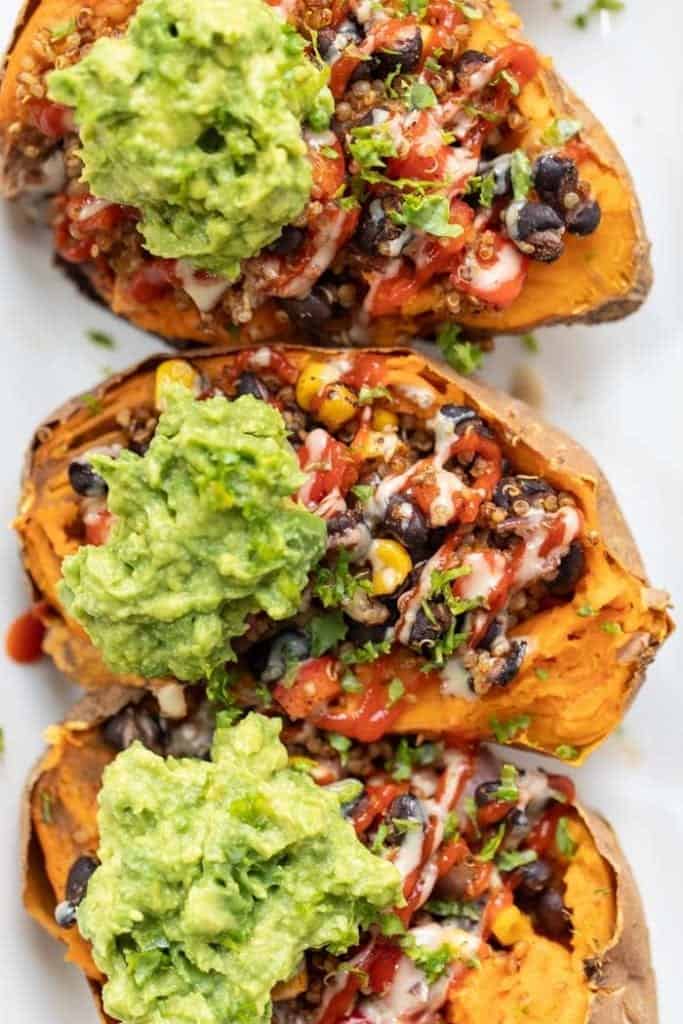 Mexican Quinoa Stuffed Sweet Potatoes from Simply Quinoa – One of the most popular recipes on my site and I can see why! This recipe is an amazing way to pack in a ton of plant-based protein in a tasty, gluten-free and simple meal.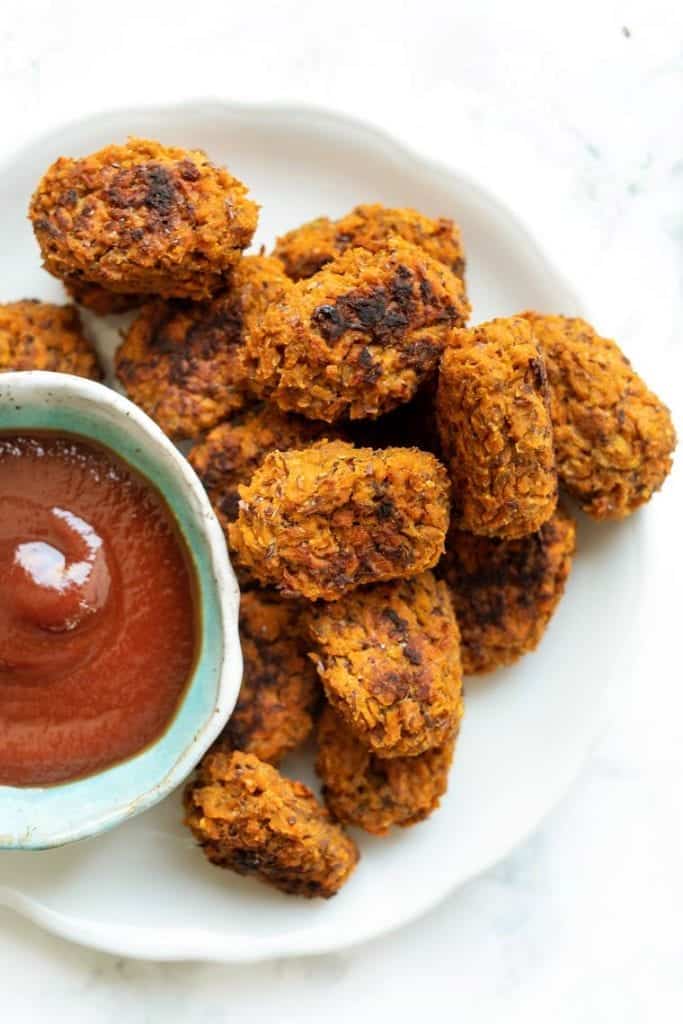 Vegan Sweet Potato Tots from Simply Quinoa – How to make vegan sweet potato tots. A quick and easy vegan recipe that is healthy, delicious and makes a great light appetizer, snack or breakfast side!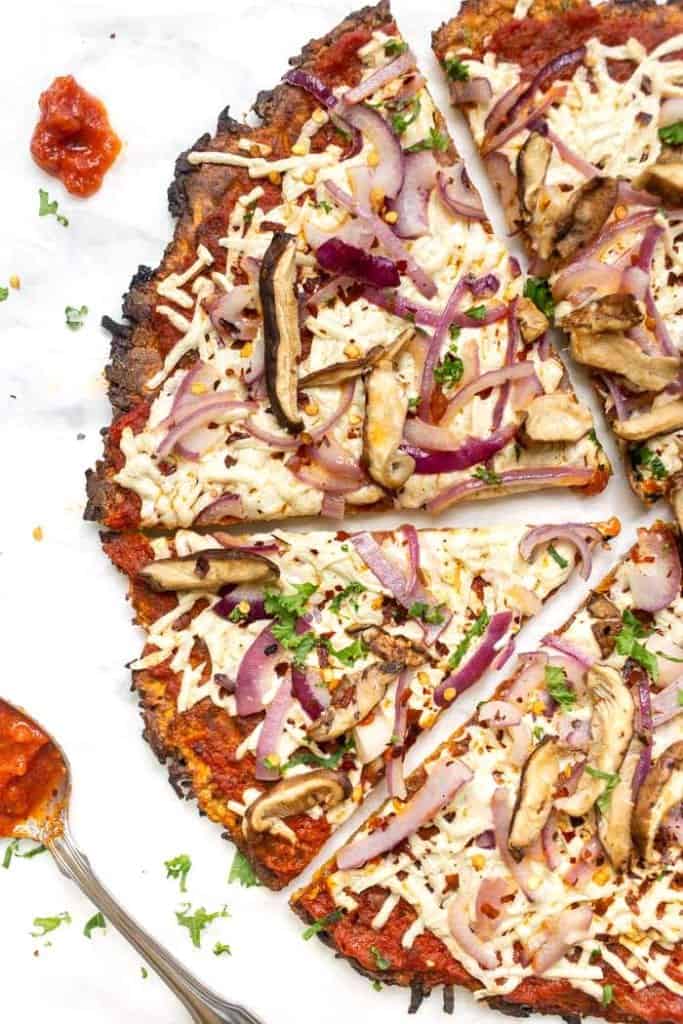 Sweet Potato Pizza Crust from Simply Quinoa – This easy sweet potato pizza crust is life changing. It tastes amazing, it's super healthy and it's simple to make. It's also low calories and gluten-free!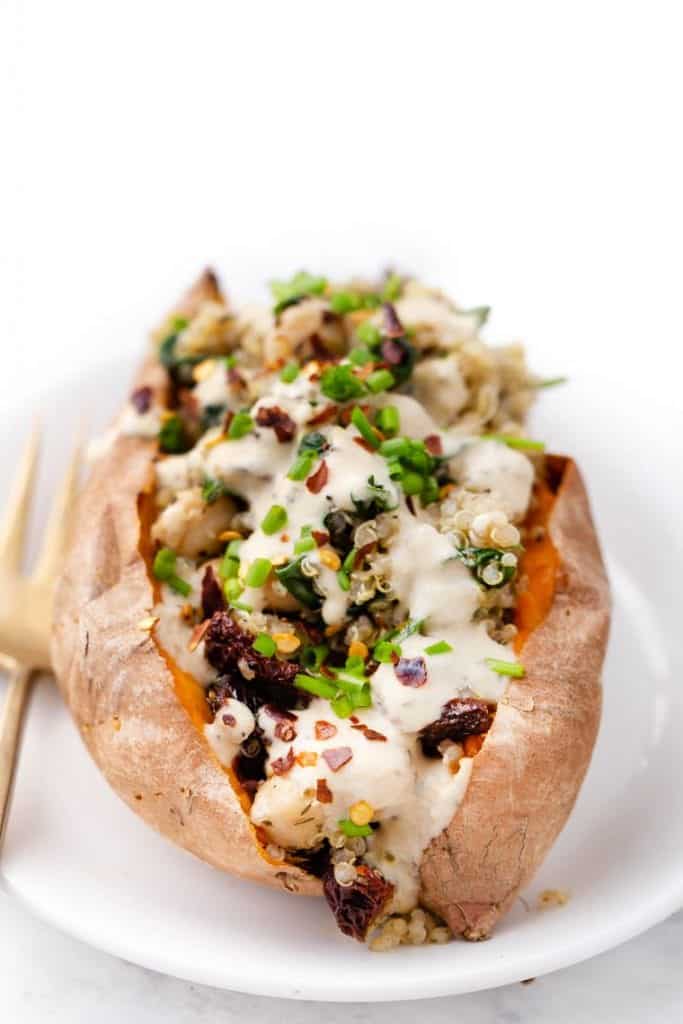 Vegan Stuffed Sweet Potatoes with Mediterranean Quinoa from Simply Quinoa – Vegan Stuffed Sweet Potatoes recipe filled with a Mediterranean Quinoa using sun-dried tomatoes, olives, spinach and tons of flavor! Super healthy and easy!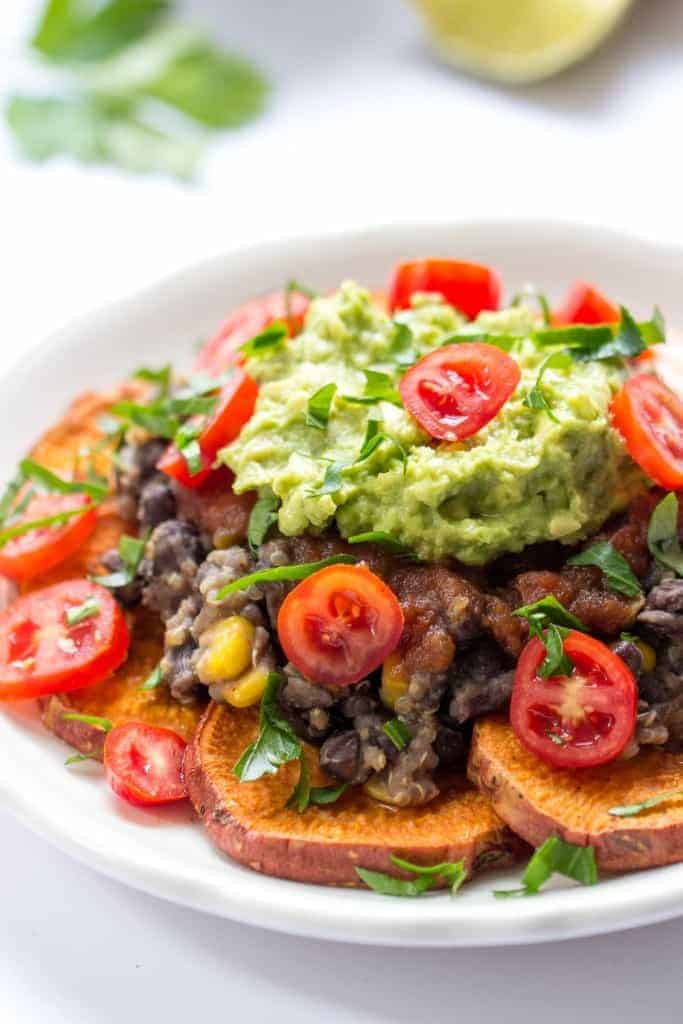 Sweet Potato Quinoa Nachos from Simply Quinoa – Healthy quinoa nachos made with baked sweet potato rounds instead of tortilla chips, and then topped with black beans, salsa and fresh guacamole!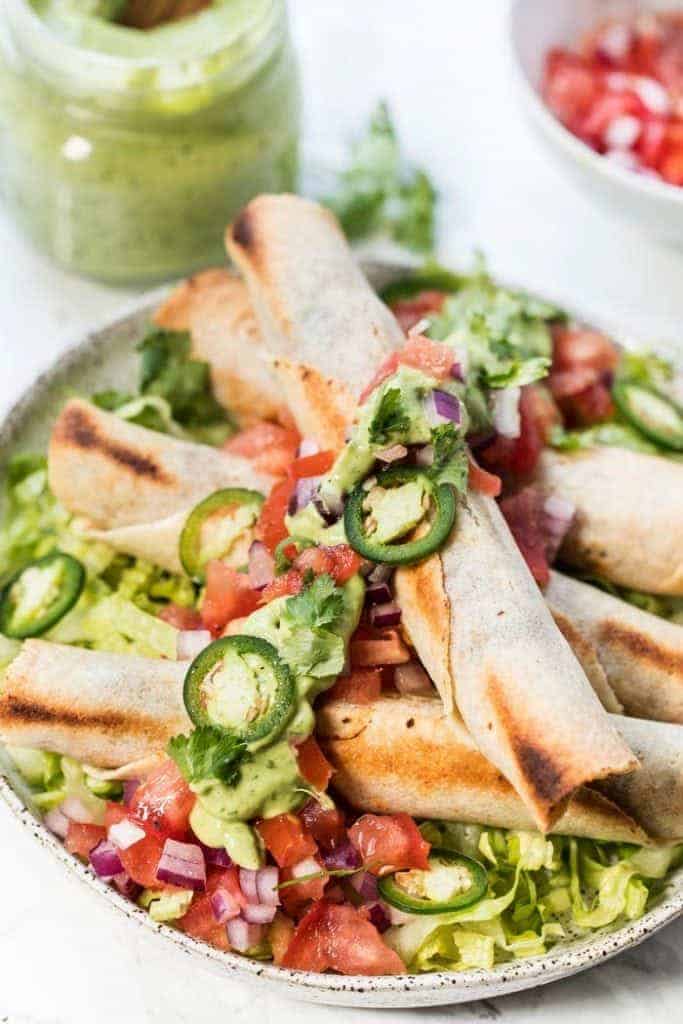 Baked Sweet Potato & Black Bean Taquitos from Simply Quinoa – These healthy Sweet Potato & Black Bean Taquitos are baked to crispy perfection and make for the ultimate vegetarian dinner. Simple, easy, vegan and delicious!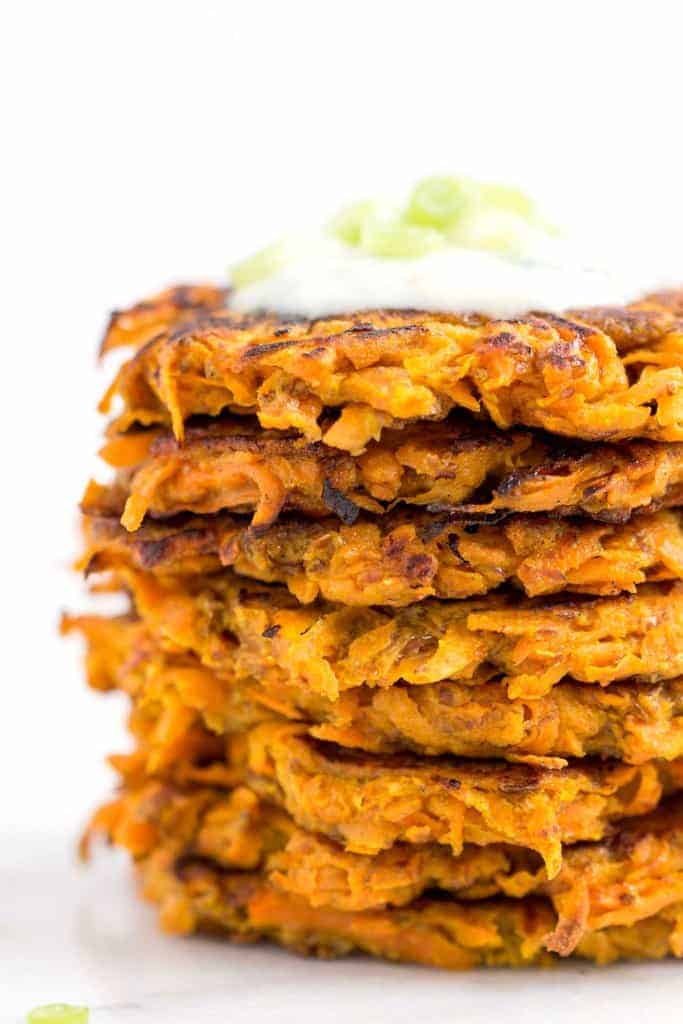 Curried Carrot Sweet Potato Fritters from Simply Quinoa – These healthy sweet potato fritters are lightened up with carrots and flavored with curry powder for some added kick. They're simple to make and delicious!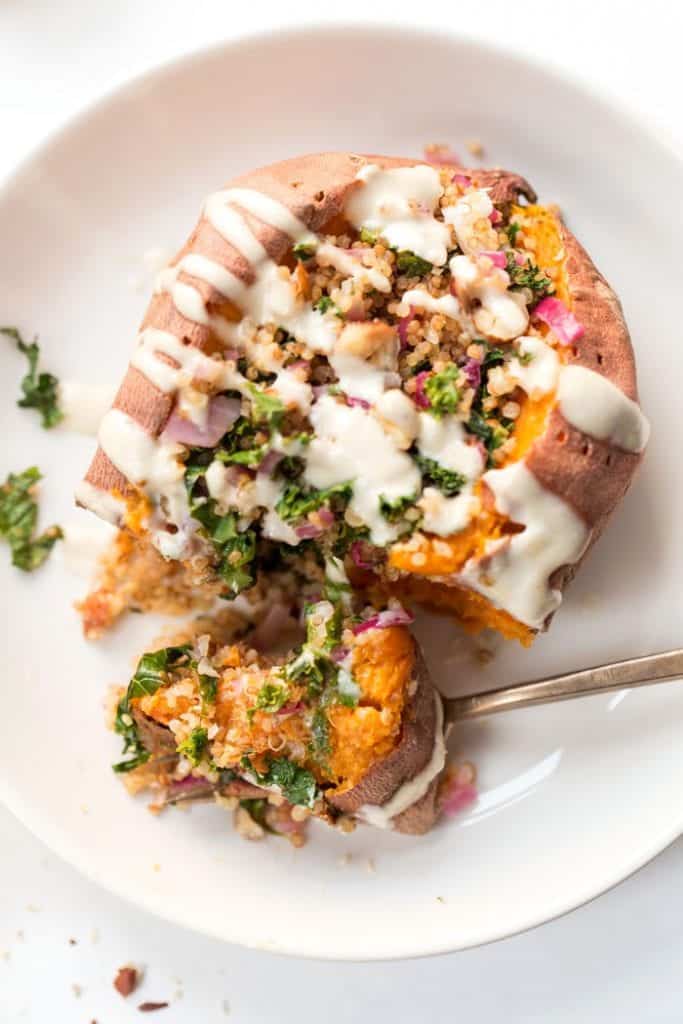 Quinoa Stuffed Sweet Potatoes from Simply Quinoa – These stuffed sweet potatoes are filled with quinoa, kale, hazelnuts and topped with a creamy tahini dressing. Makes for a hearty main or side dish!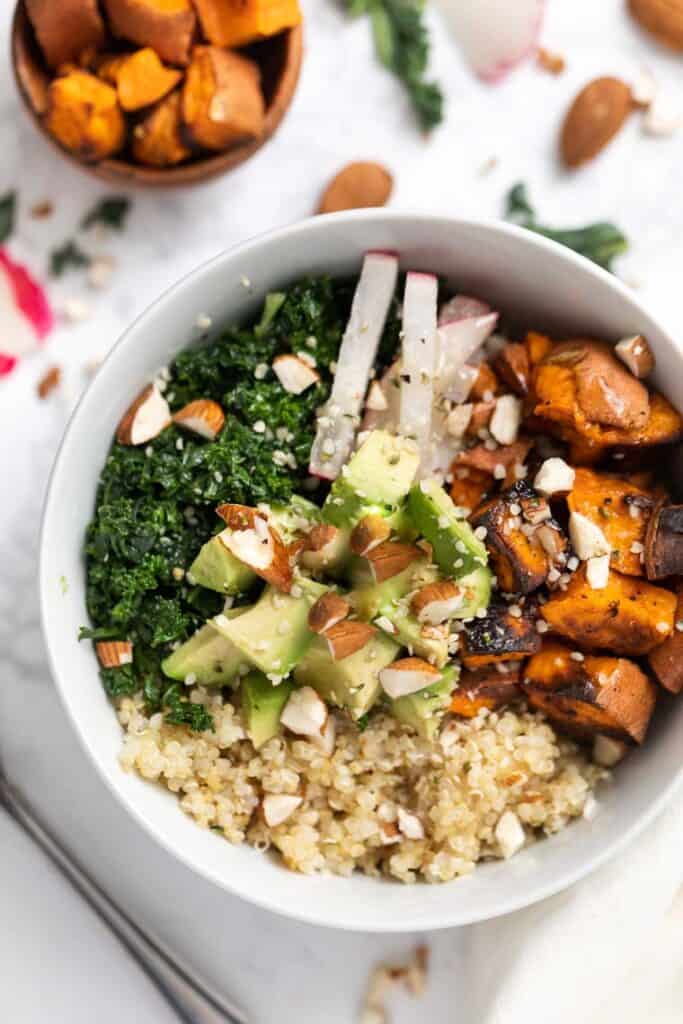 Superfood Quinoa Bowls with Sweet Potato from Simply Quinoa – We're keeping things on the "superfood" side with this quinoa bowl by using ingredients like sweet potato, kale, almonds, avocado and more. This bowl also has a delicious lemon dressing!
⇣ PIN FOR LATER ⇣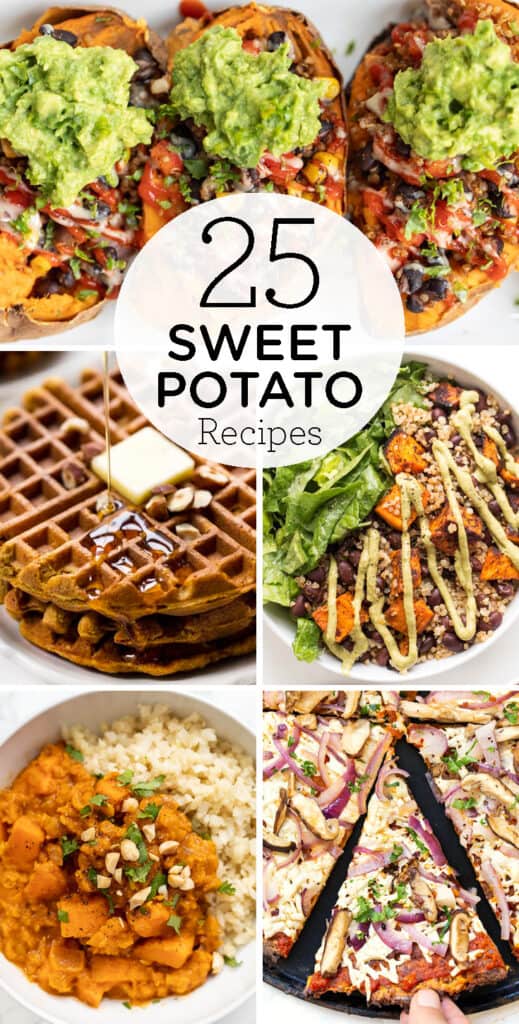 share what you make
Tag #simplyquinoa on Instagram with your creations! We love sharing what you make with the community. We can't wait to see!

follow on instagram