Here are 20 healthy 5-ingredient dinner recipes! This list has lots of vegetarian, vegan and gluten-free ideas including chili, burgers, pasta dishes, and more!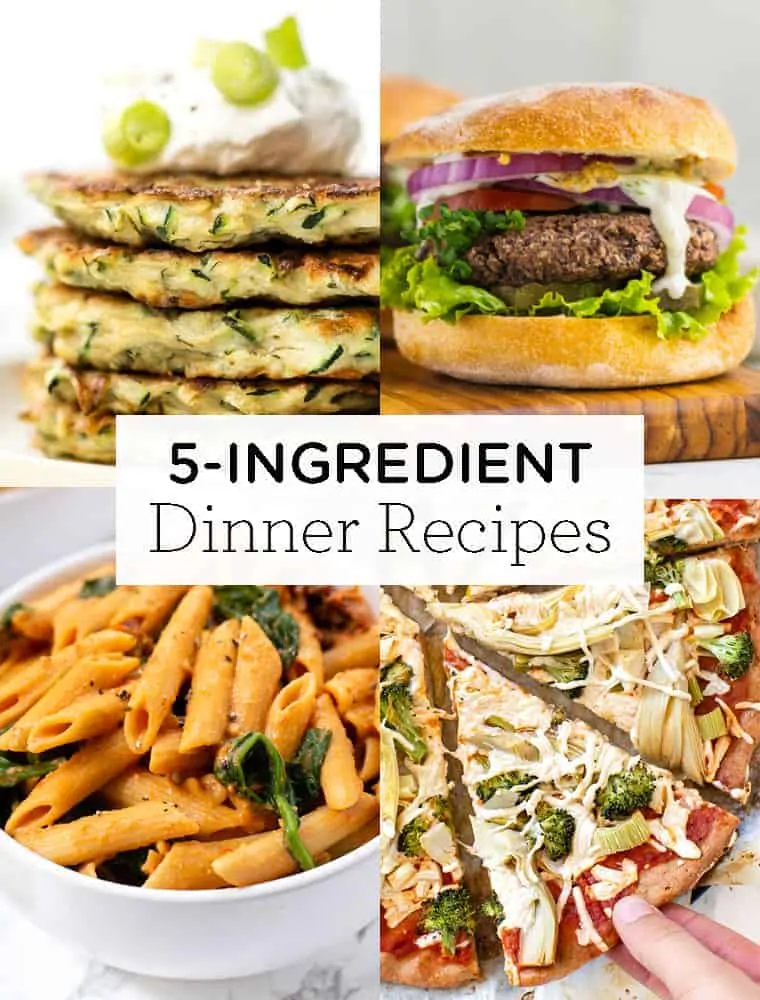 With everything that's been going on in the world lately, my pantry and fridge have definitely been looking a little bit different. I've been turning a lot more to simple recipes using pantry staples like quinoa, beans, pastas, and fresh/frozen veggies. If this time spent in lockdown with limited access to the grocery stores has taught me anything, it's that sometimes less is more! Even if you don't have a wild variety of ingredients in the fridge, you can still whip up delicious and healthy dinners for you and your family to enjoy.
So, today I've gathered up 20 healthy dinner recipes that are all made with just 5-ingredients. While most of these recipes are super comforting (like pizza, burgers, or pasta dishes), they're made healthier with cleaner ingredients. Plus, the majority of these recipes are vegan, vegetarian and gluten-free. I hope these recipes help you to feel a little more inspired in the kitchen!
Don't forget to pin this post so that you can come back to this list over and over again. And comment which recipe you're going to try!
Quick & Easy Pasta Recipes
We're kicking off our list of 5 ingredient dinner recipes with pasta. Pasta is one of our favorite things to make for dinner because it's quick, it's easy, and there are tons of ways to make it. Here are some of our favorites that use just 5 ingredients (or less!).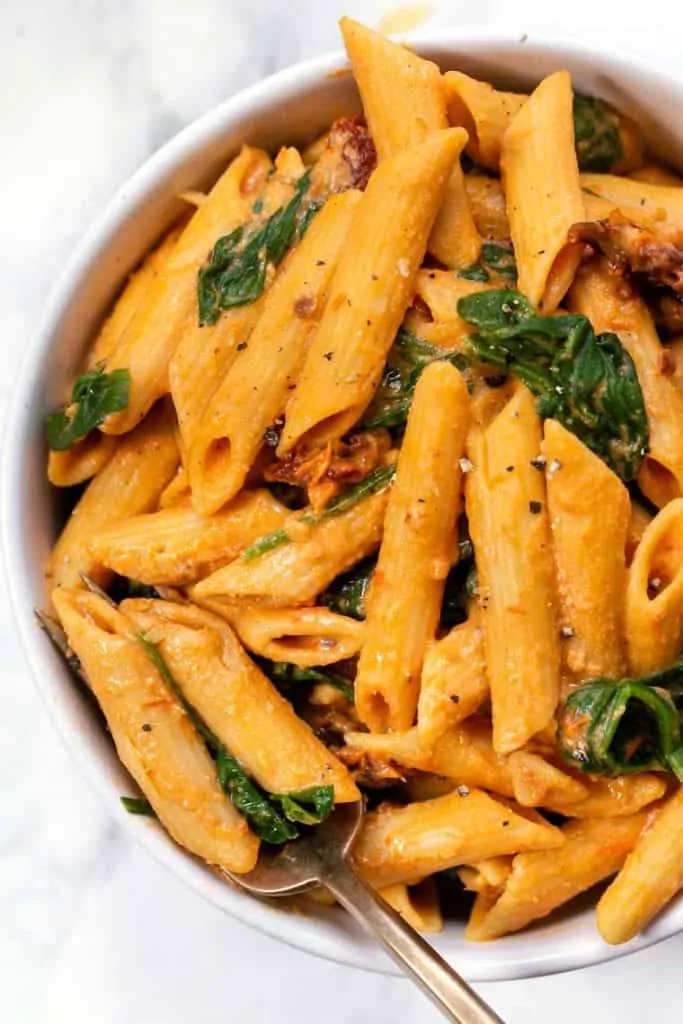 Vegan Roasted Cherry Tomato Pasta Sauce – This amazing vegan roasted cherry tomato pasta sauce is going to be your new favorite way to eat pasta. So easy and seriously delicious!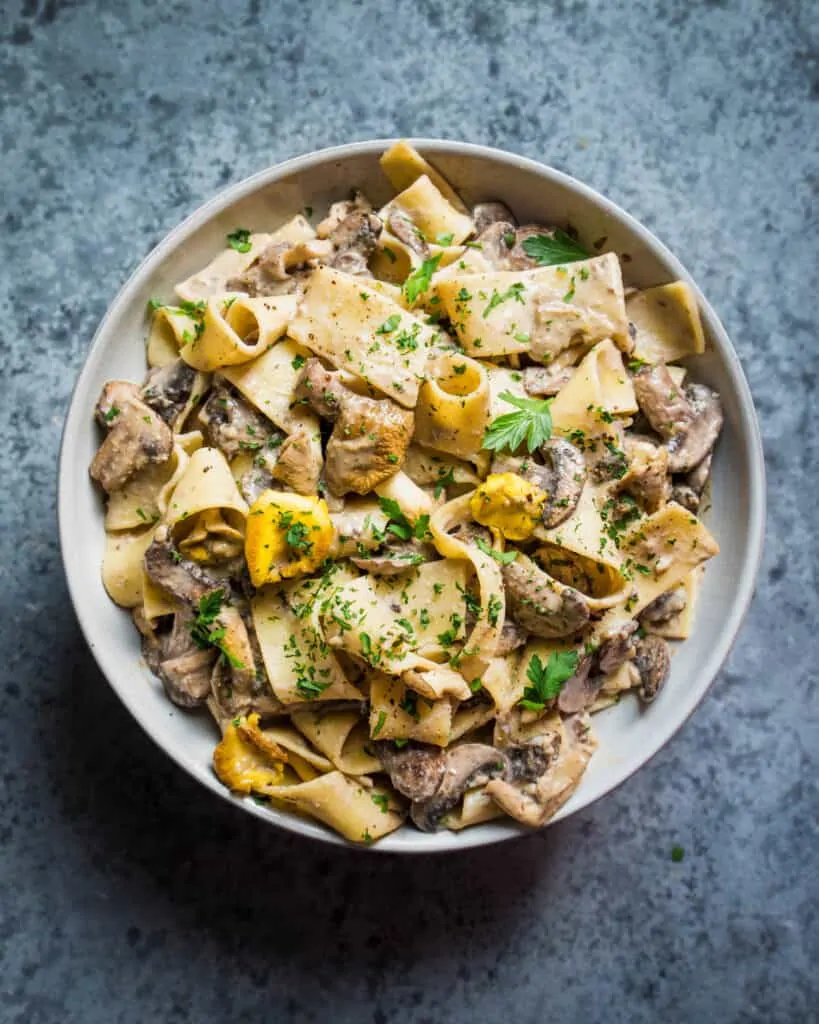 Creamy Vegan Mushroom Pasta from Rainbow Plant Life – This is the creamy, umami-packed pasta dish of your dreams! Vegan and gluten-free.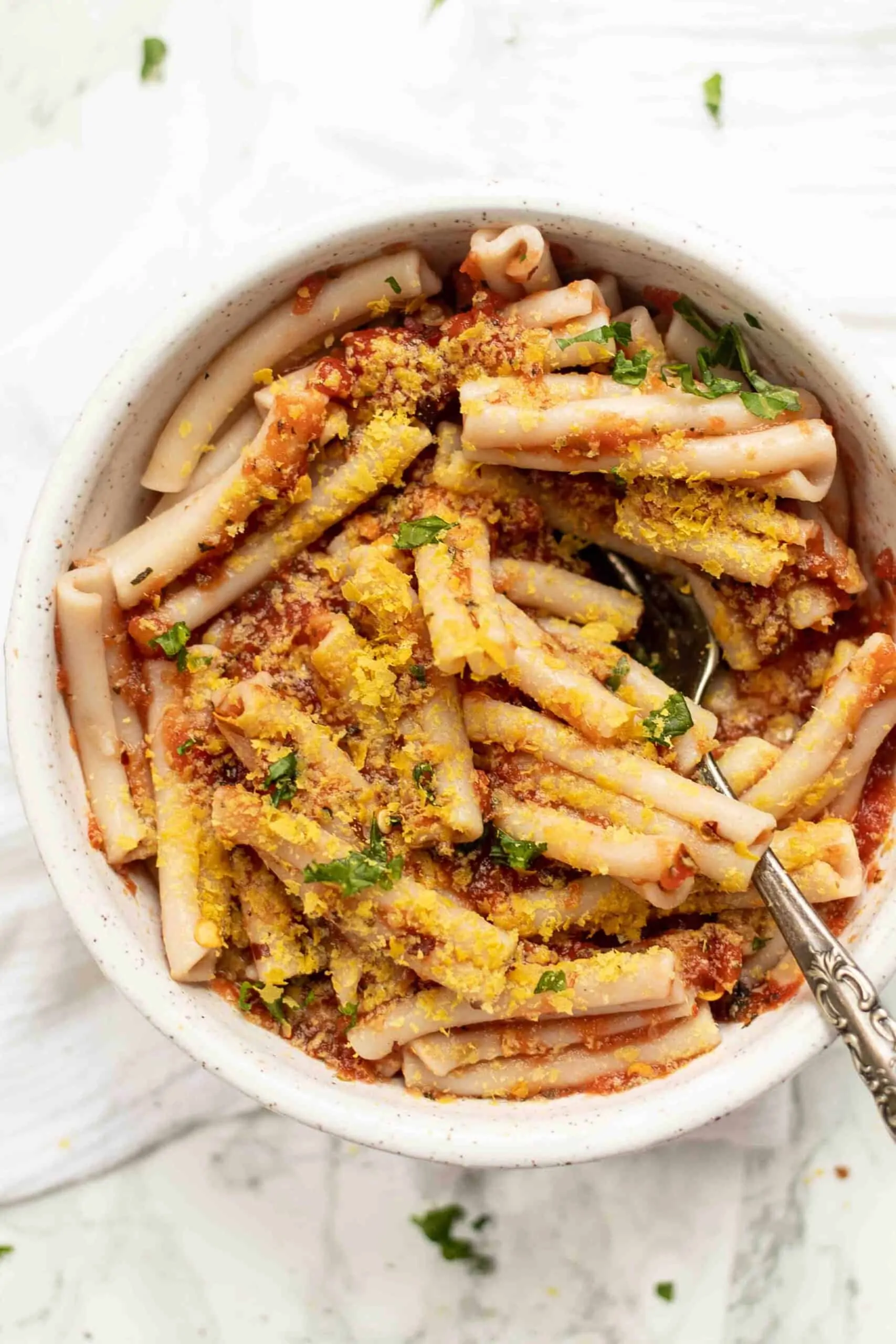 10-Minute Marinara Pasta – we shared this recipe in a YouTube video a while ago and it's so simple. It's just pasta tossed in a quick homemade marinara sauce. This is one of those recipes that's totally kid-friendly, but could be jazzed up with some extra veggies for the adults!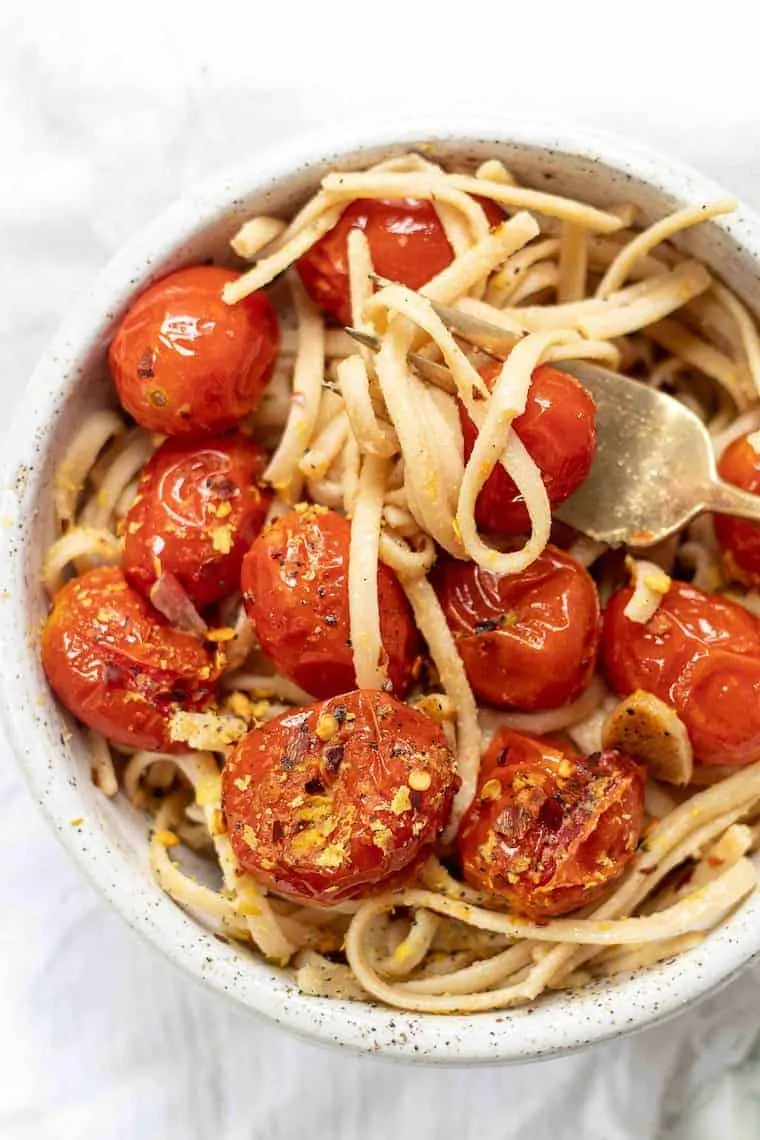 Slow Roasted Cherry Tomato & Garlic Pasta – also part of that YouTube video, this is a go-to pasta in our house that tastes amazing and is super easy to make. It's basically just your favorite spaghetti, topped with roasted cherry tomatoes that have been cooked in olive oil and garlic. It's simple, classic and absolutely DELISH!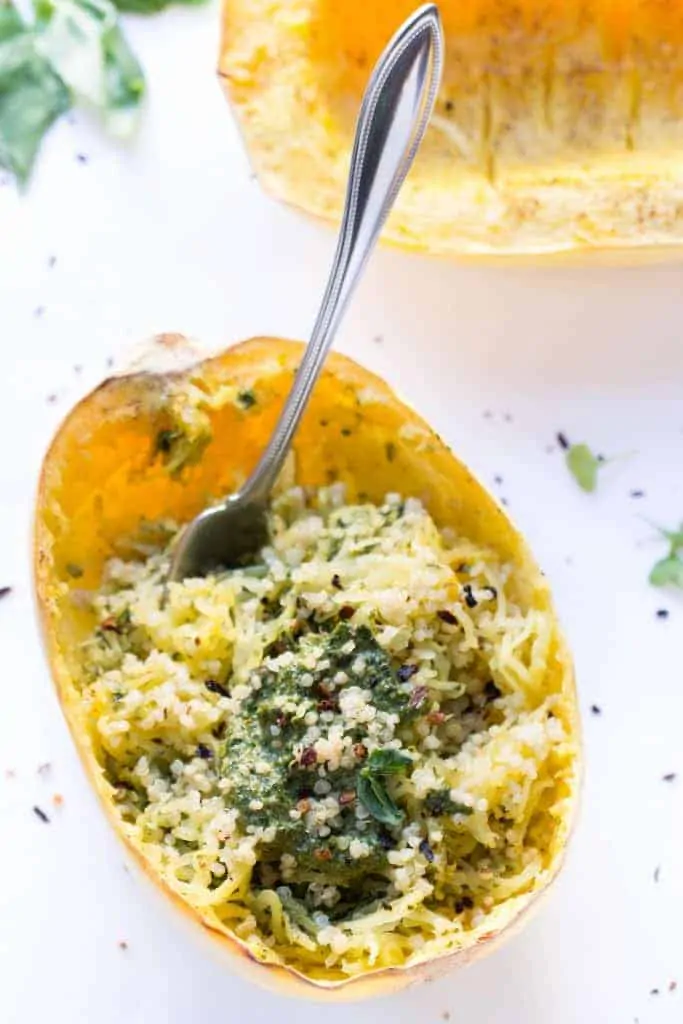 Pesto Spaghetti Squash Boats – while not technically "pasta" spaghetti squash is very pasta-like and is a great alternative! These pesto spaghetti squash boats are the perfect meatless meal for the healthy living pasta-lover in all of us!
5-Ingredient Quinoa Recipes
We love quinoa around here not only because it's easy to make, but also because it makes a great base for meals. You can take quinoa and jazz it up in a whole number of ways! Here we've got quinoa mac and cheese, quinoa bowls, quinoa salads and more!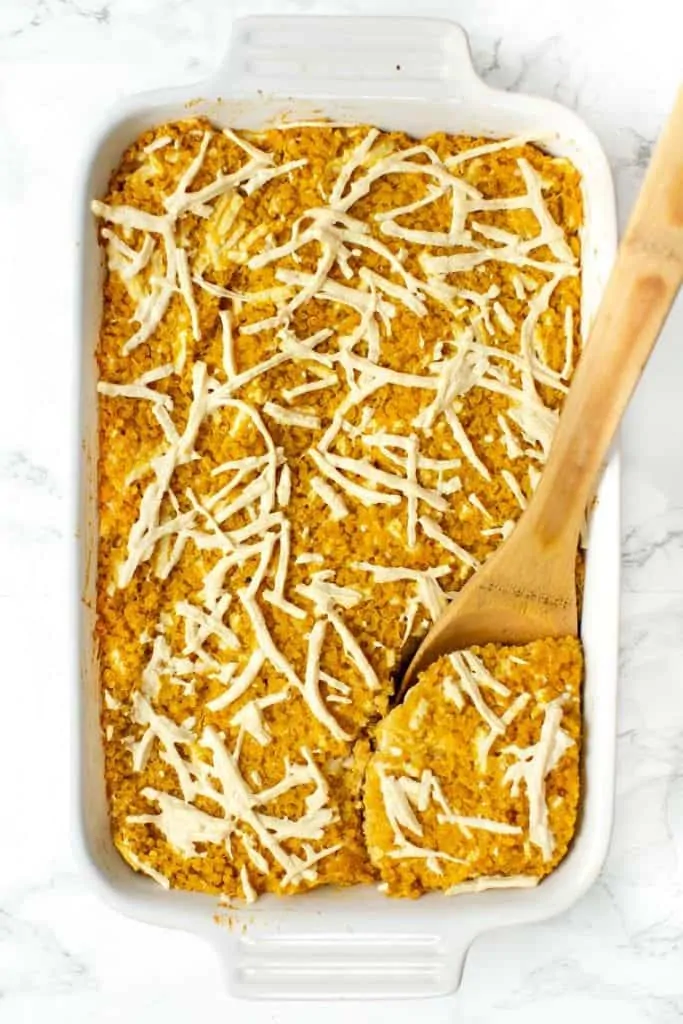 Baked Quinoa Mac & Cheese from Simply Quinoa – Do you love mac and cheese but hate the calories and fat that come along with it? We're serving up a super healthy version in this quinoa mac and cheese!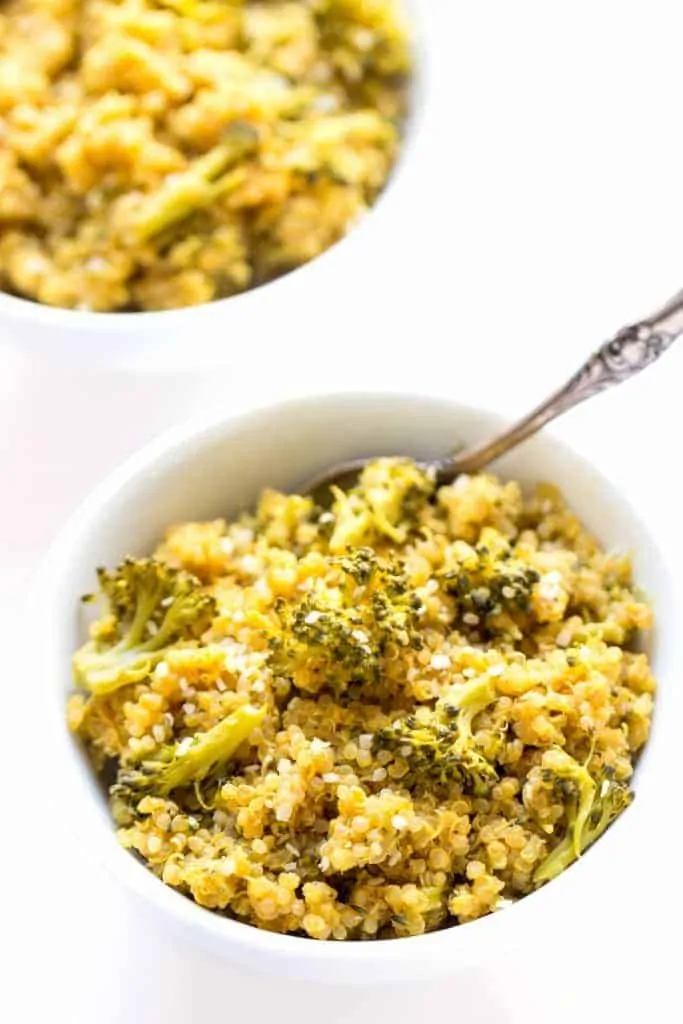 Broccoli Quinoa Mac & Cheese from Simply Quinoa – A simple quinoa mac and cheese recipe that requires just 5 ingredients, is made in one pot and takes only 20 minutes to make. Also gluten-free + vegan!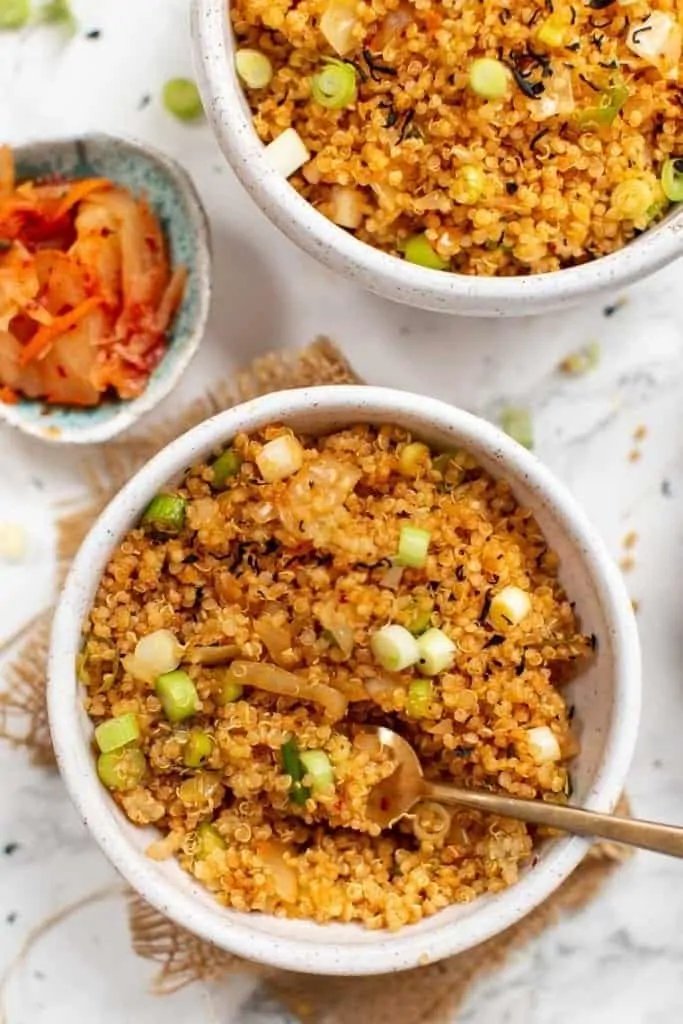 Kimchi Fried Quinoa from Simply Quinoa – This easy kimchi fried quinoa recipe is ready in less than 10 minutes. It's a perfect side dish or used as a base for stir fry!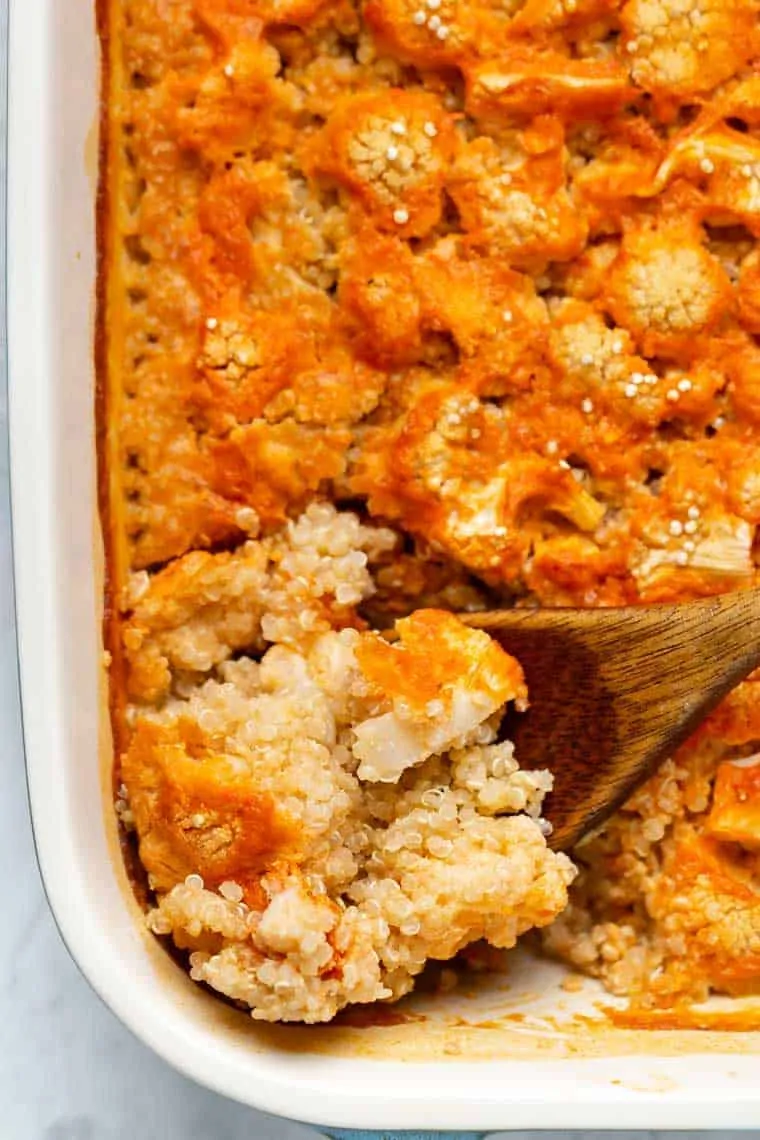 Buffalo Cauliflower Quinoa Casserole from Simply Quinoa – An amazing meal prep recipe, this buffalo cauliflower quinoa casserole is a cinch to make and tastes awesome! It's also gluten-free, vegan and full of protein!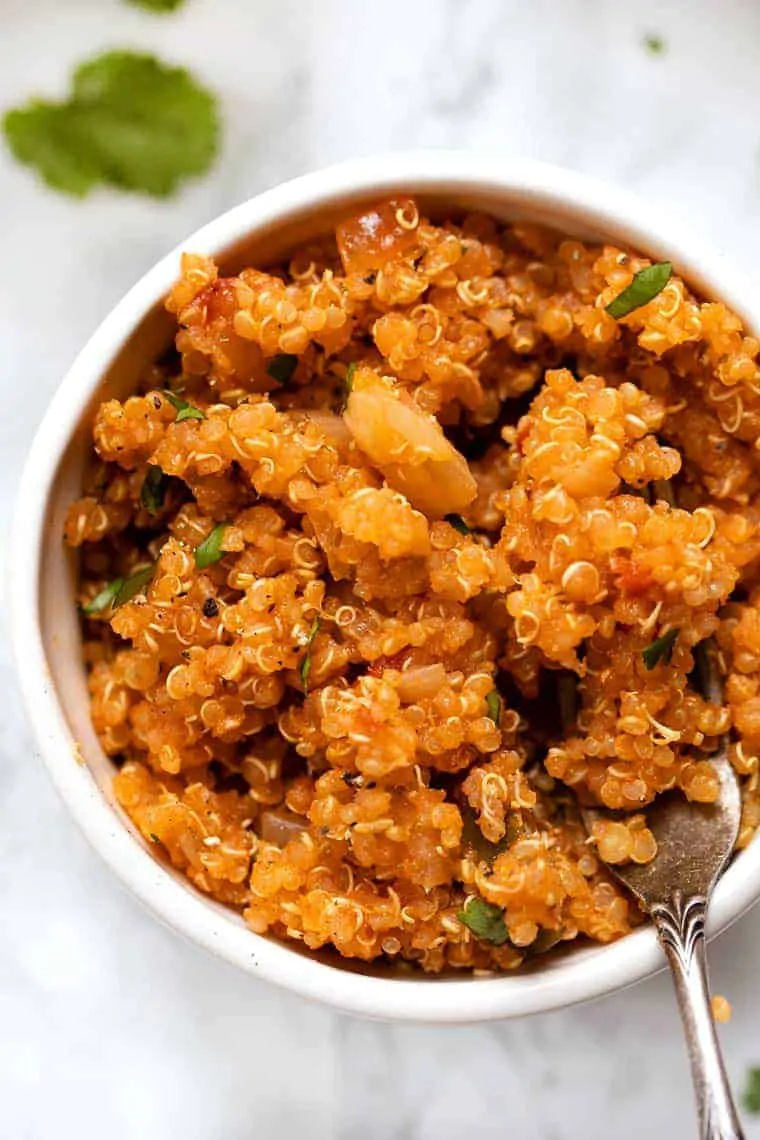 Spanish Quinoa from Simply Quinoa – This quick and easy Spanish Quinoa recipe uses just 5 ingredients and one pot. It's a perfect side dish, but can also be bulked up with protein and veggies!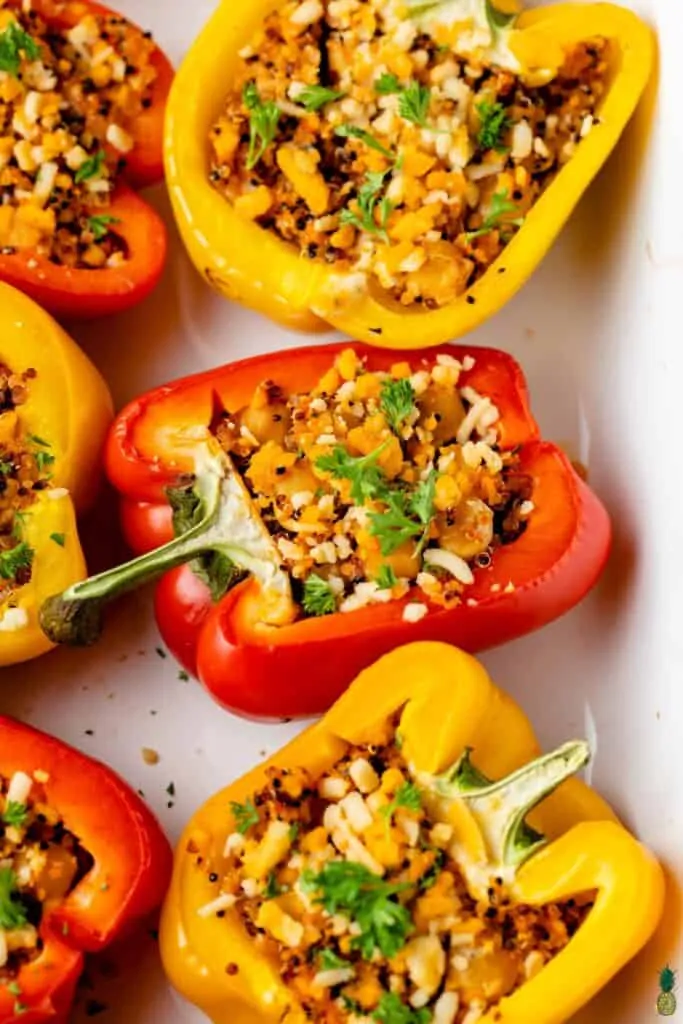 Vegan Stuffed Peppers from Sweet Simple Vegan – Learn how to make these vegan stuffed peppers with simple, wholesome, and nutritious ingredients. They're easy, gluten-free and ready in under an hour!
5-Ingredient Quinoa Pizza Crusts
You guys know I love my pizza and I couldn't not include these two recipes on the list!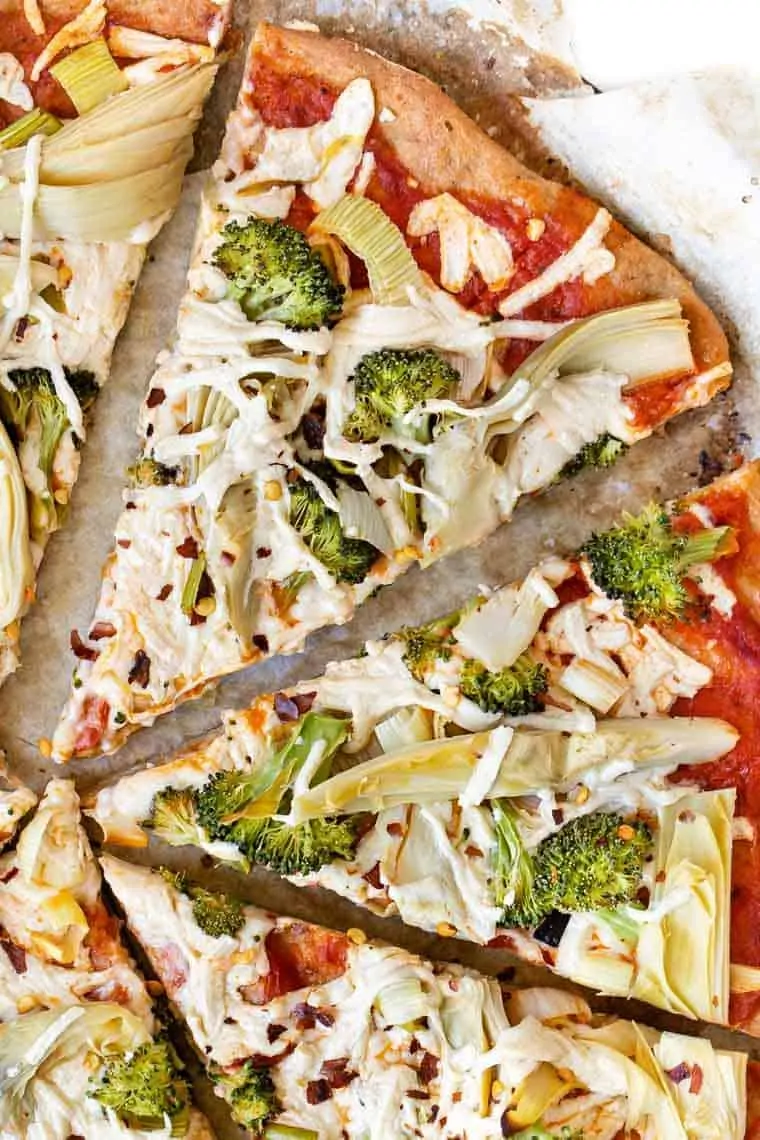 Easy Quinoa Flour Pizza Crust – This recipe uses quinoa flour, so it's still in our quinoa category! This quinoa flour pizza crust that is made with just 5 ingredients! This healthy pizza is gluten-free, vegan, oil-free and holds up to all your toppings!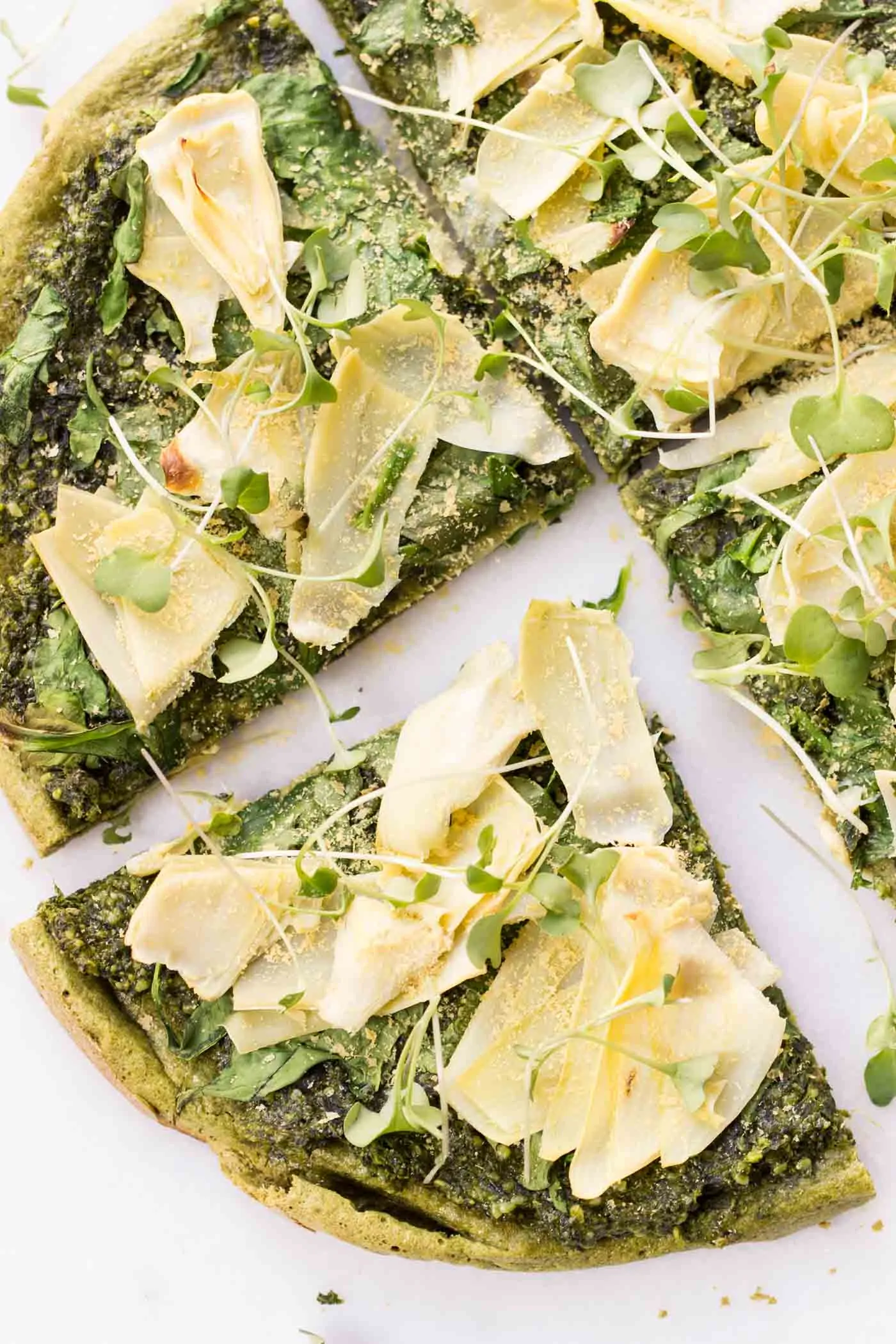 Life-Changing 5-Ingredient Quinoa Pizza Crust – and last but not least, our list of 5 ingredient dinner recipes wouldn't be complete without my classic pizza crust. This recipe has been made hundreds of times, but my readers and myself! It's so simple to make, it holds up to all your favorite toppings and it tastes amazing. It's also got a great texture – thin and crispy, with a slight chew. Just fabulous!
5-Ingredient Fritters and Burgers
Who doesn't love a good fritter (or burger)!? Here's a list of some of our favorite fritter and burger recipes that uses just 5 ingredients!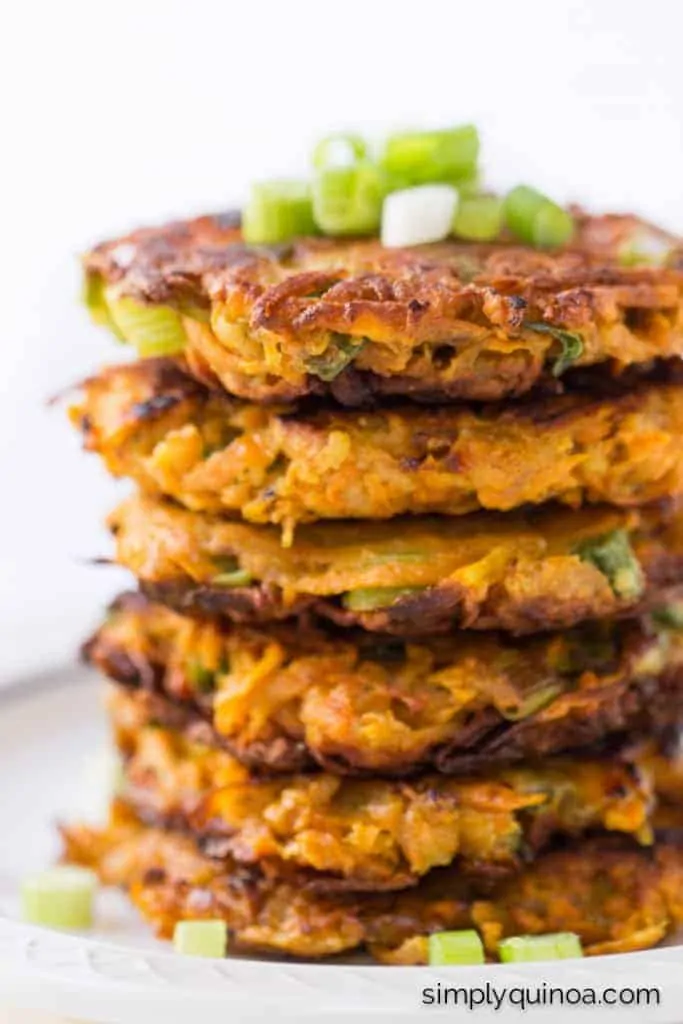 Sweet Potato Quinoa Fritters from Simply Quinoa – Even though these little fritters are super simple, they're packed with flavor. They're sweet, savory and have just the faintest hint of coconut.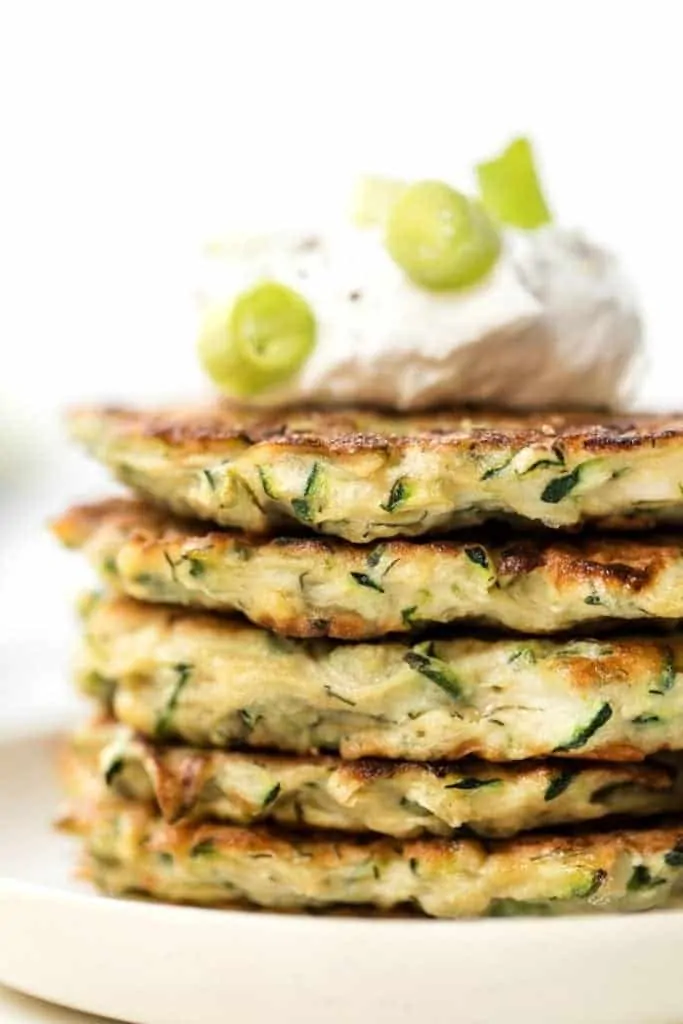 Healthy Zucchini Fritters from Simply Quinoa – These Healthy Zucchini Fritters are ready in about 20 minutes. They're also naturally gluten-free and high in protein!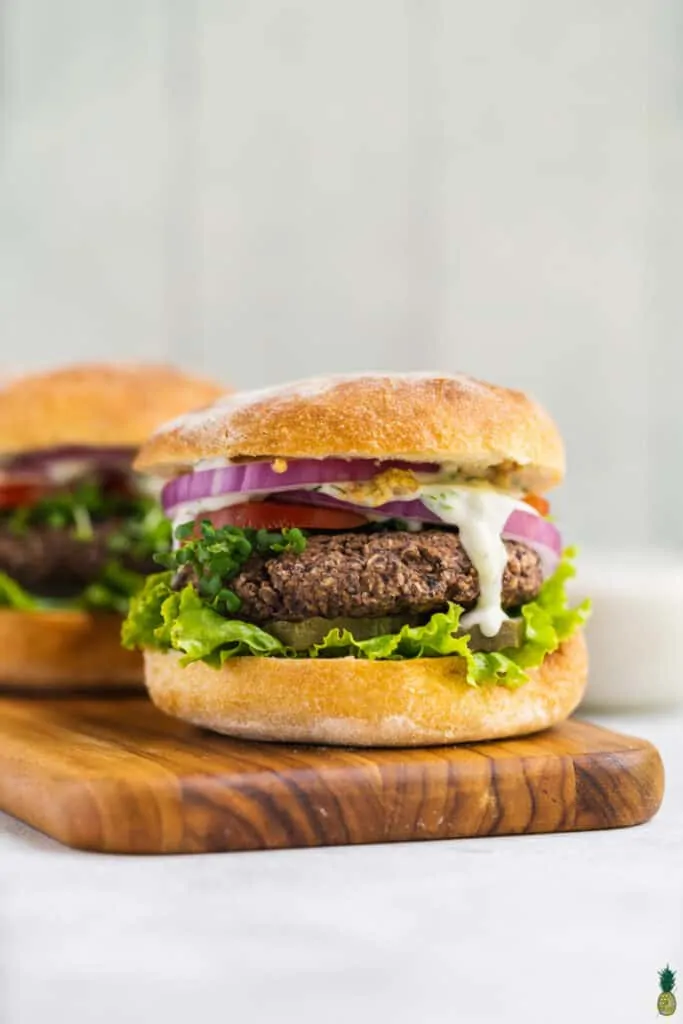 5-Ingredient Veggie Burgers from Sweet Simple Vegan – Easy and delicious veggie burgers crafted with simple ingredients. They're effortless to prepare and cook in only 30 minutes!
More 5 Ingredient Dinner Recipes
And our final section is for all those types of recipes that don't fit into one of the categories above! We're talking soup, quesadillas, stews and more. If nothing above as struck your fancy, there's sure to be something here for you!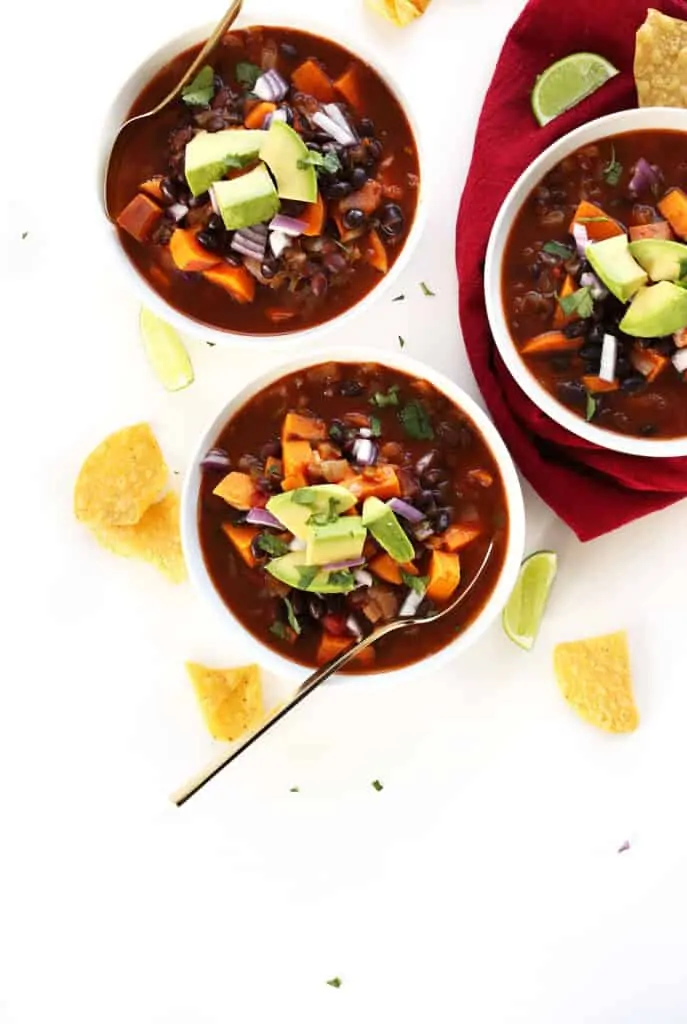 Sweet Potato Black Bean Chili from Minimalist Baker – This simple sweet potato black bean chili comes together in less than 1 hour! Easy, delicious, super healthy and so satisfying! Throw in whatever spices you have to amp up the flavor.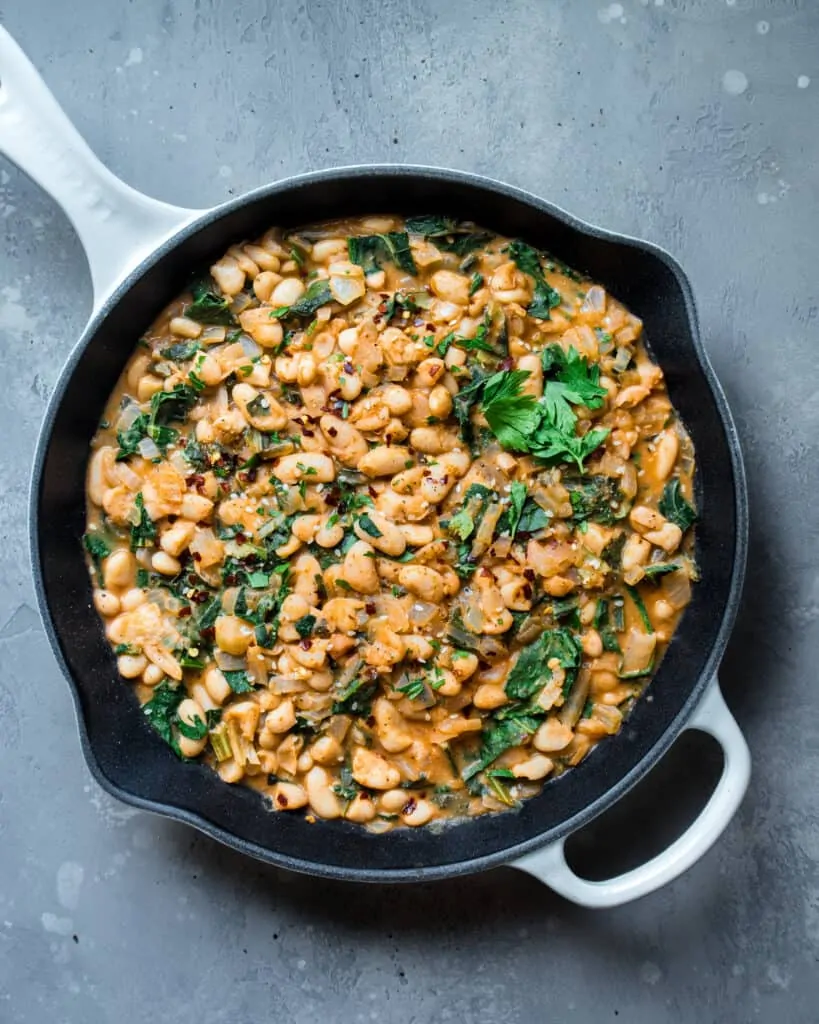 Saucy White Beans and Kale from Rainbow Plant Life – Easy and so healthy! If you can convince yourself to include a sixth ingredient, serve this saucy mix over a whole grain such as millet, quinoa, brown rice.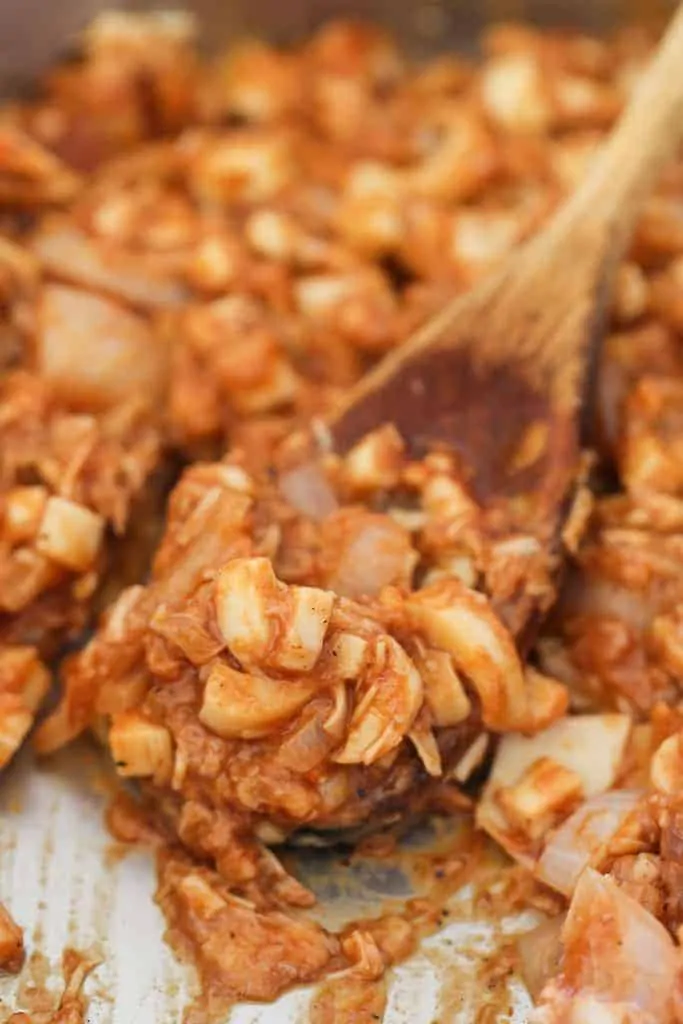 3-Ingredient Vegan BBQ Pulled "Pork" from Simply Quinoa – This simple vegan BBQ pulled pork recipe uses only three ingredients and comes together in just 20 minutes. It's plant-based, healthy and tastes delicious! Just add some gluten-free hamburger buns and you've got a delicious and filling meal!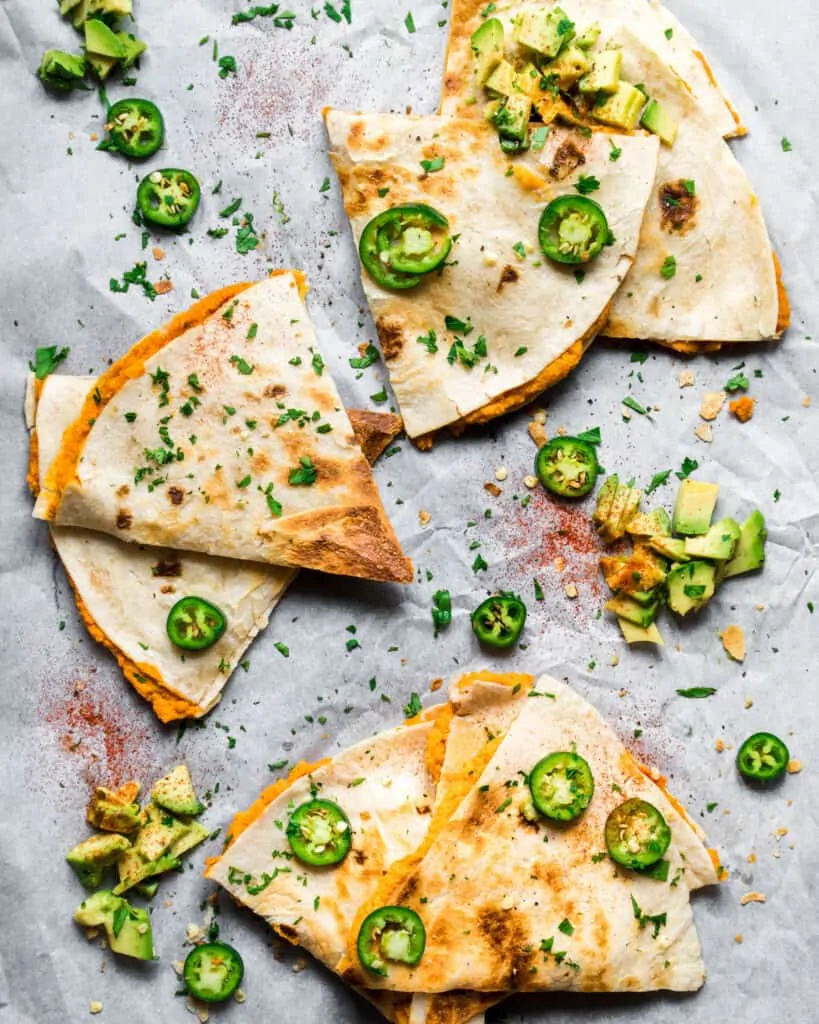 Sweet Potato Chickpea Quesadillas from Rainbow Plant Life – You won't believe these spicy, cheesy quesadillas are cheese-free! Such a delicious and comforting dinner idea.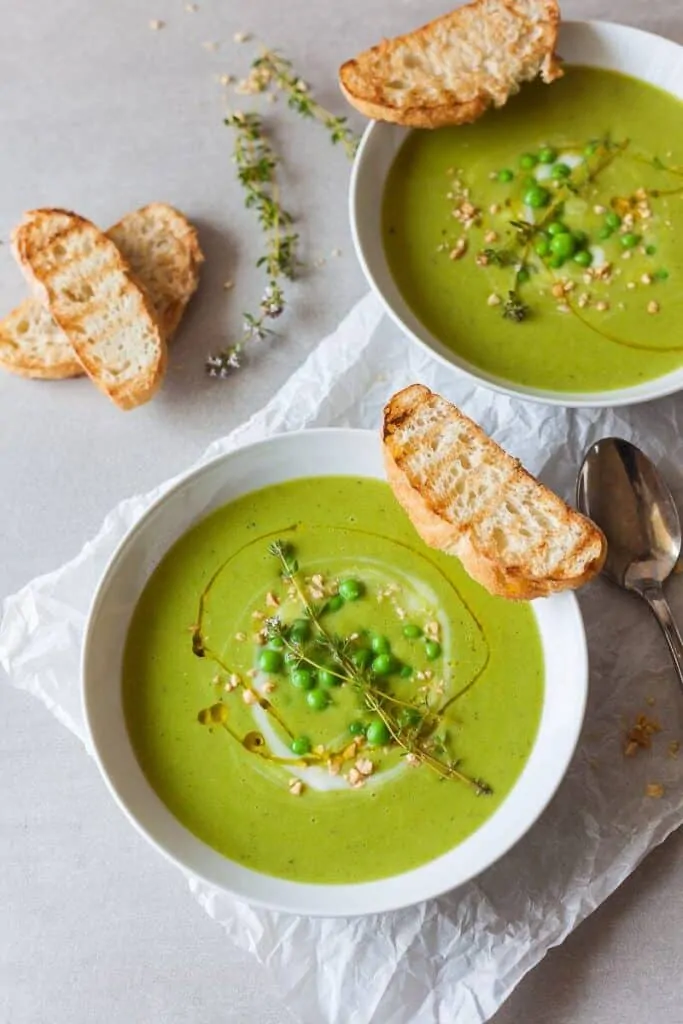 Green Vegan Pea Soup from Vibrant Plate – An easy green Vegan Pea Soup that uses only 5 ingredients and 15 minutes to make a delicious meal!
⇣

 PIN FOR LATER

⇣