This easy Red Lentil Soup is creamy, hearty and made totally dairy-free, gluten-free and nut-free. It's loaded with veggies like carrots and tomatoes for a healthy weeknight dinner or lunch.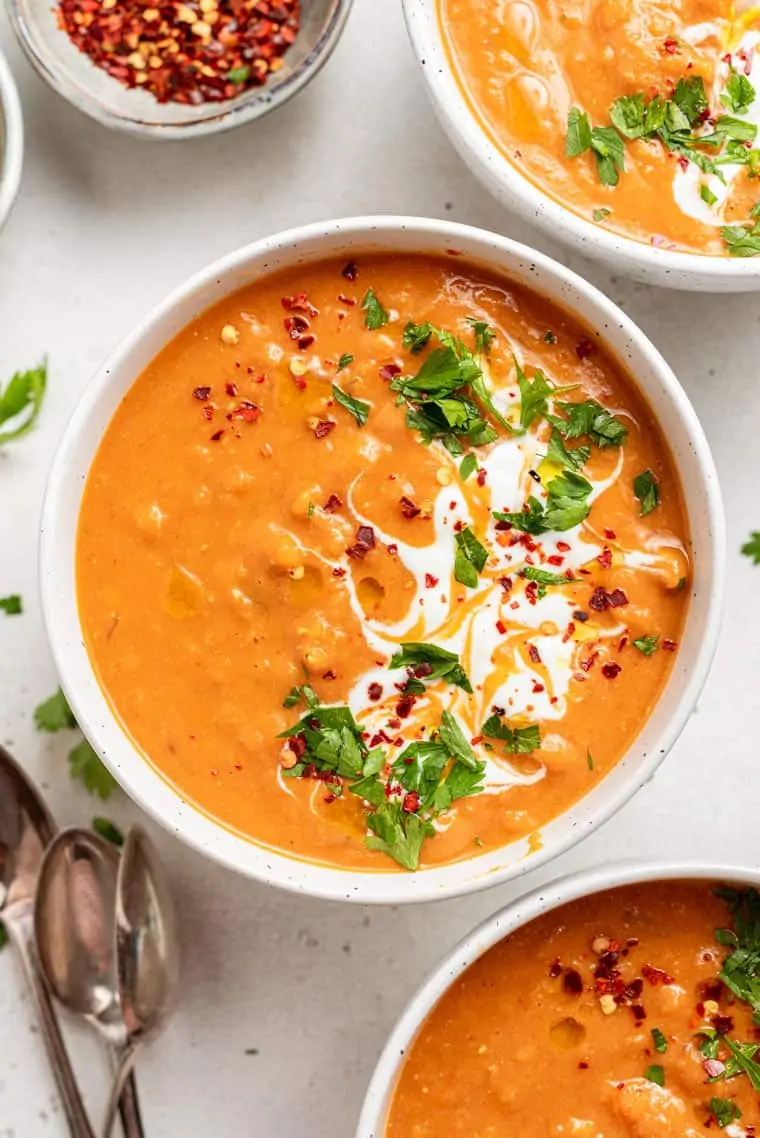 Soup season means I'm wipping out my biggest stock pots to make big batches of hearty soups and stews with seasonal produce.
From Chunky Vegan Potato Soup with Kale for a light lunch to Creamy Chickpea + Pumpkin Stew for a comforting dinner, you just can't go wrong with a hot bowl of veggie-packed soup this time of year.
And this red lentil soup has all the heartiness and protein of a stew with tons of veggies and spices for added nutrients and flavor.
You'll love it for lunch or dinner this fall!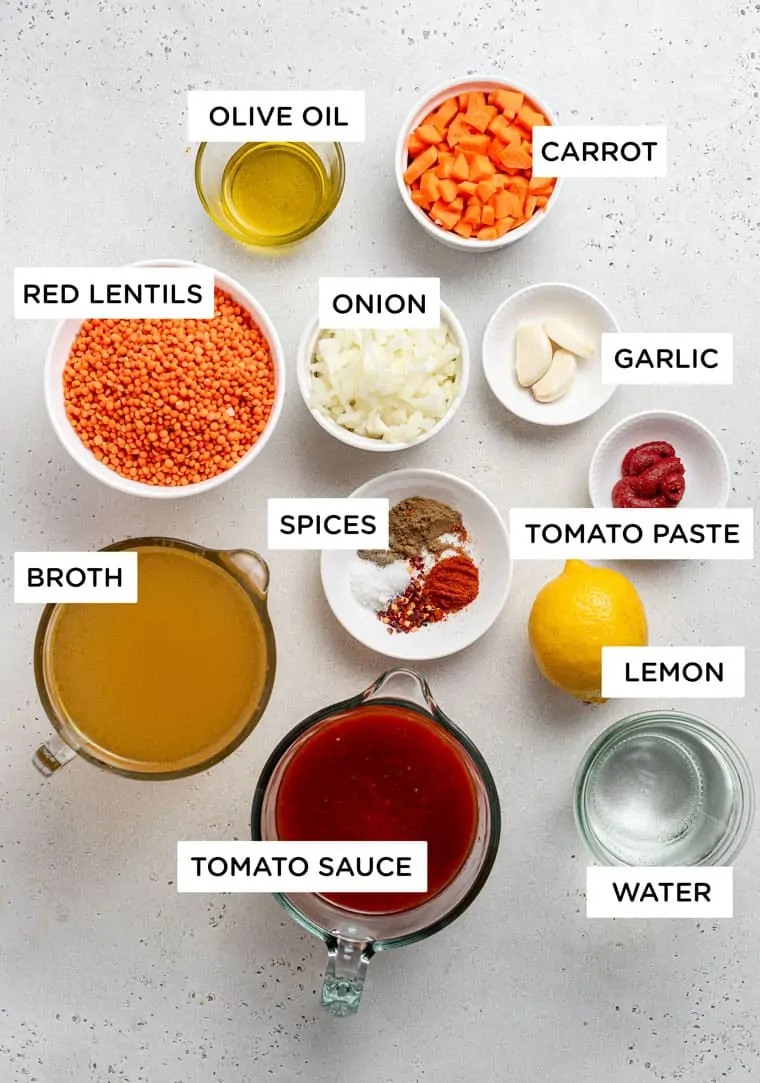 How to Make Vegan Red Lentil Soup
Before you start cooking the soup on the stove, assemble your ingredients.
Here are the ingredients you'll need:
Olive oil. You can use avocado or ghee if you prefer (the soup will no longer be vegan of course).
Onion and garlic for an allium flavor base.
Carrot. For sweetness.
Tomato paste for added umami.
Cumin, chili powder and Aleppo pepper for a bit of spice and extra warming flavor.
Tomato sauce. You can also use tomato puree.
Vegetable broth. Use homemade or store-bought.
Red lentils. These puree into a creamy texture.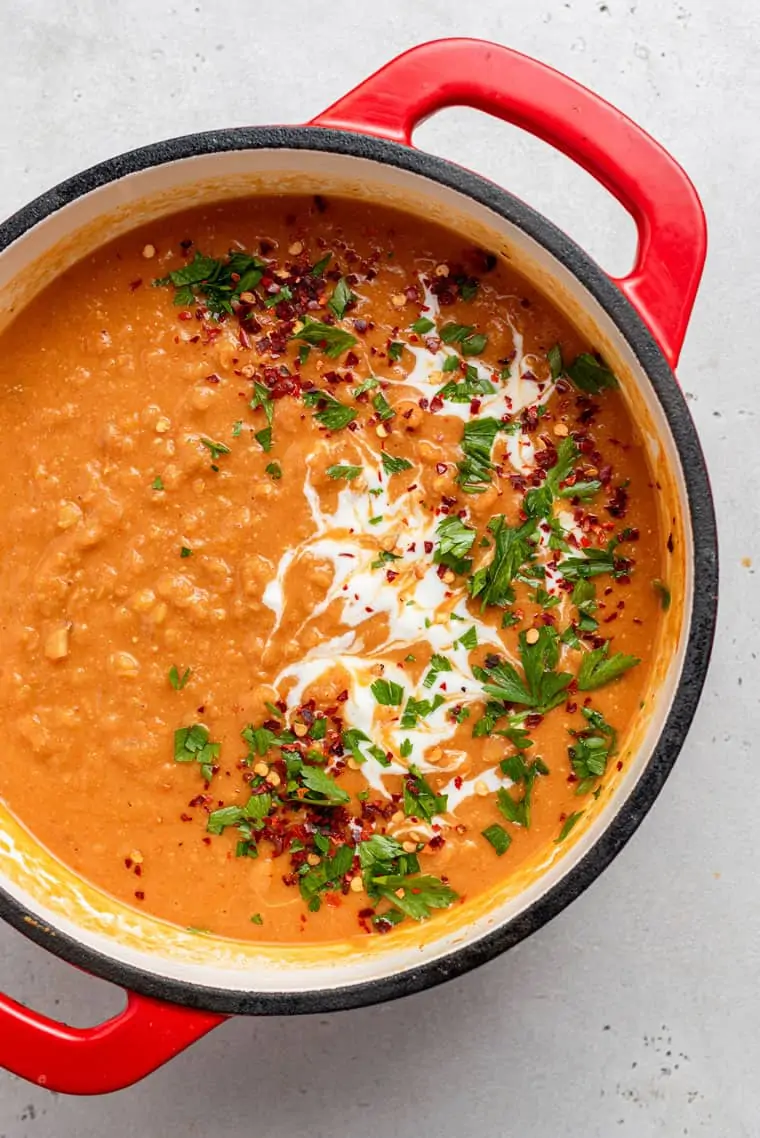 Tips and Tricks
This is a straightforward soup recipe. Here are a few tips and tricks, including a time-saving hack:
Toasting the tomato paste and dried spices helps add extra caramel flavors to the soup and brings out the natural flavor compounds in the spices for a bolder and richer taste.
I like to puree half the soup for a consistency that's smooth and creamy but not totally flat. If you're short on time, you can skip the blending altogether. For a smoother soup, puree all of it. You can also use an immersion blender to blend until you reach your desired texture.
Other lentil varieties won't' give you the same texture, so I recommend sticking with red lentils.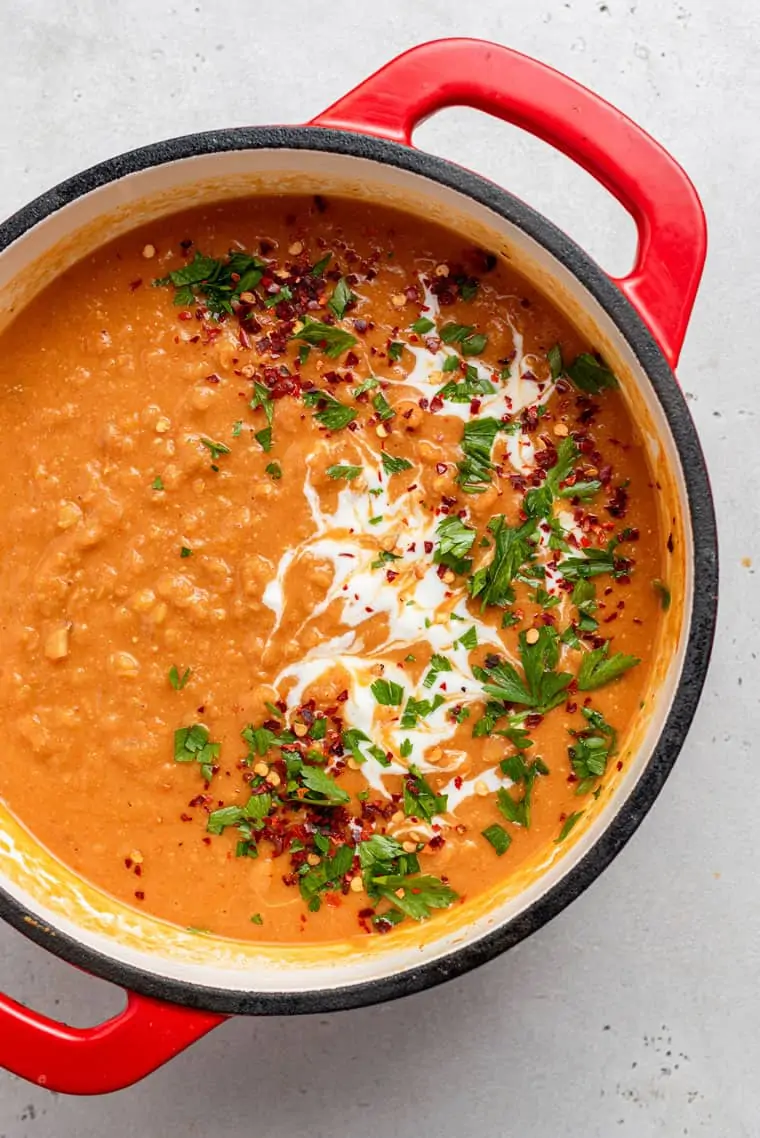 Topping Ideas
You can serve your red lentil soup with any of your favorite toppings. Here are some I love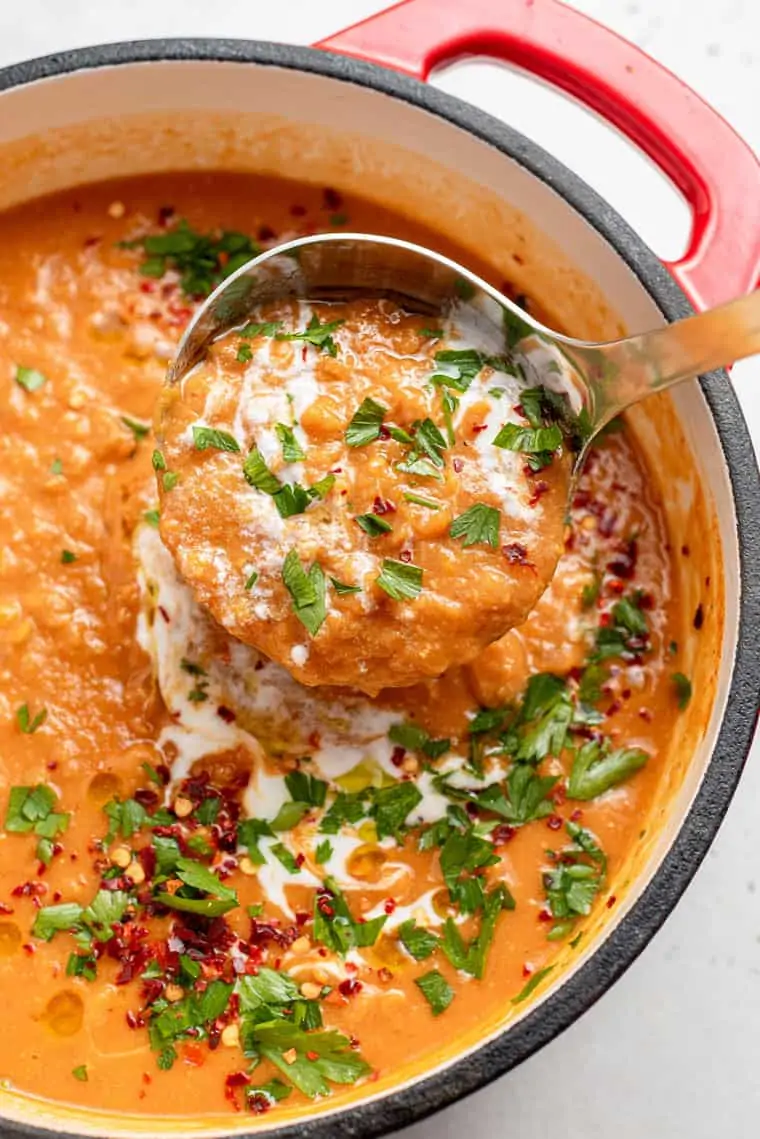 Storage
You can use this recipe for meal prep! The soup will stay fresh in an airtight container in the fridge for up to five days. Reheat it on the stove or in the microwave to serve.
You can also freeze it for up to three months. Let the soup defrost in the fridge and reheat it to serve.
More Vegan Soup Recipes
If you make this Vegan Red Lentil Soup Recipe, be sure to let me know what you think with a comment below!
Red Lentil Soup Recipe
This creamy vegan red lentil soup is made with tomatoes, carrots, and a range of delicious spices for a comforting and healthy fall or winter dinner.
Instructions
Heat the oil in a large saucepan over medium heat. Add the onion, garlic, and carrot and saute until the onion is translucent.

Stir in the tomato paste, salt, pepper, cumin, chili and Aleppo (if using). Cook another minute or so to allow the spices to bloom a bit.

Pour the tomato sauce, broth and water into the pot and stir in the lentils. Bring the soup to a boil then partially cover and reduce to a simmer for 20 - 25 minutes.

Once the lentils are cooked, blitz half of the soup in a blender, food processor, or with an immersion blender. This step is optional but gives the soup a really amazing texture!

Add the blended portion back to the pot and stir in the lemon juice just before serving.

Garnish with fresh herbs and a dollop of vegan yogurt or sour cream.
Notes
Storage Tips
Refrigerator: store in a sealed container in the fridge for up to 5 days. Reheat on the stove or microwave.
Freezer: store in a sealed container (preferably glass) in the freezer for up to 6 months. Be sure to leave some room at the top of your container as the soup will expand as it freezes. To heat, allow soup to thaw for 1 - 2 hours at room temp, then heat through on the stove or in the microwave.
The spices I used were inspired by this New York Times recipe. Couldn't recommend their recipes enough!
Nutrition
Serving:
1.5
cups
|
Calories:
245
kcal
|
Carbohydrates:
37
g
|
Protein:
13
g
|
Fat:
5
g
|
Saturated Fat:
1
g
|
Polyunsaturated Fat:
1
g
|
Monounsaturated Fat:
4
g
|
Sodium:
1038
mg
|
Potassium:
773
mg
|
Fiber:
16
g
|
Sugar:
7
g
|
Vitamin A:
2501
IU
|
Vitamin C:
10
mg
|
Calcium:
53
mg
|
Iron:
5
mg