These 5 quick and easy meal prep tips for beginners is a great way to get started! Brand new to meal prep? We'll show you how easy it is to get started!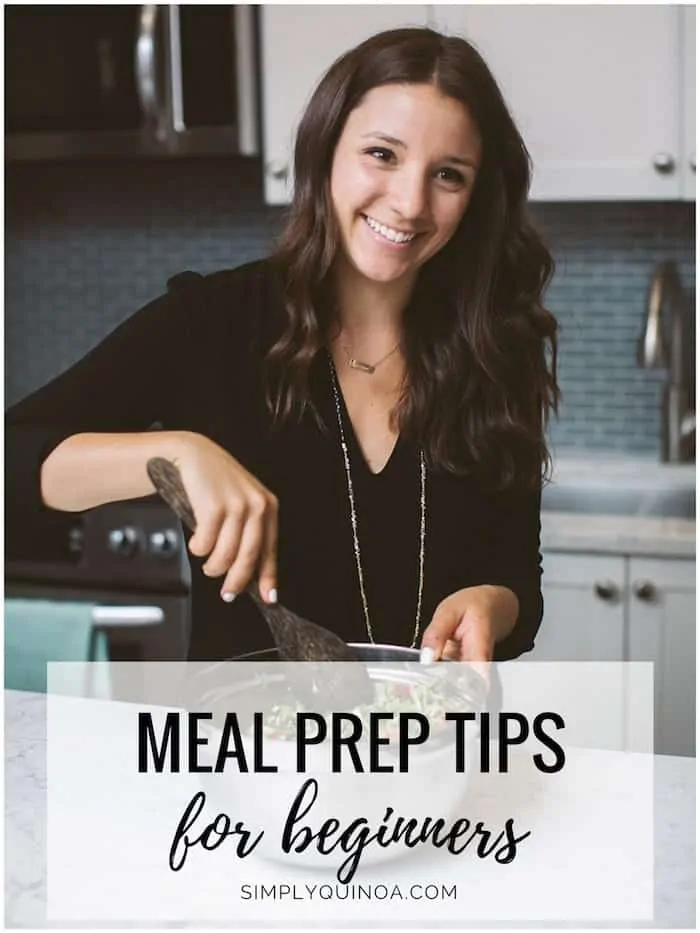 For the past week, meal prep has been HUGE for me.
I talk a lot about meal prep on my YouTube channel as well as in my program, Powered by Plants, but I don't often address meal prep here on the blog. Why? Who knows honestly, but I'm guessing that it's mostly that we're focused on the actual recipes rather than the strategies.
Well, my friends, I'm thinking that needs to change. Don't you? Because as healthy as we are with the food we're cooking up, if we don't have the strategies to support that, it's often not something we can stick with long term. And I want you to visit the blog, get your recipes and also have the tools you need to make positive changes and progress towards your health goals!
So…today I'm sharing my best meal prep tips for beginners!
(and make sure to watch the video at the end of the post too!)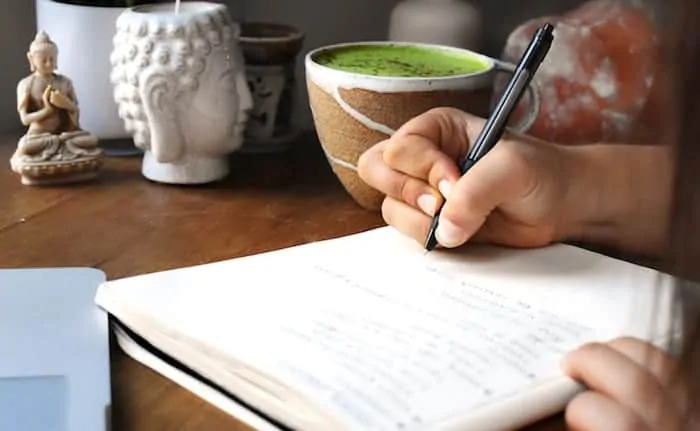 Tip #1: Get organized
The first thing you'll need to do is look at your schedule for the week. Ask yourself questions like, "what nights will I be out this week?", or "what days are full of meetings?" That should give you a sense of what meals you need to prep and what days you might feel a little too overwhelmed to be cooking.
From there you can come up with your meal plan. I like to print out my meal planning chart and write down what meals I'm having on what days (I also include snacks). There might be some components of your meals that you can't prep, so make sure that you have a clear sense of what can be cooked ahead and what needs to be cooked day-of before you actually start cooking.
Once you have your meals laid out, it's time to write your list and hit the store!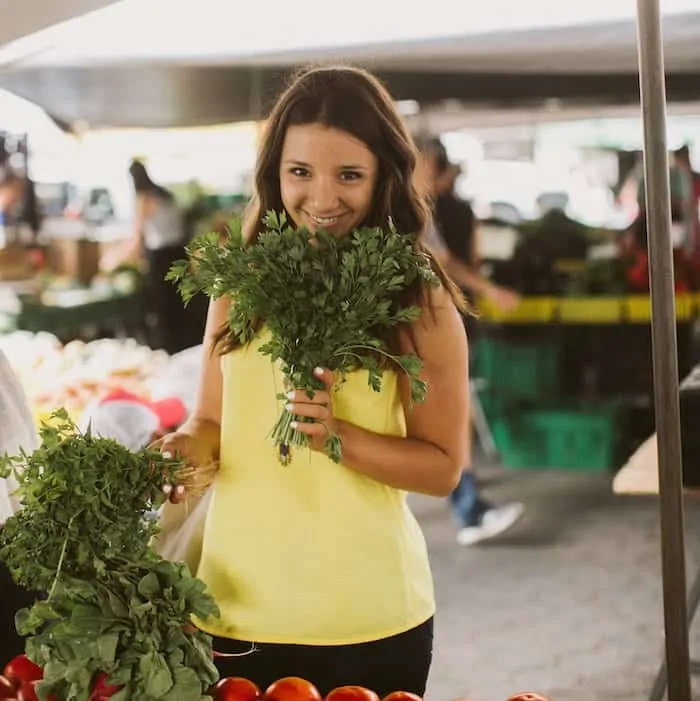 Tip #2: Shop just once per week
I personally love grocery shopping. I could go to the store every single day and love every second of it. But if you're new to meal prepping and you're trying to save yourself some time during the week, stick to just ONE trip to the grocery store per week.
Not only does this save you time, but it also makes sure that you're not straying from your meal plan. It will also help keep you on budget because let's be honest, no one comes home from the grocery store without at least one extra item!
Shopping once per week will also help you waste less food since you're sticking to your plan. (bonus: plant-based foods last longer in the fridge so you should have at least 5 days worth of meals!)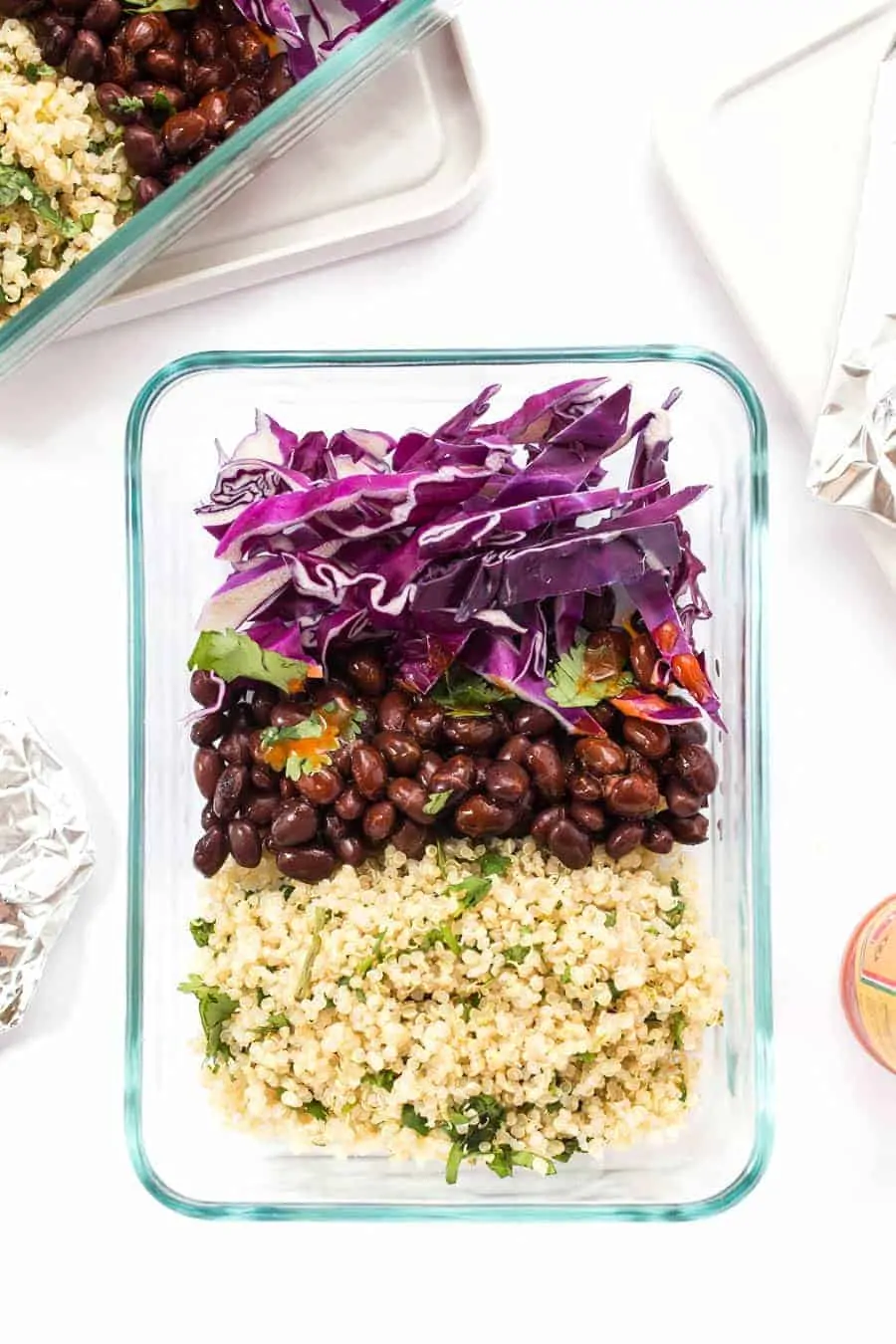 Tip #3: get your supplies together
Now that you're home from the store, it's time to gather your supplies! Luckily meal prepping doesn't really require anything special, but I personally love using glass containers and mason jars.
If you're looking for some recommendations, I've linked my favorites below. You'll notice that I only use glass because glass is not only oven-safe (which means we can reheat without adding extra dishes), but it's also less toxic than plastic.
Mason jars might seem like a strange addition to the list, but I love using mason jars for things like sauces/dressing, smoothies and of course, mason jar quinoa salads! (plus they double as pantry storage for ingredients like nuts, seeds, and grains)
Containers I love: wide mouth mason jars, rectangular glass containers (easy for stacking!),  2-compartment glass containers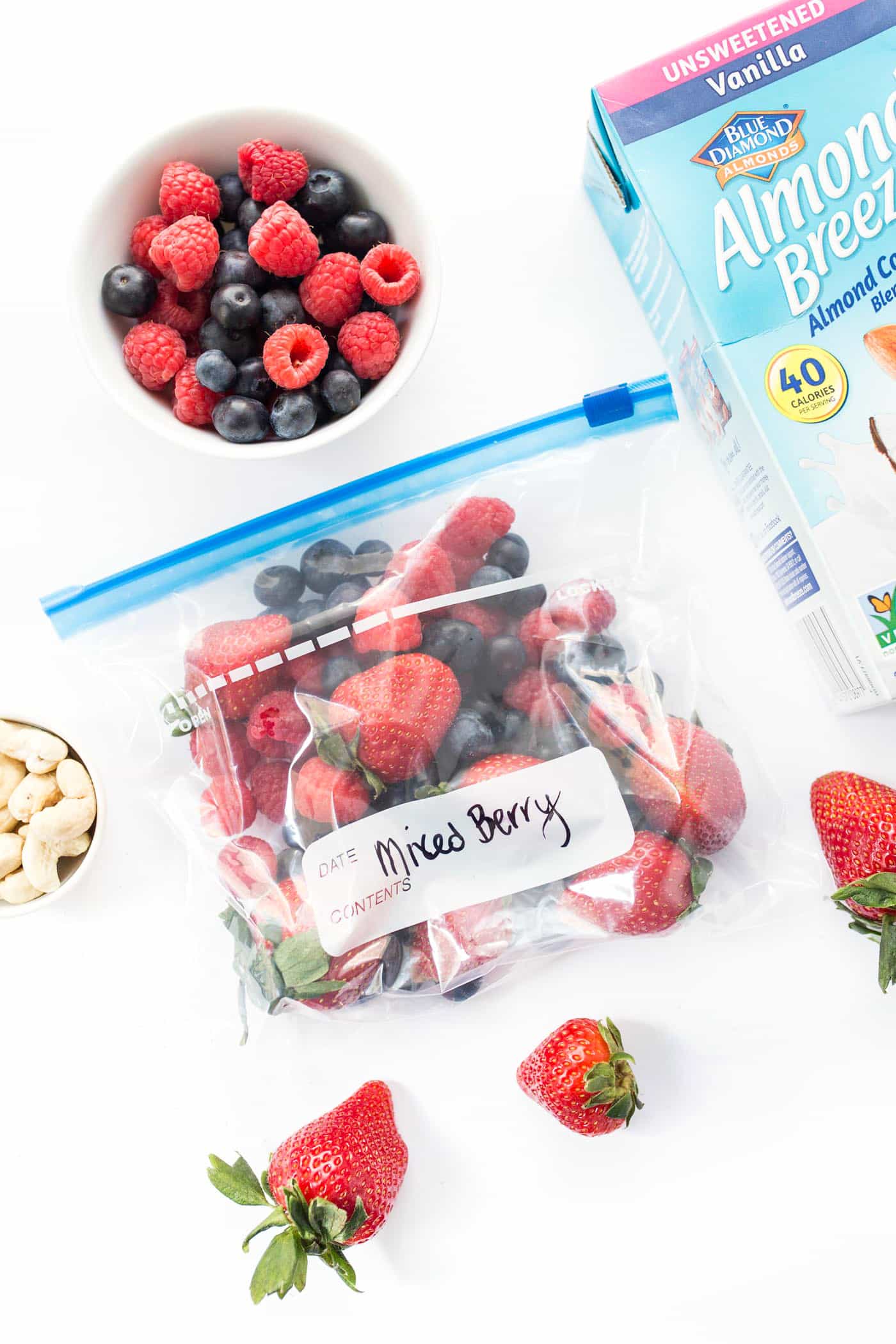 Tip #4: start small
If you're brand new to meal prepping, it can sometimes feel a little overwhelming. That's why I suggest that you start off small and focus on prepping just one meal per week. Once you're comfortable with one meal, you can add two and eventually you'll be meal prepping everything.
Taking meal prep on in step-by-step increments will not only make the process less stressful, but it will also make it more fun for you. And when something is more fun, you're more likely to follow through and stick with it for the long term.
In terms of where to start, I personally recommend breakfast. There are so many options for meal prepping breakfast, and since it's the one we often have the least amount of time for, it makes starting our day properly nourished a breeze.
Meal prep breakfast recipes to try: Meal Prep Smoothie Packs, High Protein Carrot Cake Chia Pudding, Apple Pie Overnight Quinoa, Chunky Monkey Quinoa Breakfast Cookies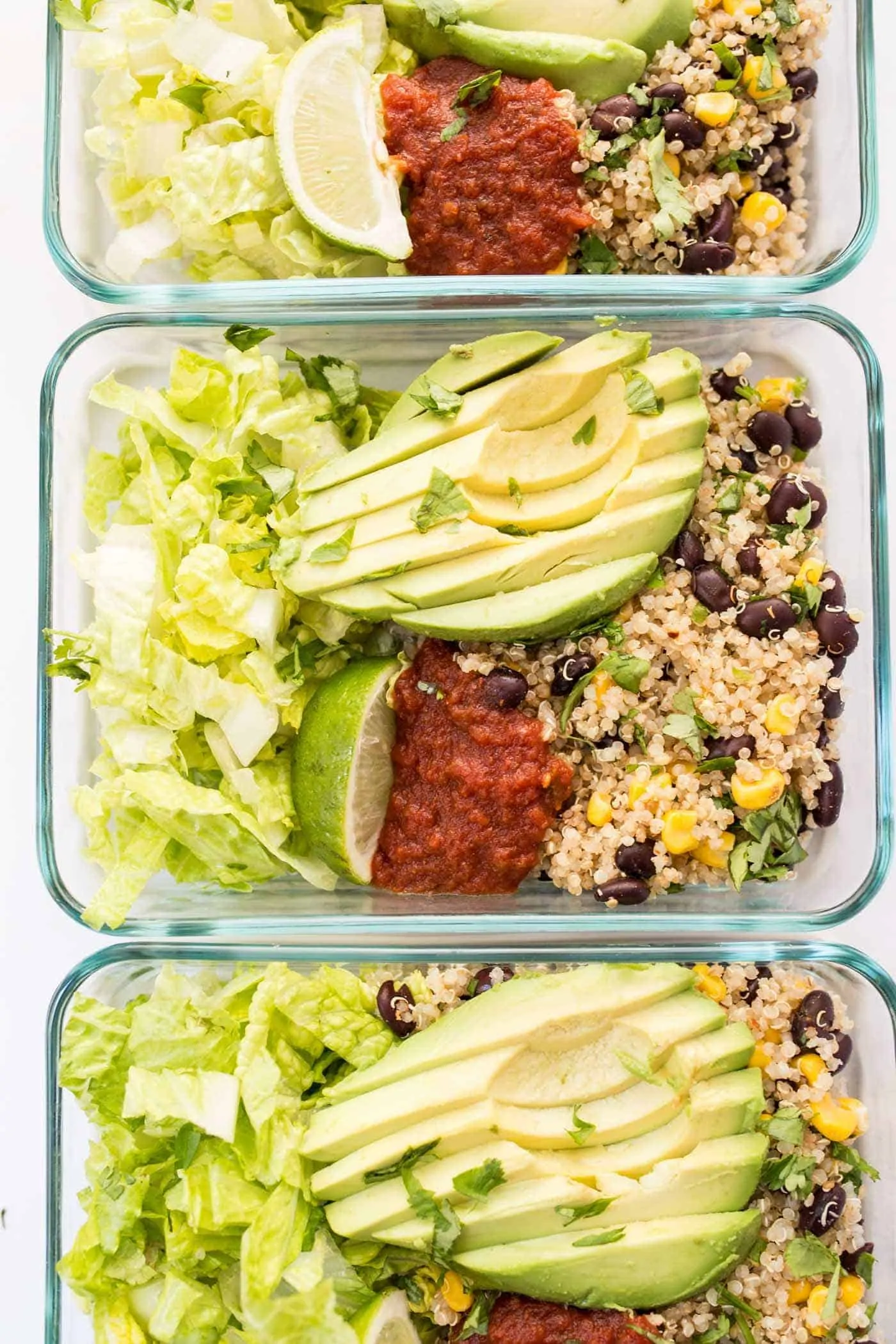 Tip #5: let's get cooking
Now comes the best part…cooking!
There are SO many different options when it comes to meals that can be prepped ahead of time, but I like to focus on things that are either simple to make and freezer-friendly OR basics.
Whole meals that you can meal prep include things like my Sweet Potato & Black Bean Quinoa Chili, my Slow Cooker Coconut Quinoa Curry or my Turmeric & Wild Rice Soup. You can also prep things like casseroles, baked pasta dishes or even bowl meals like my Balsamic Roasted Vegetable & Tempeh Quinoa Bowls.
If you aren't the type of person that likes to eat the same thing multiple days in a row, you can also whip up component meals. Component meals are what I refer to as batch cooking. Essentially you're cooking a bunch of different components (grains, proteins, veggies, etc.) and then building different meals based on what you're craving. The beauty of this is that you can essentially create an entirely different meal each day of the week just by switching out different ingredients.
Another trick I have? Make a few different sauces! By topping your meal with a different flavored sauce each time, it can take on an entirely new flavor, making it feel (and taste) like an entirely new meal!
Your turn…
Have you made meal prep part of your weekly routine? If so, share some of your favorite tips and tricks with us in the comments below!
And make sure to check out my Meal Prep Playlist on my YouTube channel for some more recipe ideas!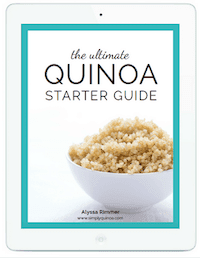 New to cooking quinoa? Grab your FREE Quinoa Starter Guide!
Become part of the Simply Quinoa community and receive weekly emails with exclusive content that I only share in email, as well as my in-depth guide to starting your quinoa journey.