Mediterranean Quinoa Bowls with Hummus
These Mediterranean quinoa bowls combine quinoa, roasted eggplant, crispy chickpeas, and hummus for a healthy and satisfying vegan meal. High protein, flavorful & great for meal prep too!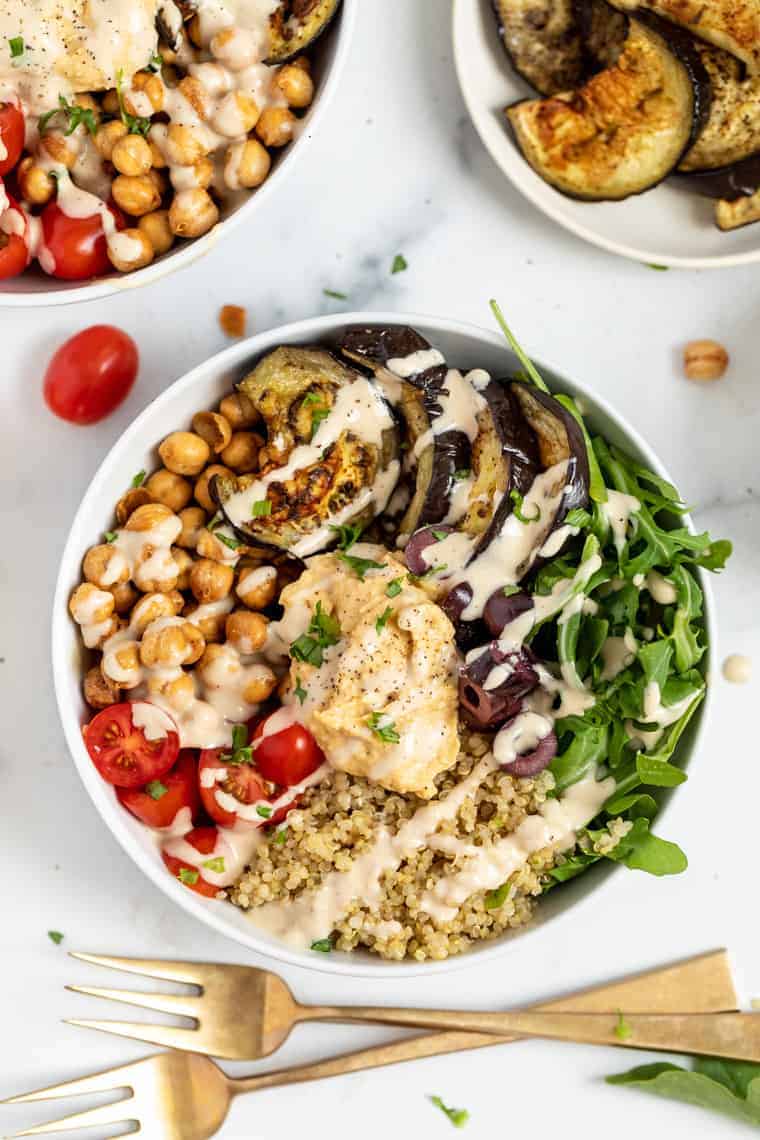 Ever since I transitioned my diet to be mostly plant-based, I have found a whole new obsession with hummus. I'm not kidding…I'm eating it with everything!
Whether I'm spreading it on a rice cake or enjoying it with some carrot sticks for a quick snack, adding it to my lunchtime wraps, or even whisking it into my salad dressing, hummus has quickly become a staple in my fridge.
And even better, this little spread is the perfect topping for meals. It's just one part of these delicious Mediterranean quinoa bowls, and it's a simple way to amp up the protein content, while also adding a creamy texture!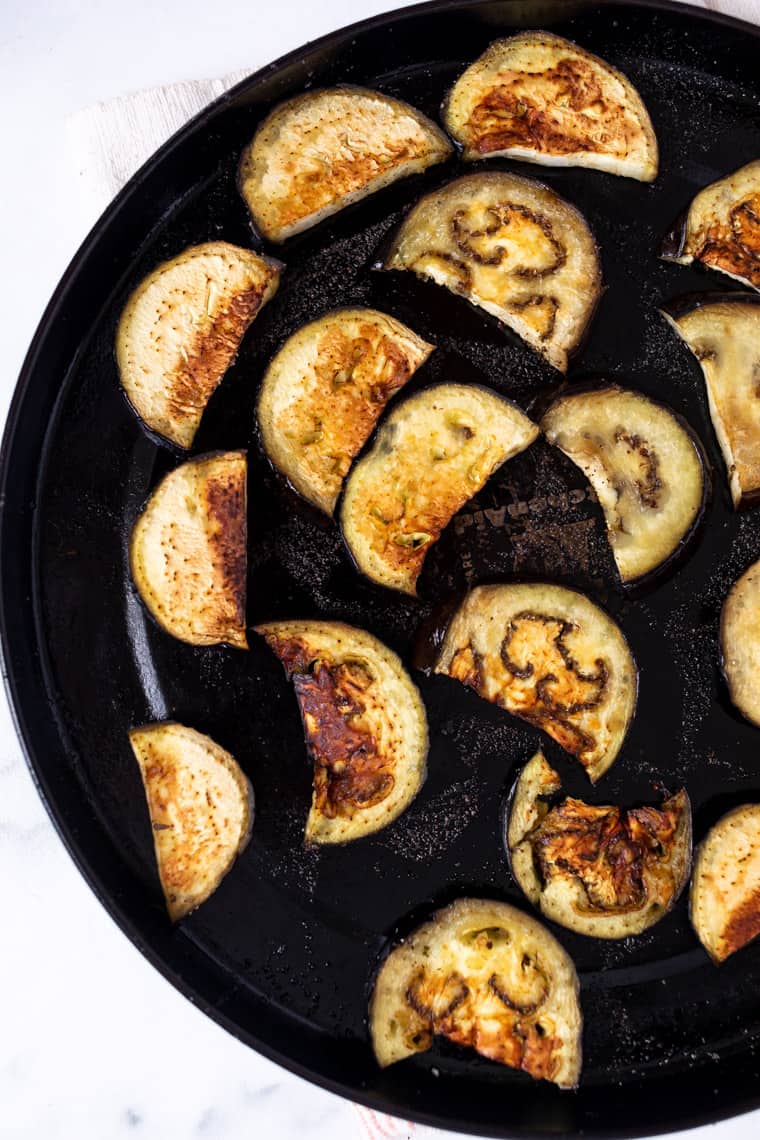 How to Make Roasted Eggplant
First things first, let's talk eggplant. A lot of people aren't eggplant fans – Matt being one of them – but I honestly think eggplant is one of those foods that's usually cooked wrong. If you don't like mushy or slimy, I get it.
My secret? Roasting it!
Here's how to make roasted eggplant:
Cut the eggplant into thin circles, then cut those circles in half
Give them a light mist of cooking spray and season with salt and pepper
Pop them immediately into a preheated 425ºF oven
Cook for 25 minutes, flipping halfway through
That should result in pieces of eggplant that aren't too mushy, are somewhat crispy, and have a nice charred flavor to them.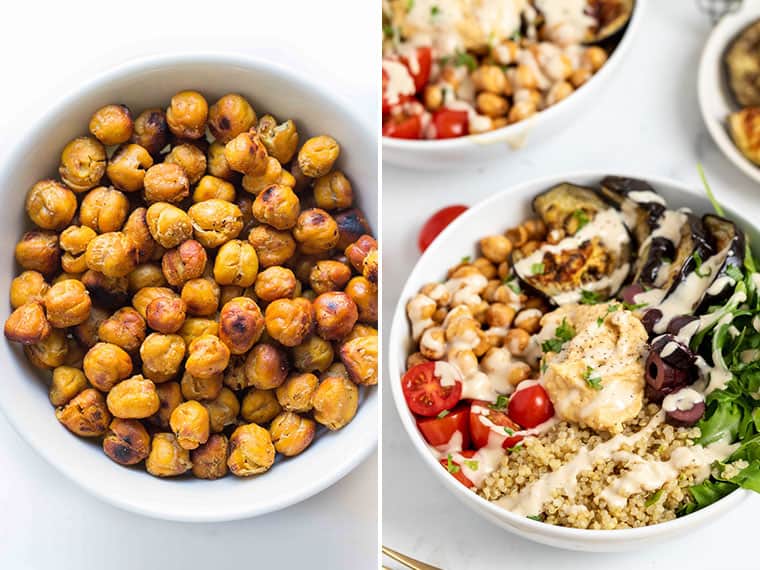 Ingredients for Our Mediterranean Quinoa Bowls
I wanted to focus on getting in as much protein as possible into the bowls, while still making them balanced and delicious. Here's what we're using (with some substitution ideas as well):
Quinoa: our grain base, but feel free to use brown rice or millet
Crispy chickpeas: either homemade or store-bought
Roasted eggplant: feel free to swap with any other roasted veggie – cauliflower maybe?!
Arugula: I love the spiciness, but you can use any green you want
Tomatoes: for a bit of sweetness and freshness
Olives: for salt and fat – feel free to replace with avocado
Hummus: for added protein and texture – I wouldn't recommend replacing, but feel free to use any flavor you like!
And then we're finishing things off with a simple tahini sauce!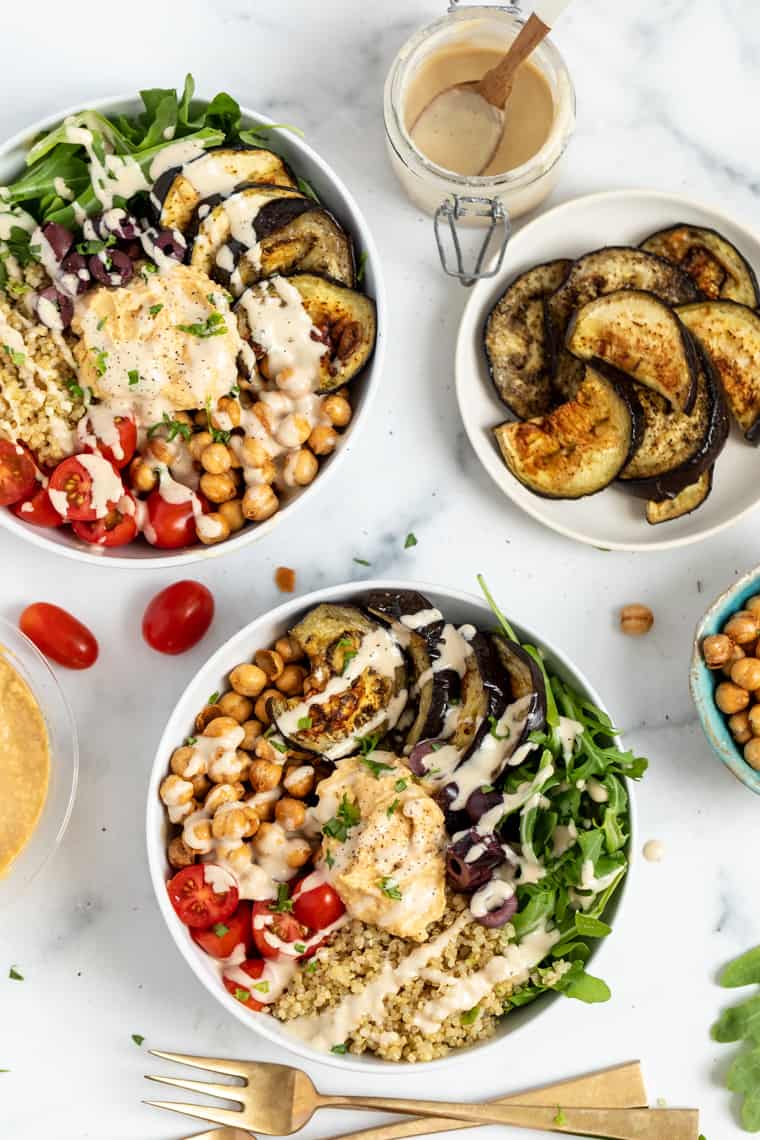 How to Make the Perfect Quinoa Bowl
There is no such thing as the "perfect" bowl, but I aim for balance with my quinoa bowls. I want a mix of all the macros, as well as some greens. So that's what you'll find in almost all of my bowls.
This recipe is no exception!
Carbohydrates: we've got carbs in our quinoa, hummus, chickpeas, and tomatoes
Protein: we've got protein in our quinoa, hummus, and crispy chickpeas
Healthy fat: we've got healthy fat in the olives and the dressing
Greens: our arugula (which you can swap with any other green you'd like)
These bowls are not only balanced, but they're also delicious!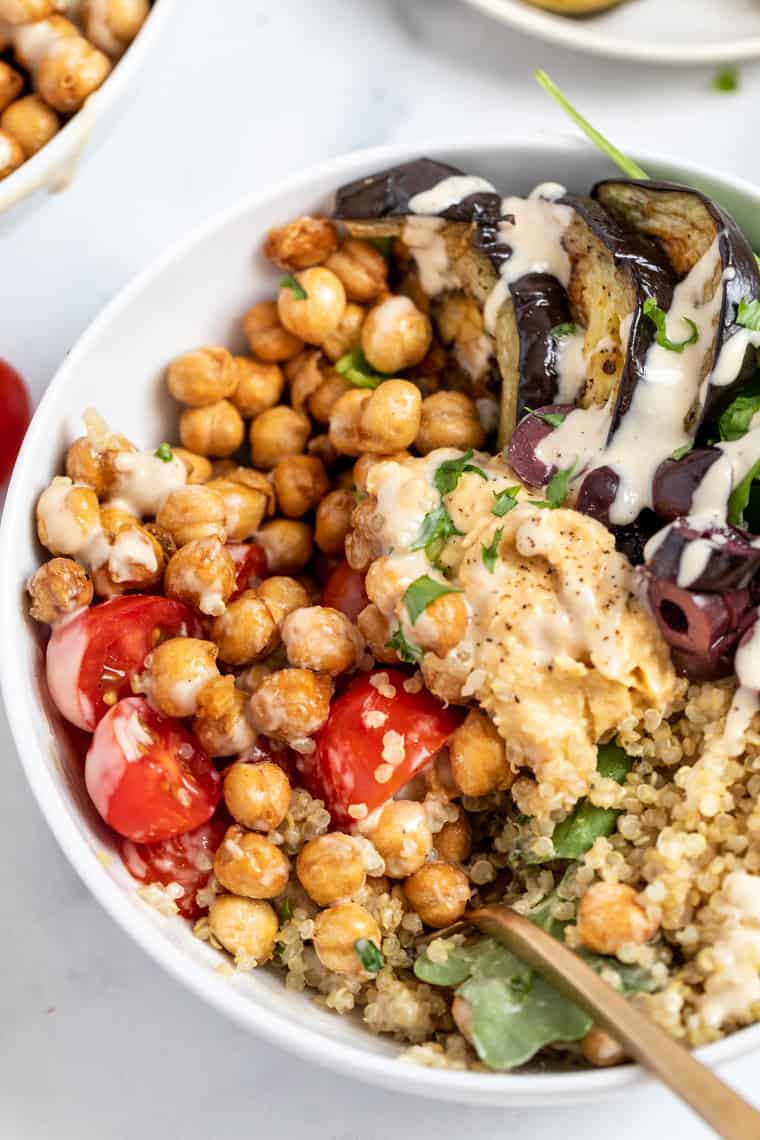 Quinoa Bowls = Meal Prep Made Easy
One of my favorite thing about quinoa bowls is how meal prep-friendly they are. And these Mediterranean quinoa bowls are no exception.
You can make the whole thing at least 3 – 4 days in advance, or enjoy dinner leftovers for lunch the next day.
Plus, if you've got a partner who doesn't eat plant-based, you can swap the chickpeas for their favorite protein of choice. This would be delicious with steak, grilled chicken, or even shrimp. Feel free to also change up the hummus flavor to give it a bit more pop!
And if you just really love meal prep + quinoa, try one of these amazing 6 flavors of quinoa bowls. We also have a post with 35 delicious quinoa bowls for even more inspo!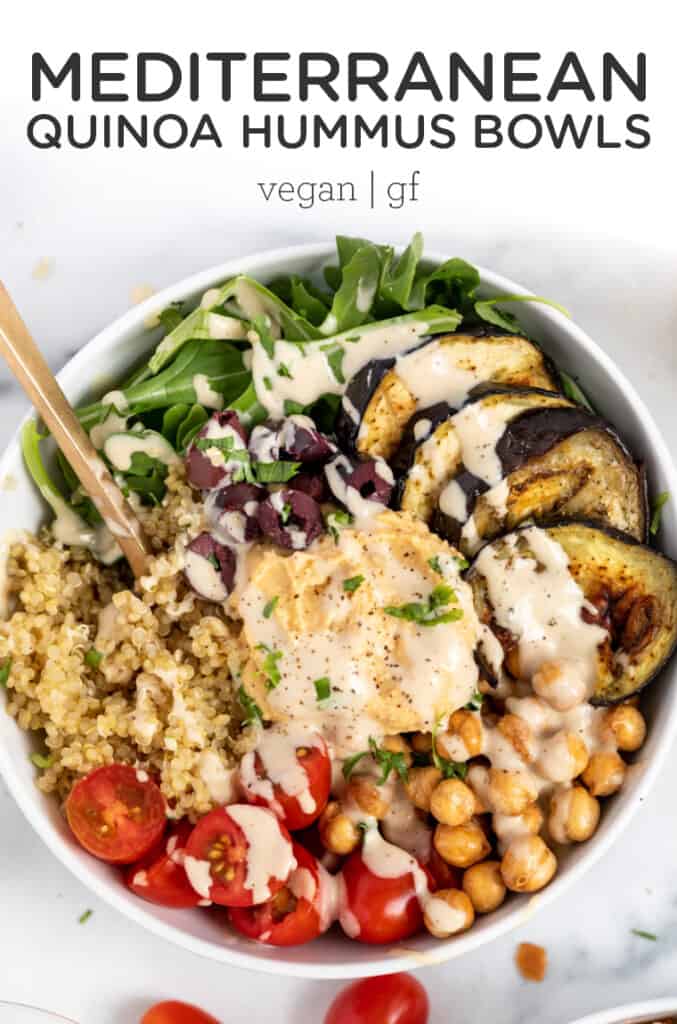 More Healthy Quinoa Bowls to Try:
Mediterranean Quinoa Hummus Bowls
These Mediterranean quinoa bowls combine quinoa, roasted eggplant, crispy chickpeas, and hummus for a healthy and satisfying vegan meal. High protein, flavorful & great for meal prep too!
Servings 4 bowls
Calories 412kcal
Ingredients
for the eggplant:
1 large eggplant
salt & pepper to taste
for the quinoa bowls:
2 cups crispy chickpeas
1 cup chopped cherry tomatoes
2 cups cooked quinoa
4 cups arugula
1 cup classic hummus
1/2 cup kalamata olives, diced
fresh herbs to garnish (like parsley)
Instructions
Begin with the eggplant: preheat the oven to 425ºF. Slice eggplant into 1/2" rounds, then slice those rounds in half. Place on a baking sheet and spray with cooking spray. Season with salt and pepper on both sides. Bake for 25 - 30 minutes, flipping halfway through, until golden brown and crispy on the outside.

Prepare four bowls. Add to each: 1/2 cup chickpeas, 1/4 cup tomatoes, 1/2 cup quinoa, 1 cup greens, 1/4 cup hummus, 2 tablespoons olives. Drizzle with tahini sauce and garnish with fresh herbs.

Serve immediately and enjoy!
Notes
* If making at home, I like to make a double or triple batch of the chickpeas and keep them for salads (or as a snack) throughout the week. Just store the leftovers in an airtight container in a cool, dry place.
Nutrition
Serving: 1bowl | Calories: 412kcal | Carbohydrates: 61g | Protein: 18g | Fat: 13g | Saturated Fat: 2g | Sodium: 520mg | Potassium: 955mg | Fiber: 17g | Sugar: 10g | Vitamin A: 790IU | Vitamin C: 15mg | Calcium: 134mg | Iron: 6mg
share what you make
Tag #simplyquinoa on Instagram with your creations! We love sharing what you make with the community. We can't wait to see!

follow on instagram