This spicy mango salsa is a sweet and succulent side dish to add flair to any Mexican inspired dish. Easy to make, tasty, with just a little kick of spice!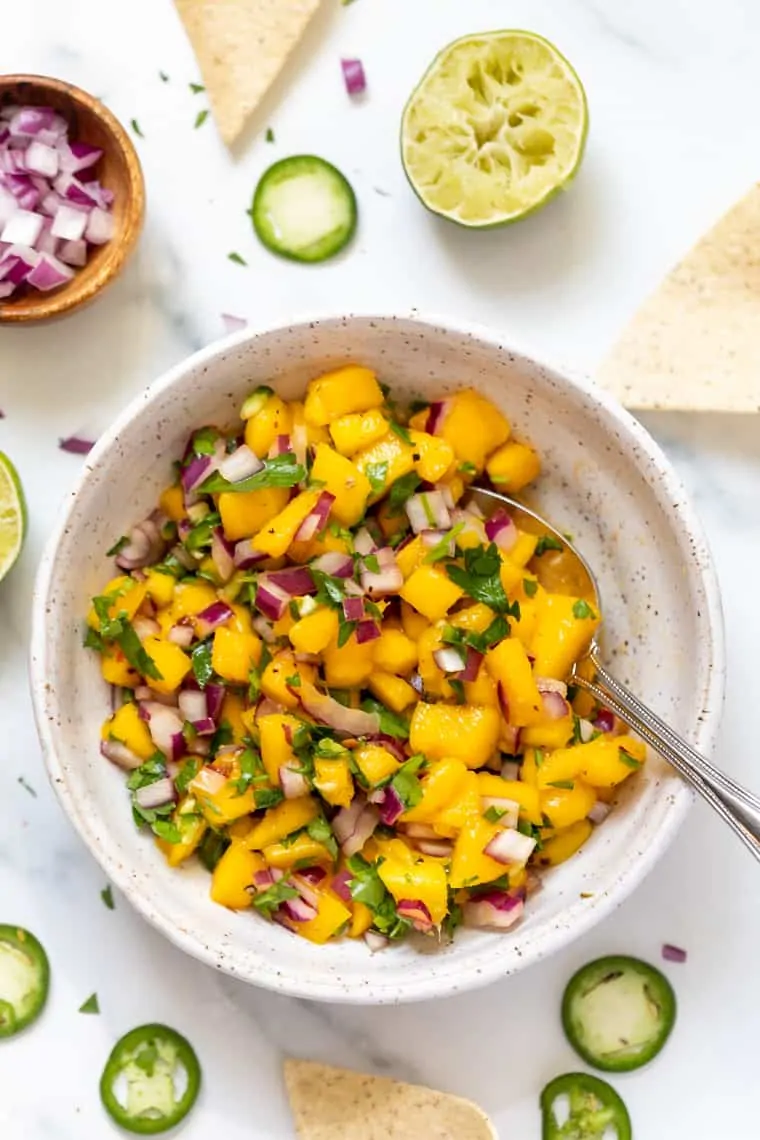 If I had to choose one type of cuisine to eat forever, it might have to be Mexican. And when I say Mexican, I mean really anything Latin American-inspired. I love the spices they use, I love the freshness of everything, I love that they use corn tortillas and beans a lot. It's just like the best cuisine ever.
We make some form of tacos/burritos at least once per week and almost always make our own pico de Gallo (fresh tomato salsa). I've personally been eating a lot of salmon lately, and I've made a few batches of salmon tacos over the last couple of weeks. While our tomato salsa was great, I felt like they needed something a little extra. A different kind of spread.
That's where this spicy mango salsa came in! It's fresh, it's bright, it's sweet, it's slightly spicy and it was perfect. It's a cinch to make, keeps well in the fridge, and honestly tastes DELICIOUS. Let's make it!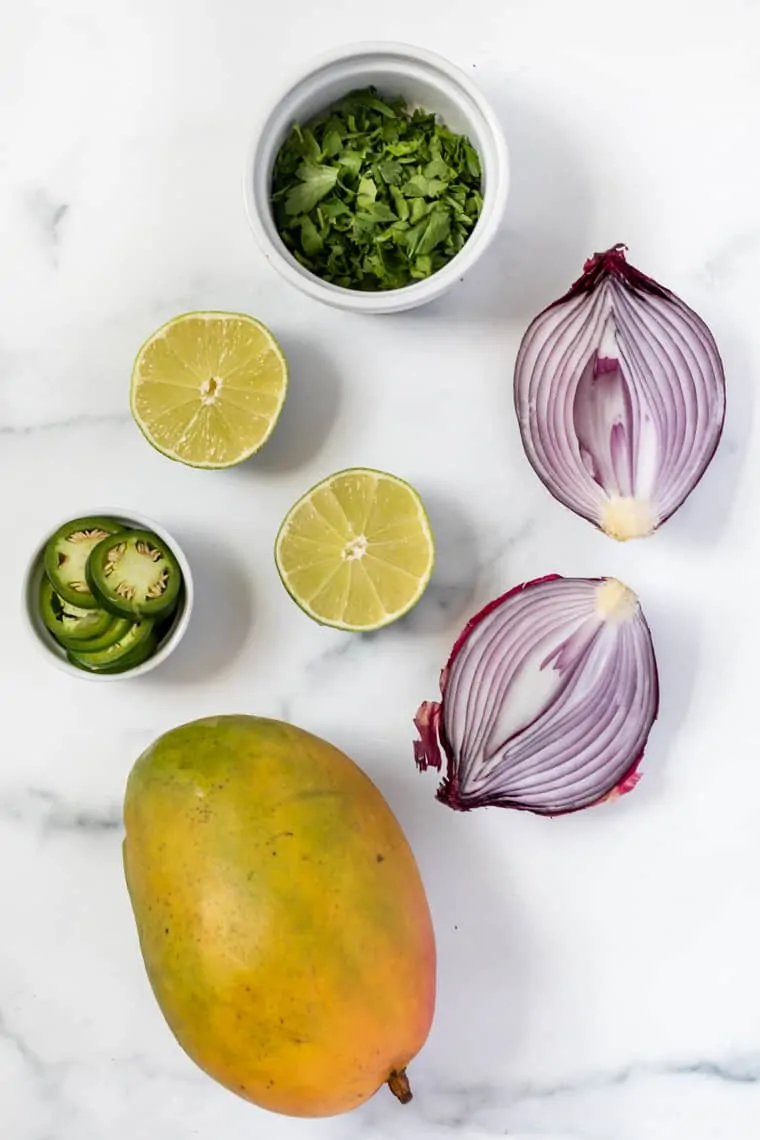 Simple Ingredients for Spicy Mango Salsa
All you need for this recipe are five simple ingredients. I wanted to make sure this recipe was quick and easy to make, so we're keeping the ingredient list low and prep time a breeze.
Here's what you need to make it:
Ripe mango
Red onion
Cilantro
Lime juice
Jalapeno
And then you'll use just a touch of salt and pepper to bring out all the flavors. 5 simple ingredients. That's it!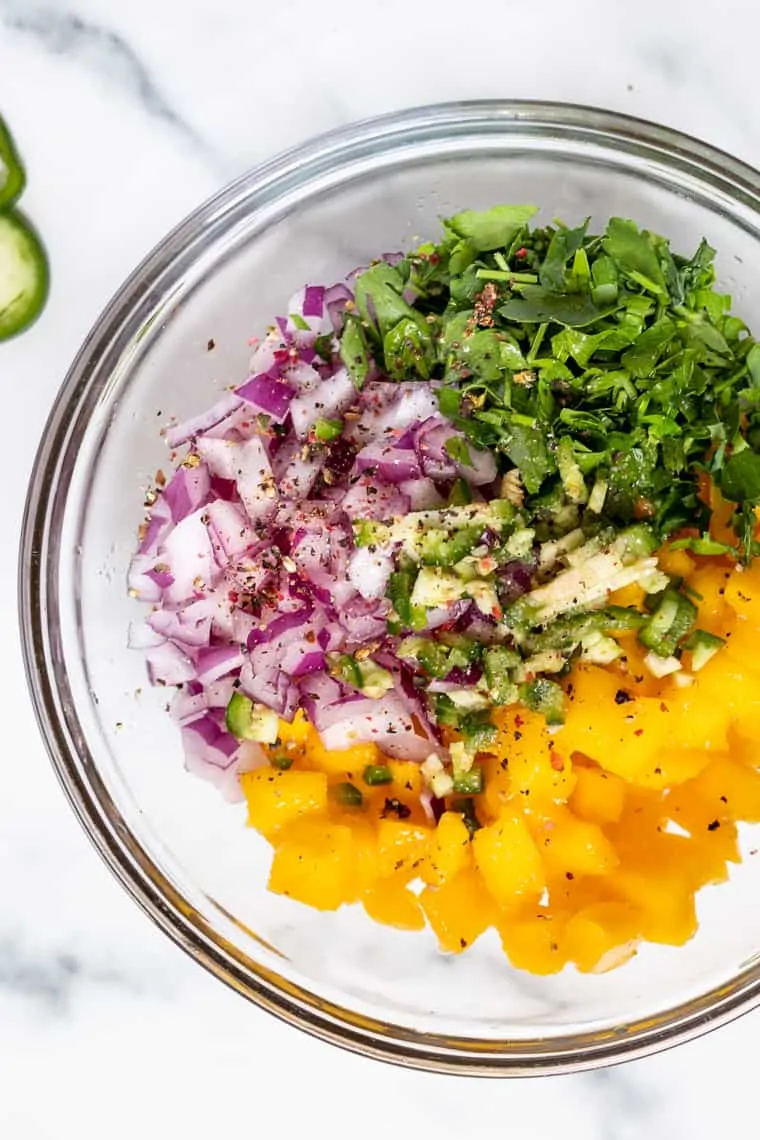 How to Make Mango Salsa
Making this salsa is practically as easy as the ingredient list!
All you need to do is chop up all your ingredients, add them into a bowl and mix it all together. And if you need some help with your mango, here's a great tutorial for how to cut mango a few different ways!
Mango Salsa vs. Regular Salsa: The Difference
Now, let's quickly talk about the difference between mango salsa and regular salsa. I think that will help you know when you might want to use mango salsa vs. a tomato salsa.
The main difference? You guessed it. The mango.
Essentially mango salsa is the same as tomato salsa, you just use mango instead of tomato. It's the same general ingredients, the same general texture, it just has a much sweeter flavor!
Ways to Use This Spicy Mango Salsa
Since this salsa is on the sweeter side, I find that it doesn't go with quite as many foods. It still works really well for a lot of ingredients, but I would personally avoid steak. I find it pairs better with lighter foods like seafood and plant-based proteins.
Here are some of my favorite ways to enjoy this spicy mango salsa:
Tacos: you can't go wrong with tacos! We love this on top of my black bean tacos, but it also tastes great on top of my crispy tofu tacos, salmon tacos, fish tacos, shrimp tacos, or even shredded chicken tacos.
Enchiladas: throw a dollop of these on some enchiladas and you're golden! It would be perfect on my black bean enchiladas or my jackfruit enchiladas verdes!
Plant-based proteins: this salsa pairs really well with any type of bean or plant-based meal. We love it with some grilled tofu, black beans, and rice, etc.
Seafood: similar to plant-based proteins, it pairs well with all types of seafood (with any cooking method). Some of my favorites are salmon, swordfish, cod, halibut, and shrimp.
Salads: and lastly, want to liven up your salad a bit? Throw a dollop of this spicy mango salsa on top! It's sweet, juicy, tangy, spicy, and delicious!
What I love most about this dish, aside from its simplicity,  is the balance of flavors. The tang from the lime juice only serves to enhance the sweetness of the mangos. But it's the spicy crunch from the red onions and the dash of sriracha that sends this salsa over the edge. Starting with a trip to the tropics, the journey ends with the mild heat that Latin American cuisine so desperately needs.
I'm in love with this salsa.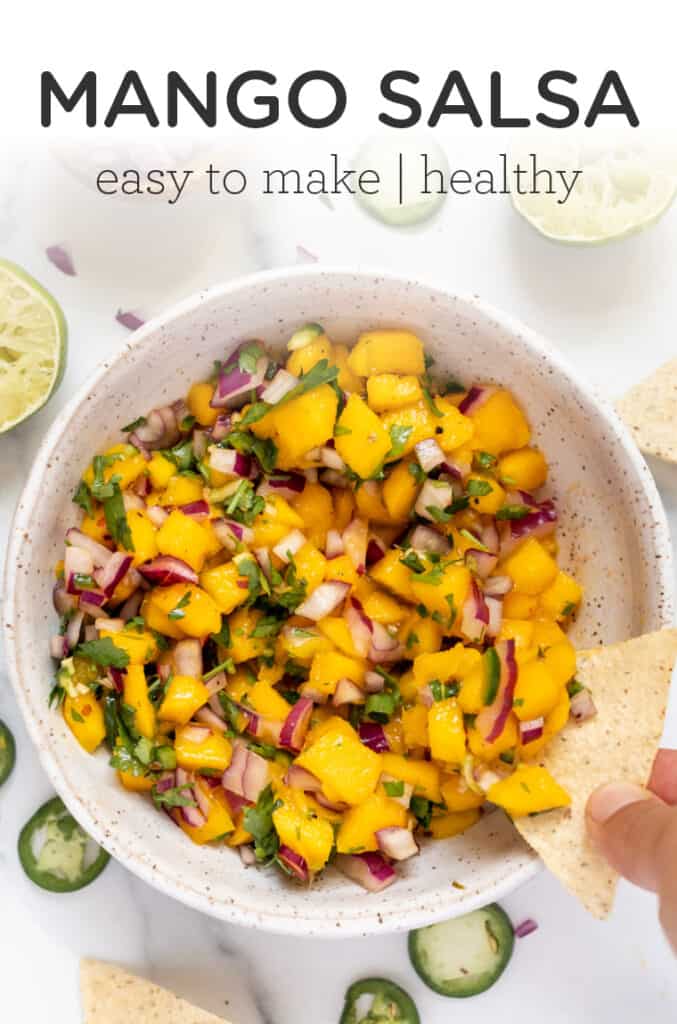 More Yummy Salsa & Dips to Try:
Simple Mango Salsa
This spicy mango salsa is a sweet and succulent side dish to add flair to any Mexican inspired dish. Easy to make, tasty, with just a little kick of spice!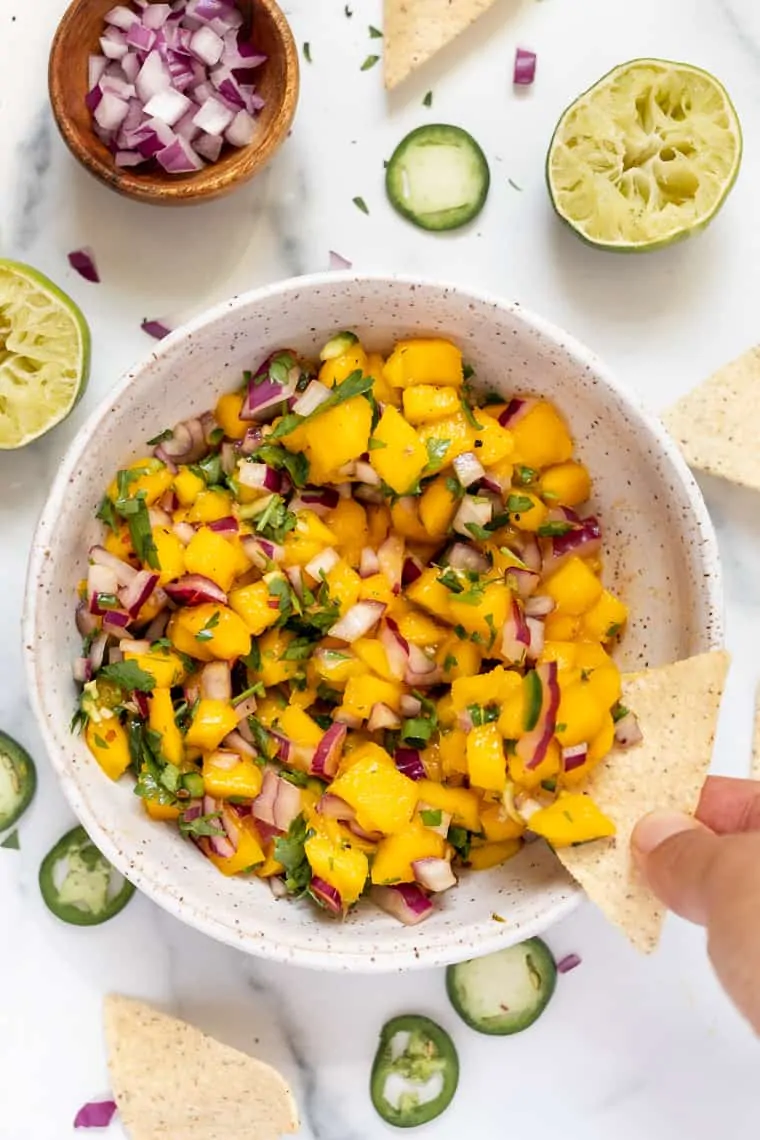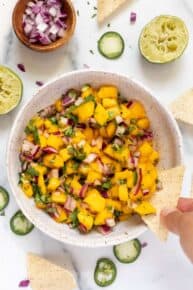 Ingredients
1

ripe mango

removed from the pit and diced

¼

cup

red onion,

diced

Juice of 1 lime

¼

cup

chopped cilantro

I used about ½ a bunch

1/2 - 1

jalapeno

, diced (amount depending on your tolerance and the spicy of the pepper)

Salt & pepper to taste
Instructions
Combine all the ingredients in a mixing bowl and toss to combine.

Yes, that's it. Now just enjoy!
Nutrition
Calories:
74
kcal
|
Carbohydrates:
18
g
|
Protein:
1
g
|
Fat:
1
g
|
Saturated Fat:
1
g
|
Sodium:
3
mg
|
Potassium:
229
mg
|
Fiber:
2
g
|
Sugar:
15
g
|
Vitamin A:
1368
IU
|
Vitamin C:
52
mg
|
Calcium:
11
mg
|
Iron:
1
mg
Filed Under: