These 5-minute vegetarian breakfast tacos are so delicious! With eggs, black beans, spinach, and corn tortillas, they're a fast, easy protein-packed healthy breakfast idea.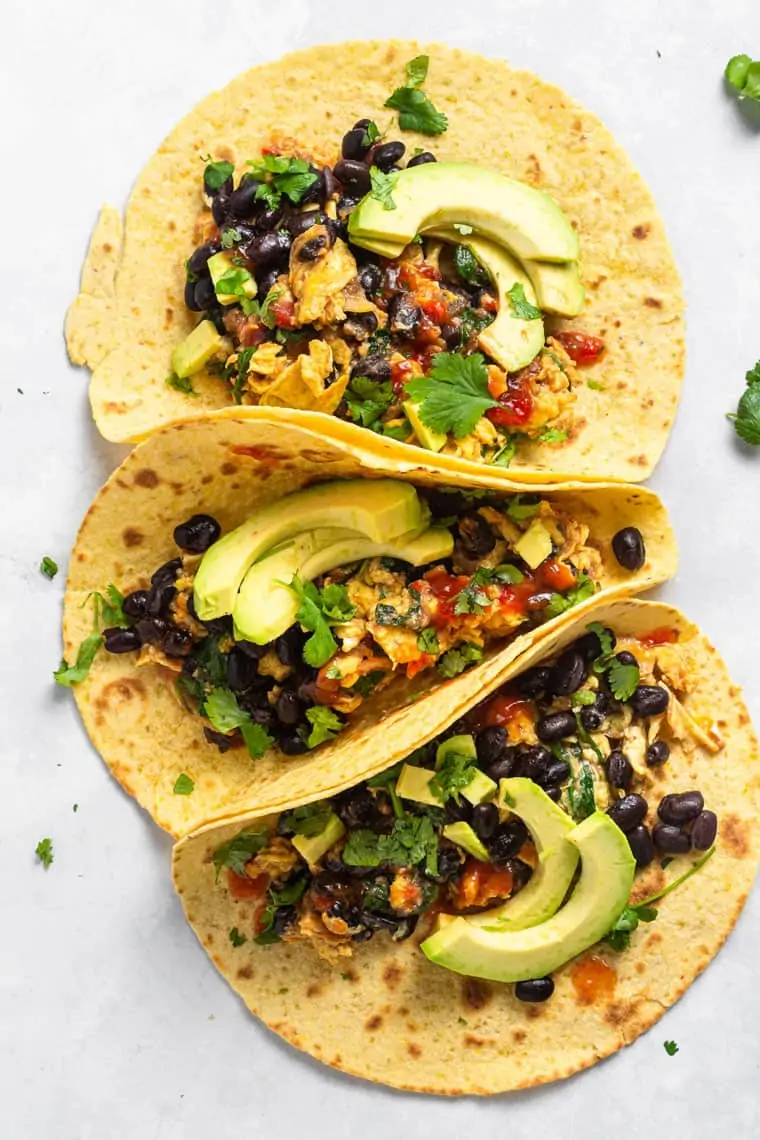 This recipe is a long time coming! I've literally been making these for months and have been meaning to put them on the blog. So today, they're finally here!
My ultimate vegetarian breakfast tacos made with eggs, black beans, salsa, spinach, and corn tortillas. They take no more than 5 minutes to make, they're super delicious and also packed with protein.
I mean honestly I'm the biggest fan of tacos for every meal, so if I can start my day with some healthy breakfast tacos, I am SO here for it. They're the best!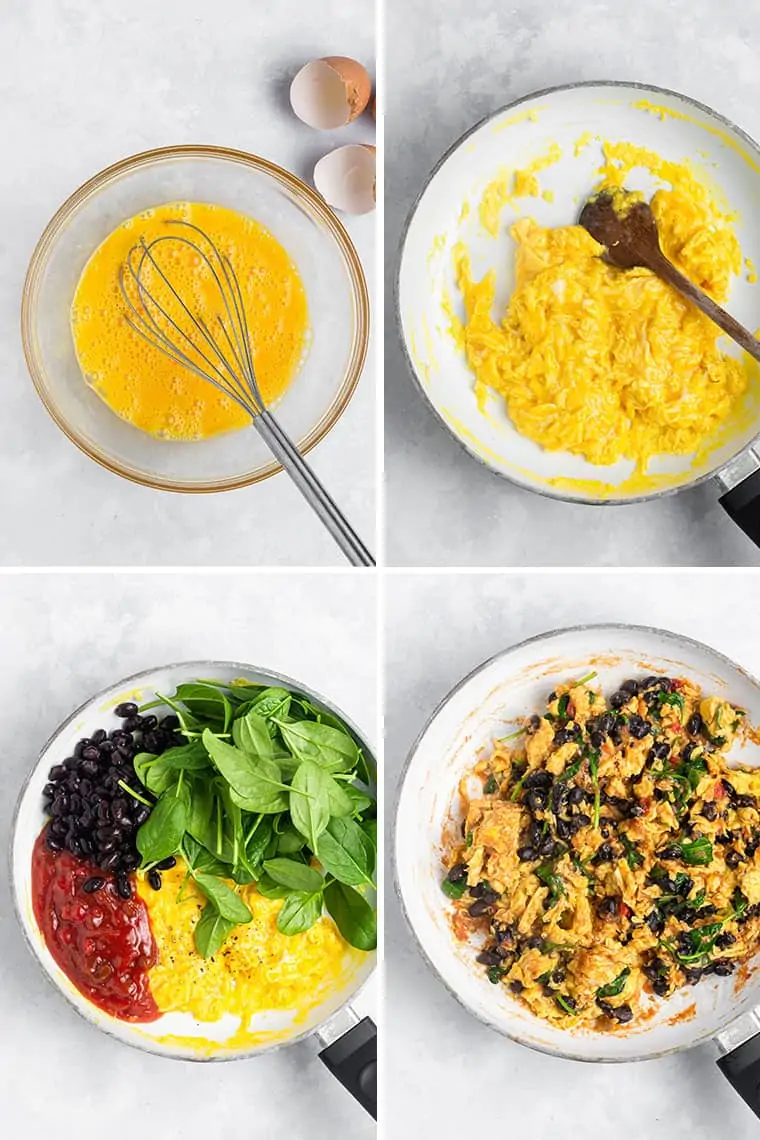 How to Make Vegetarian Breakfast Tacos
I mentioned these tacos just 5 minutes to make, right? All you have to do is scramble your eggs, add your beans, salsa and spinach. Season with some salt and pepper and add them into your warmed tortillas. I love topping mine with avocado, cilantro and hot sauce.
For our ingredients, here's what you'll need:
Eggs: we're using two eggs for 1 serving to maximize the protein!
Black beans: I use 1/2 cup of black beans per serving
Salsa: I think jarred salsa works best here – if you can handle some heat, go with medium or hot salsa
Spinach: I'm always trying to sneak greens in where I can, so a large handful of spinach is a great and healthy addition to this healthy taco recipe
Corn tortillas: I want to keep them gluten-free and corn tortillas are my fave, but you can use any tortilla you want
Toppings: and then to finish off these healthy breakfast tacos, I like avocado, cilantro and hot sauce!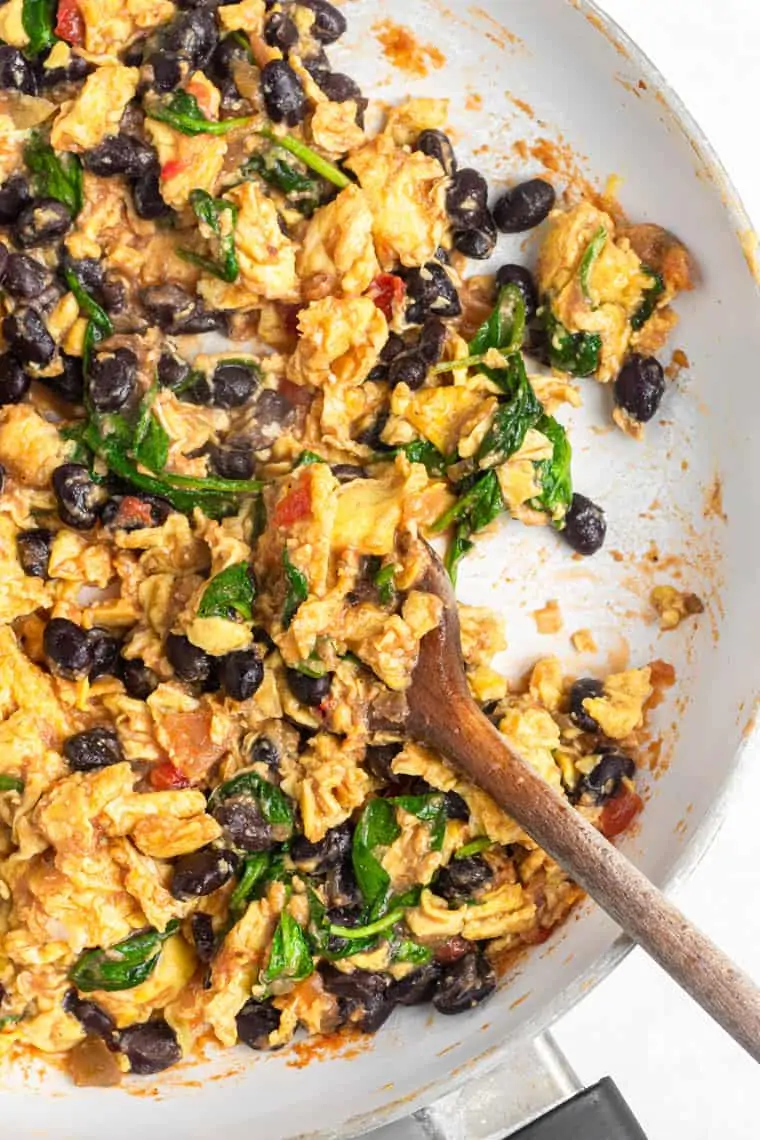 What Kind of Tortillas for Breakfast Tacos?
Corn or flour tortillas are the best kind of tortillas for breakfast tacos. If you're not gluten-free, I'd say flour tortillas because they don't fall apart quite as easily. Corn tortillas need to be heated properly, and if they're warm, they're less likely to crack and fall apart.
Other tortilla options would include:
chickpea
cashew flour
almond flour
cassava
And of those, I prefer cashew flour! I like the brand Siete for those four tortillas and Vista Hermosa for corn/flour.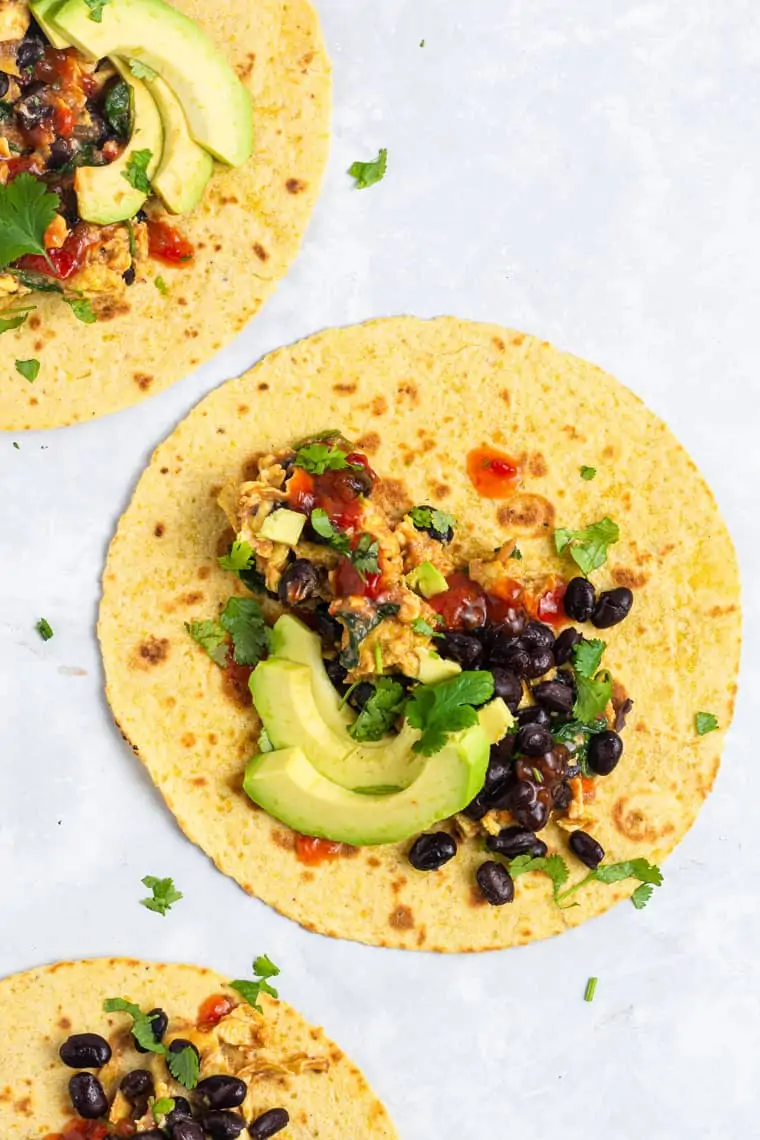 Best Healthy Taco Filling Ideas
One of the things I love most about tacos is that you can fill them with anything. Literally anything! I think it depends on the meal that you're making them for, but in general, my rule of thumb for tacos is as follows:
Protein: this can be eggs, beans, tofu, seafood, or meat
Greens: we usually do either spinach, romaine, or cabbage
Sauce: I love salsa – fresh or jarred – as well as guacamole, hot sauce, and sometimes even a tahini drizzle or crema
Garnish: hot sauce, cilantro, and diced avocado are usually what I choose!
So from there, you can create your own inventive and delicious taco creations. If you want us to create more taco recipes for you, let us know in the comments!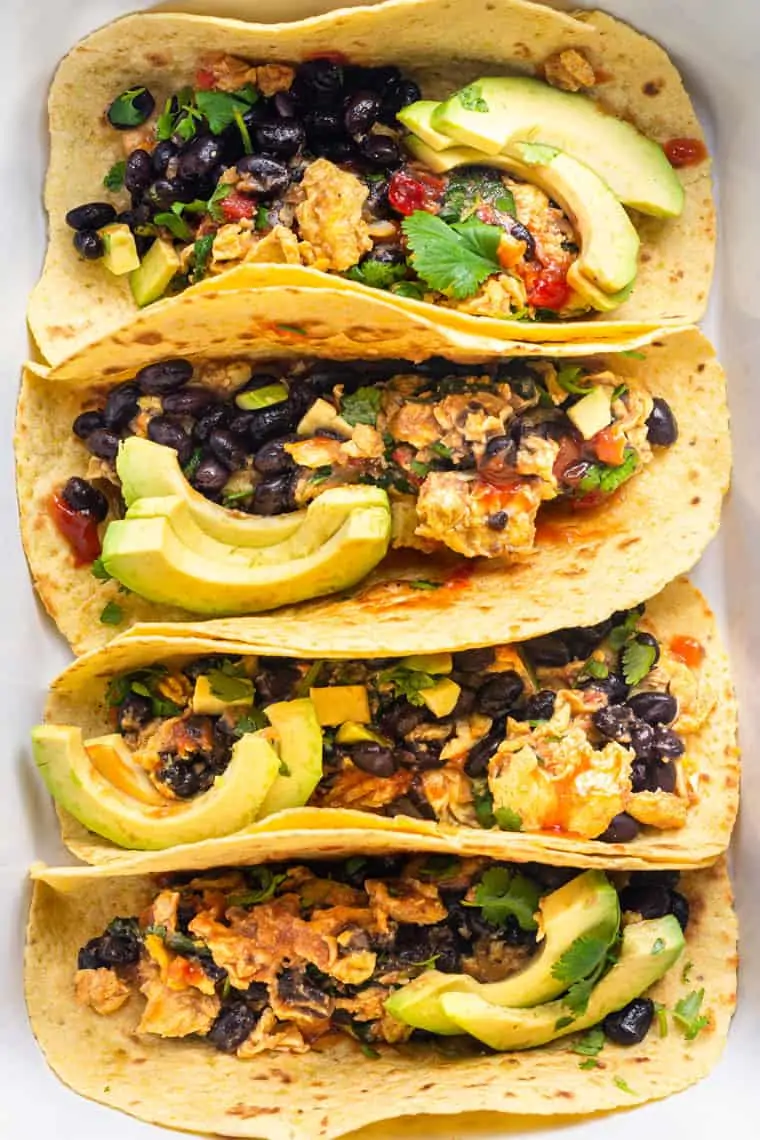 Swaps for our Healthy Breakfast Tacos
Now if we're you're looking for some swaps or want some breakfast taco ideas, let me give you a few tips for changing things up:
Make it vegan! feel free to swap the eggs with tofu to make it vegan!
Beans: you can leave out the beans or swap them with pinto beans. Alternatively, I also love refried beans spread on the bottom of the tortillas
Veggies: not feeling the spinach? swap that with kale or leave it out and throw on some romaine or cabbage
Salsa: I think the salsa gives it that Mexican theme, but you could swap this with another sauce or sometimes I'll scramble in some vegan cream cheese to make them super creamy!
I encourage you to make these vegetarian breakfast tacos your own. If you want to try different ingredients, toppings, tortillas, etc., go for it. Or if you want to make them as is – ENJOY! They are so darn delicious and literally, I think I make them almost every day for either breakfast or lunch. You just can't beat them!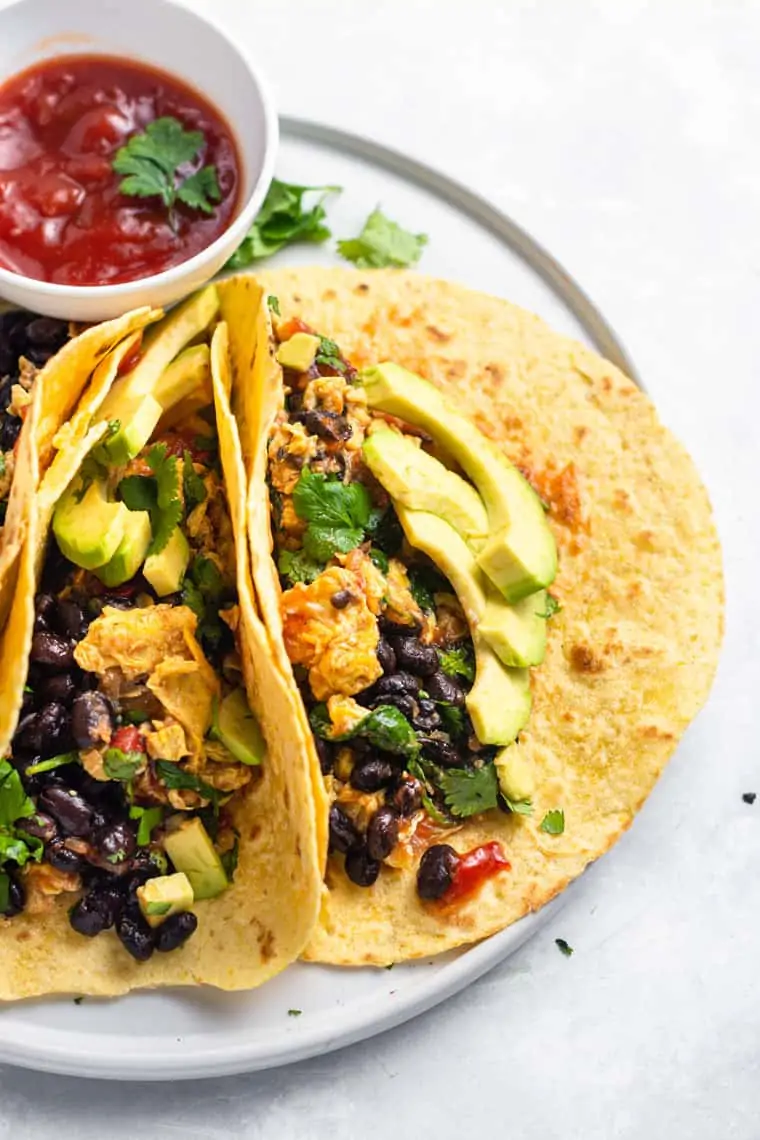 Other Tasty & Healthy Breakfast Options
5-Minute Vegetarian Breakfast Tacos
5-minute vegetarian breakfast tacos with eggs, black beans, spinach and corn tortillas a fast, easy protein-packed healthy breakfast idea.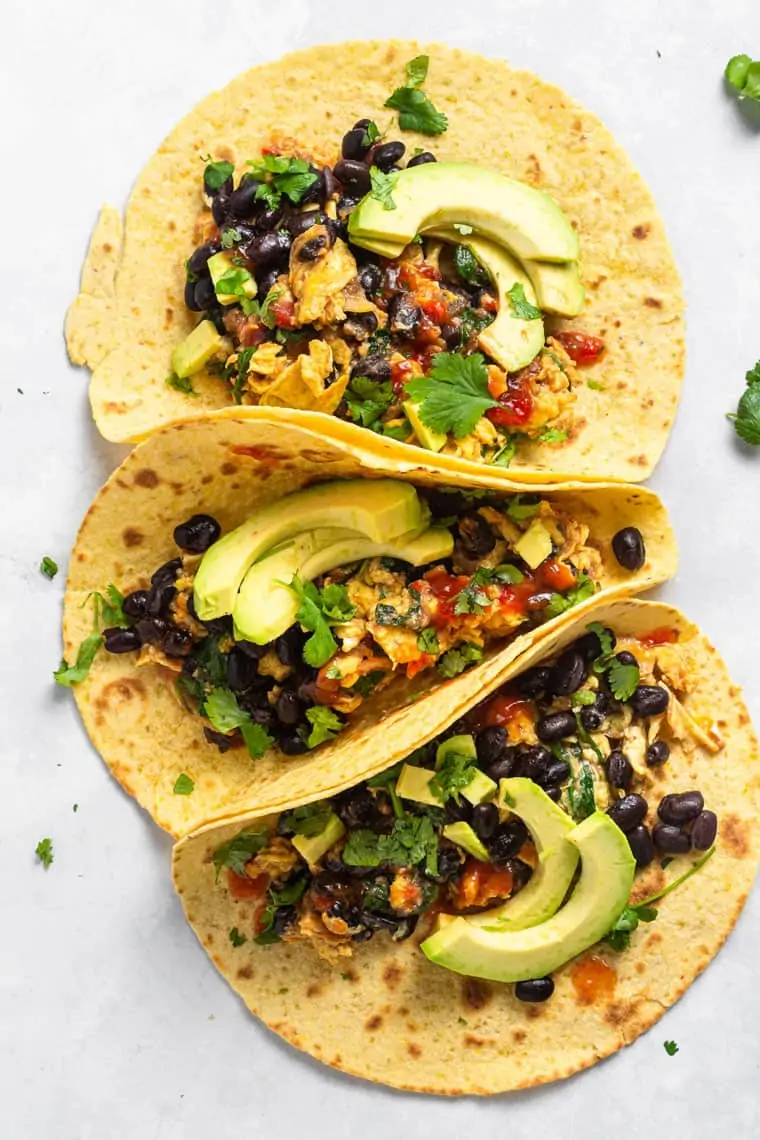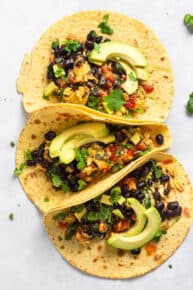 Ingredients
2

eggs

1/2

cup

black beans

1/4

cup

salsa

1

cup

spinach

Salt + pepper to taste

Cilantro + avocado to top
Instructions
Beat the eggs together in a small bowl. Heat a skillet over medium, spray with cooking spray (or oil) and add the eggs.

Cook the eggs (scramble them!) until they're almost fully cooked, then add the beans, salsa, spinach and a pinch of salt and pepper. Continue cooking until the spinach has wilted.

Heat the tortillas in the microwave for 30 seconds. Transfer to a plate and fill each taco with the egg mixture.

Top with cilantro, avocado and hot sauce if desired. Enjoy!
Nutrition
Serving:
2
tacos
|
Calories:
459
kcal
|
Carbohydrates:
54
g
|
Protein:
24
g
|
Fat:
18
g
|
Saturated Fat:
4
g
|
Cholesterol:
327
mg
|
Sodium:
635
mg
|
Potassium:
1120
mg
|
Fiber:
16
g
|
Sugar:
4
g
|
Vitamin A:
3674
IU
|
Vitamin C:
15
mg
|
Calcium:
164
mg
|
Iron:
5
mg
Filed Under: