Learn how to make energy balls in all your favorite flavors! With our Ultimate Guide to Making Energy Balls, we teach you what you need, our fool-proof formula and our favorite recipes to try.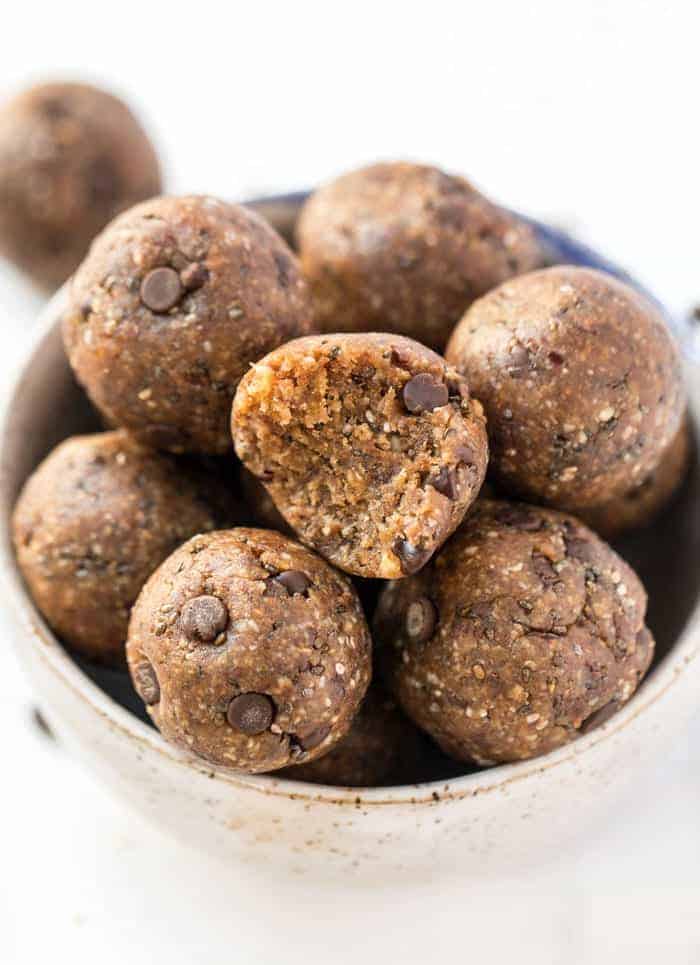 When you're trying to eat healthy, snack time can be quite the challenge! For me, I often feel like I'm either stuck eating cut up veggies and hummus, or a protein bar from my fridge. While both great options, it can get a little old after a while.
Which is why I adore energy balls! I've shared countless recipes on the blog before, but it's because I honestly think they're one of the best, and most well-rounded snacks out there.
I mean they're sweet, they're portable, they're easy to make and they can be customized to your heart's content!
In today's post, rather than just giving you a roundup of my favorite energy ball recipes, I wanted to give you a complete guide to making them at home. We'll talk about why energy balls rock, I'll walk you through the different components and ingredients you need, we'll look at the equipment you need and of course, you'll get some amazing recipes at the end!
Ready to learn how to make energy balls? Let's do this thing!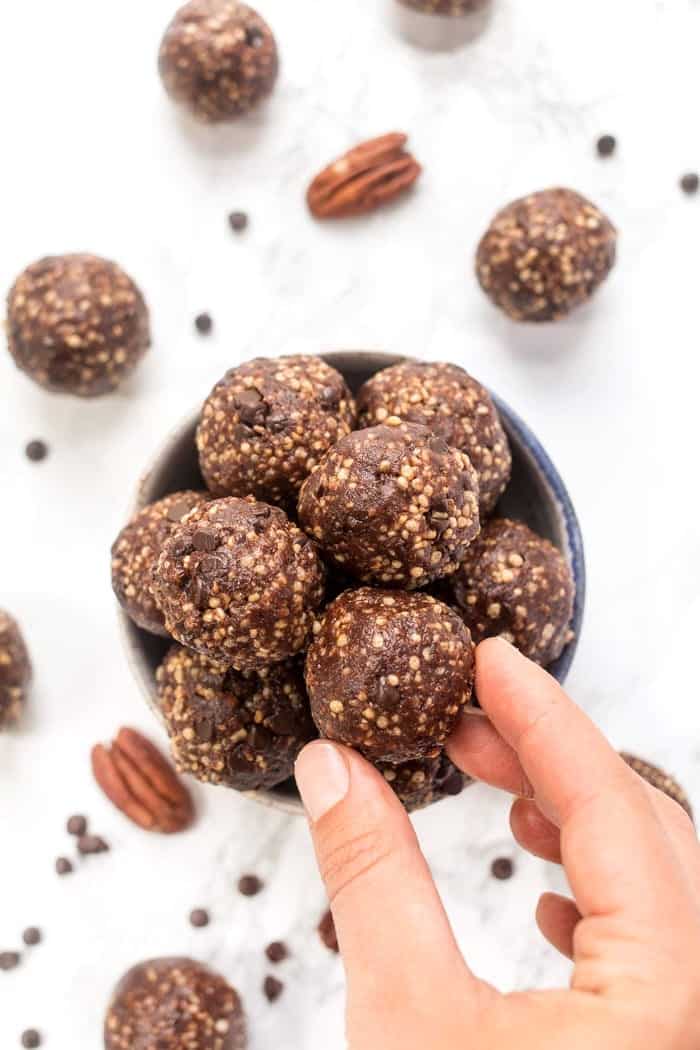 Are Energy Balls and Protein Bites Healthy?
In short…YES! I mentioned just a few of the benefits of energy balls above, but let's unpack that and go a little deeper. Why do I love energy balls so much?
1. Portability. For me, the number one thing I want in a snack is for it to be portable. Since so many of us are on the go constantly, we need snacks that are accessible while we're out and about (so we don't grab a bag of chips or a candy bar). Energy balls are just that – you can throw them in your bag and eat them on the go!
2. Balanced Macros. Another thing I'm looking for in my snacks is that they have a balance of all the macros: carbs, protein and healthy fats. Energy balls are the perfect blend of all three and actually do have the nutrients and macro profile to give you energy and keep you sustained!
3. Easy to Make. Just like a smoothie or nut butter, energy balls are pretty darn easy to make. You basically just throw everything into your food processor, blend it up, roll it into balls and you're done!
4. Customizable. As you'll see in just a second, energy balls are totally customizable meaning you can really make any type of flavor you'd like! As long as you're using the "formula" that I'll outline for you below, you can swap ingredients in and out, change things up, and make a different flavor each and every time!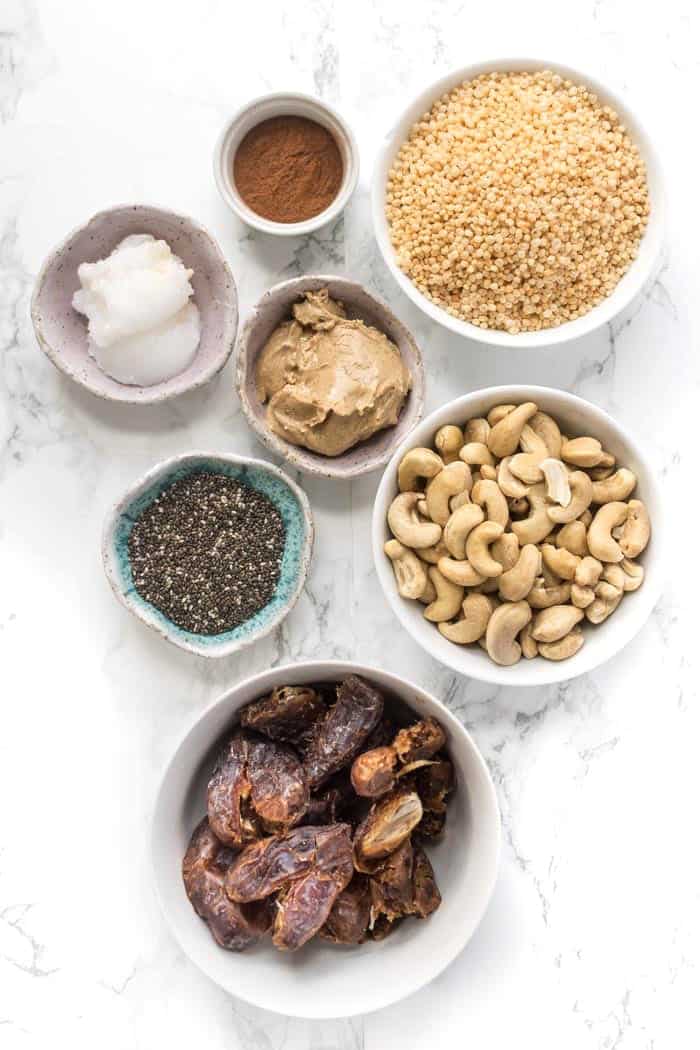 When it comes to making energy balls at home, especially sans recipe, you'll want to keep in mind a few of the main components you need to make them work.
You'll need a combination of ingredients that are:
Sticky (usually dried fruit)
Crunchy (usually nuts & seeds)
Creamy (usually nut butter/coconut oil)
Once you have those components, you should be able to create any type of energy ball you'd like!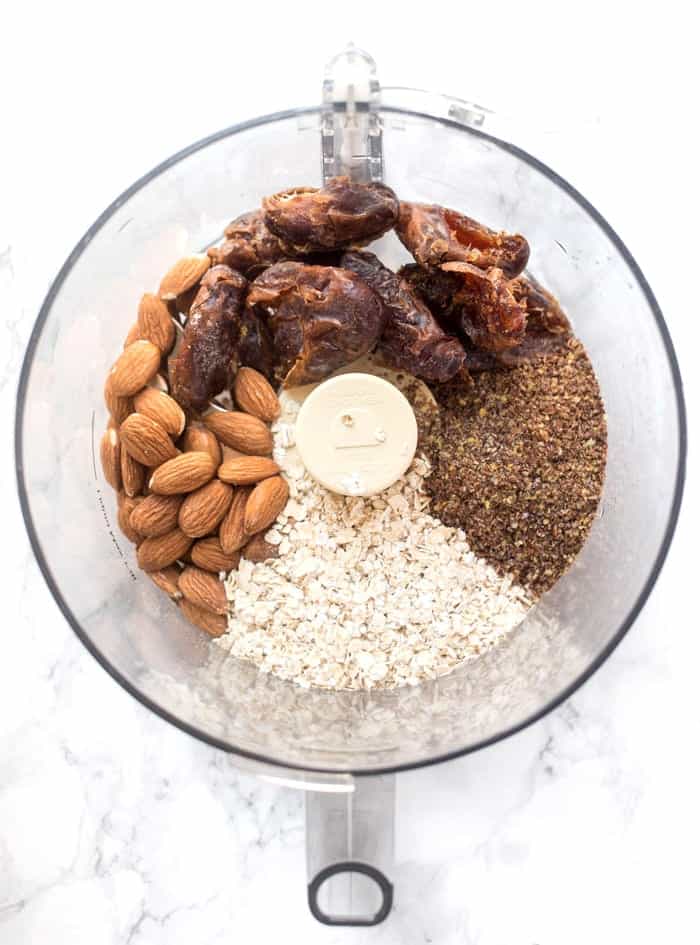 Equipment Needed for Making Energy Balls
Okay, I promise we're getting close to the actual recipes, but we have to talk equipment before we get in the kitchen.
Similar to homemade nut butter, energy balls require a food processor to make. The reason is that you need to have a blade that can chop through the fruit and nuts, but not get stuck in the bottom of a jar (like it would with a blender). A food processor is the perfect design for it and yields the best texture for your energy ball dough.
The Perfect Formula
Ok party people, now it's blending time!
I've done a LOT of testing and have found that there is somewhat of a formula for making the perfect energy ball. The formula below is for the most standard energy ball, with no flavors or extras added in. I'll give you some pointers after for customizing!
1 cup medjool dates
1 cup nuts/seeds
2 – 3 tablespoons nut butter
Then you just blend that up in a food processor, roll them into balls and you're good to go!
Basic Energy Ball Recipe
This is our simple and customizable energy ball recipe. It's healthy, full of protein, and tastes great, but you can add to it as you please to make your own variations.
Servings 16 balls
Calories 108kcal
Ingredients
1 cup medijool dates
1 cup almonds (or nuts/seeds of choice)
2 - 3 tablespoons almond butter (or nut/seed butter of choice)
Instructions
Add all the ingredients into a food processor, then just blend it up.

Take 1 tablespoon of the mixture and roll them into balls.

Store in the fridge or freezer for best texture!
Nutrition
Serving: 1ball | Calories: 108kcal | Carbohydrates: 10g | Protein: 3g | Fat: 7g | Saturated Fat: 1g | Sodium: 1mg | Potassium: 164mg | Fiber: 2g | Sugar: 7g | Vitamin A: 14IU | Calcium: 47mg | Iron: 1mg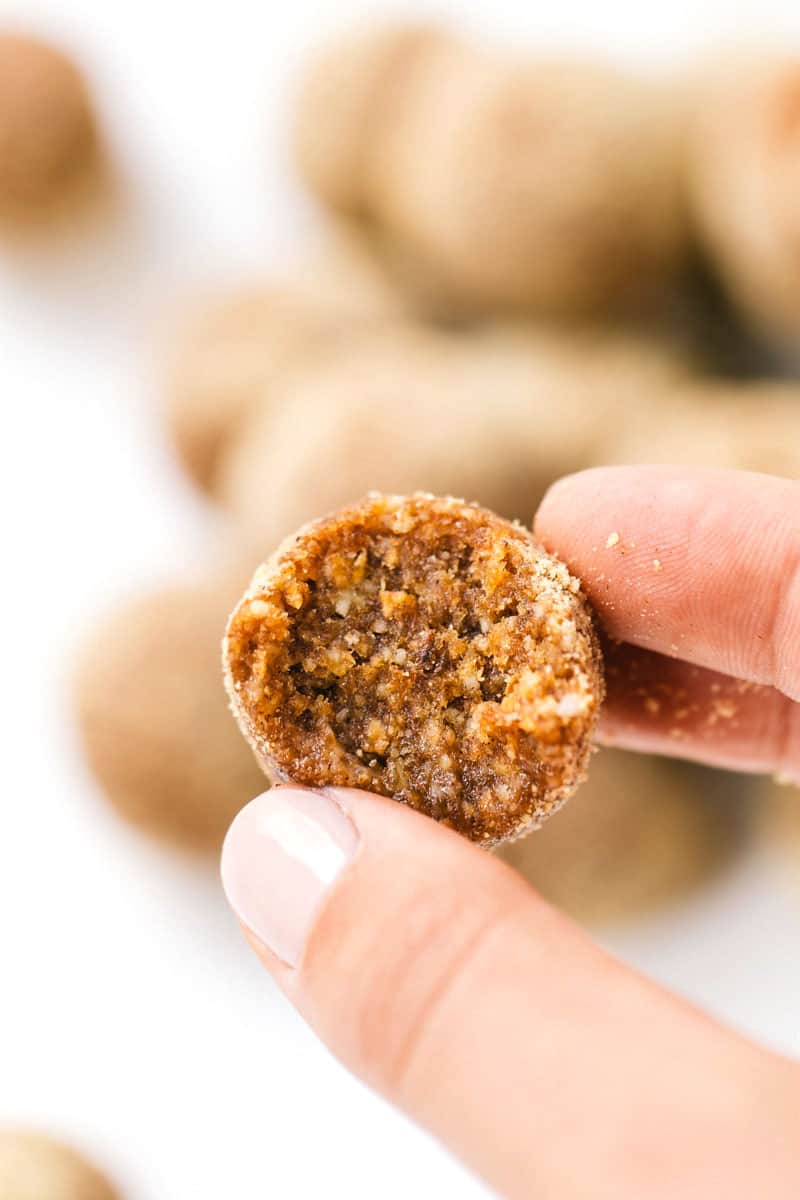 How to Customize Your Recipe
There really is no end to the possibilities with your flavor combos for energy balls! You'll see some of my favorite recipes below, but if you're trying to get creative, here are the places you can change things up:
Dried Fruit: dates, figs, dried apples/mangoes & dried berries all work
Nuts/Seeds: use any combination you'd like (I love adding coconut)
Flavored Powders: adding things like cacao or protein powder is a great way to change up the flavor!
Spices: just like with cooking, you can add spices to transform your flavors! Some of my favorites are cinnamon, nutmeg, turmeric, vanilla and pumpkin pie spice!

How Long Can You Keep Energy Balls?
There are two different ways to store your energy balls: in the fridge or in the freezer. While they can definitely also be stored at room temperature, I personally find the texture to be better if you keep them chilled. And a bonus is that they'll also last a long longer!
Here's how long you can keep energy balls:
Fridge: 1 – 2 weeks
Freezer: 3 – 6 months
But again, if you're anything like me, you'll probably plow through a batch and you won't even have to worry about them lasting ????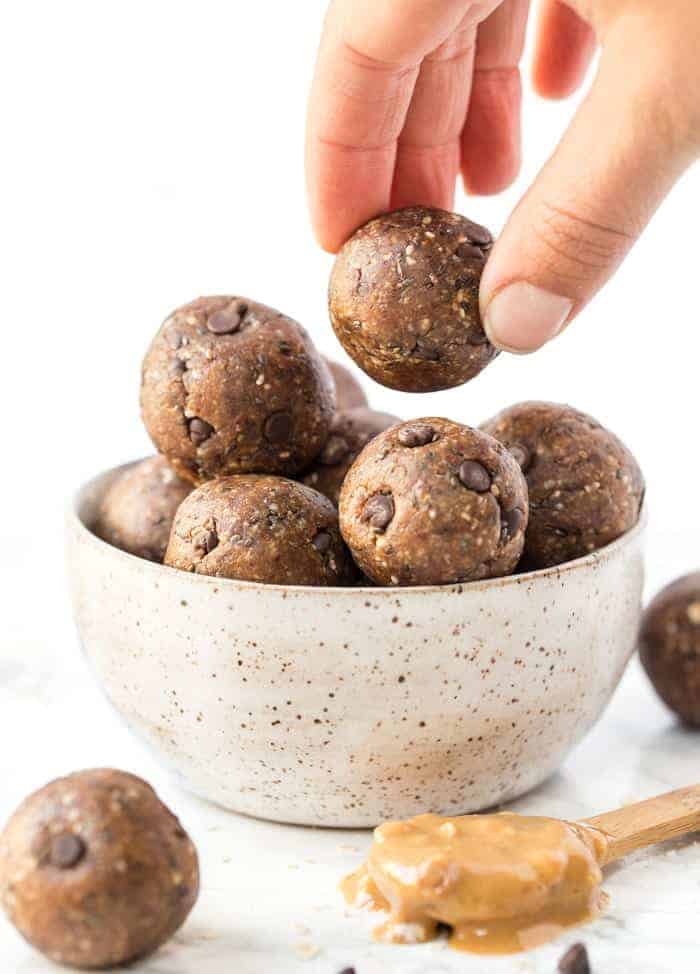 Troubleshooting Tips
Now that we have the basic recipe laid out, let's talk about customization! There really is no end to the possibilities with your flavor combos, but here are some of my best tips:
Use at least ½ cup of a sticky dried fruit (like dates or dried figs)
Nuts & seeds can be changed out for anything, as long as it adds up to that 1 cup
You can swap up to ⅓ cup of the nuts and seeds for oats/quinoa flakes
If you add cacao powder (or any other powder-like protein powder, etc.) increase the nut butter or oil by at least 1 tablespoon for every 2 tablespoons of powder
If the mixture isn't coming together & you don't want to add more oil/nut butter, add some water (but no more than 2 tablespoons per recipe)
VIDEO: How To Make Energy Balls
Here's a link to our other energy ball videos!
Our 10 BEST Energy Ball Recipes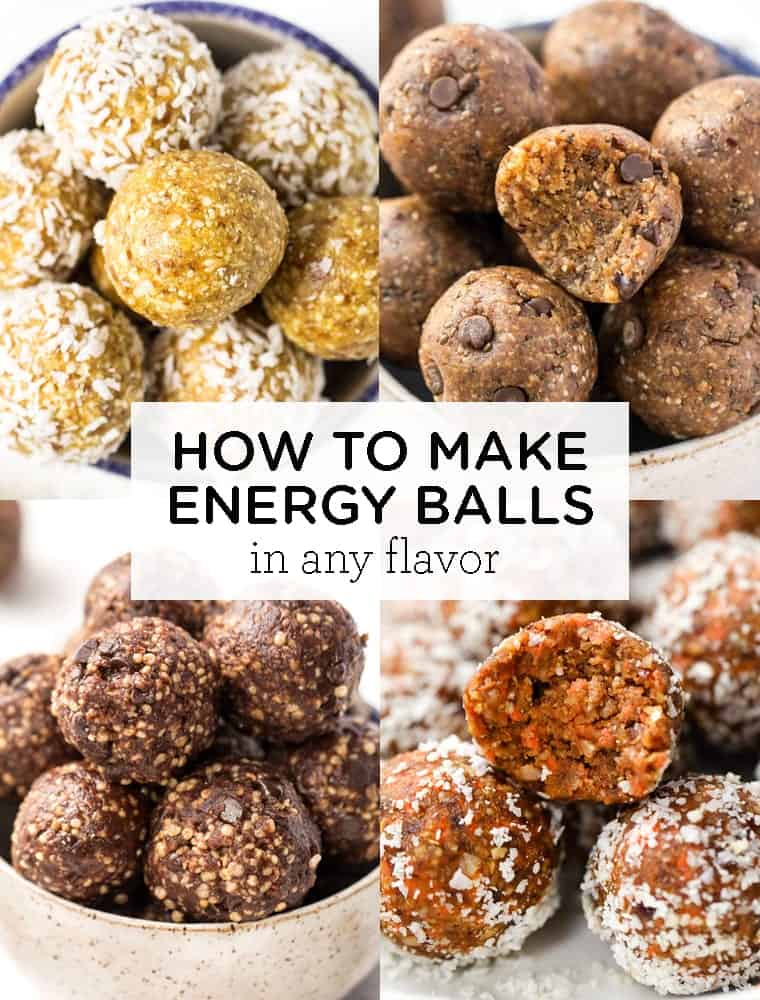 share what you make
Tag #simplyquinoa on Instagram with your creations! We love sharing what you make with the community. We can't wait to see!

follow on instagram