This healthy dairy-free quiche is flavored with leeks and mushrooms. Easy to make, delicious, and with a flakey grain-free almond flour crust.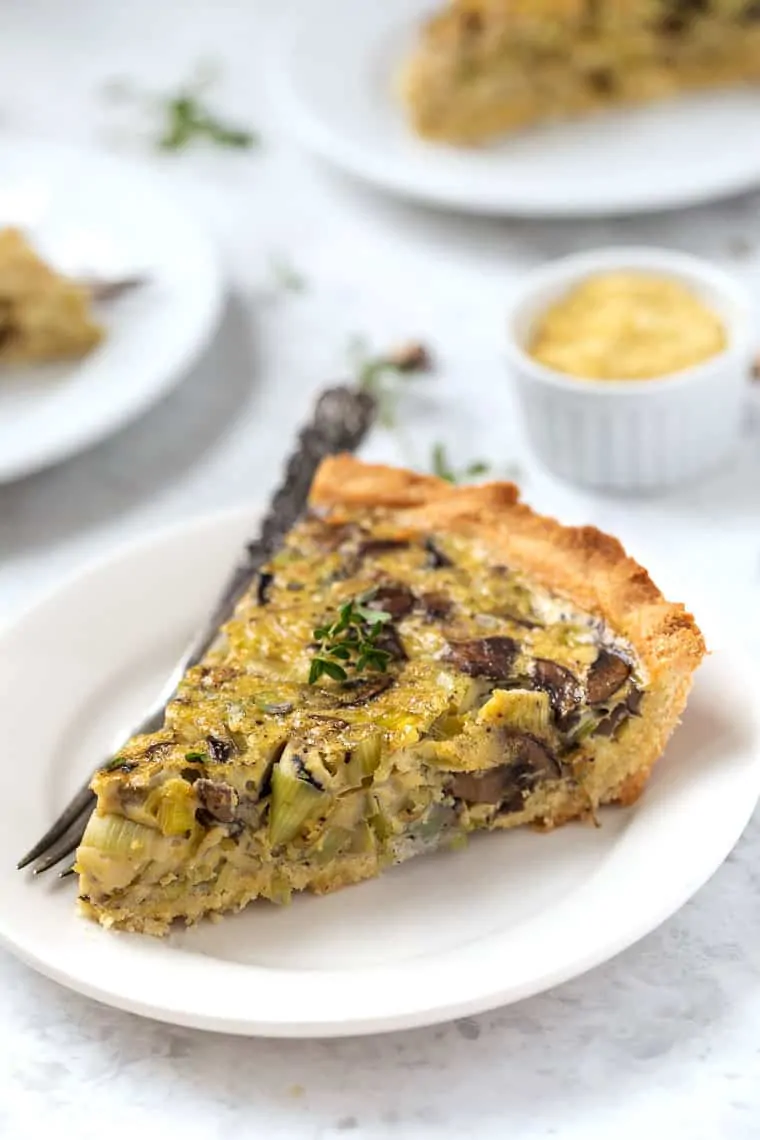 Quiche has been one of my favorite dinner foods since I was a kid. I know they're more traditionally enjoyed as a breakfast or brunch, but my parents used to make quiche for dinner all the time growing up and I just loved it!
And now that I have the perfect gluten-free pie crust recipe, it makes it even easier to make gluten-free and dairy-free!
So today I'm going to show you my favorite gluten-free dairy-free quiche made with mushrooms, leek, garlic and fresh thyme. This quiche is simple to make, and absolutely delicious!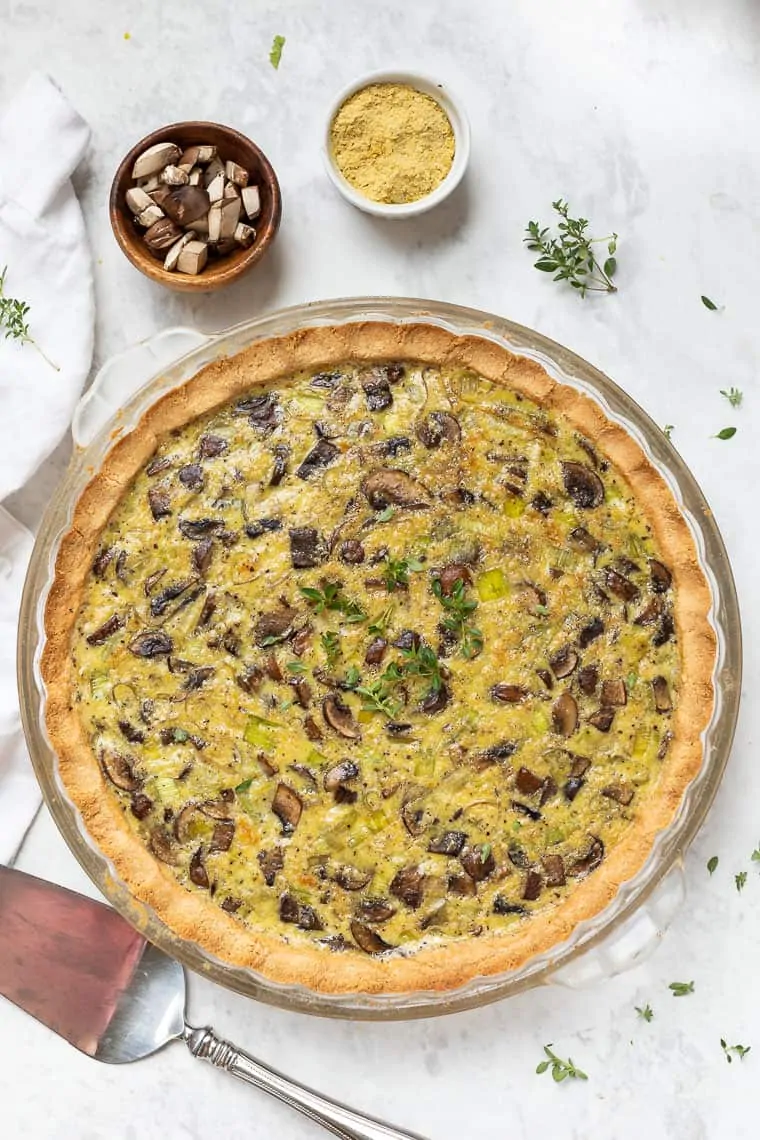 Is Quiche Healthy for Breakfast?
Quiche is actually a super healthy breakfast! It's primarily made of eggs, so you can kind of think of it as a large omelet with a crust. Quiche is high in protein,  easy to sneak in lots of veggies, and it also keeps really well which makes it great for meal prep!
How to Make Quiche Healthier
Traditional quiche is made with heavy cream and lots of cheese and is served inside a buttery crust. But it's also really easy to make healthier. In our dairy-free quiche, we're swapping the milk, cheese, and butter for healthier alternatives like almond milk, nutritional yeast and a butter-free pie crust.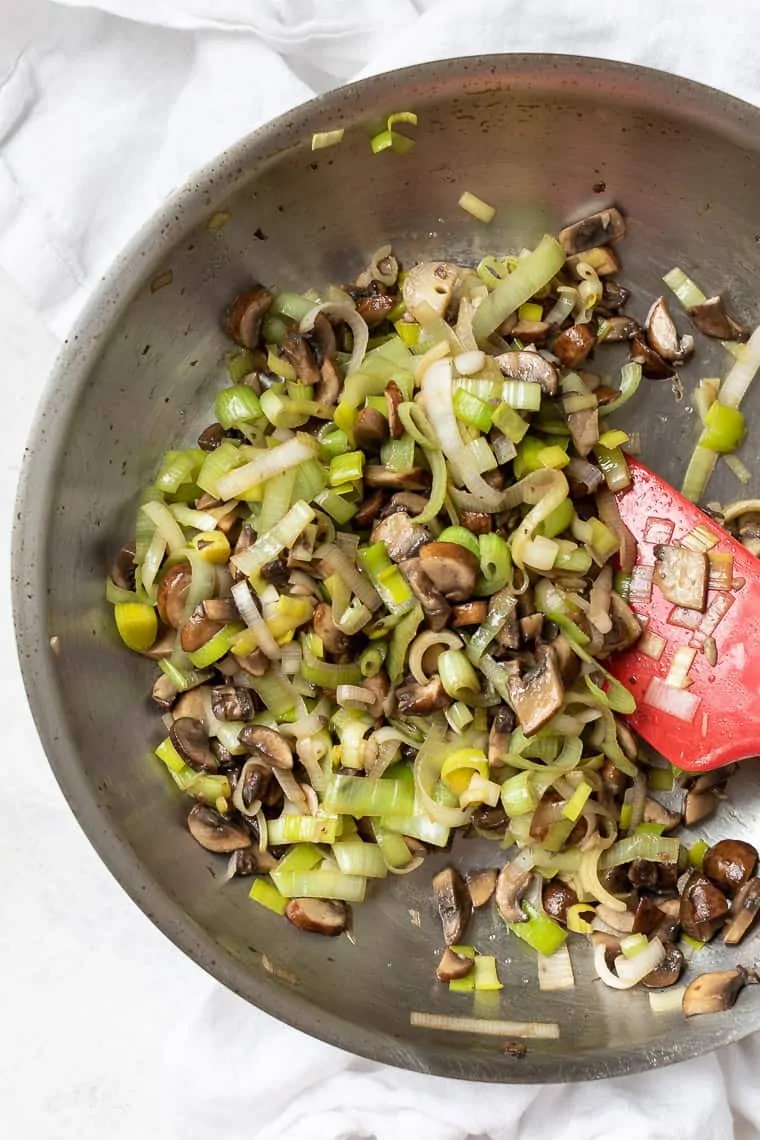 What You'll Need for This Recipe
Pie crust: for this recipe, we're using my almond flour pie crust which is grain-free and butter-free! The crust stays crispy, but it also adds some extra protein to the dish which is an added bonus!
Eggs: the base of any quiche is eggs, so we're keeping things traditional there.
Almond milk: instead of cream/milk, we're swapping with unsweetened almond milk. I think you could also add a bit of cashew cream if you're wanting to make it a tiny bit richer.
Nutritional yeast: instead of cheese, we're mixing in some nutritional yeast. This adds the cheesy flavor while still keeping it dairy-free!
Mushrooms: I wanted to add some veggies in and personally love mushrooms! If you don't, feel free to swap with another veggie.
Leeks: these are the perfect complement to the mushrooms, but they do have an onion-y flavor, so you can definitely swap the leek with onion or shallot.
And then we're just adding in some flavor options like garlic, fresh thyme, salt, and pepper.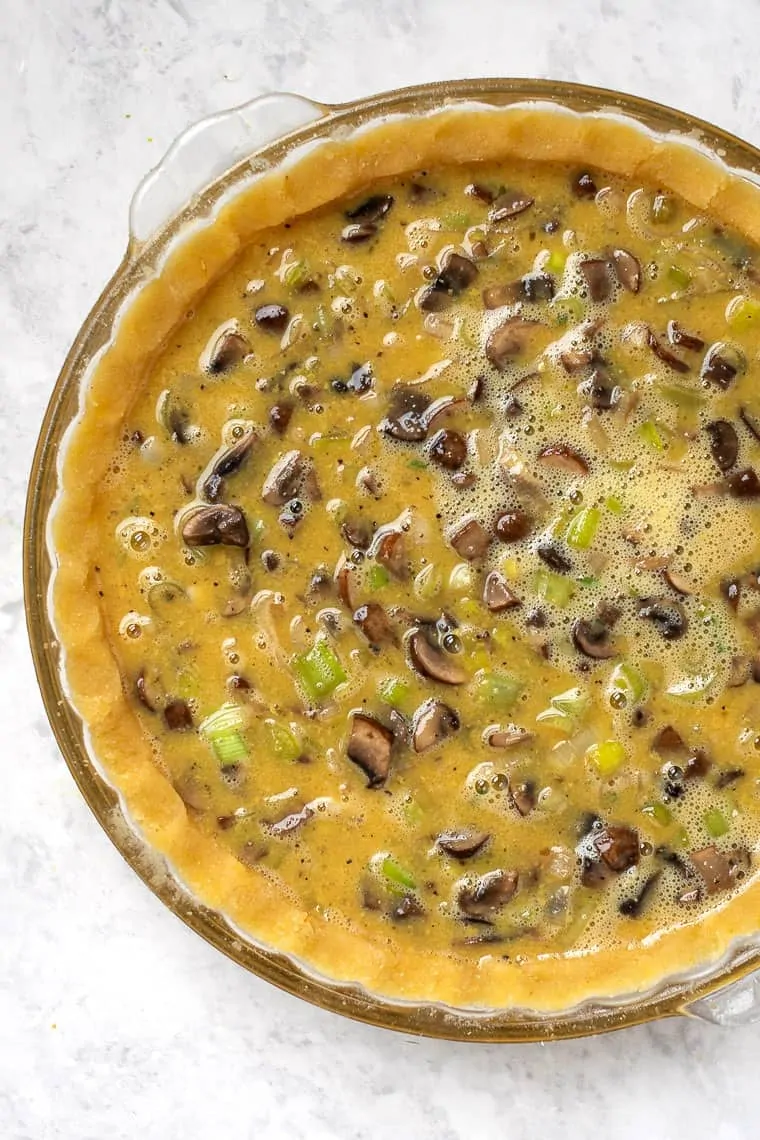 How to Make Dairy-Free Quiche
There are a few steps to follow when making a quiche. You've got your crust, your filling and your baking. But overall, this recipe is quite simple to make!
STEP ONE: Saute
First up, we need to saute our veggies. Once you've got your oil heated in the pan, you'll just quickly sautee your garlic, mushrooms and leek together until they're softened and fragrant.
STEP TWO: The Filling
Allow the veggies to cool slightly and then make the filling by beating together the eggs, milk, nutritional yeast and seasonings. Then fold in your veggies and set this aside.
STEP THREE: The Crust
Whip up the crust in your food processor and then use your hands to press it into your pie plate (this isn't the kind you roll out). Pour the filling into the crust.
STEP FOUR: Bake
And lastly, pop that beautiful dairy-free quiche into the oven and bake it up until it's browned and has just a slight wiggle to it.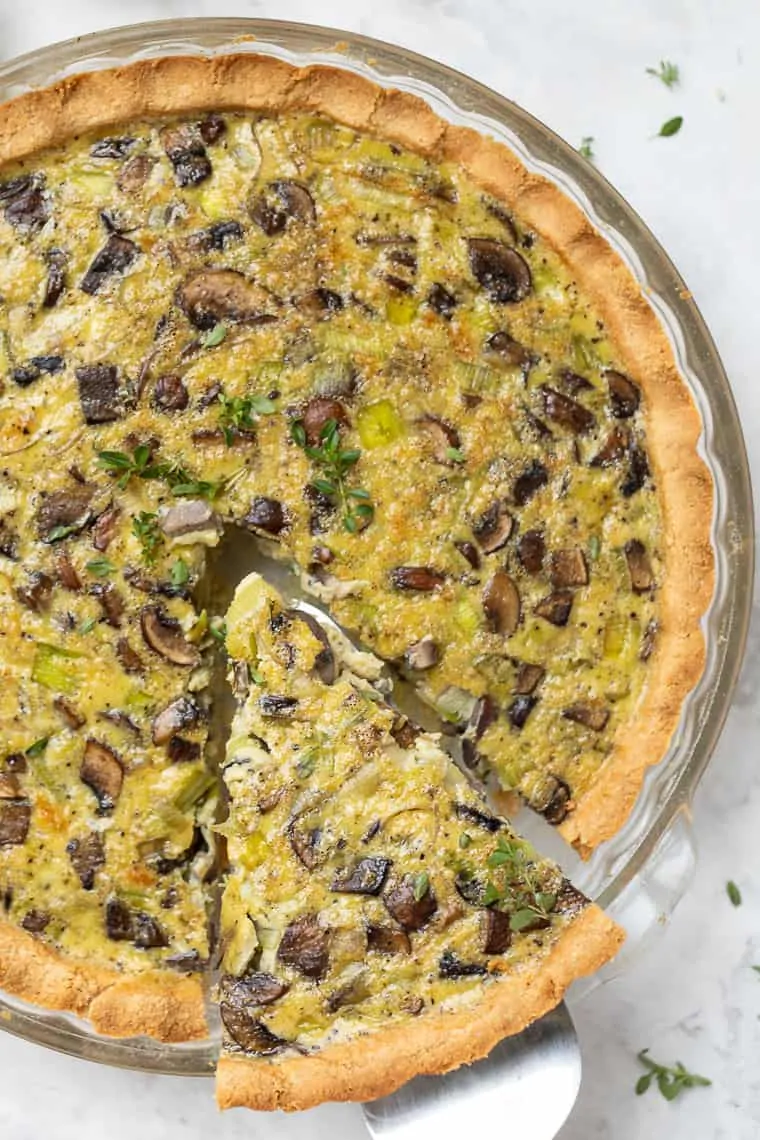 Tips for Storing + Reheating Quiche
Now that you've got your quiche beautifully baked, let's chat about storage. In the off chance you don't finish the entire quiche in one sitting, it makes awesome leftovers!
I recommend keeping it stored in your refrigerator for 3 – 4 days and then reheating it as you'd like. Although I will say, quiche is pretty delicious cold!
To reheat, either pop it in the microwave or in the toaster until it's heated through. Serve with a side of greens, or maybe some roasted veggies. And then a drizzle of everyday tahini sauce doesn't hurt either 😉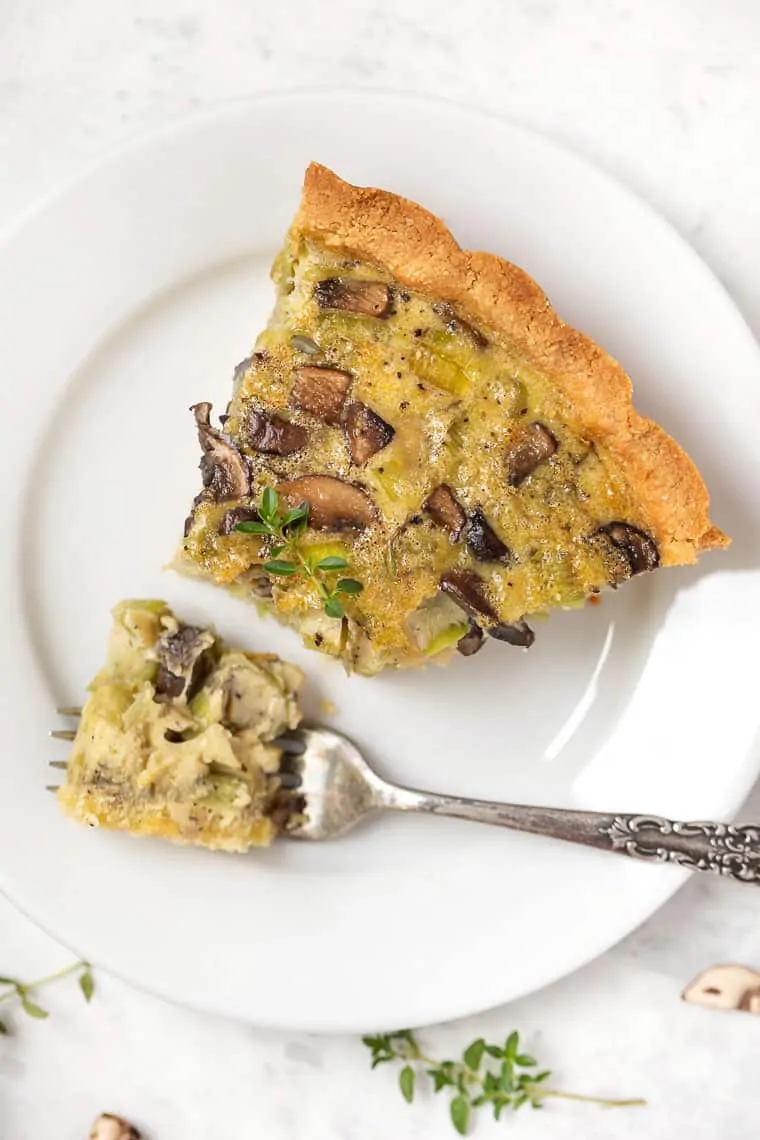 More Delicious Dairy-Free Breakfast recipes
Leek + Mushroom Dairy-Free Quiche
This healthy dairy-free quiche is flavored with leeks and mushrooms. It's easy to make, with a flakey grain-free almond flour crust and the perfect amount of fresh herbs.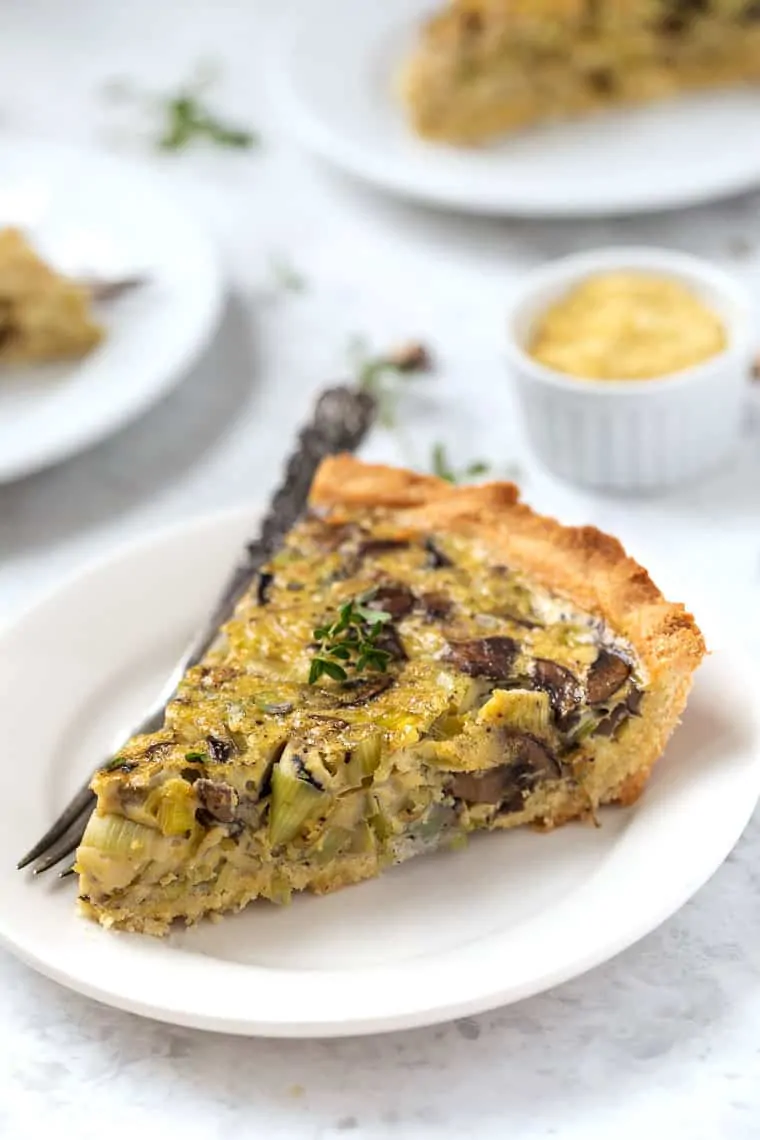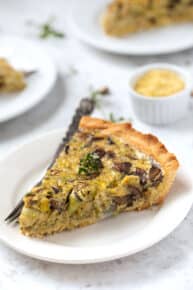 Ingredients
for the filling:
1

tbsp

olive oil

2

garlic cloves

, minced

1

leek

, thinly sliced

8

oz

mushrooms

, sliced

6

eggs

½

cup

almond milk

¼

cup

nutritional yeast

1

teaspoon

fresh thyme

Salt & pepper
Instructions
Preheat the oven to 375ºF. Grease a 9" pie dish and set aside.

For the filling, heat the olive oil in a large pan. Add the garlic, mushrooms, and leek and saute until softened, about 3 minutes. Remove from the heat and allow to cool for about 5 minutes.

In a large bowl, mix together the eggs, almond milk, nutritional yeast, salt, pepper, and thyme. Fold in the veggies. Set aside.

To the bowl of a food processor, add the crust ingredients. Process until a dough starts to come together. You should be able to squeeze it between your fingers and it will hold together.

Dump the "crust" into the pie dish and press it into the bottom and then up the sides. Feel free to smooth the edges over with your fingers.

Pour the filling into the crust. Place on the center rack of the oven and cook for 30 minutes.

Remove from the oven and allow to cool for a few minutes. Sprinkle with a bit more fresh thyme, slice and serve.
Nutrition
Serving:
1
slice
|
Calories:
269
kcal
|
Carbohydrates:
10
g
|
Protein:
12
g
|
Fat:
22
g
|
Saturated Fat:
3
g
|
Cholesterol:
123
mg
|
Sodium:
167
mg
|
Potassium:
193
mg
|
Fiber:
4
g
|
Sugar:
2
g
|
Vitamin A:
497
IU
|
Vitamin C:
2
mg
|
Calcium:
107
mg
|
Iron:
2
mg
Filed Under: