This healthy tofu red curry is flavorful, saucy, and easy to make! Full of tons of fresh vegetables and crispy tofu, this is the ultimate vegan curry!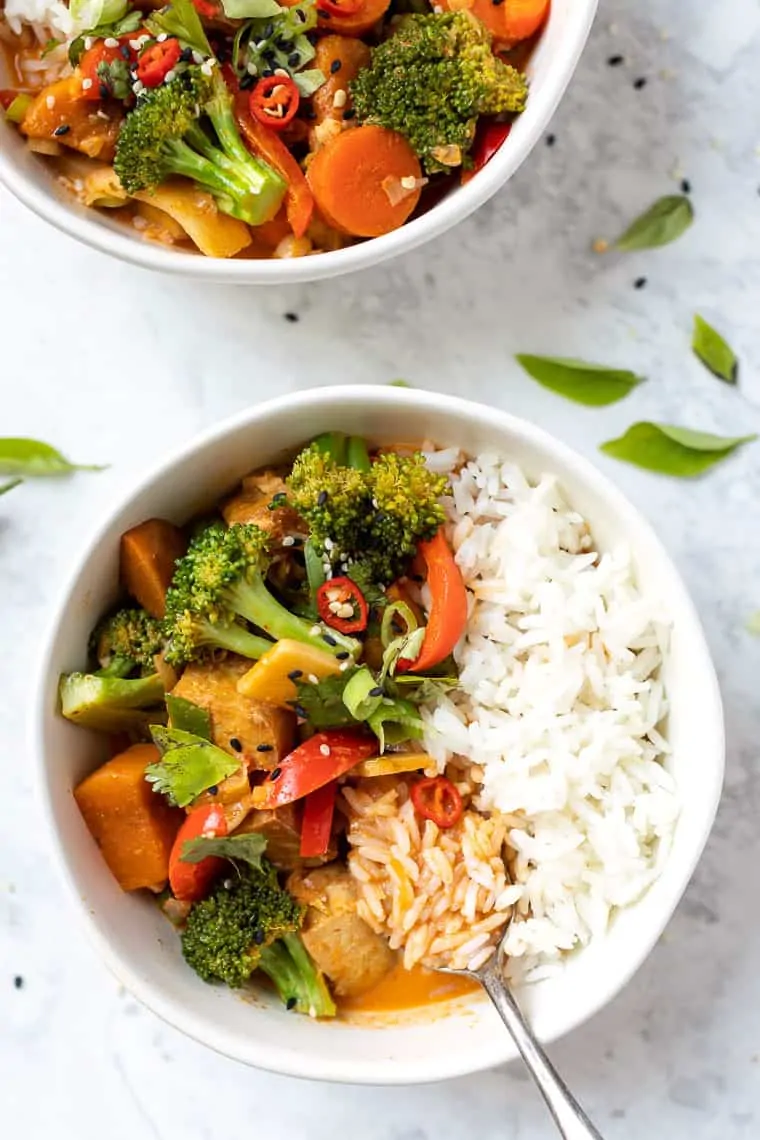 If I could choose one take-out option for the rest of my days it would be red curry. I just love everything about it. I love its rich coconut flavor. Its ample veggies. And the way that the rice soaks up all its sauciness.
I've always wanted to recreate this favorite and don't know why I haven't before now. Now that we're home more, ordering takeout less, my curry craving got the better of me and I tried to create my own version.
Now is this the most authentic Thai red curry in the world? No, it's not. But this tofu red curry is absolutely delicious, it's easy to make and I know you're going to love it!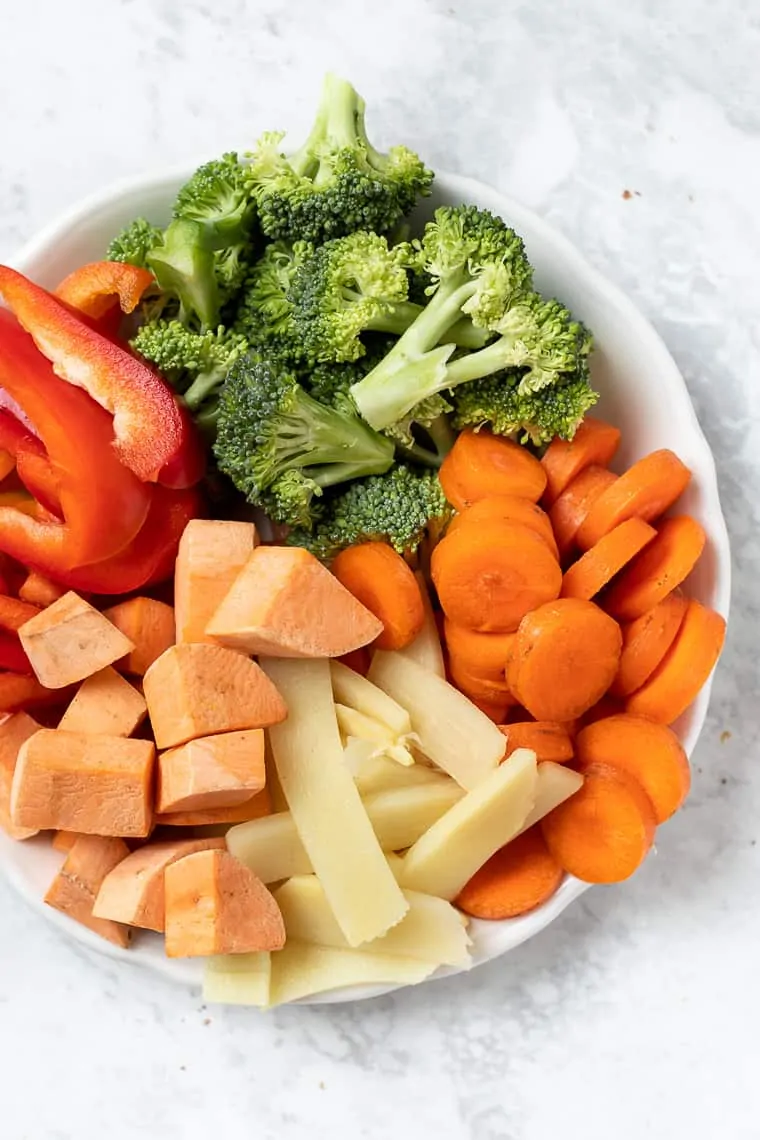 What Veggies To Use In Red Curry
One of the main reasons I love curry is how welcoming it is to vegetables. You can pretty much use any type of vegetables you'd like, but here's what I decided to add into today's recipe:
Sweet potatoes: they're sweet, they're tender and they love to soak up flavor
Broccoli: I love how the little florets capture the curry sauce and practically burst in your mouth
Carrots: a veggie I see in most red curry recipes – they're also sweet and tender like the potatoes
Red peppers: I love adding peppers into curry because they add a bit of freshness
Bamboo shoots: not something I've ever personally bought before, but an ingredient I notice often in my takeout version and you know what?  I loved it!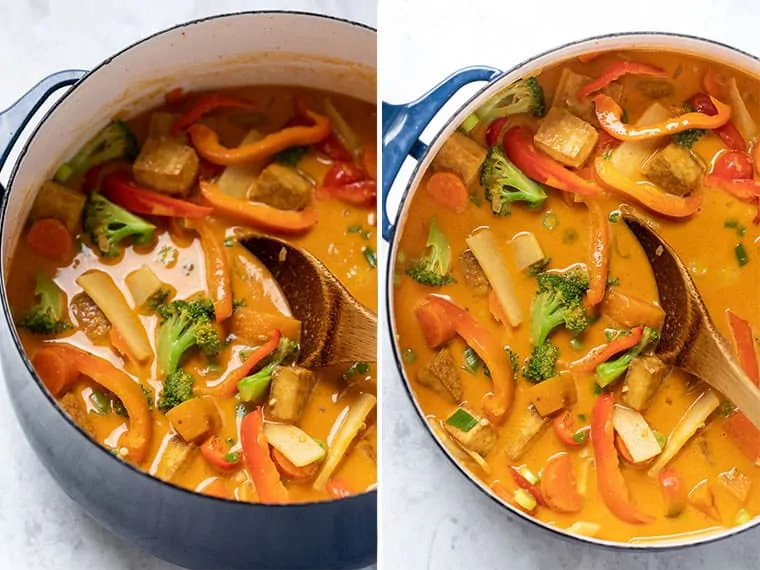 How to make Tofu Red Curry
This isn't a traditional Thai red curry because we're not making the red curry paste by hand. We're slightly cheating by using storebought red curry paste, but I personally love the flavor of this one and find that it works quite well. If you do want to try making your own red curry paste at home, you can follow this recipe.
Here's how to make our tofu red curry:
STEP ONE: The Tofu
Ever notice that the tofu you get in curries is crispy on the outside, but soft on the inside? That's because it's deep-fried. I didn't feel like deep frying anything but did want to get a similar result, so opted for making my crispy baked tofu recipe. It's a bit healthier and still has a really nice texture in the final product.
STEP TWO: The Sauce
Next is our sauce. Since I (and you all) loved my 30-minute red curry noodle bowls so much, we're actually using a similar sauce. It's got great flavor! But how we're changing things up this time is by simmering and cooking the veggies in the sauce. It brings out the flavor even more and really makes the veggies pop.
STEP THREE: Combine + Serve
The final step is to add your tofu in with the veggies and serve it up! It should take about 30 minutes to cook (most of which is simmer time) and about 10 minutes to prep. So all in you're looking at about 40 minutes which isn't too bad!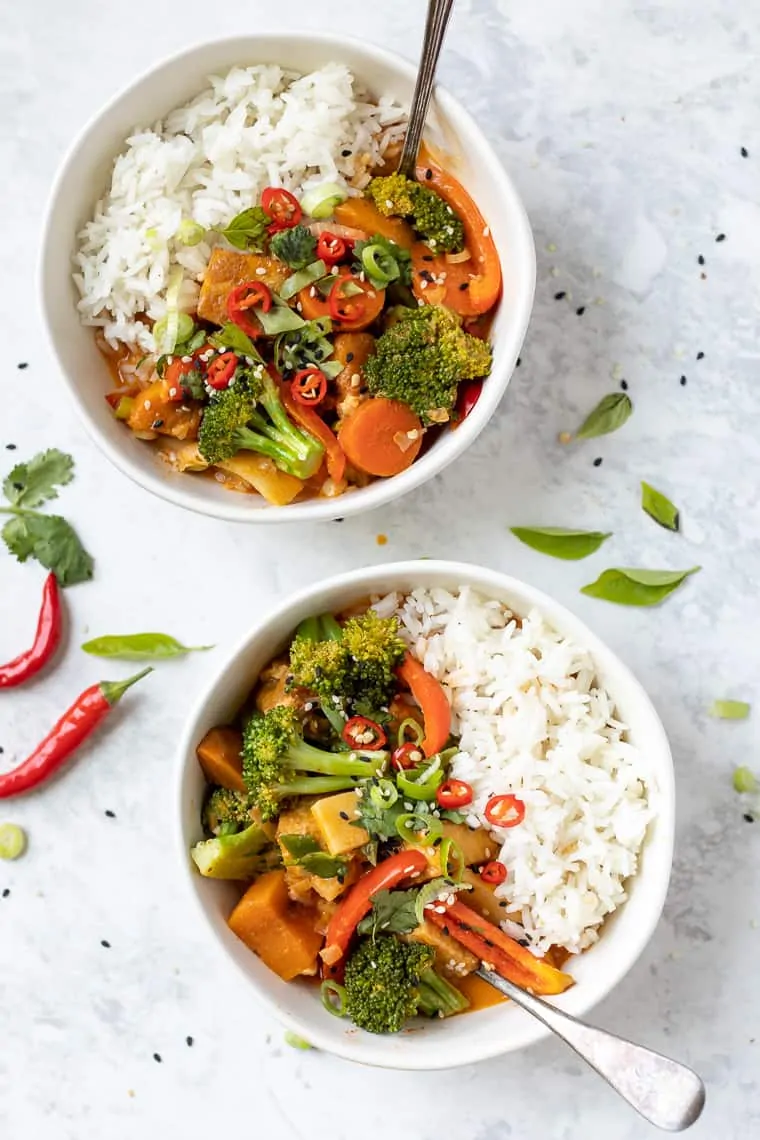 What to Serve with Red Curry
Now if you're wondering what pairs well with red curry, I have a few thoughts. First, I personally think that the first time you make this, you should keep it traditional. Then have some fun with the other options!
Ideas for what to serve with red curry: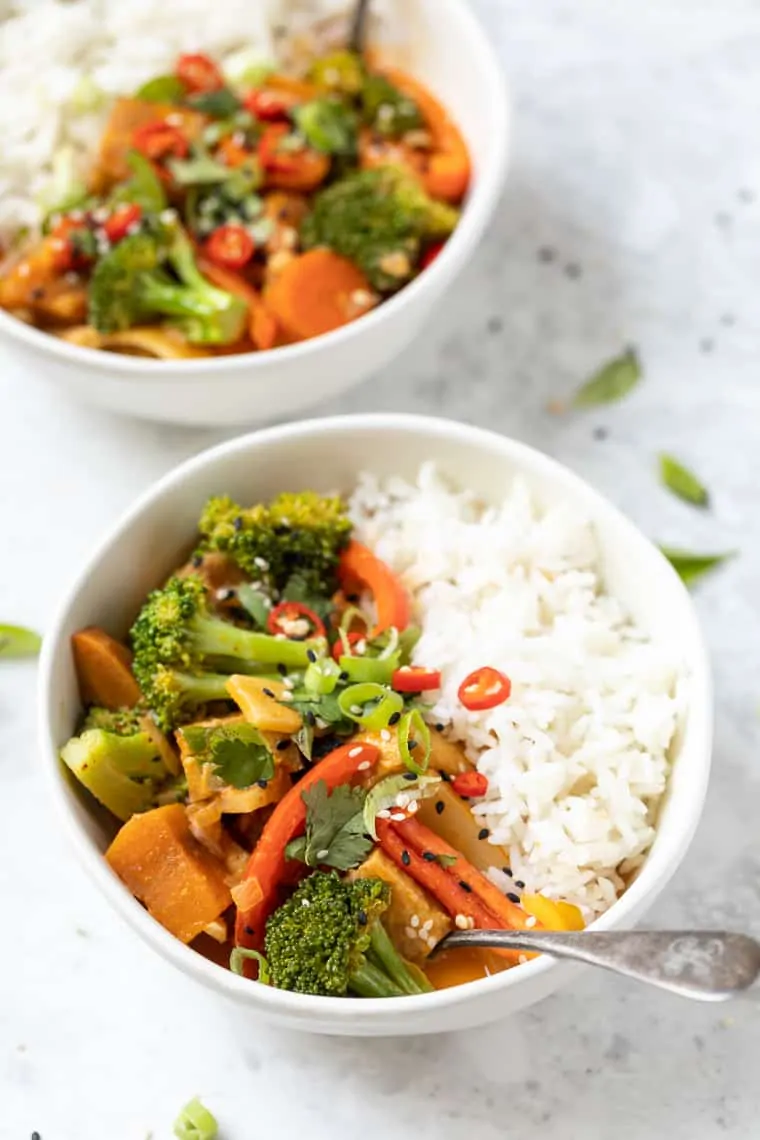 Can You Meal Prep Curry?
In a few of my other curry recipes, I've gotten some questions about storing and keeping curry, so wanted to clear those up before we get into the recipe.
Yes, you can absolutely meal prep curry! I like to make a big pot of this and keep it in my fridge for the week. It should last at least 4 – 5 days in the fridge and can be reheated on the stove or in the microwave.
Can You Freeze Curry?
And secondly, yes you can also freeze red curry. You'll want to let it cool completely before putting it into an airtight container and popping it into the freezer. From there, I would recommend letting it thaw at room temperature and then heating it on the stove. For some reason I find the veggies hold their shape a bit better and don't get quite as mushy.
Otherwise, I think you're ready to dig into a nice big bowl of tofu red curry, don't you!?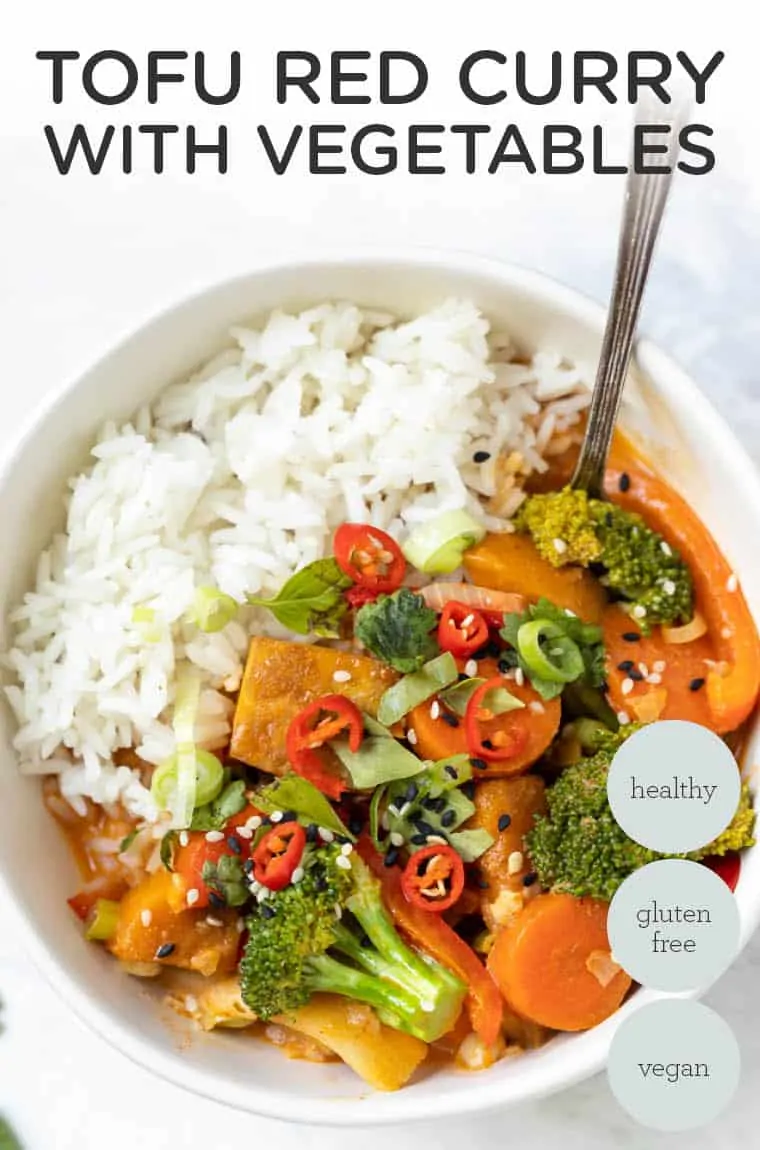 More Tasty Curry Recipes to try:
Tofu Red Curry with Vegetables
This healthy tofu red curry is flavorful, saucy and easy to make! Full of tons of fresh vegetables and crispy tofu, this is the ultimate vegan curry!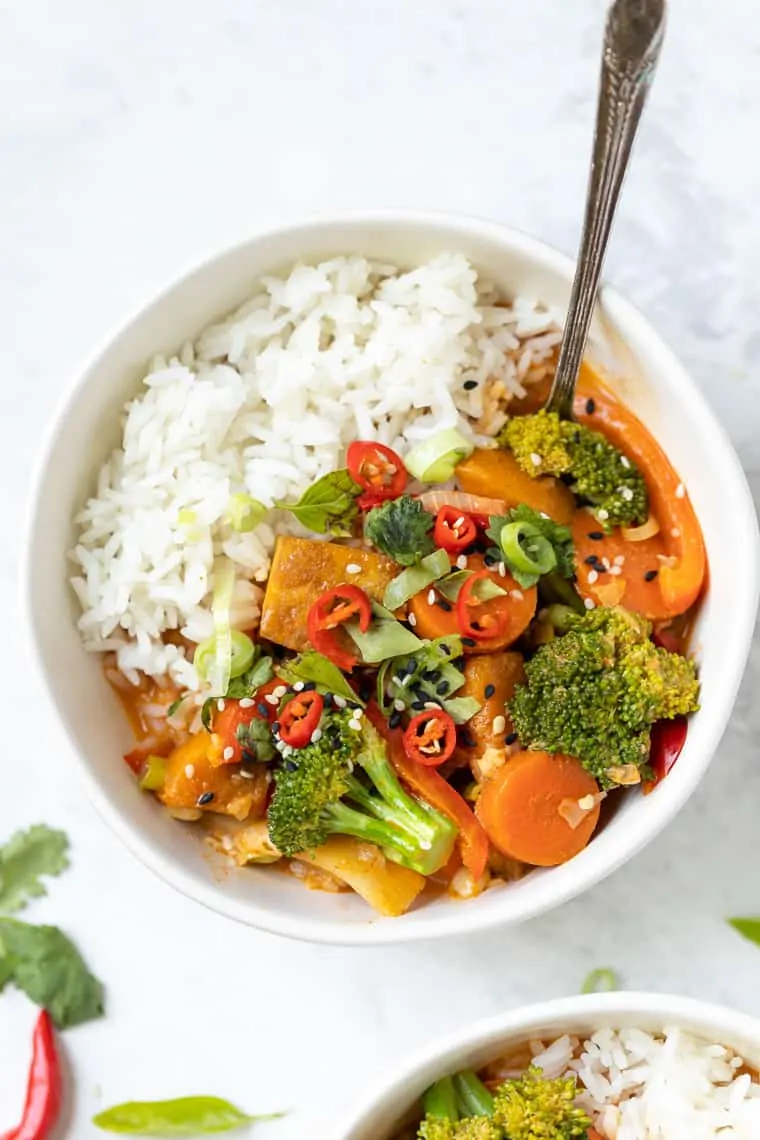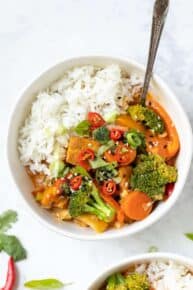 Ingredients
Instructions
Prepare the tofu: Preheat the oven to 425ºF and spray a pan with cooking spray. Cut into cubes and add to the pan. Spray with another layer of cooking spray, sprinkle with salt & pepper and bake for 30 minutes, flipping halfway through.

Prepare the curry: While the tofu is cooking, heat the oil in a large skillet and add the shallot, garlic, and ginger. Saute for 2 minutes until the garlic is fragrant. Add the red curry paste, coconut milk, and tamari, and bring to a boil. Add the veggies (minus scallions), stir them into the broth and turn down the curry to a simmer. Simmer until the potatoes are tender, about 15 minutes.

When the tofu is done, add it into the pot and cook another few minutes.

To serve: separate the rice between four bowls. Scoop curry on top of the rice. Garnish with sliced scallions, fresh herbs, and sesame seeds if desired.
Nutrition
Calories:
694
kcal
|
Carbohydrates:
75
g
|
Protein:
18
g
|
Fat:
36
g
|
Saturated Fat:
30
g
|
Sodium:
626
mg
|
Potassium:
985
mg
|
Fiber:
6
g
|
Sugar:
9
g
|
Vitamin A:
13872
IU
|
Vitamin C:
96
mg
|
Calcium:
140
mg
|
Iron:
7
mg