This vegan pumpkin pasta bake is made with pumpkin instead of cream! It's got spinach, a pumpkin cream sauce, it's easy and also gluten-free!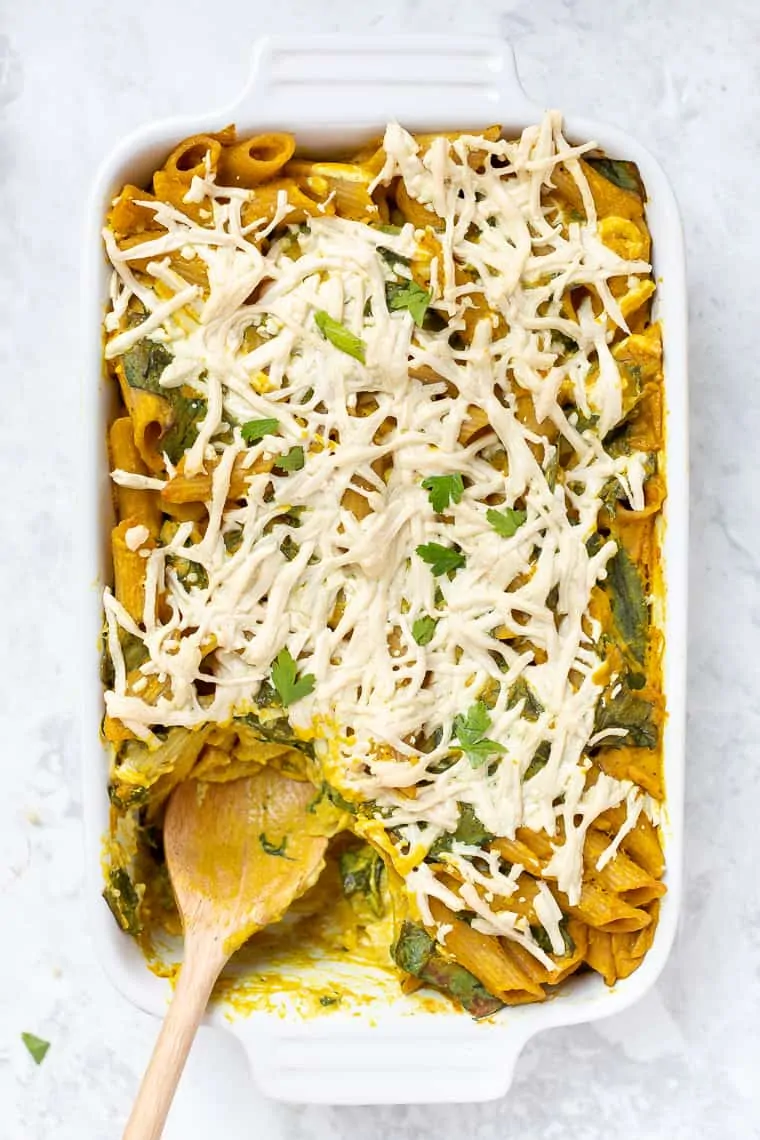 Today's recipe I've combined the best of both worlds: pumpkin and pasta. It's a perfect meal for those cold winter nights that lie ahead. Rich and creamy, and delightfully gluten-free, this baked pasta sticks to your ribs and will warm your soul.
Let's dream for a moment together. It's a cold fall night, we're curled up on the couch, our favorite movie is playing and we have a comforting bowl of this gluten-free pasta in our hands. Steaming, pumpkiny and oozing with cheeze sauce.
Are we on the same page? That's what you can look forward to with this vegan pumpkin pasta! I mean really…is there anything better than pasta?!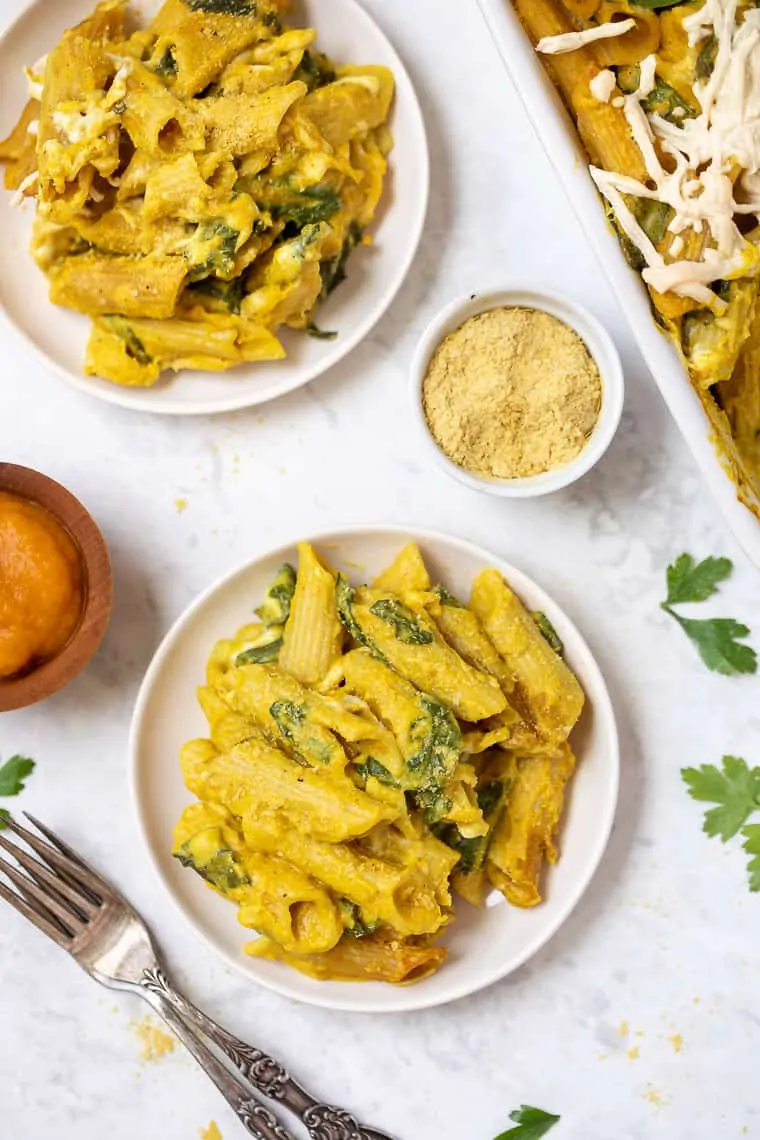 The Coziest Vegan Baked Pasta
Let's come back to reality and talk about the pasta a little bit more. It's kind of like mac n' cheese only better. Yes, I said better. Why? That's simply because there's pumpkin in it. And pumpkin makes everything better.
Plus, this gluten-free pasta bake isn't loaded with all those added calories and fat that you're accustomed to with cheesy pasta dishes. The sauce is cheese-free. Only a little shredded cheese on top for the crunchiness factor, and that's it. The creaminess in this dish comes from the pumpkin. And that heavenly cheese flavor? That's from the nutritional yeast.
How can you go wrong with a healthy pasta bake? Low-calorie pumpkin, with poached shredded chicken, and almost no cheese, is exactly what I'm looking for. I could have this pasta for dinner. Every. Single. Night.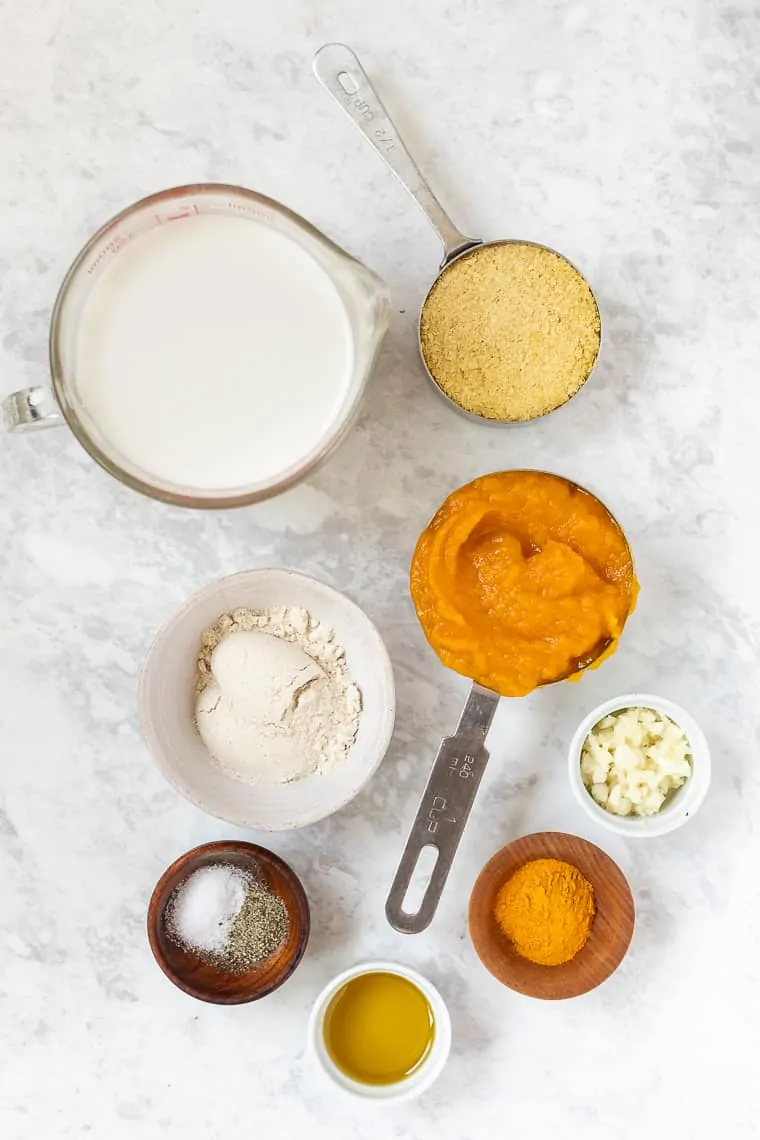 What You Need to Make Vegan Pumpkin Pasta
Luckily, I was able to keep things super simple and clean in this recipe. The only "processed" ingredient is the vegan cheese on top and that can totally be skipped! Here's what you'll find inside:
Gluten-free pasta: whichever shape or type you want to use is completely fine!
Olive oil: a high-quality olive oil adds a nice rich flavor and helps with the sauteeing of the garlic
Garlic: we're using lots (like 3 – 4 cloves) to really give this recipe a kick in flavor
Quinoa flour: this is used to thicken up our sauce (we're making a roux)
Almond milk: I like to use unsweetened almond milk, but any other unsweetened milk will work!
Pumpkin puree: what's amazing about pumpkin is that it doesn't have a huge flavor – it's kind of there subtly in the background, as well as helping to thicken up our sauce.
Nutritional yeast: this is my way to add a cheesy flavor without using actual cheese!
Turmeric: while it doesn't affect the flavor, I love the color that it brings to the dish – nice and pumpkin-y!
Spinach: not necessary, but a great way to sneak in some greens without affecting the flavor of the final dish.
And then if you want, you can throw on some vegan cheese!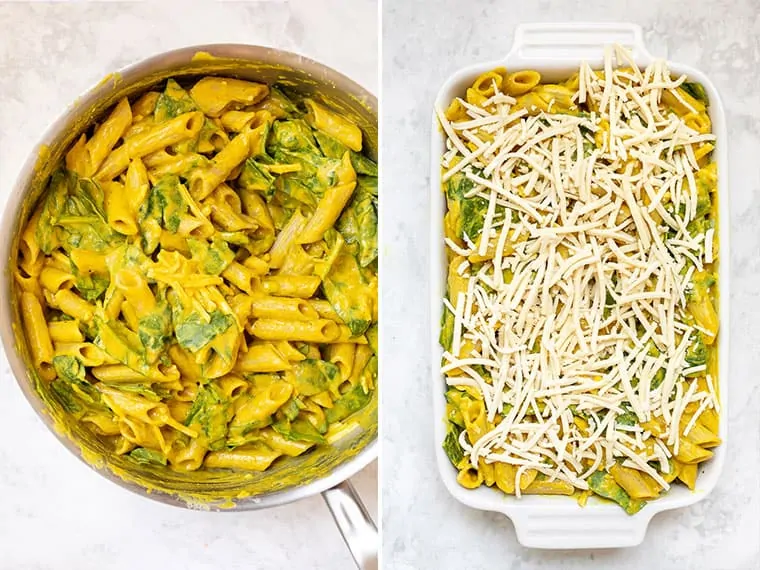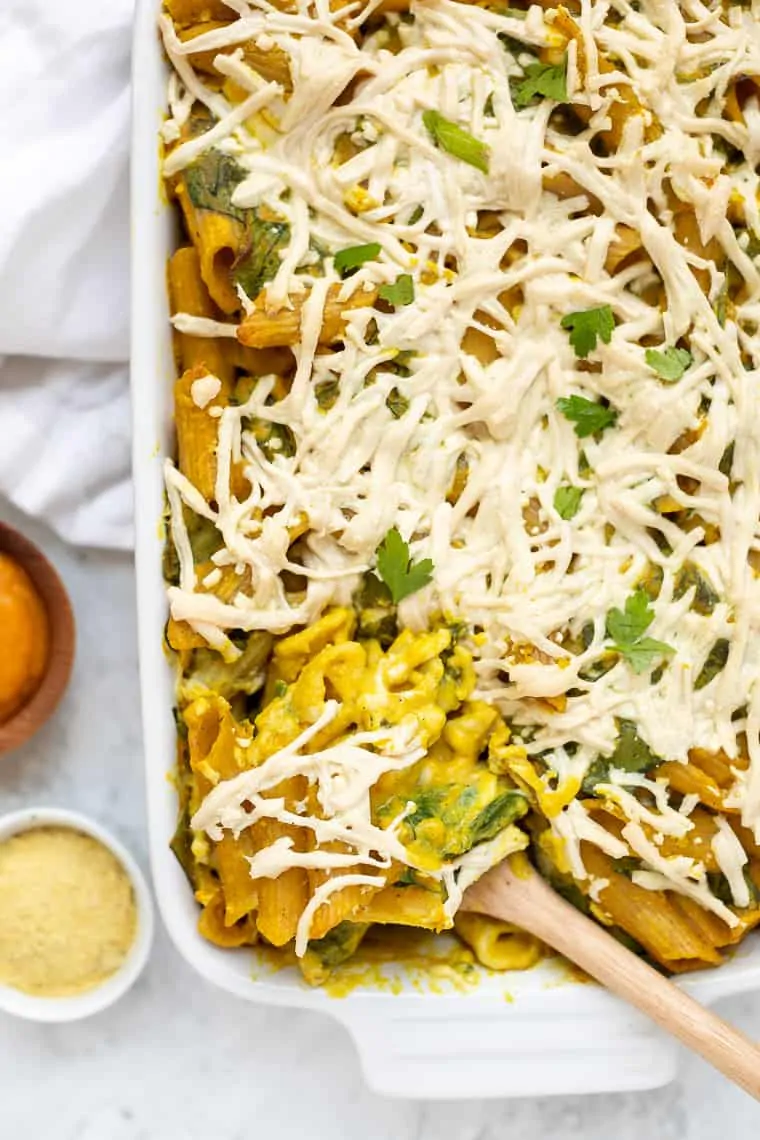 How to Make Baked Vegan Pumpkin Pasta
There are a few steps to follow with this recipe, but overall it's pretty darn easy!
STEP ONE: Pasta
First, cook your pasta. Just follow the directions on your package and cook it all the way through.
STEP TWO: Sauce
While the pasta is cooking, make your sauce. You'll start by sauteeing the garlic and olive oil. Once cooked, add the flour and slowly whisk in the milk. The mixture will start to thicken and as it does, you can stir in the pumpkin, nutritional yeast and seasonings.
STEP THREE: Mix
Drain the pasta and add it to the sauce. Mix it all together with the spinach until everything is combined.
STEP FOUR: Bake
And finally, bake it up! Transfer it into your dish, sprinkle on some vegan cheese if you want, and then bake it up until it's bubbly and golden brown!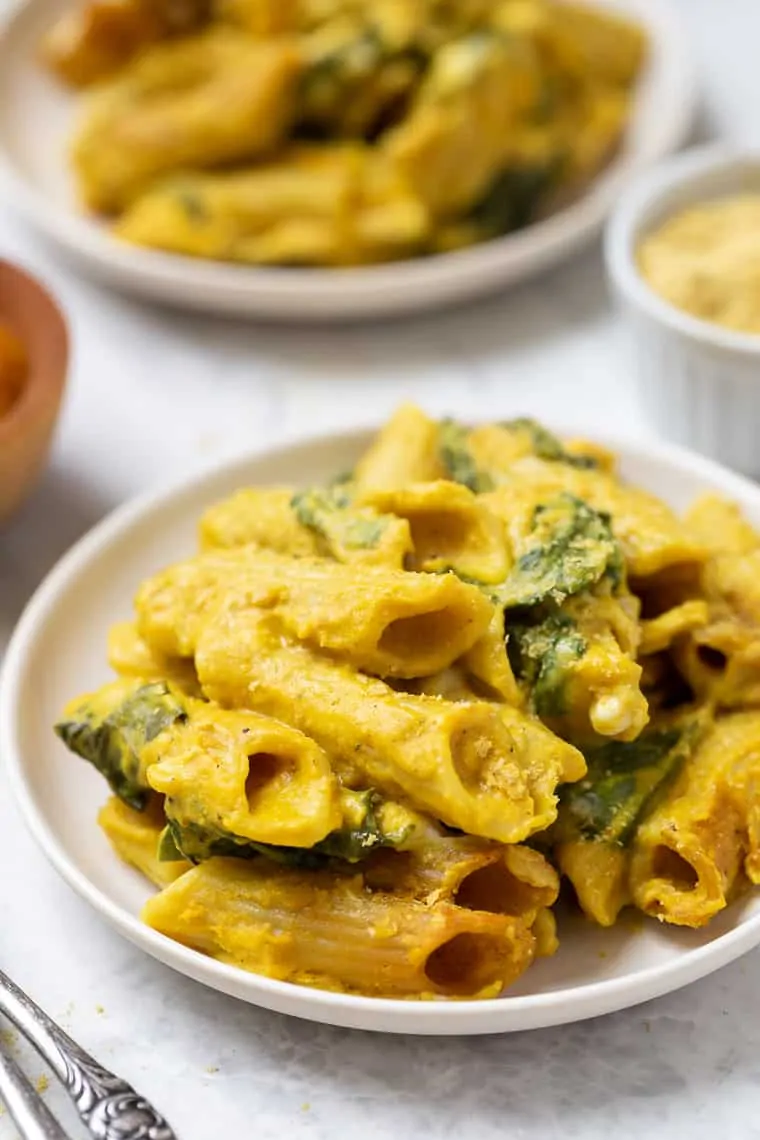 Best Way to Store Cooked Pasta
Pasta is an amazing thing to use for meal prep – especially this vegan pumpkin pasta that's baked like mac and cheese. The best way to store cooked pasta is actually in the fridge in a sealed container. With this recipe, I just cut mine into squares and keep the squares in Tupperware.
Best Way to Reheat Leftover Pasta
With leftover pasta, comes reheating your pasta. Pasta tends to dry out as it sits for extended periods of time, so I've found the best way to reheat is actually in the microwave. I like the microwave here because it's quick and doesn't create a lot of evaporation (i.e. more drying out).
If you don't have a microwave, you can reheat pasta in the oven or on the stovetop. In the oven, simply cover it and let it cook at 300ºF for about 15 minutes (or until heated through). For the stove, add a splash or two of water/milk and cook until heated.
Simple Swaps for our Vegan Pumpkin Pasta
Lastly, let's quickly talk swaps in case you need to make any changes:
Pumpkin: I'm assuming you like pumpkin if you're on this page, but on the off chance you don't/you dont' have any, you can replace the pumpkin with butternut squash or sweet potato.
Pasta: any type of pasta (minus spaghetti) will work. This could be gluten-free or not!
Nutritional yeast: if you can handle dairy, the best sub is parmesan. If you can't, you can leave it out, but it will definitely affect the flavor a lot.
Quinoa flour: any other grain-based flour will do the trick (although I would avoid starches).
Spinach: any other green will work! Broccoli would also be delish.
And if you have any more substitution questions, let me know in the comments! Hope you absolutely love this vegan pumpkin pasta as much as I did. It's such an awesome meal for the fall and winter!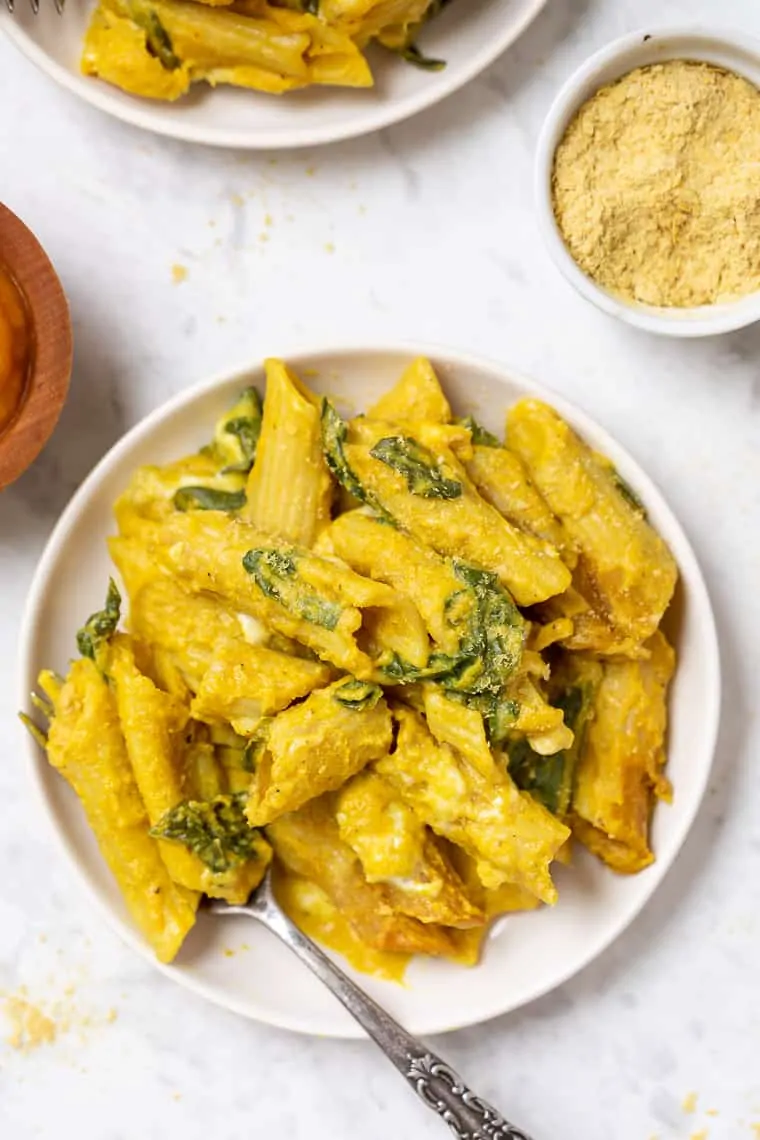 More Vegan Pasta Recipes to try:
Baked Vegan Pumpkin Pasta
This delicious pasta bake is made with pumpkin instead of cream! It's a vegan pumpkin pasta with spinach, a pumpkin cream sauce and it's also gluten-free!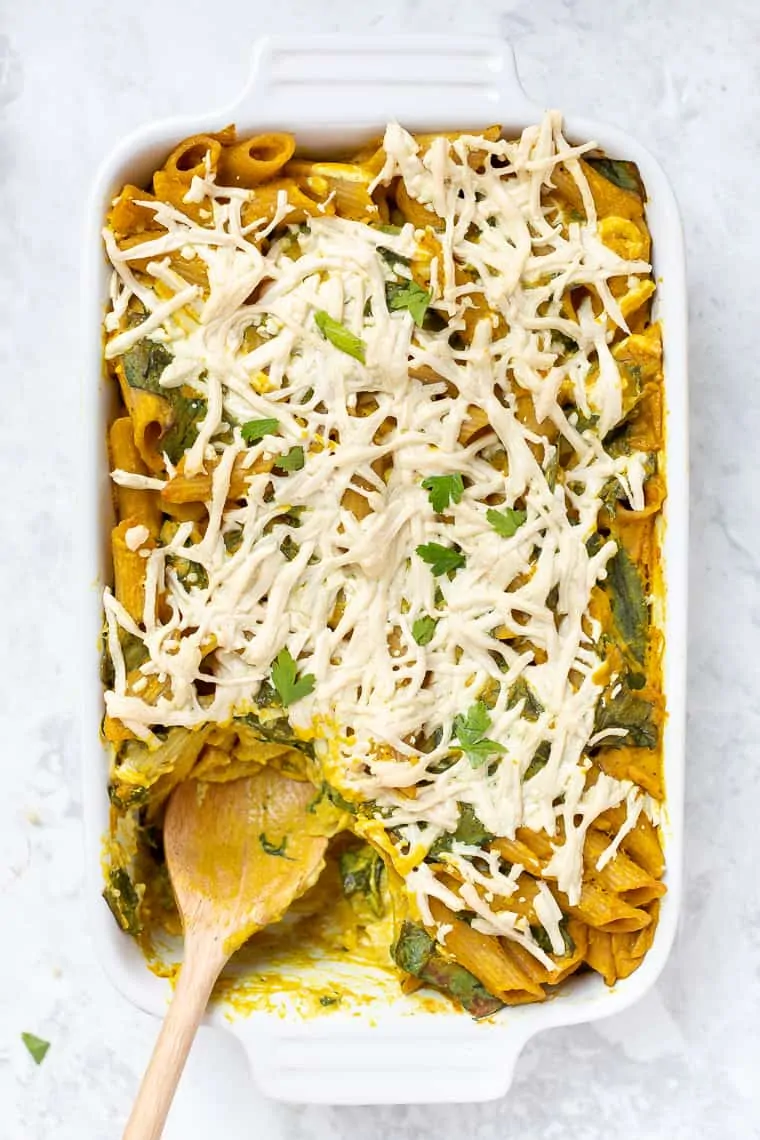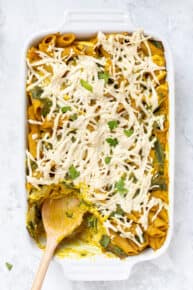 Instructions
Preheat the oven to 375ºF.

Bring another pot of water to boil and cook the pasta according to the package instructions.

Meanwhile, in a small sauce pan, heat the oil over medium heat and add the garlic. Saute until fragrant, about 2 minutes. Whisk in the flour, then slowly whisk in two cups of milk, whisking constantly until combined. Add the pumpkin and nutritional yeast and stir until slightly thickened, about 3 minutes.

Strain the pasta and transfer it to a large mixing bowl. Pour the pumpkin sauce over the pasta and stir until fully coated. Stir in the spinach and remaining 1/2 cup of almond milk.

Transfer the pasta to a large baking dish and cover with shredded cheese. Bake for 25 - 30 minutes until the cheese is browned.

Cool for 10 minutes and serve.
Nutrition
Serving:
1.5
cups
|
Calories:
396
kcal
|
Carbohydrates:
66
g
|
Protein:
11
g
|
Fat:
11
g
|
Saturated Fat:
2
g
|
Sodium:
666
mg
|
Potassium:
227
mg
|
Fiber:
4
g
|
Sugar:
1
g
|
Vitamin A:
7470
IU
|
Vitamin C:
16
mg
|
Calcium:
162
mg
|
Iron:
2
mg
Filed Under: