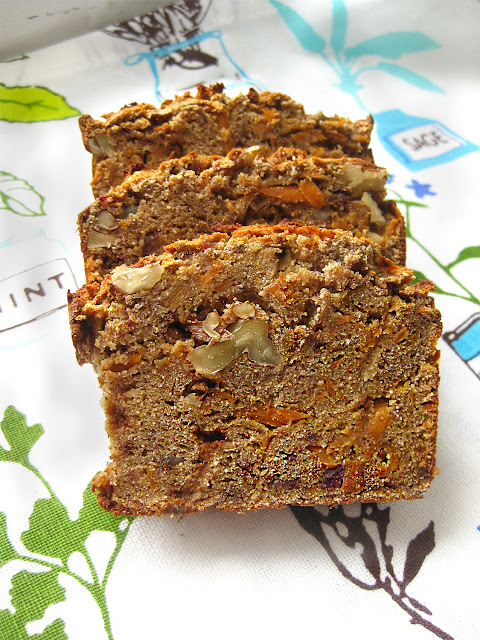 A new breakfast treat. Sweet and healthy.
I'm always looking for new breakfast ideas. It's the most important meal of the day, so when I'm reviewing recipes I look for ones that are extremely healthy. I want protein, not too much sugar, and tons of flavor. Of course, gluten-free and dairy-free are a given.
I'm a big fan of dairy-free smoothies, like my favorite Green Smoothie. I do love my pancakes, both Blueberry and Buckwheat. I love French Toast and Granola. Cereal and Oatmeal. Even eggs. Breakfast is just the best, isn't it? By far my most favorite meal of the day.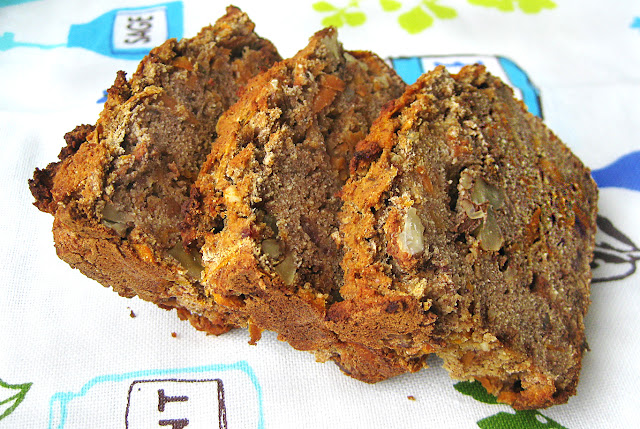 Fruits, veggies and nuts. All packed into one little bread.
Breakfast baked goods have been the one area of gluten-free treats that I have yet to fall in love with. I have experimented with Gluten-free Banana Bread and Mixed Berry Scones, and although both were totally delicious, they weren't something I could have all the time. Both were a bit too sweet for my breakfast tastebuds, but were perfect with a cup of tea in the afternoon.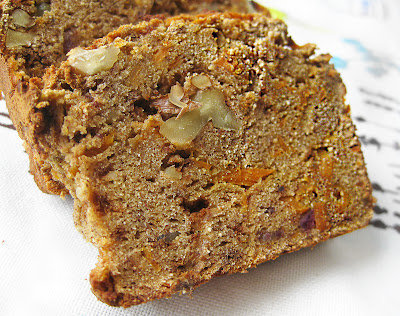 Then I found this recipe for Nutty Carrot Breakfast Bread. Another one from Hallie, who blogs over at Daily Bites, this recipe is exactly what I look for in a breakfast. There are no refined sugars. It's packed with fruits, veggies and nuts. And most importantly, it's not too sweet. All these amazing ingredients are combined together to form a glorious breakfast treat.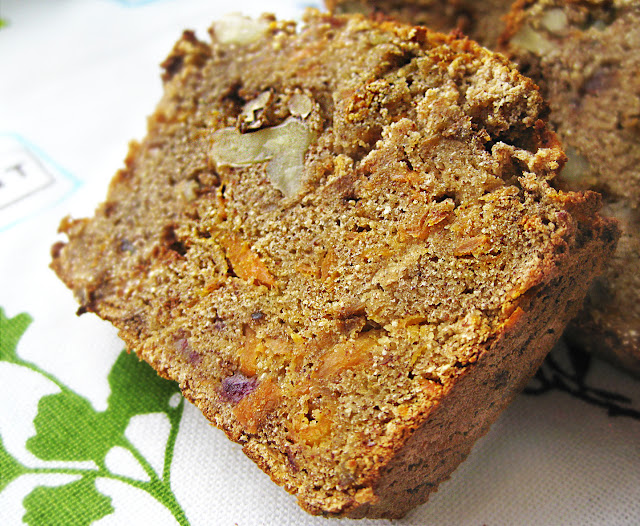 Hallie's Nutty Carrot Breakfast Bread. Seriously delicious.
Gluten-Free Carrot Nut Bread
I am in love with this recipe. I've always been a big fan of carrot cake, but have never experimented with carrot bread. Well, let me tell you, this is something special. The walnuts add protein and bring a much needed crunch to each slice. The carrots are moist and flavorful. The coconut flour brings a hint of sweetness that no other flour could add. This recipe is perfect.
I followed Hallie's recipe almost exactly. Swapping just a few ingredients to what I had in my pantry.
ingredients:
2 pitted dates, soaked for 15 minutes
1 small banana
2 large eggs
1 tablespoon olive oil
1 teaspoon ground cinnamon
1/4 teaspoon ground nutmeg
1/4 teaspoon ground ginger
1/8 teaspoon ground allspice
1/4 teaspoon stevia powder (a touch more if you want a sweeter bread)
1/4 teaspoon fine sea salt
1/4 cup coconut flour
1/8 cup tapioca starch
1/4 teaspoon baking powder
1/4 teaspoon baking soda
1/2 cup grated carrots
1/4 cup chopped walnuts or pecans
Preheat the oven to 350 degrees F. Spray a small loaf pan with olive oil spray or line with parchment paper and set aside.
In a food processor, combine the soaked dates, banana, eggs, oil, spices, stevia and salt. Process until smooth and transfer to a large mixing bowl.
In a separate bowl, whisk the coconut flour, tapioca starch, baking powder and soda together. Add the dry ingredients to the wet ingredients and stir until combined. Gently fold in the carrots and chopped nuts.
Transfer the batter into your loaf pan, smoothing the top out with the back of a wet spoon. Bake in the center of a warm oven for 30 – 35 minutes, or until a cake tester inserted into the center of the loaf comes out clean. Cool on a wire rack before slicing.
Makes 1 small loaf.
Gluten-Free Carrot Nut Bread
Craving carrot cake for breakfast? Me too. That's why I'm sharing this Gluten-Free Carrot Nut Bread - to hold us over until dessert! This fluffy quick bread is packed with spices and pretty healthy, too!
Instructions
Preheat the oven to 350 degrees F. Spray a small loaf pan with olive oil spray or line with parchment paper and set aside.

In a food processor, combine the soaked dates, banana, eggs, oil, spices, stevia and salt. Process until smooth and transfer to a large mixing bowl.

In a separate bowl, whisk the coconut flour, tapioca starch, baking powder and soda together. Add the dry ingredients to the wet ingredients and stir until combined. Gently fold in the carrots and chopped nuts.

Transfer the batter into your loaf pan, smoothing the top out with the back of a wet spoon. Bake in the center of a warm oven for 30 - 35 minutes, or until a cake tester inserted into the center of the loaf comes out clean. Cool on a wire rack before slicing. (Makes 1 small loaf.)
Nutrition
Calories:
100
kcal
|
Carbohydrates:
10
g
|
Protein:
3
g
|
Fat:
6
g
|
Saturated Fat:
1
g
|
Polyunsaturated Fat:
2
g
|
Monounsaturated Fat:
2
g
|
Trans Fat:
0.004
g
|
Cholesterol:
41
mg
|
Sodium:
136
mg
|
Potassium:
137
mg
|
Fiber:
2
g
|
Sugar:
4
g
|
Vitamin A:
1407
IU
|
Vitamin C:
2
mg
|
Calcium:
22
mg
|
Iron:
1
mg
Filed Under:
Other breakfast ideas you may enjoy: