This is the only gluten-free pancake recipe you'll ever need! The pancakes are perfectly light and fluffy, the recipe requires only 7 ingredients, and there's even a vegan option!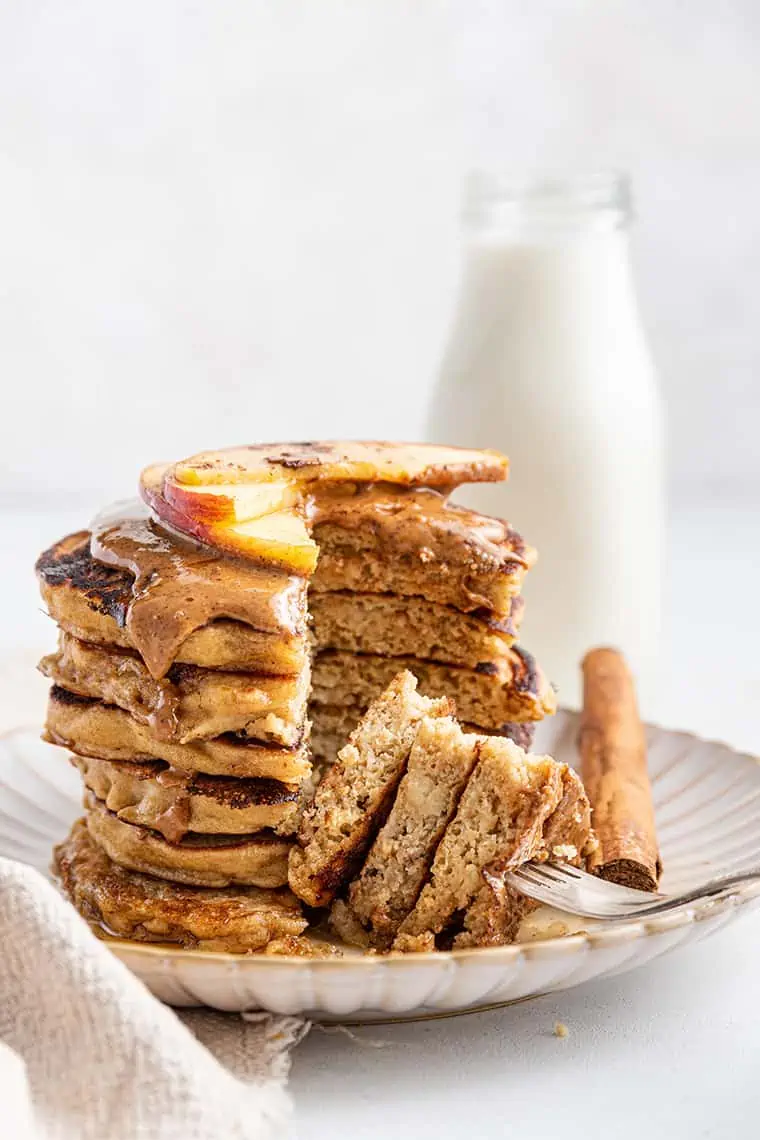 I have a lot of pancake recipes on Simply Quinoa, but I call this one the perfect gluten-free pancake. Not because it's better than my Fluffy Quinoa Banana Pancakes or Vegan Apple Cider Pancakes, but because it's the kind of versatile, back-pocket pancake recipe we all need in our lives.
You can make it as-is, add mix-ins, make it vegan. Whatever! Think of it as your classic, every weekend pancake that will never steer you wrong. It's that good!
I kept things as simple as possible without sacrificing the one thing everyone wants in a pancake recipe: a light, fluffy texture. Thin, rubbery pancakes are a bummer, but these gluten-free pancakes won't let you down! (That's what makes them the best.)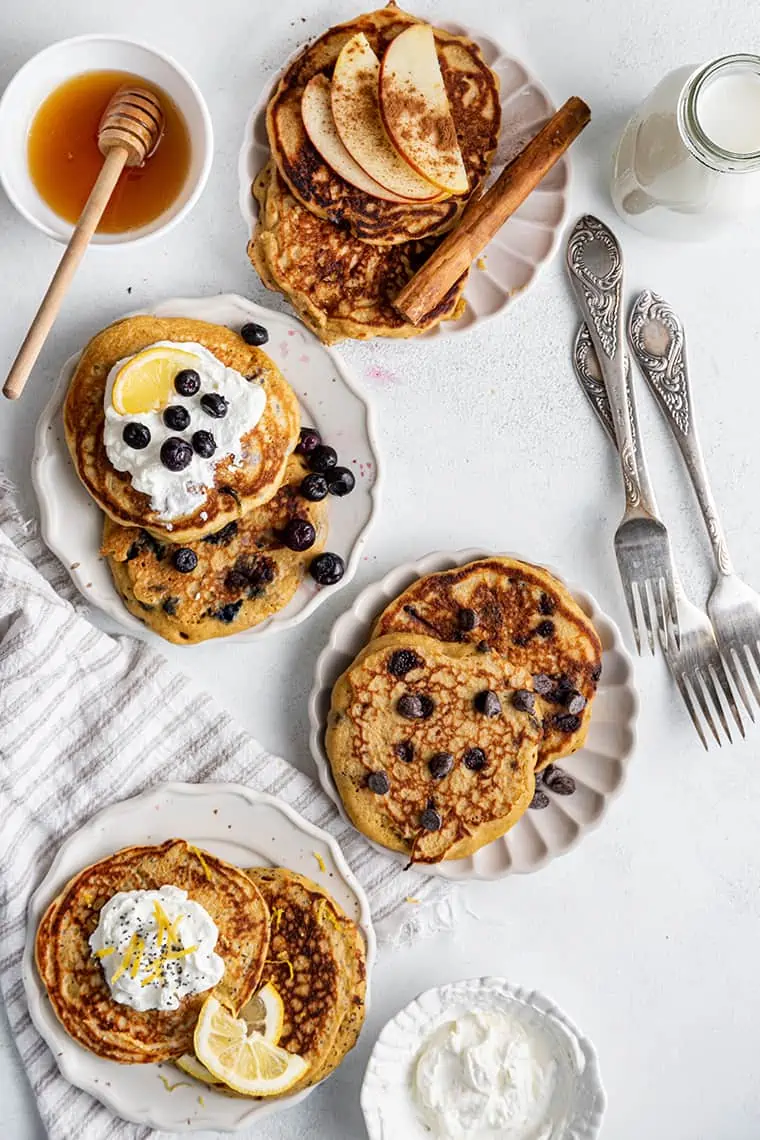 What Gluten-Free Flour is Best for Pancakes?
A lot of store-bought gluten-free all-purpose flour substitutes have a bunch of fillers and gums added, but using a single-source flour alone (like almond or oat) doesn't always yield a great texture. After a lot of experimentation, I found that a blend of quinoa flour and oat flour worked out best. It also makes these pancakes super healthy, with protein and fiber!
Do Gluten-Free Pancakes Taste Different?
These pancakes do have a mild oat flavor, but they really don't taste all that different from regular pancakes. Once you add the toppings, you really won't notice any difference!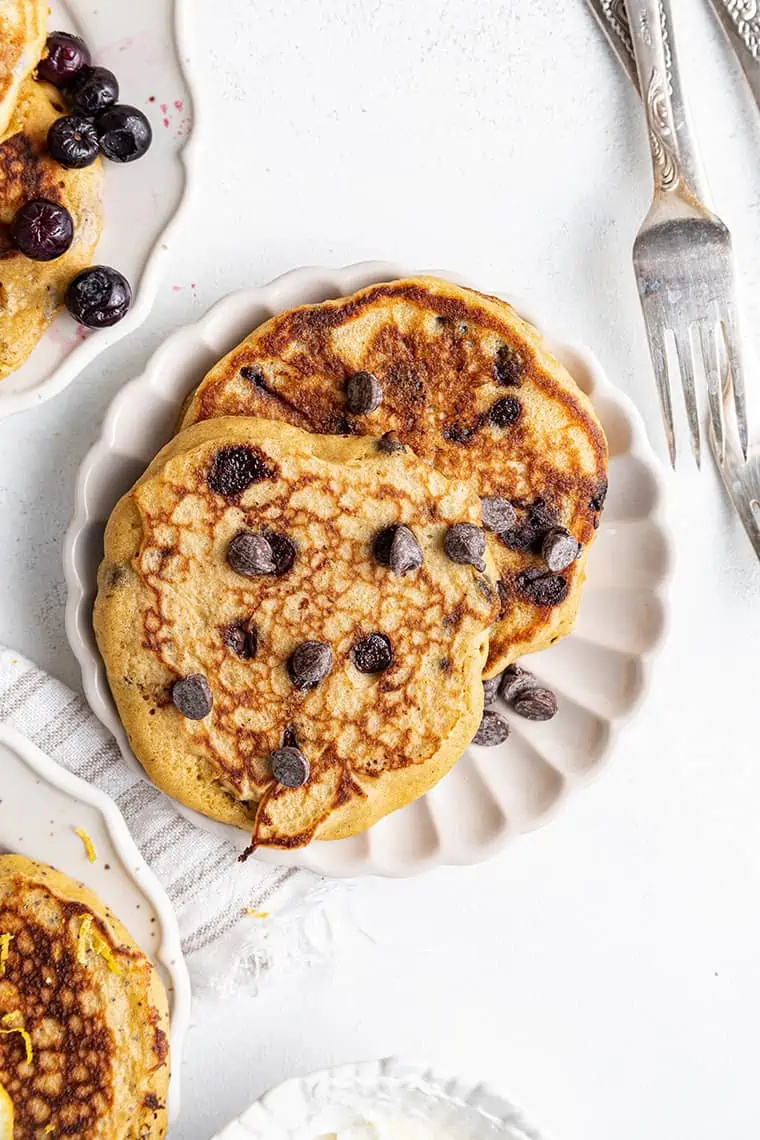 What You'll Need
Scroll down to the recipe card below this post for ingredient quantities and full instructions.
Quinoa flour – My all-time fave gluten-free flour that should be in absolutely everyone's cupboard! This flour is versatile, it's light, it's high-protein, and it's just all-around fab.
Oat flour – I love oat flour because it's really fluffy and also can be made at home. You just blend oats in your blender until they're a fine flour. I keep a batch of homemade oat flour on hand just as I would any other flour!
Baking powder
Almond milk – Or any milk you like to use.
Eggs – Or flax eggs, for a vegan option. You can also use another vegan egg substitute.
Maple syrup – I find that pancake batter is always better with a touch of sweetness! I love maple syrup, but honey or coconut sugar would also work.
Oil – I use olive oil (you can't taste it!), but you can use whatever type you'd prefer.
Vanilla extract, cinnamon, or a pinch of salt – All of these are optional ingredients, but they'll give the flavor a boost.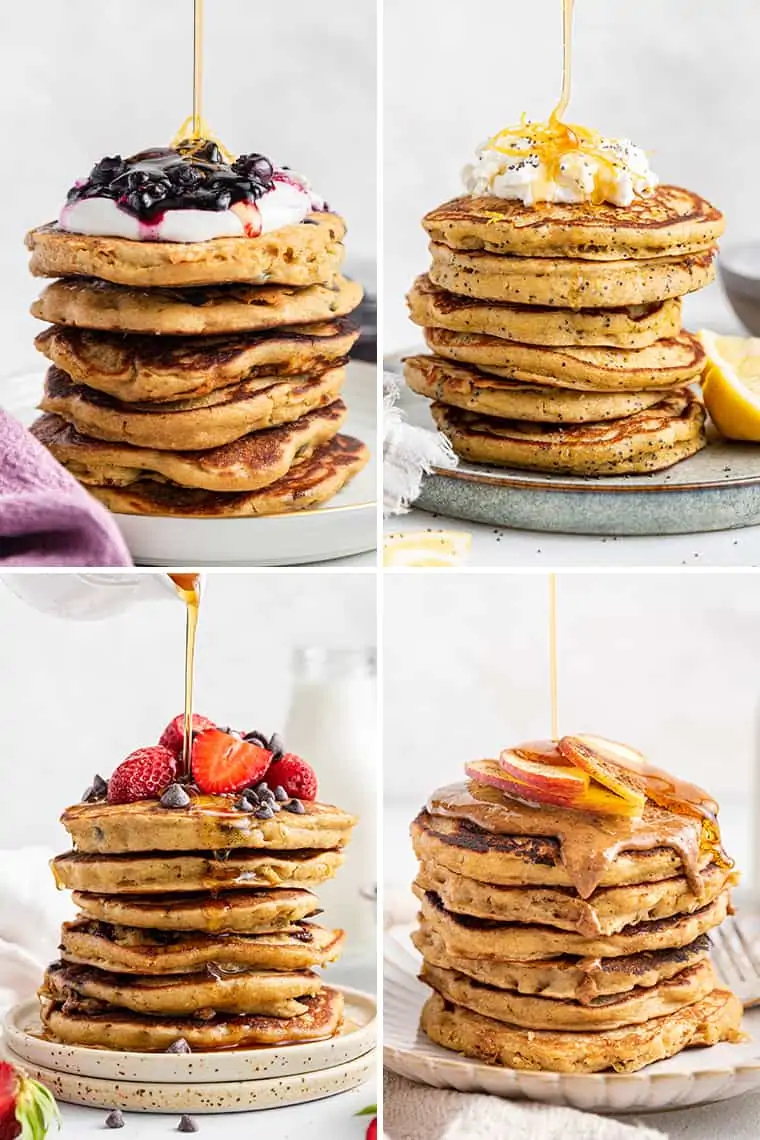 Gluten-Free Pancake Variations
Remember I said that this pancake recipe is versatile? Here are some of the mix-ins I like to add:
Blueberry – Who can resist fluffy pancakes studded with plump blueberries?!
Lemon – Add lemon zest for a bright, citrusy flavor. If you have poppy seeds, add those too!
Apple & cinnamon – I usually grate a small apple and add a dash of cinnamon. So good for fall!
Chocolate chip – When you need a little extra sweetness in your life, chocolate chip pancakes are just the best!
More ideas – Banana, coconut, pecans, raspberries, strawberries, peanut butter chips, etc. So many options!
How to Make Gluten-Free Pancakes
Pancakes are probably the easiest thing to make on the planet. Especially this recipe since it's only 7 ingredients!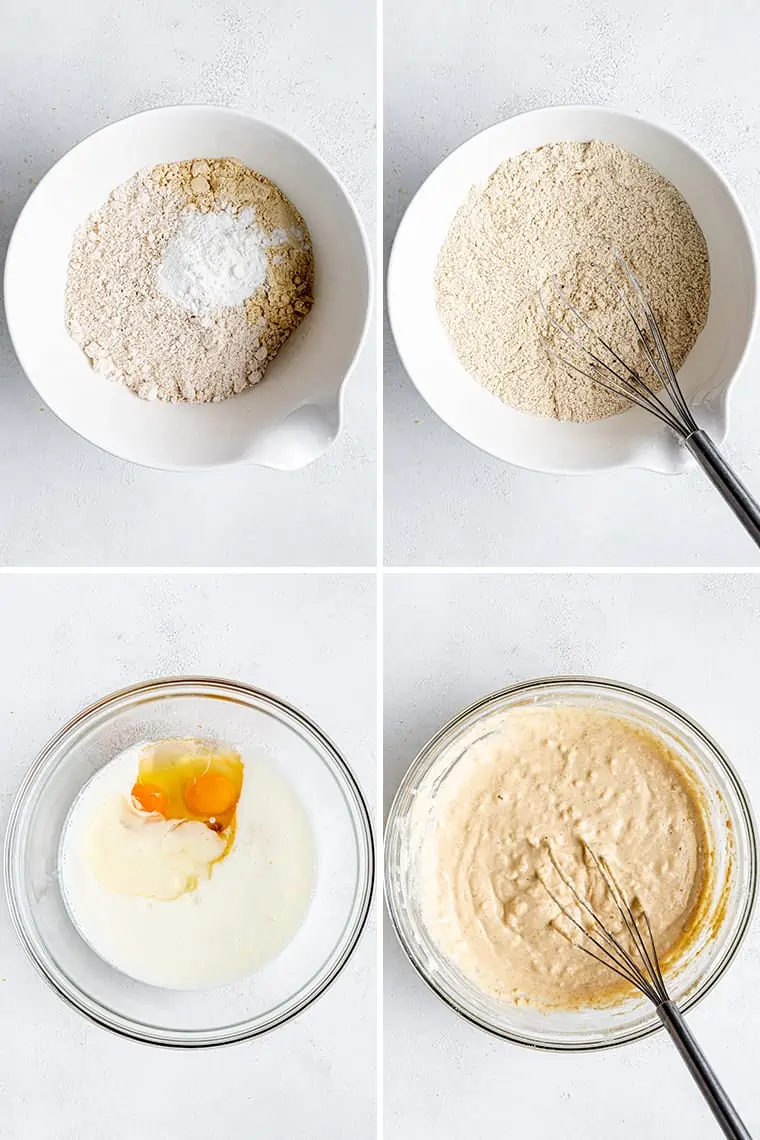 Make the batter. Whisk together the dry ingredients in a mixing bowl until they're well-combined. In another bowl, whisk the wet ingredients, then pour the wet ingredients into the bowl with the dry ingredients and stir until the batter is smooth.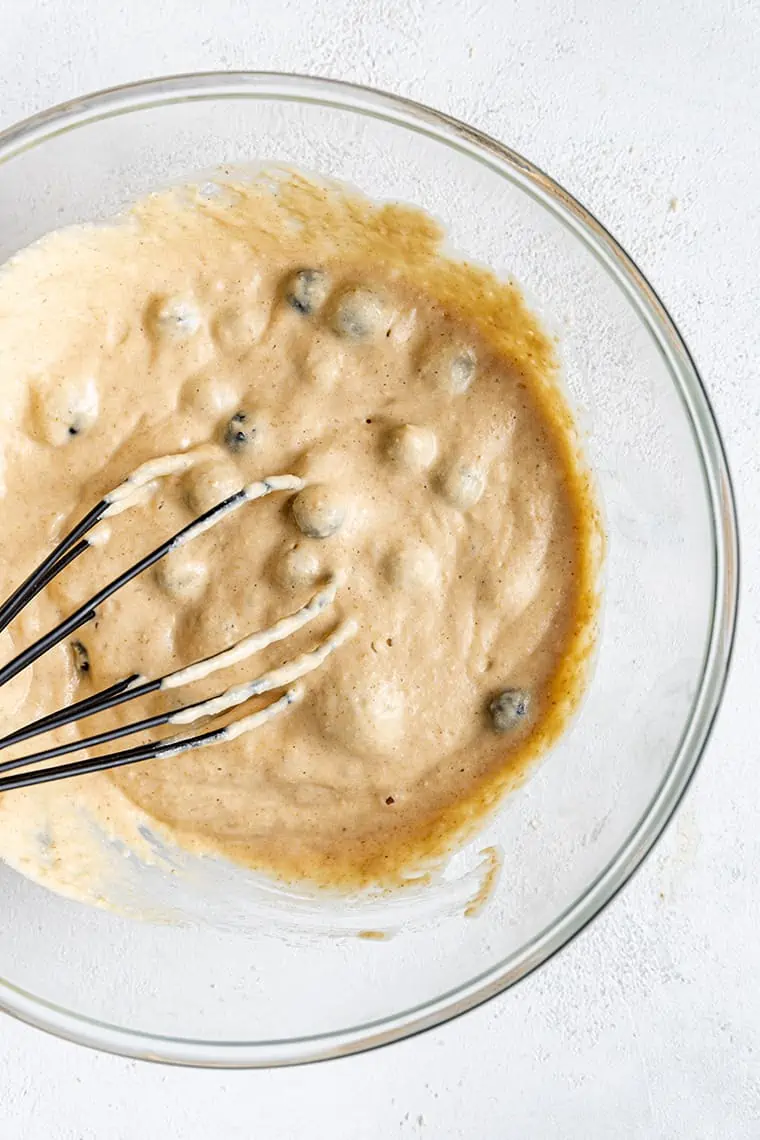 Add any mix-ins. If you're using any fruit, chocolate chips, or other add-ins, fold them into the batter.
Cook the pancakes. Preheat a pan or griddle over medium-low heat. Use a little cooking spray to grease it, then ladle 1/4 cup of batter onto the pan for each pancake and spread it a little with the back of a spoon. Cook the pancakes until bubbles form, pop, and leave little holes (about 1 minute). Flip and cook the other side another minute or two. Repeat with the remaining batter.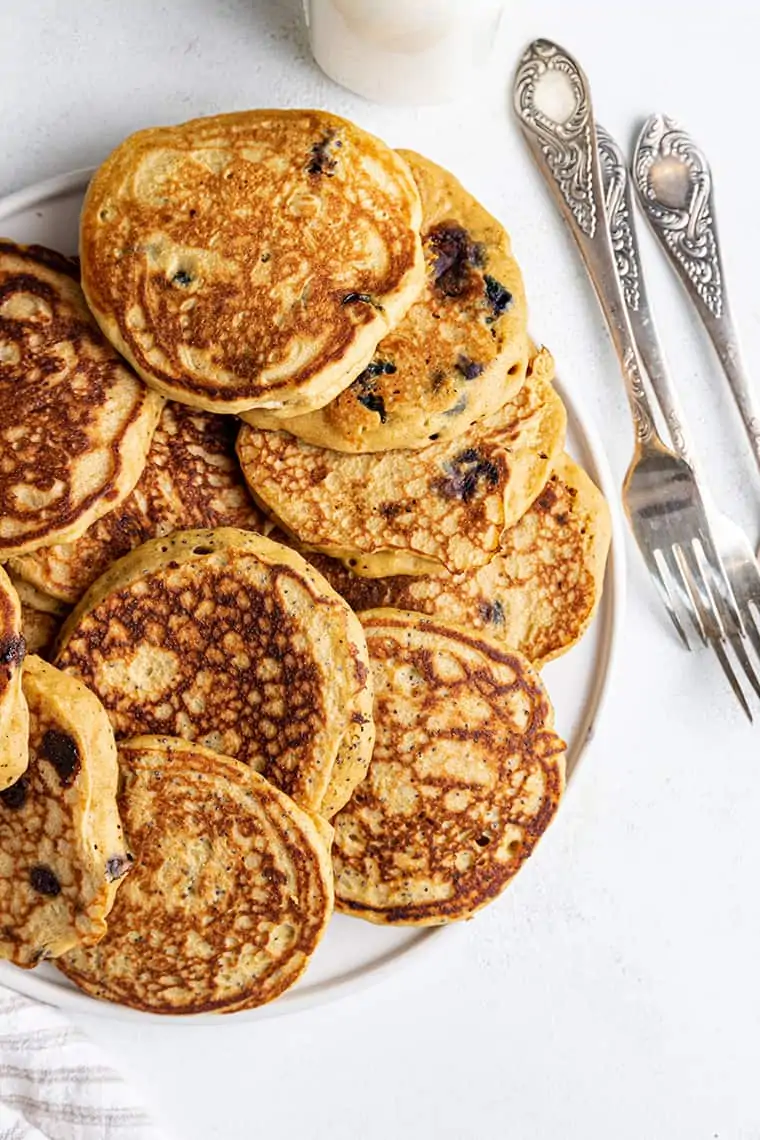 Serve. Plate the pancakes and serve them immediately with your favorite toppings.
Tips for Success
This recipe is practically fail-proof, but these hints and tips will help:
Mix the batter well. You don't have to worry about over-mixing because these pancakes are gluten-free! Mixing the batter thoroughly will incorporate air into it, which will help you get light, fluffy gluten-free pancakes.
Keeping your pancakes warm. If you're making a batch of pancakes for a crowd and want to keep them warm while you're cooking, you can place the finished pancakes on a sheet pan in a 250ºF oven until you're ready to serve them.
Adjust the heat as needed. Different stoves (and pans) cook differently, so if you feel your pancakes are cooking too fast, you can lower the heat; if they're taking longer than expected, notch the heat up a bit.
Topping Ideas
My favorite toppings for these gluten-free pancakes are coconut yogurt, berries, and syrup (and sometimes a drizzle of almond butter). For something different, add granola for a bit of crunch, or amp up the protein with hemp hearts. Coconut whipped cream is excellent too!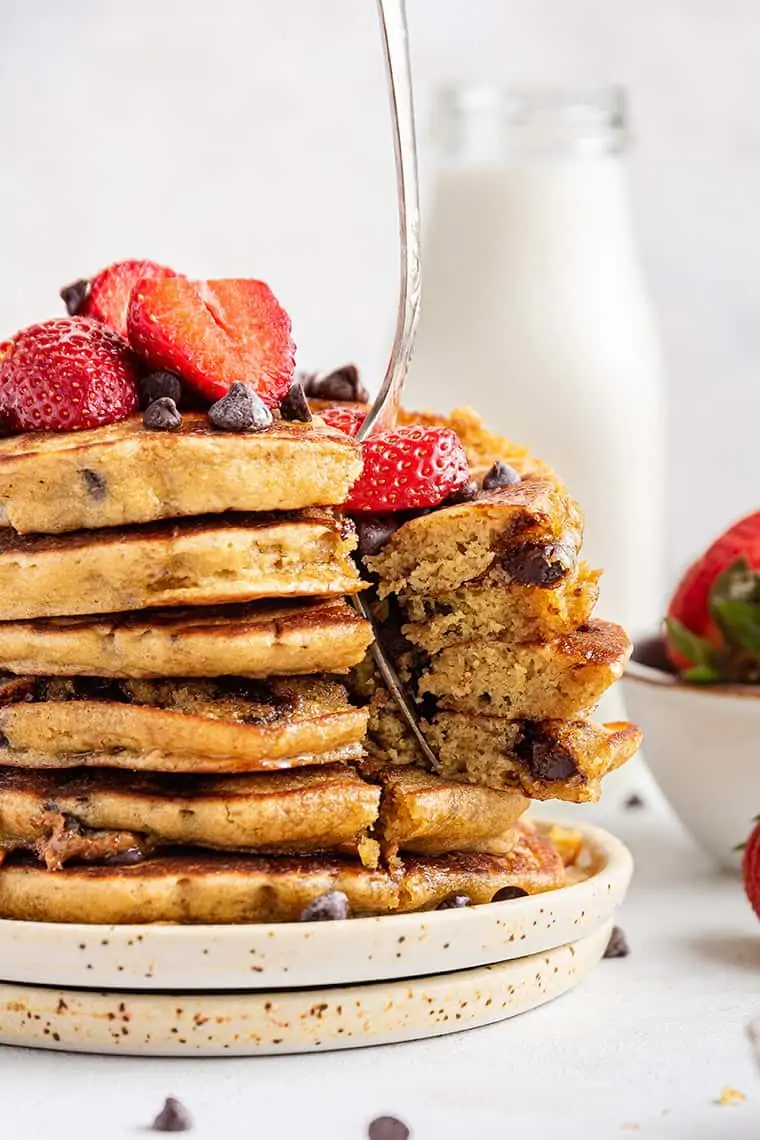 How to Store Leftovers
You can store leftover pancakes in an airtight container in the fridge for up to 5 days, which makes them perfect for meal prep breakfasts!
Can You Freeze These Pancakes?
Yes, you can freeze these gluten-free pancakes! They freeze fantastically.
You can either freeze them on a parchment-lined baking sheet, then once they're frozen through pop them in an airtight container or freezer bag, or you can simply put them in a container with parchment between the layers to keep them from sticking to each other.
How to Reheat Pancakes
Okay, so you've frozen your pancakes, what now?! Easy peasy. Pop them out of the freezer, toss them in your toaster oven and toast them up. They might be slightly crispy on the outside, but they're like a better version of toast. I top them with the same things and it's literally like a 4-minute breakfast. Doesn't get any easier.
Otherwise, a microwave will work, or you can reheat them in a 350ºF oven for a few minutes until they're warmed through.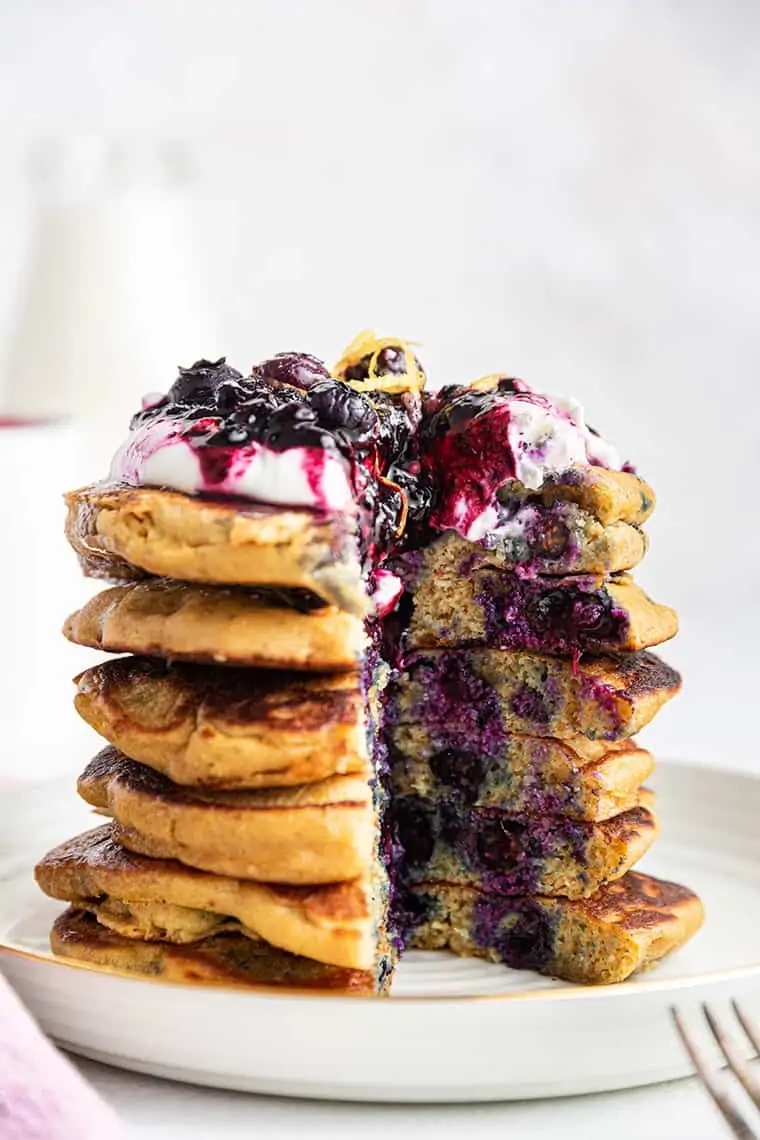 The Best Gluten-Free Pancakes
This is the only gluten-free pancake recipe you'll ever need! Customize it with your favorite add-ins and toppings and enjoy the epic pancake breakfast you deserve!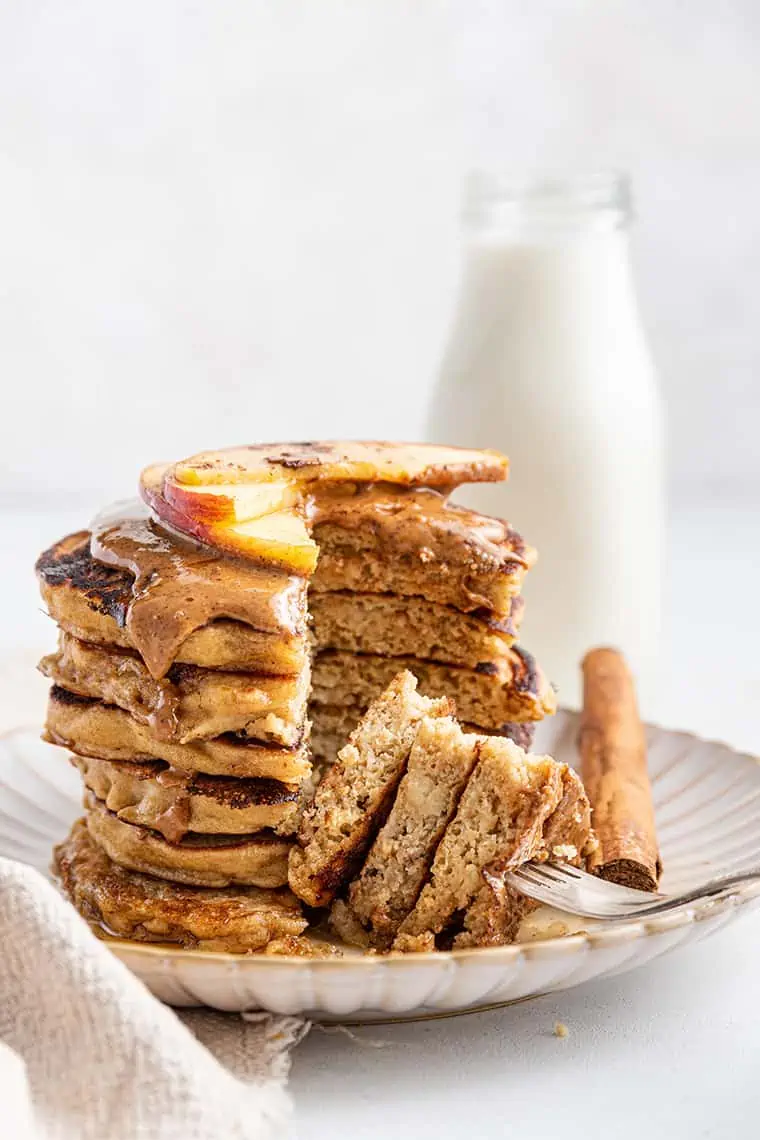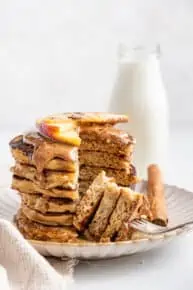 Ingredients
for the mix ins (choose 1 of):
1/3

cup

blueberries

1/3

cup

chocolate chips

2

tablespoons

lemon zest

1

cup

grated apple (from 1 small apple)
Instructions
Whisk together the dry ingredients.

In a separate bowl, whisk together the wet ingredients.

Pour the wet ingredients into the dry and stir to combine. Once you have a smooth batter, it's time to cook!

Preheat a pan over medium-low heat. Use a little cooking spray to grease it. Spoon 1/4 cup of batter onto the pan and gently spread it out with the back of a spoon. Cook the pancakes until bubbles begin to form, about 1 minute, then flip and cook another 1 – 2 minutes. Repeat until all the batter has been used.

Serve the pancakes immediately with your favorite toppings. You can also freeze these pancakes and reheat them in the toaster oven.
Notes
To store: You can store leftover pancakes in an airtight container in the fridge for up to 5 days, or in the freezer for up to 3 months. Reheat them in your toaster, microwave, or a 350ºF oven.
Nutrition
Serving:
1
pancake
|
Calories:
104
kcal
|
Carbohydrates:
13
g
|
Protein:
3
g
|
Fat:
4
g
|
Saturated Fat:
1
g
|
Cholesterol:
23
mg
|
Sodium:
43
mg
|
Potassium:
105
mg
|
Fiber:
1
g
|
Sugar:
2
g
|
Vitamin A:
34
IU
|
Calcium:
66
mg
|
Iron:
1
mg