Best Gluten-Free Pancake Recipe
This is the only gluten-free pancake recipe you'll ever need! They're nice and fluffy, only use 7 ingredients and can also be made vegan!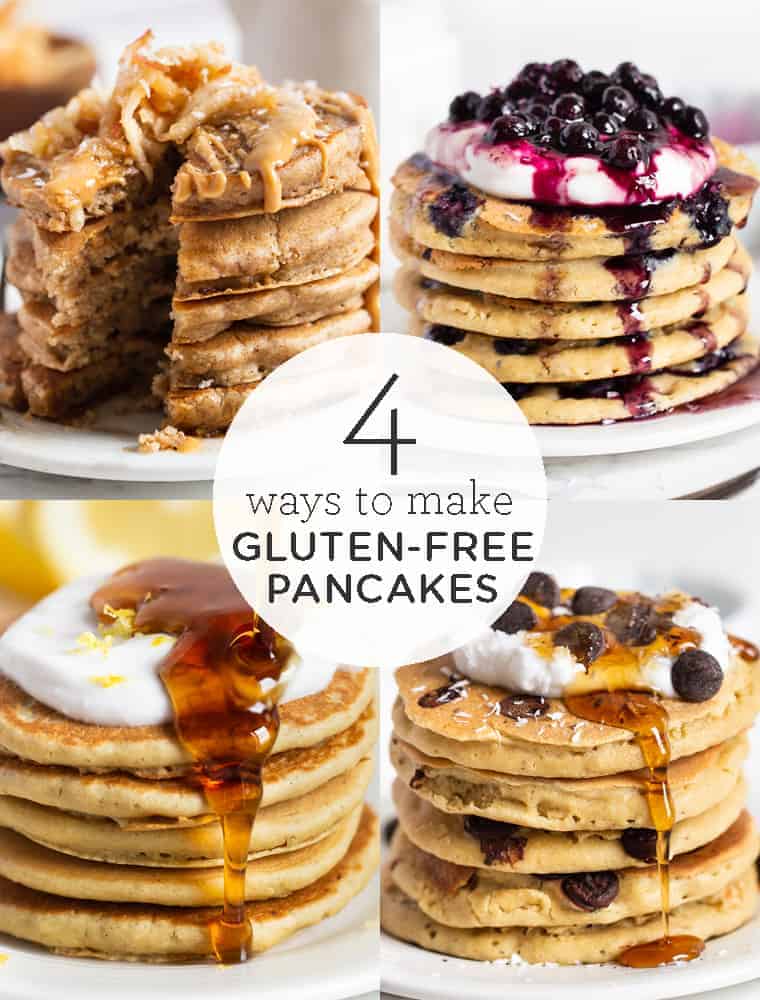 We're back with another pancake recipe you guys!
In case you don't already know, I'm a bit pancake obsessed. I think this is at least our 10th pancake recipe on the blog, and somehow I keep coming up with new recipes and flavors.
Today's goal is simple: to give you the perfect gluten-free pancake recipe that you can use in all different ways. This recipe uses just 7 ingredients, it can be made vegan, it's fluffy and it's easy to make. Think of it like your classic, every weekend pancake that will never steer you wrong. It's that good!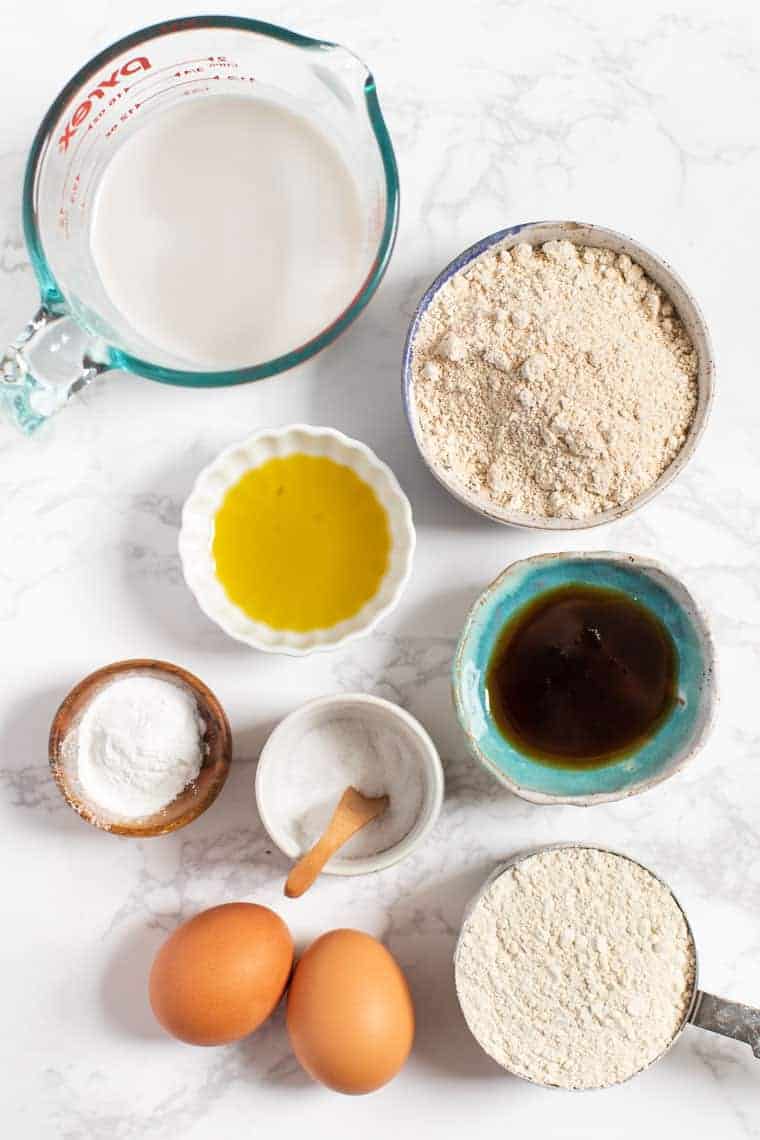 Easy Gluten-Free Pancake Ingredients
Let's first run over the ingredients. I wanted to keep this as simple as possible without sacrificing on two things: flavor and fluffiness. And we totally nailed it with this ingredient combo!
Here's what you'll need to make this recipe:
Quinoa flour: my all-time fave gluten-free flour that I think should be in absolutely everyone's cupboard! This flour is versatile, it's light, it's high protein and it's just all-around fab.
Oat flour: I love oat flour because it's really fluffy and also can be made at home. You just blend oats in your blender until they're a fine flour. I keep a batch of homemade oat flour on hand just as I would any other flour!
Baking powder: a key to make them nice and fluffy!
Eggs: I chose to use eggs in this recipe because I think they make the pancakes a little fluffier, but you can totally substitute them for a vegan egg. If you need some ideas, here's a list of the best vegan egg substitutes!
Milk of choice: I usually use unsweetened almond milk in my pancakes, but anything will work.
Maple syrup: I find that pancake batter is always a teeny bit better with sweetness! I love maple syrup, but honey or coconut sugar would also work.
Oil: adding a bit of fat to your pancakes will help give them a rich texture! I use olive usually (you can't taste it!), but you can use whatever type you'd prefer.
And feel free to add in a splash of vanilla, a sprinkle of cinnamon and/or a dash of salt to boost the flavor even more!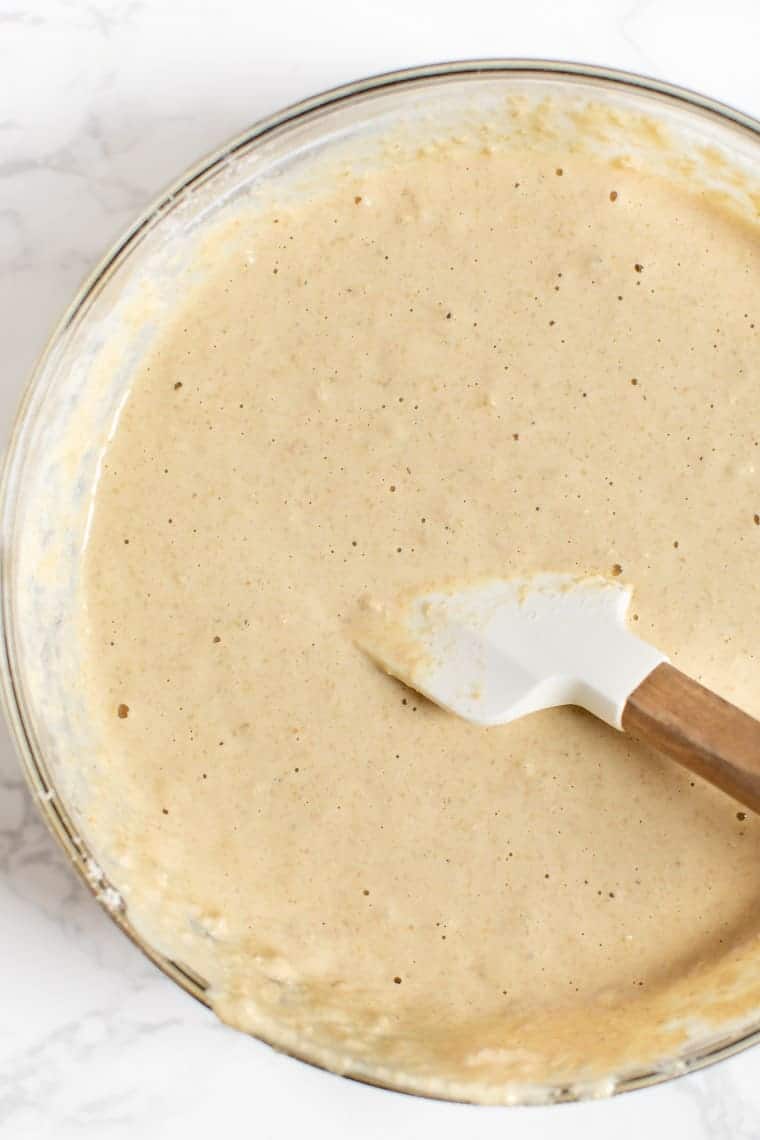 How to make Fluffy Gluten-Free Pancakes
Pancakes are probably the easiest thing to make on the planet. Especially this recipe since it's only 7 ingredients. I make my pancakes in a few stages:
STEP ONE
Mix all your ingredients into the bowl. Yes, all of them. Into the same bowl. No need to do wet and dry separately. Just beat them all together really well so the eggs get beaten thoroughly. (p.s. don't have to worry about over-mixing since they're GF!)
STEP TWO
Cook your beautiful pancakes over medium-low heat. Top them with your toppings (like bloobs or chocolate chips) and wait for the bubbles to form. Once you see bubbles, flip those babies over and cook them just a few seconds longer.
STEP THREE
Top them with your faves! For me, it's always: coconut yogurt, berries, and syrup (and sometimes a drizzle of almond butter).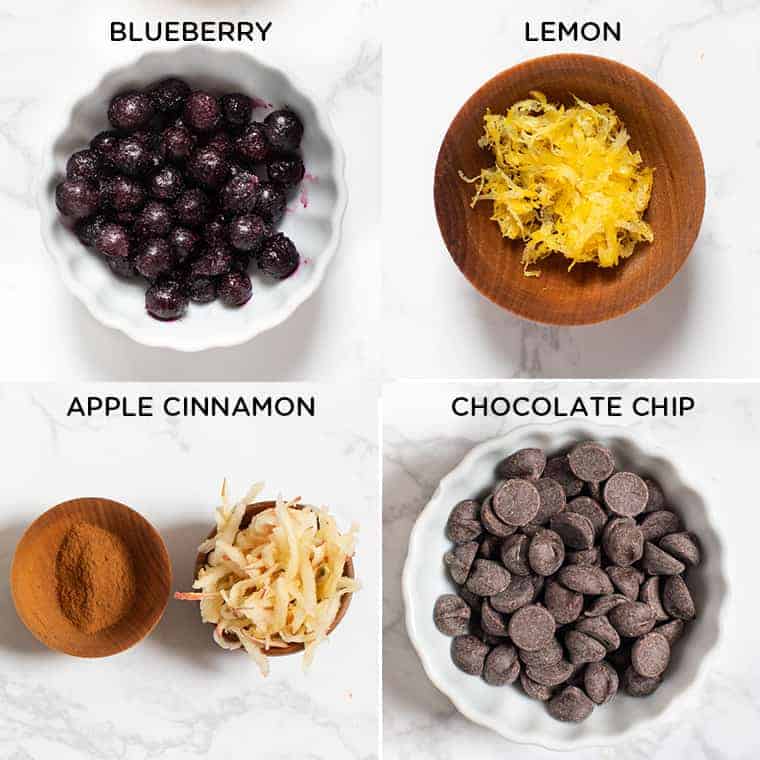 The Best Gluten-Free Pancake Recipe: 4 Ways
What's great about this recipe is you can make it any which way you want. This is your basic gluten-free pancake, so have fun with your mix-ins! We've got a video below that shows you four of my favorite flavorings, but here they are:
Blueberry – I mean duh…it's the best!
Lemon – it's bright and fresh! I would have added poppy seeds too but I didn't have them because #quarantinelife
Apple & cinnamon – I usually grate a small apple and add a dash of cinnamon. So good for fall!
Chocolate chip – when you need a little extra sweetness in your life, chocolate chip pancakes are just the best!
Of course, you could also do a million other things too! Banana, coconut, pecans, raspberries, strawberries, peanut butter chips, etc. So many options!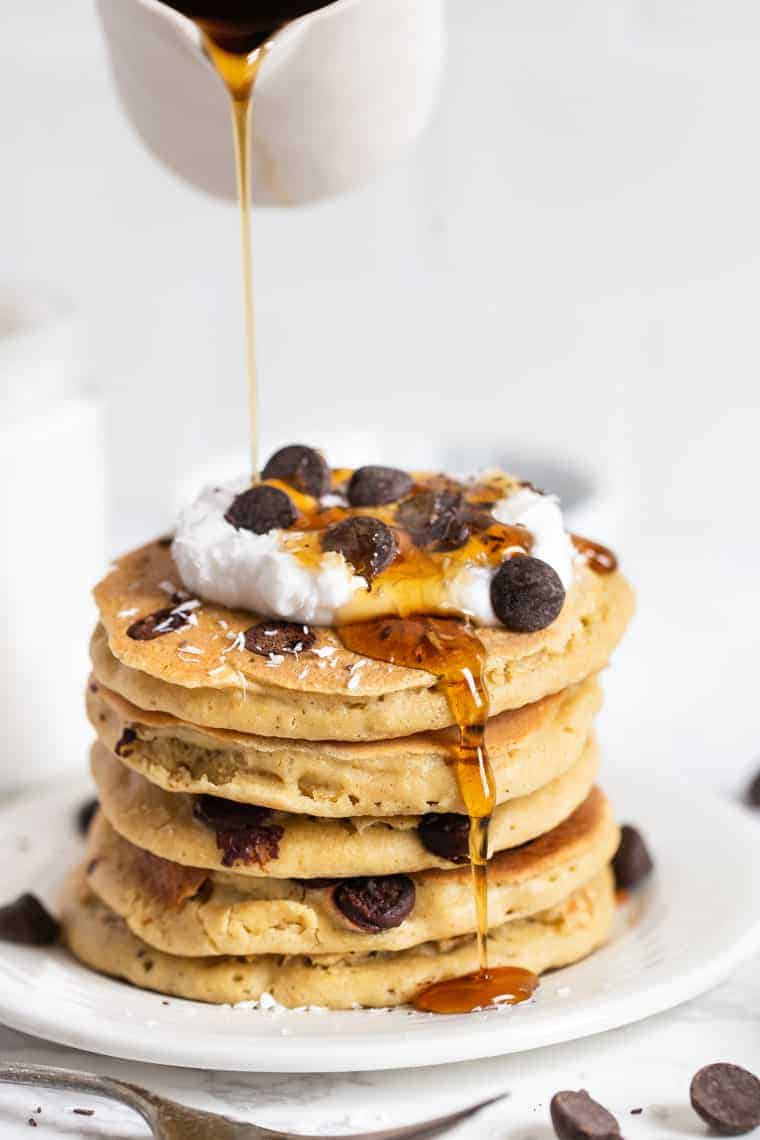 Can You Freeze Pancakes?
YES! You can 1000% freeze your pancakes. And I literally do it all the time. If you're a frozen waffle lover – you know like the ones from the store – these are better. Frozen pancakes make the easiest breakfast of all time!
How to Reheat Pancakes
Okay so you've frozen your pancakes, what now?! Easy peasy. Pop them out of the freezer, toss them in your toaster oven and toast them up. They might be slightly crispy on the outside, but they're like a better version of toast. I top them with the same things and it's literally like a 4-minute breakfast. Doesn't get any easier. You guys… freezing pancakes might just be my favorite thing about pancakes!
I hope you love this recipe as much as we do! It's so easy and makes the fluffiest gluten-free pancakes ever ❤️

More Gluten-Free Pancake Recipes to try:
The Best Gluten-Free Pancakes
This is the only gluten-free pancake recipe you'll ever need! Customize it with your favorite add-ins and toppings and enjoy the epic pancake breakfast you deserve!
Servings 14 pancakes
Calories 104kcal
Ingredients
for the mix ins (choose 1 of):
1/3 cup blueberries
1/3 cup chocolate chips
2 tablespoons lemon zest
1 cup grated apple (from 1 small apple)
Instructions
Whisk together the dry ingredients.

In a separate bowl, whisk together the wet ingredients.

Pour the wet ingredients into the dry and stir to combine. Once you have a smooth batter, it's time to cook!

Preheat a pan over medium-low heat. Use a little cooking spray to grease it. Spoon 1/4 cup of batter onto the pan and gently spread it out with the back of a spoon. Cook the pancakes until bubbles begin to form, about 1 minute, then flip and cook another 1 - 2 minutes. Repeat until all the batter has been used.

Serve the pancakes immediately with your favorite toppings. You can also freeze these pancakes and reheat them in the toaster oven.
Notes
To store: You can store leftover pancakes in an airtight container in the fridge for up to 5 days, or in the freezer for up to 3 months. Reheat them in your toaster, microwave, or a 350ºF oven.
Nutrition
Serving: 1pancake | Calories: 104kcal | Carbohydrates: 13g | Protein: 3g | Fat: 4g | Saturated Fat: 1g | Cholesterol: 23mg | Sodium: 43mg | Potassium: 105mg | Fiber: 1g | Sugar: 2g | Vitamin A: 34IU | Calcium: 66mg | Iron: 1mg
share what you make
Tag #simplyquinoa on Instagram with your creations! We love sharing what you make with the community. We can't wait to see!

follow on instagram