This vegan Green Goddess Salad Dressing is a healthier spin on the classic recipe! No mayo here—instead, ripe avocado is blended with lemon juice for a bright, creamy, herbaceous salad dressing to perk up greens, meal bowls, and more.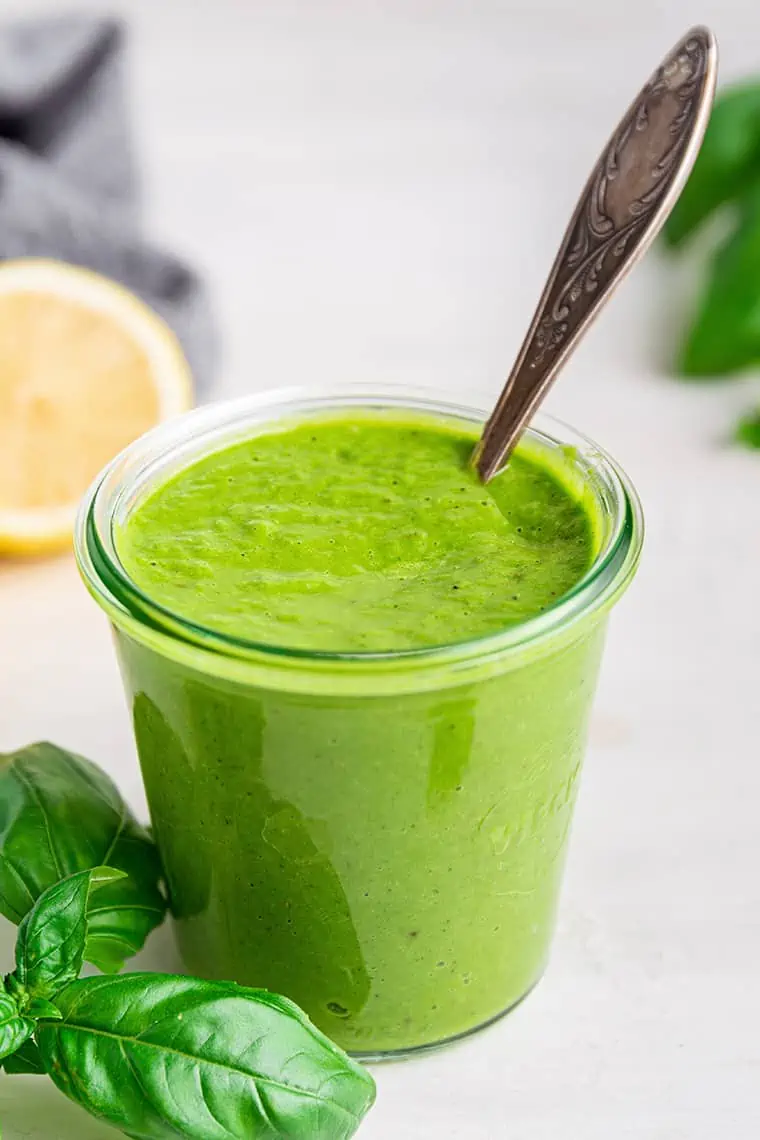 Green goddess salad dressing has an aura of healthiness to it. I mean, it's green, right?! But the original green goddess recipe is made with mayonnaise and sour cream—not exactly healthy foods. (Womp womp.) And the briny flavor? Well, that comes from anchovies, so if you're vegan or vegetarian, traditional green goddess dressing is a no-go.
Luckily, it's easy to make a plant-based, healthy green goddess dressing. The star of the show, after all, is the herbs, and they're definitely vegan!
Why is it Called Green Goddess Salad Dressing?
The original green goddess salad recipe originated in the 1920s at the Palace Hotel. The name was a tribute to George Arliss' song titled "Green Goddess." This healthy salad dressing is packed so many good-for-you nutrients that the name also may be a nod to the glow people get when they are eating well.
Is This Homemade Dressing Healthy?
This green goddess recipe is healthier than the traditional version. For creaminess, I thought about using vegan sour cream or making a cashew cream based dressing, but in the end, I turned to one of my perennial favorites, the avocado. Not only does this make for a creamy texture, it also amps up the green factor!
Then, for that hit of briny flavor you normally get from anchovies, I used capers. They're usually sold alongside olives at the grocery store, and they bring some of the same flavors to the table, but they're a bit tart and almost lemony, too. They really add that little je ne sais quoi to this Healthy Green Goddess Salad Dressing.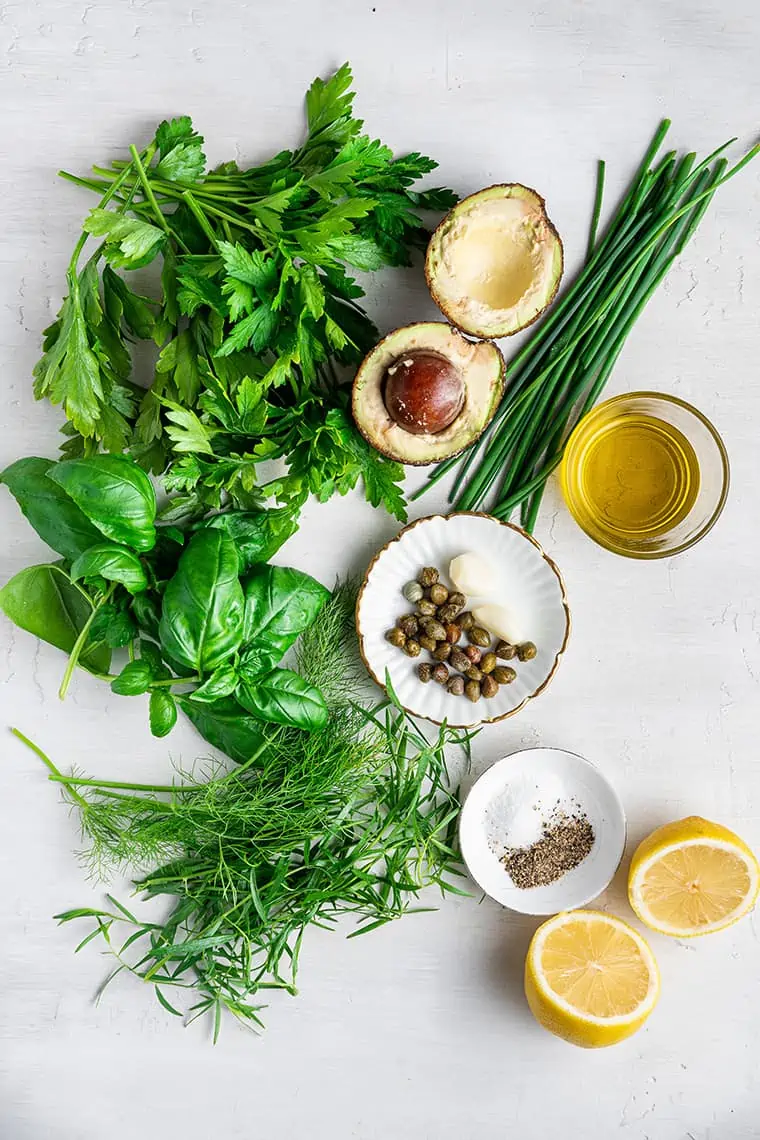 What You'll Need
Here's a quick overview of what you'll need to make green goddess salad dressing from scratch. Be sure to scroll down to the recipe card below this post for ingredient quantities and full instructions.
Ripe avocado – If the avocado yields to firm, gentle pressure when squeezed, you're good to go.
Parsley – No need to remove the leaves; you can use the stems here too.
Mixed soft herbs – Basil, dill, and/or oregano are all great.
Tarragon
Chives
Lemon – You'll need the juice and the zest, so zest the lemon first.
Extra-virgin olive oil
Capers
Garlic cloves
Kosher salt
Black pepper – Freshly ground is best.
What Can I Substitute for Capers?
If you can't find capers—or if you're just not a fan—you can substitute green olives in this dressing. Chop them to roughly the size of capers, then measure them to use in the recipe.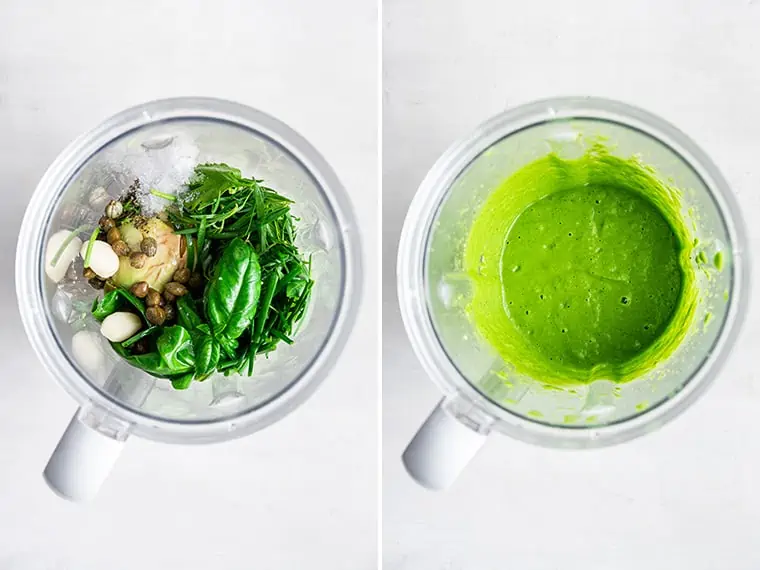 How to Make Healthy Green Goddess Salad Dressing
This vegan green goddess dressing is super easy to make—just blend everything up and you're done! You will need to use a blender or food processor to make this recipe.
Here's how to make it:
Blend. Place all of the ingredients in your blender and blend until the mixture is smooth.
Blend again. Pour 1/4 cup of water into the blender and blend again, until smooth.
Adjust. Add more water, 1 tablespoon at a time, until the dressing reaches your desired consistency. It should be thick, but pourable. Season to taste with salt and pepper.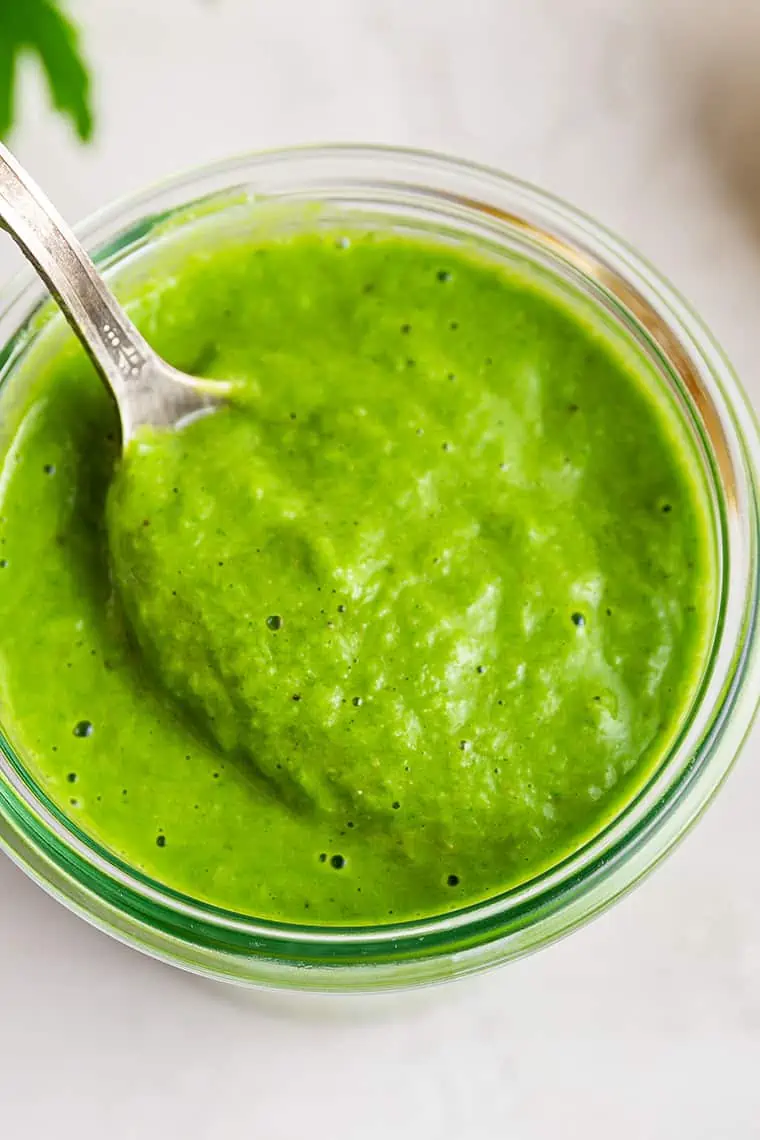 Tips for Success
This delicious salad dressing recipe is easy, but these hints and tips will help make it perfect:
Put the liquid in first. If your blender tends to struggle with thicker consistencies, I recommend putting the lemon juice and olive oil into the blender first, then the avocado, and then everything else. This creates a vortex that pulls the rest of the ingredients in once you turn the blender on.
Choose your herbs wisely. What's great about green goddess dressing is that it always tastes a little bit different depending on the combination of herbs you use! Go lighter on anything with stronger, more assertive flavors like oregano.
No blender? No problem! You can make this vegan green goddess dressing in a food processor or smoothie blender, too.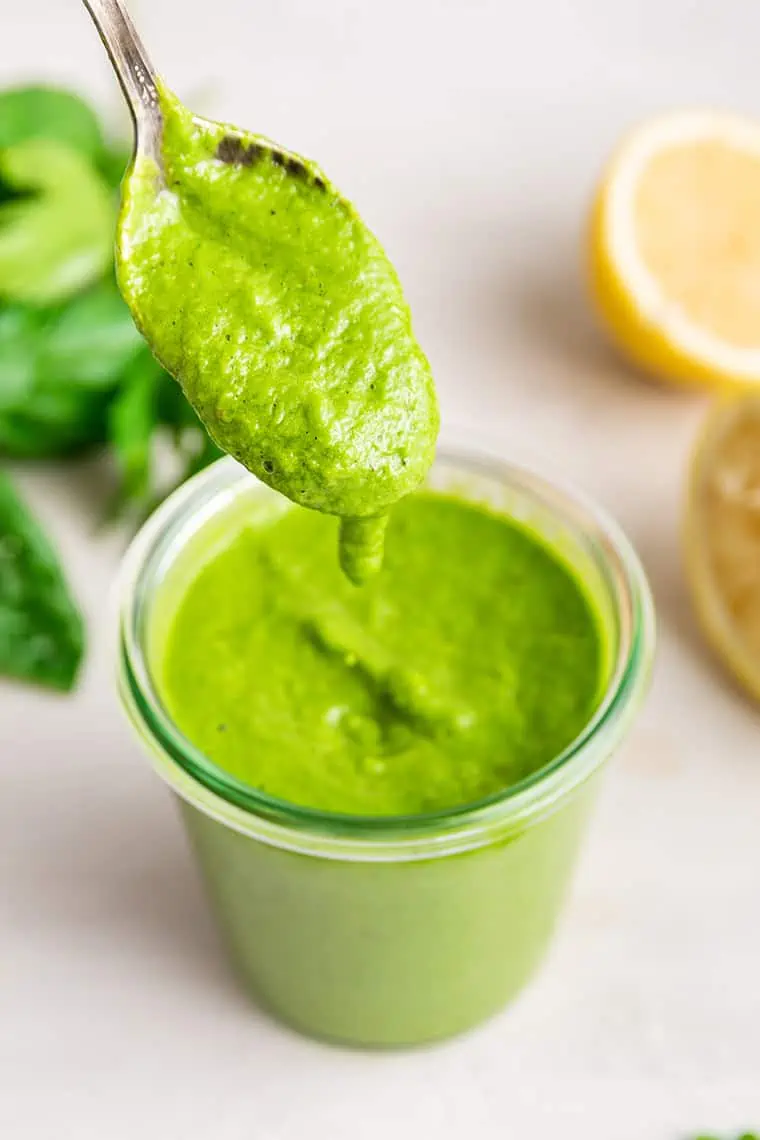 Making Your Green Goddess Salad
Once your dressing is made, simply use it as you would any other salad dressing. Fill a bowl with your favorite mix of greens, then drizzle the green goddess salad dressing over everything and toss it all together.
You can also add crunchy bits of shredded cabbage, snap peas, sliced cucumber, or sliced red onion. Other ideas include cherry tomatoes of even a dash of pine nuts. Other nuts like chopped walnuts or pistachios are another delicious idea. Your salad base can really be whatever your combination of flavors and textures is.
Thanks to the fresh ingredients, this easy salad is full of refreshing flavor! In fact, I'd say this refreshing recipe makes one of the best salads out there.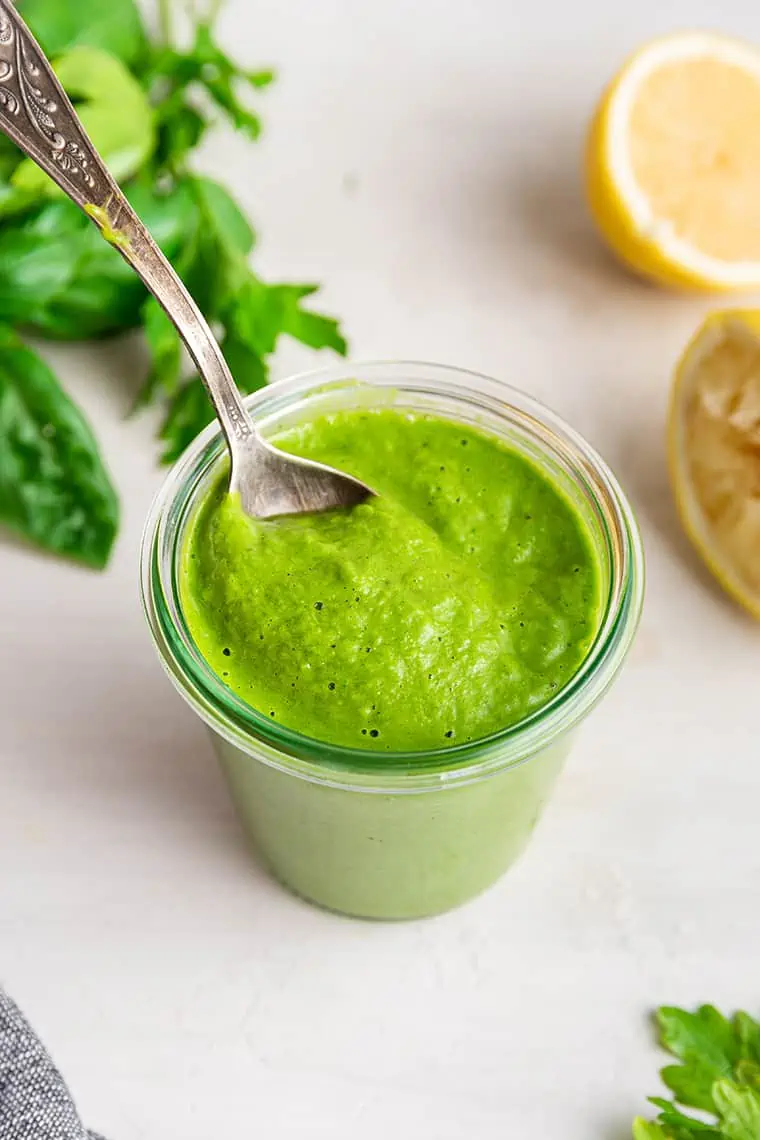 More Ways to Use Green Goddess Salad Dressing
It's not just for salads and dipping veggies! There are so many ways you can use green goddess dressing:
How to Store Leftovers
This bright green dressing is best eaten right away, but you can transfer it to an airtight container and it will keep in the fridge for 3 or 4 days. The lemon juice in the recipe will slow the oxidation process, so the dressing shouldn't turn brown during this time.
Can This Recipe Be Frozen?
You can freeze Healthy Green Goddess Salad Dressing for up to 2 months in a freezer bag or airtight storage container. Let it thaw in the refrigerator before using. Note that the color will change from bright green to a more muddy green thanks to the veggies oxidizing.
Green Goddess Salad Dressing
This vegan Green Goddess Salad Dressing is just as creamy and delicious as the original thanks to the addition of avocado!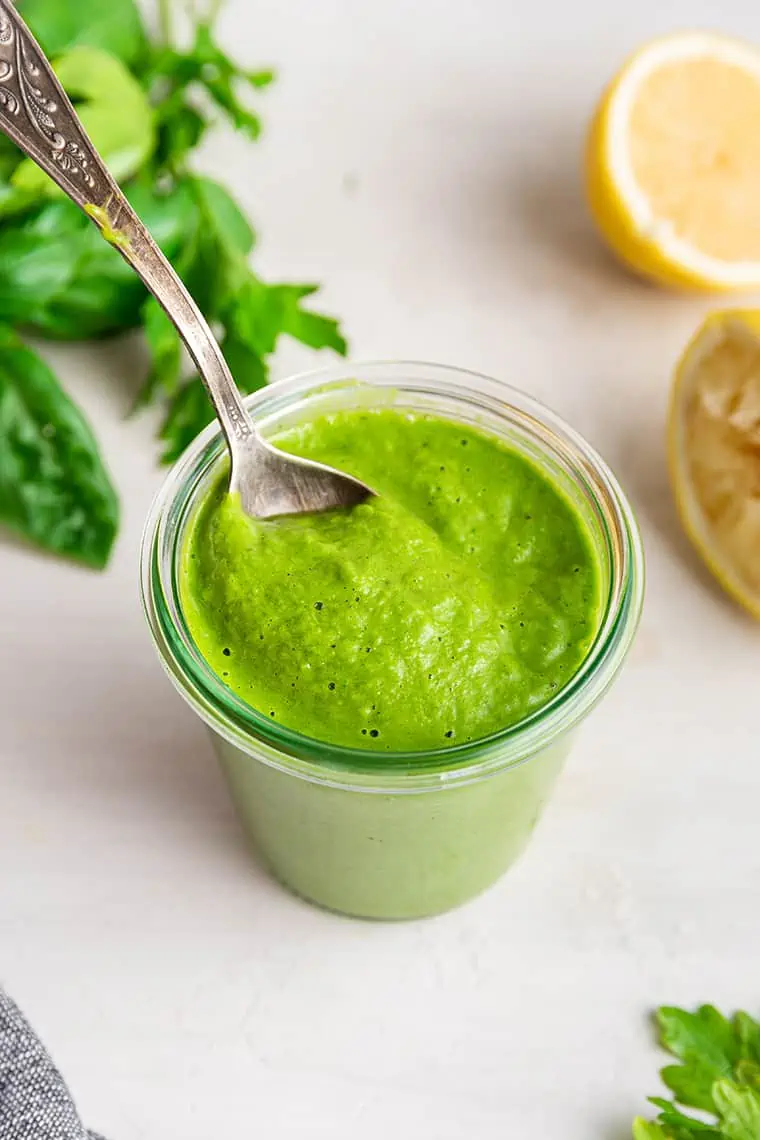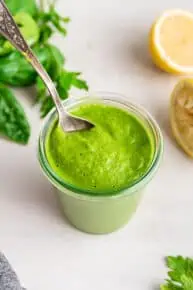 Ingredients
1

medium ripe avocado

1

cup

parsley leaves and stems

1

cup

mixed soft herbs

, such as basil, dill, and/or oregano

¼

cup

loosely packed tarragon leaves

2

tablespoons

chopped chives

1

lemon

, juiced

1

teaspoon

lemon zest

2

tablespoons

extra-virgin olive oil

2

teaspoons

capers

, drained

2

garlic cloves

½

teaspoon

kosher salt

, to taste

Freshly ground black pepper

, to taste
Instructions
Place all of the dressing ingredients into a blender and blend until smooth.

Add ¼ cup water and blend until smooth. If necessary, add more water, 1 tablespoon at a time, until you have a thick but pourable consistency.

Adjust the seasoning to taste with salt and pepper.
Notes
This dressing is best eaten right away, but you can transfer it to an airtight container and it will keep in the fridge for 3 or 4 days, or it can be frozen for up to 2 months.
Nutrition
Calories:
169
kcal
|
Carbohydrates:
10
g
|
Protein:
3
g
|
Fat:
15
g
|
Saturated Fat:
2
g
|
Polyunsaturated Fat:
2
g
|
Monounsaturated Fat:
10
g
|
Sodium:
334
mg
|
Potassium:
490
mg
|
Fiber:
5
g
|
Sugar:
1
g
|
Vitamin A:
1860
IU
|
Vitamin C:
44
mg
|
Calcium:
86
mg
|
Iron:
3
mg