These healthy Rainbow Veggie Mason Jar Salads are the ultimate vegan meal prep recipe. Made with layers of chickpeas, rainbow veggies, a creamy dressing, greens, and so many more goodies! Simple and easy to make, vegetarian + gluten-free, and so delicious!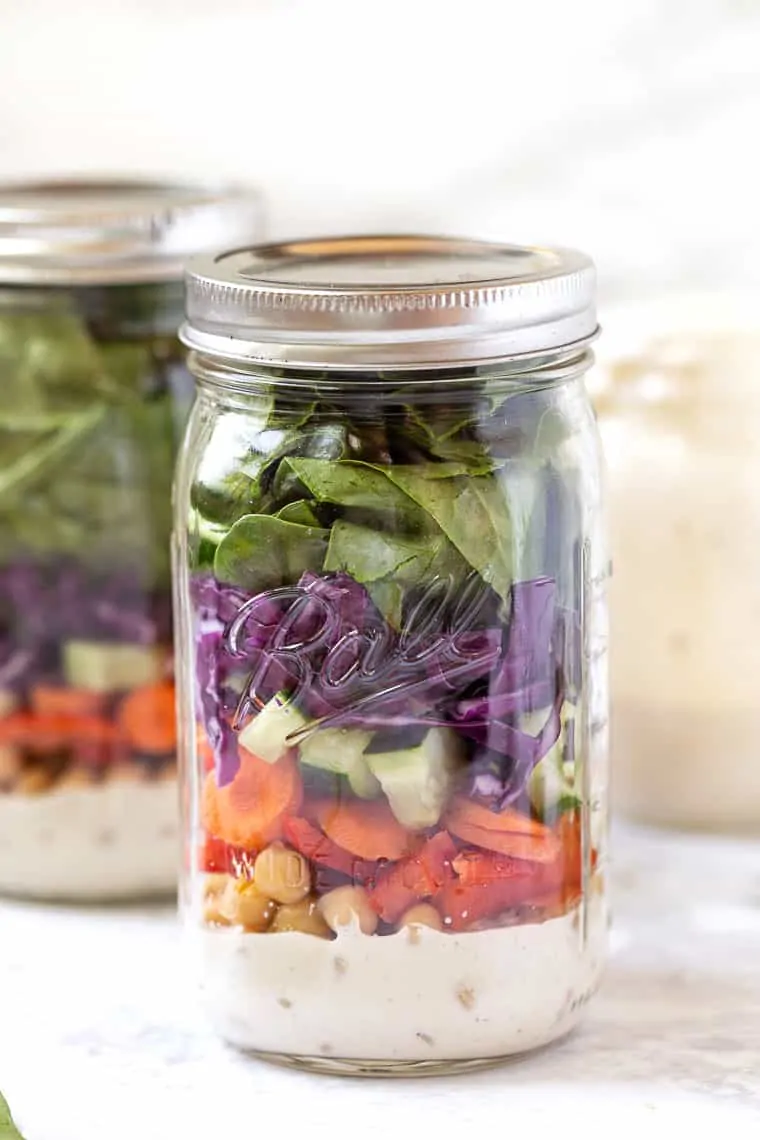 Even though we might not be "back to work" like normal, there is still plenty of need for meal prep. Maybe you've got kids at home and you're balancing your new job of teacher. Or maybe you are still keeping up with your full-time job, and even though you're home, you don't have tons of time to prep a healthy lunch.
That's where this mason jar salad comes in. With this, you'll have a healthy, delicious lunch ready to go.
For this salad, we're keeping things light and fresh. Tons of raw veggies, chickpeas, spinach, and an amazingly creamy tahini dressing. It's so easy to make and it honestly makes the most incredible meal!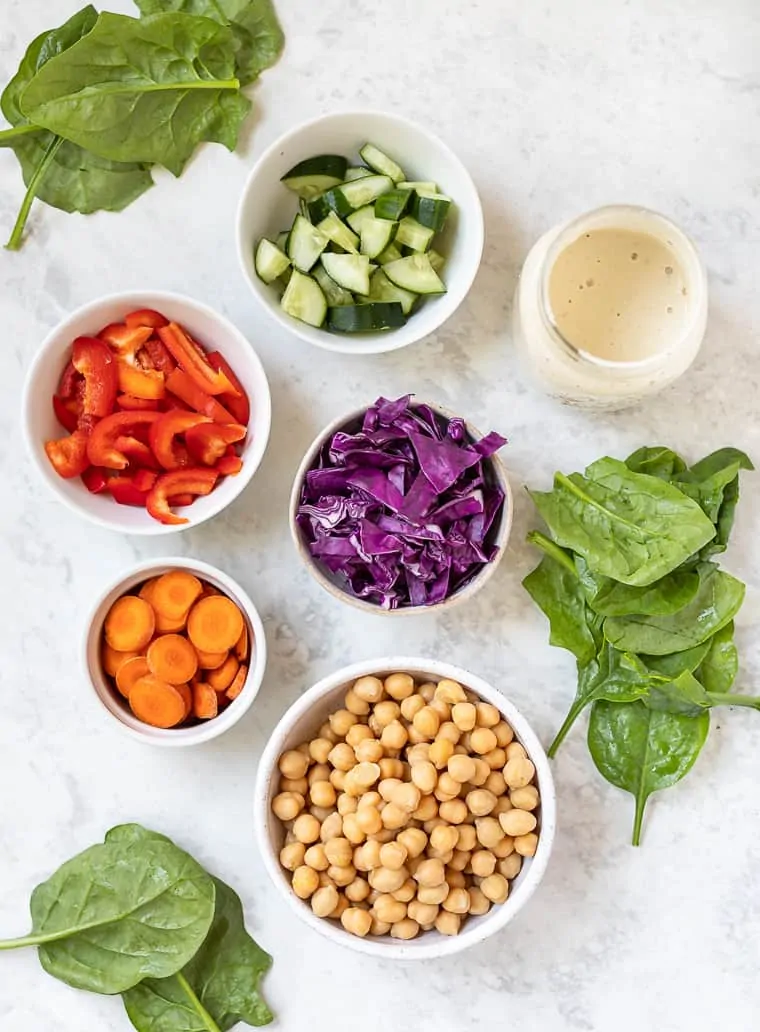 What You Need to Make This Recipe
I've talked about the importance of eating a rainbow of vegetables, and this salad celebrates just that philosophy. I even ticked *almost* all the color boxes!
Red: we're using red bell peppers
Orange: we've got carrots
Yellow: chickpeas (a stretch, I know, but still!)
Green: we've got cucumbers and spinach
Purple/blue: we've got purple cabbage
Yellow might be a slight stretch, but to me, this really does look like a rainbow! And we're tossing it all in an amazing creamy tahini dressing.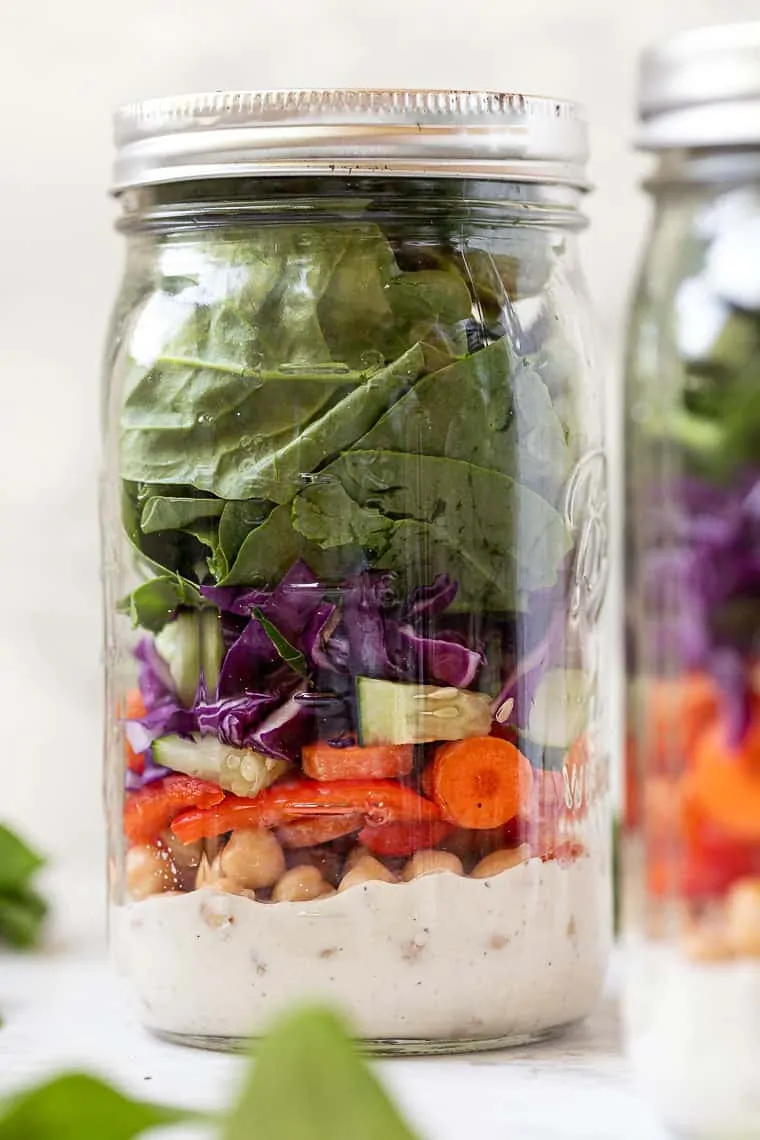 How to Pack a Mason Jar Salad
Now as you're building your own salad in a jar, there is actually a method that you want to follow. The goal? To make sure you can keep your salad fresh all week long. And when you dump it out into your bowl, it's layered perfectly.
So here's how you want to pack your salad:
Dressing
Protein
Toppings
Greens
This ensures that the greens are away from the dressing – i.e. no soggy greens – and the protein gets a bit marinated and more flavorful.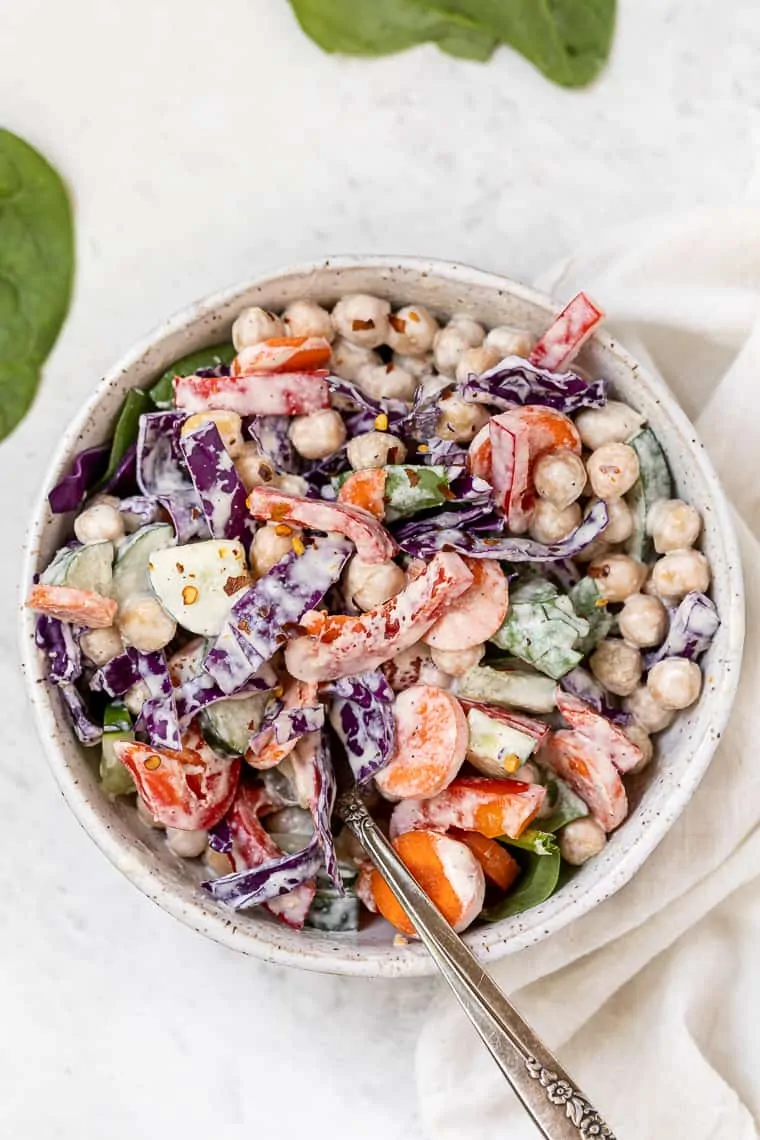 You Asked, We Answered
There are some questions about the best way to make mason jar salads, so let me answer some of the more common ones.
Best Size Mason Jar for Salad
The best size mason jar for salads is the quart size. This will make one large salad for each portion – like a meal-sized salad. If you want a side salad size, you could do the 8oz jar. I also recommend getting the wide mouth jars so you can pack them more easily.
How Long with Salad Last in a Jar
What's great about these salads is that they really will last at least 4 – 5 days in the fridge. Since the greens and dressing are separated, and everything is airtight, the veggies will stay fresh almost all week long.
How to Layer a Mason Jar Salad
So we talked about that in the last section, but I wanted to also explain why this method works. In addition to no sogginess, layered your salad this helps when you are ready to enjoy your salad. When you put it into a bowl or plate, the greens will go on the bottom, followed by the veggies/toppings and finally the dressing. It works perfectly!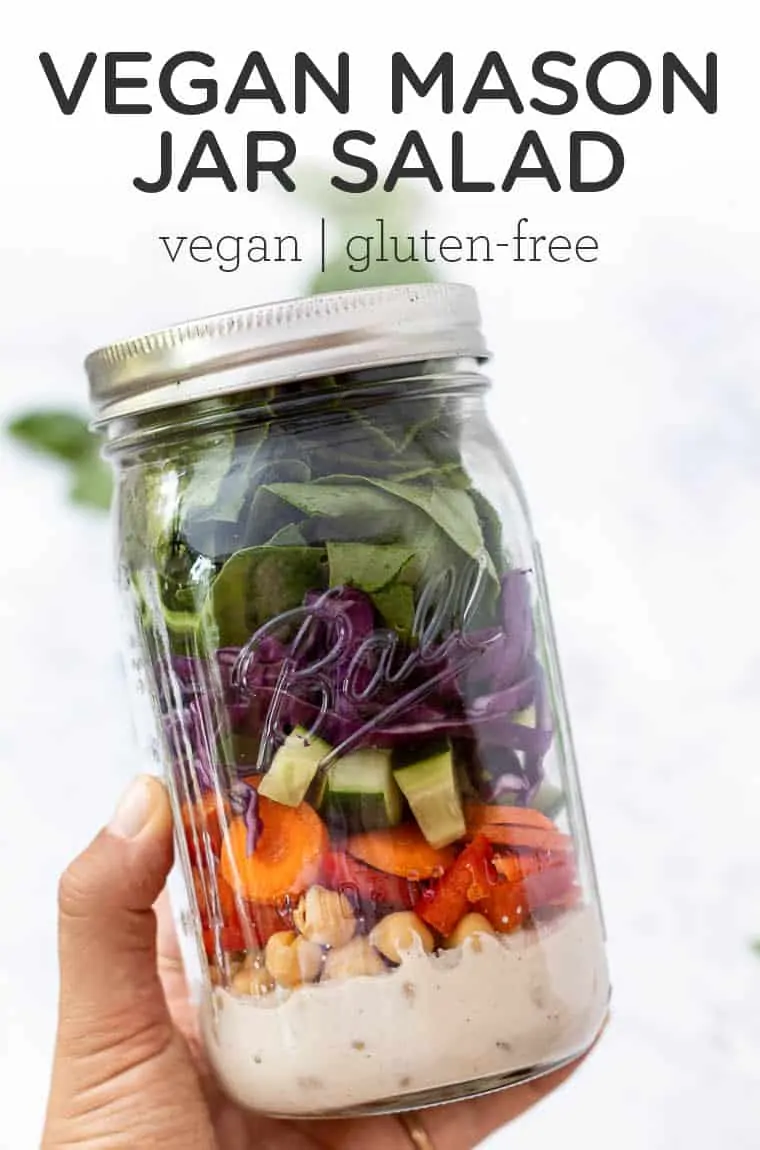 More Salad in a Jar Recipes
Rainbow Veggie Mason Jar Salad
Whip up this healthy Mason Jar Salad for a quick dinner or lunch! It's vegan, gluten-free, and packed full of rainbow veggies.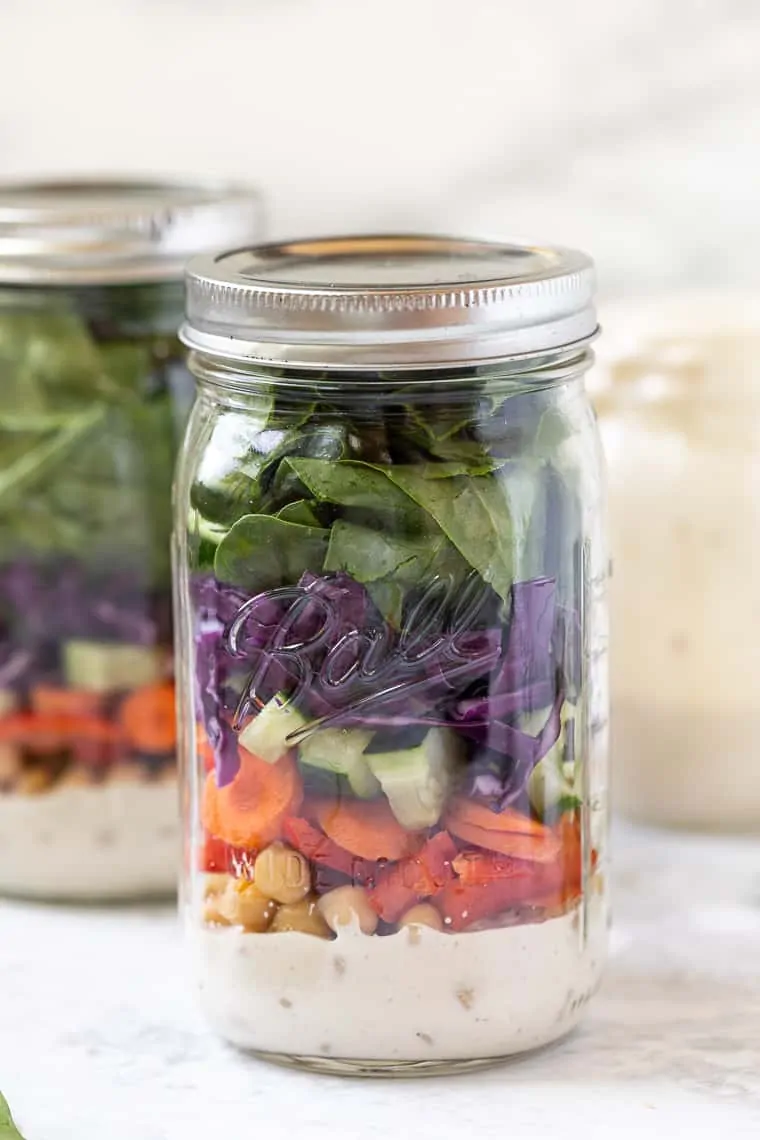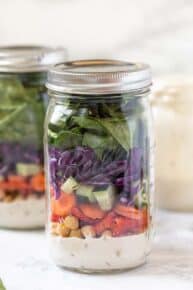 Ingredients
for the salad
1

cup

chickpeas

1

cup

chopped red bell pepper

1

cup

sliced carrots

1

cup

chopped cucumbers

1

cup

sliced cabbage

4

cups

spinach
Instructions
Whisk together the dressing ingredients until smooth and creamy. Add additional water to thin the consistency if needed.

Evenly divide the dressing between two quart-sized mason jars.

Evenly divide the chickpeas, pepper, carrots, cucumbers, cabbage, and spinach between the two mason jars, layering in that order. Screw on the lid and store in the fridge!

When ready to serve, simply pour the entire contents of the jar into your bowl and enjoy!
Nutrition
Serving:
1
salad
|
Calories:
399
kcal
|
Carbohydrates:
47
g
|
Protein:
17
g
|
Fat:
19
g
|
Saturated Fat:
3
g
|
Sodium:
128
mg
|
Potassium:
1272
mg
|
Fiber:
14
g
|
Sugar:
13
g
|
Vitamin A:
19269
IU
|
Vitamin C:
146
mg
|
Calcium:
198
mg
|
Iron:
6
mg
Filed Under: