From creamy matcha lattes to nutrient-packed breakfast cookies, these are our very favorite matcha recipes!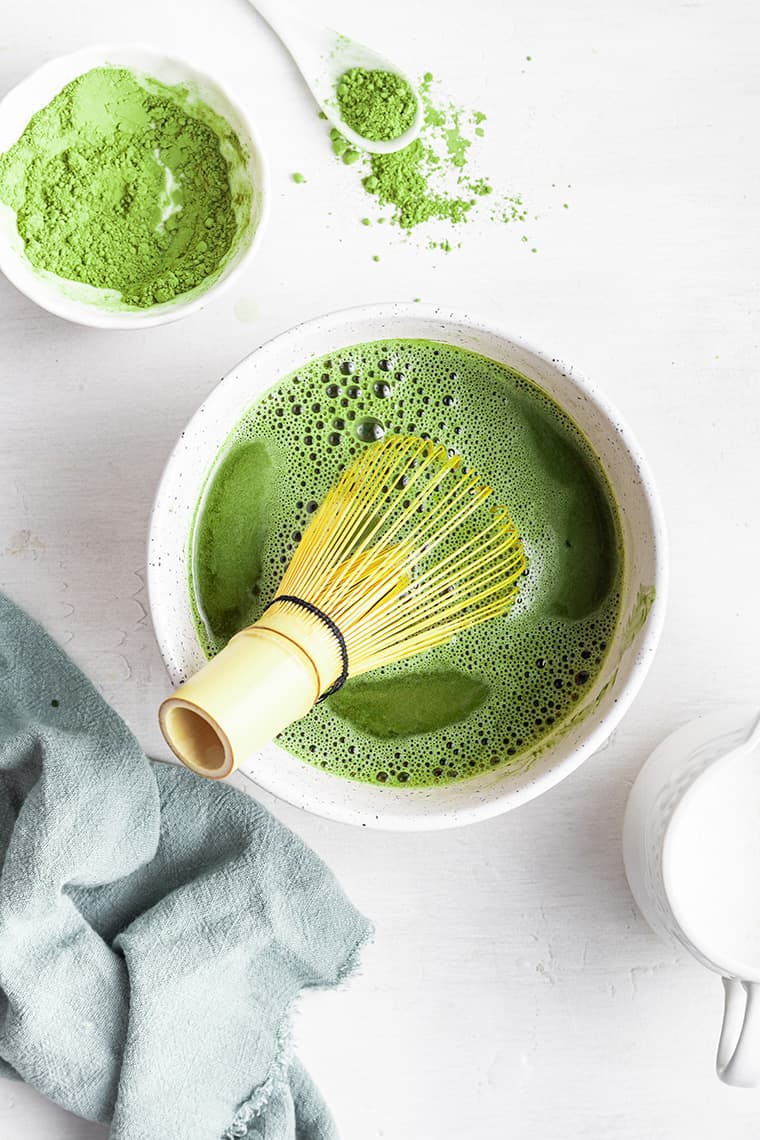 Maybe you've been wanting to give matcha a try, but you're not quite sure where to start. Well, friend, this post is for you. Consider this Matcha 101: your ultimate guide to all things matcha, plus 12 delicious matcha recipes to get you started.
Let's dig in!
What Is Matcha?
Matcha is a type of green tea that is made from the leaves of the Camellia sinensis plant. The leaves are ground into a fine powder, then mixed with water to make a nutrient-packed tea. While matcha has been used in traditional Japanese tea ceremonies for centuries, it has become increasingly popular in the U.S. as people search for healthier (and jitter-free!) alternatives to coffee.
While "matcha" and "green tea" are often used interchangeably, there's a key difference between matcha and other types of green tea: matcha is made from the entire ground leaf, while other teas are made by steeping the leaves in water, then removing them. So with matcha, you're ingesting the actual tea leaves. (This is why it's so important to choose high-quality matcha for any matcha recipe!)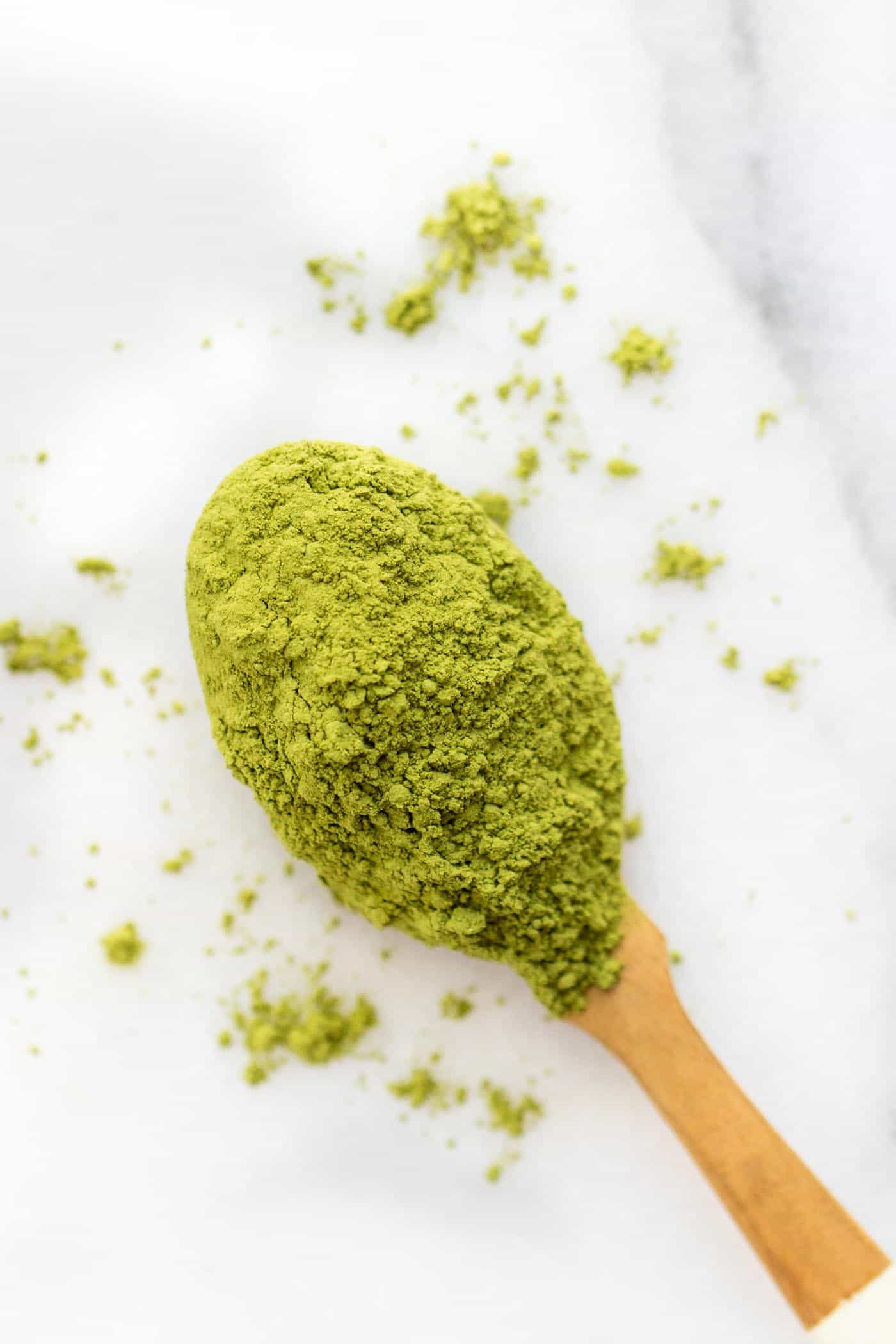 The Benefits of Matcha
Matcha is one of those rare superfoods that actually lives up to the hype. Here are the science-based benefits we know matcha brings to the table:
Matcha is loaded with antioxidants, which fight the effects of free radicals. EGCG (epigallocatechin gallate) and other antioxidants in green tea may protect against inflammation and a range of other diseases.
The catechins in matcha support brain health and cognitive function.
Matcha contains L-theanine, an amino acid that has been shown to increase levels of GABA, a neurotransmitter that has calming effects. (This is why you can get a caffeine boost from matcha without the jitters you get from coffee!)
Because matcha is made from whole tea leaves, it supplies several vitamins and minerals, including vitamin C, selenium, chromium, zinc, and magnesium, and it also contains fiber.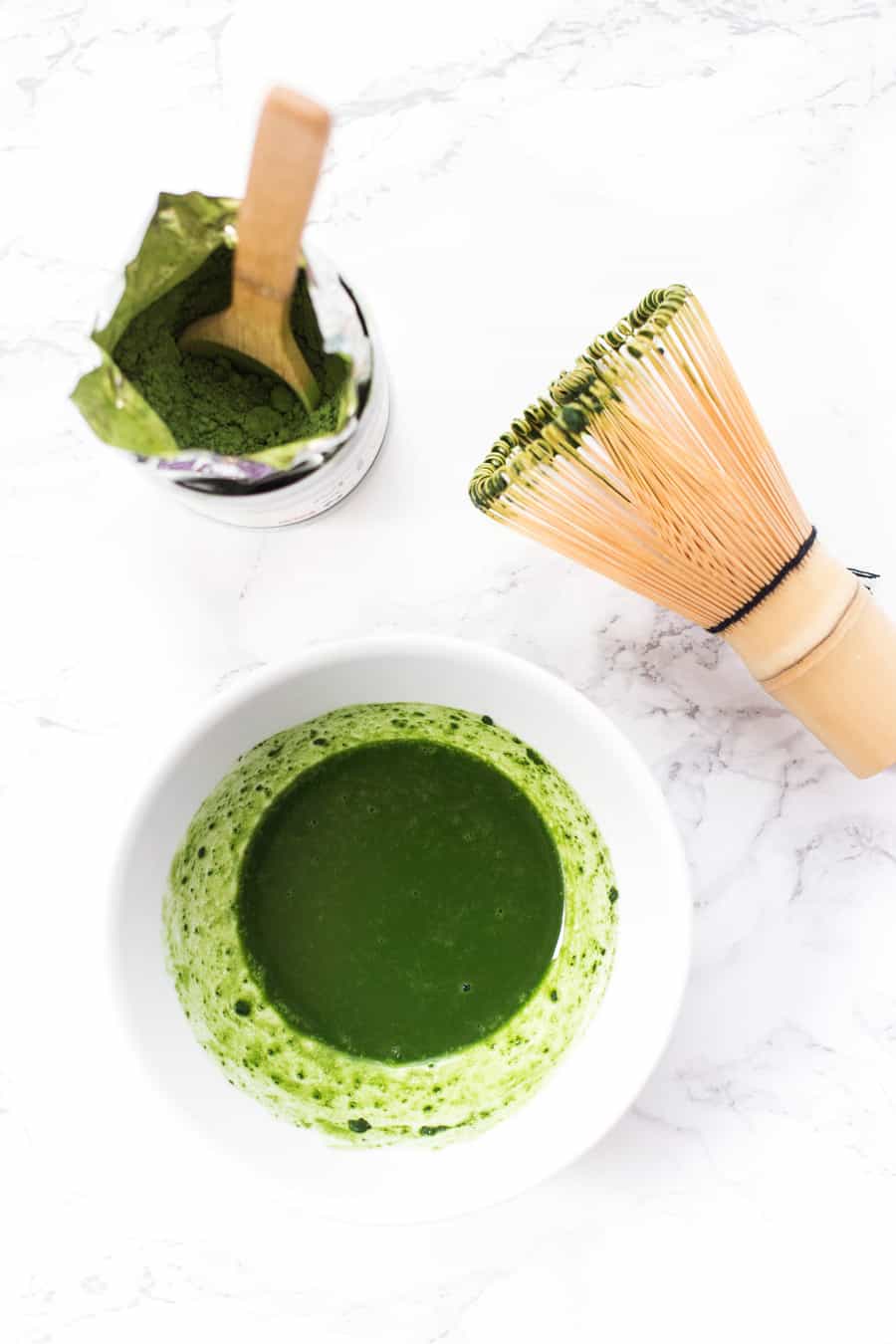 How to Make Matcha Tea at Home
First, buy the best matcha powder you can afford. It really does matter! Matcha grown outside of Japan may contain heavy metals and other contaminants that you don't want in your morning cup of tea. You'll want ceremonial grade matcha if you're making tea to drink or a matcha latte recipe. Culinary grade matcha is perfect for using in other matcha recipes like desserts, overnight oats, chia pudding, etc.
While you can use a bamboo whisk, which is designed to create a delightfully frothy consistency, a handheld battery-operated milk frother totally works too. In a pinch, you can use a regular whisk, but it will be harder to achieve that frothiness.
To make matcha, start with a teaspoon of matcha powder and 8 ounces of hot water. Then:
Sift the matcha powder into a small bowl or wide mug. You don't want lumps in your matcha!
Add a small amount of water. The water should be around 175ºF, which means it should not be boiling.
Whisk. Move your whisk in a W-shaped motion until the powder is incorporated and the tea is frothy.
Finish. Pour in the rest of the water.
12 Easy Matcha Recipes to Try
Once you've got the basic matcha tea recipe down, you'll want to try making matcha lattes and using your matcha powder in all the things! Here are some of my favorite matcha recipes.
1. Easy Matcha Latte
The classic recipe for a coffeehouse-style matcha latte at home! Prep your matcha as described above, then combine it with steamed milk and serve it hot or iced.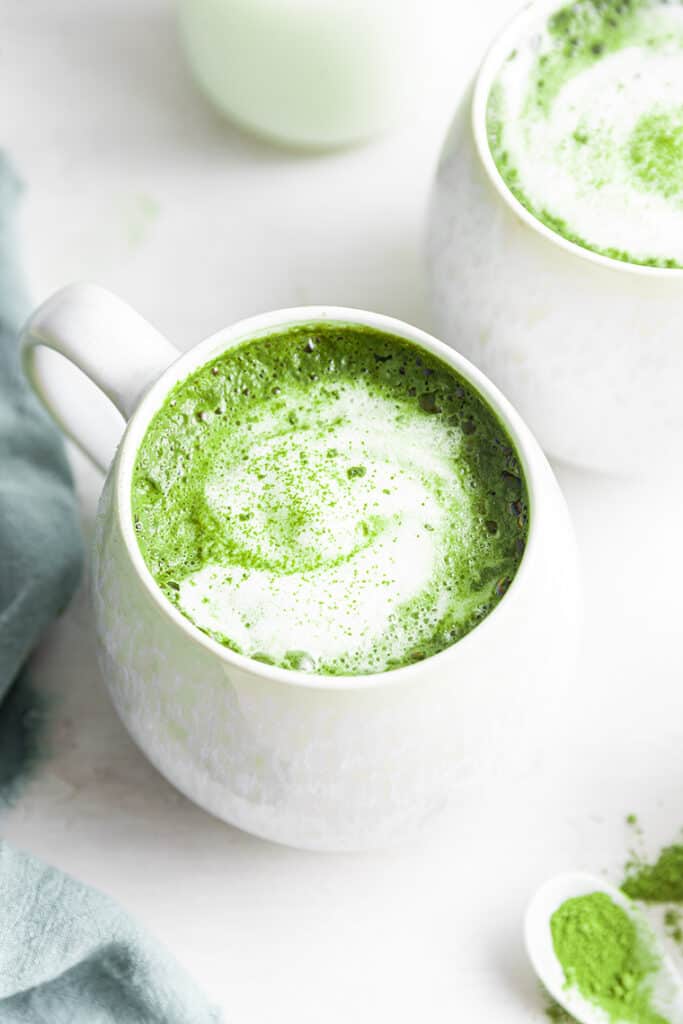 Matcha Latte Recipe
This easy matcha latte recipe is creamy and cozy. The perfect warm drink to start your day.
Check out this recipe
2. Pumpkin Spice Matcha Latte
A PSL without the coffee! Enjoy all that cozy fall flavor without any of the jitters.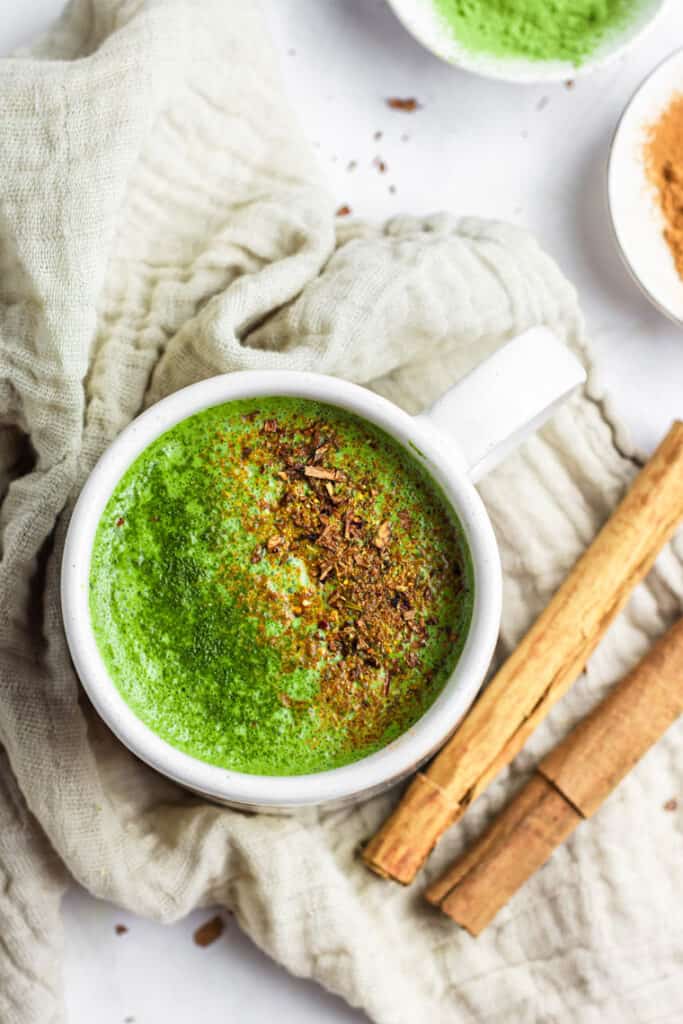 Vegan Pumpkin Spice Matcha Latte
This vegan pumpkin spice matcha latte is the perfect warm beverage to start your day with. Skip the coffee and try this energizing, healthy drink instead!
Check out this recipe
3. Creamy Coconut Matcha Oatmeal
These creamy, dreamy matcha oatmeal bowls will keep you feeling full and satisfied all morning long.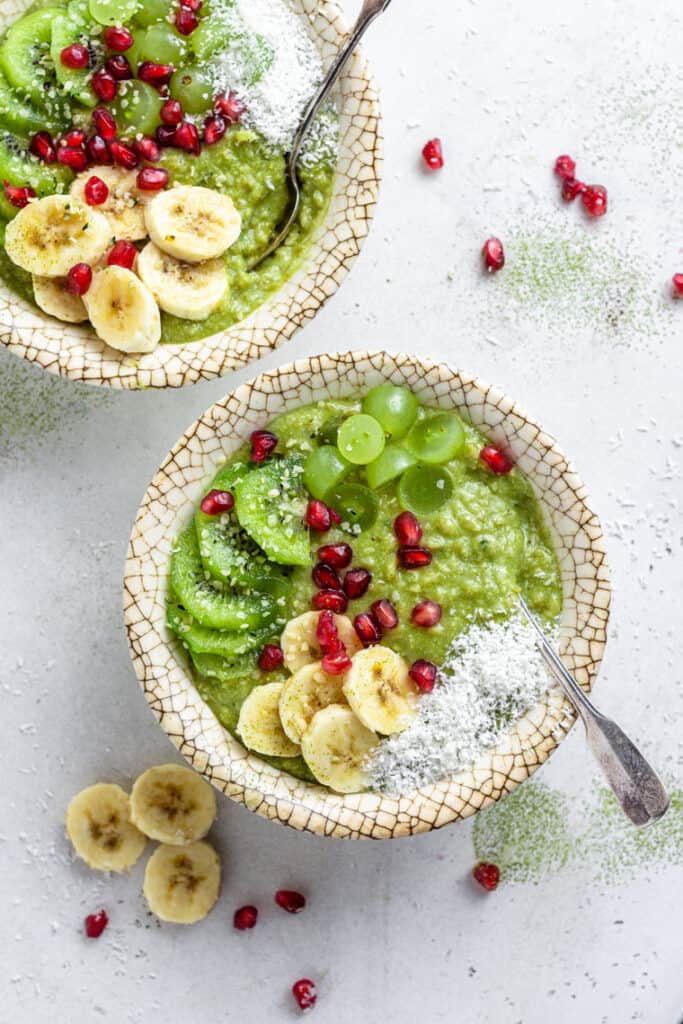 Creamy Coconut Matcha Oatmeal
These creamy coconut matcha oatmeal bowls are a warm, comforting, and cozy breakfast recipe that sticks to your ribs and keeps you fueled all day long.
Check out this recipe
4. Vegan Whipped Matcha Latte
This recipe is a green tea twist on the popular Dalgona coffee! Cold and frosty, it's perfect for hot summer days.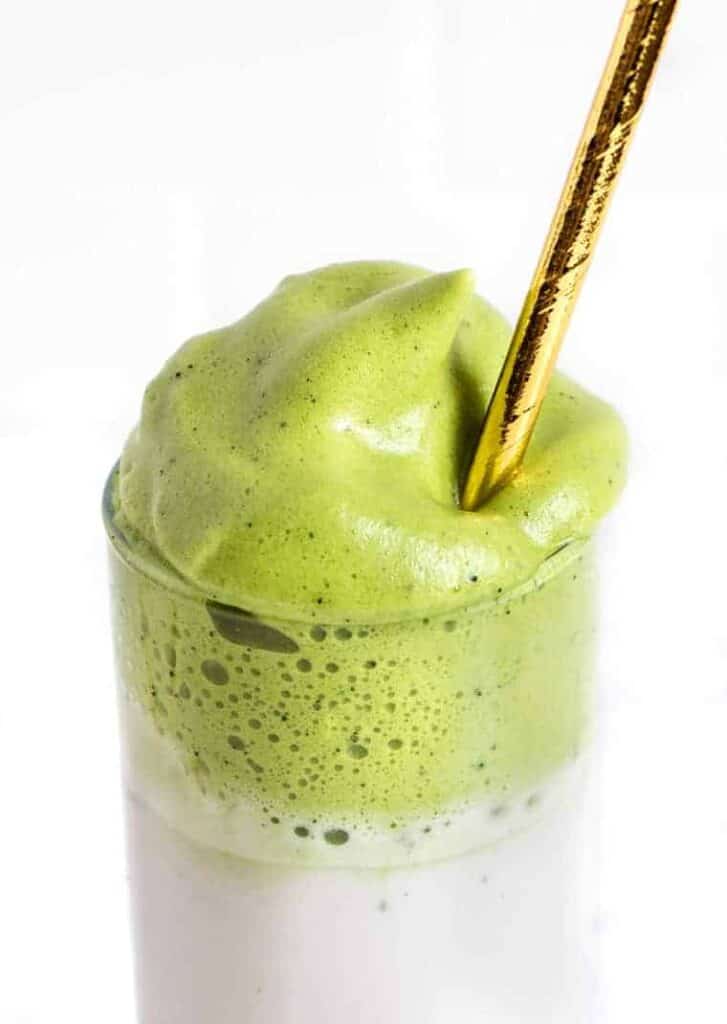 Dalgona Whipped Matcha
This whipped matcha recipe is a coffee-free twist on the popular Dalgona coffee craze. This whipped matcha recipe is perfect for non-coffee drinkers!
Check out this recipe
5. Beautifying Rose Matcha Latte
The perfect drink for when you need that extra boost of energy, with nutrients that are amazing for your hair, skin, and nails!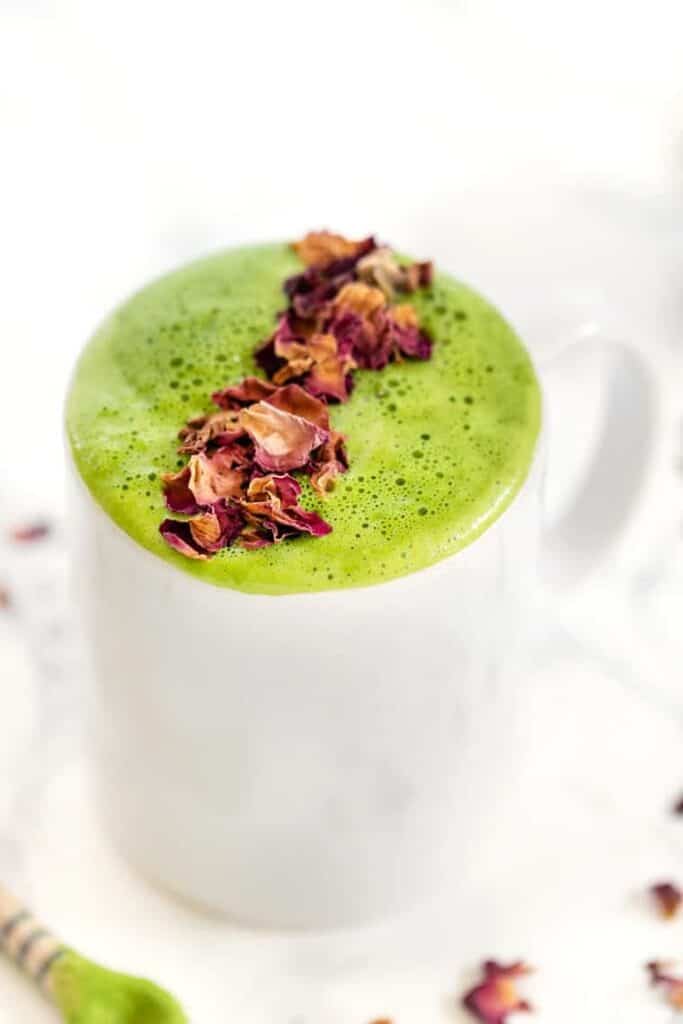 Beautifying Rose Matcha Latte
A rose matcha latte recipe that is full of healthy beauty foods. It's not only a natural energy drink, but it's also amazing for your skin, hair and nails!
Check out this recipe
6. Mango Matcha Smoothie
This tasty, nourishing matcha smoothie is made with two types of greens, creamy avocado, superfood powders, and sweet, tropical mango. So good!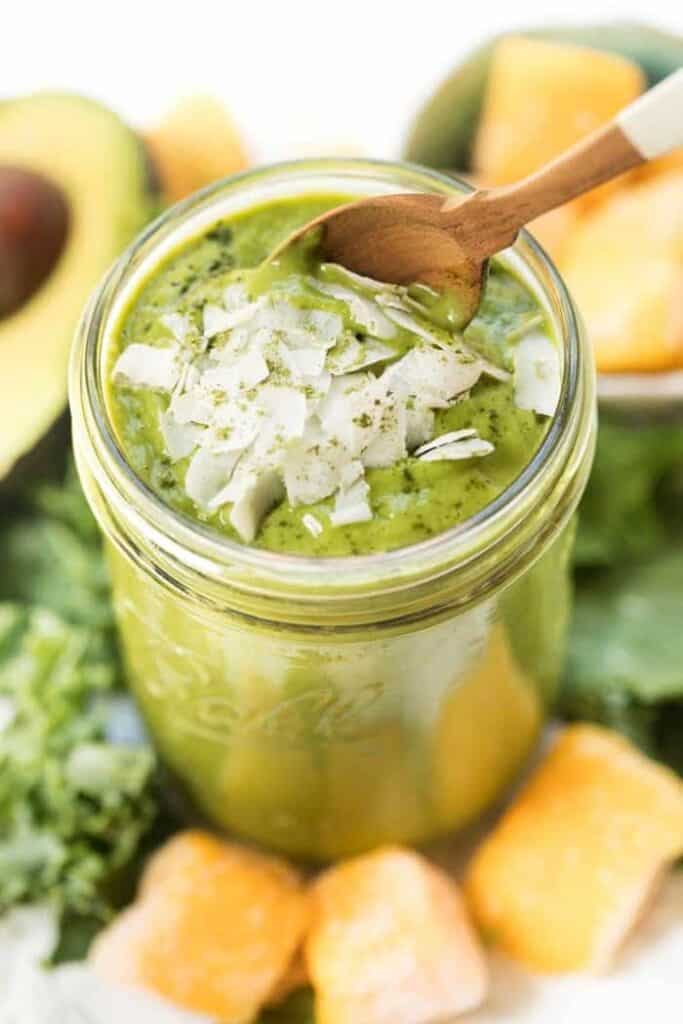 Mango Matcha Smoothie
This healthy mango matcha smoothie is made with 2 types of greens, avocado, superfood powders and almond milk!
Check out this recipe
7. Adaptogen Matcha Latte
Get even more health benefits from your matcha by adding adaptogens.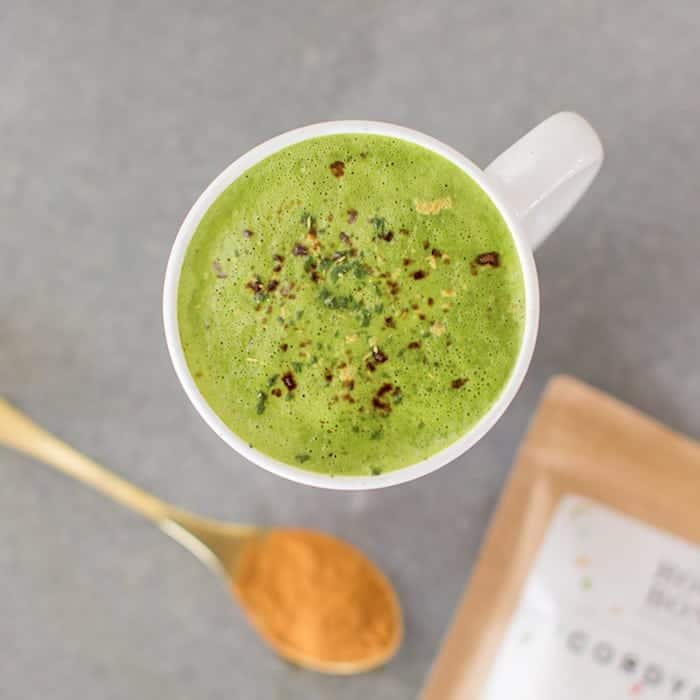 Everyday Matcha Latte
This delicious matcha latte is an awesome alternative to coffee. It's high in antioxidants, packed with superfoods and has the creamiest texture!
Check out this recipe
8. Vegan Sugar Cookies With Matcha Icing
Skip the food coloring and use matcha instead to make these festive vegan sugar cookies!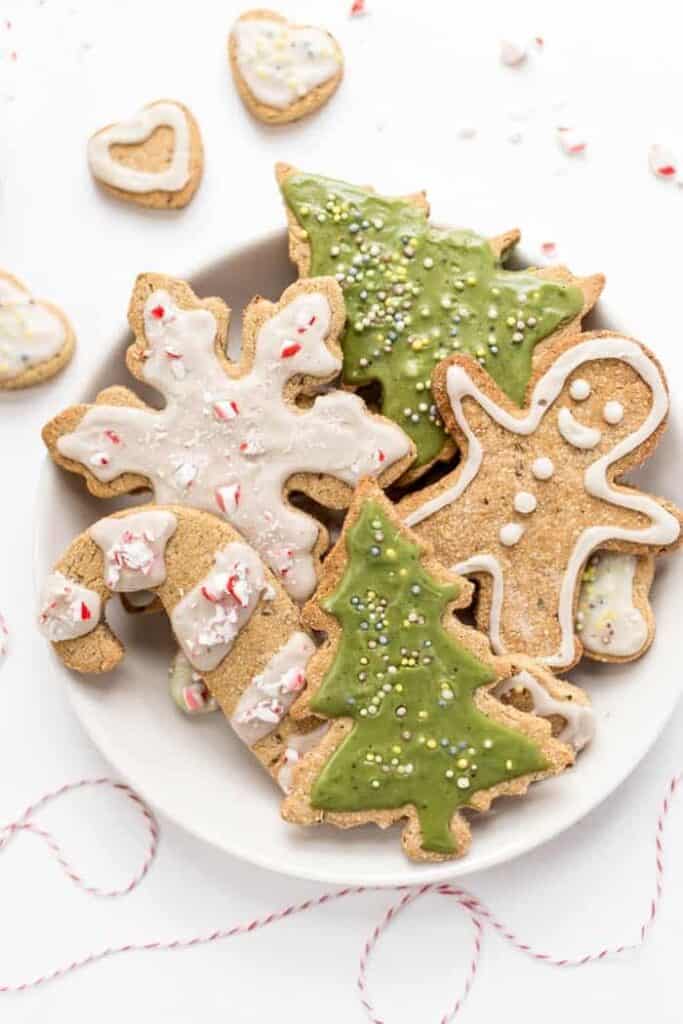 Gluten-Free & Vegan Sugar Cookies with Matcha Icing
These Gluten-Free & Vegan Sugar Cookies are perfect for the holidays. Easy to make, healthy, nut-free and topped with a naturally colored green icing!

Check out this recipe
9. High Vibes Iced Matcha Latte
This energizing drink is naturally sweetened, vegan, and gluten-free. Coconut butter makes it creamy and delicious, while medicinal mushrooms bring loads of health benefits.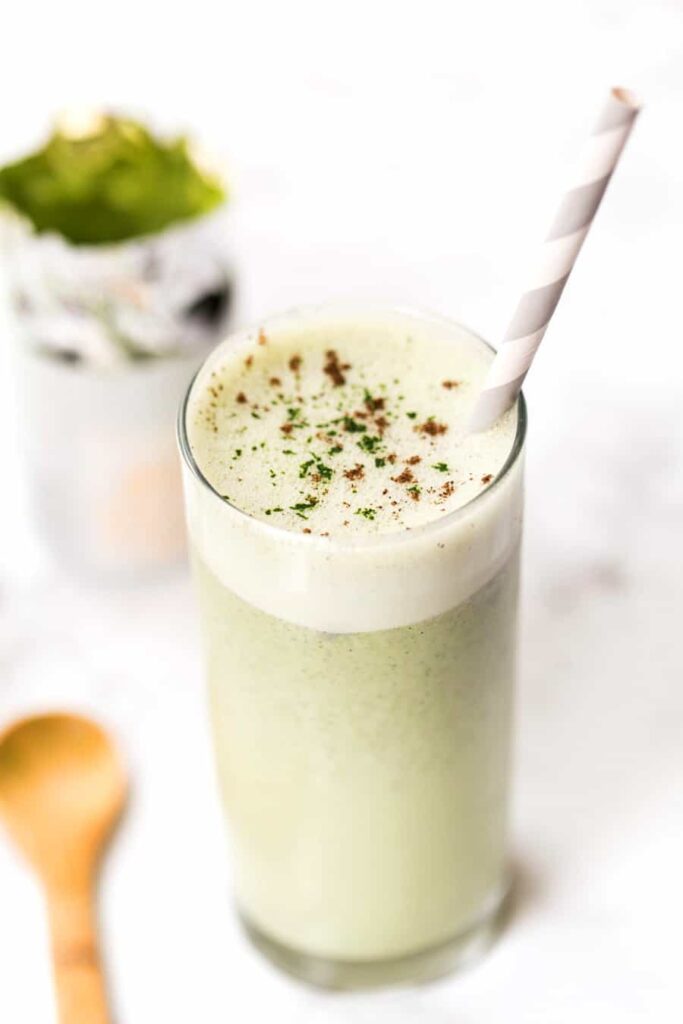 High Vibes Iced Matcha Latte
A simple iced matcha latte made with medicinal mushrooms and coconut butter for added energy and nutrition!
Check out this recipe
10. Vegan Matcha Protein Balls
These matcha protein balls are a cinch to make and they're packed with healthy fats and protein for the perfect snack.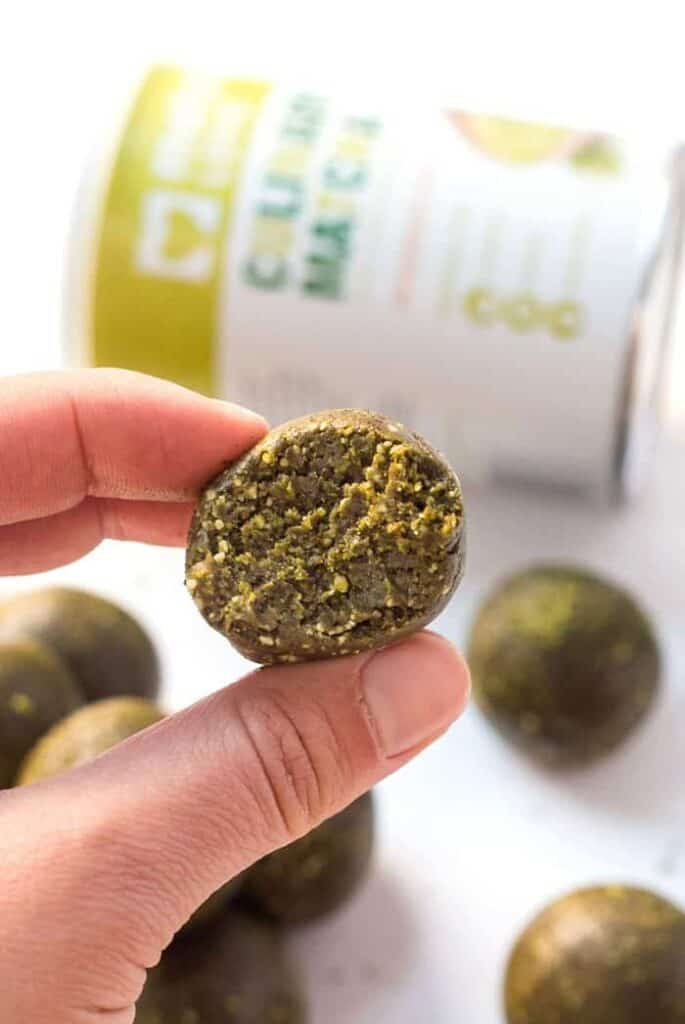 Vegan Matcha Protein Balls
A fun way to use matcha, these matcha protein balls are a cinch to make! They're packed with protein, healthy fats and make the perfect on-the-go snack!
Check out this recipe
11. Matcha Quinoa Breakfast Cookies
For a healthy grab-and-go breakfast, it doesn't get much better than these Matcha Quinoa Breakfast Cookies!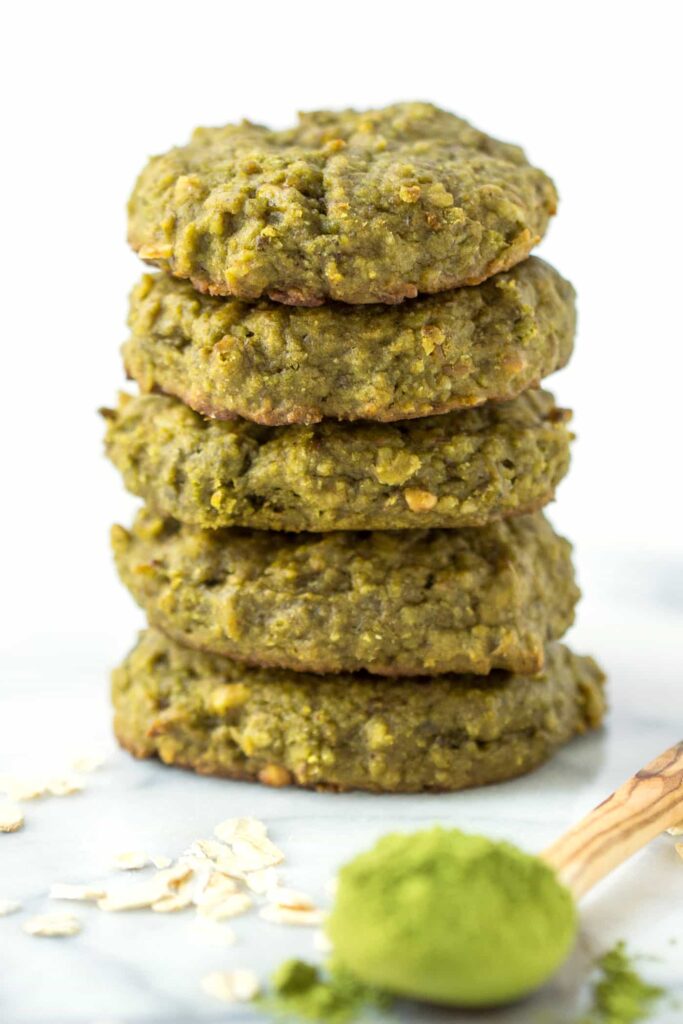 Matcha Quinoa Breakfast Cookies
In terms of the flavor, I wasn't quite sure how these would taste, but I was pleasantly surprised when they came out of the oven. Not only were they a bit fluffier than my normal breakfast cookies, but they had a vibrant green color AND they didn't have any trace of bitterness.
Check out this recipe
12. Energizing Matcha Latte
Start your day the right way with this energizing matcha latte made with brain-boosting MCT oil and maca powder.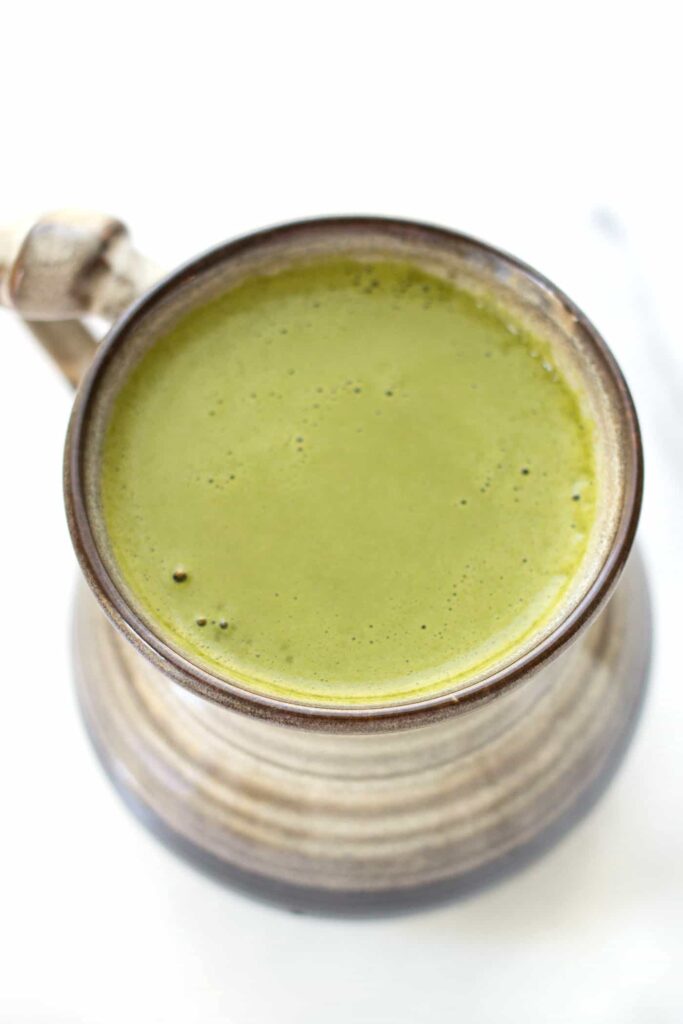 Energizing Matcha Latte
So whether you're looking for an energy boost in the morning or want to try something other than coffee, this energizing matcha latte is perfection. So simple to make, filled with amazing ingredients and tastes delicious!
Check out this recipe
Frequently Asked Questions About Matcha
Does Matcha Have a Lot of Caffeine?
While it depends on how you prepare your matcha, an 8-ounce cup made with a teaspoon of matcha powder can have 70 mg of caffeine, which is less than a cup of coffee (which has about 100 mg per cup) and more than black tea, which has around 50 mg per cup, depending on the preparation.

That said, matcha generally doesn't cause the jittery feeling that some people experience after drinking coffee. Many people who can't tolerate coffee find that matcha is an excellent alternative.
Is Matcha Healthier Than Green Tea?
Matcha is healthier than traditional green tea because you're getting the nutrition from ingesting the entire green tea leaves in matcha, rather than simply steeping the leaves in water and then removing them before drinking.
Is it OK to Drink Matcha Every Day?
Yes, it is perfectly safe to drink matcha every day, provided you're buying it from a reputable source; it's low in calories and full of beneficial compounds and antioxidants. 
What's Healthier, Matcha or Coffee?
Matcha and coffee are both healthy low-calorie drinks, but matcha has the edge when it comes to health benefits. Matcha contains more antioxidants than coffee and has been shown to boost metabolism and help with weight loss. Coffee also contains antioxidants, but not as many; it also has a higher caffeine content, which can be a problem for some people.
share what you make
Tag #simplyquinoa on Instagram with your creations! We love sharing what you make with the community. We can't wait to see!

follow on instagram