2 ingredient nutella is a creamy, nutty, and decadent spread that combines hazelnuts with chocolate. It only takes 20 minutes to make, and is superior to the kind you'll find in the grocery store.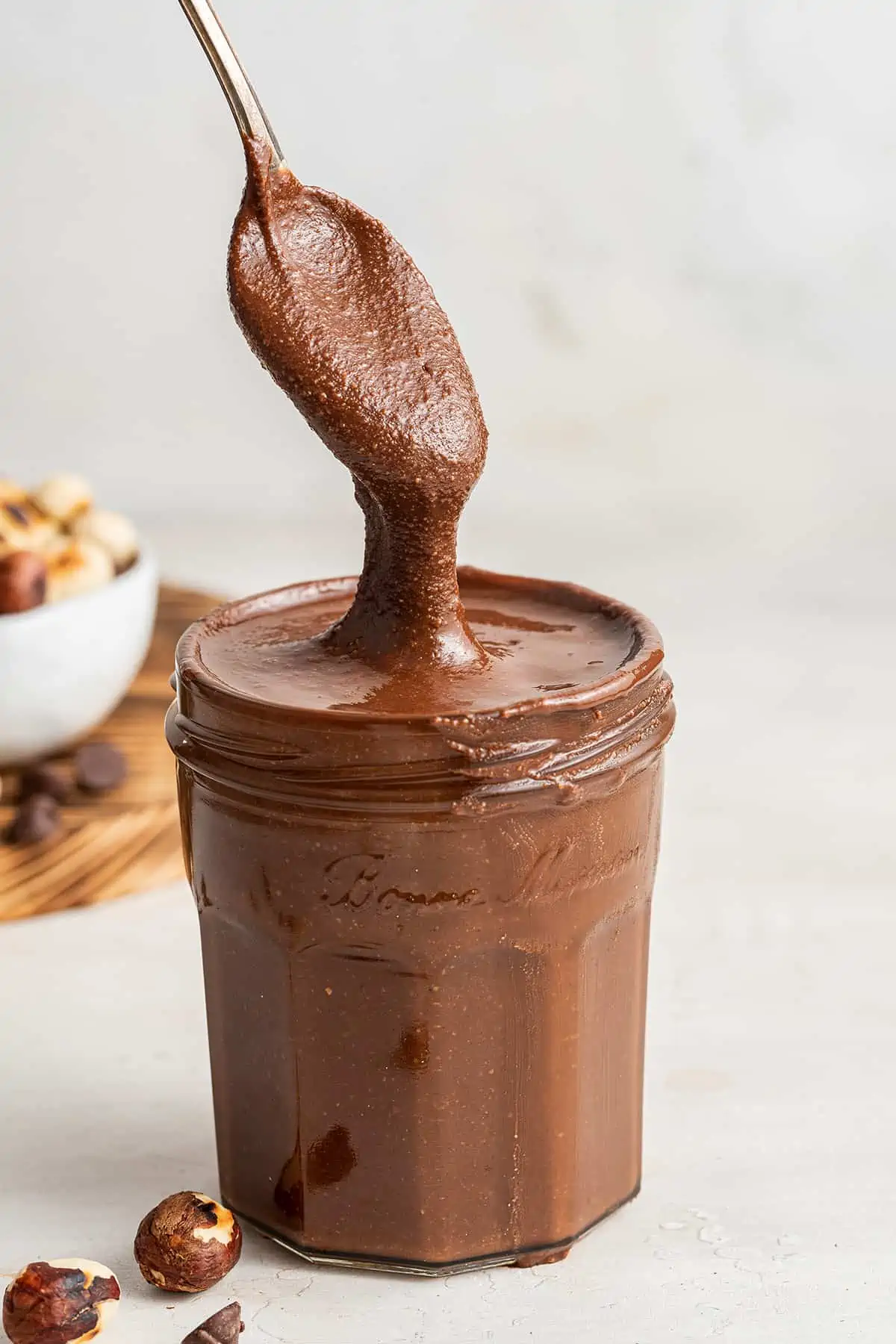 Nutella is a nearly perfect spread. The combination of hazelnuts and chocolate is absolutely classic, and I could eat it every day. But while the spread that you find in the store is smooth, rich, and flavorful, you can easily make an even better version at home. This 2 ingredient nutella recipe is rich, creamy, and indulgent, and puts the grocery store version to shame.
It's also really easy to make. 2 ingredient nutella is as simple of a recipe as you'll find, and you only need 20 minutes to make a spread that you'll want to put on everything. Plus, it's vegan!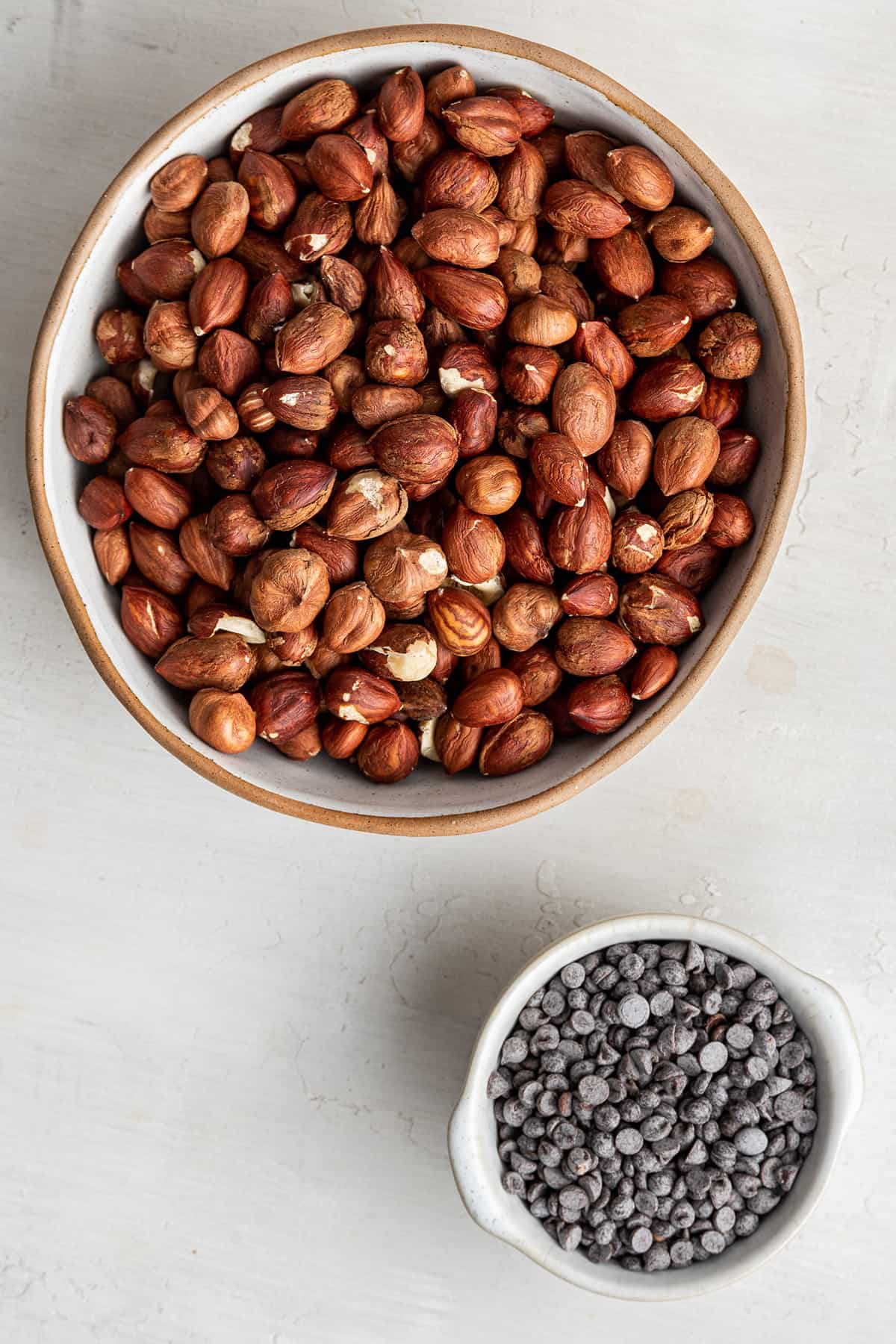 What You'll Need
Here are the ingredients that you need for 2 ingredient nutella. You can find the exact amount of each ingredient in the recipe card at the bottom of the article.
Hazelnuts
Vegan dark chocolate chips
How to Make 2 Ingredient Nutella
Here's how to make this super simple chocolate nut butter.
Roast the hazelnuts. Place the nuts on a small baking sheet and roast in the toaster oven for 5 minutes.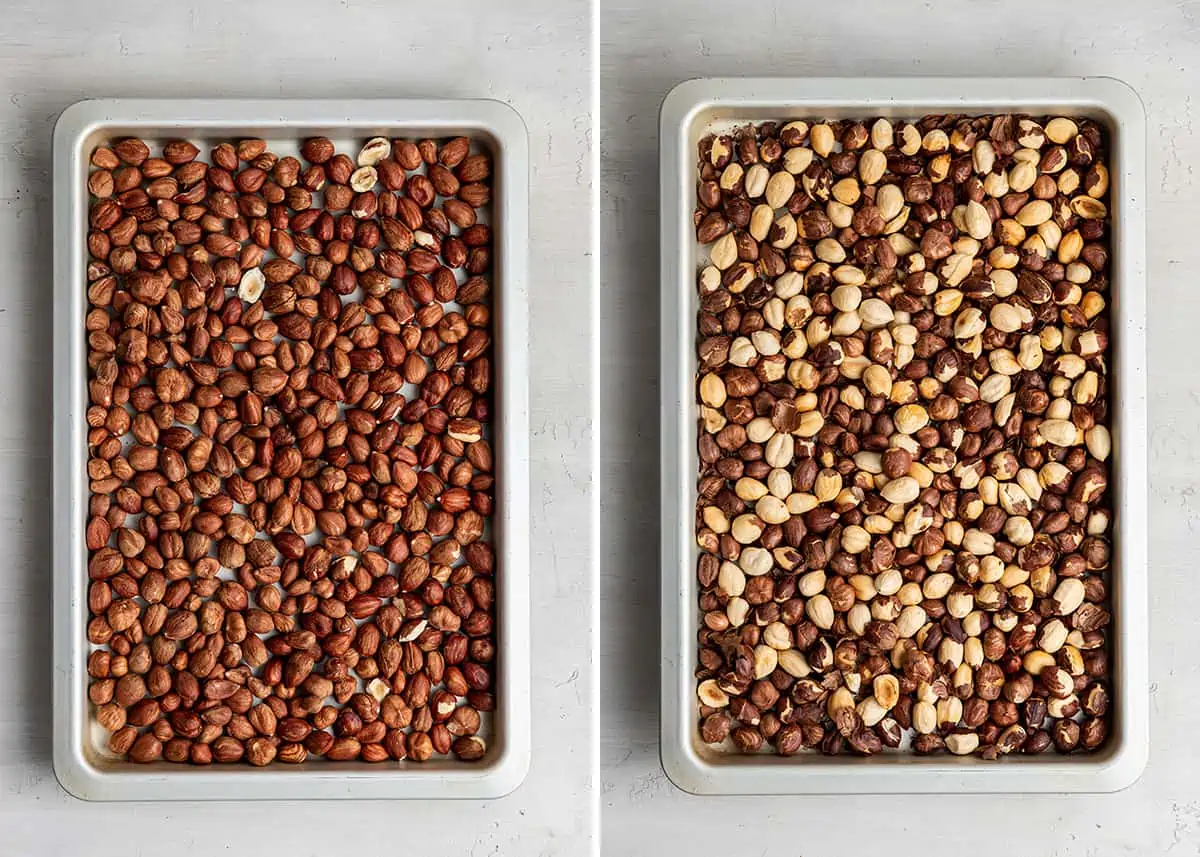 Melt the chocolate. Add the chocolate to a bowl, and melt it over a double boiler. You can also melt the chocolate in the microwave.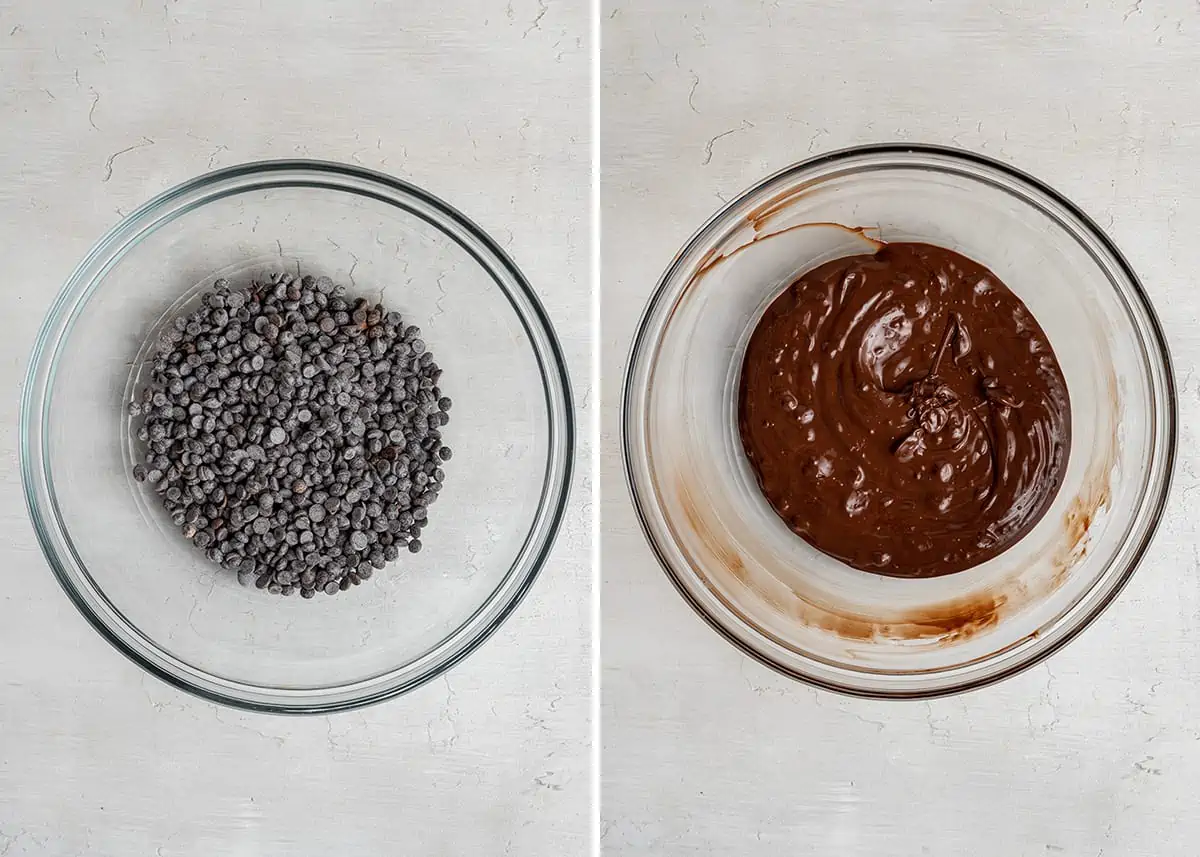 Process the hazelnuts. Place the nuts in a food processor and process on high until smooth and creamy. This will take a while, usually between 10 and 15 minutes.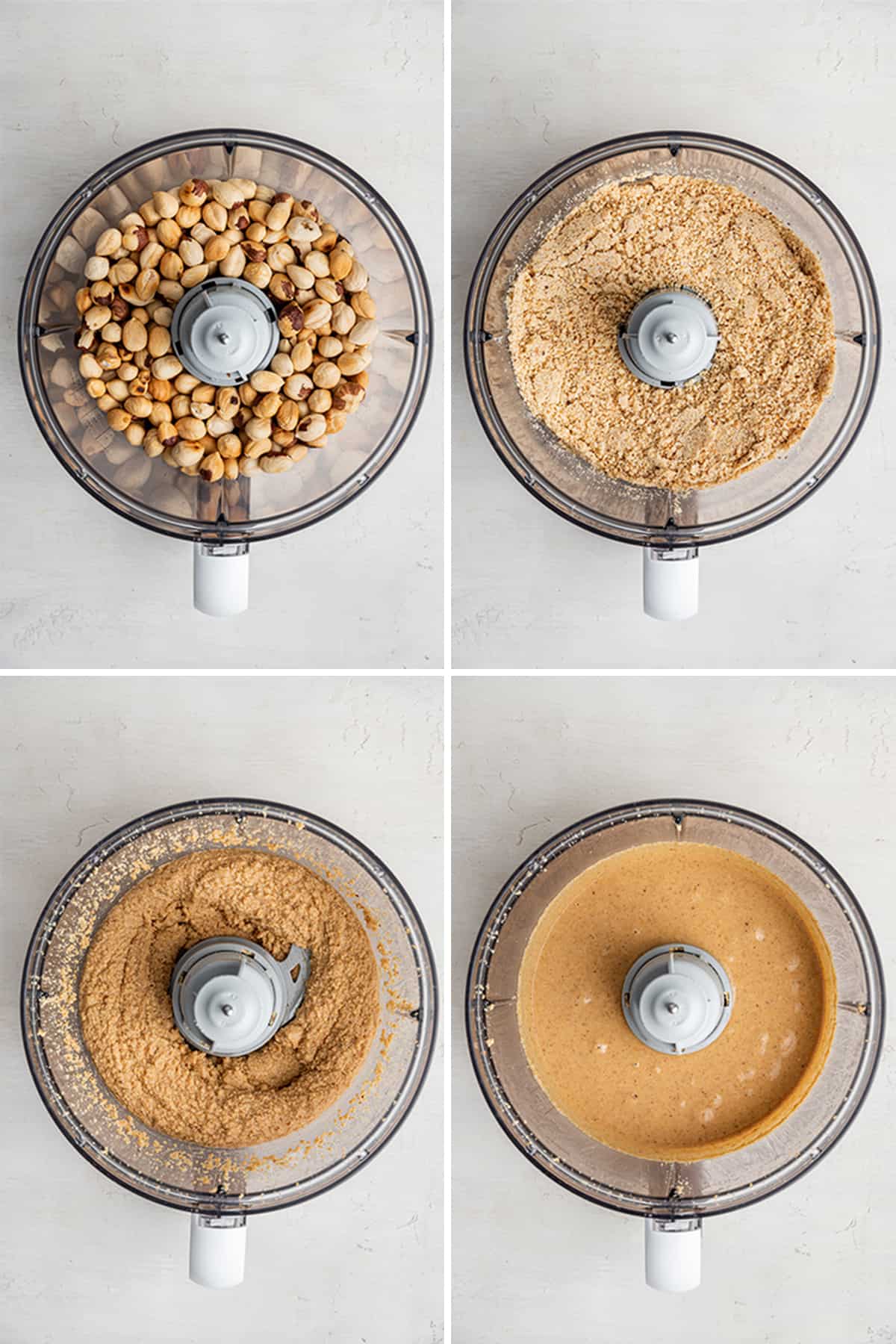 Add the chocolate. Pour the melted chocolate into the food processor and process until the mixture is well combined. Transfer to a glass container and you've got nutella.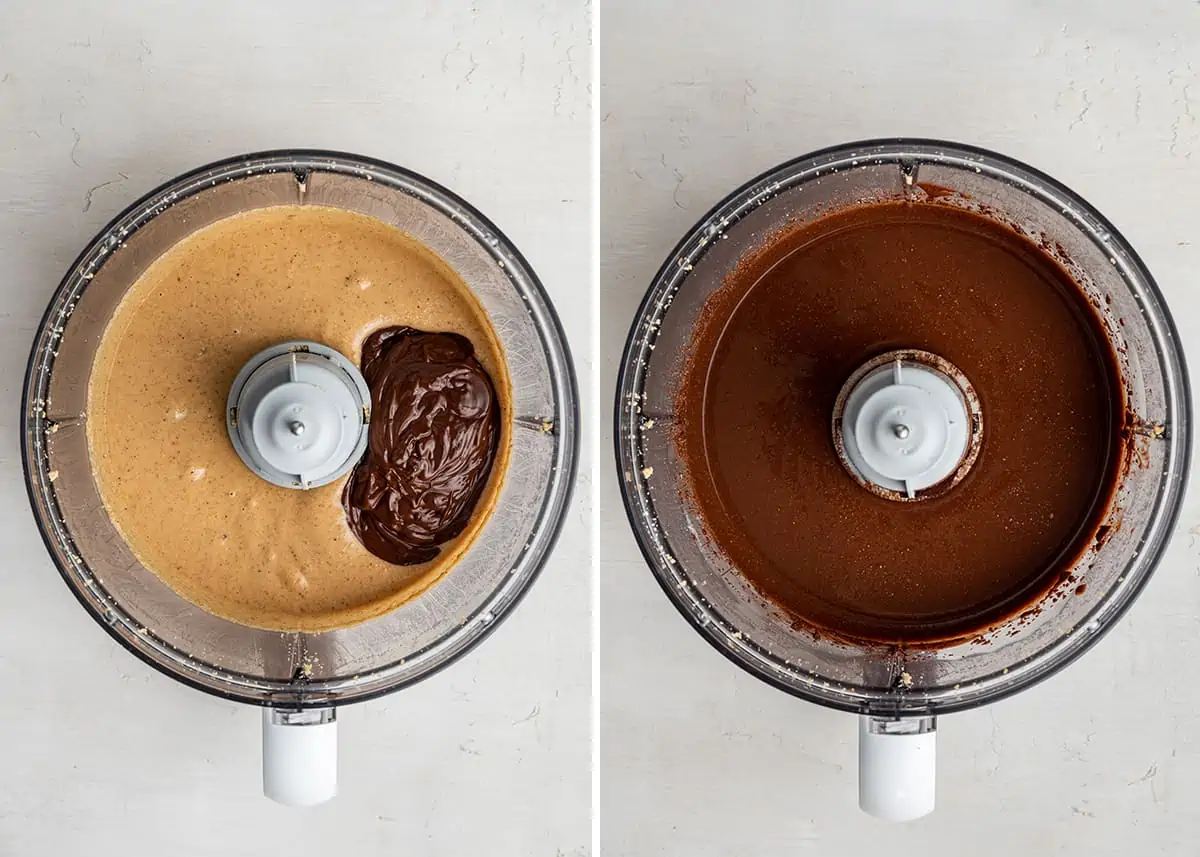 Variations
I think this 2 ingredient nutella is pretty perfect, but it's fun to mix it up a little bit. Here are some variations you can try to make different spreads.
Chunky. Nutella is known for being luxuriously smooth, but it's also good when chunky. To give this spread some texture, set aside a small amount of hazelnuts after roasting them. Chops the nuts into small pieces, and then add them to the spread when you add the chocolate.
Spicy. Nutella is fantastic when made spicy. Both hazelnuts and chocolate go really well with chilis, so this is a match made in heaven. To make a spicy nutella, just sprinkle some chili powder over the hazelnuts before putting them in the toaster oven.
Sweet. This 2 ingredient nutella is pretty sweet to begin with because of the chocolate. But if you have a sweet tooth, you can bump up the sweetness by adding a little honey, maple syrup, or agave to the nut butter. Add the sweetener at the same time that you add the chocolate.
Dessert flavors. It goes without saying that nuts and chocolates go well with a lot of other flavors, namely the ingredients that you might use to season other sweet dishes. Adding ground cinnamon or ground nutmeg to the nuts before roasting them, or vanilla extract to the chocolate mixture will make your 2 ingredient nutella taste like a show-stopping dessert.
Salty. A lot of nut butters are salty, and this recipe being sweet shouldn't stop you from adding salt. If you're a fan of salty nut betters, then sprinkle some kosher salt over the hazelnuts before roasting them. The contrast of sweet and salty is hard to beat.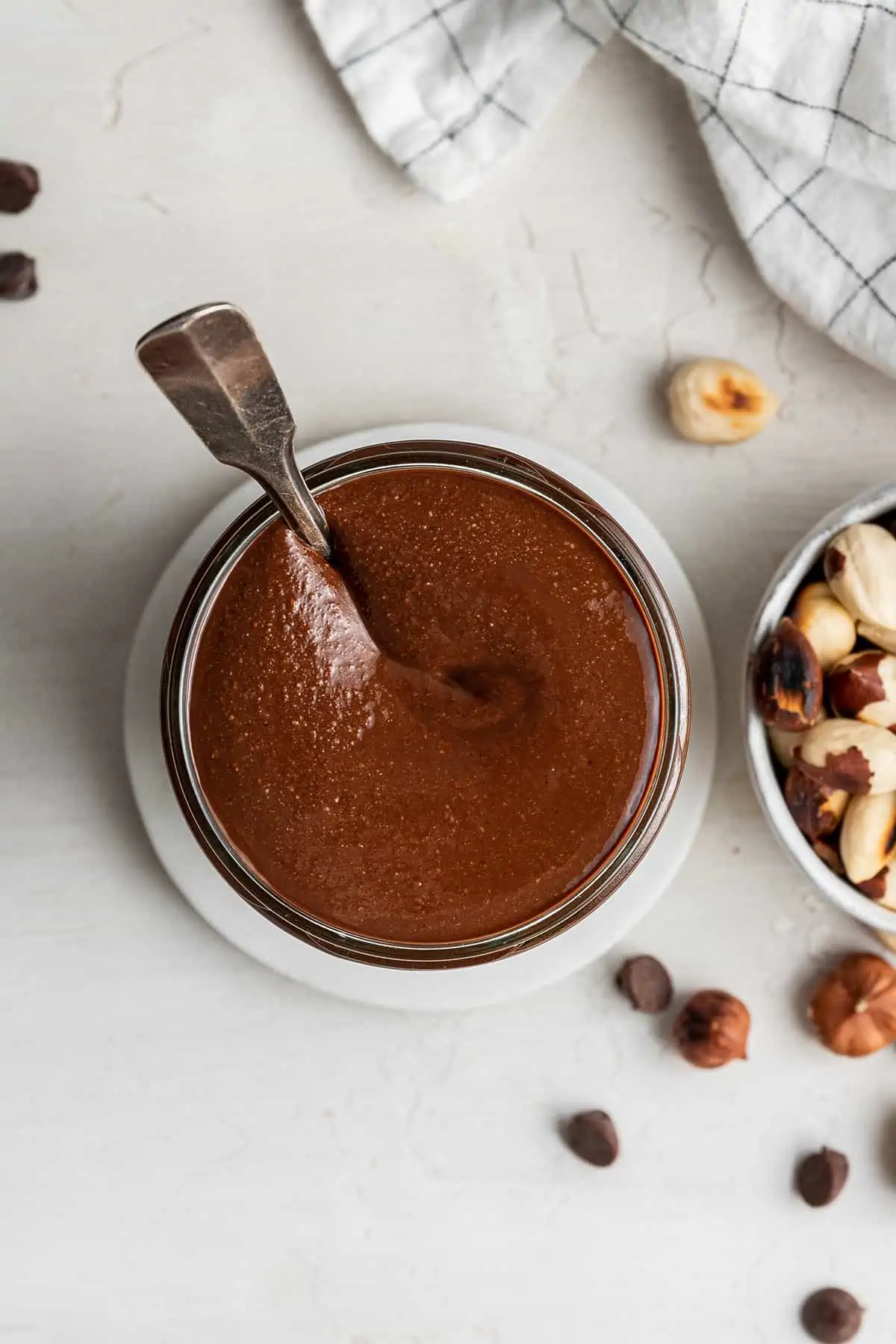 How to Use 2 Ingredient Nutella
I'll be honest, sometimes I just have a spoonful of 2 ingredient nutella all by itself! But it's even better when put on or in things. Here are some of my favorite ways to use it.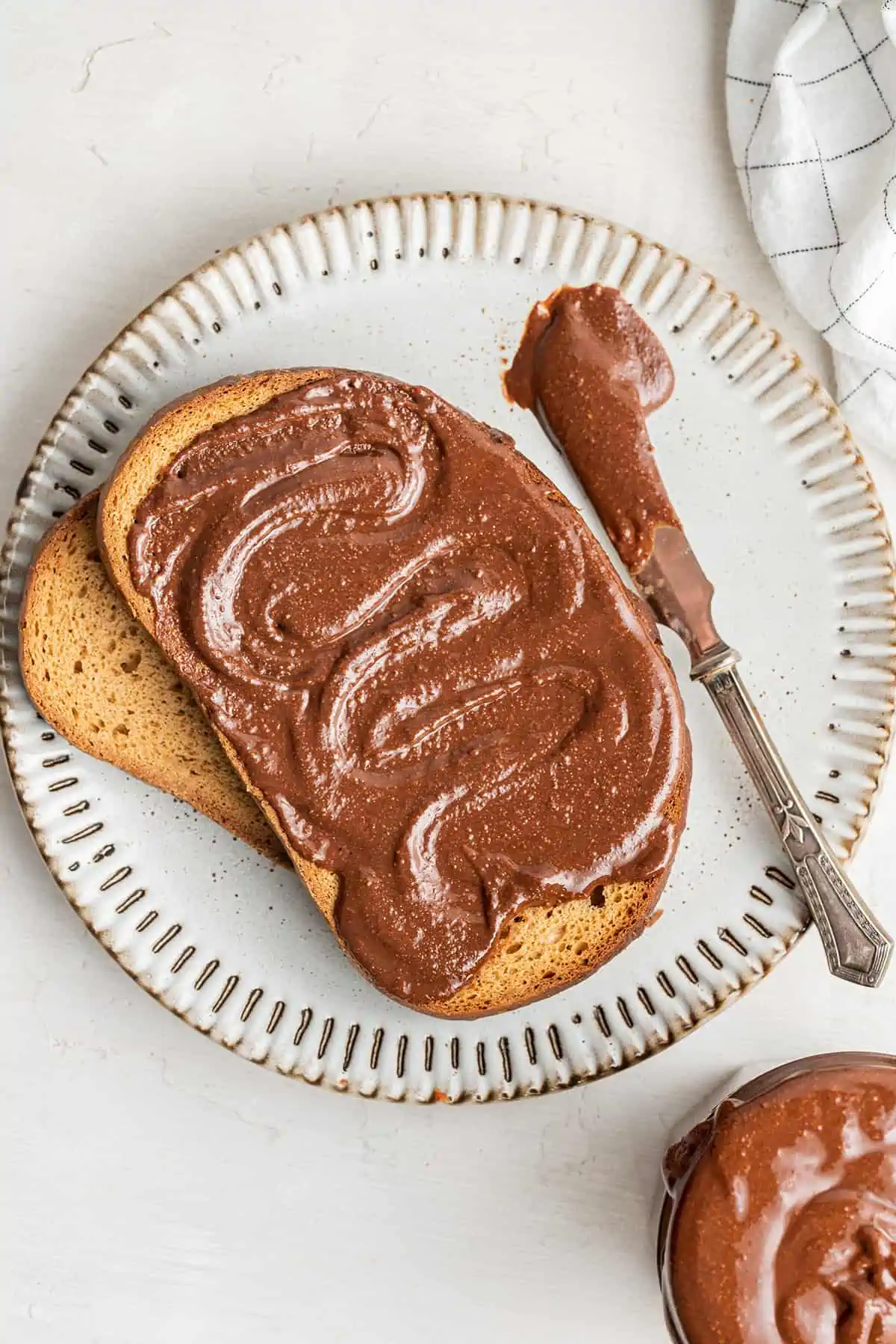 How to Store 2 Ingredient Nutella
After making this nutella, store it in an airtight container, preferably a glass jar. You can store it at room temperature for up to 1 month, or in the fridge for up to 3 months. I prefer to keep it at room temperature, so it's softer and creamier when I use it.
Can This Recipe Be Frozen?
You can freeze 2 ingredient nutella, though the texture won't be as good when you thaw it. To freeze, simply place in an airtight container in the freezer for up to 6 months. Thaw overnight in the fridge before using.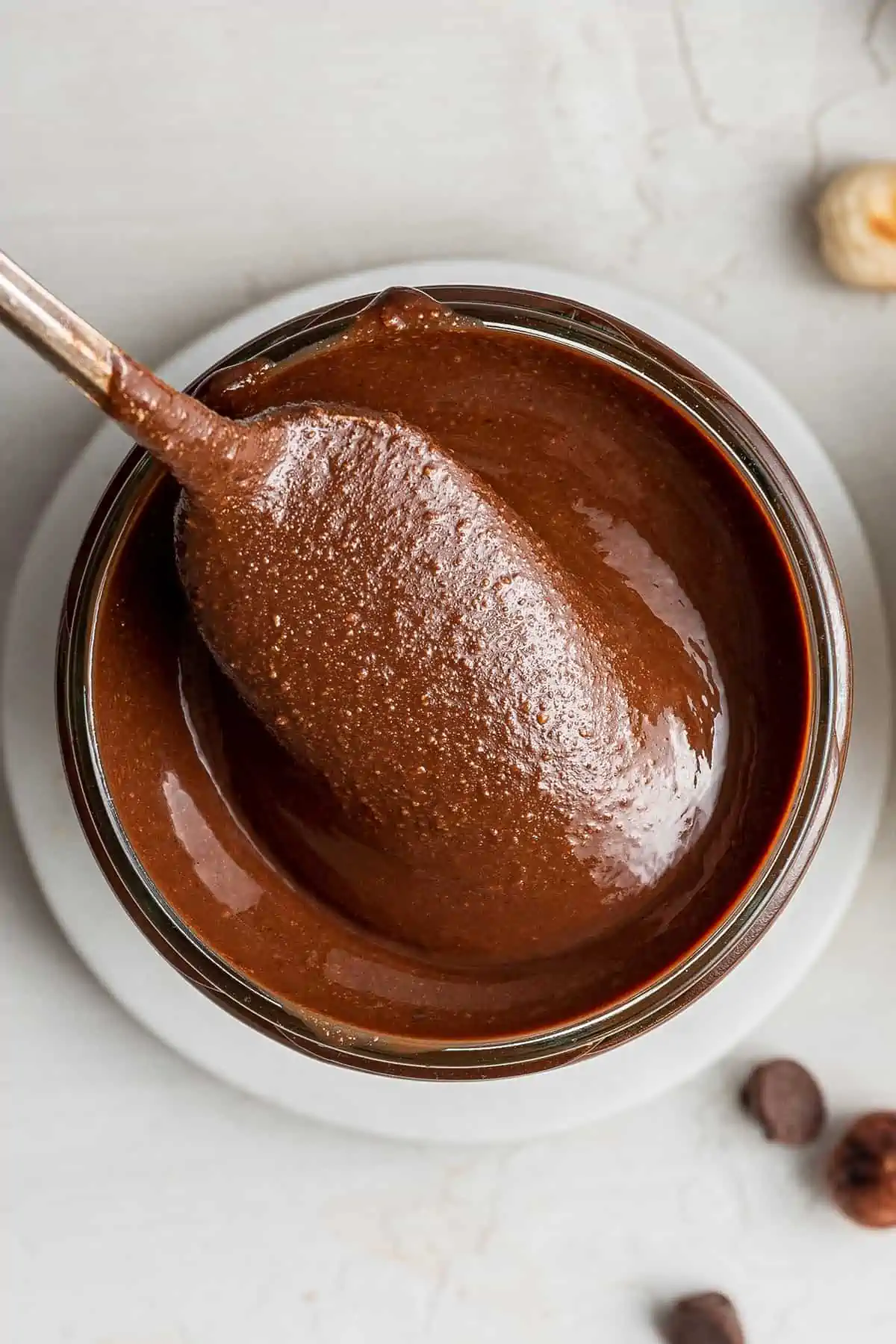 More Nut Butters to Make
Nut butters are one of my favorite spreads. Here are some more fun nut butter recipes for you to try.
2 Ingredient Nutella
This 2 ingredient nutella recipe is rich, creamy, smooth, and indulgent. It only takes 20 minutes to make, and it's much better than the kind you'll find at the store.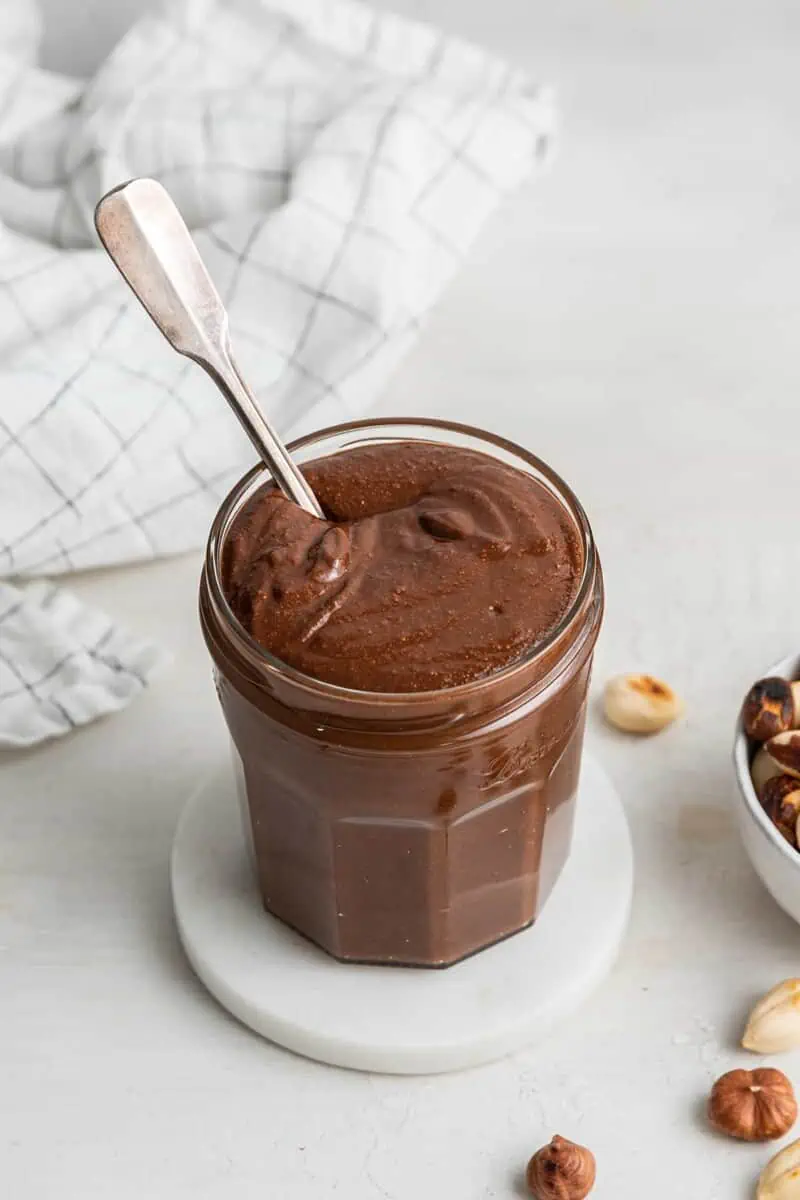 Instructions
Place hazelnuts on a baking sheet (I used the sheet that comes with my toaster oven) and toast the nuts for 5 minutes.

While the nuts are toasting, melt the chocolate in the microwave or over a double boiler.

Transfer them to a food processor and process on high until smooth and creamy. Again, you might have to scrape the sides down as you go to help the nuts continue to blend. Once smooth, add the melted chocolate and process again to incorporate.

Transfer to a glass container and store in a cool dark place.
Notes
Nutritional values are based on one cup. 
Nutrition
Calories:
1105
kcal
|
Carbohydrates:
39
g
|
Protein:
25
g
|
Fat:
104
g
|
Saturated Fat:
11
g
|
Polyunsaturated Fat:
13
g
|
Monounsaturated Fat:
73
g
|
Potassium:
1088
mg
|
Fiber:
17
g
|
Sugar:
16
g
|
Vitamin A:
32
IU
|
Vitamin C:
10
mg
|
Calcium:
208
mg
|
Iron:
9
mg
Filed Under: