Want to meal prep but feel lost knowing what to make? We've got you covered! We're sharing the best types of recipes for meal prep along with recipes ideas and inspiration.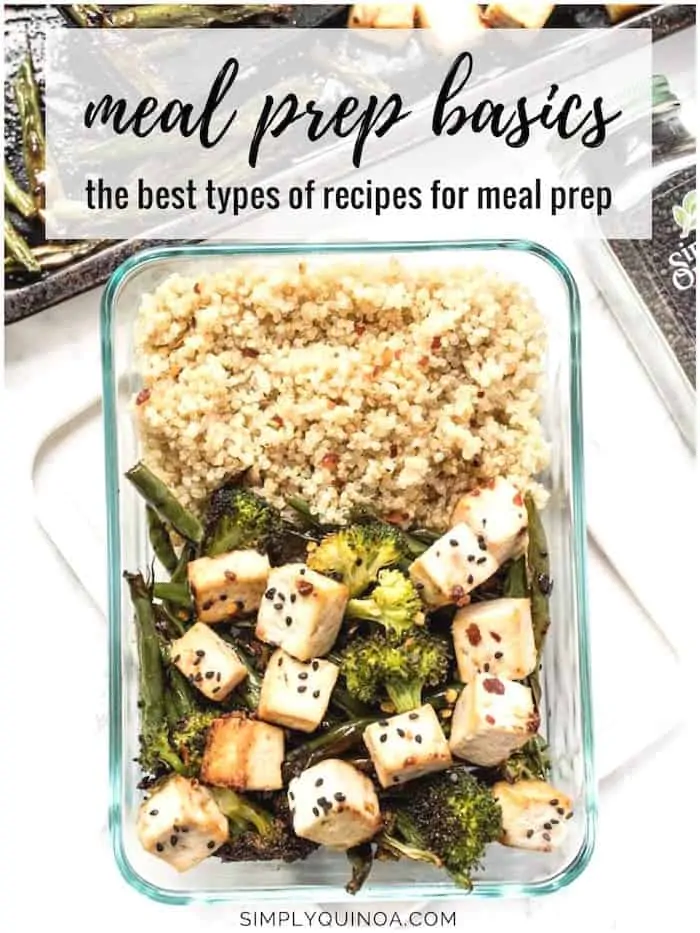 When life gets crazy busy what do we usually do? We usually stop spending time on our routines, let stress take over and end up feeling crappy.
Sound familiar? If that's you, I want to help you out. Because I'm a firm believer that stress is our enemy. Stress leads to bad eating habits, lack of exercise, poor sleep, over exhausted adrenals and ultimately, chronic stress leads to weight gain.
S0… let's talk about one of the things we can do to combat stress and keep our eating on track!
MEAL PREP!
We've talked about it before, and I've given you lots of ideas on my YouTube channel, but today I'm going to strip it back to basics and share some of the best recipes for meal prep!
My goal with this post is to give you an idea of the types of recipes that work really well for meal prep rather than the specific recipes. I want you to feel empowered in your food choices! So whether you're searching on Pinterest, scrolling through Instagram or looking in a cookbook/magazine, after reading this post you will be able to see a recipe and know instantly whether or not it will work for meal prep!
Let's do it, shall we?
How to Meal Prep Breakfast
For the purpose of keeping things organized, we're going to start with breakfast and then move on to lunch/dinner recipes.
I personally don't meal prep breakfast. I have a smoothie bowl almost every day and find that I do have the time in my morning to make that. But I know others don't, which is totally okay. There are loads of things you can do to prep your breakfast ahead and have it last you all week long!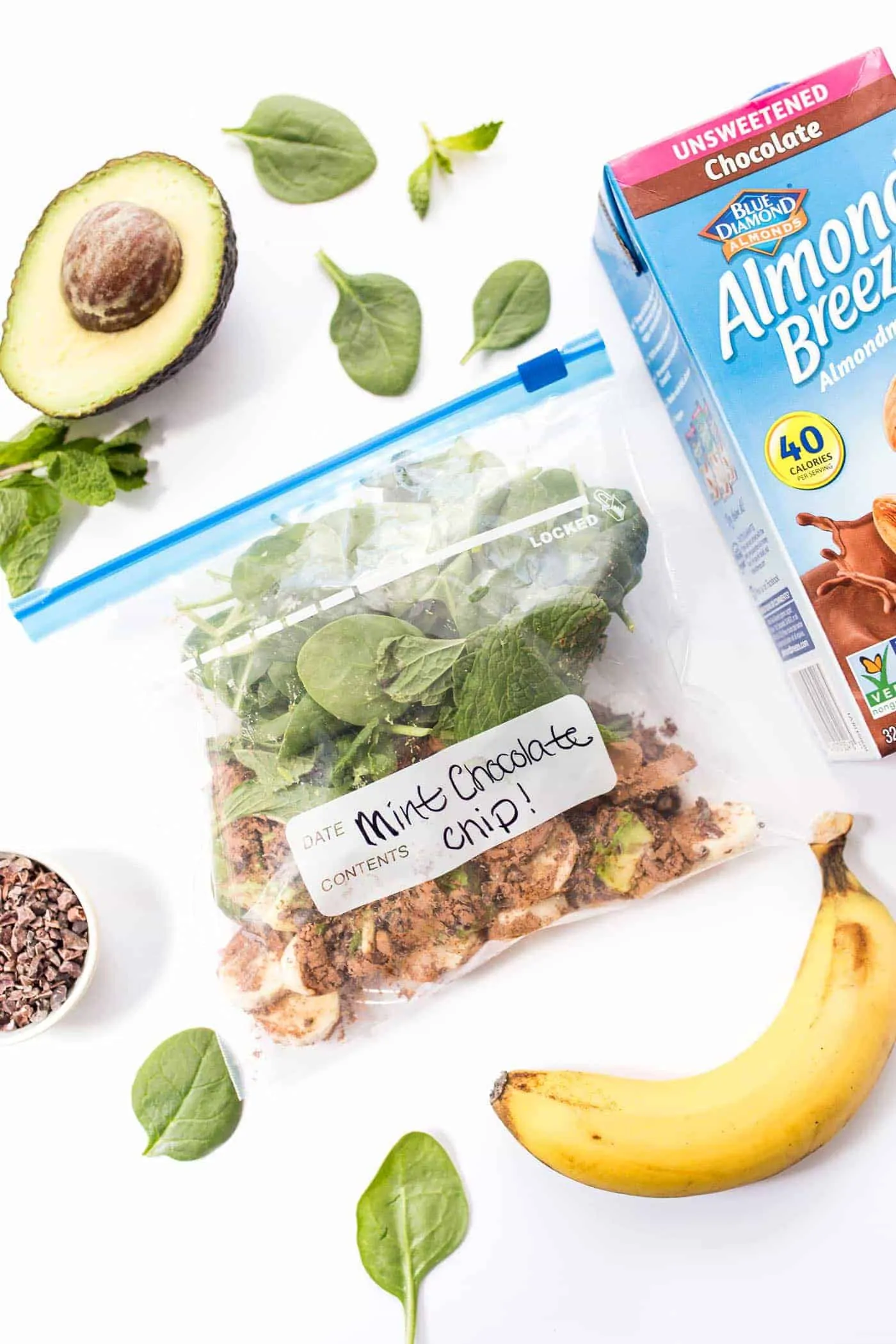 1. Smoothies
Yes, you can meal prep smoothies! There are a few ways to do this. The first is to make a smoothie the night before and take it with you in the morning. Matt does this and it works well when he has an early morning workout.
The other option is that you make a smoothie pack. Smoothie packs are essentially just all the ingredients you would put in your smoothie (minus the liquid) and you put them in separate baggies in the freezer. That way when you wake up, you just dump everything into your blender, add some liquid and blend it up!
Need some inspiration? Here are some of my posts to check out:
2. Oatmeal
Not a cold breakfast fan? Oatmeal is another great option for meal prep!
Similar to the concept of smoothie packs, you can also make oatmeal packs. The oatmeal packs I like to make start with a base of quick cooking oats and then my add-ins (nuts, dried fruit, protein powder, etc.). The benefit of using quick cooking oats is that I can simply dump the entire pack into a bowl, add some water and let it sit for a few minutes (or pop it in the microwave).
In less than five minutes, you should have a hearty bowl of oatmeal to enjoy!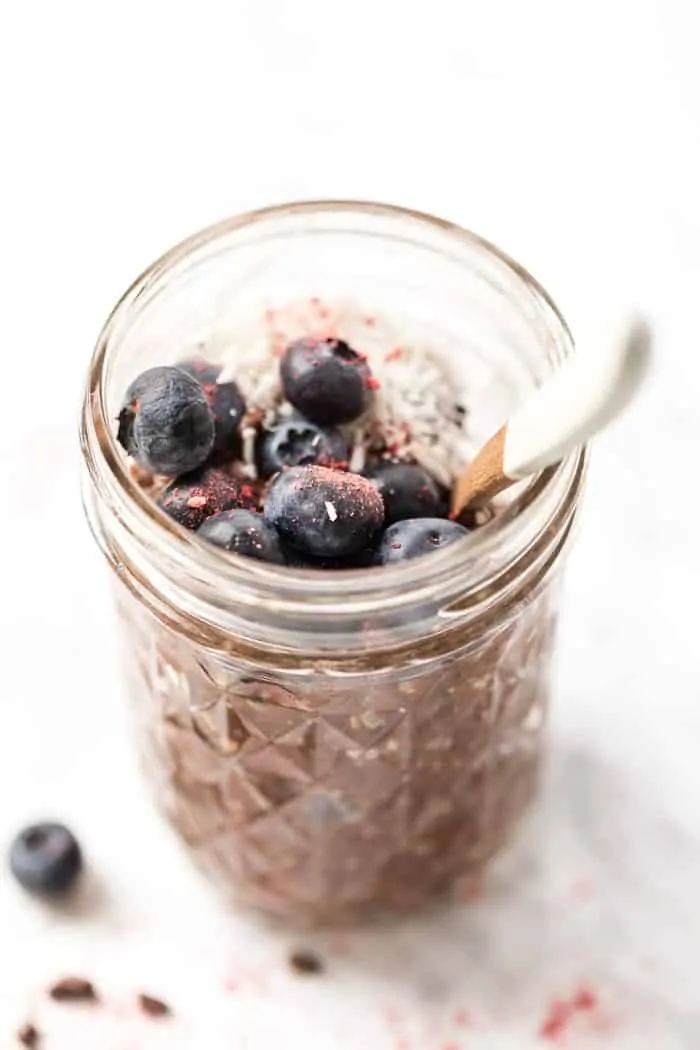 3. Overnight Oats/Chia Pudding
I'm sure you were expecting to see these little jars of goodness on the list as they're pretty darn common in the land of meal prep. The reason? They're designed to be made ahead and are a perfect on-the-go breakfast option!
Personally, I like chia pudding as I tend to do better on a non-grain-based breakfast, but both are amazing. High in fiber, full of healthy fats and some protein, and so simple to make. You just add everything in a jar, stir it up, let it sit overnight and grab it on your way out the door.
Need some inspiration? Here are some recipes to try:
4. Baked Goods
Love yourself a good muffin or cookie? Make a batch over the weekend and bring them as your breakfast!
While I don't typically have just a baked good for breakfast, they are a wonderful option to meal prep. You can make breakfast cookies (oatmeal based), muffins, scones, and even pancakes and waffles! What I love about having baked goods around is that they also double as a tasty snack!
Just make sure that when you're choosing a baked good to incorporate into your morning meal prep routine, you're choosing one that is healthy. You should be looking for high fiber ingredients, natural sweeteners, small amounts of oil, and a touch of protein if possible (for example from nuts/seeds).
Need some inspiration? Here are some recipes to try:
How to Meal Prep Lunch/Dinner
Luckily for most of us, lunch and dinner are interchangeable. They tend to air on the savory side and what we eat for dinner we could also eat for lunch (and vice versa). That's why I've lumped them together here.
However, if you're someone that doesn't have access to a microwave or oven at work/school, some of these options could be a tiny bit tricky. You can instead stick to things like mason jar salads, pizza (love me some cold pizza slices!), bowls or perhaps a pureed soup! (<– just think of it like a smoothie bowl!)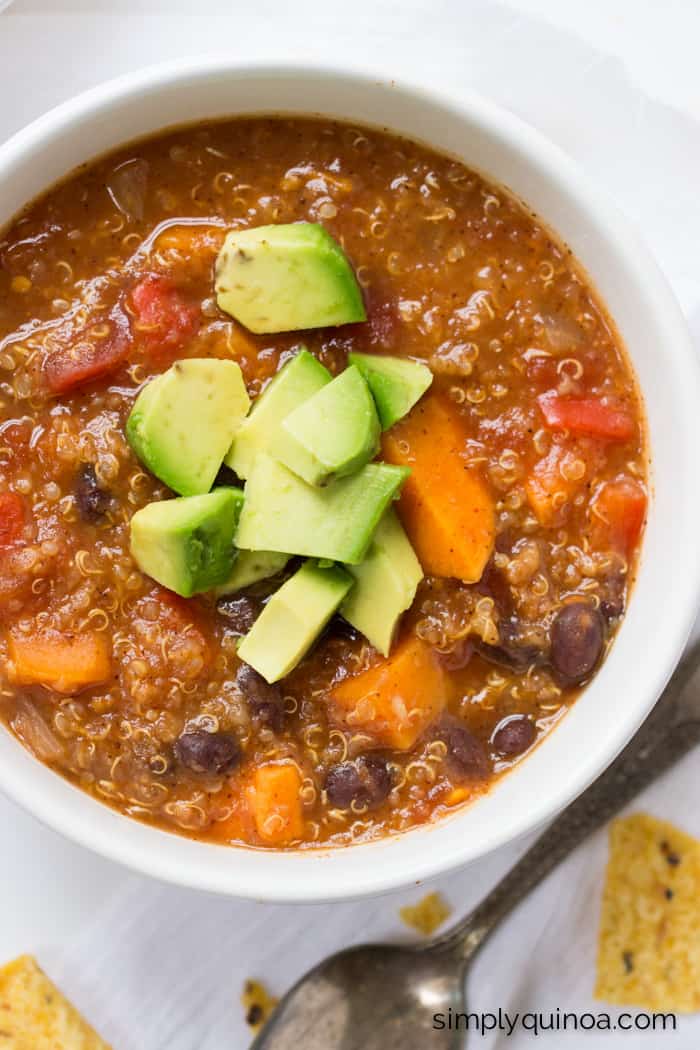 5. Chili/Curry/Stews
One of my absolute favorite things to meal prep is a big batch of chili! Something that I can throw in a crockpot, make a huge serving of and keep in my fridge all week long. The same rings true for things like curries and stews.
What's great about these meals is that they tend to be on the heartier side. They're filling, fiber-rich and usually have lots of veggies. Just make sure that you're also getting in some protein!
Need some inspiration? Here are some recipes to try:
6. Soups
I keep these two categories separate because I love soups and think they deserve their own category!
While I'm not sure exactly what makes a soup different than a stew, soups are amazing for meal prep. Again, you can make large batches of them and keep them in your fridge all week long, and they also freeze beautifully (I think better than stews & chilis).
There's also a huge range of soup options out there! You can do a creamy soup, a brothy soup, a chunky soup! Just remember, that when you're searching for a recipe, you're also finding one that has some protein in it. And if it doesn't, chuck in a can of beans or some quinoa to bulk it up and make it more filling!
Need some inspiration? Here are some recipes to try:
7. Casseroles
I'll admit, I'm not the biggest casserole fan, but they do make wonderful meal prep recipes. You can make a large pan of something like lasagna, baked pasta, rice/quinoa casseroles, etc., and they'll certainly keep all week long.
One of the things I find tricky about casseroles is they're often made with lots of cheese. So I just personally don't tend to make them, BUT if you can tolerate cheese or you have a good plant-based/dairy-free option, they definitely work well for meal prep!
Need some inspiration? Here are some recipes to try:

8. Component Meals
And our final type of recipe to meal prep is what I call "component meals". Think of these as more batch cooking style – you make a lot of different components and then assemble them into different meals.
Component meals are my favorite way to meal prep because it allows me to create my own custom meal every single day. By having a variety of ingredients to choose from, I pick what I feel like that day and assemble them into my lunch/dinner (usually in a bowl).
Another way to keep your component meals interesting and unique is to have a variety of dressings to choose from. Dressings are an easy way to change up the flavor of what you're eating without actually changing out the components. I shared 6 of my staple vegan salad dressings last week if you need some inspo!
Best ingredients to prep for component meals:
grains (quinoa, brown rice, and even pasta)
roasted vegetables (sweet potato, cauliflower, broccoli, brussels, etc.)
greens
protein (beans, tempeh, hard-boiled eggs or your animal protein of choice)
and a healthy fat (usually in the form of dressing or avocado)
Do you meal prep?
If so, I'd love to hear what some of your favorite meals might be! Comment below and let us know what recipes you like to meal prep. And if it's breakfast that you prep ahead, definitely comment because I'm always looking for breakfast inspiration!
xx A
Learn more about my Meal Prep Basics in this video!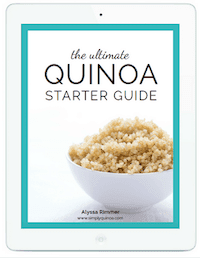 New to cooking quinoa? Grab your FREE Quinoa Starter Guide!
Become part of the Simply Quinoa community and receive weekly emails with exclusive content that I only share in email, as well as my in-depth guide to starting your quinoa journey.