Kale Caesar Salad with Crispy Chickpea Croutons
This vegan kale caesar salad recipe is a simple and light dinner for vegans and non-vegans to love. Toss kale in a creamy tahini dressing and top with crispy chickpeas!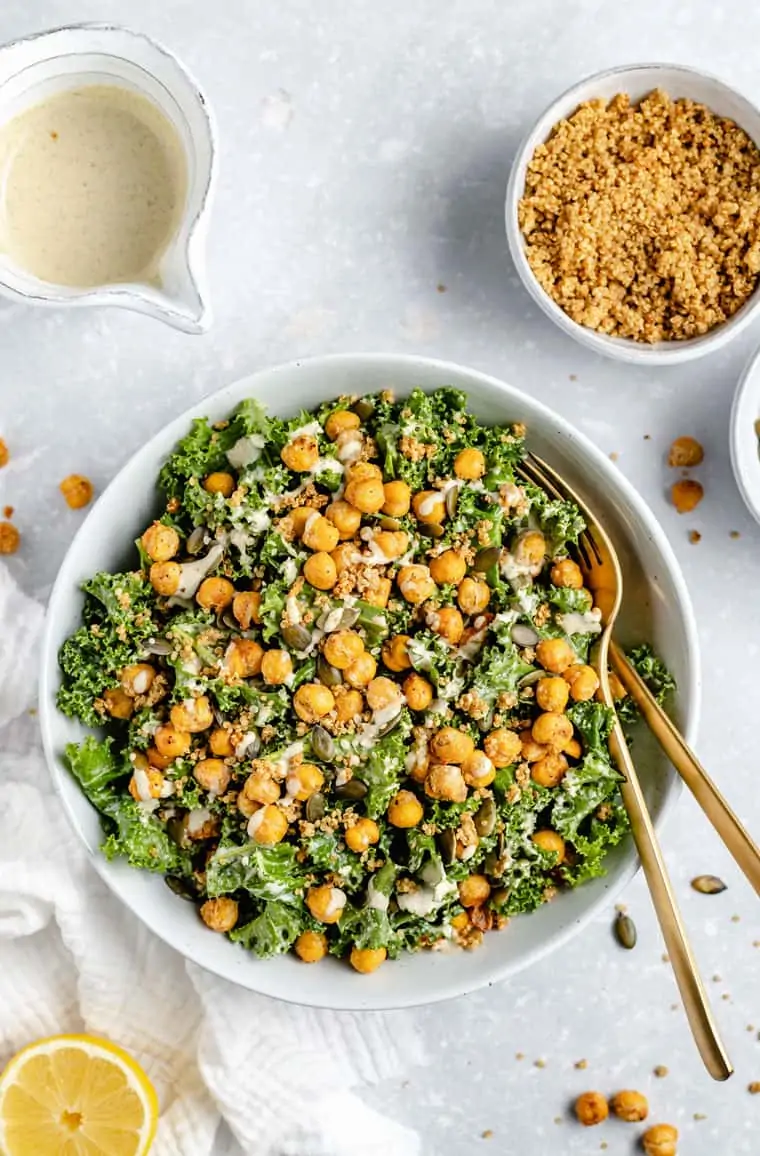 Everyone loves a Caesar salad. It's the perfect balance of fresh lettuce, creamy dressing, savory cheese, and crispy croutons. Now vegans can enjoy everything there is to love about a classic Caesar in a totally dairy-free way. Instead of eggs, mayonnaise, or cheese, this salad gets incredibly rich umami flavor from tahini and nutritional yeast. That creamy factor comes from hemp seeds, which is a lighter option than your traditional cashew cream-based vegan salad dressing.
Then there are the "croutons". Instead of your traditional cubed bread (which certainly has its time and place), I wanted to go a gluten-free route while also adding some plant-based protein to the salad. I give you crispy, crunchy addicting chickpea croutons. These are the perfect topper to vegan Caesar salad, but I recommend making a double batch. If you're anything like me, you'll be snacking on them all day long.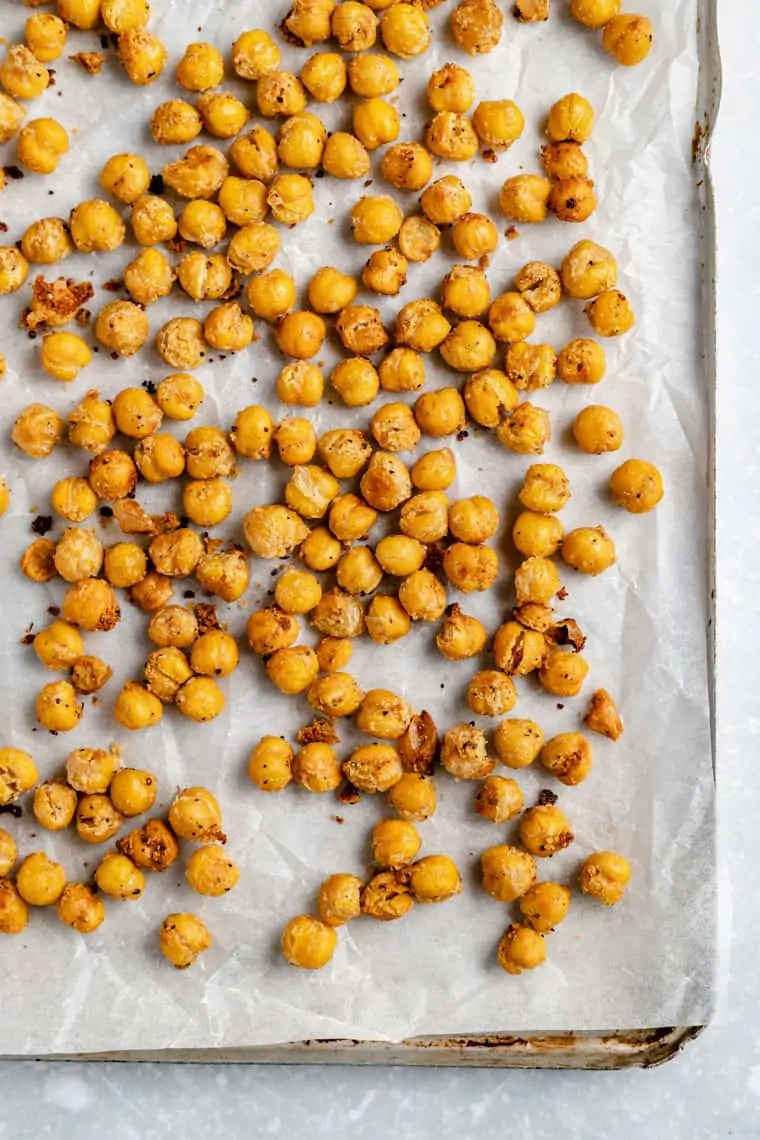 Making the Best Vegan Caesar Salad
This salad is for you if you're looking for a recipe that is:
nut-free
dairy-free
gluten-free + vegan
creamy but light
full of texture
tastes like real caesar without any of the junk!
Here's what you need to bring this savory, creamy and fresh kale Caesar to life:
Kale. I like curly kale for its crunchy texture, but you can use dino, purple, or another variety of kale. You can also make this salad with romaine for more of a traditional Caesar.
Raw pumpkin seeds. These add an extra layer of crunch, healthy fats, and plant-based protein.
Quinoa Krispies. A personal favorite salad topping, which is optional in this kale Caesar, but highly encouraged.
Nut-free Caesar dressing. More on that below
Crispy chickpeas. Your new favorite gluten-free crouton substitute.
To add more protein, feel free to top your salad with crispy tofu, tempeh, or another protein if you're not vegan.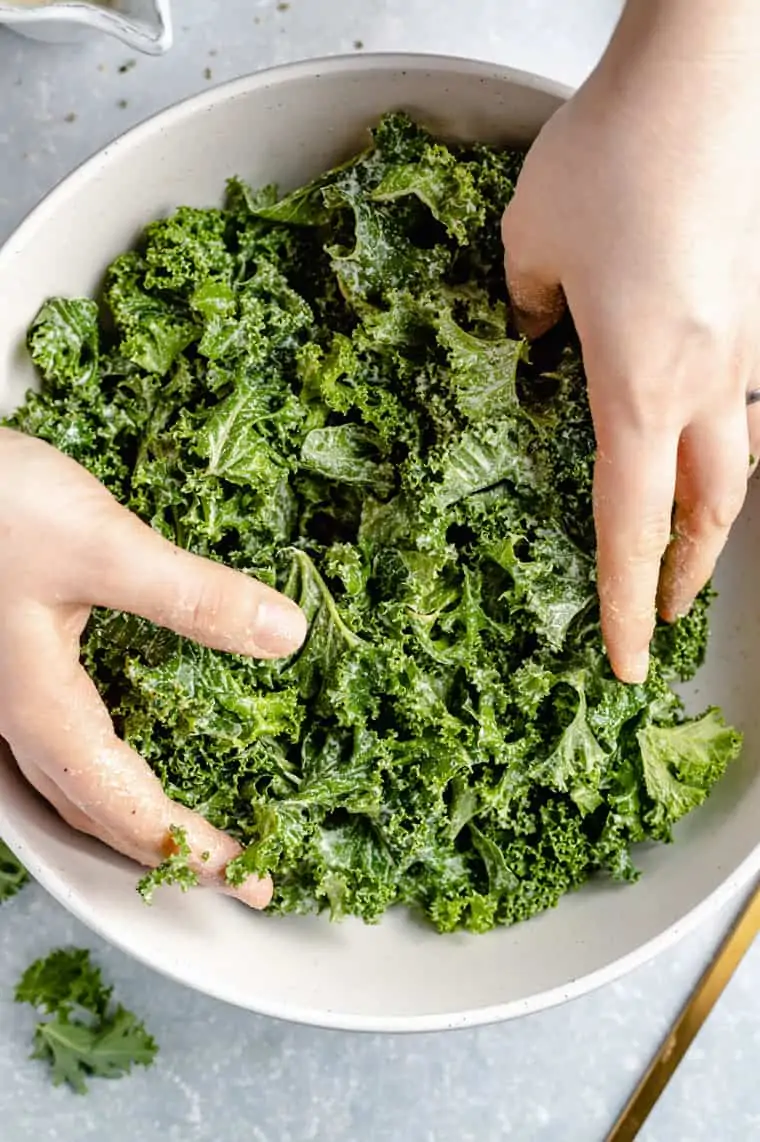 Vegan Caesar Dressing without Cashews
While most dairy-free creamy salad dressings rely on the silky smooth texture and mild flavor of soaked cashews, all of those nuts can feel heavy on a fresh salad. Instead, this tahini Caesar dressing is lighter, thanks to hemp hearts.
Here's what goes into this savory, salty, and silky-smooth vegan Caesar dressing:
Hemp hearts. These are easy to find in most well-stocked grocery stores. They're slightly nutty-tasting, but their major addition to this dressing is the creamy, fluffy texture they bring.
Nutritional yeast. Every vegan cheese lover's secret weapon! This is a must-have pantry item if you're staying away from dairy. It's full of umami flavor and often fortified with B vitamins, which many vegans and vegetarians can be deficient in.
Capers and caper juice. These add briny, salty pop to the dressing. Normally, you'd get this flavor from anchovies in a traditional Caesar salad.
Tahini. This powerhouse seed butter is the perfect nut-free flavor and texture enhancer for dairy-free Caesar dressing.
Lemon juice. Add a pop of brightness and acidity with freshly squeezed lemon juice.
Dijon mustard. This adds a slightly spicy note.
Garlic. Because what Caesar salad dressing recipe would be complete without it?
The Best Crispy Chickpeas
Making crunchy chickpeas is easy and so satisfying. All you need is coconut oil, garlic powder, salt, and pepper to transform the humble garbanzo bean into a totally delicious treat. They make a handy vegan snack to pack on the go as well as an easy plant-based topper to salads, grain bowls, and even soups.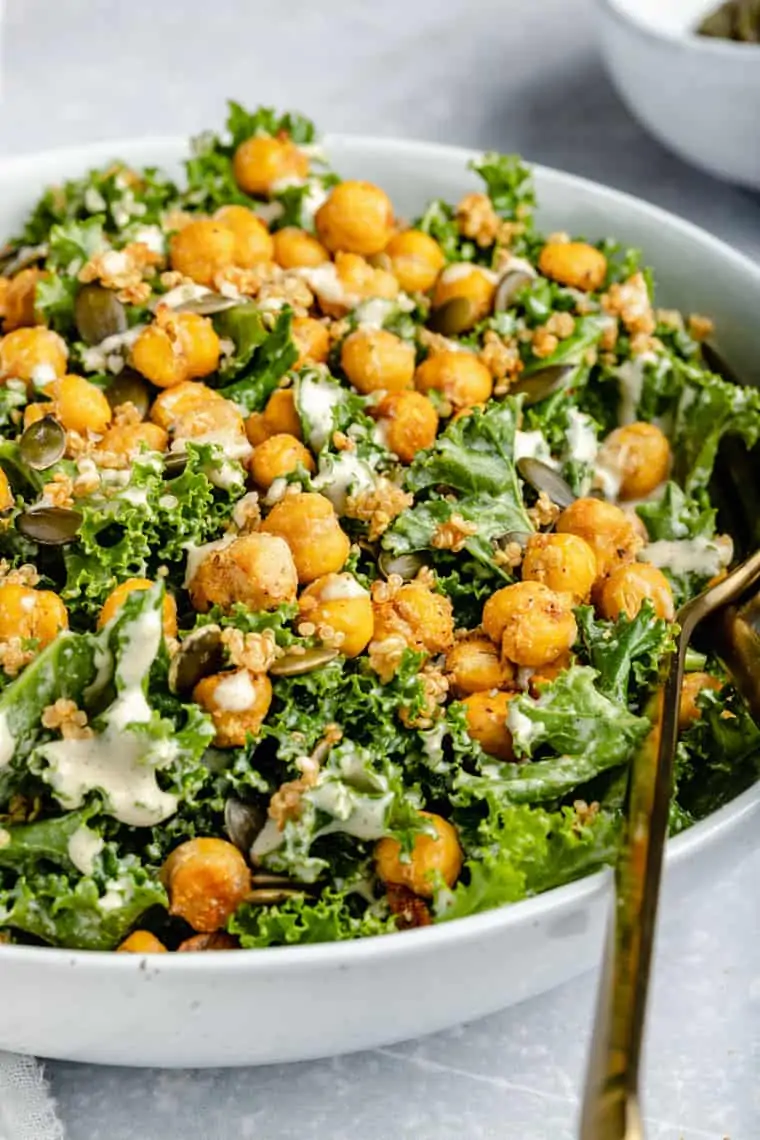 More Hearty Kale Salads To Try
If you can't get enough of this hearty kale Caesar salad recipe, you'll love these other recipes:
Kale Caesar Salad with Crispy Chickpea Croutons
Craving a caesar salad but don't eat dairy? You need to try this vega Kale Caesar Salad with crispy chickpea croutons on top – it tastes amazing!
Servings 4 Servings
Calories 257kcal
Ingredients
for the chickpeas:
1 tablespoon coconut oil
1 heaping teaspoon garlic power more or less to taste
Salt + pepper to taste
for the dressing:
2 tablespoons tahini
2 tablespoons hemp seeds I used Bob's Red Mill
1 tablespoon nutritional yeast
1 teaspoon capers
¾ teaspoon caper juice
½ teaspoon dijon mustard
Juice of ½ a lemon
1 garlic clove
¼ cup water
Salt + pepper to taste
for the salad:
1 large bunch curly green kale
1 batch vegan caesar dressing
1/4 cup raw pumpkin seeds
1/4 cup quinoa crispies optional
Additional toppings as desired
Instructions
Preheat the oven to 375ºF.

Drain and rinse the chickpeas then transfer them to a large bowl. Top with oil, garlic, salt and pepper, and stir to combine. Transfer chickpeas to a baking sheet and roast for 40 - 45 minutes, until golden brown and crispy, shaking the pan a few times to avoid burning.*

While the chickpeas are cooking, prepare the dressing. Add all the dressing ingredients into a high powered blender and blend on high until smooth and creamy. Transfer to a container and set aside.

For the salad, wash the kale leaves thoroughly, then remove the stems. Tear the leaves into smaller pieces into a large salad bowl. Repeat with entire bunch.

When ready to assemble the salad, pour the dressing over the kale and begin to massage it with your hands until the leaves begin to soften. Transfer to serving dishes and top with chickpeas, pumpkin seeds and quinoa crispies.
Notes
* If the chickpeas don't fully crisp up, leave them in the warm oven with the door propped open for 30 - 60 minutes.
Nutrition
Calories: 257kcal | Carbohydrates: 21g | Protein: 12g | Fat: 15g | Saturated Fat: 4g | Sodium: 517mg | Potassium: 355mg | Fiber: 6g | Vitamin A: 1480IU | Vitamin C: 24.8mg | Calcium: 83mg | Iron: 3.4mg
share what you make
Tag #simplyquinoa on Instagram with your creations! We love sharing what you make with the community. We can't wait to see!

follow on instagram