Fluffy oatmeal banana pancakes are super healthy, naturally sweet, and easy to whip up with ingredients you probably already have in your kitchen!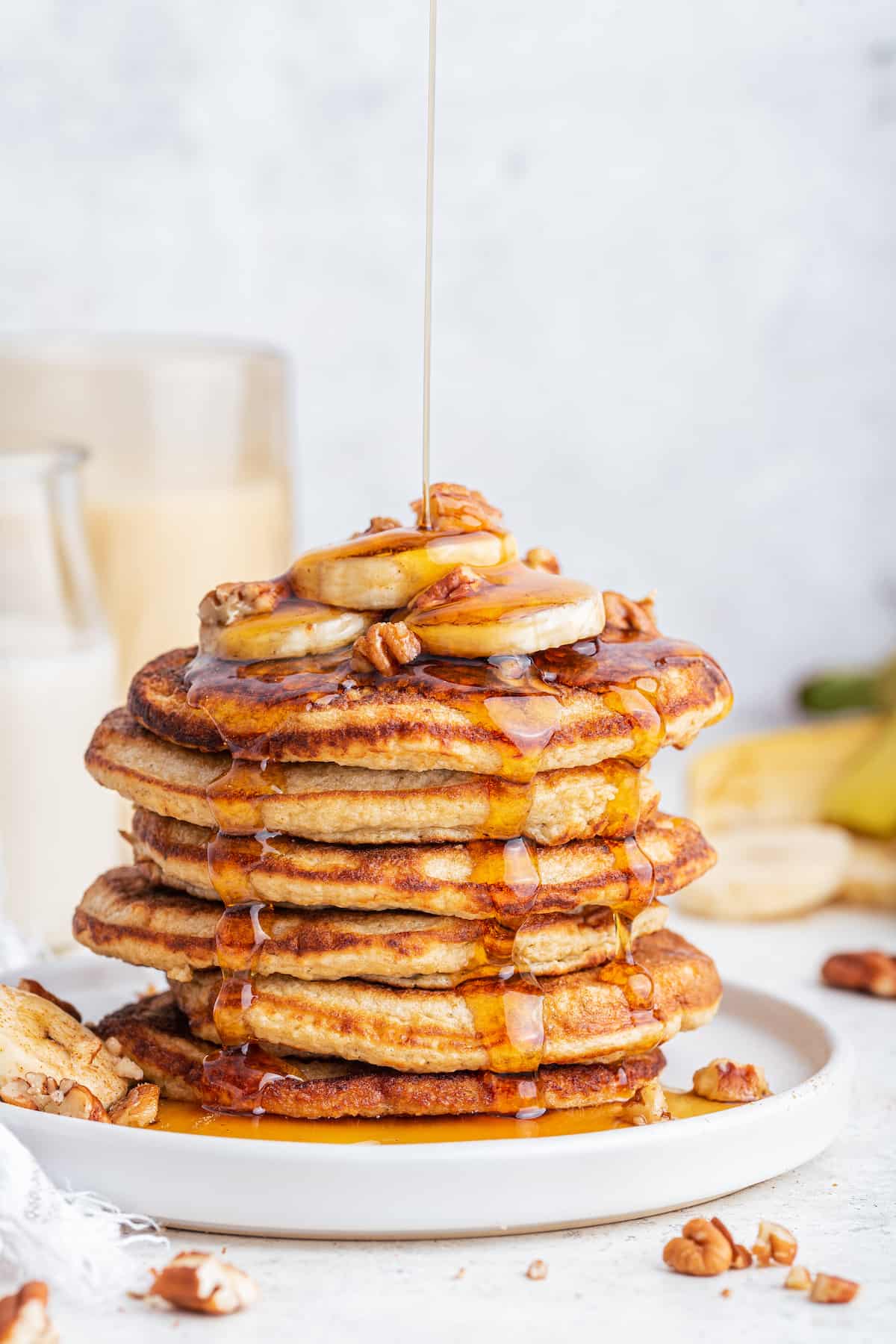 Pancakes are always a great way to start your day. Unfortunately, your typical buttermilk pancake doesn't pack in much nutrition.
These oatmeal banana pancakes are a different story. Instead of white flour, they're made with oats—a much healthier option. There's no sugar added, and no need for it thanks to the bananas. Eggs and yogurt add some protein and also give your pancakes the perfect texture.
Although I always love pancakes for a weekend breakfast, this oatmeal banana pancake recipe is totally doable for a weekday too. But even if you're not up for flipping pancakes on a Monday morning, they're also great for meal prep—make them on the weekend and enjoy them all week long!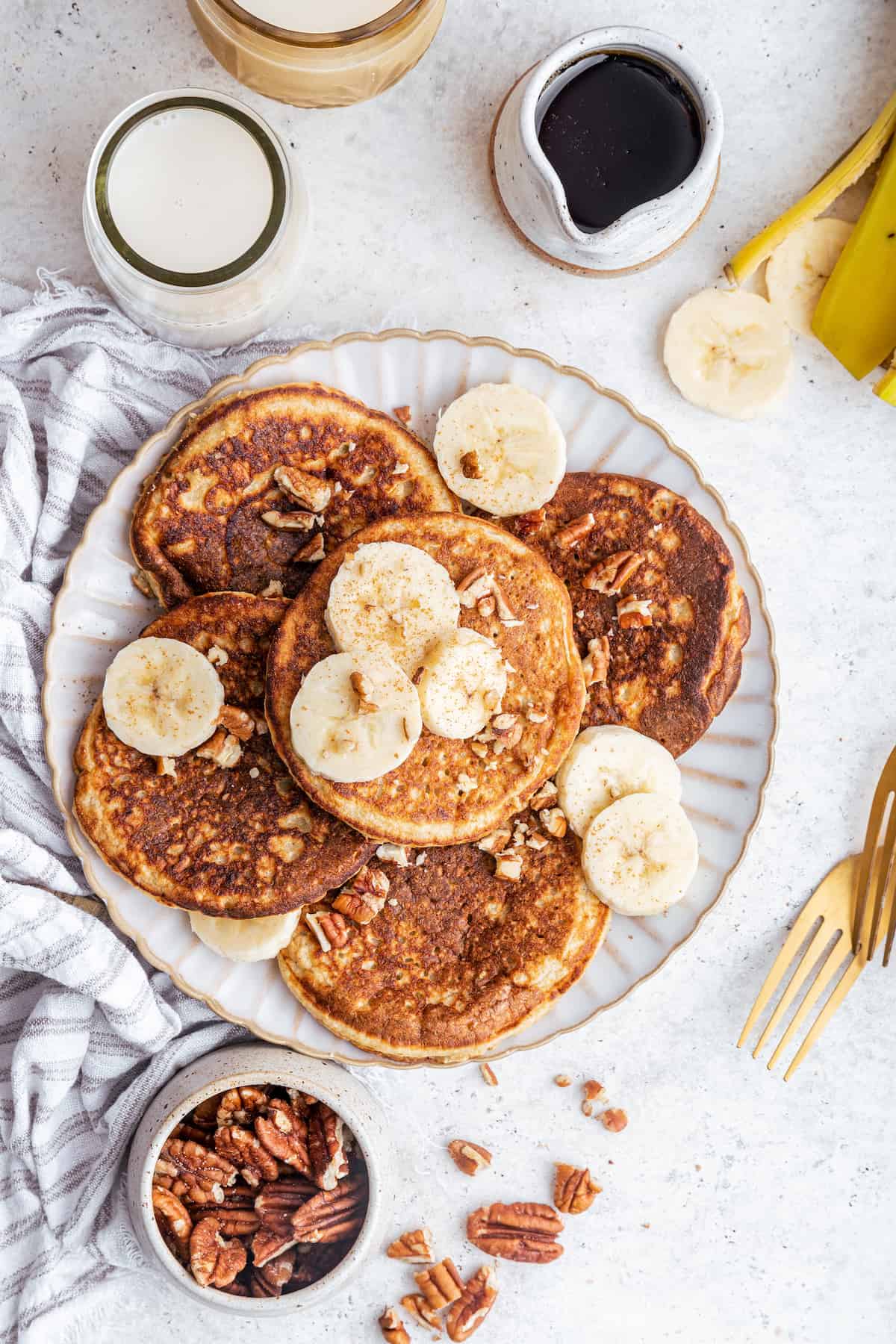 Why You'll Love This Oatmeal Banana Pancakes Recipe
Here's what makes this oatmeal banana pancakes recipe a winner:
Healthy and hearty. Not all healthy breakfasts are also super satisfying, but this one is! The addition of oats makes these pancakes much more filling than your standard pancake recipe.
Quick and easy. Add all the ingredients to your blender, give it a whirl, and then all that's left to do is cook the pancakes on the stovetop. It doesn't get much easier than this!
Endless opportunities for customization. Add your favorite toppings or mix-ins like nuts or chocolate chips to make this recipe your own.
No added sugar. Use ripe bananas and they'll add all the sweetness you need to this recipe!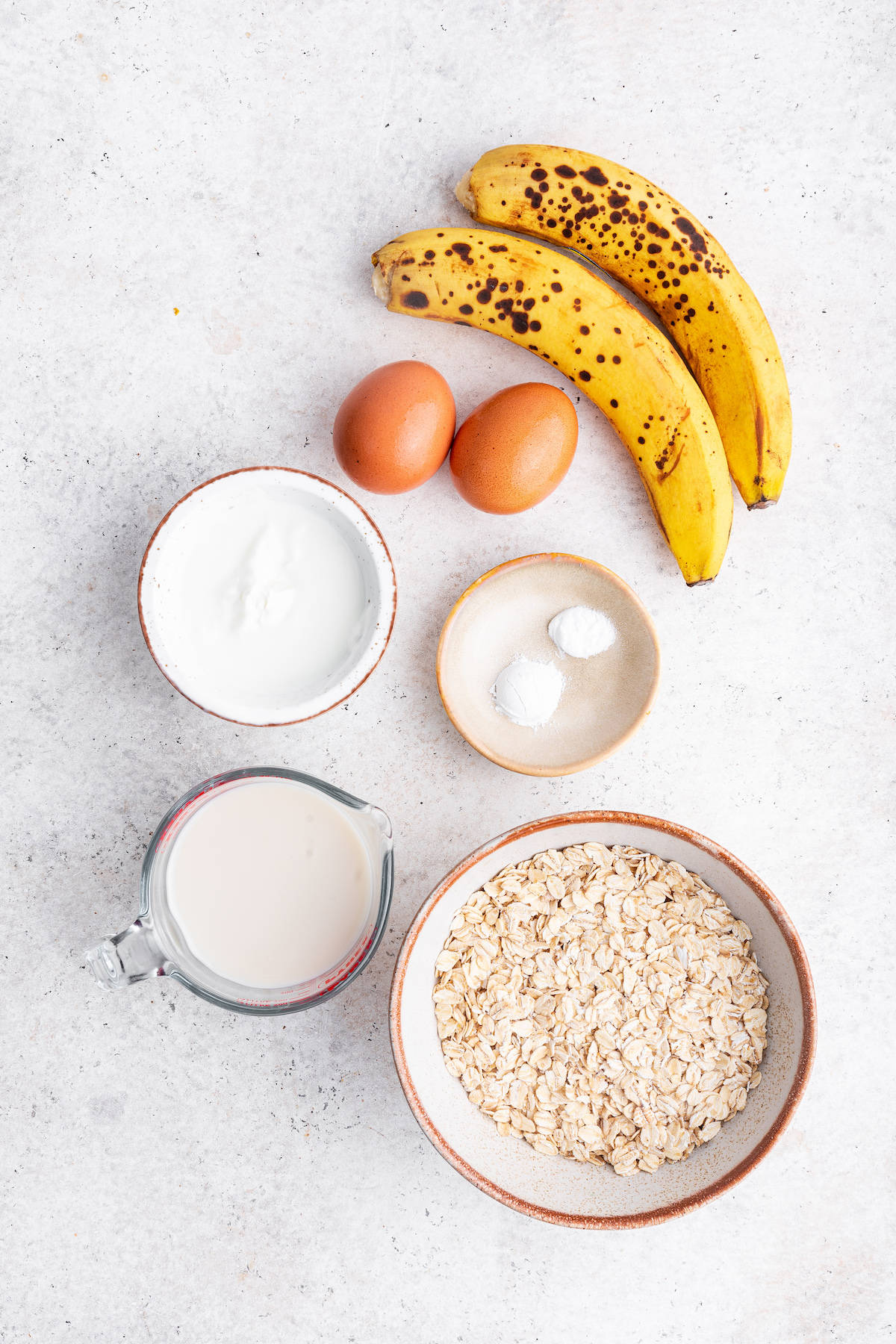 What You'll Need
Here are all the ingredients that you'll need to make this healthy oat pancake recipe. Scroll to the recipe card at the bottom of the page to see the exact amounts for each ingredient.
Bananas – Because the bananas are the only source of sweetness here, you'll want to use over-ripe fruit. The darker the banana, the better!
Eggs – Eggs help make these pancakes delightfully fluffy.
Almond milk
Yogurt – Any kind you like.
Rolled oats
Baking powder and soda
Butter or coconut oil – Ghee is another option; vanilla bean ghee is fabulous for pancakes!
Is There a Difference Between Old-Fashioned and Rolled Oats?
No, there is no difference between old-fashioned and rolled oats. It's simply a matter of two different terms for the same type of oat!
How to Make Oatmeal Banana Pancakes
These might just be the easiest pancakes you'll ever make! Here's what you'll need to do.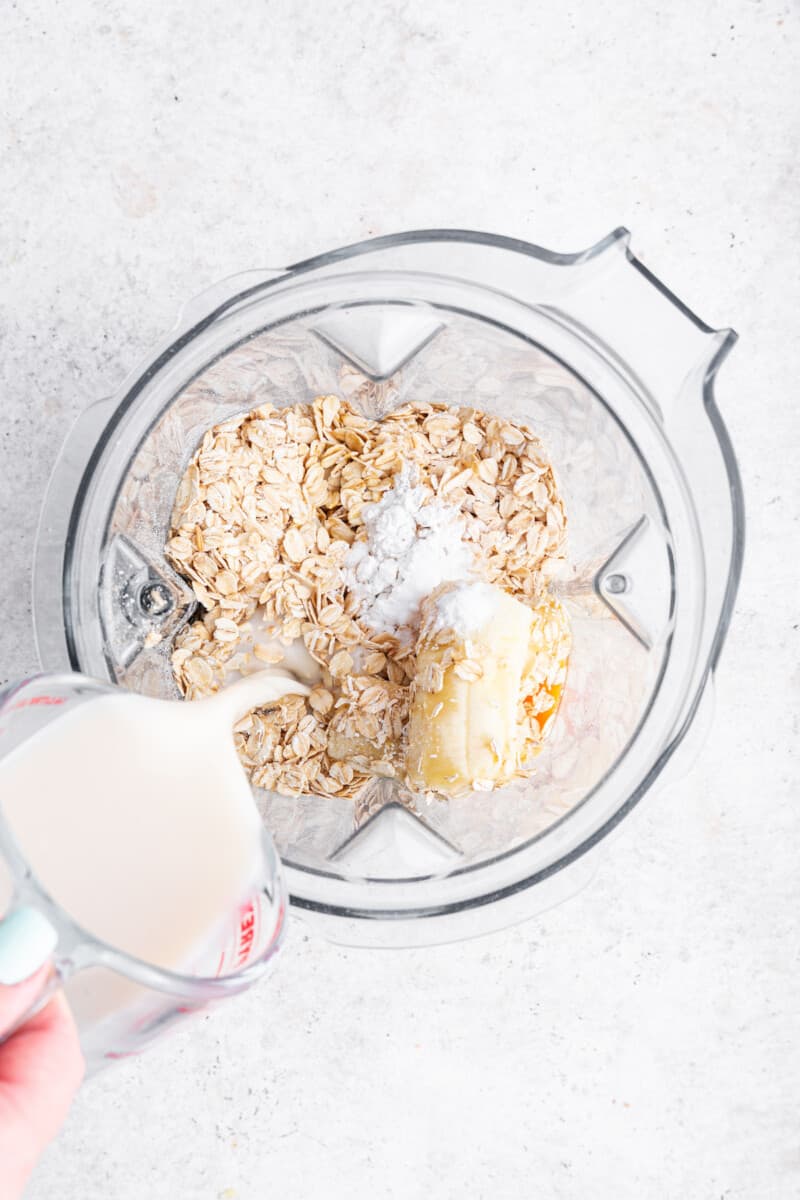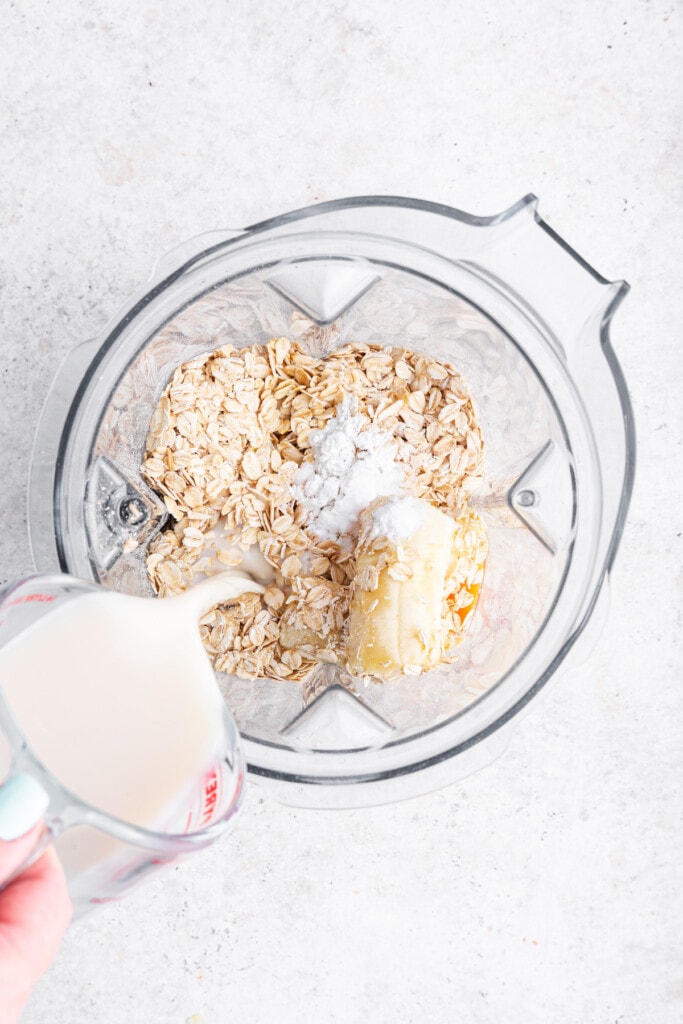 Blend. Add all the ingredients except the butter or oil to a high powered blender and blend on high until the mixture is smooth.
Wait. Let the batter sit for 3 to 5 minutes; the ground oats will absorb some of the liquid and the batter will thicken.
Prepare. Heat a pan over medium-low heat and add the butter or oil.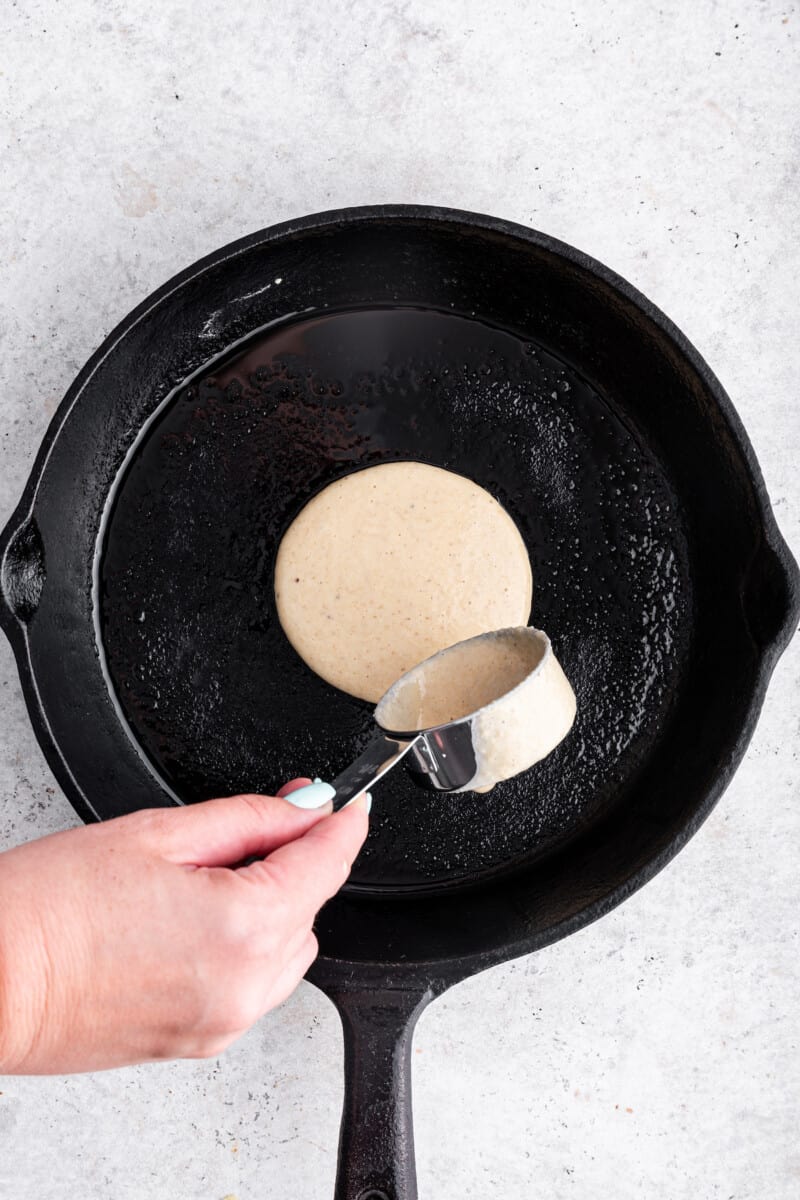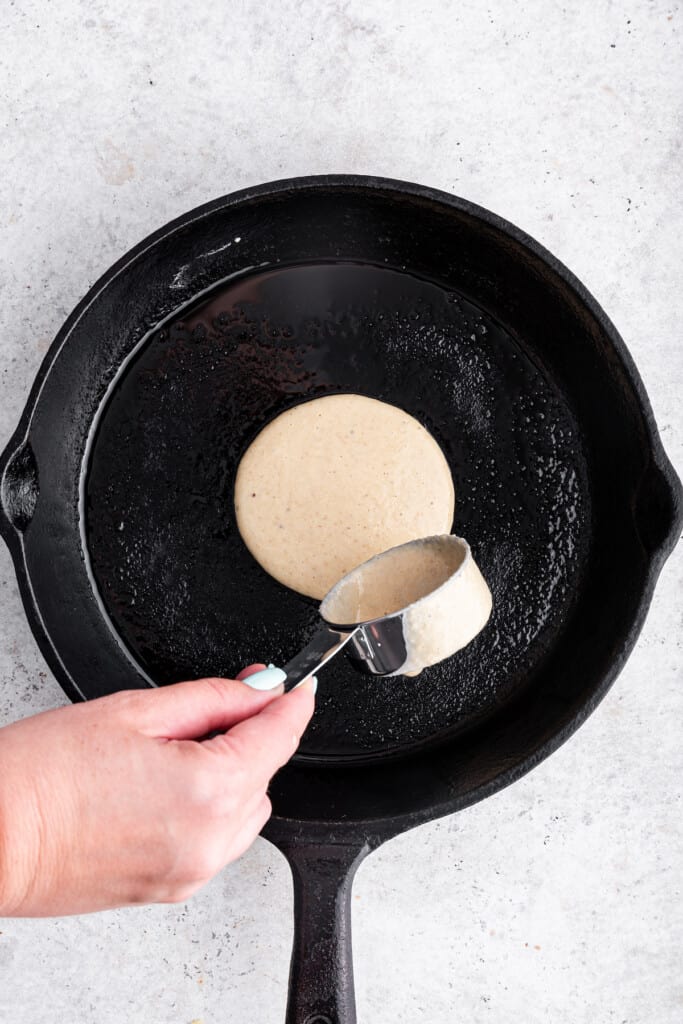 Make the pancakes. Pour 2 to 3 tablespoons of batter into the pan for each pancake and cook for 2 to 3 minutes, or until bubbles start to form. Flip and cook for a minute or two on the other side.
Repeat. Continue making pancakes until all the batter has been used.
Serve. Plate the pancakes and add your desired toppings.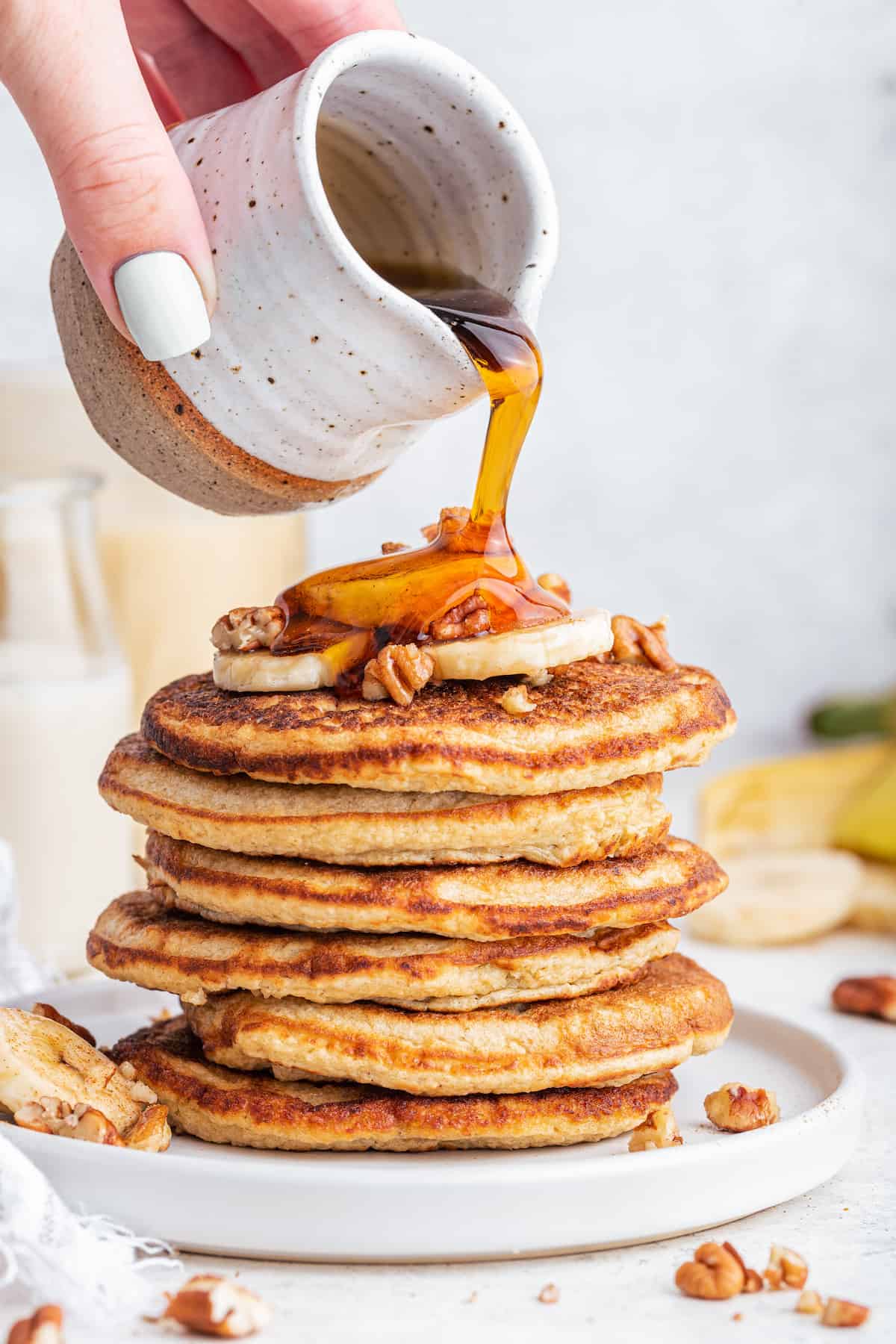 Tips for Success
Follow these additional pointers for perfect oatmeal banana pancakes:
Use medium bananas. Large or small bananas will throw off the proportions of this recipe and your pancakes won't turn out as well.
Preheat the pan. If the pan is too cool, the pancakes will absorb the oil. You want it hot enough that the batter immediately sizzles when you pour it in.
Adjust the heat as needed. If you notice your pancakes are over-cooked on the outside but still raw in the center, turn the heat down. Sometimes towards the end of a batch of pancakes, the heat needs to be lowered!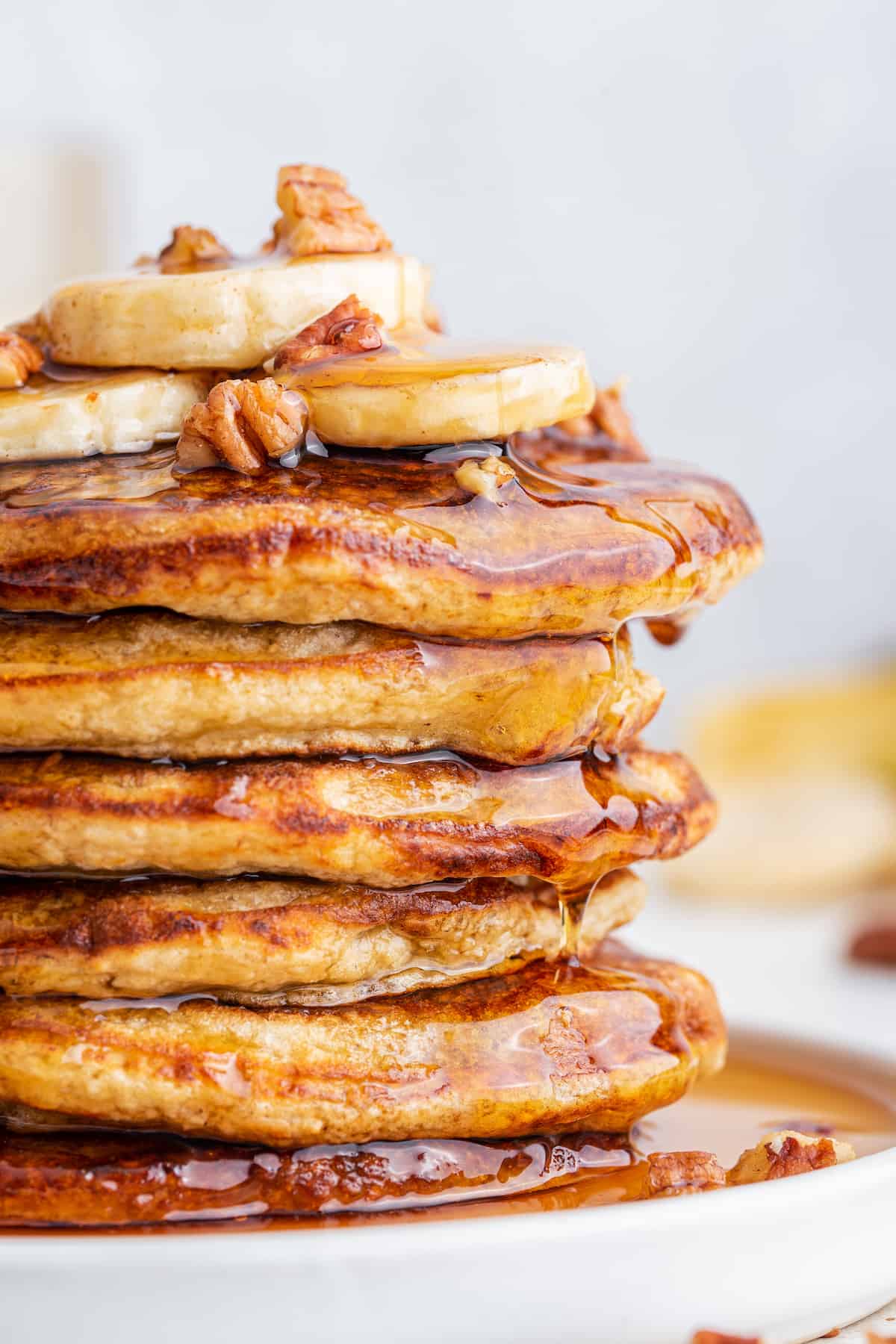 Topping and Mix-In Ideas
Just like protein pancakes, quinoa flour pancakes, and gluten-free pancakes, these oatmeal pancakes have endless possibilities when it comes to toppings and add-ins. Here are some of my favorites:
Fresh strawberries, blueberries, or raspberries are all great for adding a burst of sweetness and color to your pancakes. Fold them into the batter after you've let it sit for a few minutes to thicken.
For an extra decadent treat, add some dark chocolate chips.
Add a dollop of coconut whipped cream.
Top with shredded coconut, diced mangos, and coconut butter for a tropical flair.
Walnuts, pecans, pumpkin seeds, sunflower seeds… you name it! This is a great way to add some crunch and healthy fats. Use them as a mix-in or as a topping.
Instead of maple syrup, add a drizzle of warmed almond butter over the top of your pancakes.
Serving Suggestions
Pair your oatmeal banana pancakes with a savory side like tempeh bacon, air fryer bacon, or soft boiled eggs. I also love these pancakes with crispy roasted potatoes, kind of like an elevated version of hashbrowns!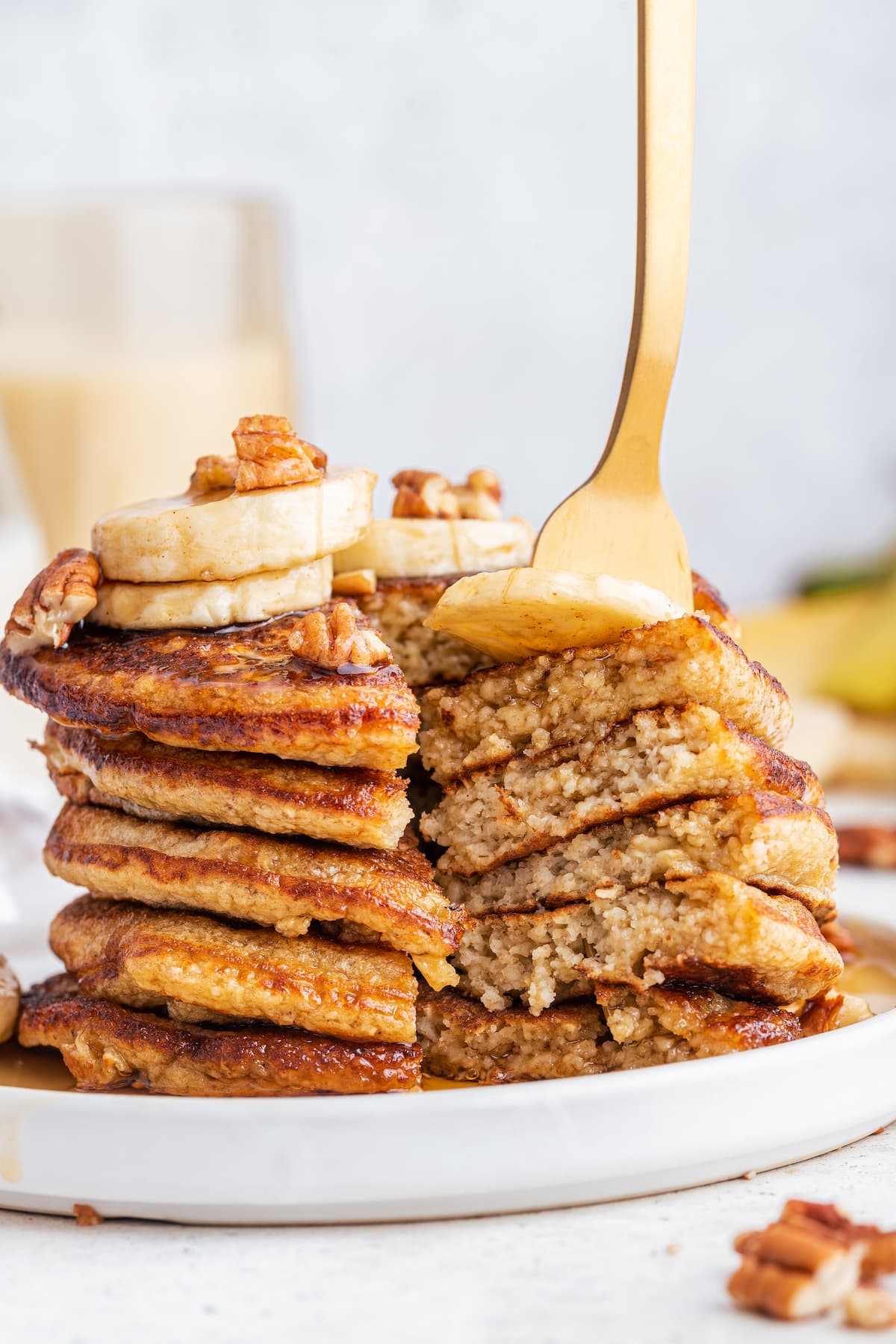 How to Store Leftovers
If you have any oatmeal banana pancakes left over, don't worry—they're easy to store for later and great for meal prep. Let them cool completely and then place them in an airtight container. They'll last 4 to 5 days in the refrigerator. Reheat them in the microwave or a 350ºF oven or toaster oven.
Can I Freeze This Recipe?
To freeze, transfer the pancakes to an airtight container or freezer bag and store in the freezer for up to 3 months. To reheat, simply pop them in the microwave, oven, or toaster oven and heat them until warmed through.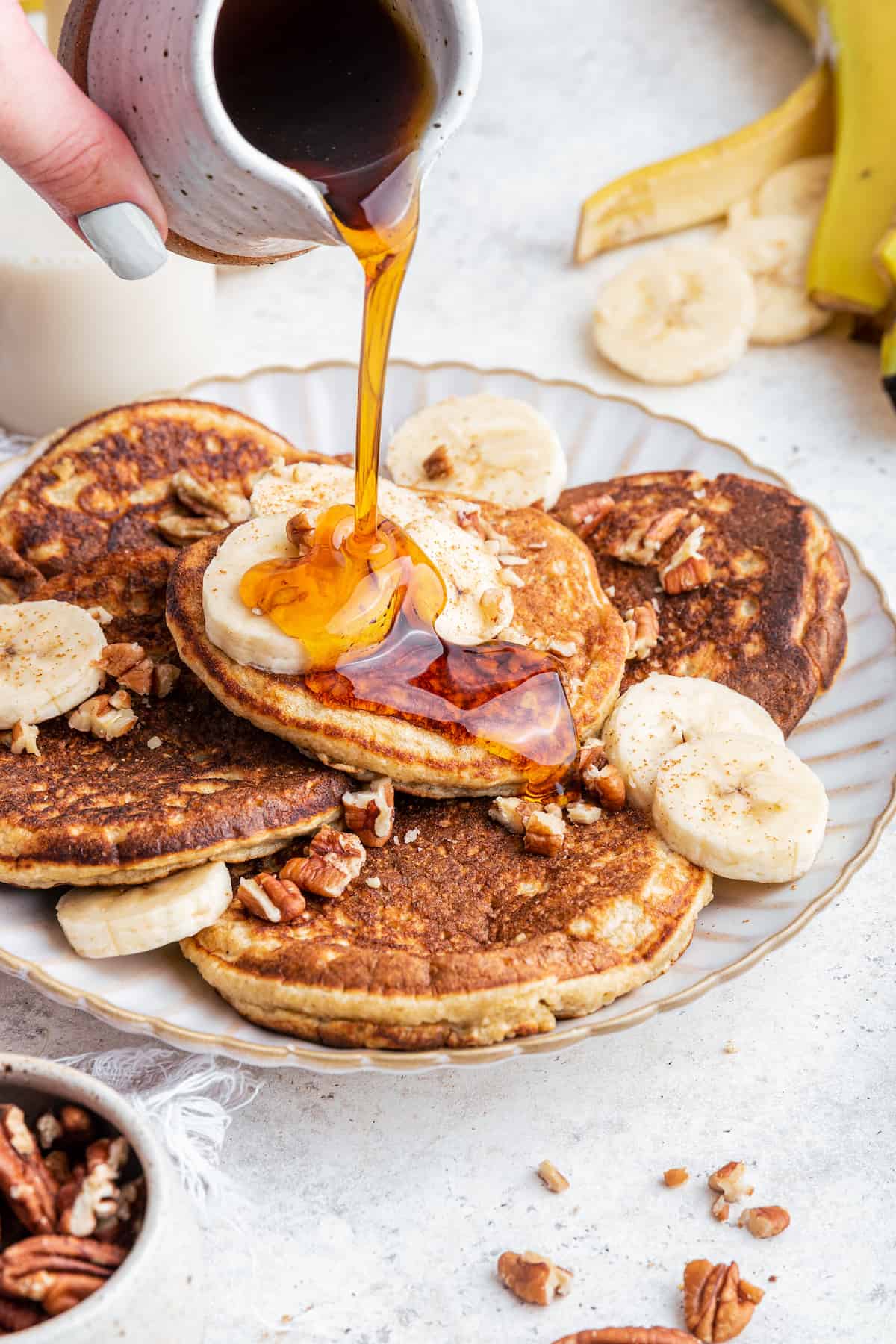 More Healthy Pancake Recipes
Oatmeal Banana Pancakes
Fluffy oatmeal banana pancakes are healthy, naturally sweet, and easy to whip up with ingredients you probably already have in your kitchen!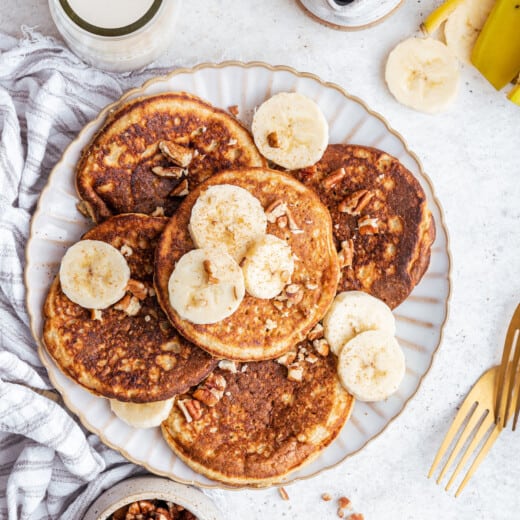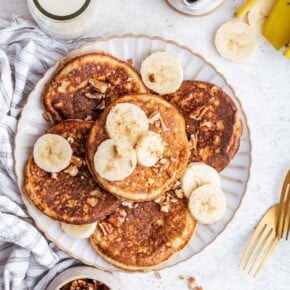 Ingredients
2

medium bananas

2

large eggs

3/4

cup

almond milk

1/4

cup

yogurt of choice

1 1/2

cups

rolled oats

1/2

teaspoon

baking powder

1/4

tsp

baking soda

1

tablespoon

butter/coconut oil for cooking
Instructions
Add all the ingredients to a high powered blender (minus butter/oil).

Blend on high until you have a smooth batter. Allow the batter to sit for 3 – 5 minutes.

Meanwhile, heat a pan over medium low heat. Add butter/cooking oil.

Once melted, pour 2 -3 tablespoons of batter onto the pan for each pancake.

Cook for 2 – 3 minutes until bubbles start to form, then flip and cook another 1 – 2 minutes.

Repeat until all the batter has been used.

Serve warm with your favorite pancake toppings!
Nutrition
Serving:
3
pancakes
|
Calories:
241
kcal
|
Carbohydrates:
35
g
|
Protein:
8
g
|
Fat:
8
g
|
Saturated Fat:
3
g
|
Polyunsaturated Fat:
2
g
|
Monounsaturated Fat:
3
g
|
Trans Fat:
0.1
g
|
Cholesterol:
91
mg
|
Sodium:
193
mg
|
Potassium:
427
mg
|
Fiber:
5
g
|
Sugar:
8
g
|
Vitamin A:
259
IU
|
Vitamin C:
5
mg
|
Calcium:
128
mg
|
Iron:
2
mg