These are the 35 BEST quinoa bowls to fill up on hearty, healthy whole grains and vegetables for breakfast, lunch or dinner. Including gluten-free, vegetarian and vegan options.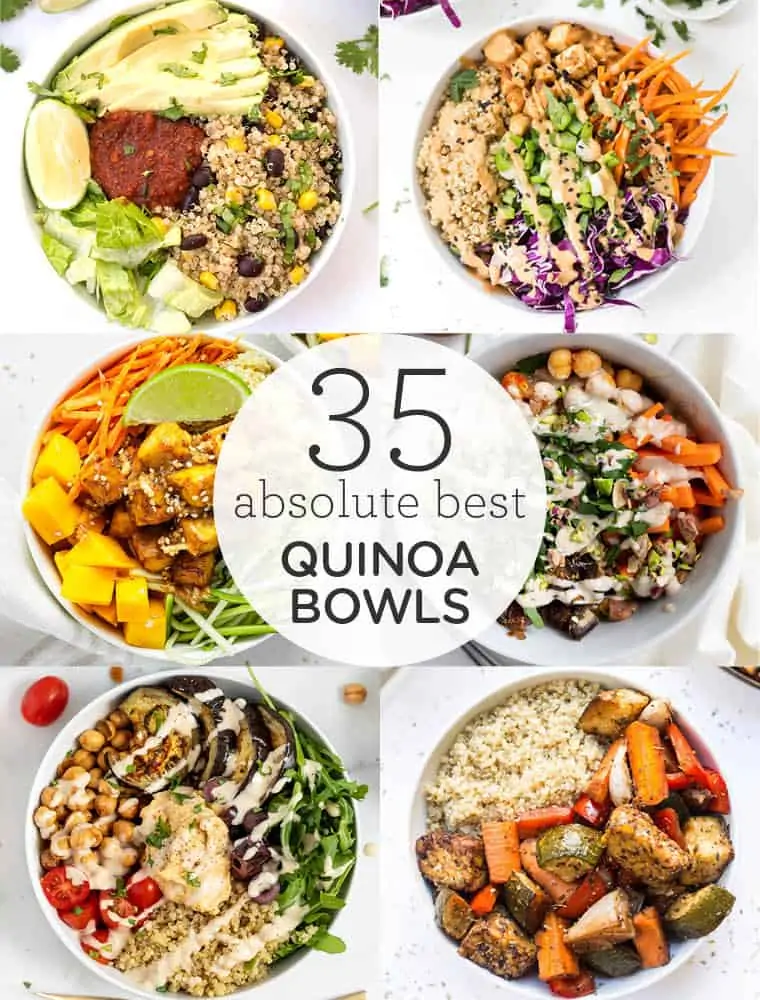 It shouldn't come as a surprise that a quinoa bowl piled high with veggies, protein, and flavorful sauces are one of my go-to lunches.
They also make excellent dinners.
As long as you have some cooked quinoa on hand (see here for my foolproof way to cook perfect quinoa), you can toss together a delicious and healthy meal in minutes.
I've rounded up the best quinoa bowl recipes to inspire you to eat more grains in the most delicious ways possible. Enjoy!
How to Make Quinoa Bowls
But before we can dive into our best quinoa bowls, let's first chat about how to make a quinoa bowl. For me, a perfect quinoa bowl takes just a few simple components:
Cooked quinoa
Vegetables/Fruit
Protein
Sauce
And from there, you can create any quinoa bowl you want! If you want to see how we use a "quinoa bowl formula" of sorts, our post about Healthy Quinoa Bowls shows you how to use cooked quinoa and make 6 different quinoa bowls recipes!
Easy Quinoa Bowl Toppings
Once you've got your "formula" down so to speak, another easy way to add flavor and/or excitement to your bowl is with toppings. There are so many quinoa bowl toppings to choose from, but some of my favorites are:
Chopped nuts: almonds, pecans, walnuts, etc. are all great options – bonus flavor points if you toast them ahead of time
Seeds: similar to nuts, seeds are a great way to add crunch and added protein to your bowl – I personally love hemp seeds!
Pepper flakes: if you're a fan of spice, these are a simple way to kick it up a notch
Herbs: fresh herbs are always an amazing way to add a little extra flavor – try to pair your herbs with the flavor of your bowl so everything stays cohesive
Can You Make The Bowls Ahead?
Quinoa bowls are the perfect meal prep recipe. Almost all components can be made ahead and either stored together as the full bowl or stored separately for making multiple meals throughout the week. We do recommend storing sauces separately as they can wilt greens and other ingredients if you are using them.
Plant-Based Quinoa Bowl Recipes
We're kicking this list off with my favorite plant-based recipes. These bowls feature plant-based proteins including tofu and beans!
Quinoa Bowls with Animal Proteins
Next up, we've got bowl recipes where the main protein source (aside from the quinoa of course!) comes from sources like eggs, fish, chicken, and red meat. These are also all excellent meal prep options! For the ones using fried or soft-boiled eggs, simply add a hard-boiled egg instead.
Quinoa For Breakfast
And lastly, we couldn't close out this post with our best quinoa bowls without including some breakfast options!
PIN FOR LATER!