These are the best healthy office snacks you can find! The list includes sweet snacks, savory snacks and even some healthy store-bought options as well!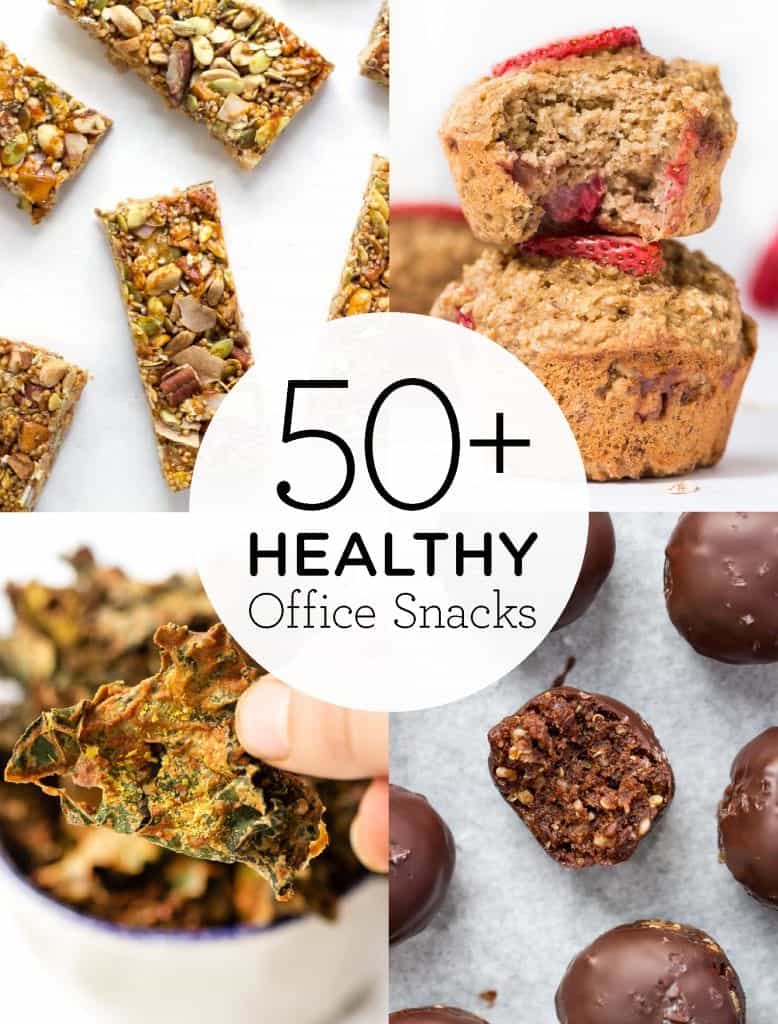 It's officially back-to-school season, which means for many of us, summer is over, vacation is over and it's back to the office grind.
When I used to go to an office every day, before I ever thought that this whole blogging thing could be a real business (still hard to believe sometimes!), healthy snacks were the hardest thing for me to be consistent with. I was in an office where people brought in homemade baked goods, some mornings there were bagels, someone would leave a bag of chips open on the table, often times we'd go to lunch–you get the drill–and it was tough to always stick with healthy options.
I'm sure you probably struggle with the same exact things. Office culture isn't always conducive to a healthy lifestyle, so today I thought it would be helpful to give you 12 of my FAVORITE healthy office snacks that you can make at home and keep in your desk. At the end of the post, I'll also give you links to some of my favorite store-bought snacks in case you're in a rush and don't have time to make one of these options at home.
Hopefully, this gives you plenty to choose from!
1. Energy Balls and Energy Bites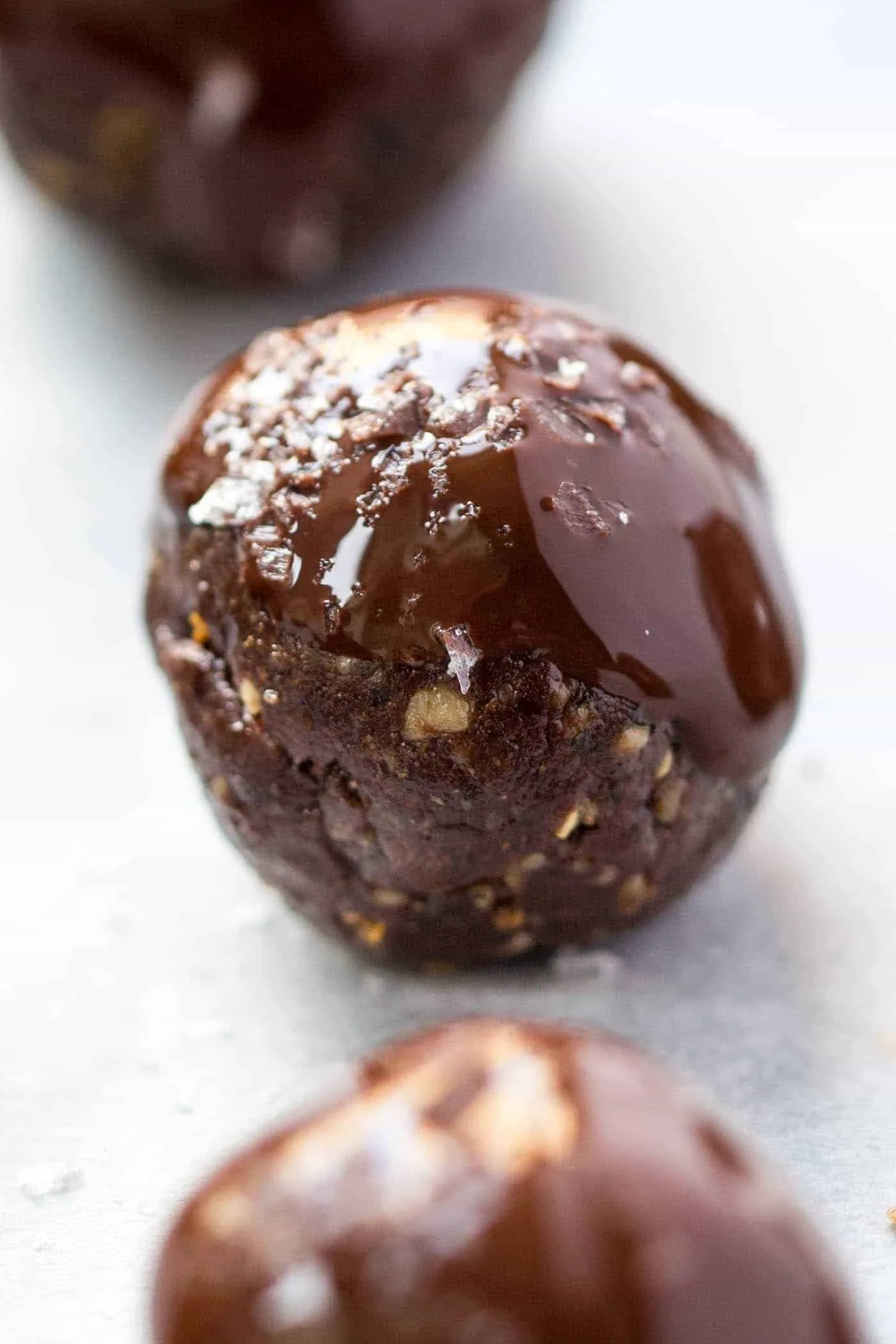 These are the perfect afternoon pick-me-up when you're craving something sweet and thinking about the candy bowl, but don't want to overindulge. They taste like chocolate truffles, have a lovely crunch from the quinoa crispies and will definitely satisfy that sweet tooth. As a snack, I'd probably recommend making them without the melted chocolate so as to help regulate blood sugar and not send you into a sugar crash.
Healthy Energy Ball Recipes to bring to work:
2. Homemade Granola Bars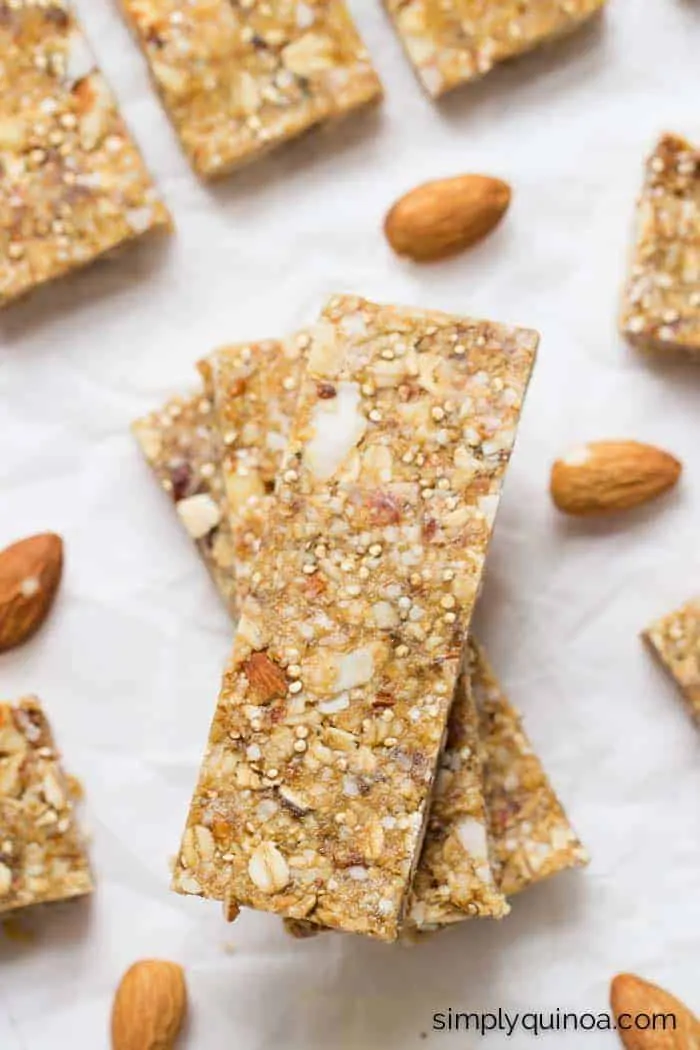 These particular granola bars above are my healthy, lower sugar spin on the Almond + Coconut KIND Bars. They're super easy to make, taste delicious and travel well too. I like to make a big batch of them over the weekend, wrap them up individually and then bring them with me for the next week. In addition to making a great healthy office snack, they're also wonderful pre- and post-workout. I often will split one in half and have one half before my workout and finish the rest of bar after. They're so yummy!
Healthy Homemade Granola Bar Recipes:
3. Healthy Gluten-Free Muffins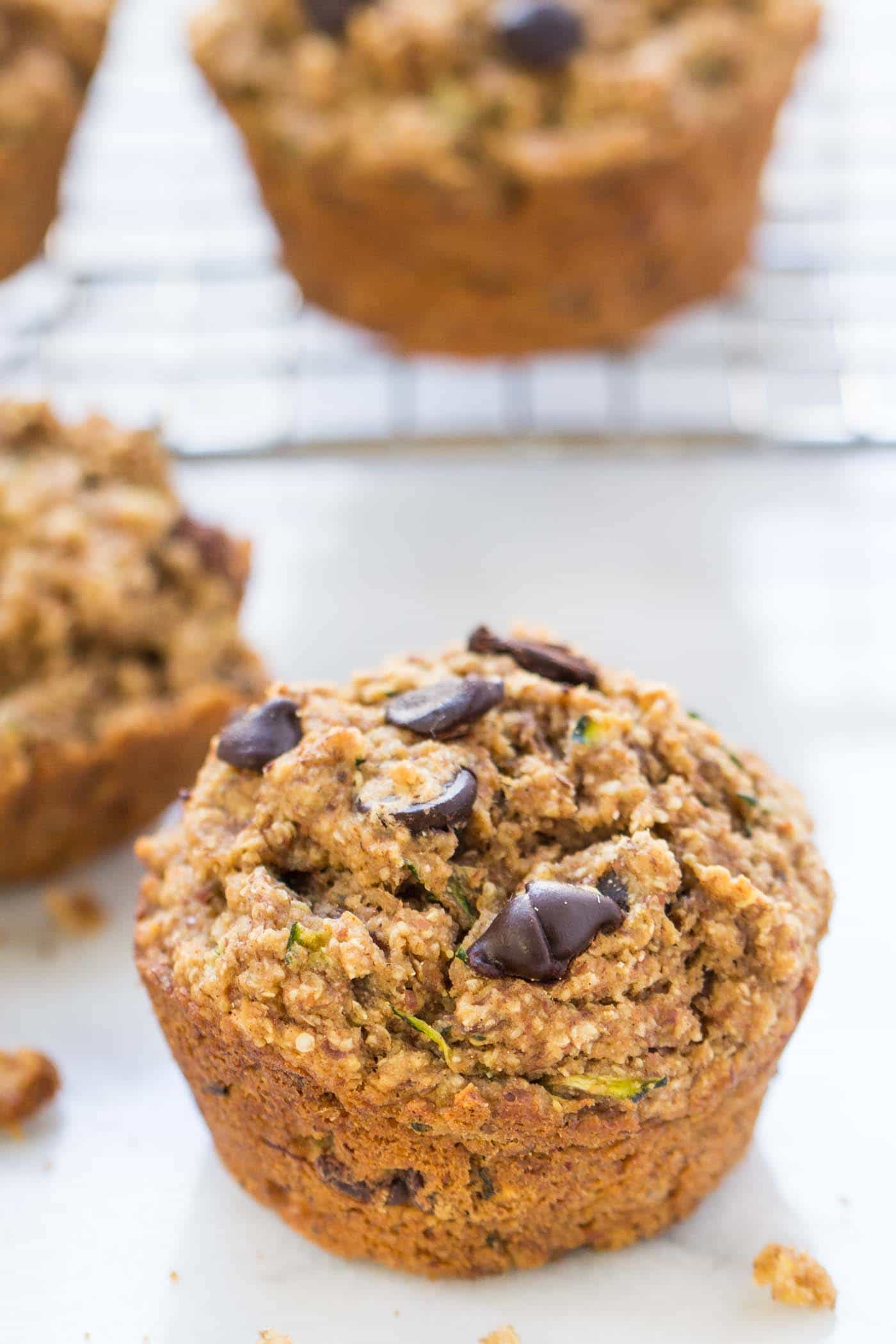 Most of the time muffins are for breakfast, but not these! My Skinny Zucchini Chocolate Chip Quinoa Muffins are a lightened up version that uses no oil, dairy, eggs, gluten OR refined sugar. They're made primarily from oats which are high in fiber and are digested more slowly but are also packed with fruits and veggies. We've got banana, applesauce, AND zucchini inside. Plus with that little hint of chocolate? They can't be beaten! Try some of my other healthy homemade muffins too.
Healthy Homemade Muffin Recipes:
4. Dried Fruit & Nut Butter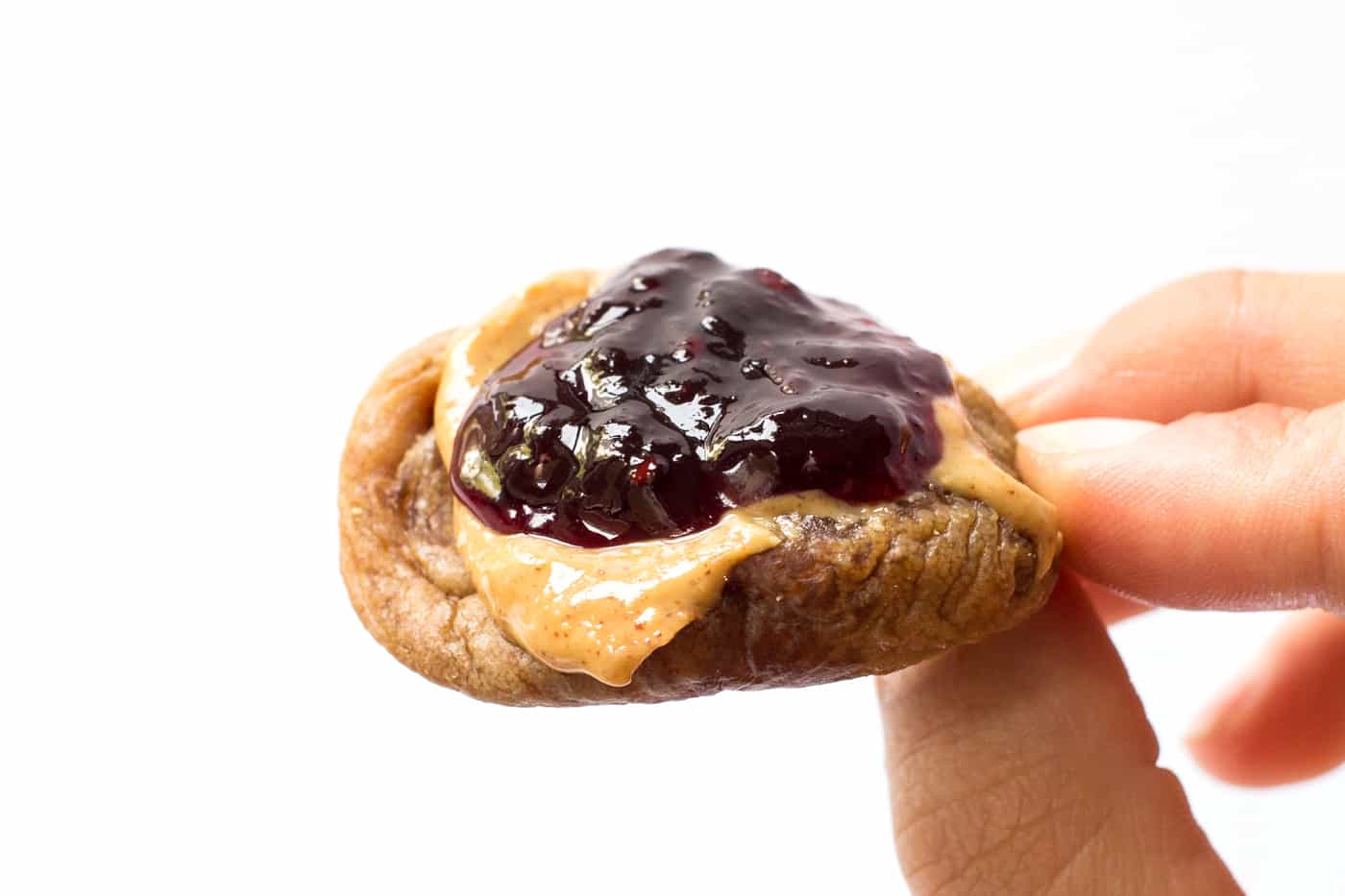 This is kind of an unconventional snack, but is definitely one of my all-time favorites! I'm a big fan of PB+J (as is most everyone else), but I don't always want the bread on the bottom. My solution? Dried Turkish figs topped with about 1 tablespoon of nut butter and 1 teaspoon of jam. So simple, SO satisfying and I find that one is perfect to take the edge off my hunger.
Healthy Homemade Nut Butter Recipes:
5. Healthy Granola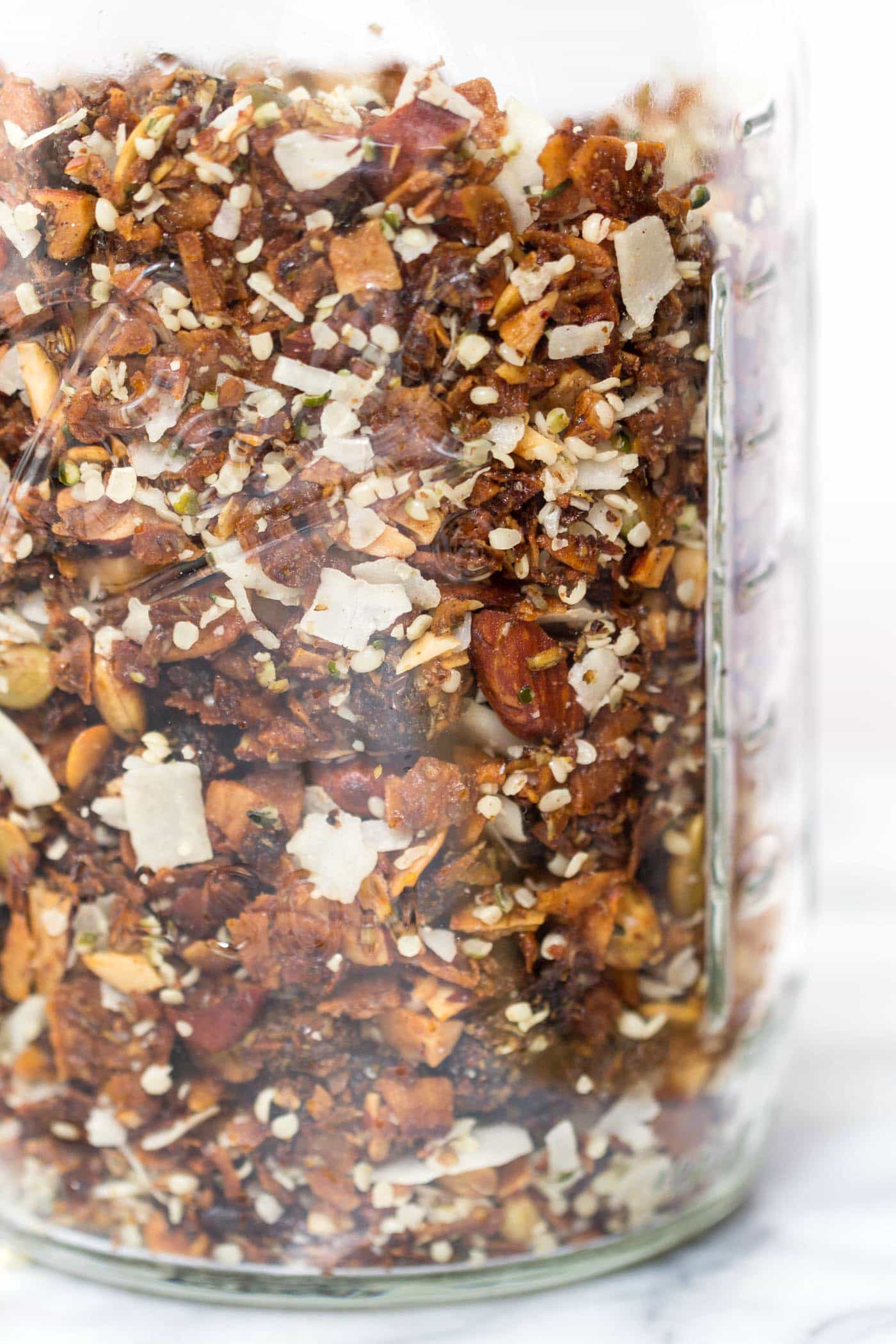 Granola always has and always will be one of my favorite snacks on the planet! But what I've discovered more recently, is that when I'm munching on granola as a snack, it's easy to go overboard and end up consuming wayyyy more calories that I would have planned. Now, this might seem a little counterintuitive, but this grain-free coconut granola, which is actually higher in calories per serving than most other granolas, is easier to portion yourself on. How? Because it's filled with healthy fats, protein and not a ton of sugar, just a small handful is incredibly satiating. It will also keep you full for longer!
Healthy Homemade Granola Recipes:
6. Quinoa Breakfast Cookies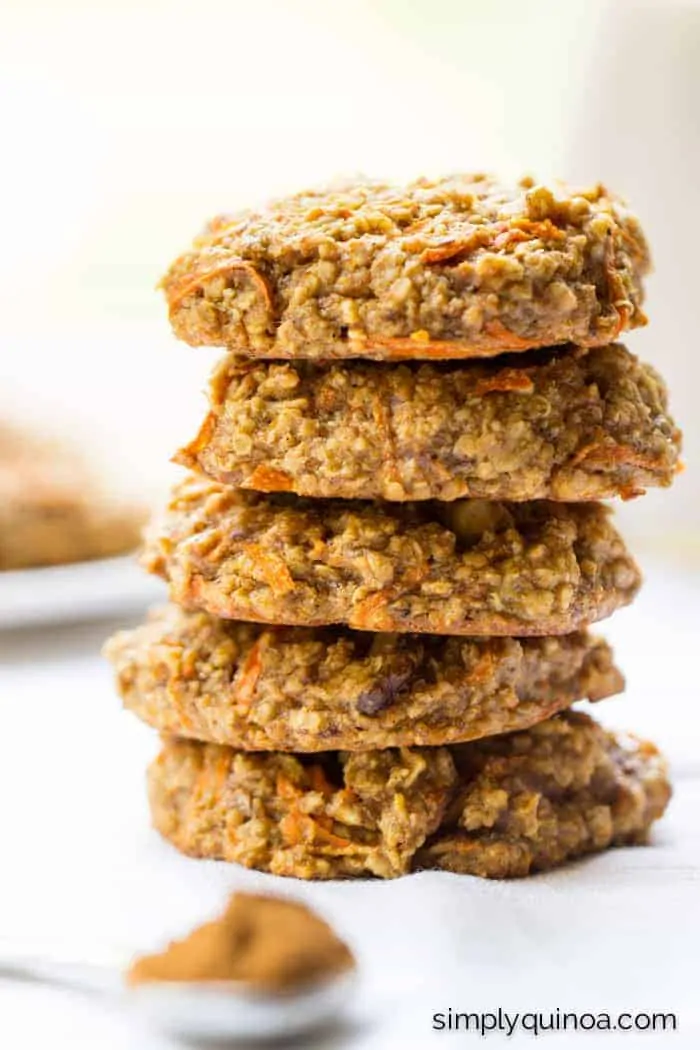 You guys know how much I love my quinoa breakfast cookies, but in addition to making a perfect breakfast, they also a really nutritious and delicious snack! You could make any of the flavors that I've shared so far but these Carrot Cake Quinoa Breakfast Cookies happen to be my favorite for Fall. They taste like a slice of carrot cake, but come with none of the guilt. Instead of tons of fat and sugar, you're getting fiber, plant-protein, healthy fats and natural sweeteners. Plus, who doesn't love to much on cookies as a snack!? 😉
Healthy Quinoa Breakfast Cookie Recipes:
7. Roasted Chickpeas (+ Other Beans)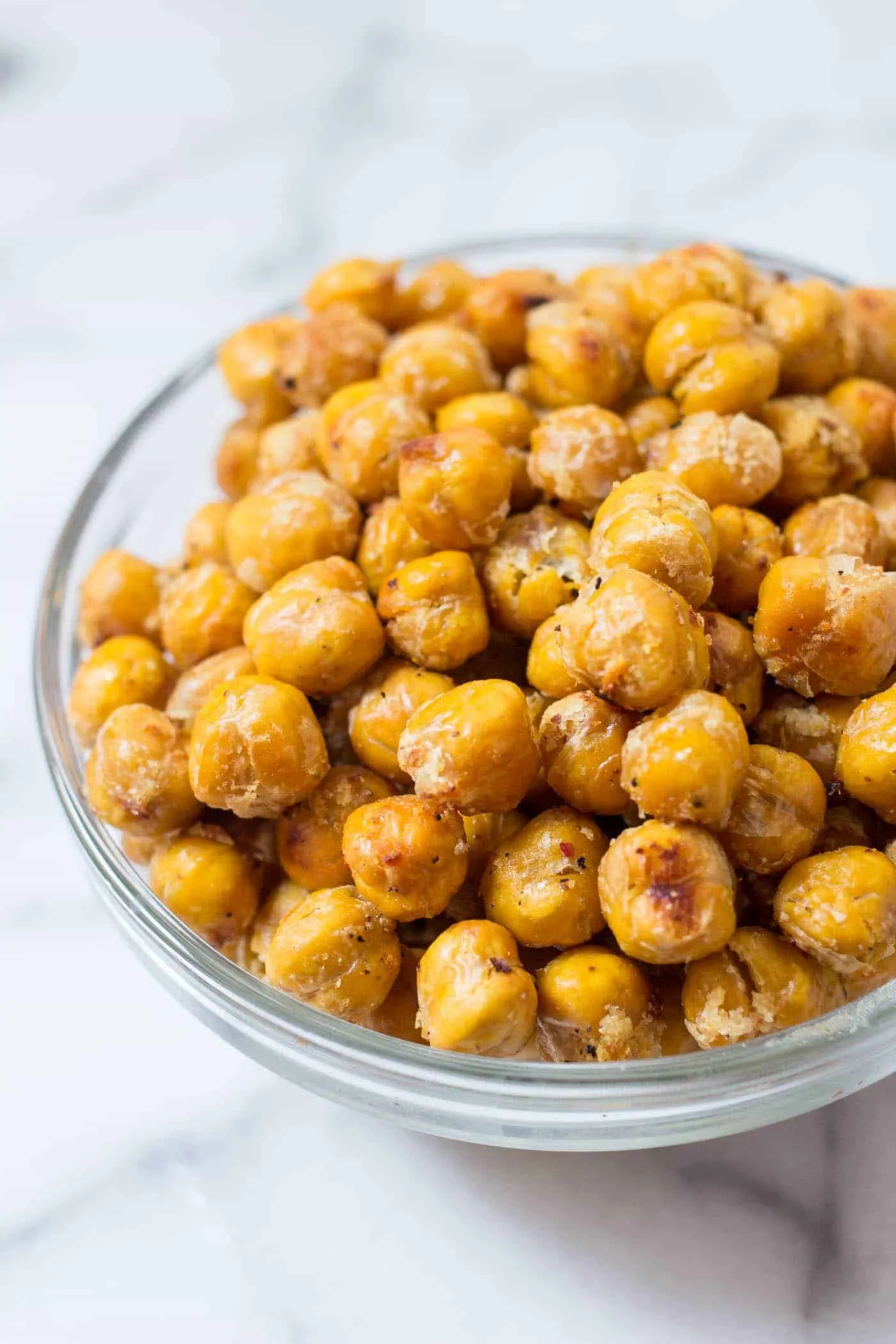 I love making big batches of roasted chickpeas so that I can not only have them to put on my salads (like my Vegetarian Kale Salad), but also to take with me as a quick and healthy snack. I personally like to use coconut oil because I love the flavor, but you can use whatever you like best. For seasonings, you can go crazy. I usually keep it simple with salt and pepper, but you could also add in some garlic powder, curry powder, paprika/chili powder, or even make them sweet with some cinnamon and coconut sugar!
Healthy Roasted Bean Recipes:
8. Kale Chips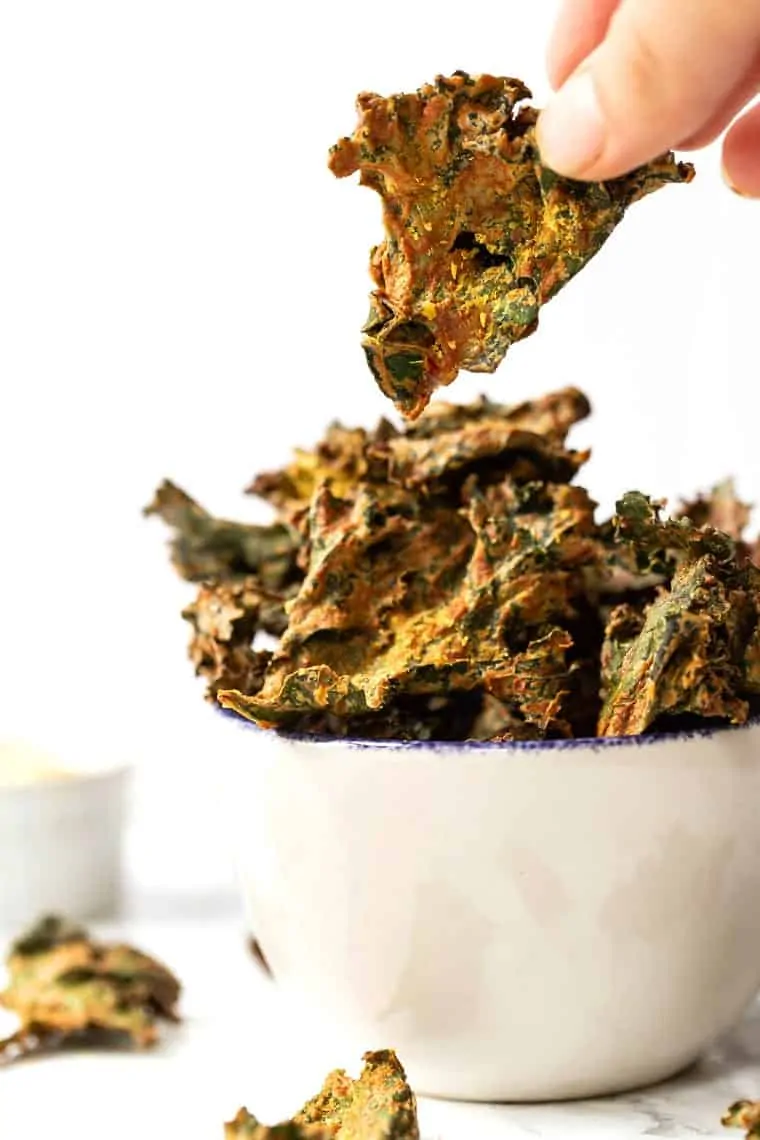 It took me a while to warm up to the idea of making chips out of kale, but now that I've tried a few batches, I'm hooked. They're so easy to make, can be totally customized with flavors (although these garlic kale chips are pretty epic), and they're healthy. You get to eat something salty, crunchy and chip-like, but also get your veggies in at the same time. It's a win-win!
Healthy Kale Chip Recipes:
9. Veggie Chips
I've always been a fan of snacking on chips, especially corn tortilla chips, but often times I find that I end up with a stomach ache because a) I eat too many and b) the lower quality oils and deep frying process is hard on my digestion. So to see an alternative like this–Baked Sweet Potato Chips–I feel like I've hit the jackpot. They're crunchy, crispy and totally satisfying but are still nutritious. Plus, they're going be a heck of a lot cheaper than stocking up on bags of regular sweet potato chips!
Healthy Baked Veggie Chips Recipes:
10. Healthy Homemade Hummus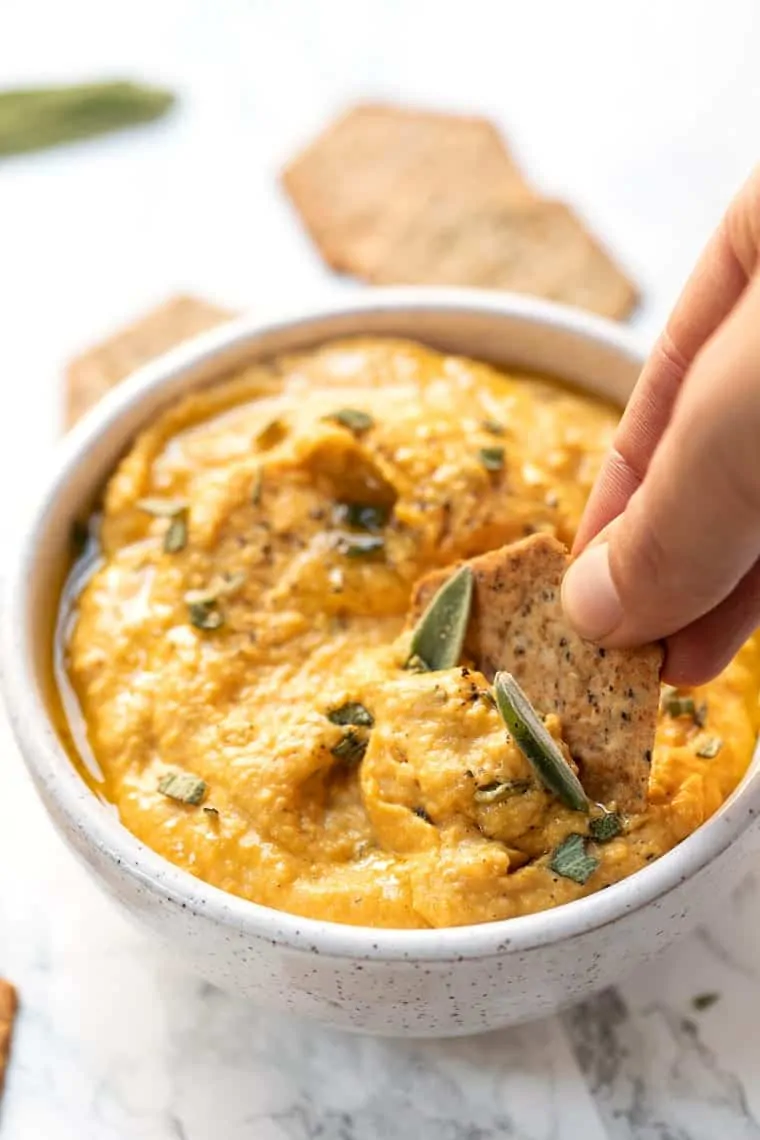 While you can certainly pick up a store-bought hummus, homemade hummus tastes SO yummy! If you have access to a refrigerator at your office, this is the perfect snack; it's packed with protein, healthy fats and fiber so you'll fill up, feel fueled and have the energy to get through the day. You can serve it with your favorite cut-up veggies or rice crackers if that works better for you. One thing to be mindful of with hummus is portion control. It's easy to go overboard if you just have a container or large serving in front of you. I would recommend portioning it out in 1/4 cup servings; you'll be getting about 5g of protein and staying in the 100 – 150 calorie range.
Healthy Homemade Hummus Recipes:
11. Homemade Trail Mix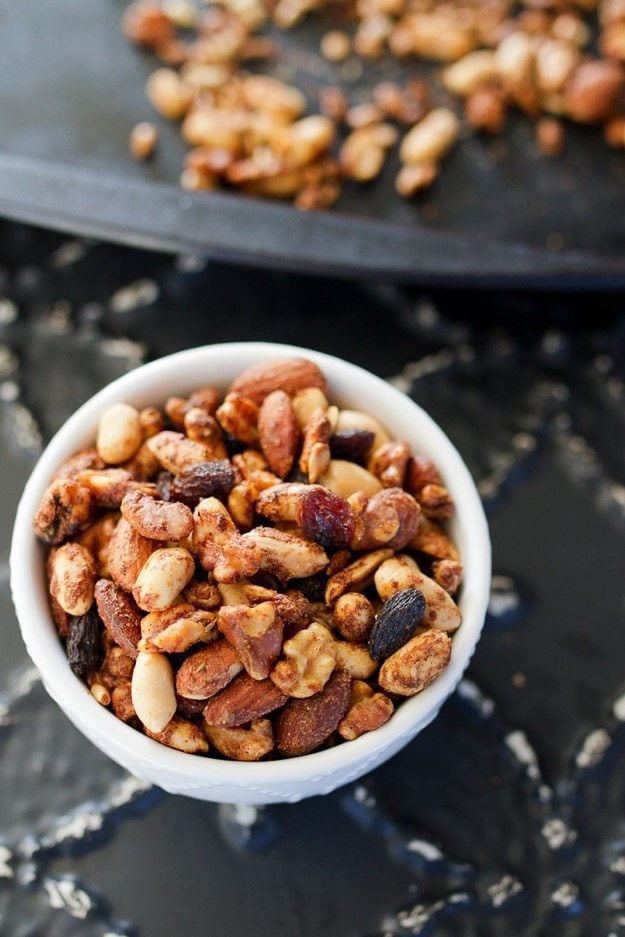 There are endless combinations of what you can do with homemade trail mix (this Cajun Trail Mix is amazing!) and it really does make a great snack. Why? Because not only is it full of healthy fats, but the nuts are also packed with protein. So like many of these other snacks, trail mix will fill you up, give you lasting energy AND satiate your hunger so you won't be left craving other things between meals. Just like with hummus, portion control is important with trail mix. Since it's full of nuts and dried fruit, the calories and fat can add up quickly; I recommend that you keep them portioned out in 1/4 cup – 1/3 cup portions. That should be plenty to keep you full until your next meal!
Healthy Homemade Trail Mix Recipes:
12. Homemade Crackers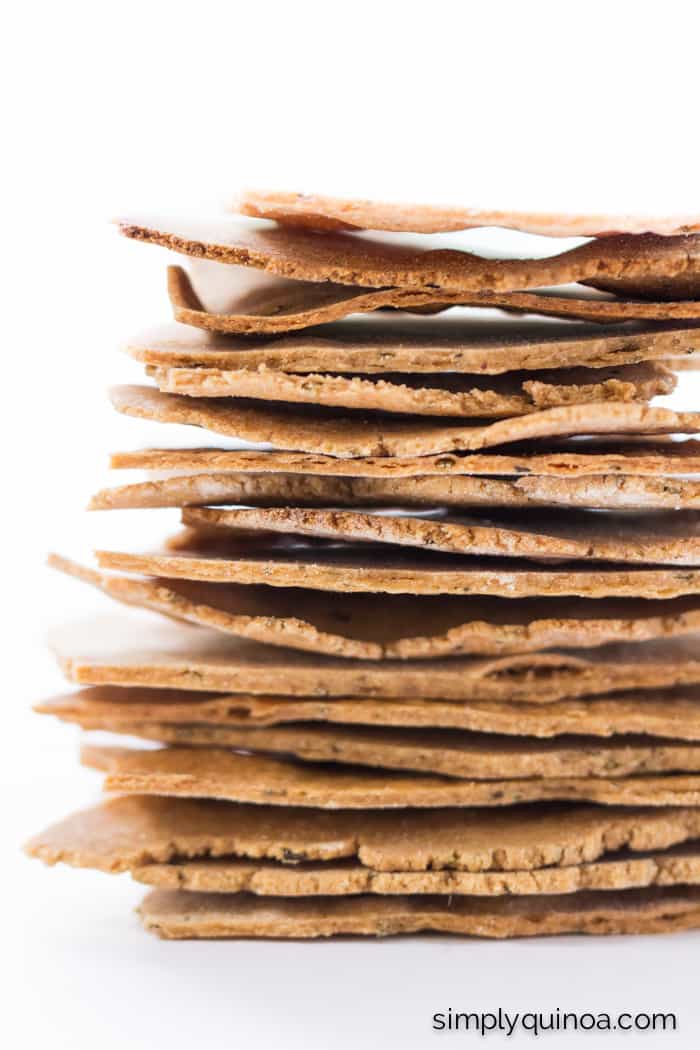 We're ending our list of healthy office snacks with another salty, crispy snack! Homemade quinoa crackers (the ones pictured are my Garlic + Rosemary Quinoa Crackers) are one of my absolute favorite things to munch on between meals. Since these are made with 100% quinoa flour, you're getting a good dose of protein, as well as fiber and vitamins in each serving. And while they're delicious on their own, you could also bring a few of these crackers with some hummus and oh man…BEST. SNACK. EVER.
Gluten-Free Cracker Recipes: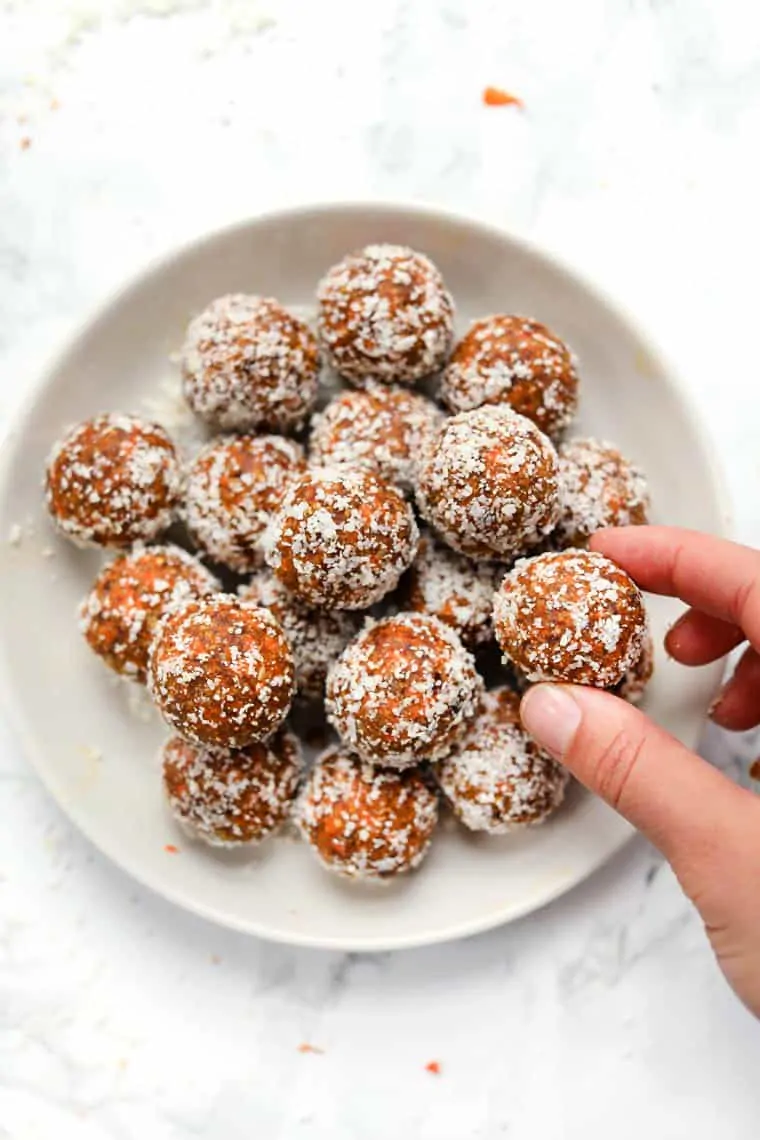 Store-Bought Healthy Office Snacks
Don't have time to make something at home? No problem, here are some of my favorite healthy snacks you can pick up at your local grocery or natural food store!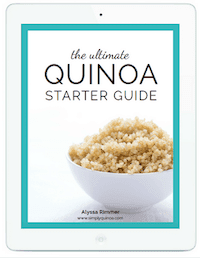 New to cooking quinoa? Grab your FREE Quinoa Starter Guide!
Become part of the Simply Quinoa community and receive weekly emails with exclusive content that I only share in email, as well as my in-depth guide to starting your quinoa journey.
⇣

 PIN FOR LATER

⇣