Are you stuck at home or quarantined? This list of 18 pantry staples can help get you through a crisis. These items are healthy, vegan & also gluten-free!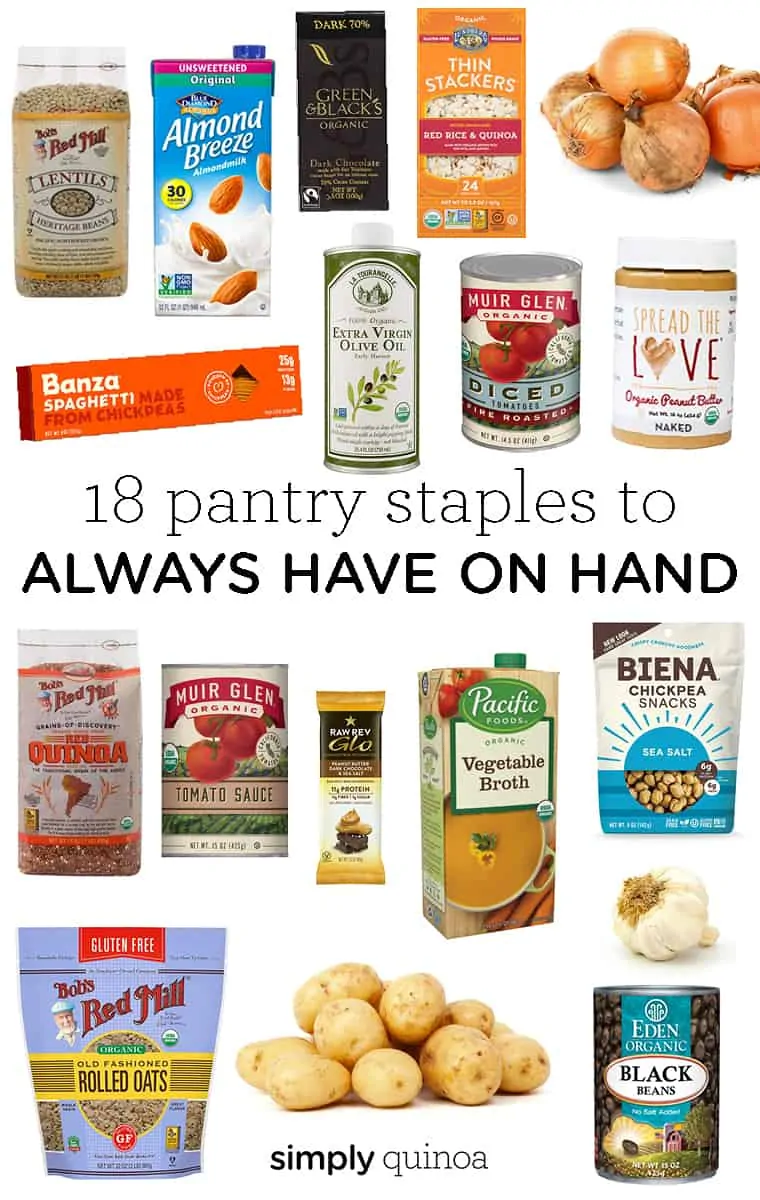 Right now, with what's going on in the world, we all feel very unsettled. We don't really know what will happen, and it's lead to a lot of fear-based buying. People are stocking up on way more than they need to. They're overbuying and it's causing other people in their communities to not be able to get anything.
So I wanted to put together a post that talks about different pantry staples you can keep on hand that can be used to create healthy, wholesome meals. This is list includes 18 different items – I recommend have no more than 3 of each of these on hand. You can always re-stock if need be!
18 Pantry Staples to Get You Through a Crisis
To create this list of pantry staples, I not only looked at my own cupboards, but I also reached out to this community. I asked what you all like to keep on hand and I compiled – what I feel like is – a comprehensive list.
Each of these items are gluten-free, vegan, and healthy. Hopefully, it helps!
1. Crushed Tomatoes
---
You'll notice that the first few things on my list are around tomatoes. I think tomatoes are an amazing thing to have on hand as they can be used in tons of different cuisines. Everything from pasta, curry, soup and more. I'm starting my list with crushed tomatoes – I use these mostly in pasta sauces!
Ways to use crushed tomatoes:
2. Diced Tomatoes
---
Next on my list are diced tomatoes. There are SO many ways to use diced tomatoes! Whether you're making a chili or stew, or you want a chunky pasta sauce, diced tomatoes are amazing.
Ways to use diced tomatoes:
3. Tomato Sauce
---
The third tomato-based item on our pantry staples list is jarred tomato sauce! The kind you put on pasta and pizza. It's simple, but also such a great thing to have for quick and easy dinners. I often make quinoa pizza crusts and will use that as our base, or make a bowl of chickpea pasta and use that for the sauce.
My favorite tomato sauce brands: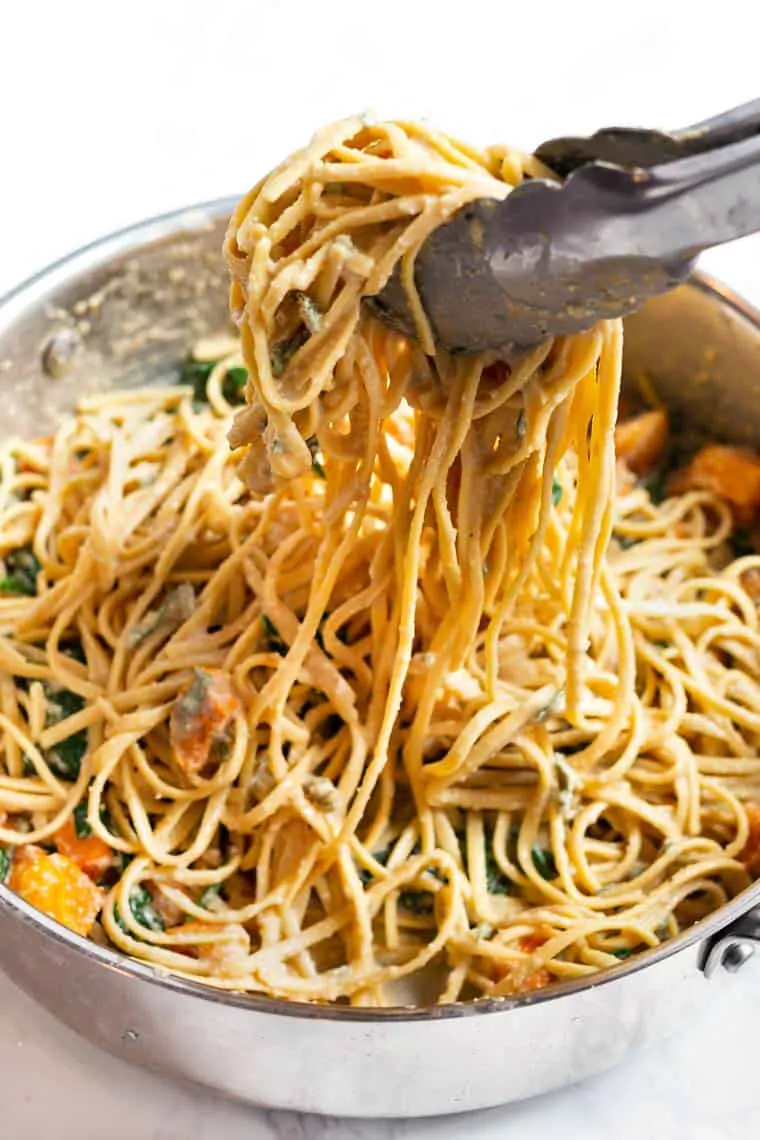 4. Dry Pasta
---
What would all three of these things be without some pasta, right!? We always have multiple types of pasta on hand – not only shapes but kinds as well. We always have bean pastas like chickpeas and lentils, as well as regular gluten-free pasta and regular pasta for Matt. When in doubt…pasta is the answer!
Easy pasta recipes with pantry staples:
5. Whole Grains
---
Having a blend of whole grains in your pantry is a great way to ensure you're getting fiber and nutrients in with your meals. We like to have a variety of whole grains for things like grain bowls, cereal bowls, stir fry and more!
Here's a list of my 6 staple whole grains to keep on hand!
6. Dried Lentils & Canned Beans
---
When you're not able to get fresh proteins like meat and tofu, having dried and canned beans will save your day. We keep both red and green dried lentils on hand, as well as a variety of canned beans.
Healthy recipes using beans and/or lentils:
7. Oats
---
Most of what has been on my list of pantry staples thus far is all about lunch and dinner. But what about breakfast?! Oats are the absolute perfect thing to have on hand. Not only can you use them to make a simple bowl of oatmeal, but they can also be used for things like granola, muffins, and other baked goods.
Best Ways to Use Oats in Recipes: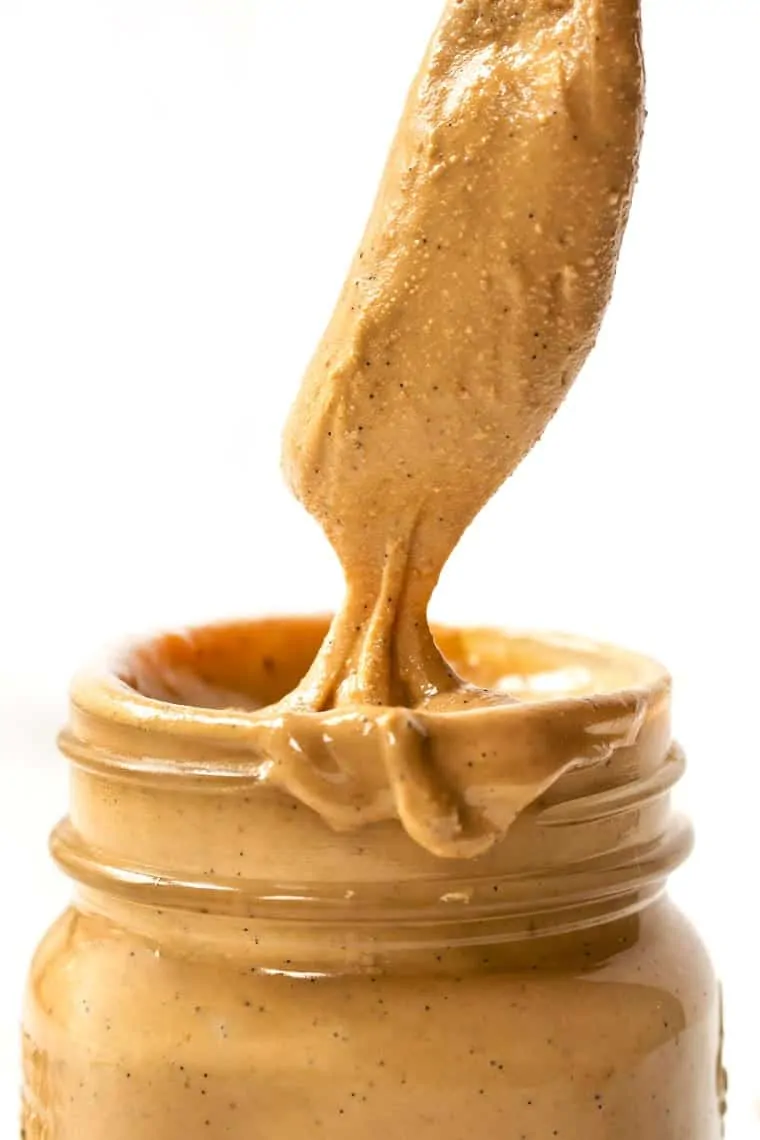 8. Nut Butter
---
Next on the list is nut butter! I use nut butter almost every single day – in my breakfasts but also for snacks. I typically have some store-bought varieties like peanut butter, almond butter, and tahini, but I also like to have homemade ones as well!
Homemade nut butter recipes to try:
9. Shelf Stable Plant-Based Milk
---
For those of us who follow a dairy-free diet, luckily there are lots of self-staple plant milks out there. Just head to the juice aisle and you'll see a whole range of shelf-stable milk options. Everything from almond, cashew, coconut, rice, oat and more!
10. Veggie Broth
---
One of my favorite pantry clean out meals is soup. And luckily soups call for a ton of the items on this list! Make sure to have some veggie broth on hand for meals just like this! They're great for a whole family, they freeze well and they'll also keep all week long.
Healthy vegan soup recipes: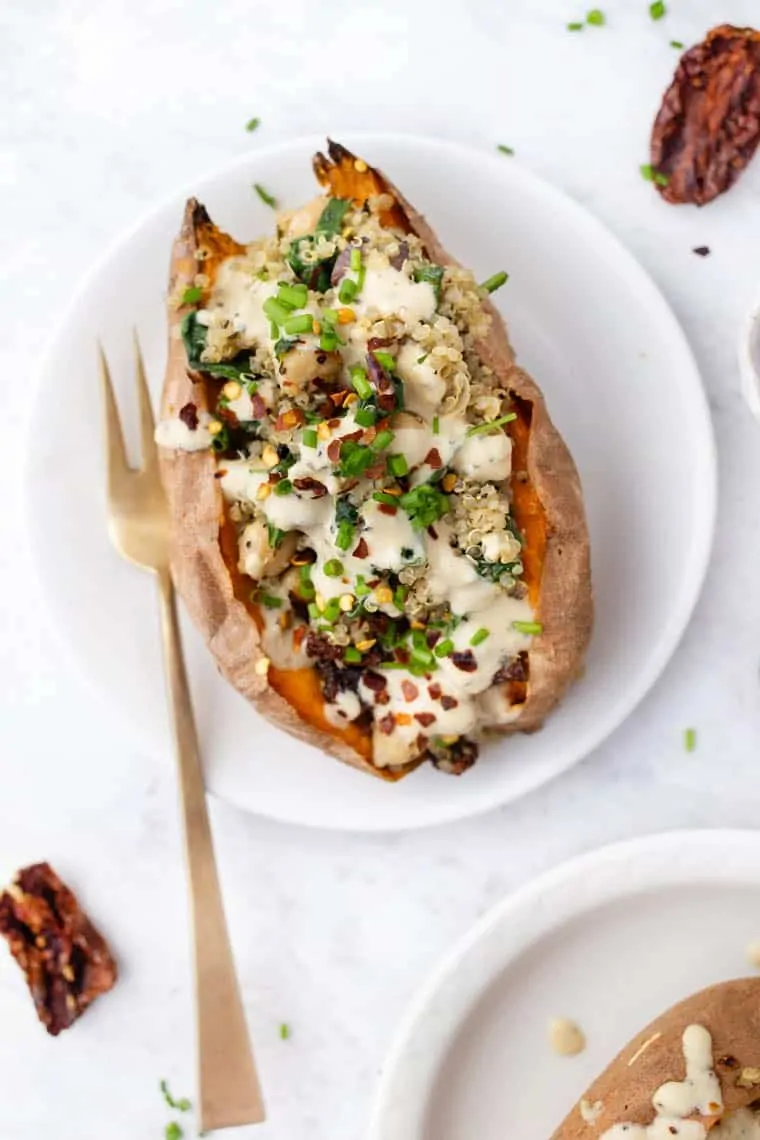 11. Potatoes
---
The next three things on the list are actually "produce" items that still will last quite a long time in the pantry. We've first got potatoes! Potatoes are so comforting, they're delicious and there are so many ways to use them. We always have sweet potatoes and white potatoes on hand!
Our best healthy potato recipes:
12. Onions
---
Onions are a staple for me in my cooking. I almost always start with onions (and garlic which is #13) to build flavor. I'd recommend keeping both red and white onions on hand. And use them for things like soups, stews, chili, roasted veggies, and so much more!
13. Garlic
---
I can't imagine my life without garlic. It's my #1 spice that I choose for flavoring my food. As I said in the previous section, I always start my recipes with onion and garlic. If you are following a low FODMAP diet, then you can just skip these two!
14. Oils & Vinegars
---
Next, we have oils and vinegars. I'm lumping them together because I kind of consider them a similar category. Oils we use for cooking all the time, but also for the base of salad dressings. Vinegars we also use for salad dressings and flavorings, but what's great about vinegar is you can also use it to make household cleaners!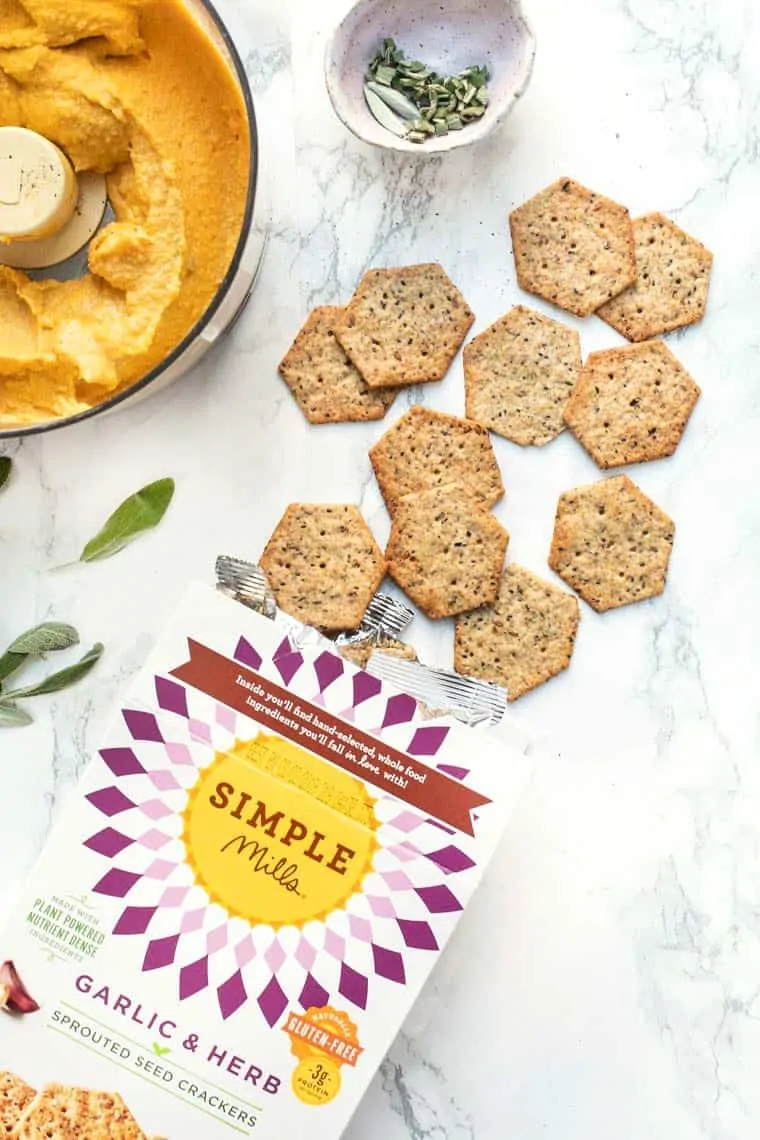 15. Healthy Snacks
---
You can't have a stocked pantry without some healthy snacks! I'm a big fan of having healthy, savory snacks on hand and would recommend picking up your family favorites. I'll link some of mine below, but I think this list can also be someone customizable to your preferences.
My favorite healthy snacks:
16. Rice Cakes
---
Rice cakes are making it into their own category on my pantry staples list because of how many ways they can be used. I use them for breakfast, lunch, and snacks as well. I love that you can make them sweet or savory based on what you're craving!
Check out this video for some ideas for using rice cakes!
17. Vegan Protein Bars
---
You guys probably know that I love protein bars. I almost always have a fridge stocked full of a variety of bars. I think they make a great meal in a pinch, they're great for pre-workout, and they're great for healthy snacks.
My favorite vegan protein bars:
18. Dark Chocolate
---
I've got to end the list with something sweet and slightly indulgent. For me, that's chocolate. Always. ALWAYS! I have a piece (or two) of dark chocolate almost every single day and it's just the best thing ever. I'd highly recommend keeping some on hand!
My favorite vegan dark chocolate: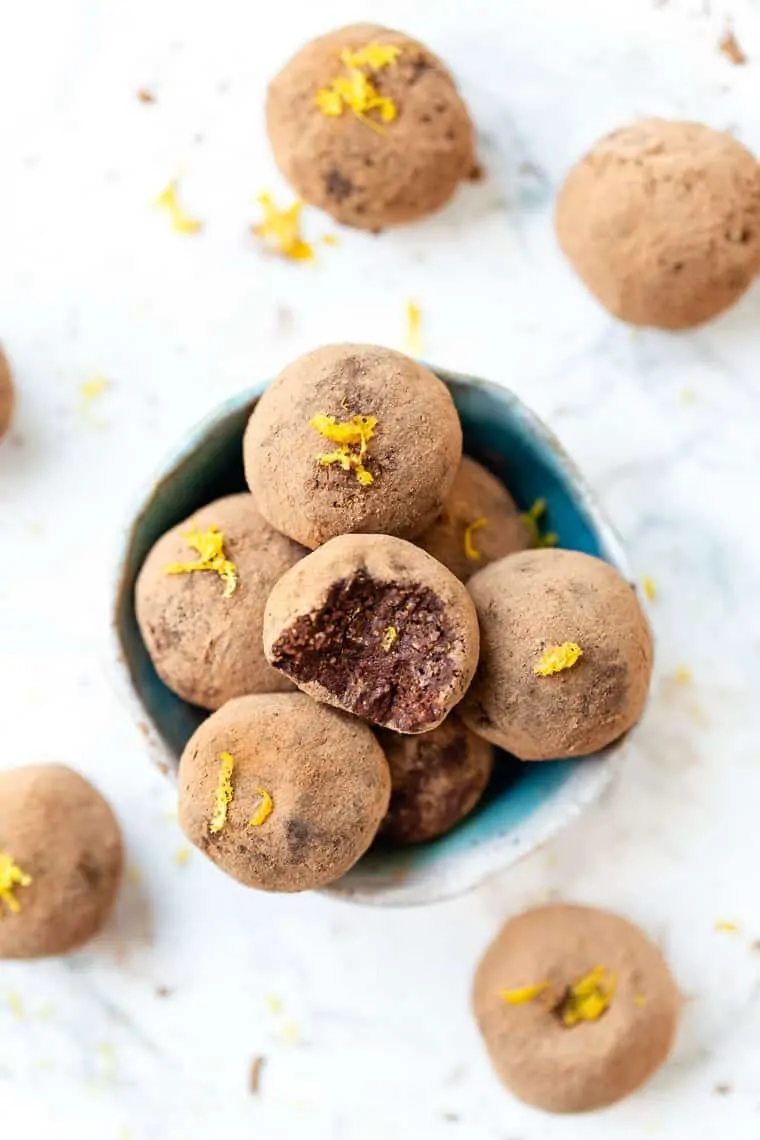 What Pantry Staples Do you Keep on Hand?
I'd love to hear fro you! What items do you like to keep in your pantry? Let me know by leaving a comment on this post!