A list of the 10 best sources of plant-based protein for vegans and vegetarians. This list also includes recipe inspiration for using each ingredient!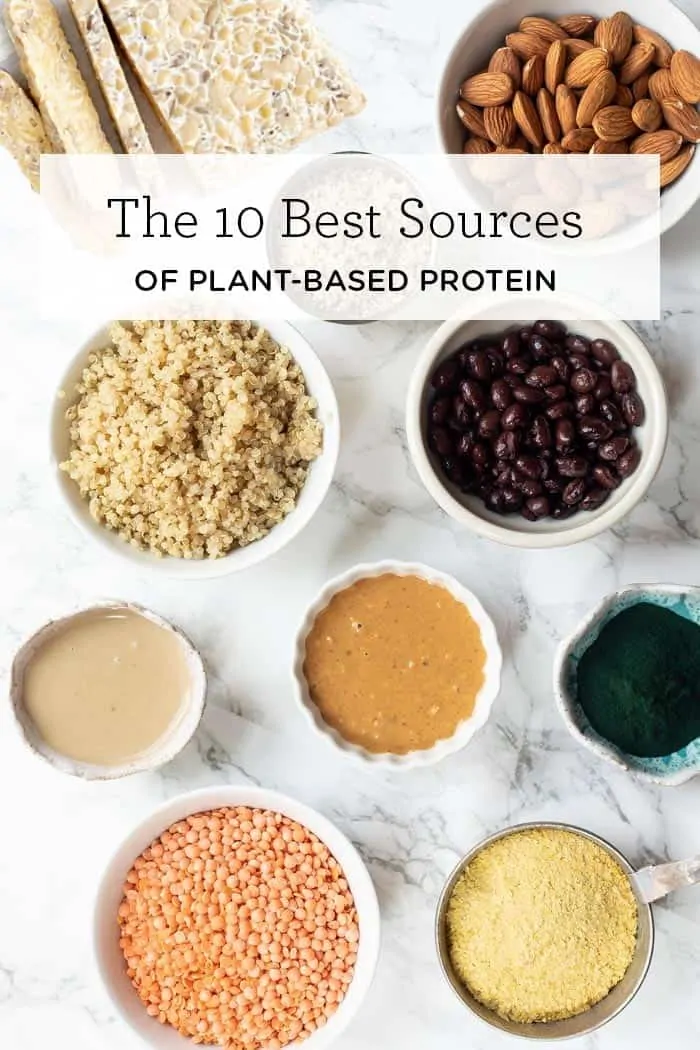 Getting enough protein has been ingrained in us from an early age. We're taught that we need lots and lots of protein if we want to grow up to be strong and tall. And most of the time, at least in our modern societies, that means we're taught to eat meat.
It's long been believed that the only way to get an adequate amount of protein into our diets is if we eat animal proteins. But what about those of us who don't want to eat animals? Or those of us who can't for one reason or another?
Are we just left to shrivel up? NO WAY!
Contrary to what many people think, you can absolutely get enough protein living on a plant-based diet. In fact, many times the form of proteins that we're getting are ultimate more nutrient-dense and better for our overall health.
So today we're going to break down the best sources of plant-based protein, to help you understand how simple it is to eat this way and still get the macronutrients you need. We'll also be sharing some of our favorite recipes along the way for a little extra inspiration!
Click here to download a FREE Protein Guide!
1. Quinoa
Of course, I'm starting my list with quinoa, right?! What I love about quinoa is that it's a complete protein meaning it contains all nine essential amino acids. Quinoa is also super versatile and since it has a fairly plain texture, can be used in both sweet and savory dishes.
Protein content: 1 cup cooked = 8 – 10g
Healthy quinoa recipes to try:
2. Beans
Probably the most "classic" form of plant-based protein, beans are amazing! There are tons of different varieties which means they're easy to put into all sorts of dishes. Beans are also widely available (across the globe even!) and are super affordable. They're a great starting place for people who are looking to eat less meat!
Protein content: 1 cup cooked = 14 – 16g
Delicious bean recipes to try:

3. Lentils
While technically in the bean family, I decided to break lentils into their own category because they have more protein than other beans and I find have a very distinct flavor and texture. Lentils come in a few different varieties – red, green, brown and black/beluga – and can be used all sorts of ways. If you're looking for something quick, red lentils cook up in about 15 minutes!
Protient content: 1 cup cooked = 18g
Vegan lentil recipes to try:
4. Hemp Seeds
One of the highest sources of protein in the seed family, hemp seeds are also one of my favorites! They're small, easy to incorporate and are also full of healthy fats and omega-3 fatty acids. Perfect for someone who's living a plant-based lifestyle! Hemp seeds can be found as seeds themselves, but many times you can also find hemp powder which would work just as your standard protein powder!
Protient content: 3 tablespoons = 10g
How to use hemp seeds: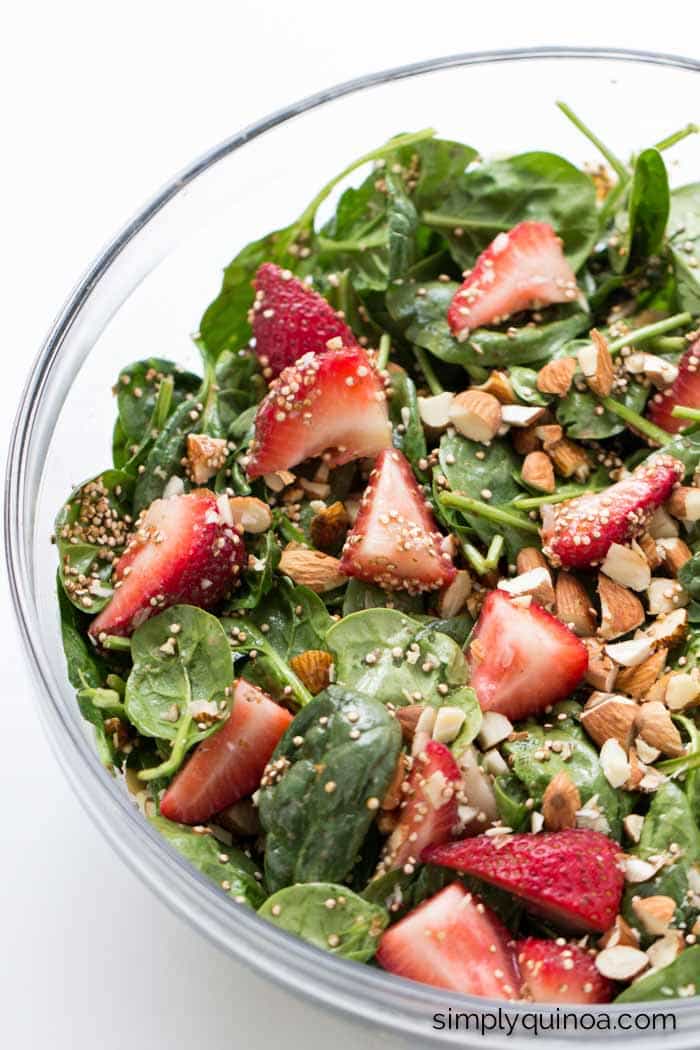 5. Nuts & Seeds
There's really no limit when it comes to what you can do with nuts and seeds! Especially since there is so much variety and options to choose from. Not only can you use them as a snack, but you can turn them into your favorite homemade nut butter, bake with them (looking at you almond flour!) and toss them into smoothies. They're a cinch to use and again, pack a powerful punch in the healthy fat department!
Protient content: 1/4 cup = 7 – 9g
Best ways to use nuts & seeds:
6. Nutritional Yeast
Oh, how I love nutritional yeast! This has been a staple in my diet for years and I literally sprinkle it on pretty much everything. If you're new to nutritional yeast, think of it as the plant-based version of parmesan. While it doesn't taste exactly like cheese, it definitely has a cheese-like quality and it's packed with goodies. We're talking a ton of protein AND most of the nutritional yeast on the market today has also been fortified with vitamin B12 which makes it even more important for plant-based eaters.
Protient content: 1/4 cup = 18g
Recipes that use nutritional yeast:

7. Tempeh
If you're someone who doesn't like to eat a lot of soy, I totally understand! Soy and I don't really get along either – it tends to give me a tummy ache when I eat it. Which is why if I am going to eat soy, I almost always opt for tempeh! Tempeh is made from fermented soybeans, which means it's much easier to digest and also contains some beneficial bacteria for your gut. Tempeh, similar to tofu, has a very bland taste, so you can really go crazy with flavorings!
Protient content: 100g = 18g
Easy tempeh recipes that rock:
8. Peanut Butter
Peanut butter can do no wrong in my book! It's definitely my favorite of all nut butters (even though it's technically a legume) and goes well with pretty much everything! The peanut butter aisle can be a bit confusing because there are so many options to choose from  – my rule of thumb is to always buy organic and make sure the only ingredient is peanuts. Peanuts are also higher in protein than most other nuts, which is another great reason to add some spoonfuls into your life!
Protient content: 2 tablespoons = 8g
Best ways to use peanut butter:

9. Tahini
I discovered tahini a few years ago and now pretty much put it on everything. Tahini, aka ground sesame butter, is what I make most of my salad dressings out of, but can also be used in baking, as a nut butter replacement and is one of the key ingredients in hummus. What I love about tahini is that it can go between sweet and savory. I've had a tahini brownie before that is out of this world!
Protient content: 2 tablespoons = 8g
How to use tahini:
10. Spirulina
Probably the most obscure on this list, spirulina is a blue-green algae that is full of protein, as well as vitamins and minerals. Now one thing to keep in mind is that spirulina definitely has a seaweed-y taste – if you're new, a little goes a long way. The serving size below is a bit more than I would add to my smoothie! I would say start with 1/2 teaspoon and work your way up as you can more familiar with the flavor. Oh, and my favorite brand is E3live Blue Majik.
Protient content: 2 tablespoons = 8g
How to use spirulina: