Here's a list of 50 healthy homemade snacks to have for home and work. These snacks are easy to make and provide healthy alternatives to store-bought snacks. Lots of vegan & gluten-free options too!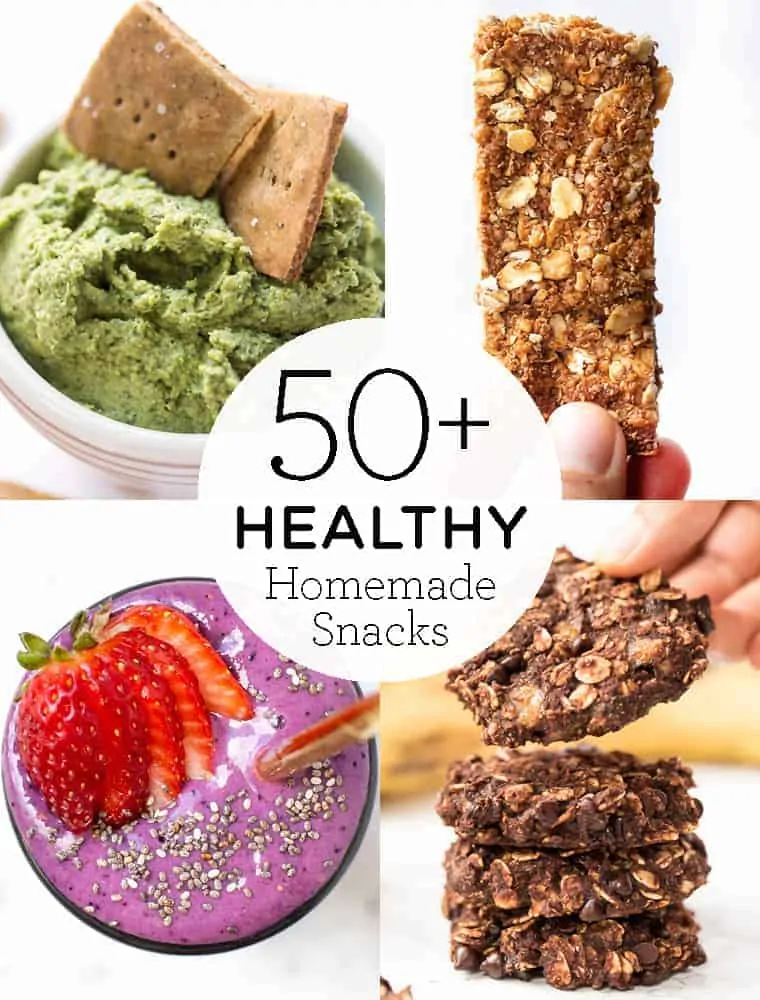 Snacks can be tricky. Especially when you're stuck at home during this crazy pandemic. We've been in quarantine here in NYC for about three weeks now and we are constantly running out of snacks.
So I decided it was time that we stop buying all the packaged stuff – or at least not rely solely on those things – and start making some snacks at home. Based on the poll results I did on Instagram last week, you guys felt the same way. Healthy homemade snacks were the #1 request, so that's what we're going to cover today.
I'm going to show you how to make a ton of different snack options that you can keep on hand – not only during this time – but for the future as well. Having homemade snacks around will not only help you save money, but also help you eat a bit healthier as well.
What are Healthy Homemade Snacks?
Before we dive into the recipes themselves, let's first chat about what actually makes a healthy snack. For me, it means making sure that the snack is balanced with macros, especially with healthy fats and protein.
A snack that is pure carbohydrates, for example, might satisfy that initial hunger, but it won't actually sustain you. You'll end up getting hungry again and reach for another snack.
If you include healthy fats and proteins in your snacks, then you're giving your body an energy source that is more filling, more energizing, and will keep your hunger at bay for longer (i.e. you'll be snacking less throughout the day).
Healthy Homemade Snack Ideas
We're going to include a LOT of options in this post, so I thought it might be helpful to first break down the categories of snacks that you can make at home. Some of these might be surprising, but others are going to be pretty standard. Here's what we'll be featuring in today's post:
easy dips & spreads
homemade crackers
veggie chips
granola bars
energy bites
smoothies & pouches
healthy sweet snacks
fruit & veggie snacks
See how many options there are?! I'm telling you, this is going to be the most comprehensive list of healthy homemade snacks on the internet! So let's dive in…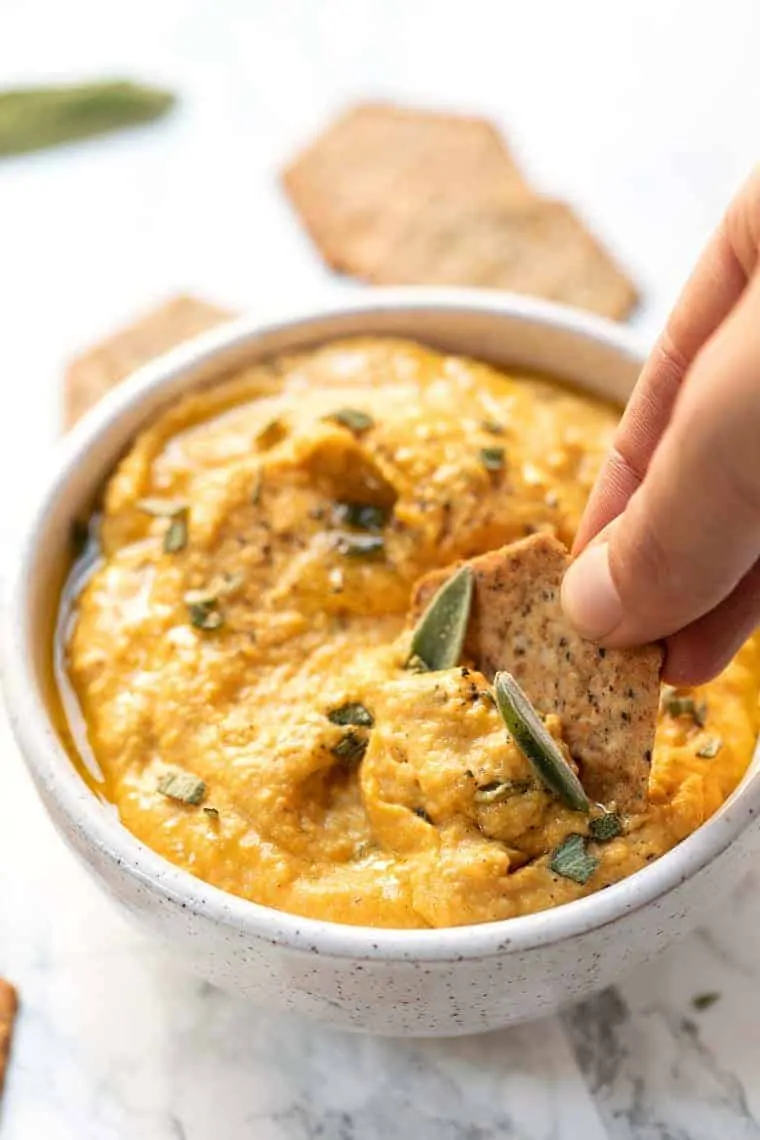 Dips and Spreads
---
Dips and spreads are a great thing to keep on hand because you can make a big batch and they can be served with many different things. The most popular kind of dip is hummus, which is super easy to make at home, but you can also make things like guacamole, white bean dips, spinach artichoke dip and more.
For dipping, I like having some cut up veggies or crackers on hand!
Healthy Homemade Dips & Spread Recipes:
Homemade Cracker Recipes
---
You need something to dip into your dips, right? Right! And crackers are a great option. I love some store-bought varieties – like Mary's Gone Crackers and Simple Mills – but they're also a little hard to come by right now with everything going on. And guess what? Crackers are actually so easy to make at home!
Vegan & Gluten-Free Cracker Recipes: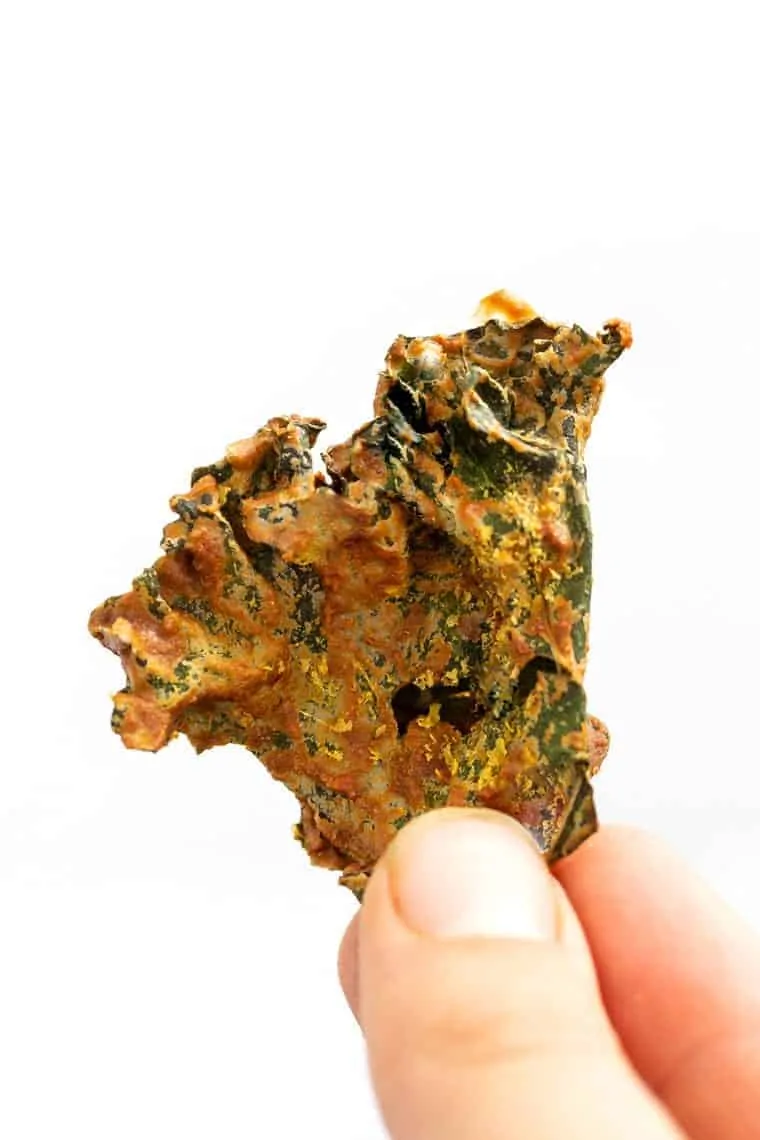 Homemade Veggie Chips
---
While making actual chips (like my personal fave: tortilla chips) is kind of hard to make at home, there are tons of options for making chips out of veggies! I love these veggie chips because you get the same kind of "chip feel" but you're actually only eating veggies. Classically, they're made from kale, but there are lots of other options as well!
Healthy Veggie Chip Recipes:
Granola Bars & Protein Bars
---
One of my go-to snacks are either granola bars or protein bars. And while I do love having a stash of store-bought ones on hand I've also found that they're super easy to make at home. You can achieve a very similar texture and taste to many store-bought bars at home. AND, they're also customizable to flavor combinations!
Granola Bar & Protein Bar Recipes:
Energy Bites
---
Out of this entire list of healthy homemade snacks, energy bites are the absolute tippy top of my list! I think they are just the best little snack. Not only are they sweet, but they're also balanced with macros. So they're like this little bite of dessert, while also keeping you full and satisfied. And guess what? There are a million ways to make them! Here's a guide on how to make energy balls in whatever flavor you want, but I've also linked some of my faves below.
No-Bake Energy Bite Recipes:
Smoothies & Pouches
---
Those little pouches have been super popular with little kids and after chatting with my best friend (who is also a new mom) we realized that those pouches are essentially just smoothies! So why not make them at home?! Here are some reusable food pouches you can buy on Amazon where you could make a big smoothie and save them for later. I absolutely love this idea because the pouch can be for your kiddo while you could also make a glass for yourself!
Smoothies are also an amazing way to snack on fresh fruits and veggies. The ones that I'm including below have both fruits and veggies, as well as some healthy fats, they make really great healthy homemade snacks!
Easy Smoothie Recipes: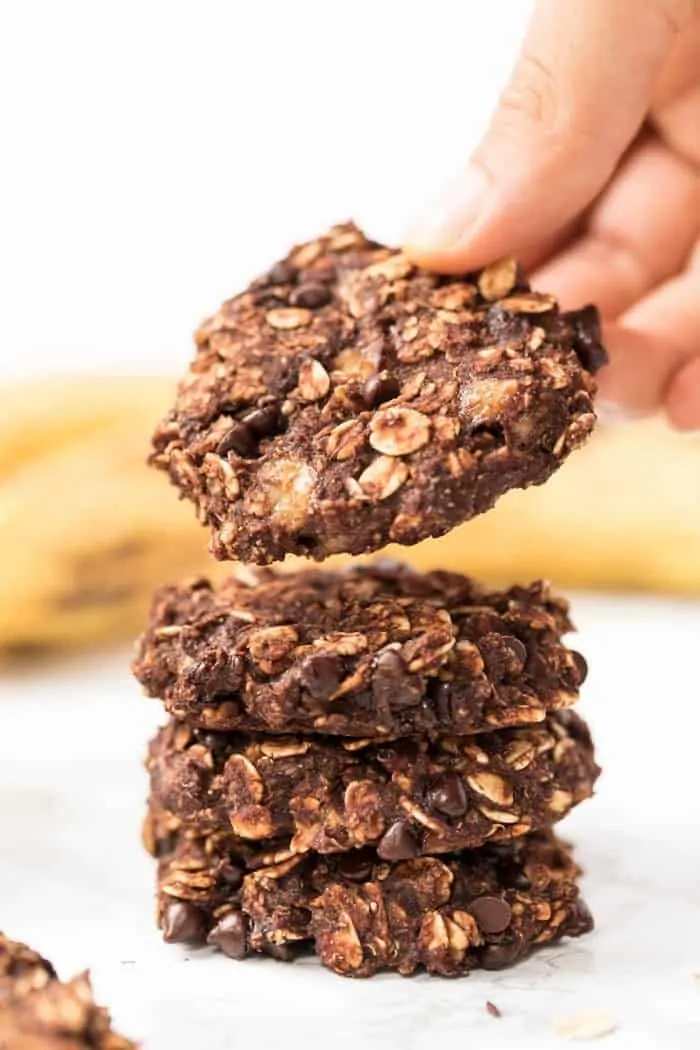 Healthy Sweet Snacks
---
For those of you who a) love baking and b) love dessert, this section of our healthy homemade snacks is for you! We're talking cookies, brownies, and muffins. These recipes are made with wholesome ingredients and honestly make great snacks. They're gluten-free, vegan and also naturally sweetened. Bring on dessert as snacks!
Healthy Baked Goods Recipes:
Fruit & Veggie Snacks
---
And last but not least, let's chat about some healthy homemade snacks that you don't really have to "make". We're talking about the simple things: fruit, veggies, rice cakes, etc. These are things that you can whip up in just a few minutes and are still every bit as healthy!
1 cup of berries with a spoonful of almond butter
Cut up apple and peanut butter
Rice cake with smashed avocado
Rice cake with hummus and sprouts
Dried mission fig with almond butter
Sliced veggies with hummus
Celery sticks with peanut butter
And so many amazing other ideas!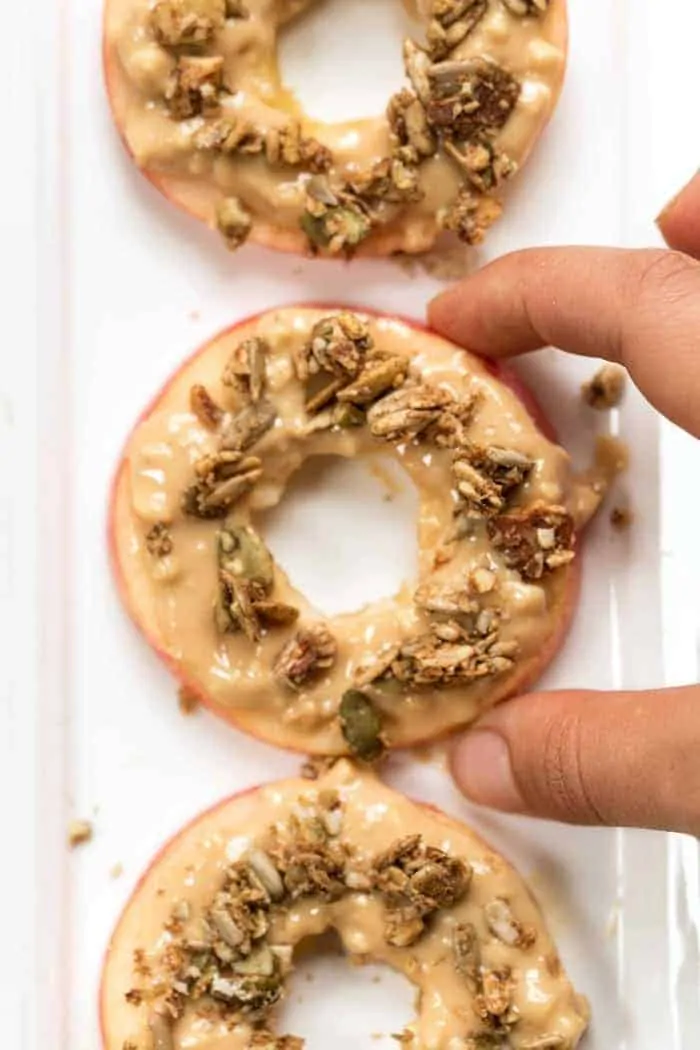 Your Favorite Healthy Homemade Snacks
So…what about you!? These are just some of my favorite snacks, but I'd love to hear from you. If you have any go-to snacks that you always make at home, let us know in the comments!!
⇣ PIN FOR LATER ⇣