Here's a list of 50 healthy banana recipes that are an easy way to use ripe bananas. We've got everything from banana bread to banana bites and everything in between! There's something for everyone in this list.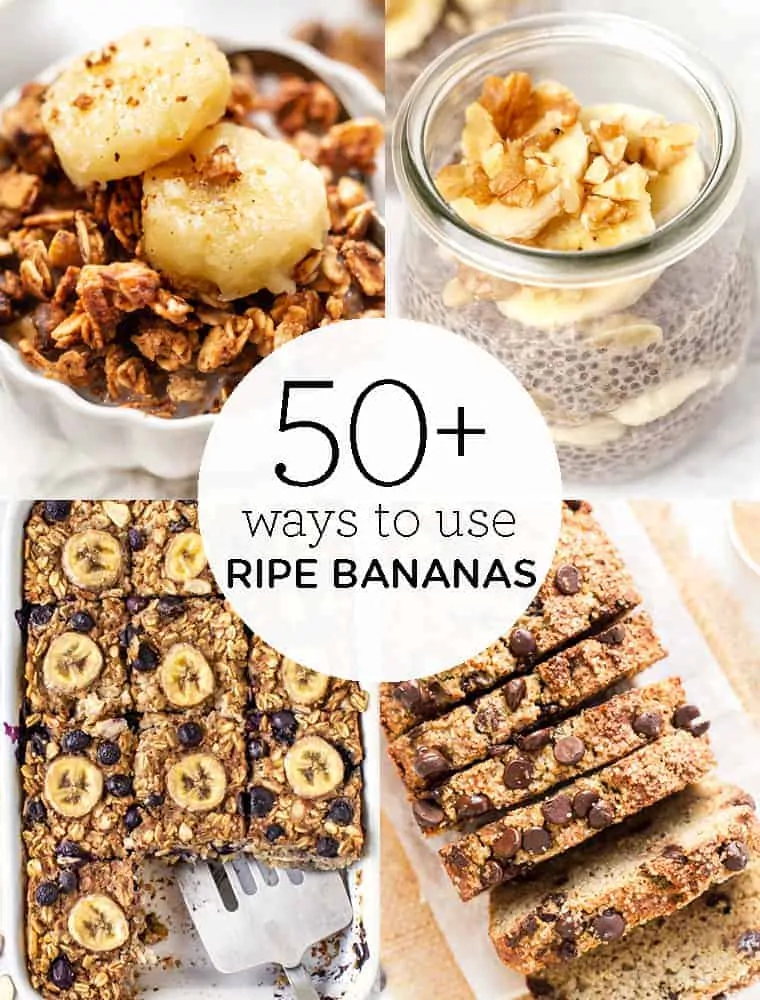 Banana has been all the rage during the lockdown. It's kind of amazing how much baking I'm seeing!
I'm seeing a lot of banana bread – which like, yum! – but I'm honestly getting a little tired of banana bread. So I decided to create the ultimate guide using bananas. Whether you're craving banana bread, banana muffins, or something different, we've got it all right here!
So here's what we've got: 50+ healthy banana recipes to inspire your baking (and eating)! In addition to our classic baked goods, we've also got some non-baked goods that use bananas. Smoothies, frozen desserts, and more.
Bananas are SO versatile and I'm super excited to have this resource to come back to over and over again!
How to Freeze Ripe Bananas
Let's first chat about using and preserving bananas. If you're anything like me, when you buy a bunch of bananas they all go ripe at once and you sometimes have a hard time using them all before they're overripe ripe.
That's where freezing comes in! Freezing your ripe bananas is a great way to preserve them, but there are a few tricks to keep in mind.
Here's the best way to freeze bananas:
Peel them! You MUST peel your bananas before you freeze them. Don't just throw them in the freezer – the peel is so hard to get off (like impossible).
Slice them up. Either into quarters or even smaller. Smaller if you plan on blending, quarters are fine if you're baking.
Seal them well. I like to use a stasher bag for my frozen bananas – keeps them away from freezer burn and their flavor stays.
How to Use Frozen Bananas in Baking
You might think you can only use frozen bananas for smoothies, but you can actually use them in your baking as well! All you need to do is let them thaw out, drain off the excess liquid and then mash them up. They'll be a little more liquidy, but that's totally fine. The recipe and flavor shouldn't change one bit!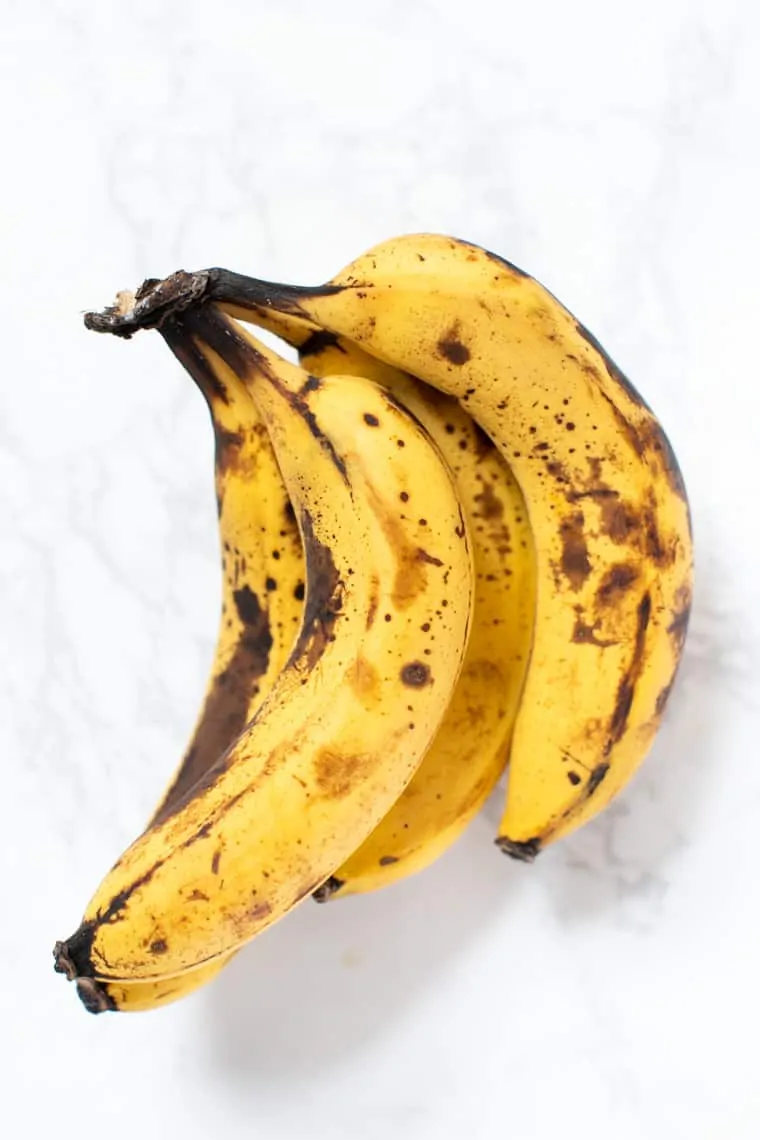 How to Know if Your Bananas are TOO Ripe
Can bananas get too ripe? I think this is slightly up for debate, but in my opinion, yes. The ideal baking banana is yellow with lots of dark brown spots. If your banana is completely brown, I'd say they're too ripe. The reason being is I find the flavor to be a bit off. They almost taste a little rotten. But again, after what I've read and researched, it does sound like this is kind of up for debate.
What Can I do with Lots of Ripe Bananas?
Thankfully there are TONS of ways to use ripe bananas! And this post is going to show you 50+ of my favorite healthy banana recipes. As I said in the beginning, we've got something for everyone here. From bread, muffins, cookies, cakes, smoothies and more. Here's what we'll be featuring in today's post:
bread
muffins
bars + brownies
cookies
cakes
smoothies
frozen dessert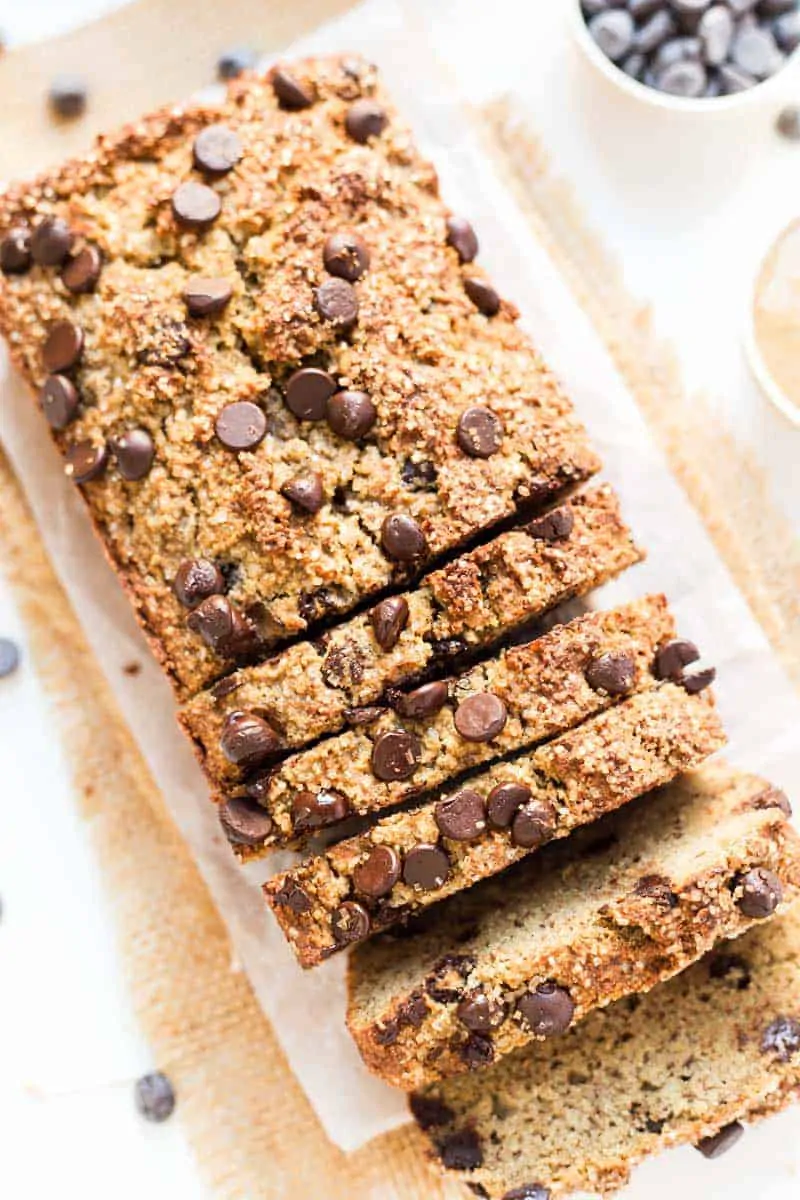 Healthy Banana Bread Recipes
---
Let's start with the classic, shall we?! Banana bread. Oh, banana bread! You're sweet, you're fun to make, you're delicious. But classically, you're also not that healthy. Lots of sugar and lots of oil. Thankfully, banana bread is also easy to make healthy! So here are some of my favorite healthy banana bread recipes.
Healthy Banana Bread Recipes:
Healthy Muffin Recipes
---
Next up is muffins! I think when it comes to banana baking, muffins are a logical next choice because you can oftentimes use the exact same batter from bread, just bake it in muffin tins. I use banana in my muffins a lot because it not only adds moisture, but it also helps to give them sweetness without the need for a lot of added sugar. Linked below are some of my favorite healthy banana muffin recipes!
Healthy Banana Muffin Recipes: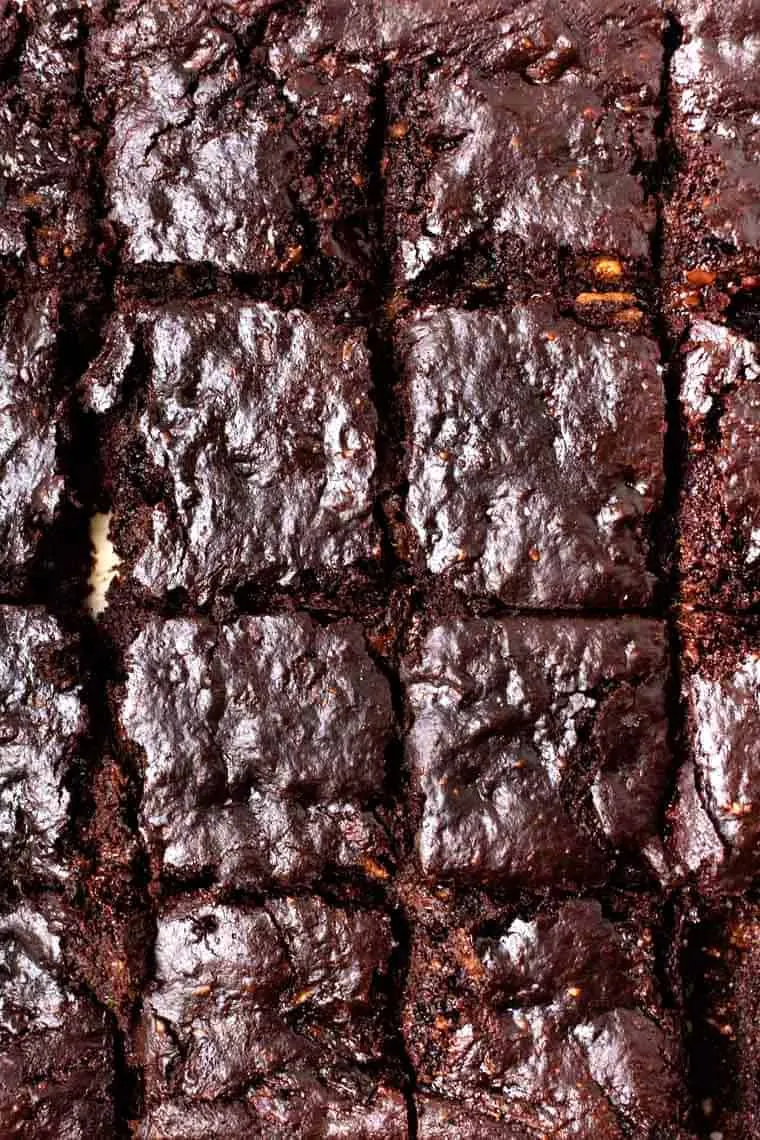 Bars + Brownies Using Bananas
---
Similar to muffins, I love using banana in my brownies and bars to make them healthier but still keep them sweet. We've got some recipes on the blog that are more on the classic dessert end of the spectrum and others that are more in the breakfast realm. I'm linking a bunch down below, so pick your "poison" so to speak. There should be something for pretty much everyone here!
Healthy Brownie & Bar Recipes Recipes: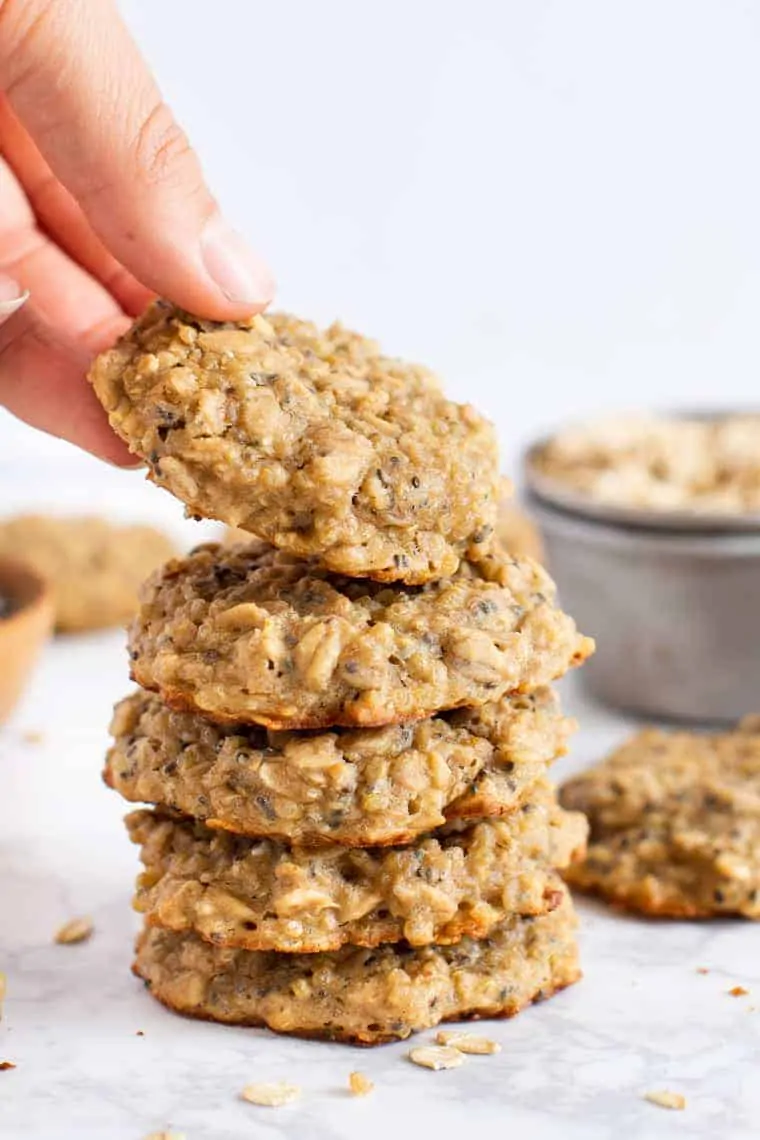 Easy Banana Cookies
---
Probably one of my favorite ways to use banana is in breakfast cookies. I literally have made dozens of flavors of breakfast cookies on the blog and pretty much every single one uses banana. For starters, banana is sweet, sticky and adds fiber to your cookies. Secondly, it's a natural breakfast food and who wouldn't love eating cookies for breakfast?! They're a natural fit and I think you're going to love these recipes!
Cookie Recipes that Use Banana:
Healthy Banana Cakes
---
While I'm certainly not an expert cake baker, I do know there are many ways to use banana in your cakes. Whether you just love the banana flavor, or you want to make your cakes a little healthier, banana is a great option. Again, it's adding moisture, helping you cut back on sugar, and has such a lovely texture. I don't have any classic banana cake recipes on the blog, but I have used banana in a few coffee cake recipes, so I'll link those – plus some others – below.
Healthy Banana Cake Recipes:
Healthy Smoothie Recipes
---
Smoothies are probably the easiest and most common way I use bananas at home. I pop them in my freezer, throw a few pieces in my morning smoothie and they no only give the smoothie an amazingly creamy texture, but they're also incredibly delicious. I've used banana a million different times in my smoothies, but down below are some of my favorites!
Easy Smoothie Recipes with Banana: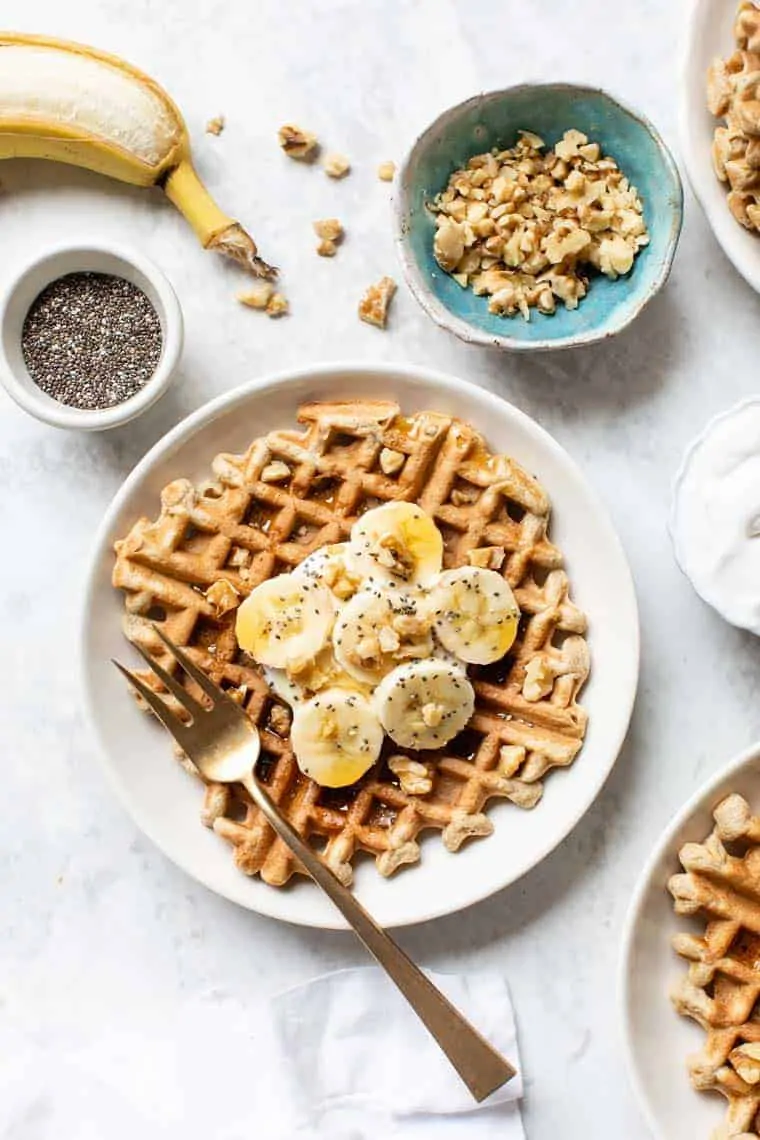 More Healthy Banana Recipes
---
And last but not least in our quest to create the ultimate resource for recipes using ripe bananas, all of our miscellaneous recipes! These are the recipes that use bananas in fun ways but don't "fit" in our categories above. If none of the recipes up there have struck your fancy, hopefully, you'll find something here that will!
Our Miscellaneous Healthy Banana Recipes:
Your Favorite Healthy Banana Recipes?
So…what about you!? These are just some of my favorite banana recipes, but I'd love to hear from you. If you have any go-to ways to use banana that we've missed here, let us know in the comments!!
⇣ PIN FOR LATER ⇣